Unless you are from a nearby region, you probably haven't heard of Markleeville or would have much desire to visit this charming little town.
(Last Updated On: May 28, 2015)
But, hopefully after reading my experience and seeing some of the pictures, you would recognize and be inspired to see this town's unique blend of quaintness, picturesque landscapes, history and hot springs.
History
In the early 1860's, Jacob J. Markley founded a toll bridge crossing the Carson River and eventually purchased 160 acres in the nearby region. Historians believe that his goal was to capture silver mining traffic due to the silver boom nearby. Unfortunately, Markley never really got to see his dreams come to fruition as he was killed in 1863 as the result of a gunfight.
Around this time, the Comstock Lode of silver was booming in the nearby region of modern day Virginia City, Nevada. The traveling of miners looking to claim their fortunes led to the need and opportunity of a small town near the Carson portion of California Emigrant Road. So, the town was founded and named Markleeville after Jacob Markley and resided on his initial acreage.
The town became the Alpine County seat in 1875 after previously residing in Silver Mountain City. Additionally, the jail and a few other establishments were also moved to Markleeville from Silver Mountain City. Roughly a decade prior to becoming the county seat, a post office was founded in 1863. Currently, The Alpine County Courthouse is located on Markley's former property. A post office was opened in 1863.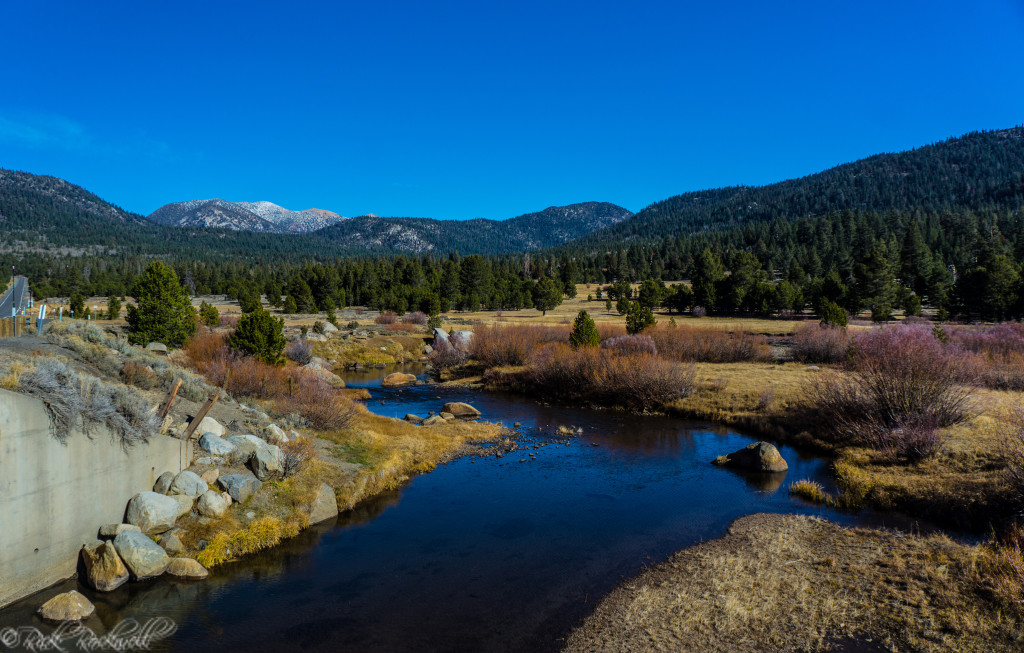 Hitting the Mark

For the last month, I've been trying to schedule a trip out to Markleeville. I wanted to  capture some fall colors, explore the wide open landscapes and enjoy the fresh mountain air. It seemed like every time I was planning to head out, the weather was not my friend. Rain and snow in the Sierras made it less than ideal for traveling. So, once I saw an opening in my schedule and the weather, I took it.
The drive from Sacramento up Highway 50 to Lake Tahoe is a scenic drive and one that I have made well over 100 times. So, this part of the journey is somewhat routine for me. However, I was really enjoying the fall colors as I headed up into the mountains.
Once over Echo Summit, which is the place where you can stop along Highway 50 and see out across the Sierras to Lake Tahoe, the turn off for Highway 89 in Meyers came up rather quickly. Also, to my surprise, there was very little traffic up the mountain and on Highway 89. Keep in mind, this was about 7:30 am on a Friday morning.
Highway 89 is a two lane highway with a speed limit of 55 mph. So, when I did come upon a slow car, I was able to pass without any problems. The drive along this highway is a peaceful one. Since there is no snow right now, you can see far throughout the open land with mountain peaks in every direction. Eventually, 89 merges with Highway 88 and takes you toward the small district/town of Woodfords.
This place was originally a supplies depot for a member of the Mormon Battalion. It's a scenic mountain district that caters to travelers and recreationalists visiting Alpine County. The one thing I noticed was that there weren't any stop lights on 89 all the way from Tahoe through Markleeville. I eventually found out, through research, that Alpine County boasts of not having any stoplights or movie theaters. It's also the least populated county in California.
From Woodfords, which was named after a hotel owner in the late 1840s to early 1850s, it's a quick 10-15 minute drive to Markleeville. Make sure you don't blink because you will pass right through the town if you do.
Entering Town
The speed limit cuts in half as you enter town and the first few establishments you see are the Alpine County Visitor's center on the right side and a gas station on the left side. One block down and you will enter the "main" part of town where there's a few restaurants and businesses, lodging, a post office, and the county government building.
This portion of town is roughly one block and can be considered the hub for business, food and supplies. Before checking out this portion of town, I made a right onto Montgomery St. which is across the street from the post office, and took this road to the Alpine County Historical Complex which is less than a 1/2 mile away from the "business" district. The complex was closed for winter but still provided some great opportunities for pictures and a peaceful stroll through the region's history.
Check out my article on the Alpine County Historical Complex for more pictures and details
After the complex, I hopped back on Montgomery St. and made a right. About a block or two down is a split in the road. Take the right portion of the split, which is Hot Springs Rd. This road will take you to Grover Hot Springs State Park. The most popular attraction of this park is the hot springs swimming pool, which was closed until 11am. The campgrounds were closed for the season and the gate to the campground bridge was also closed. This made it a further hike if I wanted to park at the main park entrance and walk down to some of the trailheads.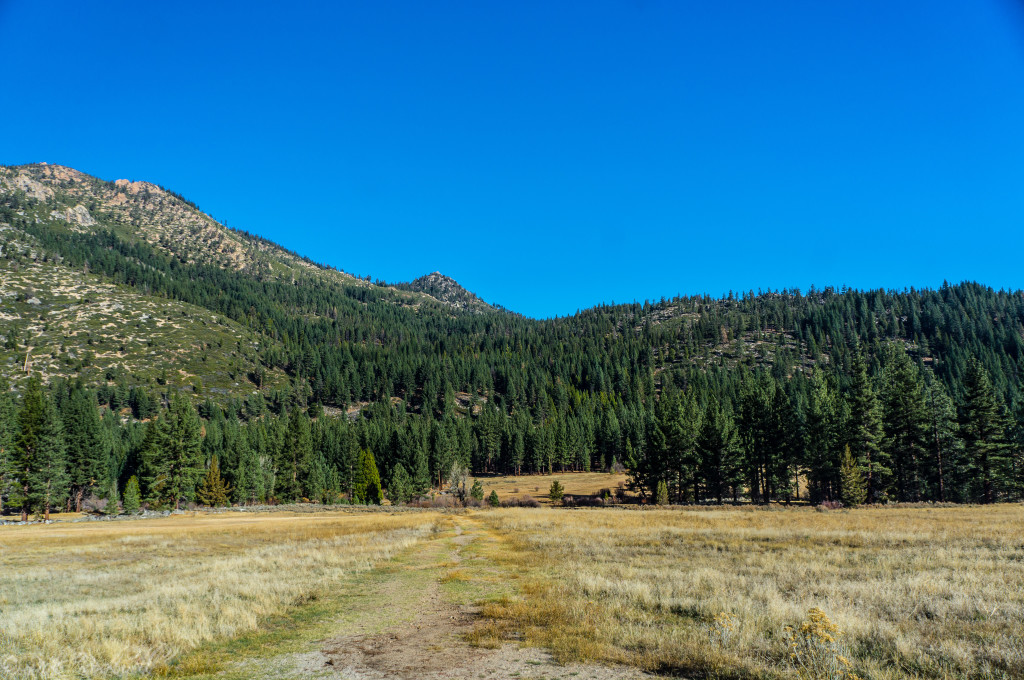 I definitely plan on coming back down to this State Park in the spring after the snow has melted and the waterfall is flowing. But, at this time of the season, the recent drought and the cold weather, I didn't want to hike 3 to 10 miles throughout the state park. After doing some brief sightseeing at the park, I decided to head back to town and get a feel for the district. On my way back, right near the split, is the Markleeville library which is housed in an older building that used to be the new Webster school. It's registered as a state historic place, as are many of the buildings in town.
Walking through the small portion of town, I got a feel for the community and the rural mountain lifestyle. This town caters to travelers and the workers at the county government building. I was able to speak with a few of the locals and enjoyed hearing about the positive attributes of Markleeville. They almost sold me on living there.
Perhaps, my favorite spot in town was the creek near the courthouse. I could have swore that a sign at the creek said Markleeville Creek. However, looking it up on a map, the name says Millberry Creek. Regardless of the name, it was a serene little spot that offered some great fall colored pictures and a little solitude for relaxation and reflection.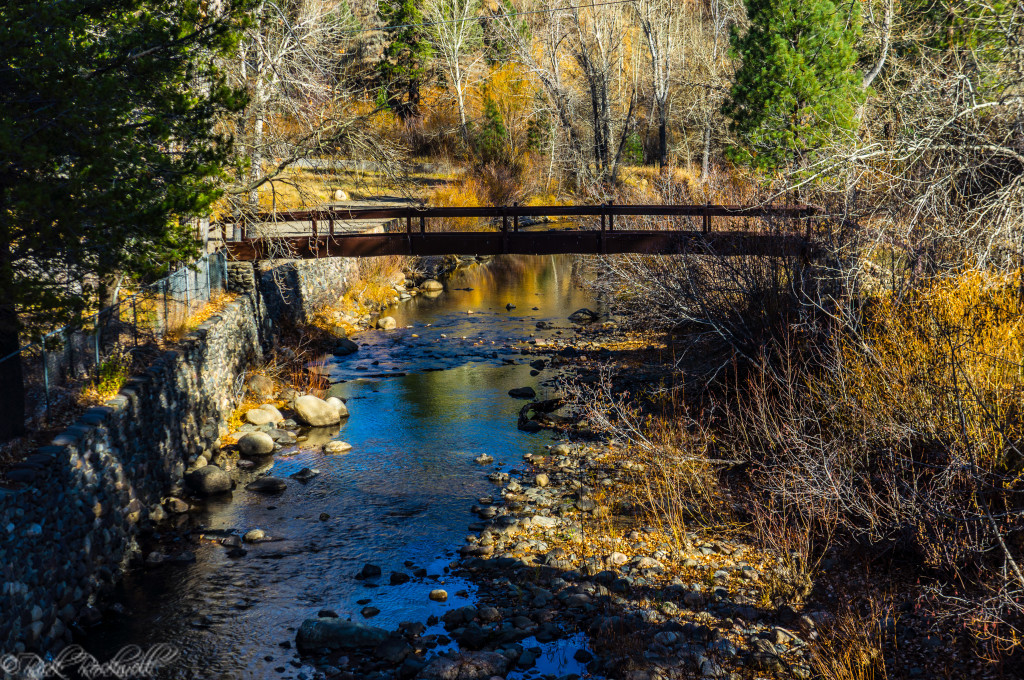 Heading Home
After spending all morning in Markleeville, I decided it was time to head back home. On my way back, I stopped by a small church in Woodfords and also enjoyed some time at the West Fork of the Carson River near Willow Creek. This is located at the junction of 88 and 89 (Luther Pass Rd. and Carson Pass Highway).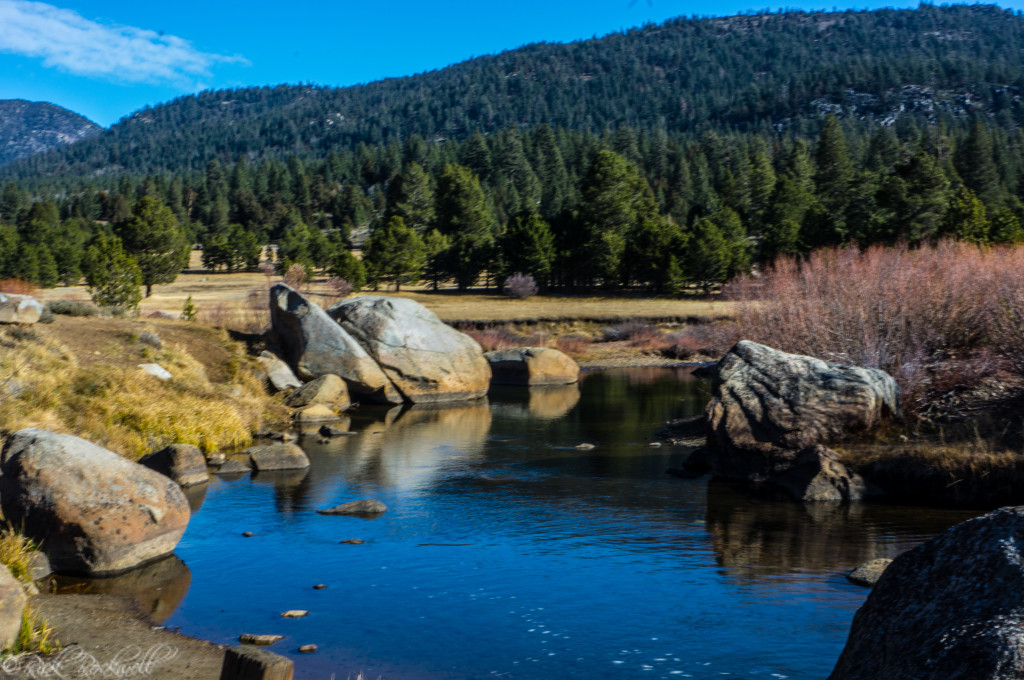 Marks the Spot
I plan on heading back to Markleeville in the Spring. I might even stay in one of the lodges so that I can hike throughout Grover Hot Springs State Park, experience some of the local establishments and explore more of Alpine County. Markleeville might be too far of a day trip for most as it was less than 2 hours one way for me. But, if you are visiting nearby Lake Tahoe, then I suggest you take a few hours out of your trip and head over to Markleeville. Depending on the season, you can really enjoy the beautiful landscapes and rural lifestyle that you won't find anywhere else in the state.
One thing to be aware of, due to the elevation (over 7000 feet) this region is blanketed with snow in the winter. Make sure you check to see if the roads are open. There are 3 major passes in this region that can get closed due to heavy snow: Luther, Carson and Ebbets.
Check out more of my Sierra Nevada adventures.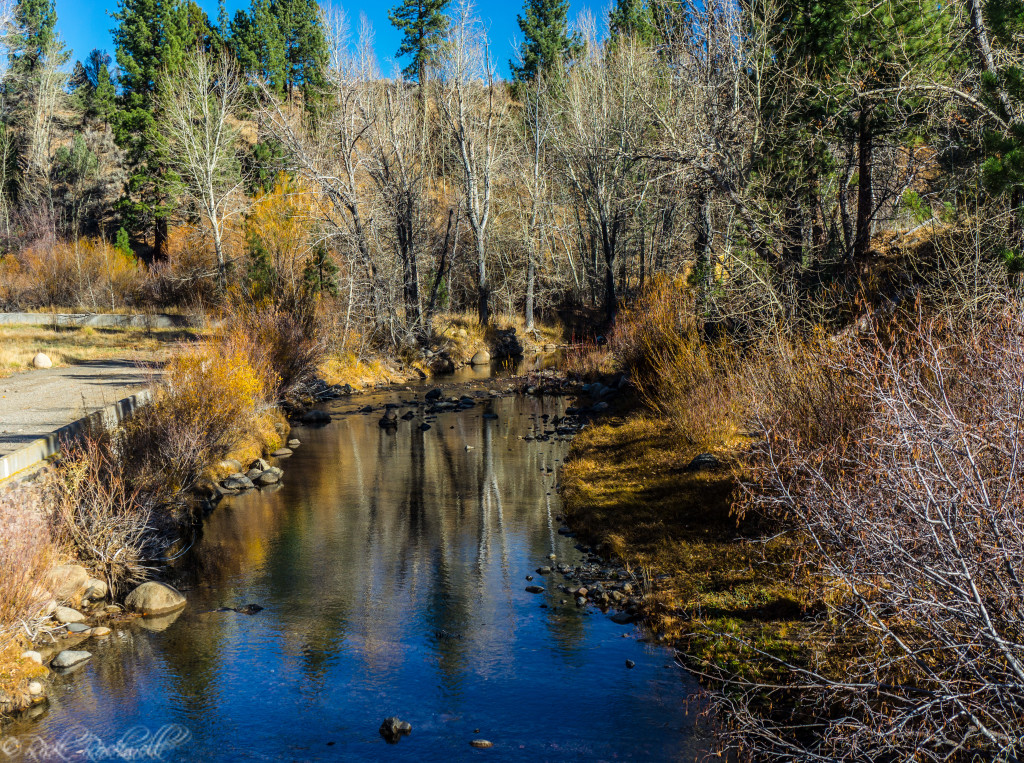 Directions
Located in the Sierra Nevadas about 25-30 miles south-southeast of Lake Tahoe, Markleeville is the county seat for Alpine County with roughly 200 residents. There are several ways to get there, depending on which direction you are heading from.
From Sacramento – take Highway 50 east toward South Lake Tahoe. Once over Echo Summit, you will pass through the small town of Meyers. Make a right turn onto Highway 89 and stay on this highway until you reach Markleeville.
About 12-13 miles down 89, you will make a left turn when the highway reaches a T in the road. This is the junction of 88 and 89. This left turn will continue on 89 but also merge with Highway 88. Take this road for about 6 miles to the town of Woodfords.
Make another right on 89 (which will have signs pointing to Markleeville) and you will enter town in about 10-15 minutes.