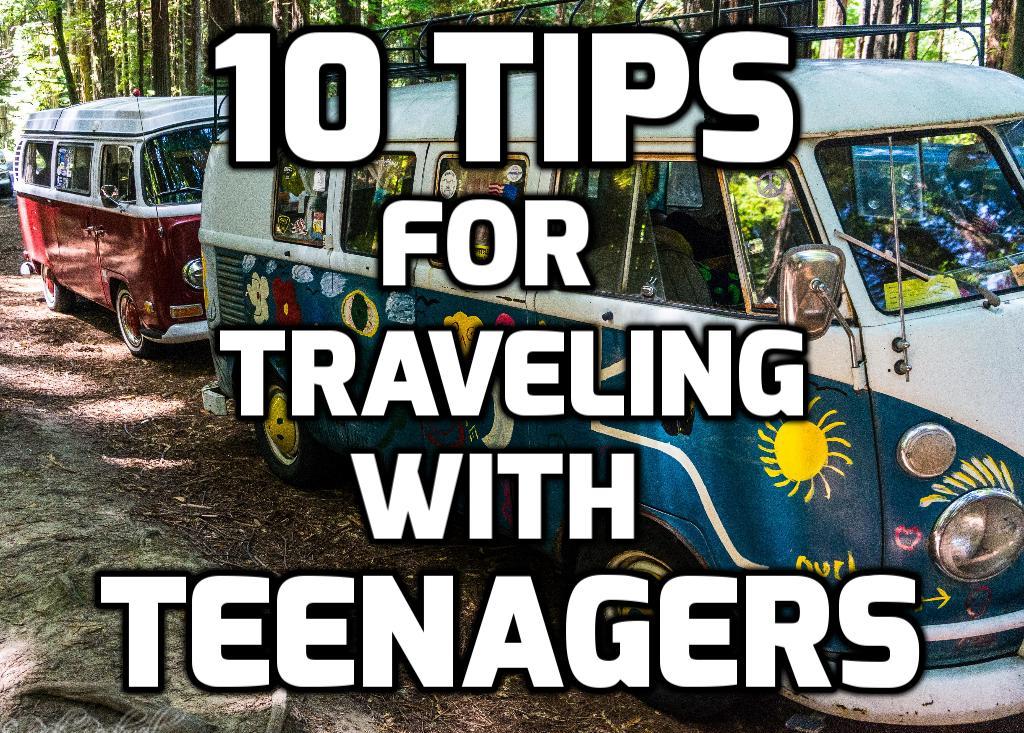 (Last Updated On: May 23, 2015)
Here are 10 Tips to help you make your next travel with a teenager a successful one:
Involved In Planning
Prior to even leaving your home, you can set the tone for a great trip by getting your teenager involved in the planning. This gives them a sense of responsibility and control in regards to the outcome of the trip. Additionally, it will allow them the opportunity to choose something they like. In an upcoming trip to the coast, I have my teenage daughter looking up places nearby that she's interested in. This has already put her in a positive mindset about the trip, as she is now looking forward to it.
Food
Teenagers are like human garbage disposals. They eat all the time. Make sure you have plenty of snacks for the car ride or flight. Additionally, choose places to eat that have some of their favorite foods. My teenager loves pizza, salads and pastas just to name a few. So, when we take a trip to another town, I give her the opportunity to find a place for us to eat.  Just don't feed them after midnight because they will multiply.
Sleep
The only thing more important than food to a traveling teenager is sleep. They need proper comforts in a car or plane and they need all the comforts of home when in a hotel. Make sure you let your teenager sleep in when possible. Early wakeup calls are a teenager's worst enemy.
WiFi
Nowadays, it's hard to separate a teenager from their smartphone or tablet. So, make sure wherever you are staying has free WiFi. This is so your teenager can message their friends, vent about the trip and  spend hours Tweeting, posting and liking.
Music
Have you ever traveled with a teenager picking the radio stations? I have, and it's brutal. It's even worse if they have to listen to your music the entire road trip because all they will do is complain. The best way to remedy this situation is to make sure your teenager has plenty of music on their smartphone, tablet, iPod or music player. This way, they can travel in harmony with their favorite artists.
Short Hikes
Odds are that your teenager isn't an avid hiker. My teenage daughter constantly reminds me how she's not a pro hiker and always asks how far a hike is. If it's longer than 15 to 20 minutes, then there's a great chance your teenager will complain. Best bet is to keep the hikes shorter. Make sure it's very scenic too.
Space
Teenagers love their own space. They hate being crammed in a car next to their little brother or sister. So, the last thing they want is to share a room or a bed with that same sibling. If possible, get a hotel that has two rooms. At the very least, get a hotel that has two beds.
Additionally, teenagers like to be off on their own. They want their independence and freedom. For example – allow them to walk off down the beach further than you. Keep them in eyesight.
When traveling to the ocean, I let my daughter go down the shoreline further and be in her own space. Although this prompts my 7 year old son to want to do the same, at the very least it gives your teenager some alone time and lets them relax or gossip with their friends if they are getting Internet connection.
Bathroom Time
This one is for all of you parents that have teenager daughters like I do. Make sure they have enough time to use the bathroom before you leave and before bed. This typically means a good hour for each occasion. They need time to do their hair, makeup and take hundreds of selfies.
Stay Positive
No matter what happens on the trip – stay positive. If you keep your patience and remain calm, the trip will be more of a success. Try to limit any conflict or arguments. Take everything in stride and put a positive spin on it.
Bring A Friend
If you are crazy enough to do this, allowing your teenager to bring a friend will make you the coolest parent in the world. It will also save you from a lot of potential misery, especially if you fail in one of these other areas. However, you will now have to travel with multiple teenagers and that could be more than you bargained for. Definitely, more expensive.
Facebook Comments