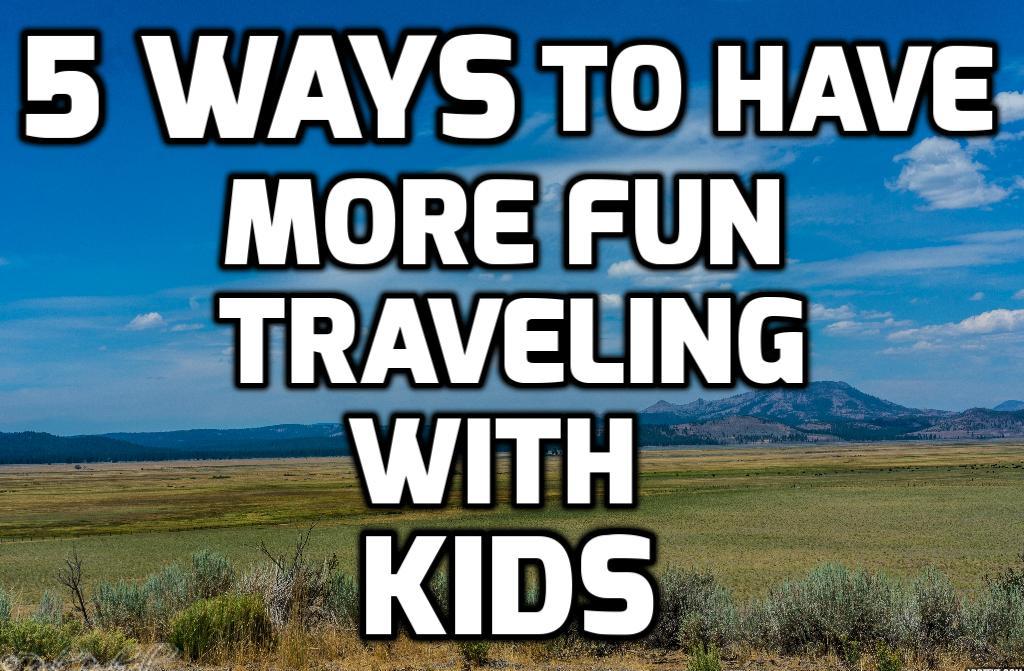 (Last Updated On: March 2, 2015)
I have a 16 year old daughter and a 7 year old son. I love them dearly and I enjoy their uniquely different personalities. However, it does make trips a bit more challenging when planning out the details. Because, not only do I have to think about how to keep a younger kid happy, I also have to figure out how to keep a teenager interested. And if you have a teenager, you know what I mean.
Here are 5 ways to make your next trip with the kiddos more fun:
Excitement and Anticipation
One of the best ways I've found to make trips more fun with the kids is to create excitement and build up the anticipation. Knowing what my kids like, helped me to plan out some great destinations for our 2014 family road trip. I made sure to include places along the ocean for my daughter and lava tube caves for my son. Both were excited for their interested destinations.
Additionally, I like to show them some of the appealing features of the destinations and share any significant history. For example – taking the kids to Fort Ross. Neither are as fascinated with historical landmarks like I am. But, a few photos and historical facts about the fort, really helped to pique their curiosity.
Making Memories
The goal for any trip with your kids is to have fun and make memories that will last a lifetime. A great way of doing this is by giving your kids a camera to take pictures. They will be more inclined to engage with the location if they have a reason to pay attention.
Taking photos and creating scrapbooks motivates the kids to participate and be more eager for the next place. Both of my kids were right alongside me taking pictures of the beautiful California landscapes. It really was great looking over and seeing my kids just as eager to capture the moment as I was. If your kids are too young to take photos, I would suggest having them draw or write about the destination.
The Right Food
Food has a way of making things better, especially if it's food that the kiddos really like. My kids and I love pizza. So, I made sure to let them know that we were going to check out the town's "best pizza place" wherever we ended up. I also had them pretend they were pizza critics and to give me their feedback after eating the pizza. My kids also love donuts and places like Dennys.
Fort Bragg has a Dennys that I always stop at when visiting this wonderful coastal town. The kids saw the Dennys as soon as we drove into town and both said "let's eat there for breakfast tomorrow."
I also pack plenty of their favorite snacks for the car ride. Hungry kids make for a miserable driving experience. Make sure to have their favorite snacks and plenty of fluids to drink when on a road trip.
Electronics
When I was a kid, I played with my GI Joe guys and Star Wars figures in the back of a car during family trips. Today, kids play on tablets and smartphones. I'm not a big fan of them spending all day at home on these devices. But, they are a godsend when in the car for hours. I packed the iPad for my son and my daughter had an iPod touch. Both were busy on their own iDevices during our recent family trip. My daughter was texting, tweeting and messaging. My son was playing his favorite games. It made the car rides much more enjoyable as both were preoccupied instead of asking "are we there yet?"
Sleep
Teenagers love to sleep in and stay up late. So, when getting up early to hit the road, a teenager is going to be dragging butt and lagging behind. It's important to make sure they have a pillow and blanket for the car ride to make things more comfortable so they can sleep. It's the same for younger kids too. Cranky, grouchy kids can make a trip turn from good to bad in a heartbeat. Sleep is very important to keeping the kids energized and happy. Make sure to bring along pillows, blankets and any other item that can help to make the traveling portion of the trip more comfortable.
Facebook Comments