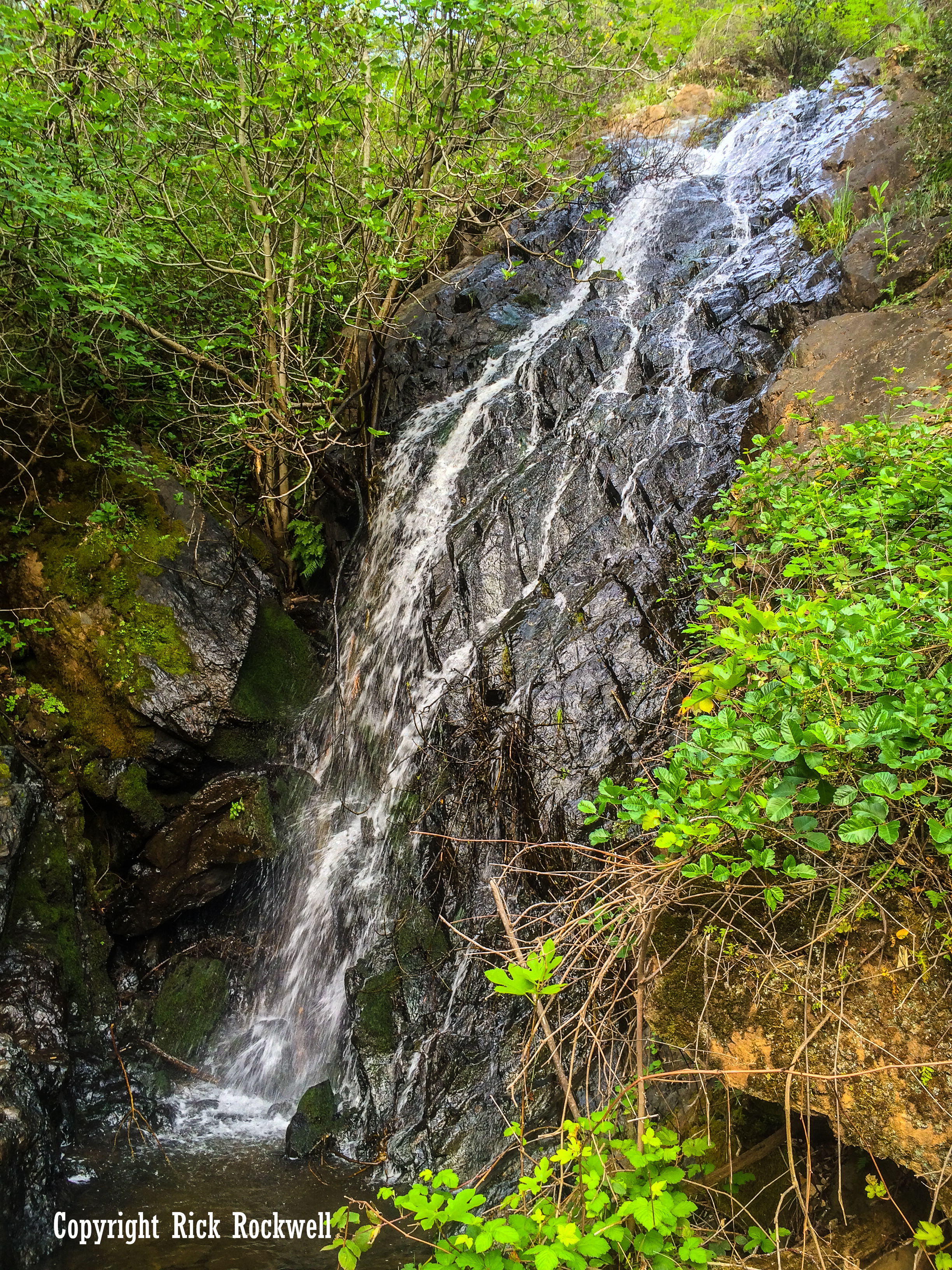 (Last Updated On: May 28, 2015)
Auburn is a wonderful town filled with a wealth of history. Additionally, it also has one of the state's finest recreation areas. There's so many places to visit in the Auburn State Recreation Area, that a week wouldn't be long enough for visiting all that this region has to offer. A day was barely enough time for me to visit both of these popular Auburn points of interest.
Chasing Waterfalls
I set out at 7:15 am on a Friday morning to get across town and quickly over to the city of Auburn. I was hoping to beat the morning traffic and not get stuck on Sunrise Blvd or I-80 East. Additionally, I was hoping to get to the Black Hole of Calcutta Falls before there were too many hikers on the trail. Since this is an easy trail, it can get quite crowded when the warm weather arrives.
The drive over to Auburn wasn't bad.  I was able to get there within 45 minutes. Once in Auburn, hop on Highway 49 south toward Placerville. This highway eventually weaves out of town and into the heart of Auburn State Rec Area. The many twists and turns force you to drive roughly 20 miles an hour for long stretches. After about 5 miles or so of this winding drive, I eventually see the split between 49 and Old Foresthill Rd.
This split is referred to as the Confluence area, where the North Fork and the Middle Fork of the American River meet. It's also the hub for several trailheads like the one to Lake Clementine Trail.
To get to the Black Hole of Calcutta Falls, you have to turn right at the split. Essentially, you are staying on Highway 49. But, as soon as you turn right and cross over the small bridge, the parking area is immediately on your right. This parking area fills up quickly as it's on the side of the road and not much room for cars. Another reason why you should get there early. Once parked, it's easy to find the entrance to the trail. There's a green gate close to the bridge that you just crossed over. It says Gate 150 and it's the beginning for many trails in the region. One of the trails this leads you to is the famous Western States Trail.
No Hands Bridge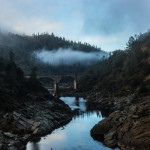 Also known as the Mountain Quarries Railroad Bridge, the "No Holds Bridge" first began construction in 1910 and was completed in 1912. It spans the North Fork of the American River and was effectively rendered non-operational by the beginning of World War II. The bridge is roughly 482 feet long and about 150 feet above the river. You can see the bridge prior to even reaching the split on 49. When walking from the parking area, it's roughly 5 minutes until you get to the bridge. Prior to the bridge, there are two port-a-potties. Before I crossed the bridge, I climbed down to the river bank and took some pictures. In fact, I did this on both sides of the bridge. When on the bridge, you can get some nice views of the American River as it winds its way through the hills.
Check out my article on No Hands Bridge for more photos and information.
Back On The Trail
I spent at least a good 30 minutes at the bridge taking pictures. From this point, it was about 20 more minutes before I reached the Black Hole of Calcutta Falls. The trails are clearly marked and easy to follow. In some points, there's a small gain in elevation. You must watch out for horse manure. These trails are also for horses and bikes. I recommend bringing a hat and sun screen because the trail does have numerous lengthy sections without shade. However, if you ever get too hot, you can just jump in the river; provided that the current isn't too strong. And, make sure you bring plenty of fluids to drink. After about 15 minutes of walking, I could hear the falls. Along the trail, you will also see remnants of the old railroad. In fact, there's one section right before the falls.
The Black Hole of Calcutta Falls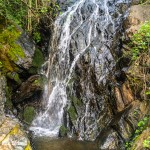 The Black Hole of Calcutta Falls is a rather small waterfall. It's right at Canyon Creek and it does provide for some nice pictures. But, don't get your hopes up that you are going to see a huge waterfall with overflowing water. For a two mile round trip hike, this waterfall is a nice place to visit. But, I would only recommend doing it on an early spring morning before more hikers and horses hit the trails. Additionally, it does get really hot out there, especially in the summer. Personally, I enjoyed the bridge more than the waterfall and I am a huge fan of waterfalls. This was a nice little hike and I was back at my car within 90 minutes. And, that's after taking at least 250 pictures. Check out my article for more information and pictures on The Black Hole of Calcutta Falls
Back Across Auburn
Once back in the car, I was ready to drive across town and over to Hidden Falls Regional Park. I backtracked on Highway 49 and through Auburn again. Driving on the north side of Auburn was distinctly different from where I was just at. Once off 49, I began to drive through the rolling green hills with vineyards, a few wineries and ranches. It really was a peaceful drive. On a nice cool morning, this would make for a scenic "Sunday Drive." The good thing about Hidden Falls Regional Park is that there are signs along the way to help remind you that you are heading in the right direction. It's easy to get lost out this way with some of the roads splitting off.
Check out my article on Hidden Falls Regional Park for directions, details and pictures.
Hidden Falls Trailhead
At the trailhead, there's a large parking lot with bathrooms and a sign with a map of the trails. I have to admit, this place is larger than expected. I've heard from a few friends that I must go check this place out, but I didn't realize how huge this park was. There's an estimated 30 miles of trails that zigzag through 1200 acres of land. The park is open year round from sunrise to sunset and there are no fees. At the large sign, there are hand copies of maps that list the trails and the places to see like: hidden falls, observation decks, creeks and more. The trails are clearly marked and well maintained. They are also used by cyclists and horses. So, keep an eye out for piles of horse manure. My goal was to quickly get down to the creek so that I could make my way to the falls. So, I cut through the hills and across the trails. I didn't stay on the marked trails as I wanted to cut down on distance and time.
Hidden Falls
Within about 15 minutes from the parking lot, I was at Deadman Creek. There are some nice spots along this creek to take pictures, sit and relax. It was only a few more minutes before I reached the Whiskey Diggins Bridge. From there, it was another 15 minutes or so, to the Hidden Falls Observation Deck. This deck makes it easier to overlook the falls. However, I wanted to get closer to the falls, so I climbed down to the rocks below. Here, I was able to get some great pictures of Hidden Falls. I liked this waterfall more than the Black Hole of Calcutta Falls because it was taller and had more water flow.
Canyon View Bridge and Falls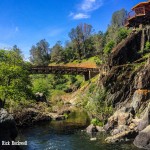 After I climbed back up, I walked over to the Canyon View Bridge to get a peek of the bridge and the Canyon View Falls. This was less than 5 minutes away from Hidden Falls. The bridge was nice and the deck was high up on the hillside. Like usual, I decided to climb down to the riverside near the bridge to take some pictures. Then I hopped along the rocks heading north up to the Canyon View Falls.
Check out my review of Canyon View Bridge for more details and pictures.
The Canyon View Falls was small compared to Hidden Falls. It had a nice water flow but definitely not anything to get really excited over. In fact, I would rank this 3rd on the list of waterfalls that I had seen today. In all honesty, I liked the Canyon View Bridge and the rock jumping more than the water fall. After climbing back up to the trail, I decided it was time for me to head home. I've been out hiking for about 4 hours and the temperature was starting to climb. The low 80's felt like the mid 90's after a few hours in the sun. It took me about 30-35 minutes to get back to the parking lot from this point. As I was walking back to my car, I realized that this park was like an oasis. It's a beautiful park that allows you to hike, bike, ride your horse, rock hopping, boulder climbing, swimming in the creeks, check out waterfalls and take some great pictures.
Final Words
I really enjoyed my time hiking in both locations today. I recommend checking out both locations and many of the other trails in Auburn. You will be surprised at just how beautiful these trails are. In fact, you will forget just how close you are to cities/towns like Roseville, Auburn and Rocklin.