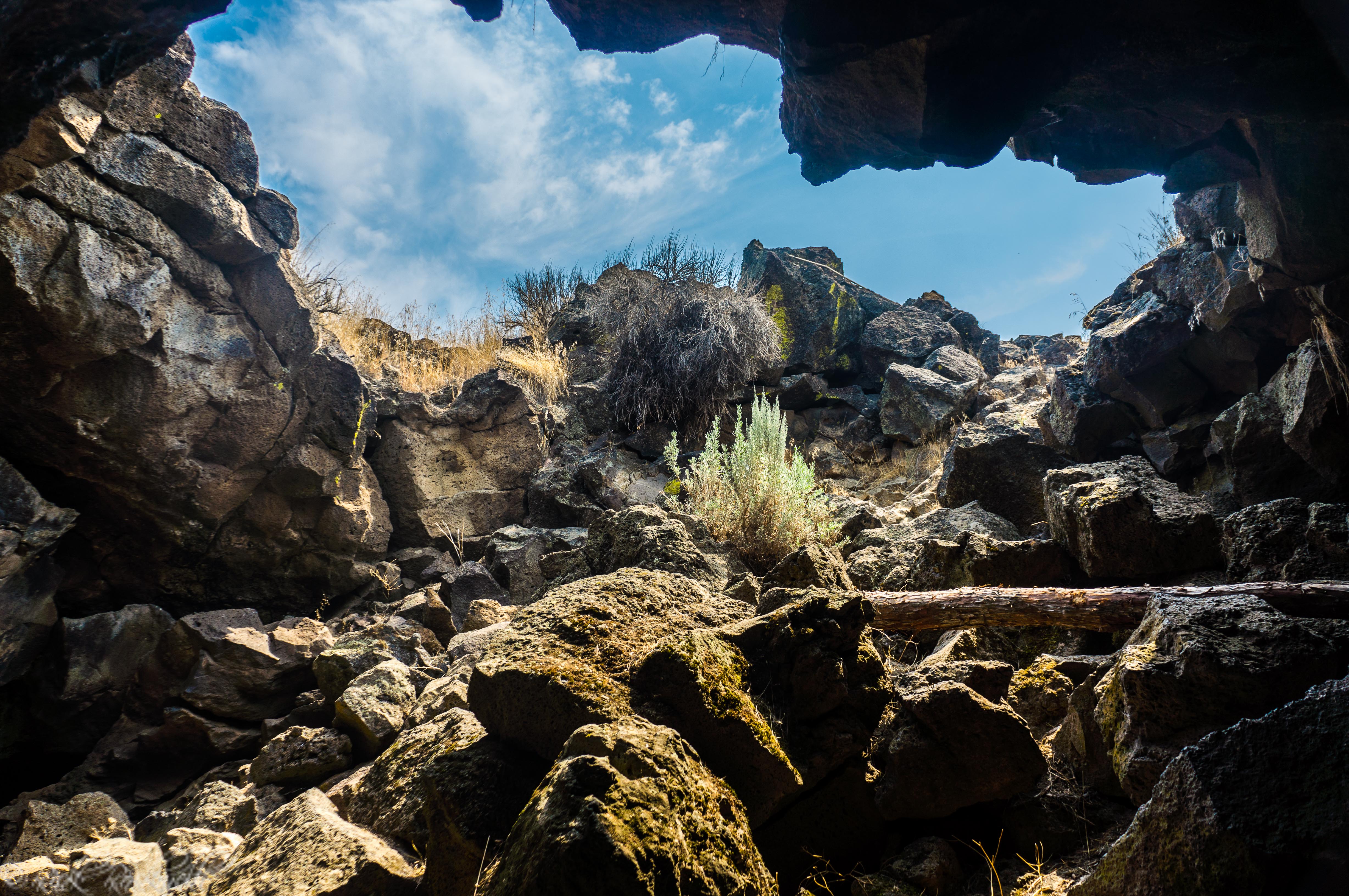 (Last Updated On: January 1, 2020)
Located in Northern California, Siskiyou and Modoc Counties, lies an amazing gathering of volcanic formations known as Lava Beds National Monument. Spread out over 46,000 acres, this land is now a historic monument and State Park. However, for many generations, this was sacred land to the Modoc tribe long before Americans ever made it to California.
Within this land, holds the most historic battleground between Native Americans and the U.S. Army that California has ever seen – Captain Jack's Stronghold.
Who was Captain Jack?
Captain Jack, real name Kintpuash, was a fiercely, intelligent leader of the Modoc tribe of California and Oregon. From 1872 to 1873, Jack and his band of Modoc engaged in a war with the U.S. Army that still echoes throughout the Tule Lake region to this very day.
Despite being badly outnumbered, and without a great deal of resources, Captain Jack proved his military prowess by using the lava beds, which his tribe knew very well, to his advantage. The series of trenches and rock formations greatly aided in the tribe defeating the U.S. Army in one monumental battle and holding out against superior reinforcements for roughly several months.
Captain Jack's stand at the lava beds came at the peak of what history refers to as The Modoc War. There's a great deal that can be said, and has been said, on this war and on Captain Jack. Some of the accounts are disparaging towards both sides. Within the collection of books and stories, one can piece together a fair depiction of the war, how it came about, and who Captain Jack was.
For more on Captain Jack's historical battle, scroll down to the end of the article.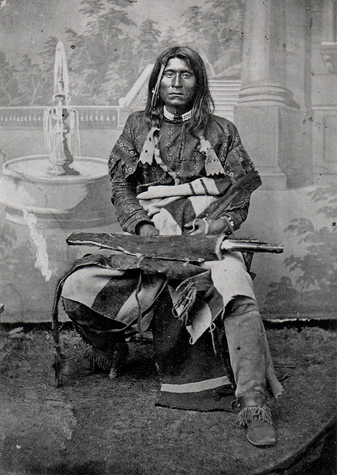 Captain Jack's Stronghold

Lava Beds National Monument was established on November 21, 1925. For over 90 years, the land has been preserved, studied and enjoyed by millions. Over the last few years, a concentrated effort has been made to enhance visitors' experience at the stronghold. An improved parking lot, signs, brochures, and well carved out trails are just a few of the ways that visitors can enjoy this spectacular historical and geological fortress.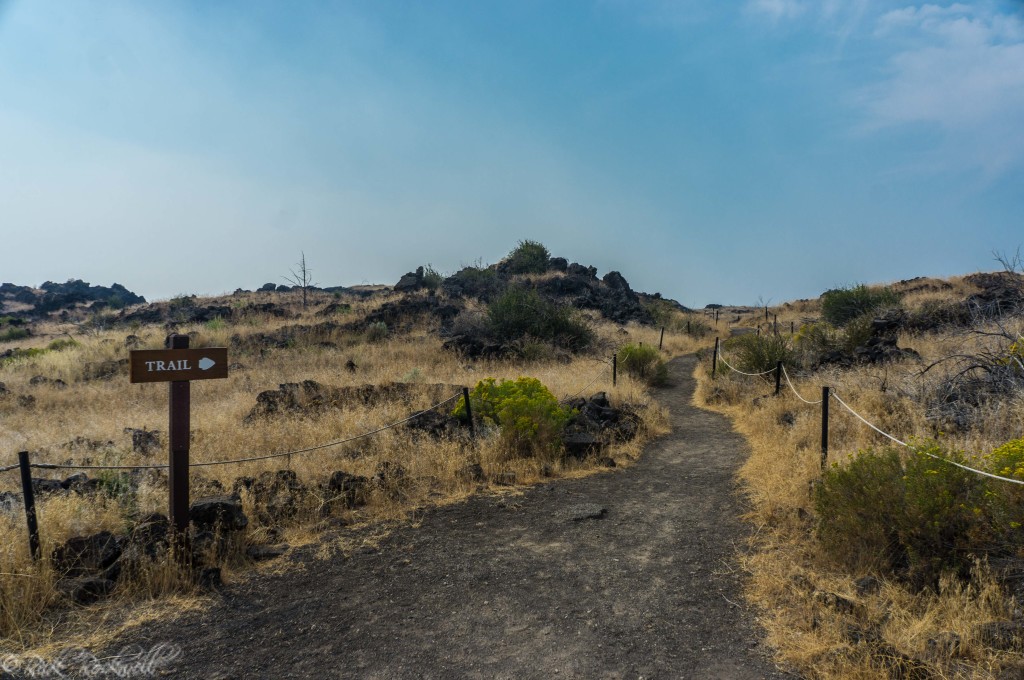 From the parking lot, there's a sign and a clearly marked trail straight to the stronghold. It's highly recommended that you wear sturdy shoes and prepare for being in the outdoors without much shade. There's a double loop system with the outer trail ranging up to 1.5 miles and the inner trail coming in at about 0.5 miles.
I suggest doing the full loop of both the inner and outer trails. This will give you a better understanding of the stronghold and much more of an appreciation for the position that Captain Jack and his band took.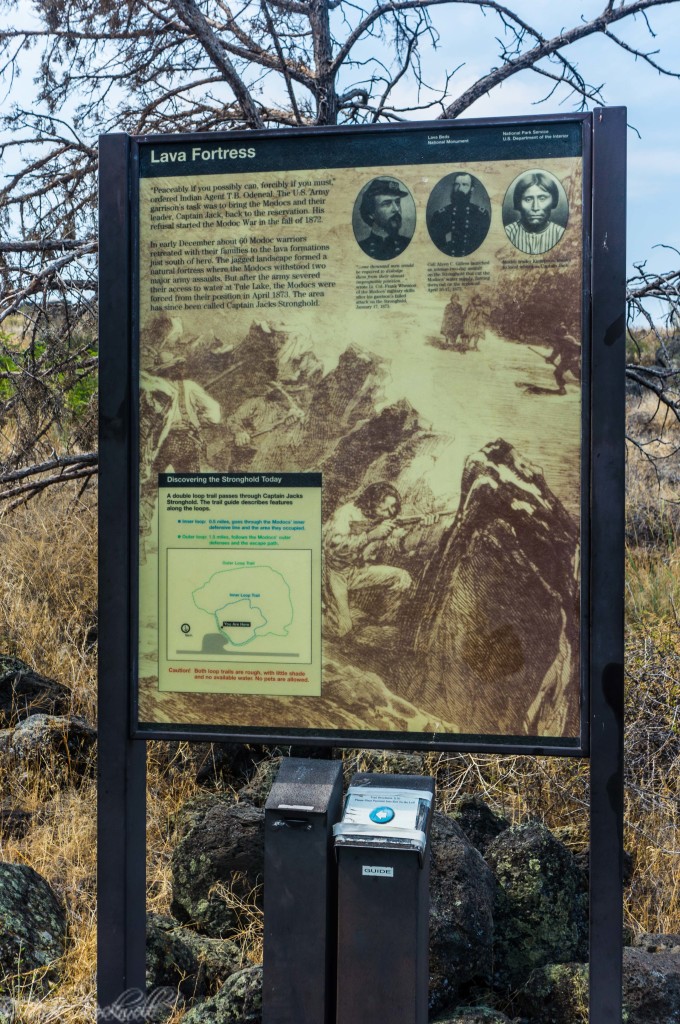 The brochure lists the different points within the stronghold from Jack's dwelling to firing positions and lookouts. What few areas that might have been a weakness in the stronghold, were quickly fortified by the tribe, making it a nearly impenetrable fortress.
The Modoc had a natural corral to house the animals and it was only a short walk to Tule Lake that could be made in the dark and unbeknownst to the U.S. Army.
Putting the history aside for a moment, this stronghold is really a marvelous military bunker created from lava flow. The Modoc brilliantly maximized the stronghold's potential by preventing the Army from setting up a perimeter, advancing on them, and making it seem that there were more warriors than there really were. The band could fire upon the Army without the soldiers being able to see where the bullets were coming from and could move around without detection in the darkness.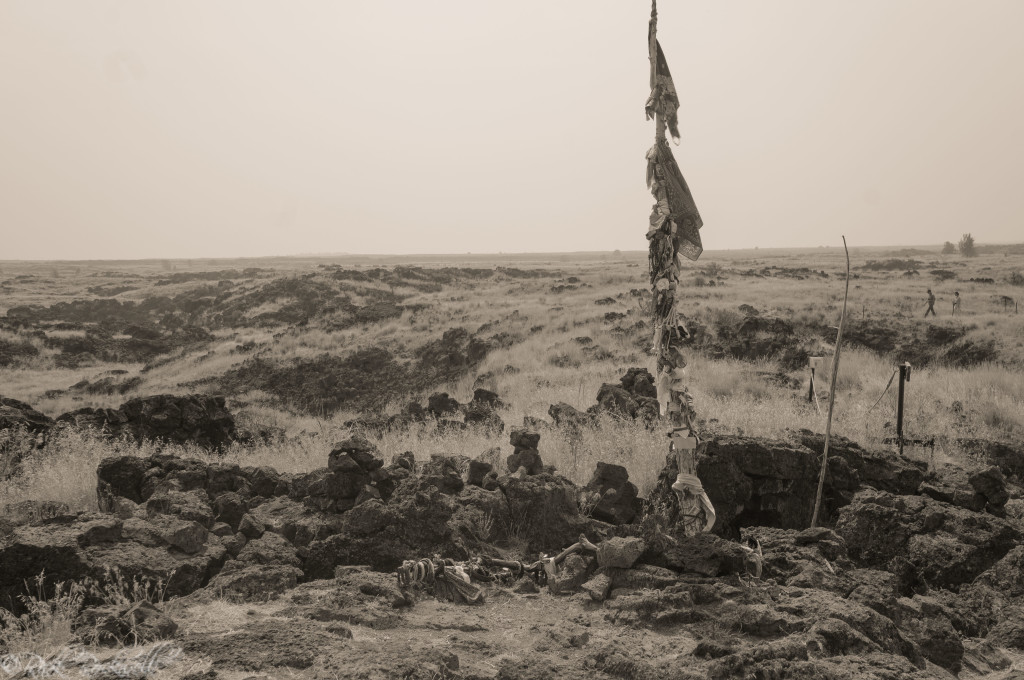 My Experience at Captain Jack's Stronghold
Captain Jack's Stronghold was on my bucket list. It was a place that I've wanted to visit since 1997 when I first began studying Native American history in college. During that time, I spent roughly 9 years studying and working with various tribes both professionally and as a volunteer. I was a few classes away from graduating with a degree in Native American history before leaving school to work full time and take care of my daughter. So, even though my kids weren't as excited as I was when we visited the stronghold, it was definitely an experience that I will never forget.
This stronghold is far removed from any marks of civilization. And, if you allow yourself, you can really feel the emotions and history that still reside in this place.
I took the entire 2 mile loop system and even went off trail in different regions to get a better perspective of this stronghold. I can't even imagine what it would have been like to engage in battle with someone entrenched in this fortress. From a distance, it looks like someone just disappeared. And yet, it's easy to see how the Modoc appeared to have a larger force by firing from different locations.
At first, I was examining this place through the eyes of a student of history. But, that quickly faded as the inner kid in me came out and I began exploring this stronghold like I found the greatest fort ever made.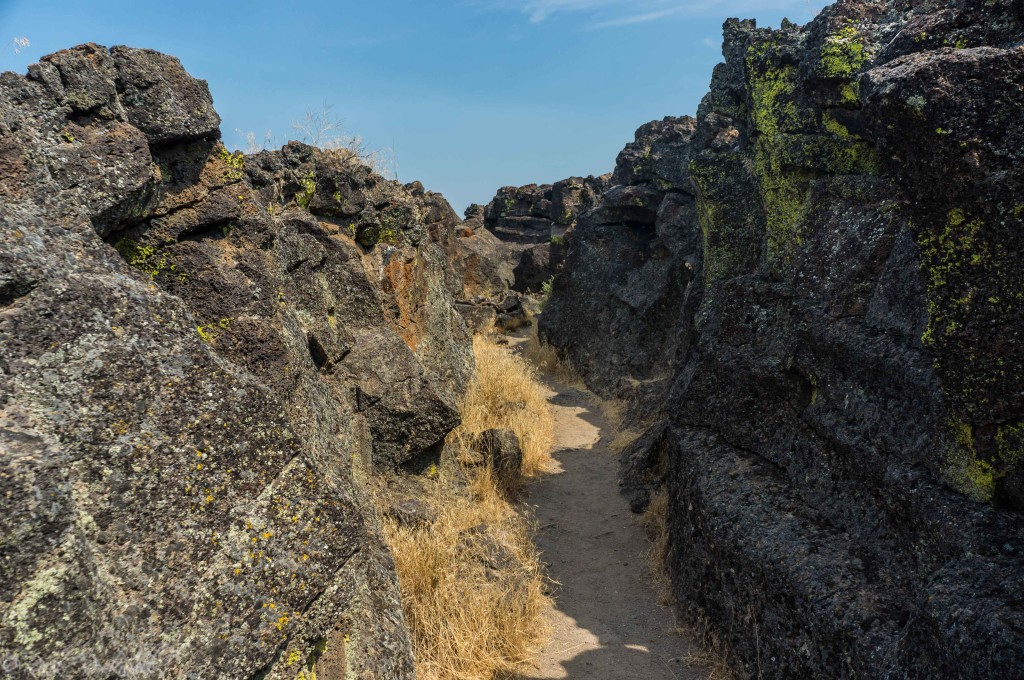 I was running through the maze of trenches, firing upon other visitors, taking shelter in the caves and laughing like the world stood still. In no way did I forget the significance of this place. But, it was almost like I was hanging out with Captain Jack, someone who I had long admired from my studies.
There were acts of war committed by both sides that I truly disagree with. However, you have to admire Captain Jack's desire to save his people from harsh, unfair conditions on the reservation, to return to their home, to want peace even in the midst of war, and to want the basic freedoms that every man walking this planet deserves.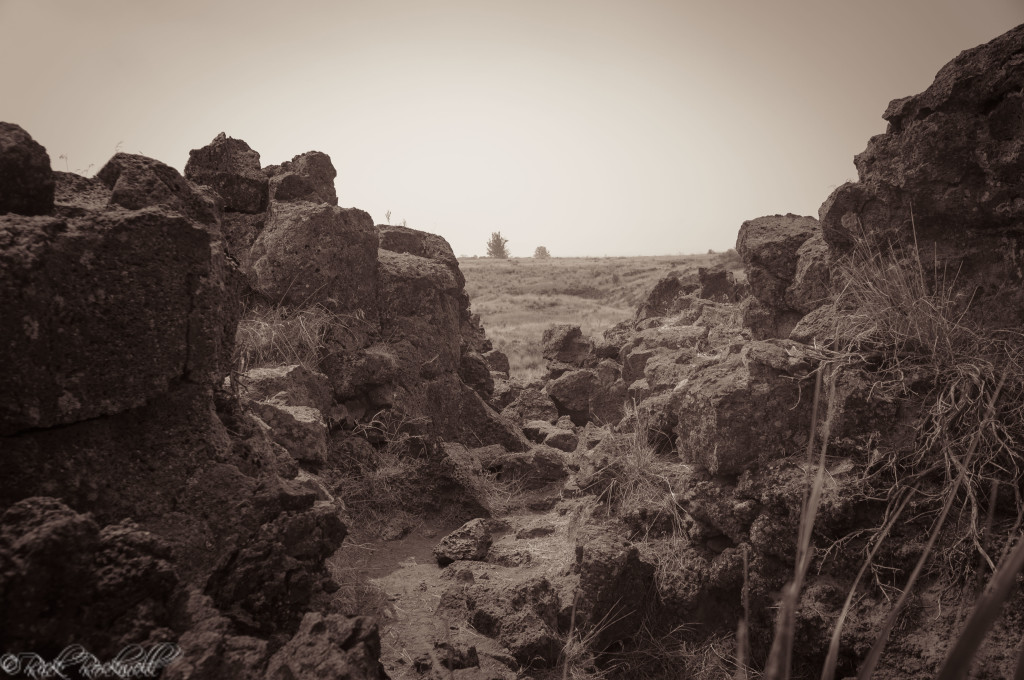 Final Words
Lava Beds National Monument is one of the Top 10 places to see in California. It's like you are exploring another planet with the geological formations, hundreds of caves, Native American petroglyphs and historical remnants. Captain Jack's Stronghold is a reminder of an ugly period of American History. And yet, it's also a stellar example of military brilliance and a heart wrenching story of a tribe's survival.
Location
Located at the Perez Turnoff, off of Highway 139, between Tule Lake and Canby, California.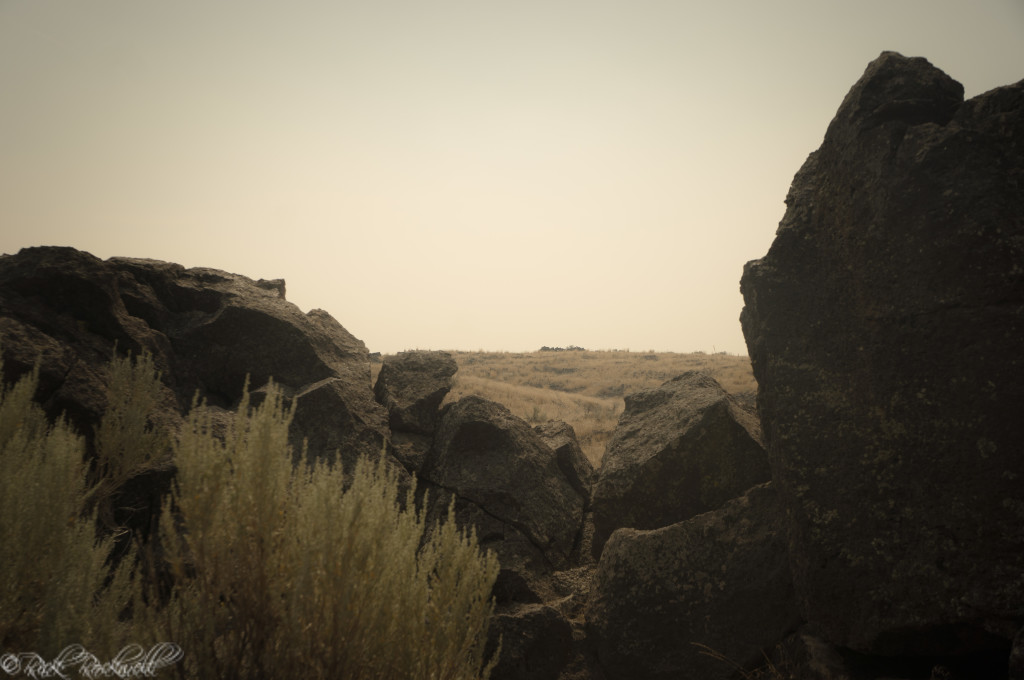 The Stronghold Battles
During 1872-1873, these unique lava tubes, or caves, upwards of 700 in total, acted as a fortress for a small band of Modoc warriors who chose to defend their homeland at all costs. The leader of the band of roughly 53 Modoc men along with their families, was Kintpuash, also known as Captain Jack.
Due to the geological conditions of the area, the Modoc had the upper hand despite the fact they were outnumbered 6 to 1 in the first battle here and later nearly 37 to 1 in the following battle. The trenches or pathways that bend and curve through the landscape acted as a means of quick travel through the area, unseen by their enemies. As the Modoc ran around the trails of trenches lighting fires, shooting but continuously moving, this allowed them to give the impression there were more warriors than there really were. The Modoc knew the land better than anyone else, and they used their knowledge of the lava beds to their advantage for as long as they could.
After the Battle of Lost River, which ultimately started the Modoc Wars, Captain Jack and his small group of Modoc people fled to and remained holed up in those caves for several months while continually seeking a peaceful resolution. They were able to stay alive for many months due to the fact they had secret access to fresh water from Tule Lake, as well as nearly 100 head of cattle they captured and used as food supply during the time period.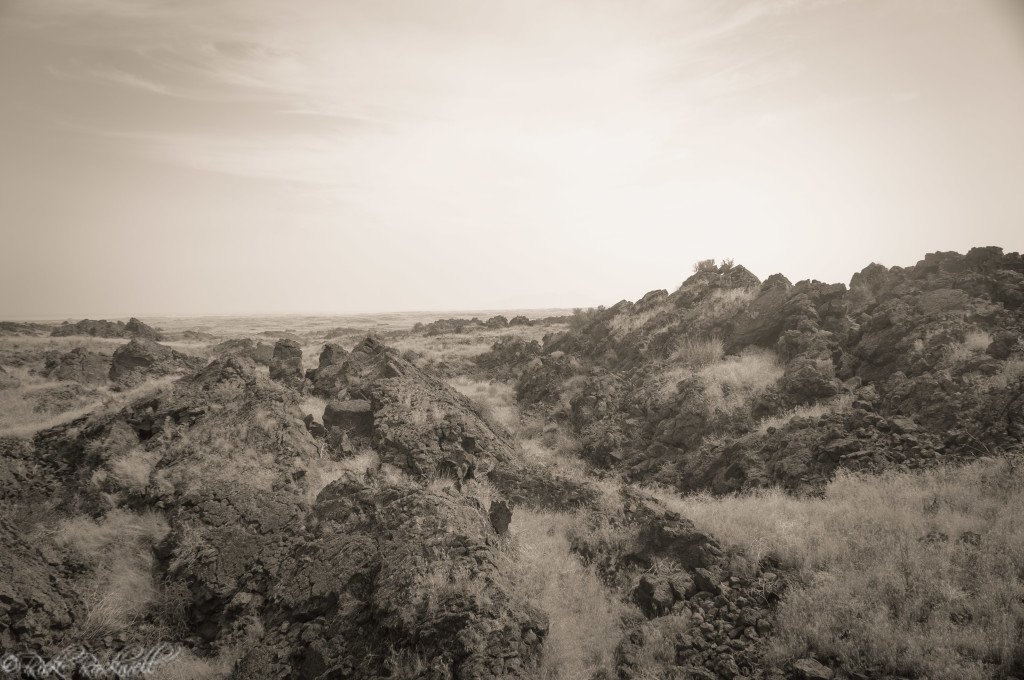 On January 17,1873, the Modoc defeated an army of nearly 300 soldiers, sending them retreating back to Forth Klamath in the First Battle of the Stronghold. The night before the battle the soldiers camped nearby heard prayers and chanting well into the darkness of the night, as the Modoc performed their ceremonial war-dance around the medicine pole, asking the Great Spirit for protection and victory. The next day, victory was theirs, when a thick layer of fog engulfed the area, throwing the soldiers off guard and allowing for the Modoc to attack their enemies. The tag-team assault from both east and west that the U.S. Army had originally planned, was thwarted by the Great Spirit, according the Modoc belief.
During an armistice between the battles, more blood was shed, an older Modoc woman was burned alive, many held captive, a Modoc woman was raped in front of her husband, and Captain Jack's wife's horses were stolen by the Army. The show of brutality on innocent parties who were not part of the fight further infuriated the Modoc men, also dredging up dark memories, reminding them of the Ben Wright Massacre their people suffered decades before. Despite this, Captain Jack was still hopeful that there would be a treaty of peace between his people and the U.S. Government. After the Army was defeated in the First Battle of the Stronghold, the negotiations of a peace treaty was started which lasted until April 11, 1873.
Back at the Stronghold, an uprising and division had occurred between some of the men in Captain Jack's tribe. Hooker Jim along with a few others, publicly humiliated their chief, Kintpuash (Jack) in hopes to shame him into taking a more violent approach. Up until that point, Jack had remained opposed to any more bloodshed and only wanted things to end peacefully. After being basically called out as a coward by a majority of his own men, Jack was pressured to lead the attack to assassinate the peace commissioner and all those in attendance of the next peace conference.
When Captain Jack and his men approached the parties, he knew that the only way to avoid further war was if General Canby was willing to accept the treaty by allowing the Modoc to stay on their land. Through an interpretor, "Winema," Captain Jack asked to be allowed the land of the lava beds and that the soldiers leave their homeland. Signing his own death warrant, General Canby denied the request, and plainly stated that the "soldiers could not be withdrawn." The chief requested again, to which Canby remained mute. The silence spoke volumes, causing Captain Jack to utter the words "Ot-we-kau-tux," (let us do it, already). With that, Captain Jack pulled out a pistol and shot General Canby in the face. Canby ran about 40 feet and was shot again in the back of the head. Dr. Thomas, who was also at the peace conference was killed by Boston Charley and Old Schonchin was delegated the job to kill Alfred Meachum, who had long been a friend to the Modoc people and worked for the Indian Affairs.
During the battle, Boston Charley attempted to scalp an already critically injured Meachum, but Winema fought him off in order to save his life. This all-out assault during what was supposed to be considered a "flag of truce," only set in motion the second and final Battle of the Stronghold to which the Modoc would not be able to escape from. In the Modoc's defense, they believed they were acting well within their rights since they saw evidence that the Government didn't follow the same rules they claimed to enforce.
On April 15, 1873, the battle ensued for two days, and at one point the men cut off the access to fresh water. Dehydrated, malnourished, and exhausted, Captain Jack sent most of the families fleeing into the night. By the time the Army invaded the caves, it was too late, the Modoc had escaped via an unknown crevice in the lava tubes, allowing their undetected departure right under the noses of their enemy.
Captain Jack along with several of his men evaded the authorities for another two months. Eventually some of his own men, the ones who pressured him to resort to more violence, betrayed Jack again by surrendering first. By doing so, they also made plea bargains for immunity in exchange for helping to capture Jack and his men, and testifying against him in court. By June 1, 1873, Captain Jack and his remaining men surrendered on their own accord. He had enough running, there was just no more fight left in him.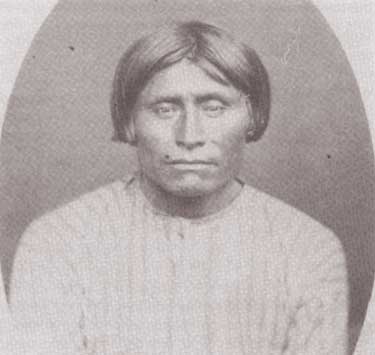 At trial, Hooker Jim betrayed Captain Jack, making him out to be the instigator of the attacks. At one point Jack yelled out "I didn't want to fight. Why did you kill my friends?" as he pointed to Hooker Jim. To the end, Jack adamantly stated that he only wanted peace. He never wanted to fight. Out of the Modoc men who fought in the Modoc Wars, six of them were sentenced to death. President, Ulysses Grant offered clemency of two of the men, sending those two to Alcatraz. However, Captain Jack, Schonchin John, Black Jim and Boston Charley were sentenced to hang from the neck until dead.
On October 3, 1873, the men were taken to the gallows. The day before, Captain Jack was allowed one last visit with his family. He held is daughter Rosie close, rocking her back and forth. Everything he fought for was right there in his arms. He fought for family, for honor and for his people. He didn't want to have to, but he tried every avenue to avoid it. In the end he had to face his death with bravery, despite the injustice being done to him. All he wanted was to be free, to be given the right that every man has when they are born, to make his own way. He was not given that chance and he died fighting for it.
After the four men were executed, their bodies were allegedly buried in the cemetery at Fort Klamath, however rumors persisted that they decapitated their heads and stored them in jars that were sent to Washington, D.C.  Other claims made that week, was that of a coffin being brought on the train back to Washington, D.C. was the complete corpse of Captain Jack, which allegedly went into storage. There has never been any definitive answer to where the bodies of Captain Jack and his men really went.
In his book, The Tragedy of the Lava Beds, Alfred B. Meachum says this:
"I submit that, had Captain Jack and his band been protected while upon Klamath Reservation in 1869, or, had his plea for manhood's rights been regarded, or, had the patience been exercised in enforcing the order of his removal to Klamath, in November 1872, no war would have occurred. Again, I submit that had no Modoc horses been captured by our army during the armistice; or, had they been returned when demanded, and no further breach of the compact been made by the movement of our troops under the flag of truce, no assassination would have been committed, and peace would have been secured on amicable terms."—Alfred B. Meachum "
Betrayals of trust sparked a fire that continued to burn long after visible flames had diminished. Because of this, resentments grew deeper for the Modoc people. When they were forced off their land and made to live on a Reservation alongside the feuding tribe of the Klamath people, Captain Jack had enough. He offered to pay taxes, begged the government over and over to grant him citizenship to allow he and his people to live peacefully in a small stretch of land along Modoc territory. After numerous refusals the Modoc people could stand it no more. Starving and sick, they escaped the Reservation to return back to what they called "home." Because of this one act, considered to be disobedience to the laws, unfair laws that the government itself didn't even follow, they set forth to exterminate any and all who broke their "peace treaty."
A treaty that was very one-sided, giving the government Carte Blanche authority to dominate the Modoc and force them anywhere by any means necessary, if they didn't obey. In the end, these things all added up to the explosion that would become the Modoc War, a war, as Alfred Meachum stated, that could have been avoided all along.
Thanks to J'aime Rubio for her assistance with this article!