(Last Updated On: December 31, 2019)
The story behind Convict Lake's infamous history is like something out of an old western film or a dime store novel. It's a tragic tale of murder and outlaw justice that not only changed the names of natural landmarks, but also left a history unmatched by any other lake in the Sierras.
Positioned at roughly 7,600 feet in elevation, and up to 140' deep, Convict Lake captivates visitors with its magnificent mountain scenery, entices with its legendary trout fishing, refreshes the soul with its Eastern Sierra charm, and fascinates with its tales from long ago.
What was the name of the lake before it was called Convict Lake?
Before being renamed Convict Lake in the early 1870s, this Sierra bowl of glacier water had the following names:
Wit-sa-nap: A Native American Legend
Prior to the arrival of early California pioneers, Convict Lake was known by local Native American tribes as 'Wit-sa-nap,' which comes from an old tribal legend of Paiute origin.
The Paiute believed that mountain streams flowing through the Sierras were filled with 'pot-sa-wa-gees,' which were spiritual water babies that had the face of an "Indian child" and the body of a fish.
One day, a "wise and good man" named Hi-na-nu decided to go against his good nature by trying to capture these 'pot-sa-wa-gees' for selfish reasons. As they were about to be captured, the 'pot-sa-wa-gees' cried out to the creator for help.
According to Mrs. A. A. Forbes, in the Sierra Club Bulletin vol. IX (1913-1915), the legend concludes as follows:
"They prayed to the Great Spirit for aid, and in answer he caused the waters to flow up hill and to join the waters flowing down from the mountains, uniting in one large, deep lake, wherein the little spirits found safety —Wit-sa-nap, the Convict Lake of to-day."
Who was A. A. Forbes?
Mrs. A. A. Forbes was married to Andrew A. Forbes who opened a photography studio in Bishop, CA, around 1902, and spent 14 years taking photos of the landscapes and tribes of the region.
Forbes built long-lasting relationships with the tribes and was also allowed to photograph their encampments in places like Owens Valley and Yosemite. His relationship with the local tribes lends even more credence to his wife's account of the Native American creation story for Convict Lake.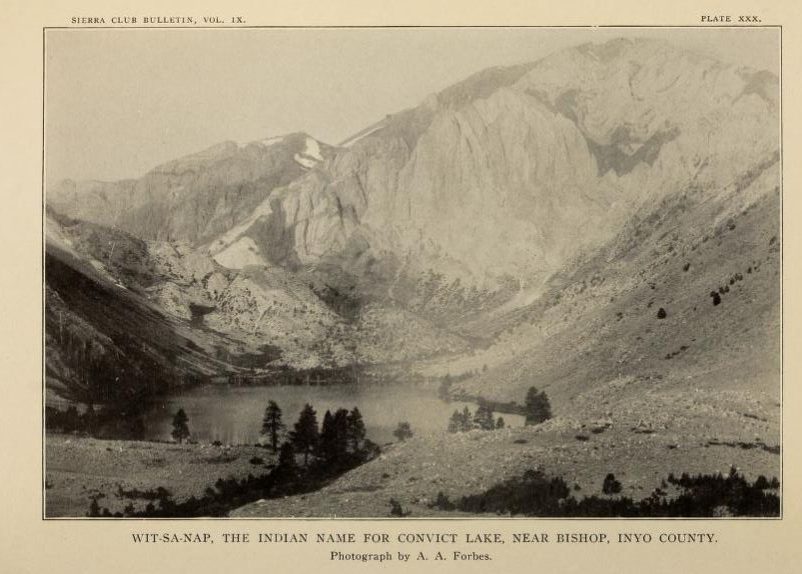 Monte Diablo Lake aka "Devil Mountain Lake"
By the time Mono County officially formed in 1861, Convict Lake and its creek were already named Monte Diablo Lake and Monte Diablo Creek. When translated into English, the name means Devil Mountain. Unfortunately, the reason why early settlers chose this name has been lost in time.
From Devil Mountain Lake to Convict Lake
The events of late-September 1871 not only resulted in residents renaming the region, but it also left a history that has become part of the allure of Convict Lake. The story starts with a daring prison escape in Carson City, Nevada, and concludes with a manhunt across multiple states as fugitives tried to avoid being recaptured or the end of a rope.
The Carson City Prison Escape of 1871
On Sunday, September 17th, 1871, about 6 PM in the evening, prisoners at the Nevada State Prison in Carson City, NV, were congregating in the dining hall following dinner. V.E. Rollins, Captain of the Guard, made his way into the hall to begin the customary process of locking the inmates in their respective cells.
As soon Rollins entered, he was attacked and knocked unconscious. Inmate Pat Hurley grabbed Rollins and threw him into a locked cell, which ultimately saved his life because he was certainly close to death due to the vicious beating he had taken.
After they took Rollins' keys, the prisoners, armed with makeshift weapons, climbed above the cells and cut a hole into the roof where they crawled through. A short distance later, the prisoners came down through another hole above the main staircase.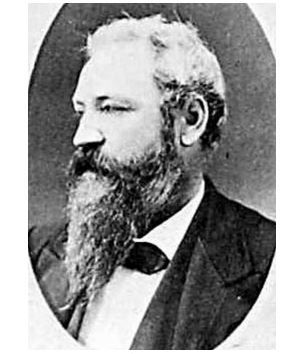 The plan was for the prisoners to head down this staircase to the armory where they could procure weapons for their escape. However, some of the inmates got sidetracked by the dinner party that the Warden Lt. Governor Frank Denver was holding in the room adjoining the entryway to the top of the staircase.
Several inmates decided to rush toward Denver who was armed with a revolver after hearing the prisoners come through the roof. Denver shot at the inmates, before being overwhelmed by the numbers.
Inmate Robert "Bob" Dedman, who was the server for the evening, came to the Warden's aid. He fought off knife wielding escapees with chairs. Eventually, both Denver and Dedman were seriously injured and left for dead. Denver had suffered a gunshot to the upper thigh and deep wounds to his head while Dedman was beaten unconscious.
Denver's wife, daughter, and mother all took off running during the chaos. They miraculously made it out of the prison alive.
Ultimately, Denver and his family were saved by the brave efforts of Dedman who was in prison for killing a man in Virginia City. His heroics eventually earned him a full pardon from the state.
A Wild West Shootout in the Front Yard
Once armed with guns, the prisoners exploded out the main door into the front yard. The gunshots and screams from the women caught the attention of the prison guards and patrons of the Warm Springs Hotel which was located next door to the west side of the prison.
Tales of the shootout might have been embellished by some reports, but they're still very thrilling as three guards took on nearly three dozen armed prisoners trying to escape.
F.M. Isaacs was one of the first guards to arrive on the scene and confronted the tidal wave of treacherous men. A stoic Isaacs emptied his gun at the charging inmates. He suffered multiple gunshot wounds and would eventually die from his injuries several days later.
Johnny Newhouse, another guard, joined the shootout and allegedly hit a few inmates with his shots before he was taken out by a blow to the back of his head. Luckily, it wasn't a gun shot, but an object from a slung shot.
A third guard named Perasich was outside the front gates and came running inside to back-up his fellow guards. He was seriously wounded with a shot to the left hip.
Warm Springs Hotel proprietor Matt Pixley came over from the hotel to help, but was struck down dead with a bullet below his left eye. The shot was attributed to Charley Jones who fired a rifle through a window.
C.W. Burgesser, the barkeep from the Warm Spring Hotel, followed his friend Matt Pixley to the prison where he fired at the convicts and was grazed by bullets himself. One newspaper account stated that a shot went right through his pants and took out the backend of his "pantaloons and drawers."
Surprisingly none of the prisoners were seriously wounded in the shootout.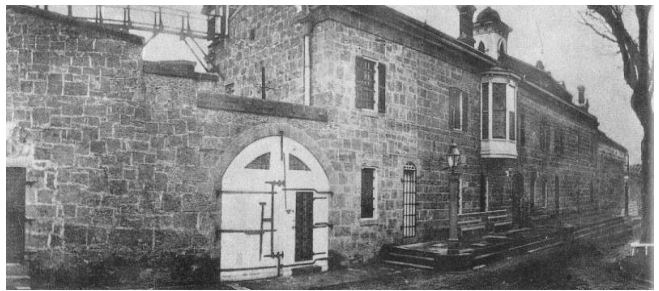 An Immediate Response from the Law
Following the prison escape, word spread quickly that inmates were on the run. At the time, authorities weren't sure how many had escaped. It seemed as if a posse was formed in every nearby town to ride out into the dark after the escapees.
Soldiers were quickly dispatched to the prison to ensure the rest of the prisoners didn't flee. Lawmen from neighboring towns also joined in on the manhunt. The Governor would offer $200 to $300 dollar rewards for each escapee.
29 Inmates Escape Nevada State Prison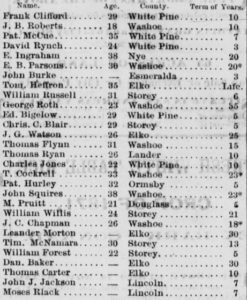 In total, 29 inmates successfully escaped the prison. Two additional inmates named Dan Taylor and Barney Cosgrove took part in the breakout, but failed to get beyond the prison walls like their cohorts did.
Once the escapees were beyond the walls, it was a mad scramble for freedom. Groups of inmates split up and headed in all different directions.
The following is a list of the 29 inmates that escaped and details of their fate:
Francis Pruitt – Caught on October 25th in Stockton, CA. In his statement, Pruitt proclaimed that Thomas Heffron forced him to be a part of the prison escape.

William Russell – also acknowledges that Heffron was the brains behind the escape. He started out with Ingram, Bigelow, McCue and McNamara, but after a few days he ended up leaving on his own due to disagreements among the men.

Russell was captured in Sacramento about five weeks after the escape. The papers described him as a "wicked and desperate character" who had several "bloody scrapes" in prison with Heffron and his gang.
Patrick McCue and Edward Bigelow
McCue was originally sent to this prison for biting off a man's ear and convicted of "mayhem." Later he was discovered to be the infamous "Peeping Tom" of Hamilton. He was captured in Placerville by the beginning of October along with Ed Bigelow. McNamara and Ingram avoided capture.
Three's Company: Ryan, Flynn and Hurley
According to a statement made by Thomas Ryan, he along with Thomas Flynn and Patrick Hurley traveled together following the escape. About five miles from the prison, Flynn was too tired to continue and had to rest. Ryan didn't detail what the other two men did.
We don't know what happened to Hurley, alias Mos Boucher, as he's one of 11 men to evade being recaptured. However, we do know that Thomas Flynn, aka Mat Rafferty, was captured in Rocklin by the local constable on October 5th.
As for Ryan, he made it all the way down to San Francisco where he avoided capture until early November. Along the way, Ryan hid out in farms, almost drowned in a marsh, hiked through the mountains and rode a horse 145 miles to Placerville.
From there, he went to Sacramento where he sold the horse and bridle, also received some money from a friend, and then set off to San Francisco.
The 11 Prisoners That Were Never Recaptured
Along with Patrick Hurley mentioned above, the following prisoners were never recaptured:
Timothy McNamara
William Forrest
Daniel Baker
Thomas Caster
John Jacks
David Lynch
Elijah Ingram
Thomas Heffron
Chris Blair
John G. Watson
Of these 11, John G. Watson received attention in the papers for being "cunning as a fox" and was predicted to be the most elusive of the bunch. He chose Daniel Baker and John Jacks as his travel companions due to what they could provide him and was thought to have headed east.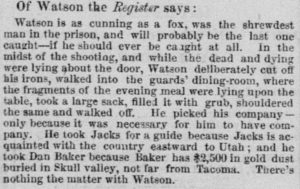 The Verdi Railroad Robbers Escape
The first train robbery in the West was on November 4th, 1870, when a group of outlaws robbed a train heading to Reno just outside of a small town named Verdi. This little village is located a few miles East of California's border between Truckee and Reno.
Eventually, the outlaws of this train robbery outfit were arrested and sent to the Nevada State Prison. Four of those train robbers escaped in the prison breakout of September 17th, 1871: E. Parsons, John Squires, Tilton Cockrell, and J. Chapman.
Their cohort Jack Davis, the ringleader of the train robbery, didn't escape with them and was eventually released from prison after serving three years on his 10 year sentence. The other four men all were sentenced to roughly 20 years apiece with Cockrell having the longest sentence of 22 years.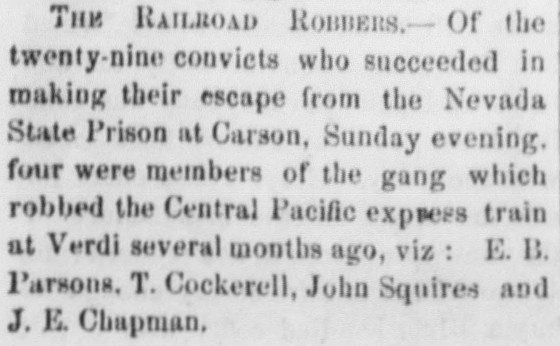 After the prison escape, these four men split up into other groups and went off in separate directions. From newspaper accounts we see that all four men, along with others, were either recaptured or killed:
E. Parsons and J. Chapman were captured along Walker River near an Indian Reservation roughly 10 days after their escape. They were near Burgess' station and caught the attention of Mr. Burgess who rounded up "25 to 30 Indians" and captured the escapees. Along with Parsons and Chapman were Frank Clifford and George Roth.
John Squires had split off with William Willis and they were caught a few days prior by Sheriff Atkinson's party at the head of a tunnel in Six Mile Canyon.
The 4th member of the Verdi train robbers to escape was Tilton Cockrell. He proved to be more elusive than his fellow bandits. Apparently, Cockrell met up with or left with Charley Jones and John Burke near Round Valley. Initial reports said that Jones was found dead in a cabin while Cockrell and Burke were killed in a gunfight with the trailing posse.
After a few days, those reports were refuted and it was proven that Cockrell and Burke were both captured and taken to Wellington Station. Jones had evaded capture for a few more months.
It's also believed that Cockrell, Burke, and Jones were part of a larger group of inmates along with Black, Morton, and Roberts who were responsible for killing a young Pony Express rider near Wellington Station and also involved in the shootout at Monte Diablo Lake.
The Fatal Gunfight of Charley Jones and Francis Armistead
In mid-December 1871, roughly three months after the prison escape, Francis S. Armistead tracked down Jones on the San Juaquin River about 50 miles from the head of Long Valley.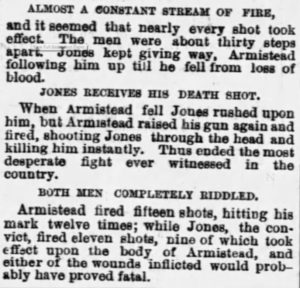 Jones refused to be taken back to prison and would engage in an epic shootout with Armistead. Each man had a Henry rifle and were roughly 30 steps apart during the gunfight. A "constant stream of fire" ensued with both men being hit repeatedly.
Armistead eventually fell from blood loss, which prompted Jones to charge at him. As he got closer, Armistead lifted his gun and fired at Jones. The bullet when right through Jones' head, killing him instantly.
In total, the two men reportedly fired 26 shots. Armistead fired 15 shots and hit Jones 12 times while Jones fired 11 shots and hit Armistead nine times. Although riddled with bullets, Armistead lived another two hours after the gunfight.
There are some sources of that era, and historical perspectives, that don't believe this event actually took place. While other sources and historical views believe this event was true and a fitting ending to the notorious Charley Jones.
The Shootout at Monte Diablo Lake
As mentioned above, six escapees made their way south toward Wellington Station and beyond: Jones, Cockrell, Burke, Leander Morton, J.B. Roberts, and Moses Black. Of this group, Jones was said to be the leader.
Well ahead of any trailing posse, the group of convicts made a gruesome mistake that ultimately led to their undoing. They came upon a young Pony Express rider named William "Billy" Poor and ended up murdering him for no good reason. According to prisoner statements, it was Jones who fired the fatal shot.
From there, they took Poor's horse and gear while leaving him dressed in convict clothing to try and throw off any trace that the law might've had. However, it ended up doing the opposite as the murder of Billy Poor enraged nearby residents and increased the intensity of the manhunt.
Sheriff Hightower of Benton gathered about 10 men including Robert Morrison and set out after the fugitives. The trail was picked up at Adobe Meadows and followed all the way into Long Valley.
The group of convicts would eventually lay camp at Dexter's Canyon that night. The next day they set out to put more distance between them and the search party. Eventually, they made it to Monte Diablo Canyon, at the head of Long Valley, where they set up camp.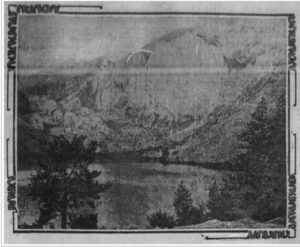 The Ambush at Monte Diablo Creek
In the middle of the night, the posse discovered the fugitives' camp and a grueling shootout ensued.
There's some confusion over what happened next. Escapee J.B. Roberts made a statement that Jones, Burke and Cockrell were out looking for berries when the gunfight began. Some newspaper accounts state that members of the posse fled when the gunfire commenced. Either way, those three men were most likely not involved with this shootout.
Members of the posse dismounted and moved toward the camp. Roberts was badly wounded as soon as the shooting began. Sadly, Morrison was shot and killed by Moses Black as he tried to make his way closer to the convicts. Black took Morrison's gun and delivered the fatal shot to his head.
Black and Morton then fled up the canyon and came across Mono Jim, an Indian who was with the posse and watching the horses. Mono Jim thought it was the posse at first. He quickly learned of his grave mistake and exchanged fire. Leander Morton later stated that he killed Mono Jim after shooting him in the eye.
Morton, Black and Roberts were able to escape the shootout at Monte Diablo Lake. However, 10 days after their daring prison escape, Morton and Black were captured about five miles from Round Valley. A posse led by Sherwin, Hubbard, McLeod and Francis Armistead were responsible for the capture.
A few days later, Roberts was captured in Pine Creek Canyon. He didn't put up a fight due to the injuries he sustained in the shootout at Monte Diablo Creek.
Vigilante Justice Prevails
The plan was to take these three prisoners back to Carson City. However, a large group of angry citizens looking for vigilante justice surrounded the wagon transporting these prisoners near Pinchower's store, according to "The Story of Inyo" by Willie Arthur Chalfant.
The escapees were taken to a vacant cabin where they were interrogated. Black and Roberts had to be carried inside due to their injuries. After a few hours of interrogation, the mob decided to hang Black and Moses for their crimes against Morrison and Poor. Roberts was taken to the county jail in Independence.
Eventually, the region would move on from this tragic event. However, it would never forget what took place.

Renaming to Convict Lake and Mount Morrison
It wasn't long after the shootout at Monte Diablo Lake that locals started calling it Convict Lake. Additionally, one of the tallest mountains overlooking the lake was renamed Mount Morrison in memory of Robert Morrison who gave his life in pursuit of the prisoners. Mt. Morrison Road and Mt. Morrison cemetery also have Morrison's name.
In 1974, a historical plaque was erected to memorialize the name change and the events that took place in late-September 1871.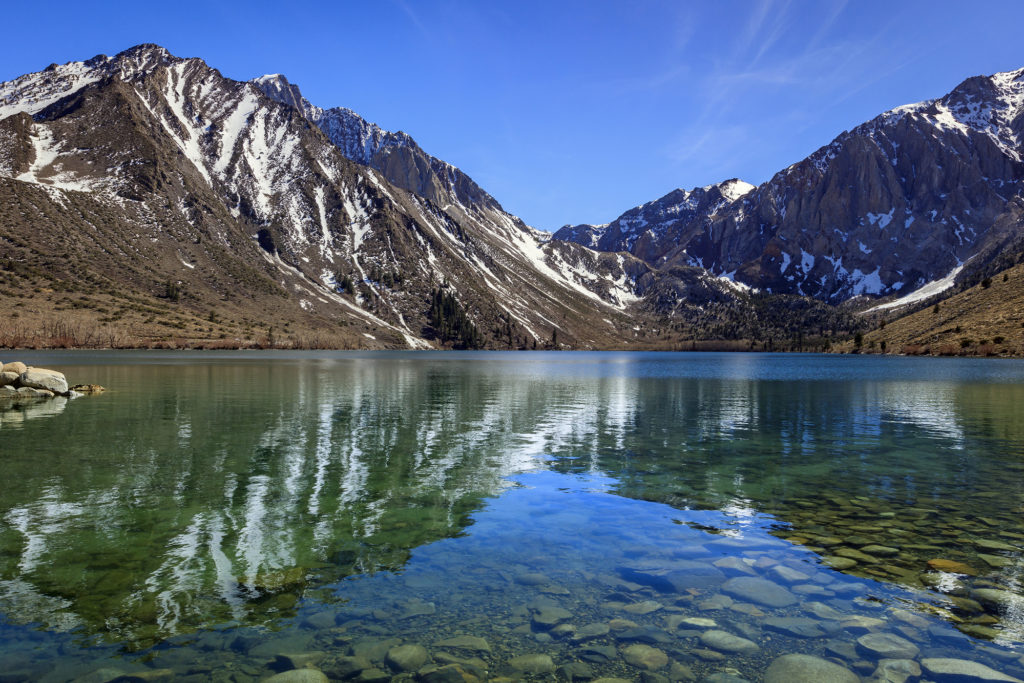 Convict Lake's Recreational Activities
In addition to the history of this beautiful lake, there are the following recreational activities:
Trout Fishing
In addition to its beauty and colorful history, Convict Lake is well known for its trout fishing. As far back as the late 1800's, tales of large brown and rainbow trout have brought anglers from all over the state to cast their lines in this pristine lake.
Fishing season is from late-April to mid-November. Visitors can rent boats from the lake's marina.
Convict Lake Trail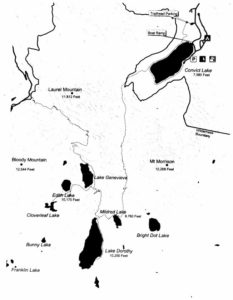 Hiking is another fulfilling recreational activity that visitors can enjoy. The Convict Lake Trail is a three mile loop around the lake with scenic views the entire way. The trail is rated as an easy trek due to minimal elevation gain and a clear pathway.
Visitors can park at the Convict Lake trailhead and enjoy the stroll at a leisurely place. The more advanced hikers can take this trailhead past Convict Lake to other points of interest:
Mildred Lake (5 miles one way)
Lake Dorothy (6 miles one way)
Once out at Lake Dorothy, backpackers and overnight campers can visit additional lakes like Lake Genevieve, Edith Lake, Cloverleaf Lake, Bunny Lake, Franklin Lake and Bright Dot Lake.
Lodging and Camping
The Convict Lake Resort is the only establishment at the lake that provides dining and lodging. The resort is open year round with 27 cabins, three houses, a General Store, and a marina. There's also a restaurant and lounge open year round as well.
1 Convict Lake Rd
Mammoth Lakes, CA 93546
Phone: (760) 934-3800
For those that prefer the authenticity of tents or trailers, there's the Convict Lake campground with spots to rent for camping.
Directions to Convict Lake
From Bishop, head roughly 35 miles north on US 395 and make a left on Convict Lake Road. The campground, resort, and trailhead are all about two miles down this road.
Additional Resources on Convict Lake