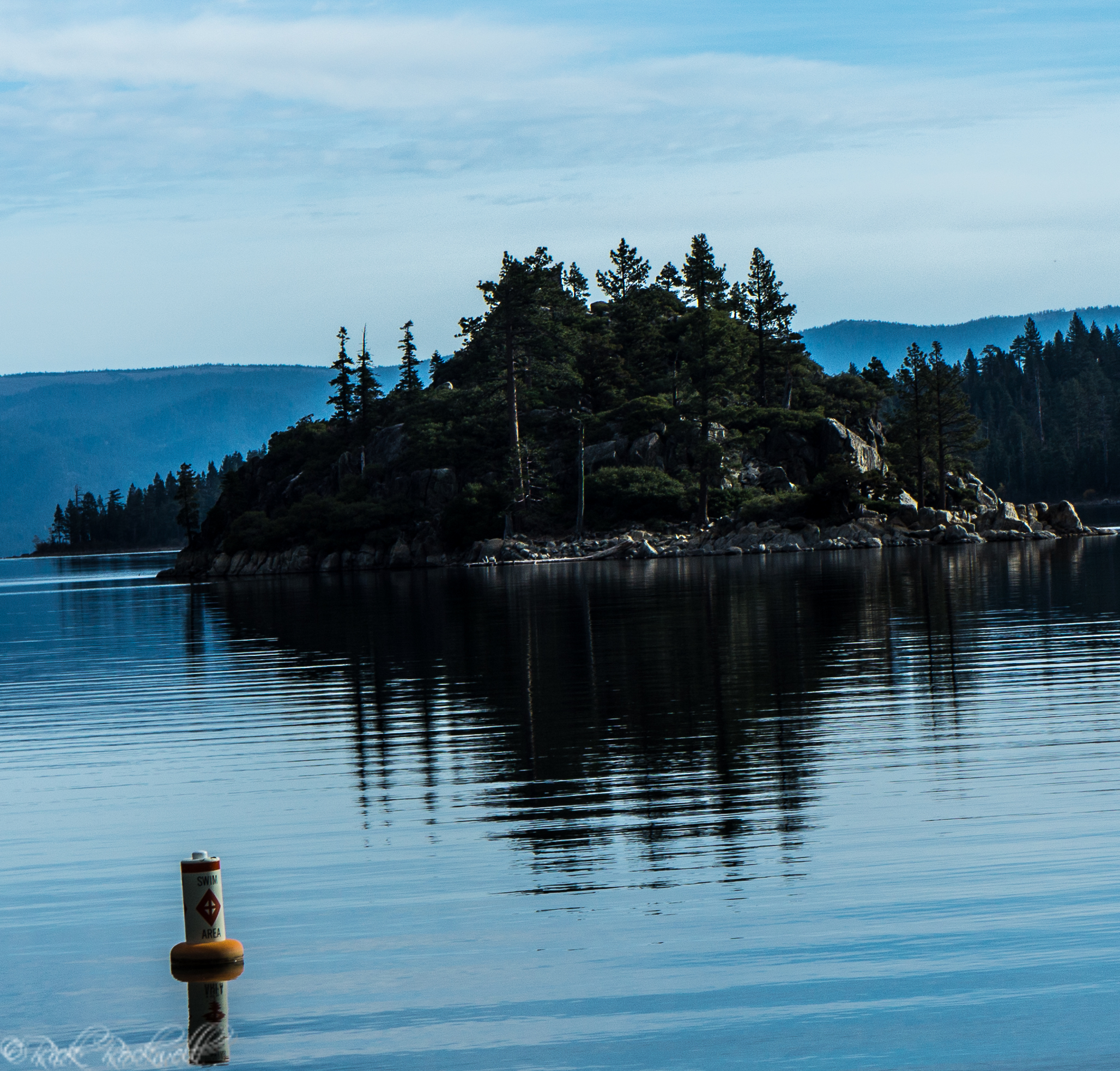 (Last Updated On: May 31, 2015)
Rising 150 feet above the water, Fannette island can be seen whenever visiting or viewing Emerald Bay.
You can reach the island via boat or see it from the shores of Emerald Bay when hiking down to Vinkingsholm mansion. Unfortunately, swimming out to the island is prohibited due to the cold water and boats.
The island has taken on many names over the years. But, even more intriguing than it's names and remains of the "tea house," is the tale of Captain Dick's ghost that still haunts the island to this very day.
Different Names
Over the last century the island went by the following names: Coquette, Baranoff, Dead Man's, Hermit's and Emerald Isle. As a kid, I remember locals still calling it Emerald Isle. I can only assume the reason they called it Dead Man's Island is because of all the boats that sunk and currently lay at the bottom of the bay. And, because of Captain Dick Barter.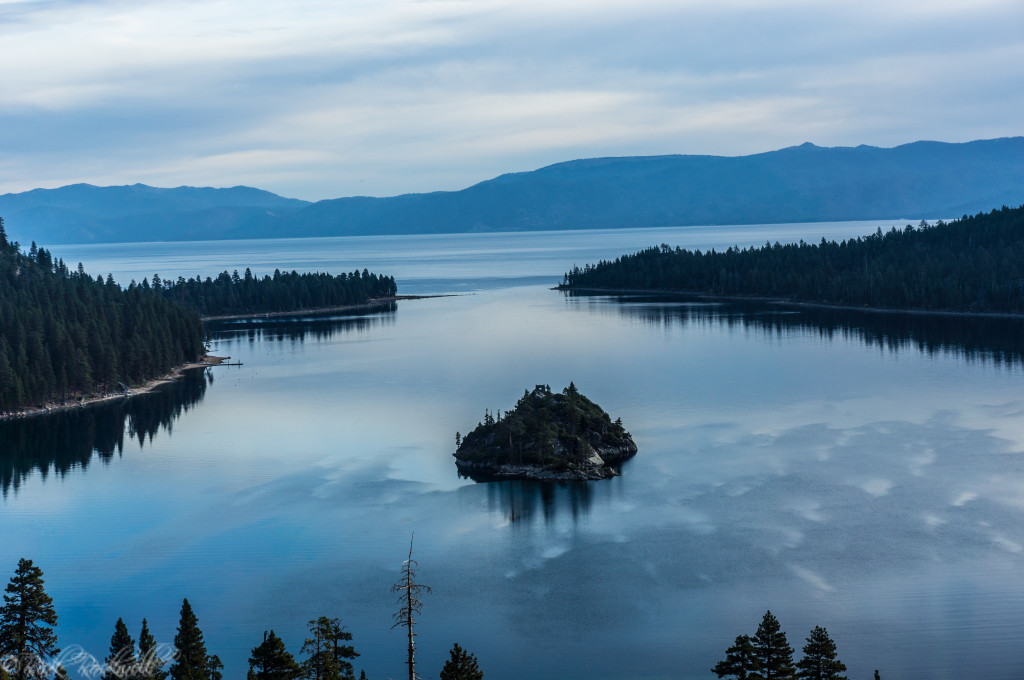 Coquette Island
According to an article in the Sacramento Daily Union published on August 4,1866, the island was called Coquette because of a note found in a champagne bottle tucked away in a crevice. The note was dated 1866 and said the following:
"This island is like a lady in the center of a brilliant circle of admirers who, attracted by her beauty, must still remember that she has a stony heart. I thereby christen the island 'Coquette'."
Many historians believe the name Fannette is a mispronunciation or misinterpretation of the name Coquette.
During the time of this article, and discovered note, Captain Dick Barter was the only inhabitant of the island.
Hermit's Island – "Captain Dick"
In 1862, the pioneer transportation king Ben Holladay built a two story, 5 room resort on Emerald Bay at the foot of Bald Mountain. He soon commissioned Captain Richard Barter, a retired British sea captain, to be the caretaker. Barter would proudly serve this role for the next decade. Known to his friends as "Captain Dick", Barter was locally dubbed the "The Hermit of Emerald Bay" due to the long, lonely winters he spent taking care of the resort. This is how Coquette Island took on the name "Hermit's Island."
An article published on August 22, 1870, in the San Francisco Daily Alta California, detailed his hermit lifestyle:
"he lived in this lonely spot for about seven years. There is not a residence within miles of him, and often for weeks or months at a time, he does not see a human being. He is a Robinson Crusoe in actual life."
When not looking after the resort, Richard would hop in his boat "Nancy" and row 16 miles to Tahoe City so he could frequent the Tahoe House Saloon. In addition to a life of solitude, Barter enjoyed his liquor.
Barter had many tales that filled the saloon upon his visits. He would tell anyone that would listen about his "trout mining" or run-ins with bears. Barter also had wild tales of giant avalanches that stormed down the mountains into Emerald Bay.
Perhaps the only thing he enjoyed more than whiskey and his boat "Nancy," was his long visits with Eagle Falls. On one particular occasion, Barter told a reporter about his intimate time spent at Eagle Falls:
"Whenever I am downhearted, I come out here and talk to it. It's Old Gabriel 's voice to me and tells me all I want to know."
Barter's thirst for whiskey often put him in perilous conditions on the lake. There wasn't a storm that could deter his desire to hit the saloon. But, on one night in January of 1870, a storm almost took his life. His boat was overturned by powerful winds and tossed him into the lake. Still 10 miles away from home, Barter righted the boat and miraculously made his way back home.
According to "Sierra Stories, True Tales of Tahoe, Volume 2" by Mark McLaughlin, Captain Dick shared the following account of that near death experience with a local reporter:
"The night was of inky blackness, the weather intensely cold, the mercury being many degrees below zero. I knew it was useless to call for help. … I also knew if I got in my boat and attempted to reach shore, I should certainly freeze to death."
Barter allegedly swam his way back to Emerald Bay and crawled up the shore to his home. While swimming the remaining 10 miles, he towed his boat "Nancy" and could be heard shouting "Richard Barter never surrenders!".
Captain Dick's hands and feet were frozen due to the time he spent in the water.  Eventually two of his toes turned gangrenous. So, he took out a knife and cut off his own toes. In another example of Dick's unique personality, Barter kept his toes preserved and stored in a small jewelry box.
A few months later, Dick showed a reporter his amputated toes. He was quoted as saying "Them's my toes."  This is how Dick earned the nickname Richard "Them's My Toes" Barter.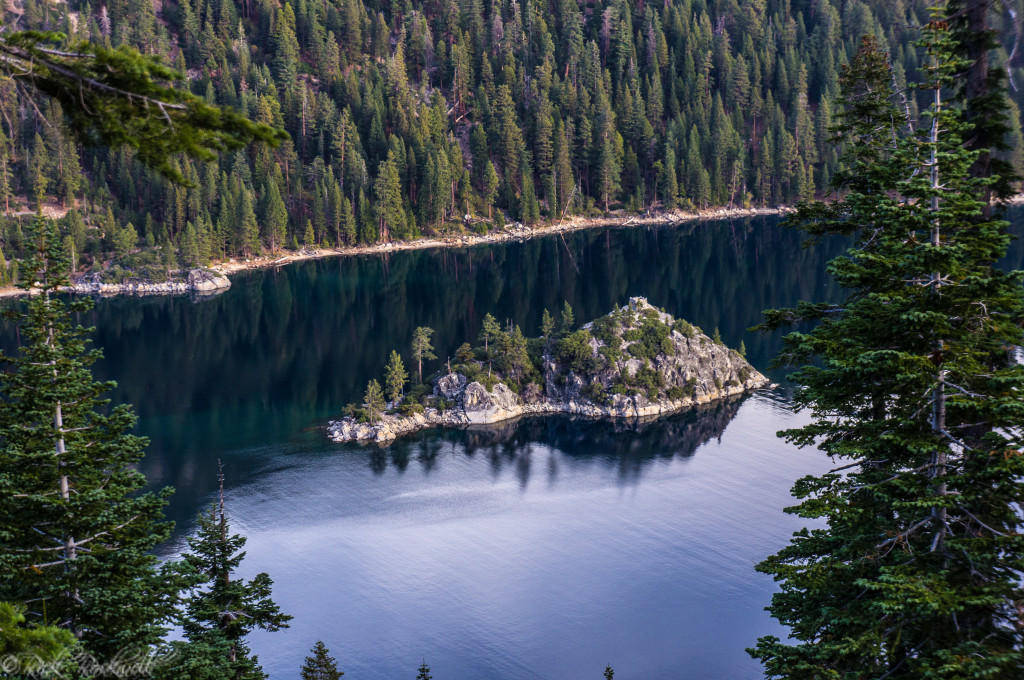 Barter's near death experience deeply impacted his life. He soon decided to head out to the island and build a tomb with a small chapel on it. Barter would tell people:
"Somehow or other, I feel that my time to die is drawing near – so I am going to make a coffin, hang the lid on hinges and put it in position in the cave, so that when I feel that I am called, I'll just come out here, get in this coffin, shut down the lid and then, good-bye Old Dick."
Barter was somewhat prophetic because a few years later he would succumb to the storms that he narrowly escaped many times before.
On the night of October 18, 1873, Captain Dick was returning from an evening of drinking at Tom Roland's saloon on the south shore. This saloon wasn't just any old place. It was part of Rowland's Station which was considered the premiere social establishment in all of Lake Tahoe.
One can imagine the condition Barter was in, when his boat smashed against the rocks at Rubicon Point. Typically, Captain Dick would lay in his boat (or pass out) and ride the water until he woke up sober. Unfortunately on this night, Captain Dick didn't survive his drunken attempt to row home. His boat was seen nearing the rocks at Rubicon Point during the storm. After the storm, Dick was never seen or heard from again.
Check out my article on Emerald Bay State Park for more pics and details
His body was never found and all that remained were pieces of his boat and one oar. A few months later, the second oar broke surface and was found near the site of his demise. An article published on May 29, 1875, in the Sacramento Daily Record-Union, had the following account of the second oar and Dick's death:
"Captain Dick carried with him the last oar to the bottom of Tahoe. How it became detached from his death grip no one knows, but all his old friends regard this oar as a sad messenger sent to tell that Captain Dick's body has no further claims upon this upper world, not even upon the grave he prepared."
Legend has it, that on a cold October night when the fog and mist cover the bay, the ghost of Captain Dick Barter can be seen crawling up the granite rocks on Fannette Island, trying to reach the empty grave he prepared long ago.
Fannette Island
By 1929, the island in Emerald Bay was now known as Fannette Island. It was owned by Lora Knight who purchased most of the bay in 1928. Mrs. Knight built Vikingsholm mansion and also built a tea house on the island. She would take her guests out by boat to the island for some afternoon tea. The tea house looked like a miniature castle with a room that was roughly 16×16 feet and consisted of four oak chairs, a large oak table and a small fireplace.
Today
Nowadays, all that's left of the Tea House is some stone remnants due to the weather and vandalism.
As for Captain Dick, there are placards that memorialize his colorful life located at Inspiration Point off Highway 89 overlooking Emerald Bay. Additionally. Dick's Peak and Dick's Lake, located in Desolation Wilderness just west of Emerald Bay, are named after Barter.
Directions
Take Highway 89 roughly 9 miles north of the "Y" (split between 89 and 50). Pull into the Emerald Bay State Park – Vikingsholm parking lot. Or you can access the island via boat.
Check out more of my Lake Tahoe adventures.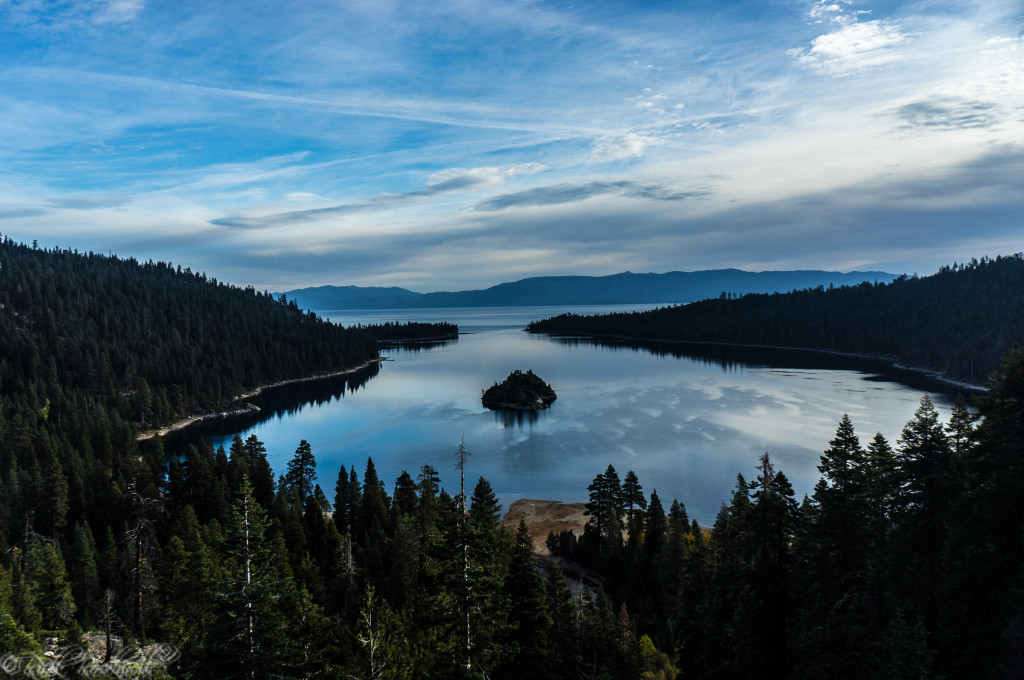 Sources:
http://news.google.com/newspapers?nid=1053&dat=19980305&id=D_MkAAAAIBAJ&sjid=bBAGAAAAIBAJ&pg=1887,1791590
http://www.parks.ca.gov/?page_id=1159
"Tahoe Place Names: the Origin and History of Names in the Lake Tahoe Basin" by Barbara Lekisch
http://www.tahoedailytribune.com/article/20040723/NEWS/107230016