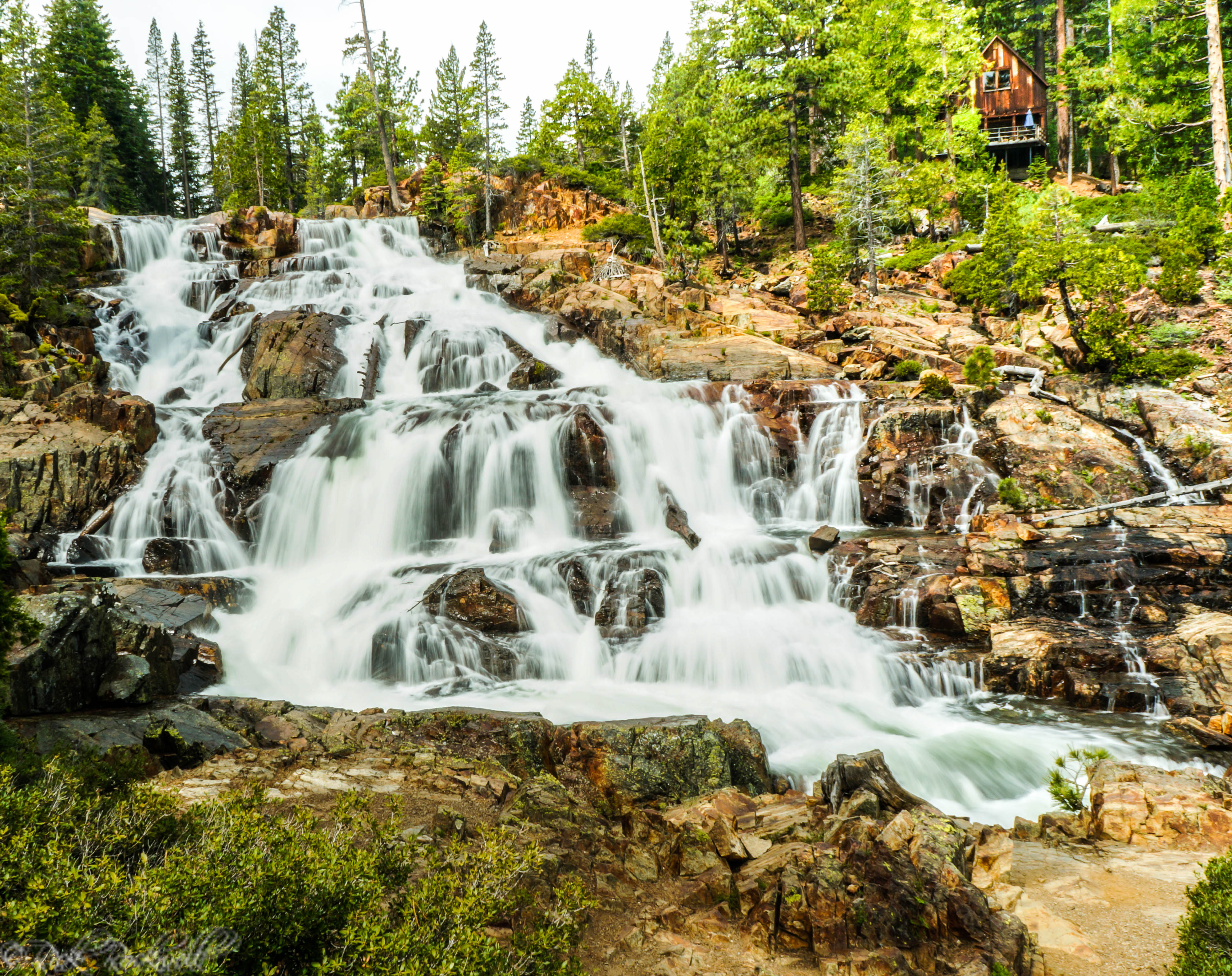 (Last Updated On: November 6, 2020)
Glen Alpine Falls is an impressive waterfall during peak season. At roughly 65 to 70 feet high, this waterfall is multi-tiered and cascades through a narrow canyon as if it was stepping across the boulders. Located on Glen Alpine Creek, this is one of the most popular waterfalls in the Tahoe region as it requires little hiking and allows visitors to get up close and personal with the rushing water.
The Many Names of this Waterfall
Glen Alpine Falls is also known as Lower Glen Alpine Falls, Fallen Leaf Falls and Big Falls. I was unable to find the origin of the name Big Falls, but the name Fallen Leaf Falls is directly connected to the large, beautiful Fallen Leaf Lake nearby. The name Fallen Leaf has a few origin stories, but many historical sources point to a Native American influence. According to the book
Tahoe Place Names: The Origin and History of Names in the Lake Tahoe Basin
, a Washoe legend tells how an Indian was harassed by the Evil Spirt and dropped a branch to create Lake Tahoe. Eventually, he would drop a remaining twig with a leaf and that is how the name "fallen leaf" was created.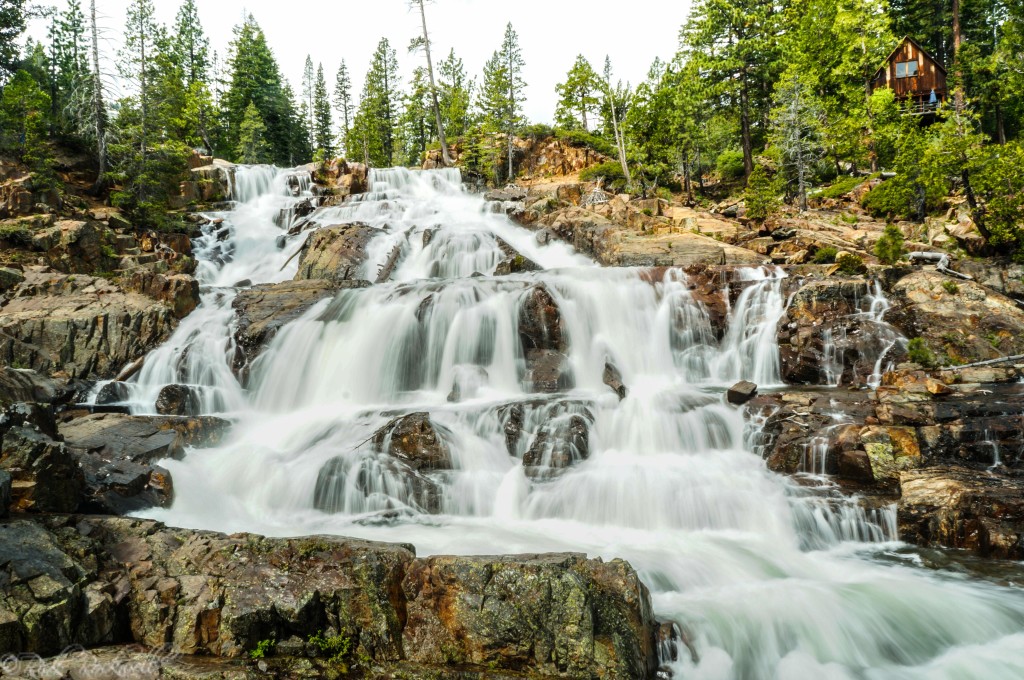 Another story states that "fallen leaf" was named after an Indian from the Delaware tribe. Glen Alpine Falls took its name from the historic Glen Alpine Springs and Resort, which was built about 1.5 miles up the mountain from this waterfall. The name Glen Alpine was derived from the poem "Lady by the Lake" by Sir Walter Scott, which was a favorite of the wife of this region's pioneer Nathan Gilmore. After his wife died in 1880, Gilmore changed the name of his Soda Springs and his resort as a tribute to his wife. For more on this name change, the pioneer Nathan Gilmore and his historic resort, check out my article:
Glen Alpine Springs Resort: Tahoe's earliest resort, filled with history and adventure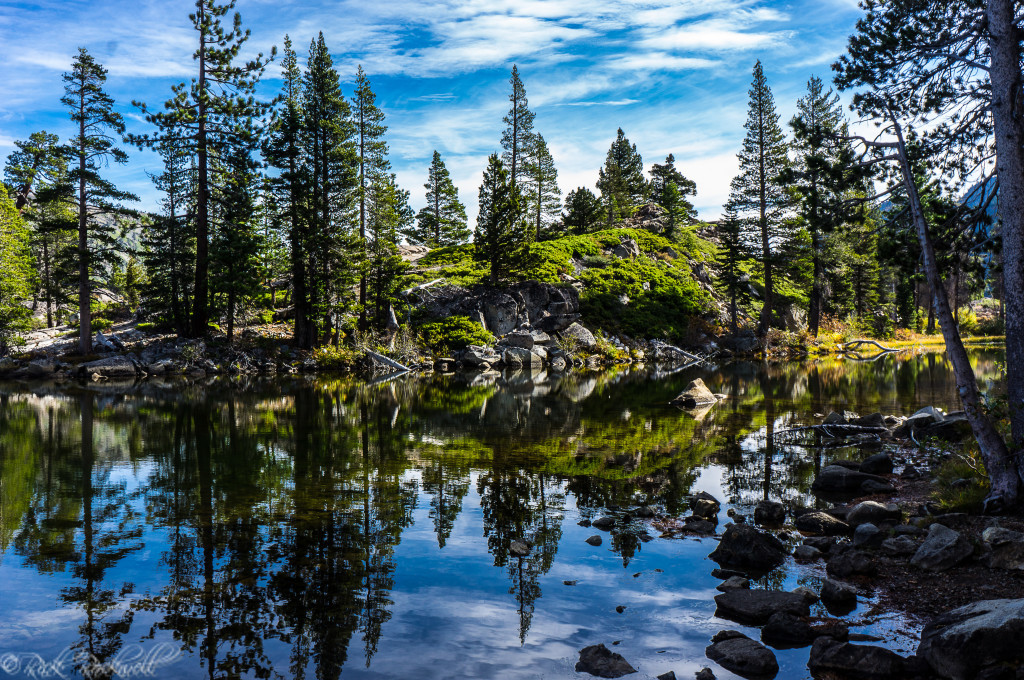 Glen Alpine Creek
The Glen Alpine Creek is roughly 3 miles in length and starts at
Grass Lake
, which is at an elevation of about 7200 feet. From there, the creek flows down to Lily Lake, but before it arrives there, it creates the Upper Glen Alpine Falls also known as Modjeska Falls. This is the first of two well-known waterfalls on the creek and is smaller than the Lower Glen Alpine Falls. It's named after a famous Polish actress of the late 19
th
century. For more on this waterfall, check out my article
Modjeska Falls: a seasonal beauty with a historically famous name
After passing through Lily Lake, the creek eventually creates Lower Glen Alpine Falls before concluding its journey down to Fallen Leaf Lake, which is at an elevation of 6,400 feet.
Visiting Glen Alpine Falls
The best time to see this waterfall is during late-Spring to early-Summer (April-June). Due to its popularity, it can be crowded especially on a weekend. Additionally, there's little parking near the waterfall. If you are not lucky to get one of the 3 or 4 parking spots right off Glen Alpine Rd., then you can try to find parking down by Fallen Leaf Lake which is about 0.1 to 0.2 miles away or you can head up to Glen Alpine Trailhead which is about ½ mile past this waterfall. I was fortunate enough to get a spot near the waterfall on a Saturday morning. This was mostly because everyone was up at the
Glen Alpine trail
, which left no parking spots at the trailhead. Even during peak season, you can get very close to the waterfall by climbing down some of the boulders. It's as if the waterfall is positioned perfectly for photos and for an up-close and personal greeting. Be careful not to get into the waterfall because it could sweep you off your feet and down the boulders into the narrow canyon.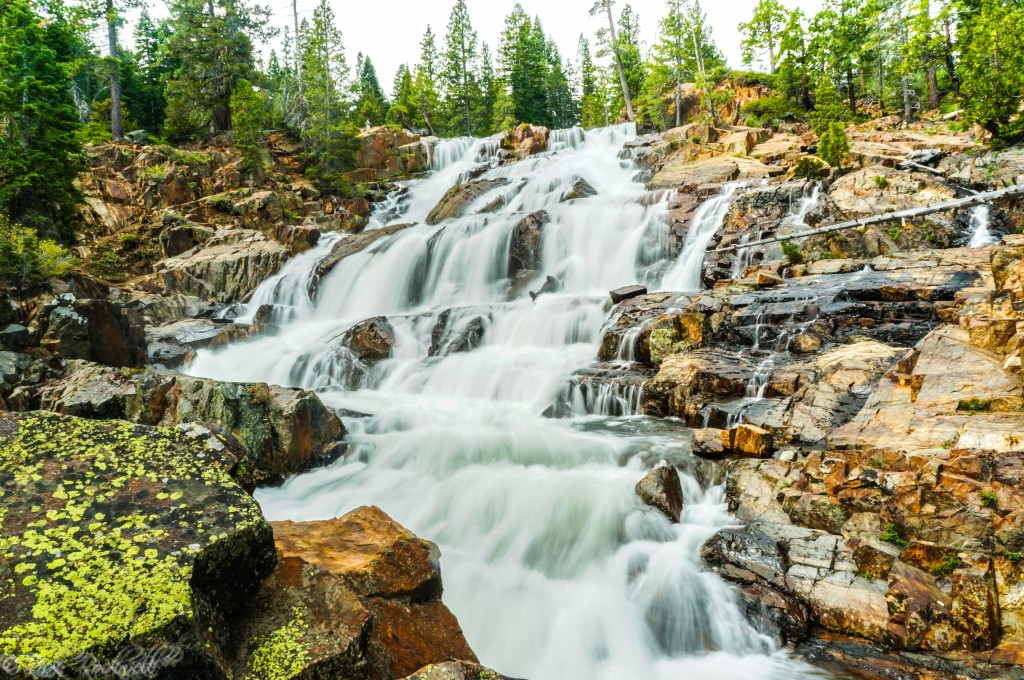 Final Words
Glen Alpine Falls is a must see waterfall if you are in this region of the Tahoe Basin. I would suggest adding it to a day hike along the Glen Alpine Trail. Get there early if you are going on a weekend. For more on this region of Lake Tahoe, check out the following articles:
Directions
From Highway 50 – head north on Highway 89 roughly 3 miles until you make a left onto Fallen Leaf Lake Road, just past Camp Richardson. This becomes a narrow one lane road that you need to drive carefully on. The road winds around Fallen Leaf Lake for about 3.5 miles until you make a left at the Fallen Leaf Lake fire station onto Glen Alpine Rd. From there the narrow road will take you about .7 miles directly to the Glen Alpine Trailhead and Lily Lake. However, the Glen Alpine Falls is located about 0.1 to 0.2 miles along the road. You will make a sweeping left turn and the waterfall is on your right side.