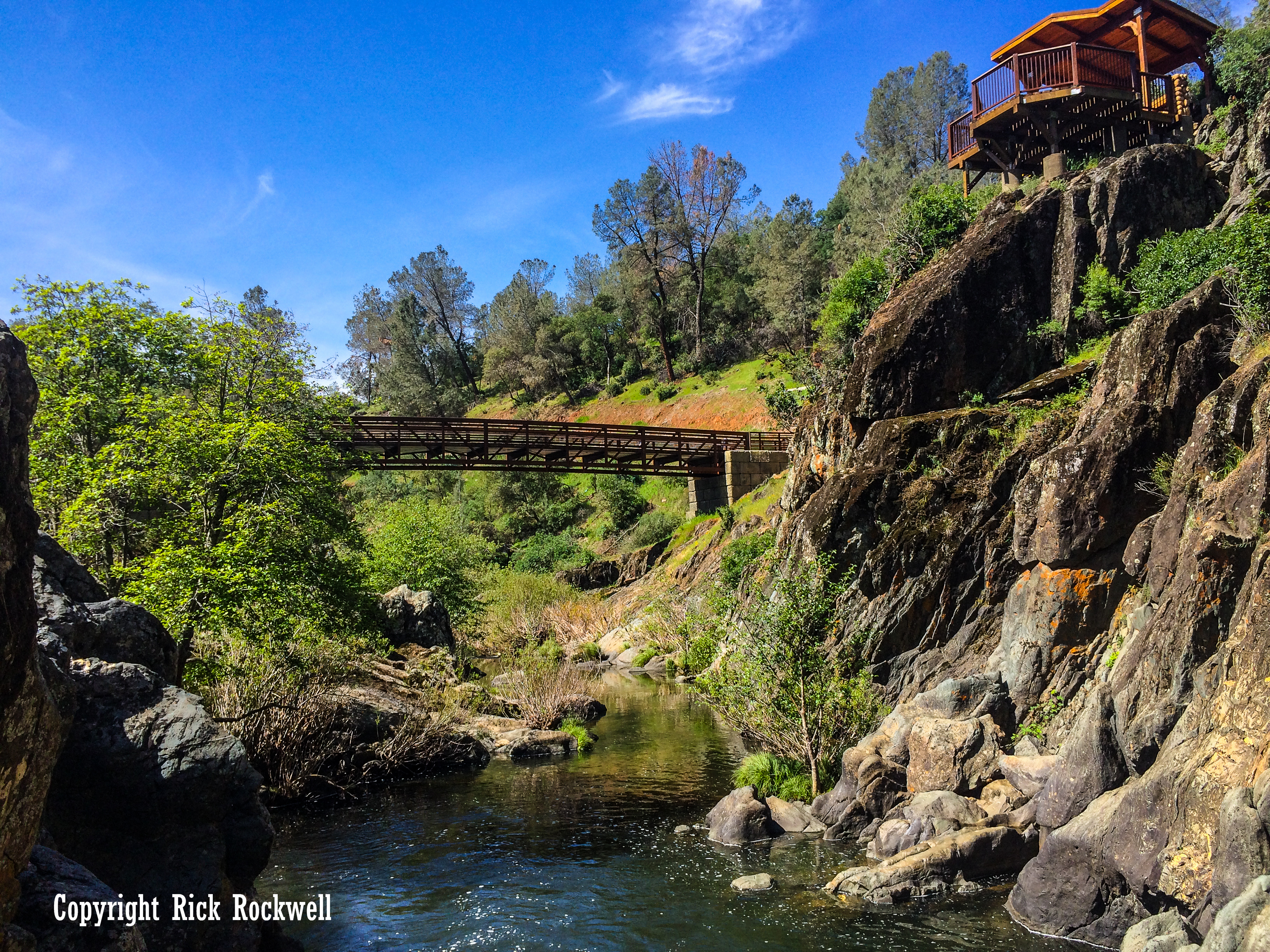 (Last Updated On: September 17, 2016)
Hidden Falls Regional Park is appropriately named due to its "hidden" location in the Sierra Foothills between Lincoln and Auburn. Nestled 5 miles west of Highway 49 north, this beautiful park is spread out over 1200 acres with roughly 30 miles of trails.
In May 2013, the park was expanded from its original acreage of 221 to 1200, offering beautiful views of Sacramento Valley, Sierra Buttes and the foothills.
The park offers bathrooms at the trailhead, which also includes a decent size parking lot, picnic benches and a large map of the park. Additionally, there are individual copies of the park maps for visitors to take.
There are trail signs at the beginning of the trails, benches in remote areas to sit down, bridges to cross the creeks and gorges, and observation decks to get better views of the landscape.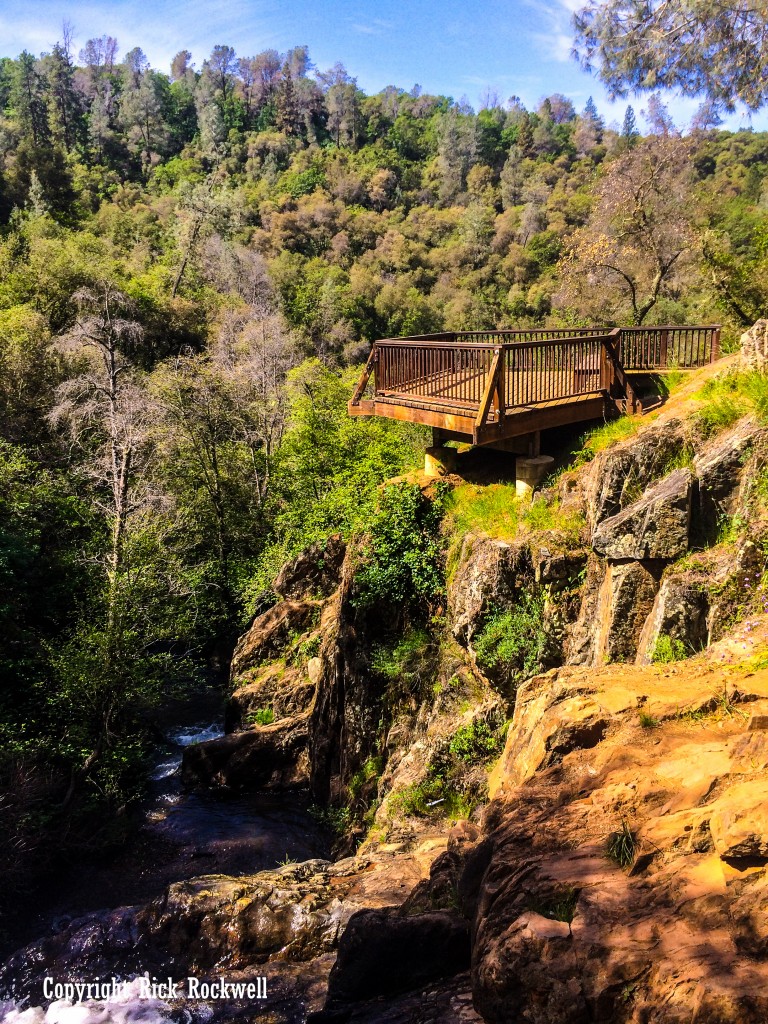 Hours and Fees
Open from sunset to sundown
There are no fees
Amenities
Parking lot
restrooms
well-maintained trails
picnic areas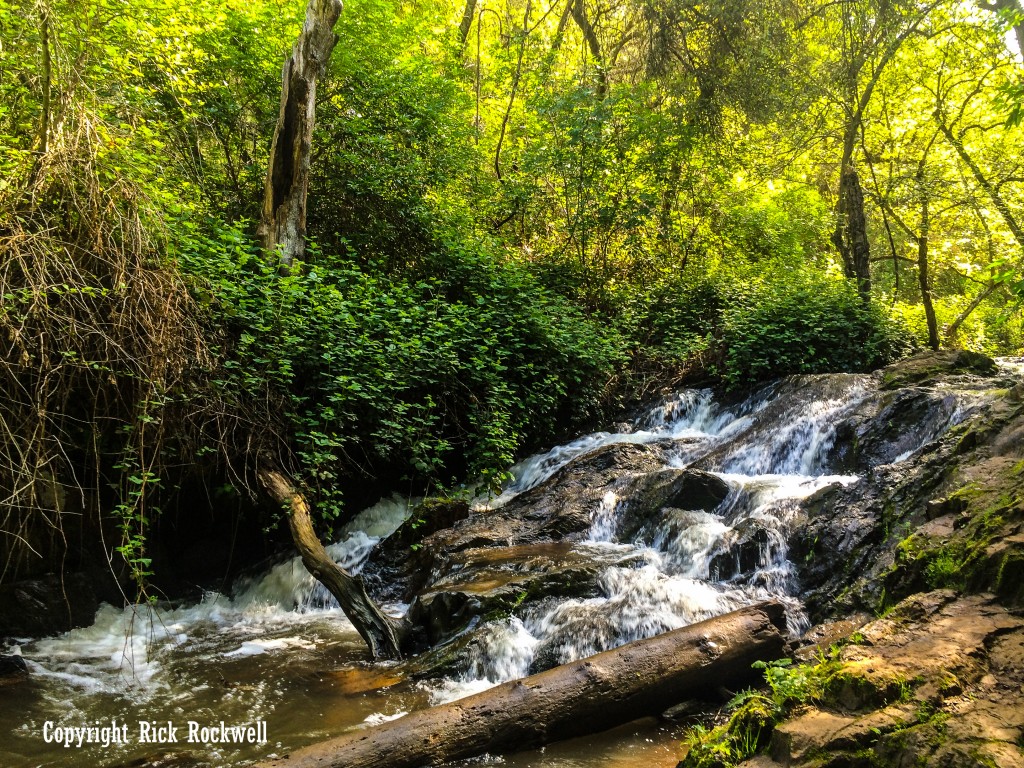 Hiking to Hidden Falls
From the parking lot, you will begin by walking onto South Legacy Way. But almost immediately, you will make a right onto Poppy Trail. This trail descends and switchbacks for about a mile until you reach Deadman Creek. There are a few little pathways that will let you go down to the water. Stay on Poppy Trail until you cross over Whisky Diggins Canal. Here you will see a water diversion that was used by gold diggers.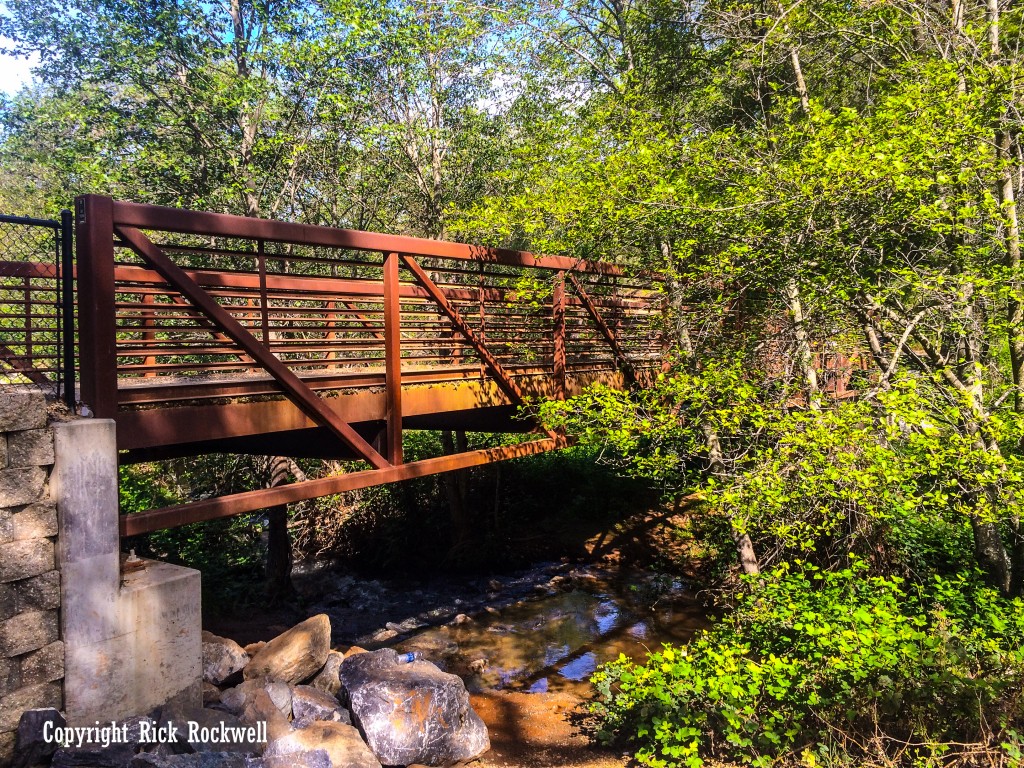 Cross over the bridge and head to the left. Pick up Blue Oak Loop Trail and Hidden Falls Access Trail. After a few hundred yards, these two trails split and you will want to veer left as you remain on Hidden Falls Access Trail. You will be on this trail for about a 1/2 mile. At one point, you enter through a gate that the park requires you to shut and lock with a chain. It's roughly another 10 minutes to the falls from this gate.
The falls will be on your left side and you can hear them as you get closer. The best thing to do is to continue up the trail a bit and then take a side trail down to the Hidden Falls Observation Deck. You can't miss this deck or the falls.
Canyon View Falls and Canyon View Bridge
There are a few ways to get to this waterfall and bridge. The easiest way would be to continue on the Hidden Falls Access Trail about 5 minutes past Hidden Falls and its observation deck. You will see the Canyon View Bridge and Canyon View observation deck within a few minutes past Hidden Falls.
If you rather head to Canyon View Falls and Bridge first, then instead of continuing on Hidden Falls Access Trail when it splits with Blue Oak Loop Trail, just past the Whisky Diggins bridge, you stay on Blue Oak Loop Trail which is the right fork at the split.
The Blue Oak Loop Trail will intersect with several other trails. You can head east toward Seven Pools or head west up North Legacy Way, which takes you around to the north side of Canyon View Falls.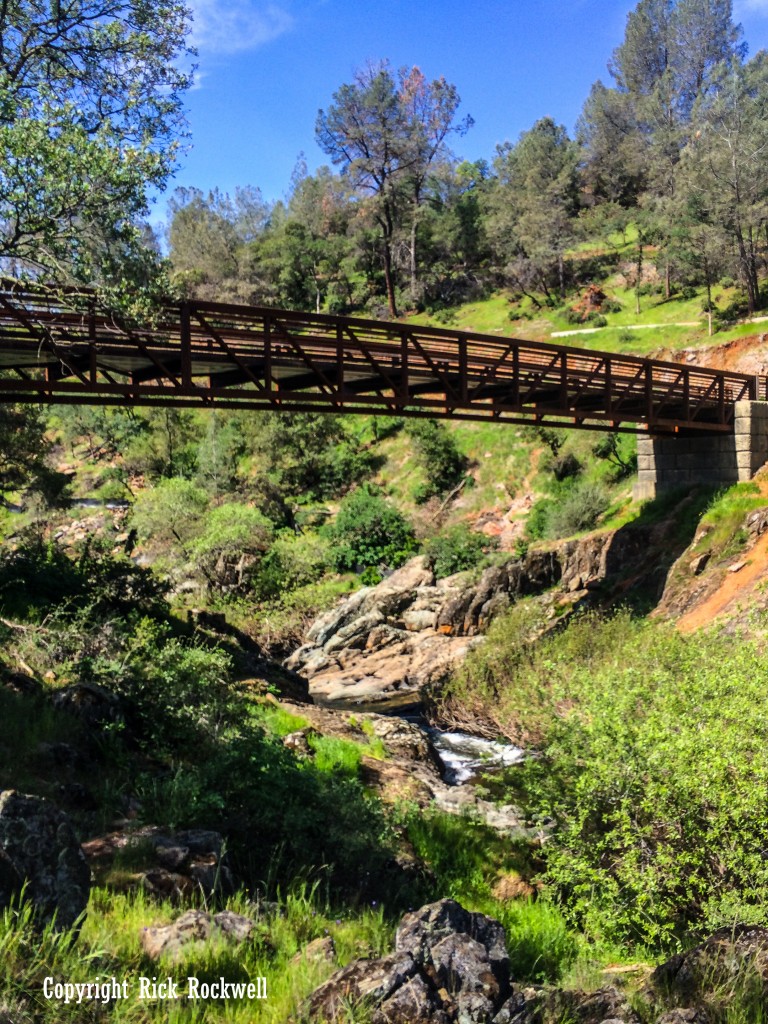 Distance and Duration
This really depends on which trails you take. If you just go to Hidden Falls and back, you are looking at a 3-3.5 mile round trip hike that will take about 90 minutes. If you go past Hidden Falls to Canyon View Falls and then loop around, you are looking at close to 6 miles round trip and more like 3 hours.
Difficulty
The trails are easy enough to follow, well maintained and they have signs along the way. It's easy enough for beginners, families with younger kids or those looking to run the loop.
Tips
Bring plenty of fluids
Bring a camera
Bring sunscreen
Bring bug spray
Be aware of the wildlife
Watch out for Poison Oak
Watch out for horse manure
Visit in the Spring and in the morning
Not Hidden Anymore
I highly recommend visiting this park. It provides wonderful scenery, well maintained trails and is an oasis in the middle of the Sierra Foothills. There are plenty of trails to choose from. The best places to visit are the waterfalls and the bridges. They provide great opportunities for beautiful pictures. You can also reward yourself with a dip in the creek or lay out on the rocks and work on your tan.
However, I strongly recommend going in the spring time when the water is flowing and the temperatures are cooler. I went on a Friday morning in April. The morning time is perfect because more people start showing up as it gets closer to lunchtime.
Bring your family, small kids, mountain bike, towels and cameras. Enjoy a nice day away from the hustle and bustle of life. Pack a meal and turn the hike into a sweet picnic.
Location and Directions
7587 Mears Place, Auburn, CA 95603
From Sacramento:
Drive east on Interstate 80 for about 33 miles to Auburn.
Take the exit for CA State Highway 49 (North to Grass Valley) and turn left.
Drive roughly 2.5 miles north on Highway 49 and then  turn left onto Atwood Road.
Stay on Atwood Road until it merges into Mt Vernon Road roughly 3.3 miles from Highway 49.
Turn left to stay on Mt. Vernon Road and head down  another mile until you see Mears Drive and turn right.
About a half mile later, turn right onto Mears Place and follow it .4 miles to the Hidden Falls Regional Park entrance