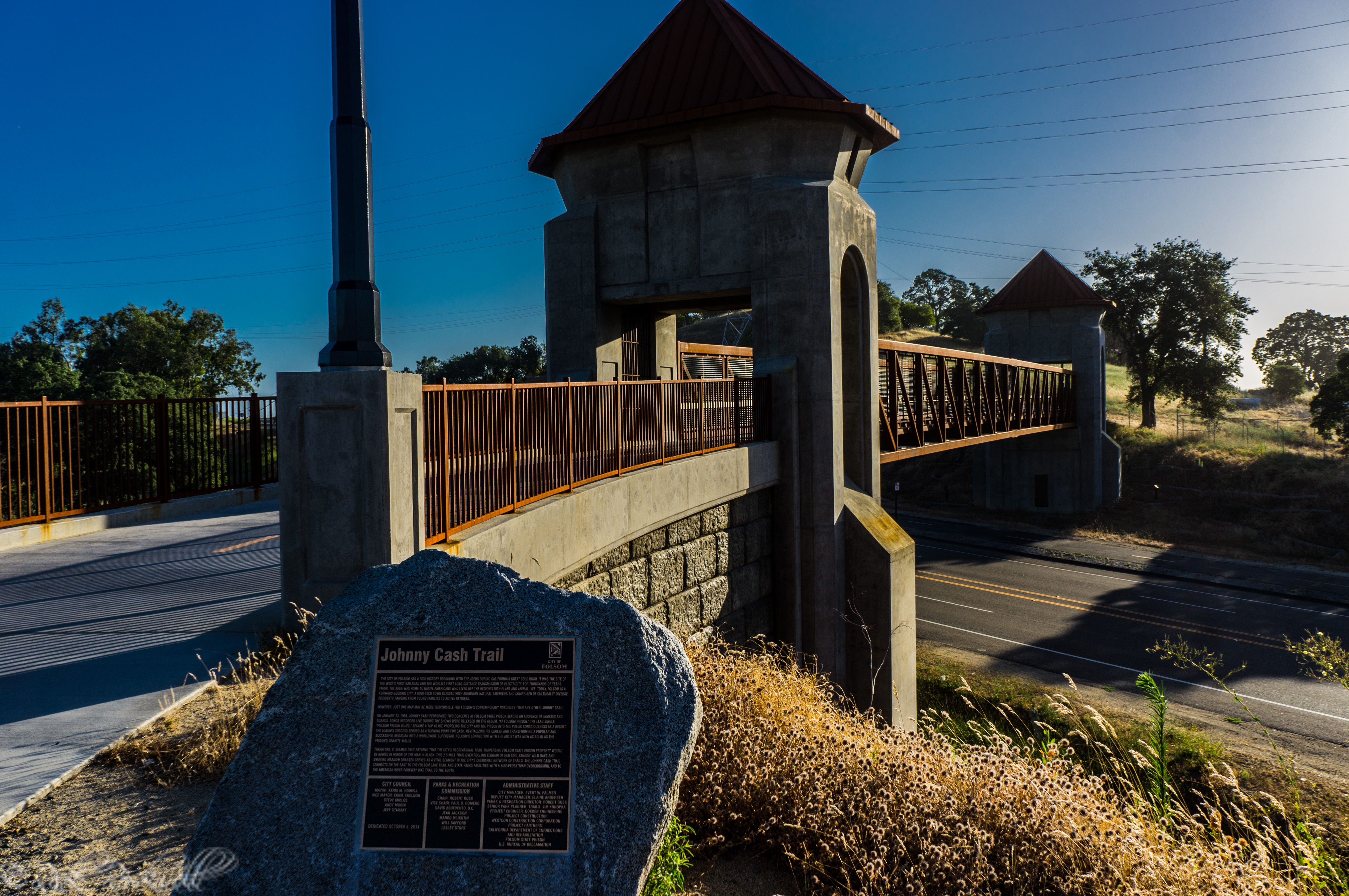 (Last Updated On: June 15, 2015)
Since 1968, no other man, woman or child has had more of a profound impact on the city of Folsom than Johnny Cash. Some may even say that "The Man In Black" put the town on the map. We here in California are more than familiar with Folsom. But, on a global scale, Mr. Cash definitely made Folsom known to the world. His iconic concert at Folsom Prison was groundbreaking and has sold more than 3 million records since then.
Cash will forever be linked to Folsom Prison and the town of Folsom. Because if this, Mr. Cash will now be immortalized in Folsom with an outdoor bike and pedestrian trail unlike any other in the entire state of California.
Johnny Cash Folsom Prison Blues Trail
In October 2010, the Folsom City Council renamed the "Folsom Lake Trail" to the "Johnny Cash Folsom Prison Blues Trail,"  according to the city's official website. The project was divided into three phases with the ultimate goal of connecting the town's Historic Truss Bridge to Green Valley Road. What's also significant about this 2.5 mile trail is that it will traverse Folsom Prison which is synonymous with Cash.
Phase One Complete
On October 4, 2014, the city of Folsom unveiled the first phase of the Johnny Cash Trail with Rosanne Cash on hand. This section is the pedestrian overcrossing that spans Folsom Lake Crossing Road and East Natoma Street. The overpass cost roughly $3.8 million and was constructed to resemble the appearance of Folsom Prison's East Gate guard towers. This is the section of prison where Cash's iconic photo took place.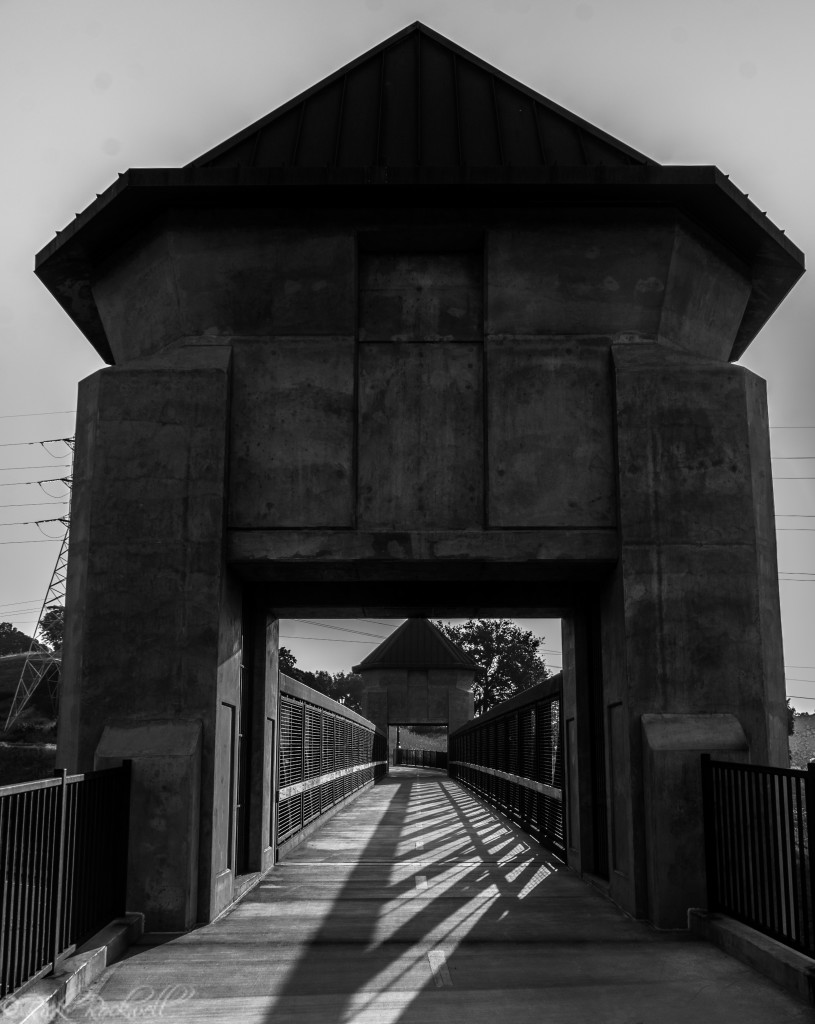 Future Plans
The city of Folsom called out to artists Nationwide, asking for their submissions of public art proposals for this trail. Two proposals were accepted with the following items to take place over the next two phases:
2-acre Park – RRM Design Group was selected to create the two acre park that will be placed right next to the overpass. This park will include a 40 foot statue of Cash and a large replica guitar built into the ground.
Works of Art – Sacramento's Adan Romo was selected to do seven works of art for the trail. They include a large replica guitar pick, a sculpture of "The Man In Black," and a Ring of Fire display. For those that don't know, Ring of Fire was one of Johnny's biggest hits.
Additional plans include interpretive displays that will sync with an app for visitors to hear more about Cash, his music and Folsom.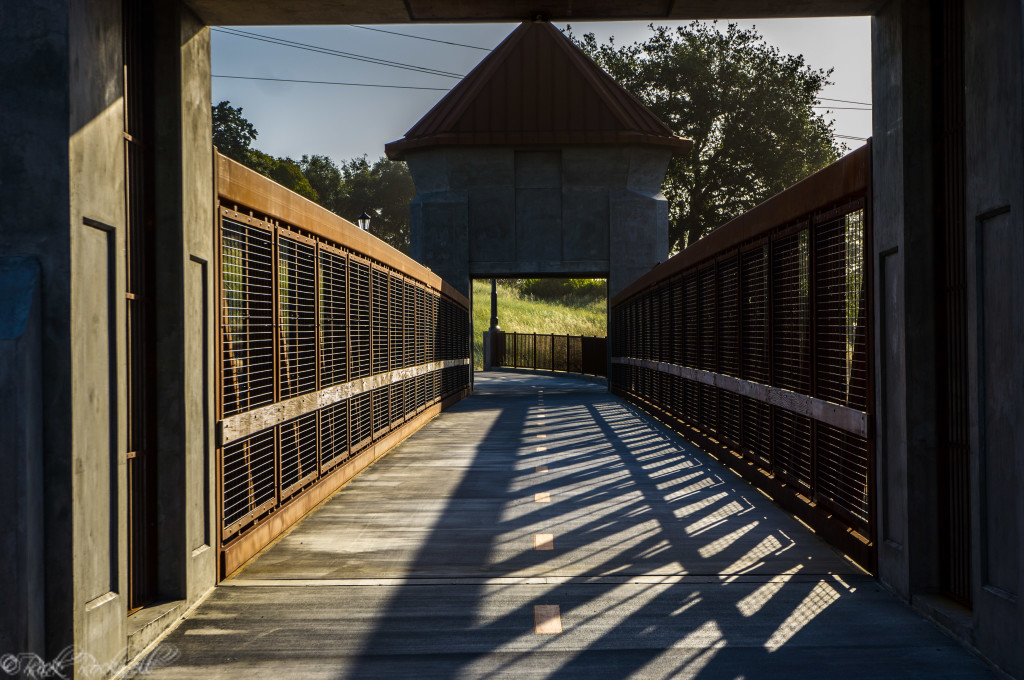 Final Words
As a kid, I grew up begrudgingly listening to Johnny Cash and others of the "Outlaw Country" genre. My dad was a huge fan of this music. As I got older, Cash's songs seemed to strike a chord within me and a deep appreciation for his music grew. Some of his lyrics and songs felt a little too close to home.
His performance at Folsom Prison was a landmark occasion for any musical genre. Something that I don't think will ever be duplicated. There was a natural connection between Johnny and the inmates as Cash seemed to relate better to them than just about anyone else.
I'm really excited for this entire trail to be completed. The future plans sound amazing. Even with just the overpass, you get a feel for Cash's impact on this region. I visited this phase of the trail on an early Sunday morning with Johnny's music blaring in my truck. From Folsom Prison Blues to Sunday Morning Coming Down, you could hear my off-key signing echo throughout the pedestrian overpass.
If you are a fan of Mr. Cash, then this is a must see place. Even if you aren't, a nice Sunday morning stroll along the overpass would be an enjoyable venture.
"When I hear that whistle blowin', I hang my head and cry"
No need to hang your head and cry any longer. This trail will give all of us Cash fans something to be proud of and a way to connect with the legendary Country singer.