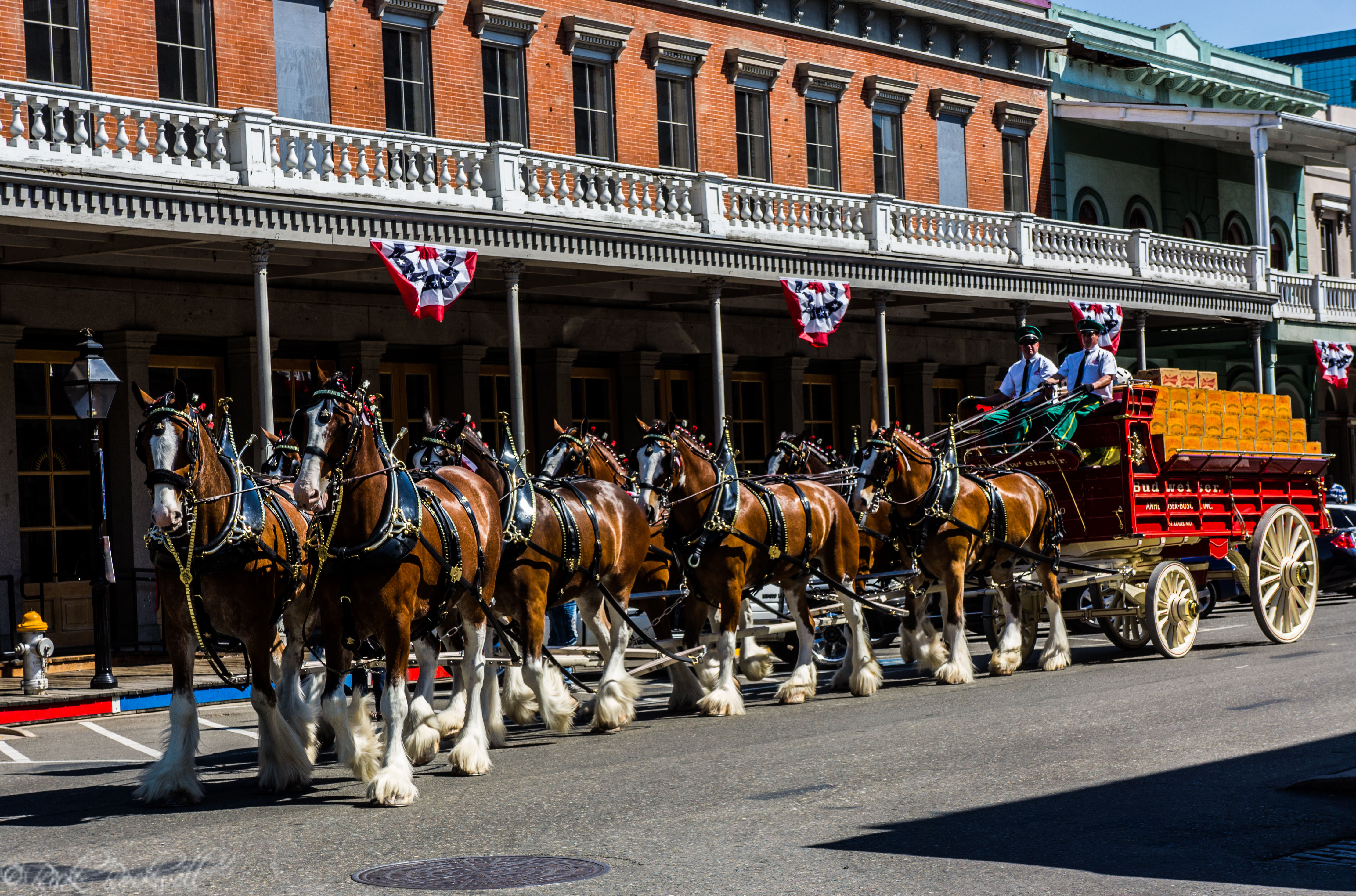 (Last Updated On: May 20, 2015)
On Wednesday, May 20, the world renowned Budweiser Clydesdales made an appearance in the historic district of Old Sacramento. These beautiful creatures graced the streets of Old Sac and drew a large crowd once people noticed what was going on.
At first, the crowds were small, due to a lack of advanced notice and details of this appearance. Other than my article, Visit Auburn was the only other site to provide advanced notification of this wonderful occasion. Old Sac's official FaceBook Page made an announcement yesterday morning – May 19.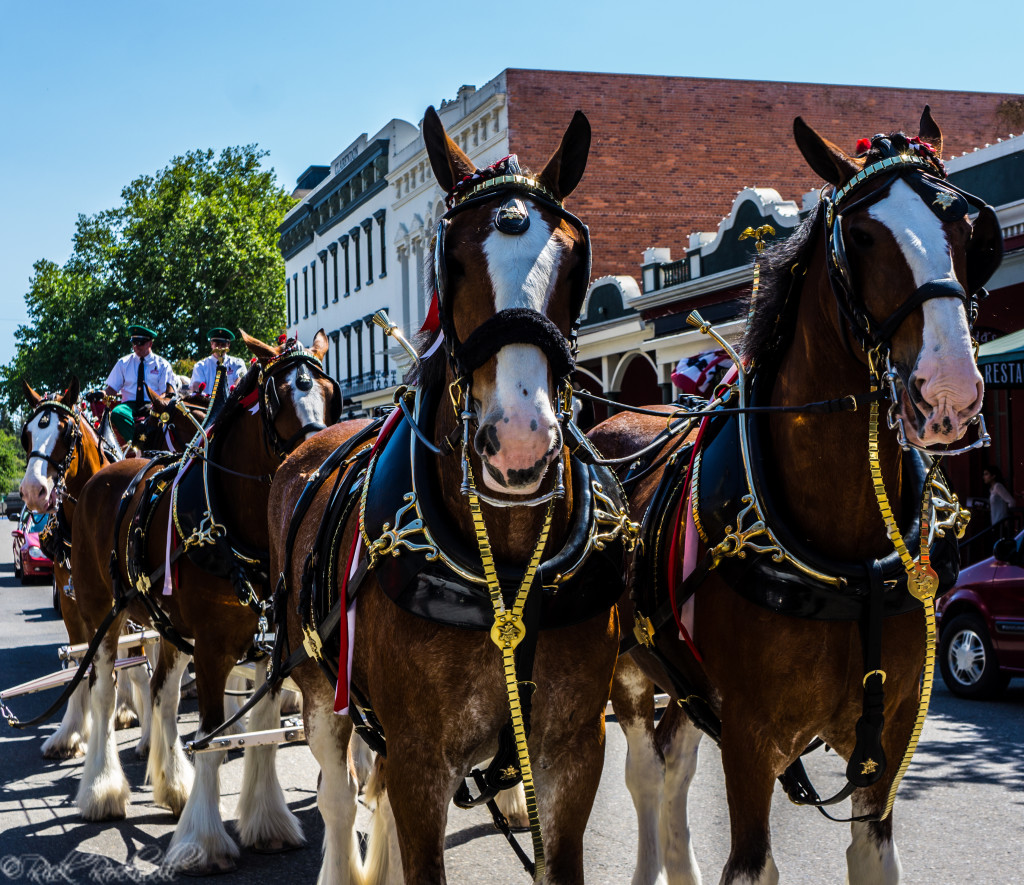 Because there were no details of where the horses would be in Old Sac, I arrived early to try and figure out what was going on. By 3pm, I had already made two laps around Old Sac attempting to ascertain where the Budweiser Clydesdales were coming in from and what the plans were. At that time, none of the grounds crew knew. In fact, nobody that I had spoken with, from employees to bystanders, knew any details other than the Clydesdales were going to make an appearance from 3pm to 5pm.
Finally, at 3:20pm, the Clydesdales, a vintage looking Budweiser wagon, and the trusted Dalmatian arrived at the corner of L Street and 2nd Street.
One of the Budweiser representatives told me that they were late due to traffic. Another representative asked me to help tell the crowd to remain five feet back at all times. Additionally, there wasn't any Police presence to assist with traffic – as cars were continuing to drive by. The Budweiser representatives had to pull double duty between guiding the horses and traffic control.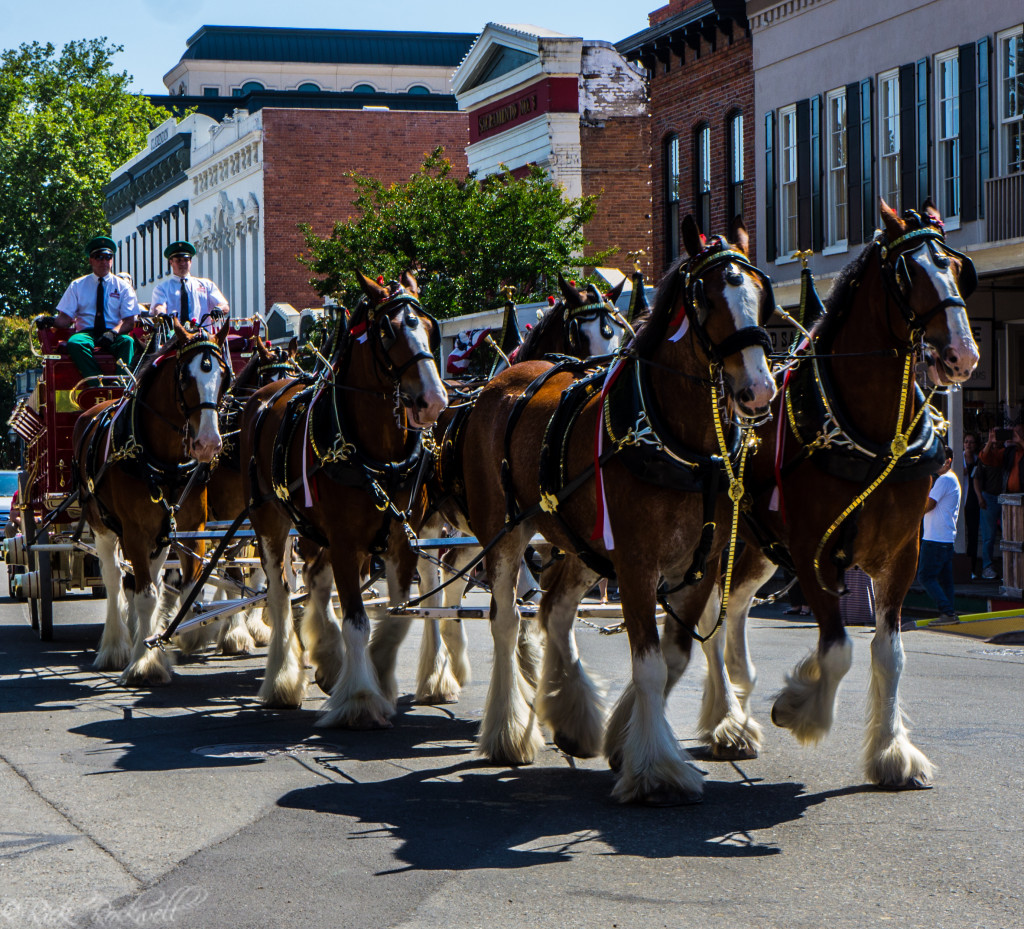 As soon as the Clydesdales arrived, a buzz filled the air. Everyone, including my daughter and I, were awestruck with these amazing creatures. When you spend most of your life seeing these horses on television, especially during the Super Bowl, there's definitely a rush of excitement when they are finally right in front of your face.
There were 8 horses in this traveling hitch. They were pulling what I believe to be a modified Studebaker wagon. Seated on top of the wagon, were two gentlemen dressed in vintage Budweiser uniforms. Right next to them, was a very peaceful and well-behaved Dalmatian.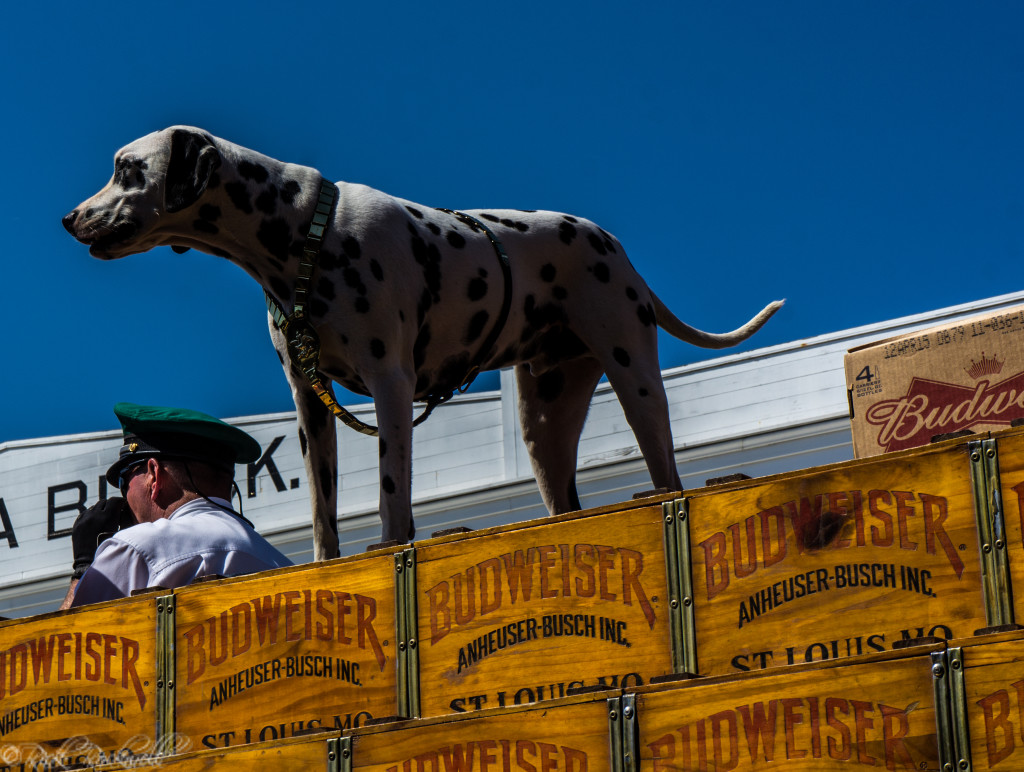 The Budweiser Clydesdales proceeded up 2nd Street making one stop, which was a delivery. Then they turned left onto J Street and made another delivery. Each delivery gave the growing crowd time to take pictures. After a few moments, the wagon turned left onto Front Street and eventually stopped in front of the walkway that takes you to Rio City Cafe and Joe's Crab Shack. After the 3rd or 4th delivery, and more pictures, these horses, which were getting antsy by now, made a left onto L Street and completed the lap by making a left back onto 2nd Street where they originally began.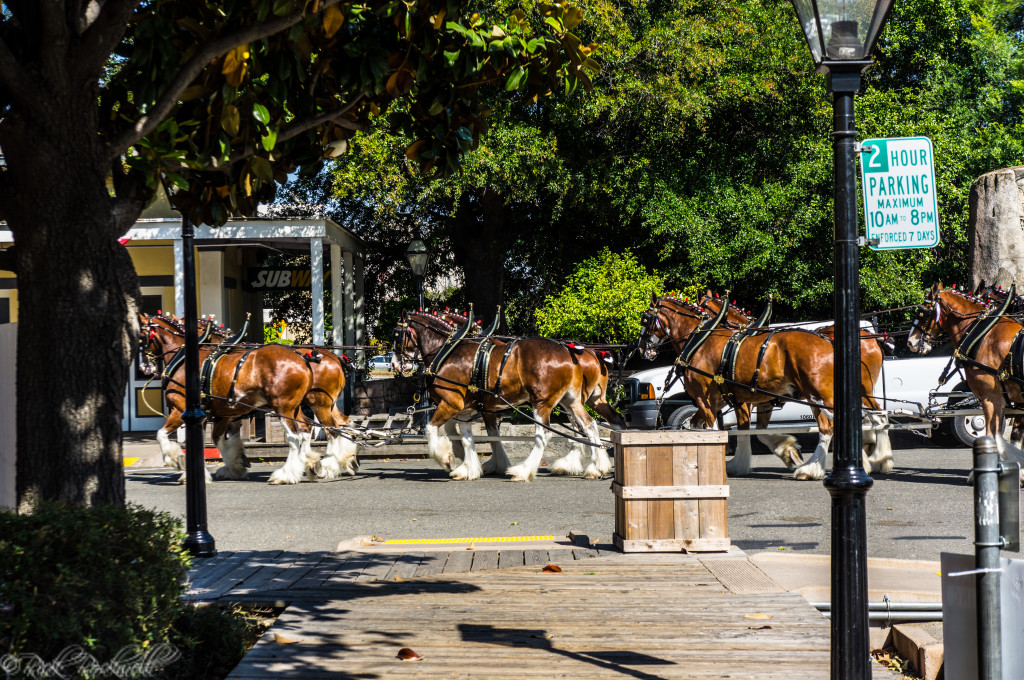 By time they completed a lap around Old Sac, the crowd grew to at least a few hundred. Kids of all ages, and that includes adults too, were chasing after the wagon and trying to get to the next stop before the Clydesdales did.
Everyone had smiles on their faces when looking at the horses. It turned out to be a delightful event for all who witnessed it.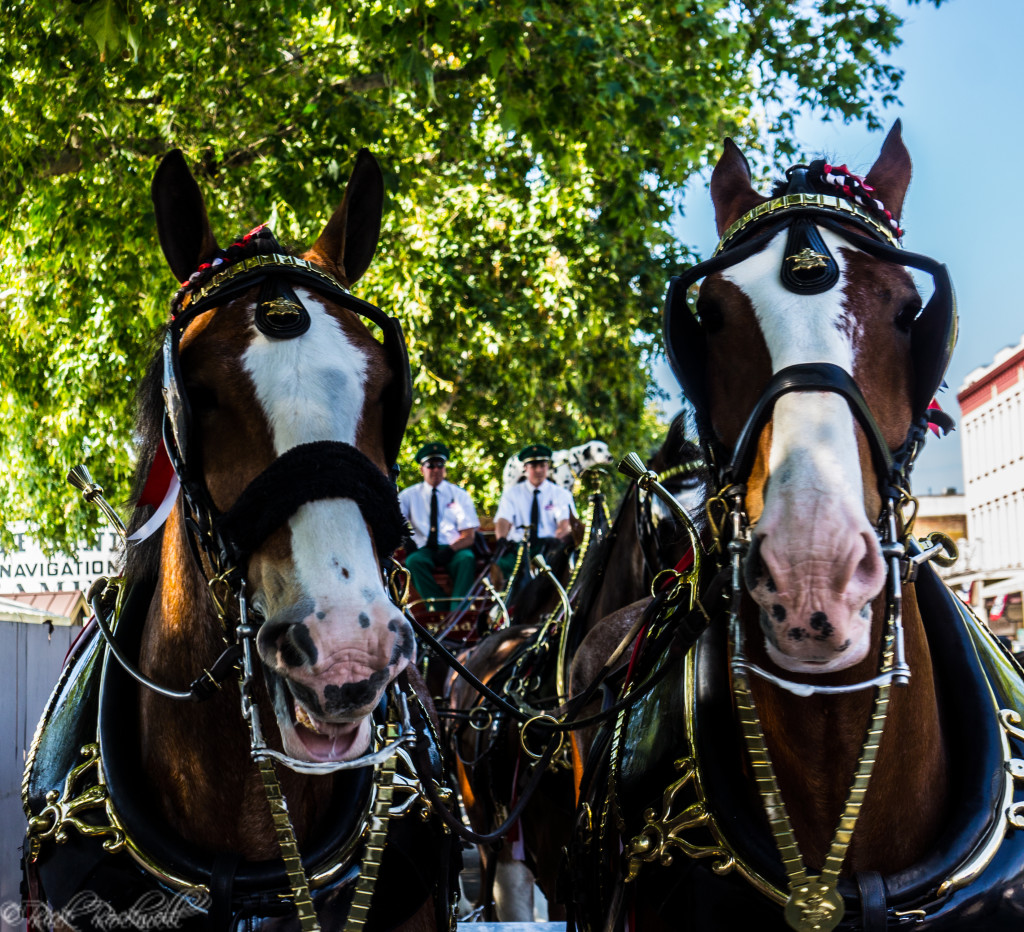 If you missed it, or want to see the Clydesdales again, they will still be in the region for the next few days at the following locations:
Thursday, May 21st from 5:00PM-7:00PM in Old Roseville
Friday, May 22nd All Day at the Gold Country Fairgrounds in Auburn
Saturday, May 23rd from 5:00PM-7:00PM at Mill and Main Streets in Grass Valley
Sunday, May 24th from 1:00PM-3:00PM at the Fountains of Roseville
If you were one of the lucky ones to see these beautiful horses, please feel free to share your thoughts on this experience by commenting below or joining the official CalExplornia FaceBook page.
For more pictures of the Budweiser Clydesdales – check out my Photo Essay: the world famous Budweiser Clydesdales