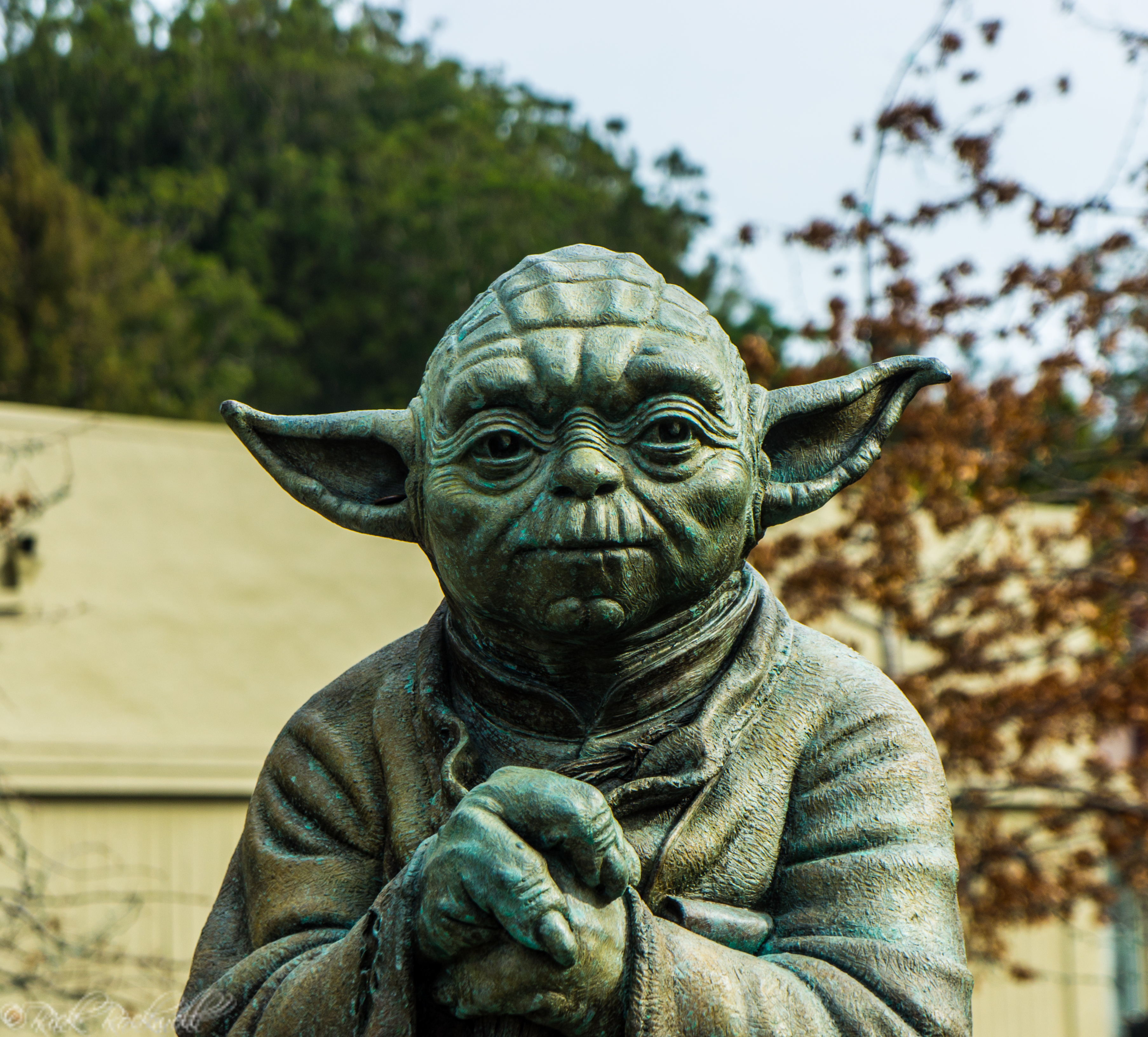 (Last Updated On: December 23, 2015)
On Friday December 18th, the long awaited Star Wars: The Force Awakens debuted in movie theaters across the globe. The film, which smashed box office records, has caused a buzz unlike anything we've seen before. It has also awakened the state of California with real life Star Wars experiences unlike anywhere else in the world.
California's State Tourism Agency Visit California has compiled a list of current locations in California where Star Wars enthusiasts can experience The Force in real life. Additionally, I've added a few locations that are also must see Star Wars destinations.
Imagination Park – San Anselmo
San Anselmo is where Star Wars was first created. George Lucas donated land for a little park in the middle of town where a statue of Yoda can be visited alongside a life size statue of Harrison Ford as Indiana Jones.
Check out my review of Imagination Park for directions and photos
Lucasfilms' Letterman Digital Arts Center – San Francisco's Presidio National Park
In addition to being the HQ for LUCASFILM, visitors from all over come to see the Yoda fountain. It's the centerpiece of a 23 acre campus where imagination comes to life.
The Giant Redwoods – Humboldt County and others
Various locations within California's cherished Redwood State Parks were used to create the planet Endor in the film Return of the Jedi. It's reported that the movie's memorable speeder-bike chase scenes were filmed on private lands and at Jedediah Smith Redwoods State Park, Grizzly Creek Redwoods State Park and the iconic Avenue of the Giants which is found in Humboldt State Park.
Death Valley National Park
Death Valley was home to several Tatooine scenes from the Star Wars franchise. According to Wikipedia, the following locations have been immortalized in Star Wars lore:
Mesquite Flat Sand Dunes – R2D2 goes his separate way after he and C3PO crash the escape pod
Artists Palette & Golden Canyon – Where the Jawas abduct R2D2
Artist's Drive – The scene where R2D2 is carried up to a miniature Sandcrawler by the Jawas
Desolation Canyon – Tusken Raiders mount Bantha, prior to their attack on Luke Skywalker
Dante's View – The panoramic shot of Mos Eisley spliced with another scene to show Obi-Wan and Luke viewing "wretched hive of scum and villainy."
Located roughly 16 miles south of Furnace Creek. On the north side of Coffin Peak along the creast of the Black Mountains.
Twenty-Mule Team Canyon – 2 scenes were filmed here: R2D2 and C3PO walking up to Jabba the Hutt's Palace and the apparent "Lost Scene" where Luke is in a cave working on a new lightsaber.
Buttercup Valley, California
From Yuma, Arizona to the Imperial Sand Dunes of California, scenes from Return of the Jedi were filmed here as the cast and crew stayed in Yuma. The iconic Great Pit of Carkoon scene was shot here.
LEGOLAND – Carlsbad
LEGOLAND has a spectacular Death Star display that captures memorable scenes from the Star Wars franchise.
Disneyland – Anaheim
In 2016, Disneyland will begin the epic creation of a 14 acre Star Wars Land where visitors can experience a Star Wars adventure unlike anywhere else in the world.
Rancho Obi-Wan – Petaluma
Rancho Obi-Wan is the largest private Star Wars collection where fans can tour the facility and relive some of their favorite scenes through an incredible collection items, props, collectables, video games and other awesome memorabilia.
Visit California also suggest the following activities for your very own Star Wars experience:
The Griffith Park Observatory where you can view distant planets and a galaxy far, far away.
USC's Robotics and Autonomous Systems Center where they have tours of the center's facility and 70+ robots.
In Sacramento and Anaheim, visitors can check out the Aerospace Museum or the FlightDeck Simulation Center where you can experience an F-16 or Boeing 737 flight simulation. Pretend you are on the X-Wing or Millennium Falcon.
If you know of any additional must-see Star Wars locations in California, please shoot me a message so that I can add them to the list. May the Force be with you.