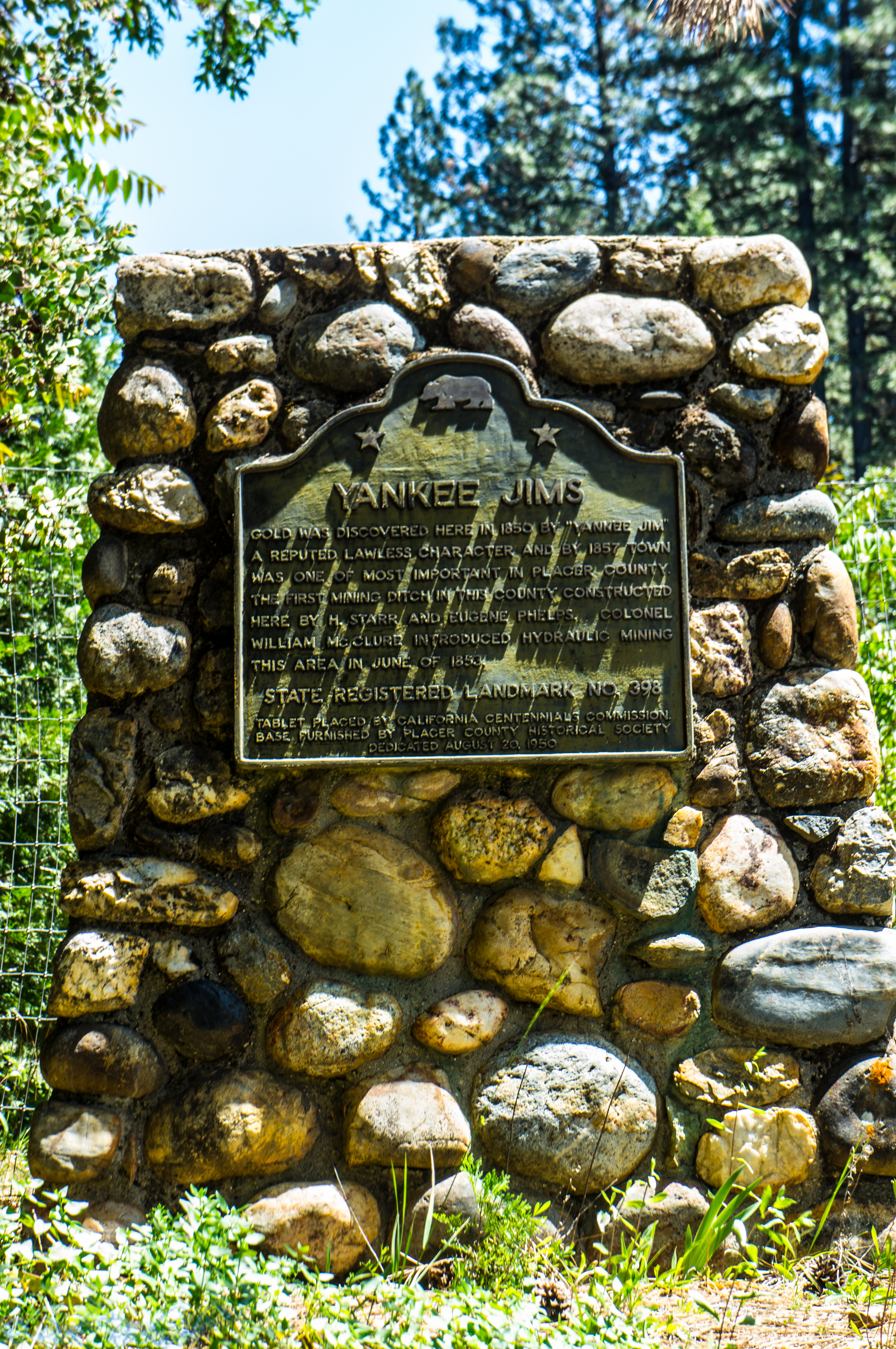 (Last Updated On: March 6, 2015)
In my previous article, Yankee Jims: The legend of a bandit, the lore of a gold rush town and Folgers coffee, I explored the popular tale of Yankee Jim and where he was from. That tale spoke of Jim being from Sydney, Australia with the last name of Robinson. By all accounts, it was the most widely accepted story of Yankee Jim.
However, over the last few days, I discovered another fascinating tale about this legendary Placer County pioneer. The source of this tale is from the book History of Placer County by Thompson and West, published in 1882.
The book recounts the travels of Benjamin C. Currier during the fall of 1849. Currier, along with others, were digging for gold in a small camp known as Barnes' Bar. At the time of the 1882 publication, Currier was living in the town of Georgetown in El Dorado County. The story told in this book is about Currier's search for Yankee Jim and his gold.
Yankee Jim Appears
In the late summer of 1849, rumors of rich gold findings reached Barnes' Bar. At first, these rumors were brushed off. But soon, the man Yankee Jim showed up in various camps with pieces of gold over several ounces in weight and making a big scene.
After a few appearances and disappearances of Yankee Jim in these camps, other miners began taking his claims seriously. Benjamin Currier and a few other men were determined to find out where Jim discovered the gold as they believed he had hit the "Mother Lode."
The men decided to form a search party and deduced that Jim's findings had to be up on the ridge between the North and Middle Forks of the American River.
So, in November of 1849, the party set out on the hunt for the region that Yankee Jim boasted about.
The Search
For the first week or so, the search party endured harsh rains that forced them to spend 5 straight days inside their makeshift shelters. They had learned the hard way as to how difficult this region was. In fact, it was unlike anything they had previously experienced.
Eventually, the rain would subside and they were able to continue onward. Along their search, they came across two gold diggers who they thought might be Yankee Jim. It turned out that they weren't. The two men were named Mr. Van Zandt from Oregon and Mr. Tuttle from Connecticut. However, these two men were familiar with Yankee Jim and even told the search party about the dangers of getting too close to Jim and his gold.
Yankee Jim is Dangerous
Tuttle and Van Zandt described a time where they believed they were shot at by Yankee Jim for getting too close to his diggings. On another occasion, the two men told Currier and the others that they discovered a skeleton of a man and a horse with bullet holes in them, just a hill away from Yankee Jim.
Chance Encounter
A short time after the meeting of Tuttle and Van Zandt, Currier went out one day exploring by himself. He went a distance of about two miles and shockingly came across a tall fellow sleeping. It turned out to be Yankee Jim but Currier didn't learn this until their next encounter.
Jim was in a makeshift shelter on a piece of flat land sleeping at the time Currier arrived. Benjamin yelled from a distance. A startled Jim woke up slightly confused and very concerned where Currier came from.
During his line of questioning, it seemed like Jim was becoming more agitated especially after hearing that Currier was with a search party.
Currier, seeing that Jim had a gun nearby and a knife, offered to trade Jim some ammo for his gun which he accepted. Yankee Jim responded by offering Currier a deal that involved Benjamin not telling any of the other members of the search party. Jim said that if Currier didn't tell anyone, he would offer him his services. So, they parted on civil terms that day.
The next day, Currier showed up and gave the bullets to Jim. Now, Yankee Jim tried to strike another deal with Benjamin by saying that if Currier persuaded the others to go back to the river then he would show him where the gold was.
Jim also finally revealed to Currier who he was and that he was a native of the state of Maine. Jim would also tell Currier his real name and the town he's from. Unfortunately, this information was lost prior to the 1882 book History of Placer County. Apparently, Currier's journal was in Boston for unknown reasons and was unavailable for the authors to look at and confirm Currier's story. Benjamin was from that region, so there's a possibility that he either sent the journal out there or left it there on a visit home.
At this time, there were a few rumors going around that Yankee Jim was really an English convict dubbed "Sydney Ducks." This could also be why some people believed that Yankee Jim was from Sydney, Australia.
Currier's Assessment
After hearing who he was, Benjamin Currier was convinced that Jim was from the New England territory and that prior to his time in Placer County, he "combed the beach" along the California Coast after running away from a ship. Currier also believed that Jim was definitely a "bad character and a criminal."
After this, Currier was very concerned about his association with Yankee Jim and soon the rest of the group found out. Unfortunately, due to severe storms the men were forced to leave the region and return home before digging around Yankee Jims location.
By time they returned the next year, a large amount of miners were in the region of land where they met Yankee Jim. Currier and his original search party never saw Jim again.
Death of Yankee Jim
Apparently, there were a few different accounts of what happened to Jim. But, like the previous article I wrote, the authors of the History of Placer County believed that Jim was caught stealing the boat Plutus in the harbor of Wilmington down in Southern California. It was speculated that Jim wanted the boat so that he could head out to sea and take up piracy. Jim was hung for his crime around September 18, 1852.
Check out my section on Yankee Jims for more details and photos.