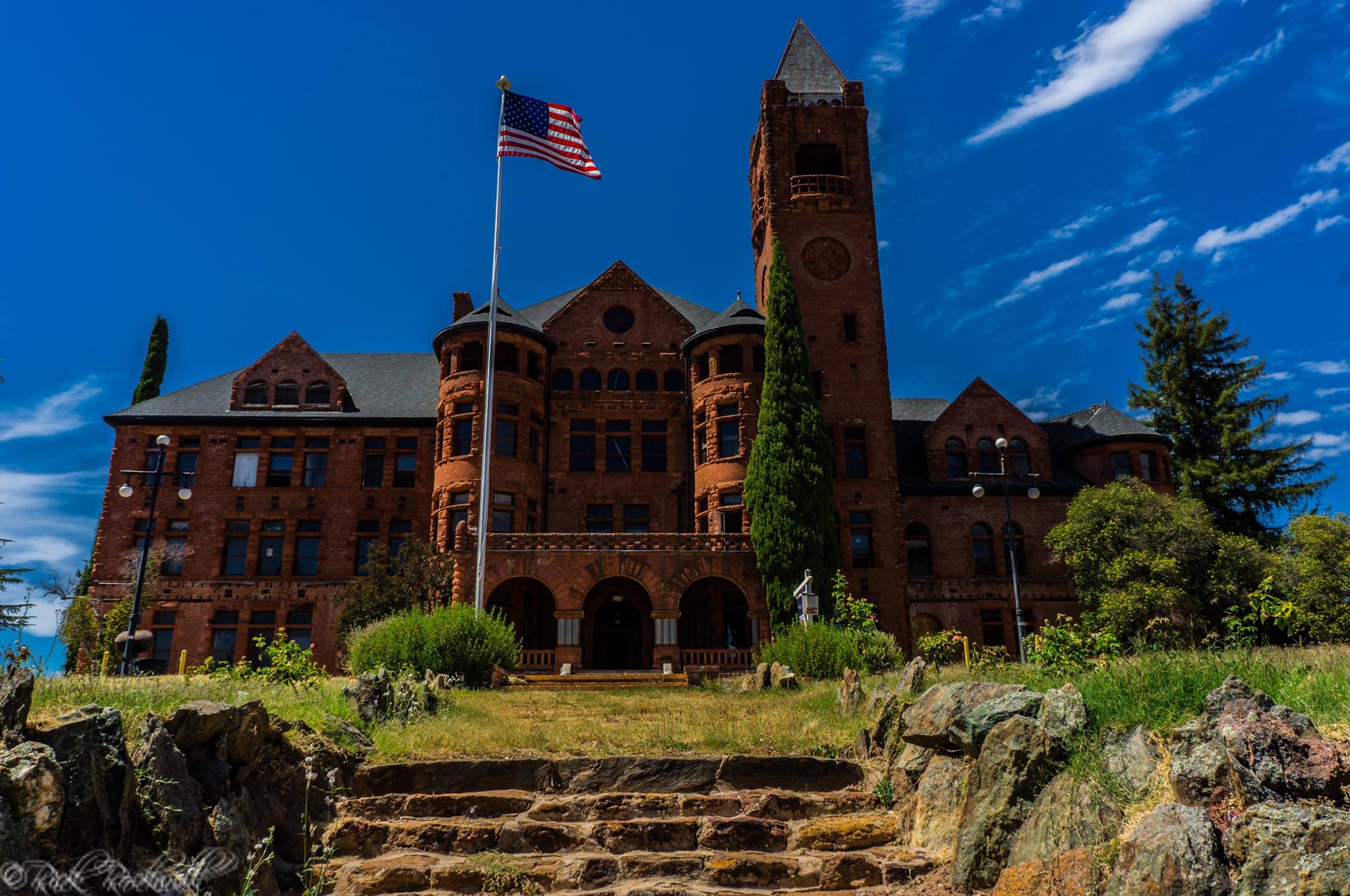 (Last Updated On: January 12, 2020)
California is a state riddled with haunted locations including cemeteries, hotels, hospitals, and other public and private establishments. For those of you who enjoy a good scare, are fascinated by the paranormal, or just want to go on a spooky adventure – here's our list of California's Top 13 haunted places in no particular order.
The Whaley House
The Whaley House in San Diego was a family home that also housed a movie theater, a general store, a school, polling place, granary, and court house.
Hangings took place on the property before the house was constructed and legend has it that some of the ghosts that haunt the Whaley House are criminals who were hung on the property.
One of the main ghosts that reportedly haunts the Whaley House is the bandit known as Yankee Jim. The tales of Yankee Jim stretch from stealing horses in Placer County, fleeing from the law throughout the state, and eventually ending up in San Diego where he met the end of a rope.
Read More:
All of the violent and mysterious events that have occurred here, including the suicide of Violet Whaley in 1885, have given the Whaley House the #1 spot on just about every credible list for haunted places in California. It's also widely considered as one of the Top 5 most haunted places in all of America.
The Whaley House has been the focus of many documentaries, ghost hunter TV shows, and paranormal videos like the one below.
Battery Point Lighthouse
Battery Point Lighthouse and Museum is an active lighthouse found at the foot of A Street in Crescent City, California. Tours allow visitors to go through the Lighthouse and museum to look at the artifacts left behind by keepers and their families since the Lighthouse was first lit in 1856.
Despite its coastal charm, some paranormal experts and visitors declare that this lighthouse trails only the Whaley House as the most haunted place in California. It's also considered one of the most haunted lighthouses in all of America.
There is said to be three resident ghosts: two adults and a child. Visitors have reported feeling unseen presences touching them, or feeling like someone was there. Others have seen rocking chairs moving on their own, or the sounds of someone trudging up the stairs to the top of the lighthouse.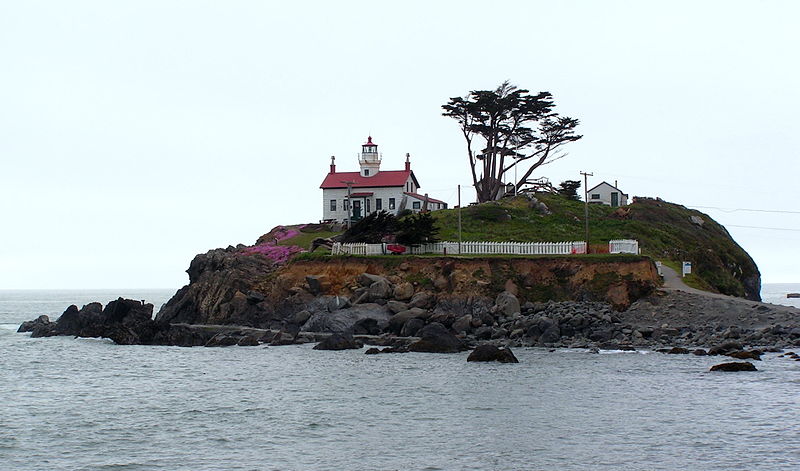 Hollydale Insane Asylum
Abandoned many years ago, the Hollydale Mental Hospital in Downey, California, was originally built in the 1880s as a farm for the poor, turned into a hospital during WWII, later used for polio and tuberculosis patients, then later became a mental hospital.
In 2006, after the mental facility was already shutdown, a group of Marines went into the abandoned structure and found body parts from the 1960's and 1970's stored in an old freezer. 
According to visitors there are numerous unhappy spirits here. Additionally, strange noises can be heard and lights have been seen turning on and off by themselves.
Anyone who's been to an abandoned mental hospital knows just how intense the vibes are.
This is private property and there are "No Trespassing" signs posted all over.
Preston School of Industry
The Preston Castle, also called the Preston School of Industry in Ione, started out as a reform school for wards of the state in the late 1800s. Troubled boys were sent there to learn a trade instead of juvenile detention centers or prison.
Over time, the discipline at Preston became extreme with many reports of an abusive environment. Ultimately, desperation and a harsh environment led to escape attempts, violence and even death.
Nowadays, the castle is full of tragic history and tales of ghost sightings. At least one "unsolved" murder took place there. Visitors report that, among others, spirits of the wards who died at Preston haunt the castle.
Over the last few years, the Preston Castle has become a popular subject with ghost hunters and TV shows. It's also been featured in a big screen movie. For further reading on this must see haunted place, check out he link below.
Read More: The Preston Castle: a tragic blend of mystery, history and-horror
Silver City Ghost Town
This composite ghost town has one of the highest rates of paranormal encounters in the state, maybe even the country. In fact, Silver City has become one of the most sought out haunted locations in all of California. From tourists to paranormal investigators, many visitors have experienced the feeling of being watched, cold spots, and more.
In my trip to Silver City, I definitely experienced cold spots in the jail and the feelings of being watched at the old church and one of the saloons.
Read More: Silver City a ghost town with cardiac arrested decay
Winchester Mystery House
The Winchester Mystery House in San Jose on Winchester Blvd was built by Sarah Winchester, heiress to the Winchester fortune over a period of 38 years, non-stop, according to some accounts.
The house is certainly strange, with stairways that go nowhere, doors that open into walls, and miles of twisting hallways. Visitors and workers report the sounds of footsteps and breathing, the sounds of screws turning and falling, and mysterious appearances of unknown people in photographs.
Others report lights being turned on after being turned off by workers, windows being unlocked after being locked, and more. The best time to visit this one-of-a-kind mansions is on an overnight adventure.
Mare Island
Mare Island is one of the most underrated locations to explore in California. Not only does it have a wealth of Military history, but it also has tales of death and tragedy.
Visitors to the island can tour many of the longstanding historic buildings including the museum. There's a charming little park in the middle of the island along with a wonderful old church.
Additionally, visitors can walk through Mare Island's historic cemetery, pass by the massive abandoned hospital, walk through the preserve, and take tours throughout the entire island.
With that said, the charm and history of the island can be drowned out by the number of reports from visitors that claim to have witnessed paranormal activity all over Mare Island.
From the "Elevator Man" to disembodied voices; some visitors have taken photographs with orbs showing up in the pictures. Some amateur ghost hunters have captured EVPs (Electronic Voice Phenomenon) on the island as well.
Read More: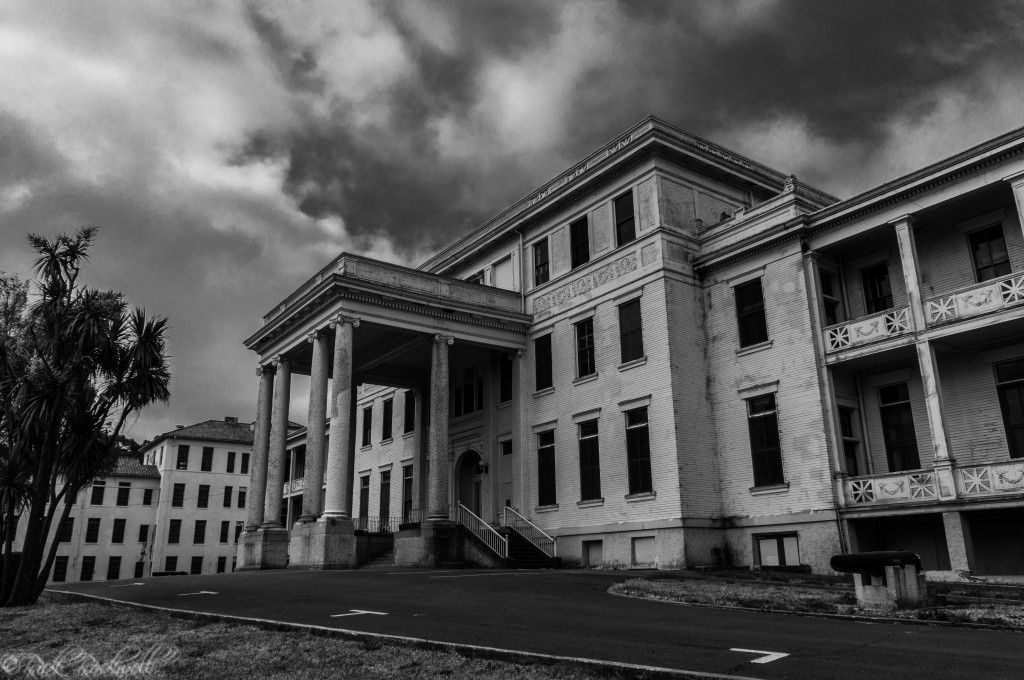 Bodie Ghost Town
Bodie is an old mining settlement that dates back to 1859. It's locked in a state of arrested decay, being maintained as it is, with nothing being allowed to become worse, but nothing being remodeled either.
Bodie is one of the most popular and most impressive ghost towns in the United States. It also has a rich history with many stories of the supernatural.
One of the main paranormal experiences is of the spirit of a maid who haunts the Cain home. Visitors have reported feeling as if they were being suffocated as they slept. There's also a Bodie curse wherein anyone who takes anything as a souvenir is followed by misfortune and bad luck.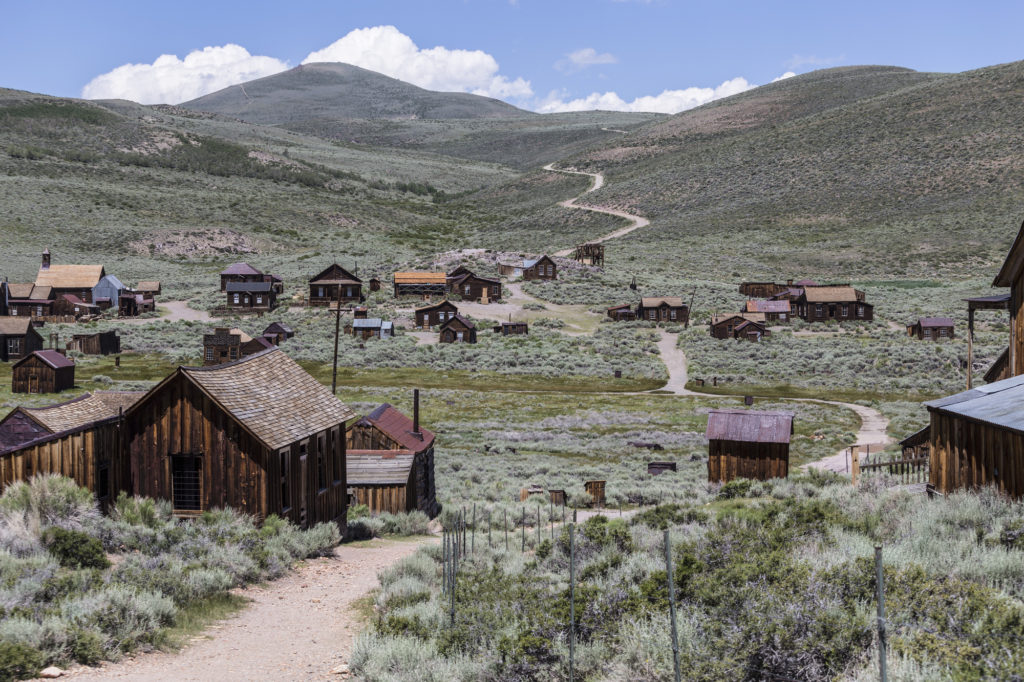 The USS Hornet
The USS Hornet is Alameda's haunted aircraft carrier. It was commissioned in 1943 and has become known as America's most haunted ship.
Both visitors and crew members have reported sightings, sounds, and incidents like tools that disappear and reappear, doors opening and closing on their own, feelings of spectral presences, and the sensation of being grabbed or pushed when no one is there.
For those that enjoy overnight stays at haunted locations, this aircraft carrier offers overnight history tours.
The Enchanted Forest of Cobb Estate
The Enchanted Forest, also referred to as The Haunted Forest, is located at the end of Lake Ave. in Pasadena, California and has a terrifying front entrance gate that marks the beginning of what was once known as the Cobb Estate.
Ghost hunters see the gate as a an opportunity to explore a trail that leads visitors through a haunted forest and into a den of paranormal activity.
At night, it's extremely dark inside, so make sure you have your flashlight! People have reported hearing screams coming from the forest, or feeling as if someone or something was following them.
Strange lights have been seen as well, lights that couldn't be explained away as being from flashlights from other explorers. Some ghost hunters have taken EMF detectors into the forest and had the results spike.
Hotel Del Coronado
The story goes: young and beautiful Kate Morgan arrived at the Hotel Del Coronado in San Diego on Thanksgiving Day in 1892 and checked in, but she never checked out: she allegedly committed suicide after five days there. Since then, employees and guests have experienced some "spooky" happenings, many to do with Kate's room on the third floor.
Visitors have reported a TV that turns itself off and on, flickering lights, items that move on their own, unexplained voices and footsteps, and strange sounds and scents. That hasn't stopped people from coming to stay at impressive hotel, though, and staff say the room where she allegedly stayed is the most requested.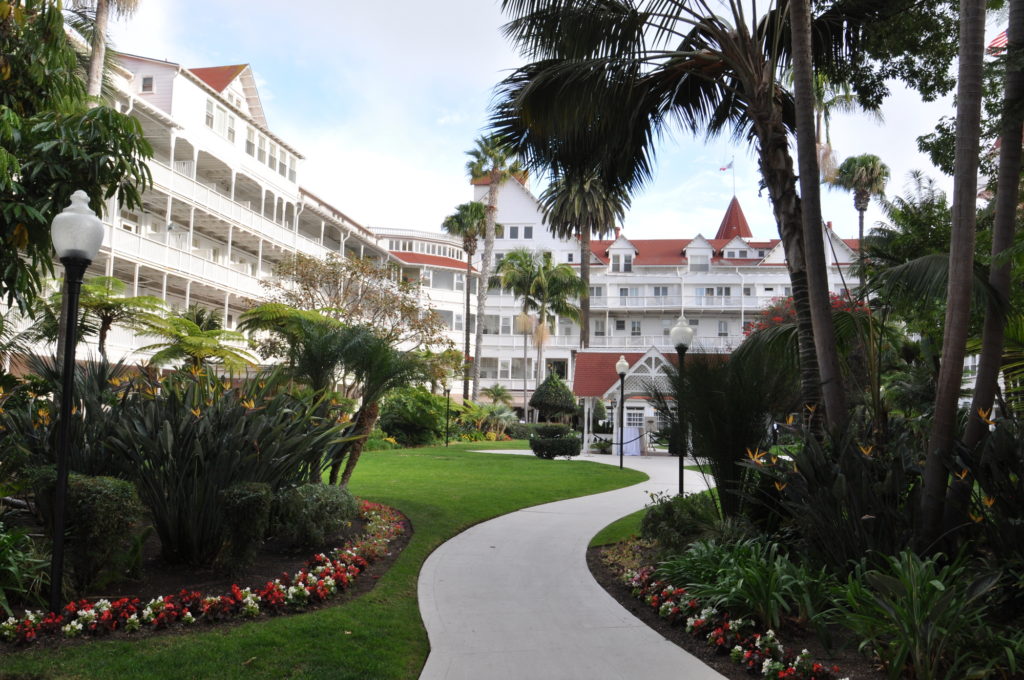 The Queen Mary
The Queen Mary was voted by Time Magazine to be one of The Most Haunted Places in America. There are several ghosts reportedly hanging out on the ship, from a woman and children who drowned in the pool, to a sailor who died in the engine room.
The retired ocean liner was turned into a moored hotel off of Long Beach, California. There's a museum, several restaurants, and a hotel. The owners offer haunted tours through the day and special events at night for people interested in the paranormal.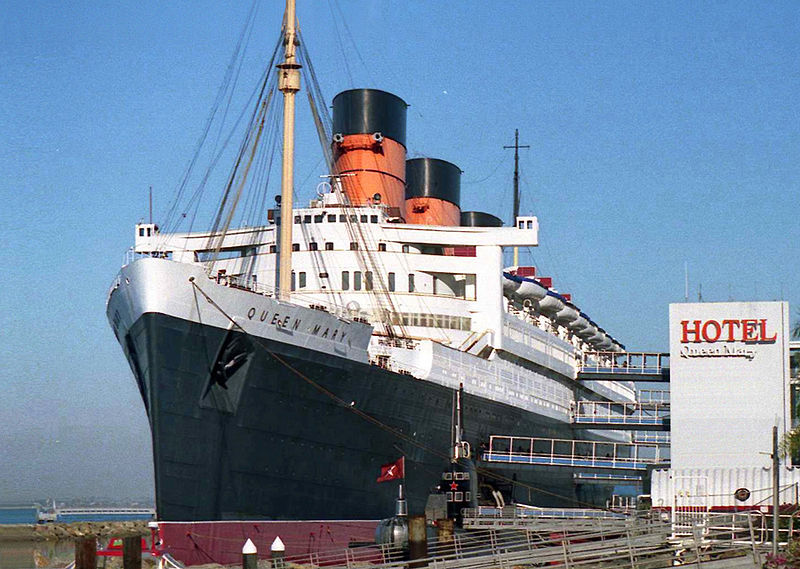 Alcatraz
Alcatraz, as most everyone knows, was formerly the site of a maximum-security prison. Now a tourist attraction and museum, the island is the home to unexplained "visitors" who produce banjo music, footsteps, screams, cold spots, whispering, and slamming cell doors.
The island has been visited by many paranormal experts and ghost hunters. It's considered not only as one of the most haunted places in America, but also the most haunted prison in the country. Even before it was used for the site of the prison, it was known by Native Americans to be filled with spirits. Mark Twain himself said the island was "…cold as winter, even in the summer months."