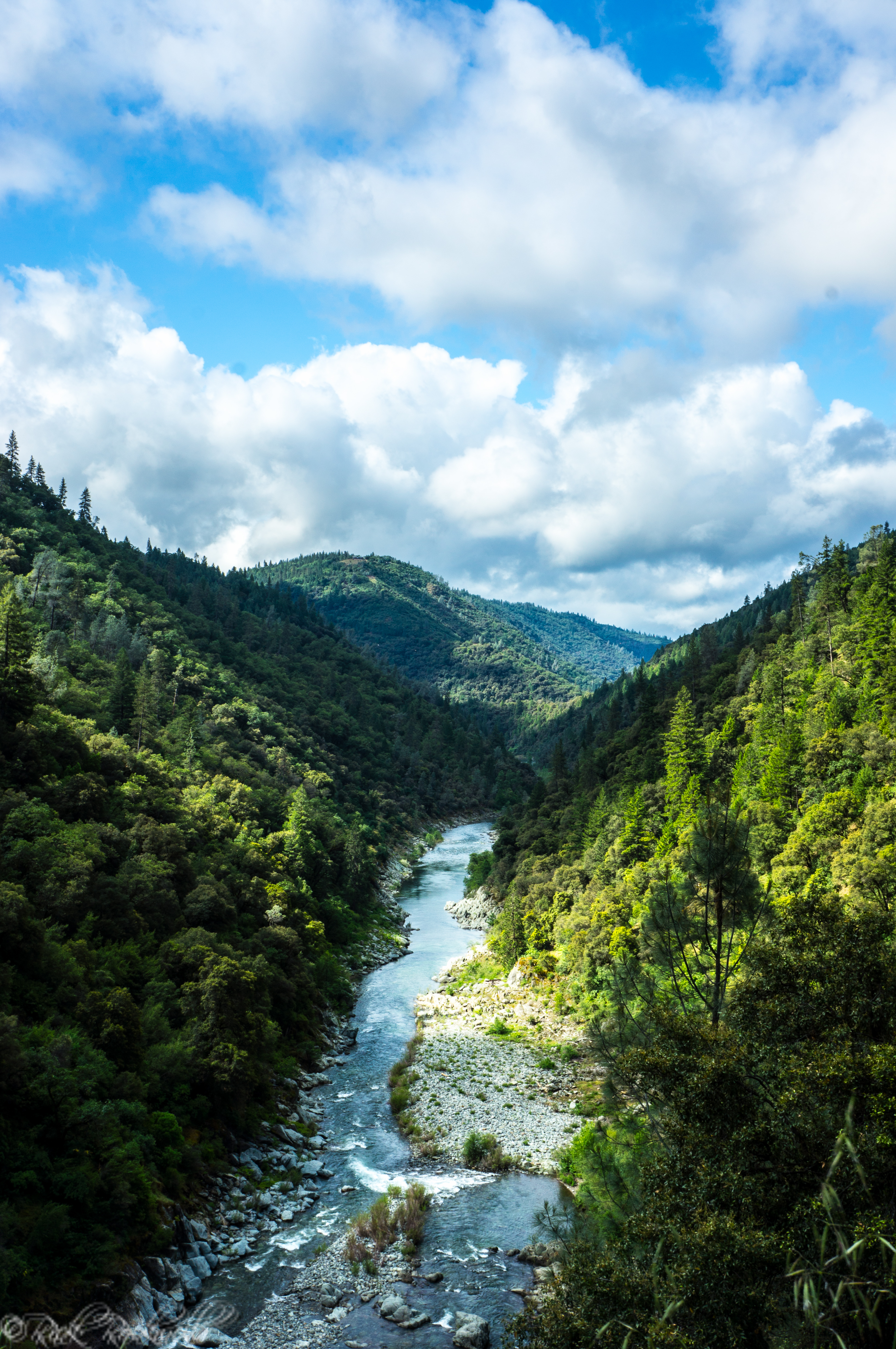 (Last Updated On: March 6, 2015)
Initially, the road was used by stagecoaches to travel between mining camps. Today, it's an adventure filled with scenic views, historical sites, danger and waterfalls.
Departure and Directions
On an early Friday morning in May, I set out in search of at least 6 waterfalls in the Colfax portion of the Auburn State Recreation Area. As usual, I left very early to head across town and drive east up I-80 toward Colfax. The drive was smooth and I was able to get to Colfax without any problems or delays. Getting off at exit Colfax/Grass Valley, I made a right and hopped on Canyon Way. This road took me west a few miles, parallel with 80 for a few minutes, until I made a left onto the infamous Yankee Jims Road.
Yankee Jims Road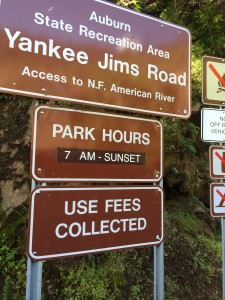 The first 1/4 mile of YJR was a paved, smooth drive. However, that quickly ended and the adventure began. Unlike some of the other roads in this region, YJR had less potholes for the first 5 mile stretch. But, the road is very narrow, a mixture of gravel and dirt, and if you take the turns too fast you can easily drive off the ridge and down about 1,000 feet into one of the creeks that flow through the canyons. In fact, at the site of one of the waterfalls, you can see old cars that went off the road and have laid at the bottom of the canyon for decades. Additionally, this road is not suitable for cars in the winter or after a rainstorm.
Who was Yankee Jim?
According to historical records, Yankee Jim was a bandit who hid out in Placer County. He specialized in stealing horses which was a serious offense back in the mid-1800s. Many historians believe that the bandit's real last name was Robinson. He is credited for discovering gold in this region of Placer County and tried to hide it by building a corral for his stolen horses at the location, which eventually took his name.
Unfortunately for Jim, other miners discovered gold nearby and the town of Yankee Jim became the largest mining camp in Placer County by 1851. In fact, early news paper accounts claimed that the town of Yankee Jim was a metropolitan area according to the standards of the day. In 1852, the town had to be rebuilt due to a fire that burned down most of the main structures.
Also in 1852, Yankee Jim fled the county to escape a lynch mob of miners who discovered Jim's horse stealing activities. Jim ended up heading to southern California where he was caught for stealing horses and hanged.
The town itself thrived until the late 1850's to early 1860's when miners and others began to migrate to neighboring areas like Foresthill.
Check out my article for more in-depth details on Yankee Jim and the town of Yankee Jims
Waterfalls
As mentioned, Yankee Jims Road reportedly boasts of 7 waterfalls located in close proximity to the historical road. During my journey, I was only able to find 4 of the 7. However, I only traveled about half of the road's length (6.5 miles) from Colfax to Foresthill. Additionally, I was unable to get down to the 3rd waterfall (Shirttail Creek Falls), which I believe is on private property.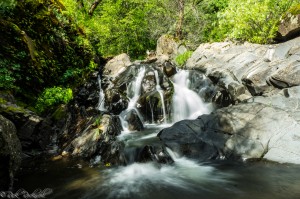 Bunch Canyon Falls
As far as I can tell, Bunch Canyon Falls is the first waterfall located off Yankee Jims Road heading south-southeast from Colfax. It is a difficult waterfall to find and a challenge to hike down to. At roughly 2.6 miles down YJR, there will be a small parking area on the right side of the road. You can't miss this area as it's perpendicular to the road.
Unfortunately, once you find this parking area, you still have some work to do. The waterfall is partially visible from the road. It will take some searching to find a decent route down to the waterfall. The side of the canyon is filled with loose rock, trees, bushes and patches of poison oak. I ended up walking south about 50-60 feet down YJR before finding a route that was manageable.
The hike down was difficult and not recommended for any inexperienced hiker, beginner or child. Once at the bottom, you could see remains of older cars that met their fate by going off the road plummeting down below.
Bunch Creek flows through Bunch Canyon and produces this sweet 15+ foot waterfall. The creek was flowing smoothly without any real power. I was able to set up the tripod right in the middle of the creek, on a dry large stone, and take some nice photos. The hike back up was even more difficult than heading down due to the loose rocks, dirt and poison oak.
Check out my article on Bunch Canyon Falls for more photos and details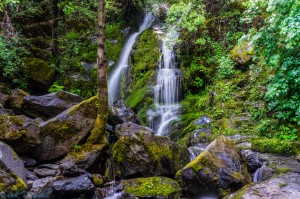 Devils Falls
Devils Falls is conveniently located right on Yankee Jims Road.In fact, you don't even have to get out of your car to see the waterfall, unless you want to explore more of the waterfall's location. I suggest exploring because there's a cool little tunnel that heads underneath the road.
This waterfall is located 5.6 miles down YJR. It's roughly 0.6 miles past the YJR Bridge. You can pull over on the right side of the road in front of the waterfall. There's a small path on the left side of the falls to walk down toward the little tunnel. Be careful as these rocks are really slick.
Check out my article on Devils Falls for more photos and details
Mexican Gulch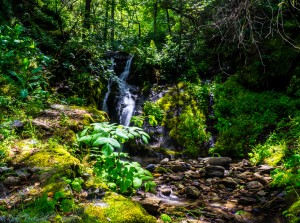 Like Devils Falls, Mexican Gulch Falls is located right off Yankee Jims Road. Travel about another mile past Devils Falls to where YJR intersects with Shirt Tail Canyon Rd. YJR comes to a near dead end that forces you to wind up to the left. Right in this area there's room to park. Walk over to Mexican Gulch Falls and climb down a few feet from the road into the little creek area.
This waterfall is two tiered and you can see both from the road. However, to really get a good view of the upper portion, you must climb some big slippery rocks, slowly walk across more slippery slabs of stone, watch out for frogs and bugs, keep an eye out for poison oak and snakes. But after you do all of this, you will be treated to beautiful views of a waterfall that have a very distinct tropical feel to it.
Check out my article on Mexican Gulch Falls for more photos and details
Yankee Jims Bridge
By now, you should know that I enjoy taking photos of bridges especially older ones. Yankee Jims Road treats us to a suspension bridge built in 1930. Also known as Colfax-Foresthill Bridge, this bridge was designed to help travelers cross over the North Fork of the American River. This bridge is roughly 210 feet long, nearly a few hundred feet above the river bed and has a deck width of 11 feet.
The bridge is open to traffic and has ratings that are fair at best. The bridge sways a little when cars are driving over and it doesn't boost one's confidence upon first glance. There's a place to park by the bridge that fits a few cars. Unfortunately, you have to pay to park here. However, this location does have a port-a-potty and a small cave that just adds to the overall allure of Yankee Jims Road.
You can also take a trail down from the bridge to the river where there are a few popular swimming holes. On this particular day, there wasn't anyone else on the river. It's very peaceful down there and the slow moving water was clear and soothing.
Check out my article on Yankee Jims Bridge for more photos and details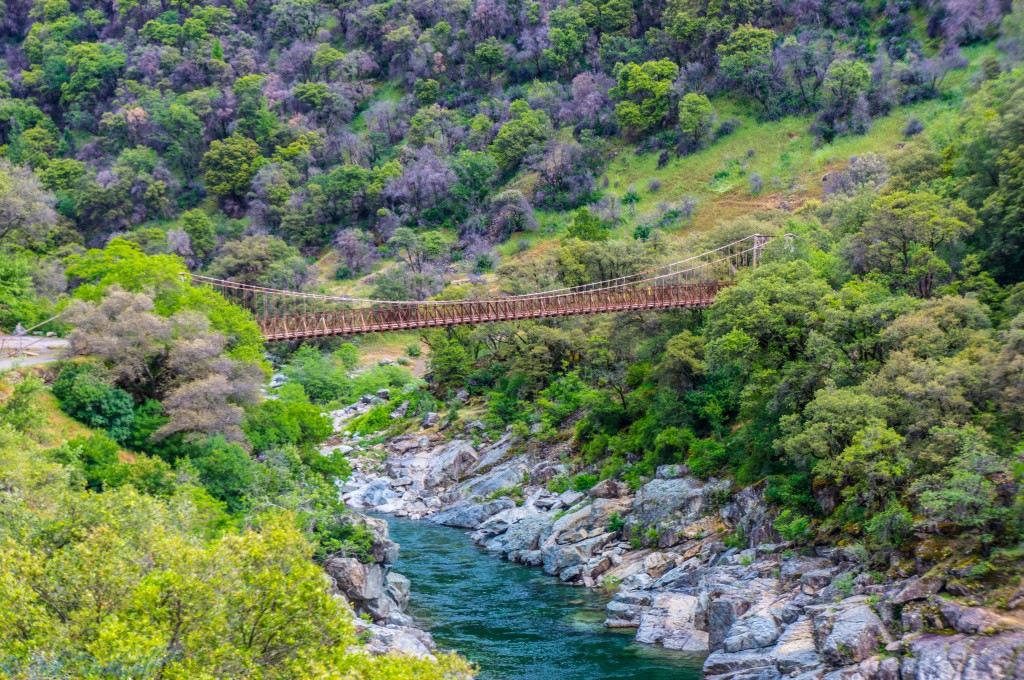 Final Thoughts
Yankee Jims Road is an adventurous stroll through the gold rush era. Remnants of mines, beautiful landscapes and sweet waterfalls are waiting for your exploration. The road is best suited for trucks and SUVs. In the winter time, this road can be treacherous unless you have a 4-wheel drive vehicle.
I suggest driving this road in late-April through May as the waterfalls will still have a nice full flow and the road will be safer. I definitely plan on finishing the 13 mile journey on YJR road when I head out to explore Foresthill township and the surrounding points of interest.
Check out more of my Auburn State Recreation Area adventures.