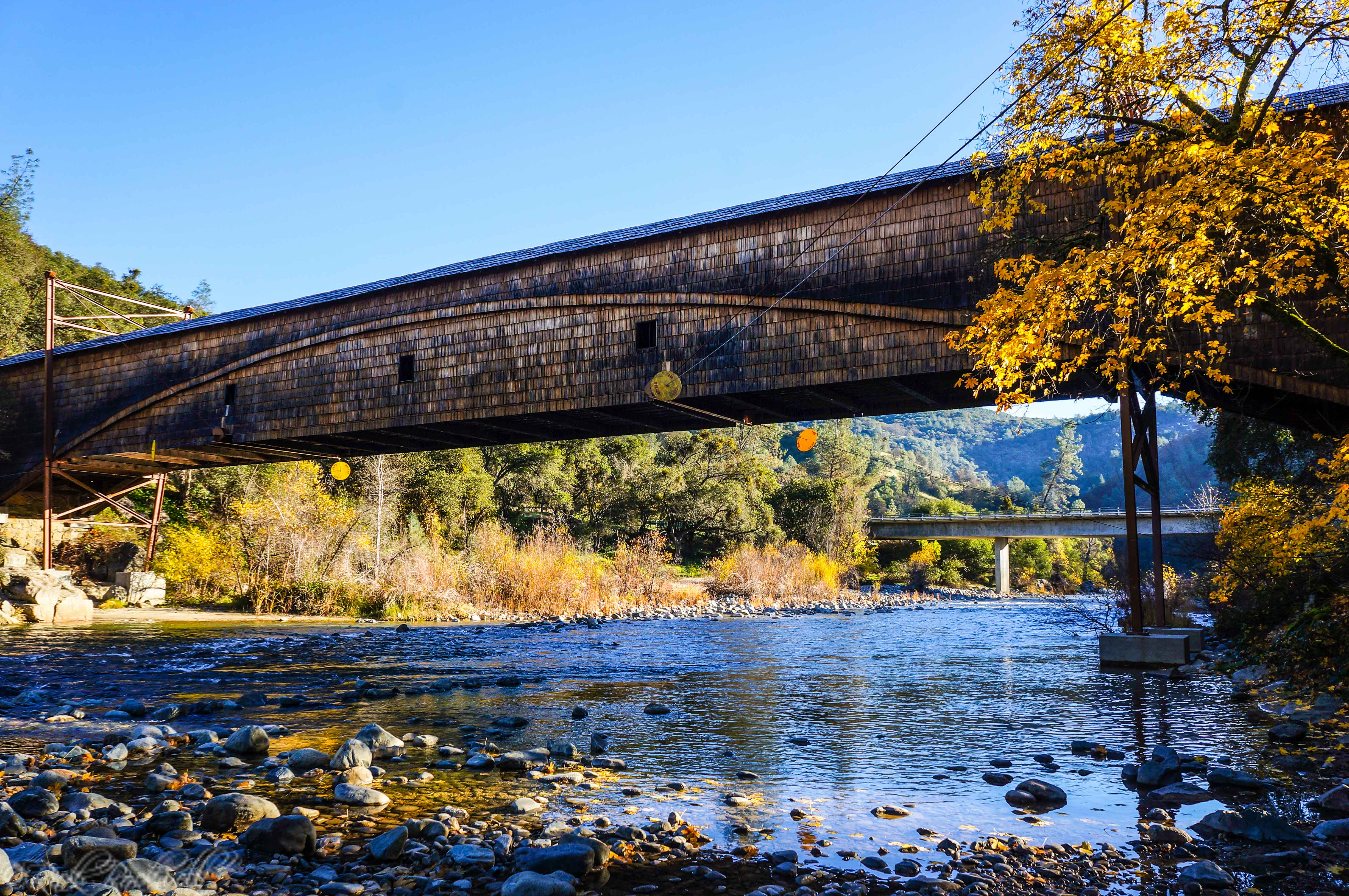 (Last Updated On: December 15, 2016)
The Bridgeport Covered Bridge has become a cherished landmark within Nevada County, California. It's also recognized as a National Historic Landmark due to its remarkable condition, rare type of bridge, age and usefulness during California's Gold Rush days.
Founding of Bridgeport
The location of Bridgeport was first established as a working ranch by a former sea captain William B. Thompson who arrived in 1849. This was less than a year after Jonas Spect first discovered gold along the South Yuba River near Rose's Bar (roughly a dozen miles downstream from Bridgeport) and less than a year after Michael C. Nye and William Foster discovered gold at the junction of Dry Creek and Yuba River.
There' still some historical debate as to when/how this area was named Bridgeport, but it's believed that the camp was named after a ford near where the covered bridge is located.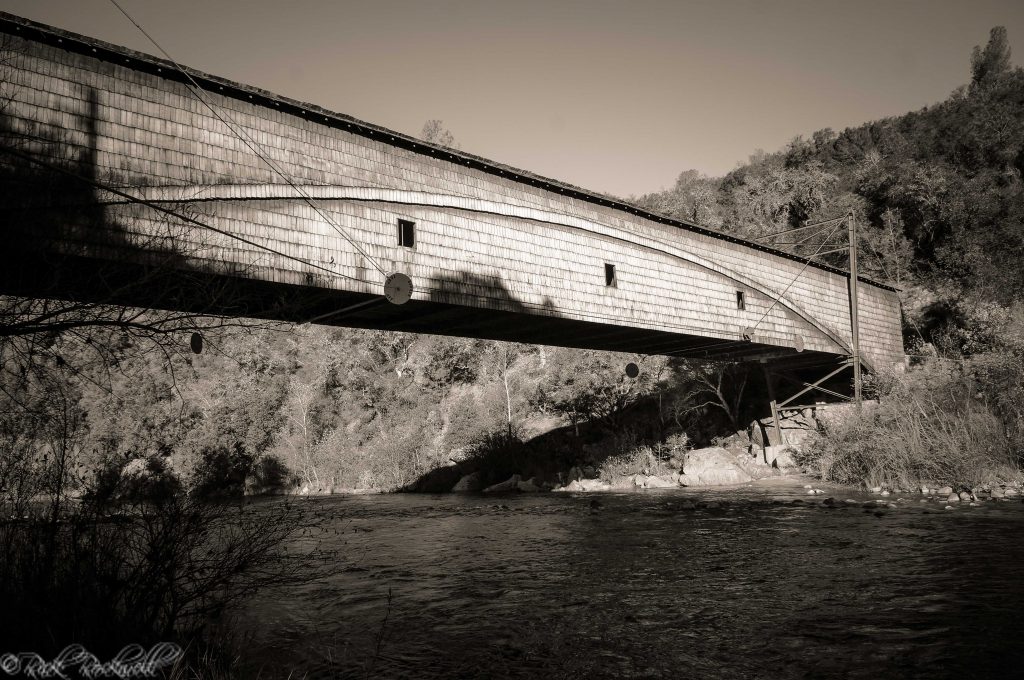 Crossing the Yuba River
Prior to the construction of bridges over the Yuba River, miners and travelers would cross the river via ferry services. Some of the early ferries were overturned wagons tied together to form a crude barge.
In 1850, Matthew Sparks operated a ferry service near Nye's Crossing prior to building a bridge there in 1851. The bridge and ferry service were located along the Middle Yuba River just above the town of North San Juan. Thomas Hess joined Sparks in the construction of this bridge. In fact, Hess is credited with selling the bridge to Thomas Freeman in 1854. This area would go on to be called Freeman's Crossing.
There have been some historical inaccuracies recycled over the years regarding the location of Nye's Crossing. Some sources have stated that Bridgeport was Nye's Crossing. However, this is not true. Nye's Crossing was located right by Freeman's Crossing, according to Thompson & West's 1880 book "History of Nevada County."
Part of this confusion can also be attributed to the fact that Yuba and Nevada County pioneer Michael C. Nye had two older brothers (Urlas and Emmanuel) start a ferry service near Point Defiance sometime in 1849. Although closer to Bridgeport than Freeman's Crossing, Point Defiance is still a few miles downstream from where the Bridgeport Covered Bridge is located.
Other sources have claimed that these Nye brothers ran ferries up river near Bridgeport as well as Point Defiance. However, it's more likely that Sparks would have been the one running a ferry service in this region since he soon built the first bridge here.
Urlas and Emmanuel Nye would sell out and leave the area in 1851. Although, it's unclear who they sold out to, a bridge was built at Point Defiance in the early 1850's. This bridge would eventually go on to be owned by David Wood. My guess is that Sparks most likely built this bridge prior to Wood's arrival. However, there is a small chance that Wood could have built this bridge as he also built a home in Point Defiance.
The First Bridge at Bridgeport
Matthew Sparks is credited with building the first bridge (The Sparks Bridge) near the current location of the Bridgeport Covered Bridge. However, it's unclear as to when exactly he built the first bridge. It's not a far stretch to think that the bridge was constructed in early 1851, around the same time that Sparks had the bridge near Nye's Crossing built. This earlier Bridgeport bridge had to be constructed prior to March 1851, because a horse thief named James Knowlton was hung on this bridge in the beginning of March 1851. (Sacramento Transcript, 11 March 1851)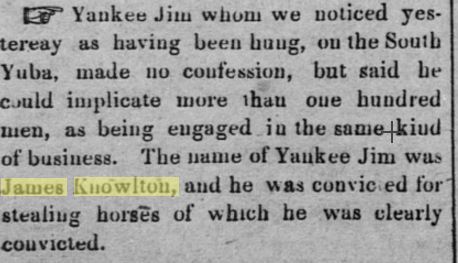 Also, by 1851, the Thompson's land (Bridgeport) had grown into more than just a ranch. It became a mining and stage stop. A toll station was also located there for a toll over the Sparks Bridge.
Once again, here's where things get a little bit complicated. David Wood and his wife end up in Bridgeport by 1854. However, there are conflicting reports as to when he exactly arrived. Some sources have him arriving as early as 1851 and others have him arriving in 1854. Most likely, he arrived in late-1853 to early 1854. By late 1854, he was involved in a lawsuit regarding the sale of the Sparks bridge.
Sparks vs. Hess: The sale of the Sparks Bridge
In November 1854, Sparks sold his bridge, tollhouse and other nearby belongings to Thomas Hess for a reported price of $8,000. The terms of the transaction were laid out in writing with Hess to meet financial milestones by specified, agreed upon dates.
Hess and Sparks were no strangers to each other. As mentioned earlier, Hess was involved in the construction of the first and second bridge near Nye's Crossing and even reportedly owned it at one point before selling it to Thomas Freeman in 1854. Which would go on to become Freeman's Crossing.
So, it's a bit surprising that difficulties arose between the two men and required a lawsuit to resolve the issues. But, it's entirely possible that these difficulties were the result of David Wood's involvement in this transaction.
Wood took possession of the Sparks Bridge almost right after the contract between Hess and Sparks was signed. Wood purchased the bridge from Hess for an unconfirmed price. Almost immediately, Wood would improve the roads and take full control of the tolls and the bridge. It was assumed that Hess and Woods had some sort of agreement worked out prior to the transaction between Hess and Sparks.
In the end, Sparks filed a lawsuit against Hess and added Wood to the suit. He would end up winning his suit. However, an appeal was made and ultimately, Wood would end up in full control of the bridge, roads and toll – under the direction of his newly formed company The Virginia Turnpike Company.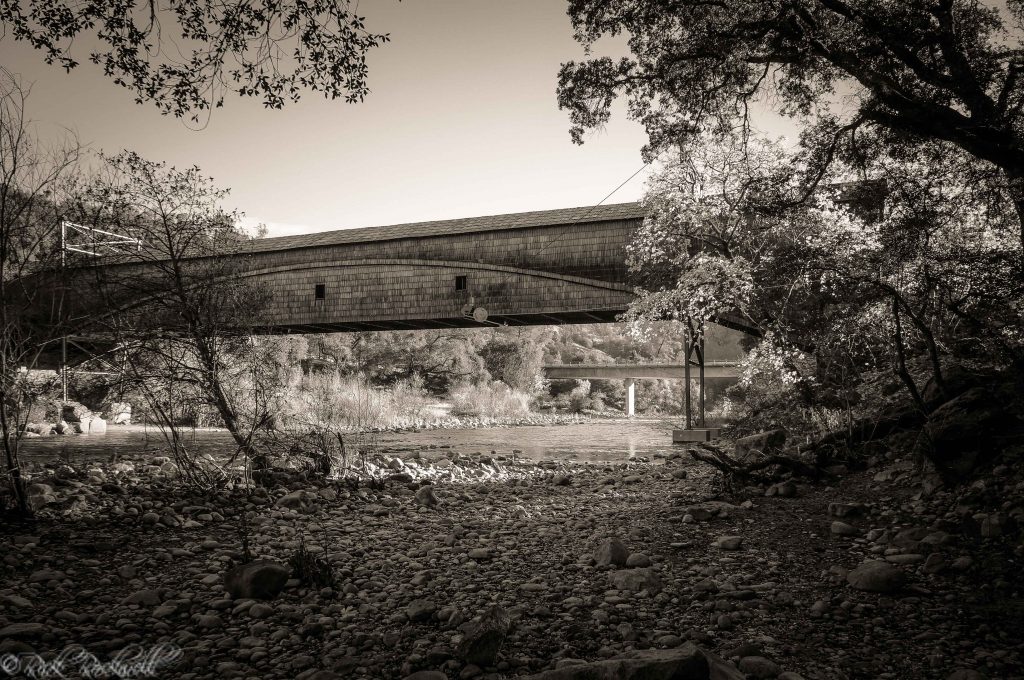 The Second Bridgeport Bridge
In the latter part of 1855, the Sparks Bridge was swept away by the Yuba River. Wood and his newly founded Virginia Turnpike Company had to build a new bridge in early 1856. This bridge was built on the site of the old Sparks Bridge and even included some of the original foundation. The company would also build a wagon road leading from the bridge up into the hills.
Also by this time, William Thompson had died and his widow married former employee Charles J. Cole. They would go on to have kids and their ranch would increase significantly over the next several years.
Who was David J. Wood?
David J. Wood and his wife Jane came from Missouri to California in 1850. As stated above, Wood is believed to have arrived at or near Bridgeport between 1851 and 1854. In addition to purchasing the Sparks Bridge in controversial manner, Wood also purchased the bridge at Point Defiance where he constructed a nice home, Rice's Bridge along the South Yuba River and the bridge at Emery's Crossing on the Middle Yuba River.
In January of 1856, Wood and several of his family members officially started the Virginia Turnpike Company with the goal of constructing a toll road spanning an estimated 10 miles from Anthony's House to Freeman's Crossing, passing through French Corral.
Wood also had several other successful business endeavors including stores in Virginia City, French Corral and Sierra Valley. His sawmill in Plum Valley was responsible for the wood to construct the covered bridge in 1862. In addition to Point Defiance and near Bridgeport, Wood also had property in French Corral and North San Juan.
In 1859, he along with Thomas Freeman (owner of Freeman's Crossing) would survey the Henness Pass route in May of 1859.
By 1870, Wood had retired to his large ranch in Wheatland where he died in 1875. He and his wife Jane are buried in the Wheatland Cemetery.
There's some historical controversy as to the full name of David Wood. A historical document appeared to say his name was David I. Wood and many sources over the years refer to him by that name. However, it's been clarified through family history that his middle initial was actually "J" for John.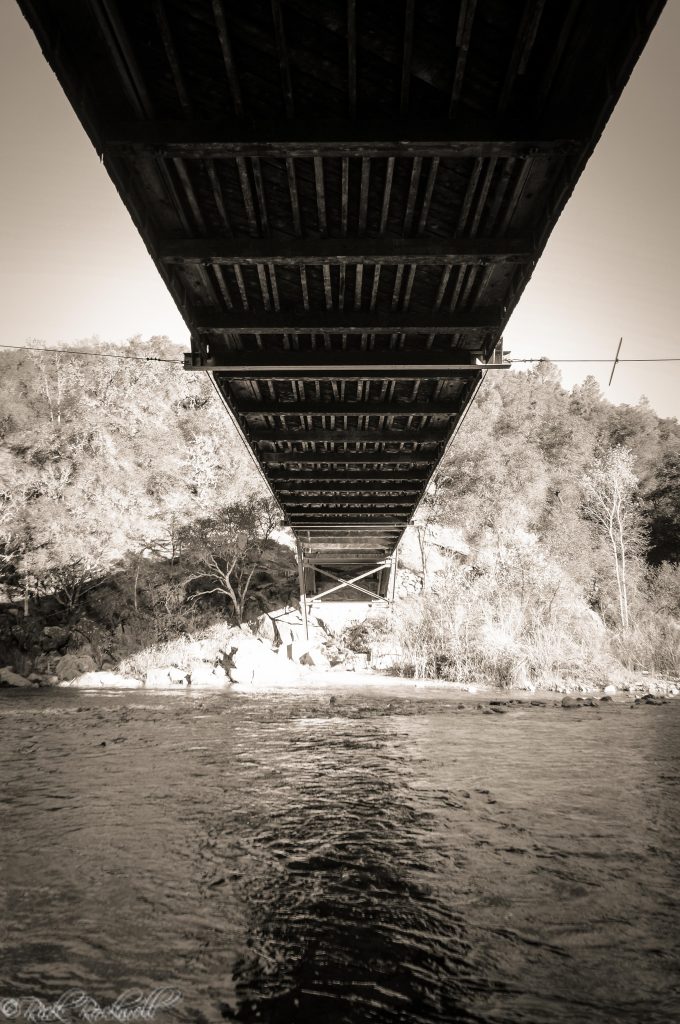 The New Covered Bridge
By the early 1860's, Bridgeport was also known as Wood's Crossing. In fact, old-timers continued to call it Wood's Crossing throughout the remainder of the 19th century. In late 1861 to early 1862, Northern California was hit with storms that caused massive flooding throughout several counties. It was a historical catastrophe unlike anything ever seen before or since.
The Yuba River rose at least 26 feet during this period of storms. On Jan 4, 1862, the raging river wiped out Wood's Bridge and would go on to claim every other bridge along the river.
Construction of the Covered Bridge
Wood's creativity was on display when he chose to combine two styles of bridge design in constructing the covered bridge: Howe truss and Burr arch designs. It's believed that Wood didn't think that either design by itself was sufficient enough to cover the 208 foot span across the Yuba.
The Howe truss design was patented in 1840 and, combined with the Burr arch design, resembled bridges found in Pennsylvania's Chester County.
According to Southyubariverstatepark.org, the bridge was originally 251 feet in ridge line length with weather wings. It was comprised of 27,000 shingles that were 5-6 inches wide by 36 inches long. These shingles were made out of sugar pine, while the rest of the bridge was made of Douglas fir.
The bridge was completed sometime during mid-1862.
Toll Takers for the Bridgeport Covered Bridge
The following gentlemen were listed as the toll takers for the covered bridge (Southyubariverstatepark.org):
Perkins Lafayette Hutchinson (1856-1864) – First met David Wood in Point Defiance and then would go on to be the toll taker for the Virginia Turnpike Company. Local lore has it that Hutchinson used to have an elephant shotgun to deter criminals.
Thomas William Milton Thompson (1865-1875): Thomas was the nephew of David Wood's wife Jane. He was elected as the treasurer for the Virginia Turnpike Company in 1855.
Gideon Hand Graves (1876-1899): Graves was hired in 1876 by the Virginia Turnpike Company to be the toll taker. He was a friend of Charles Cole and even lived on the large ranch. In fact, Graves was well cared for by the Cole family that he's buried in the family cemetery.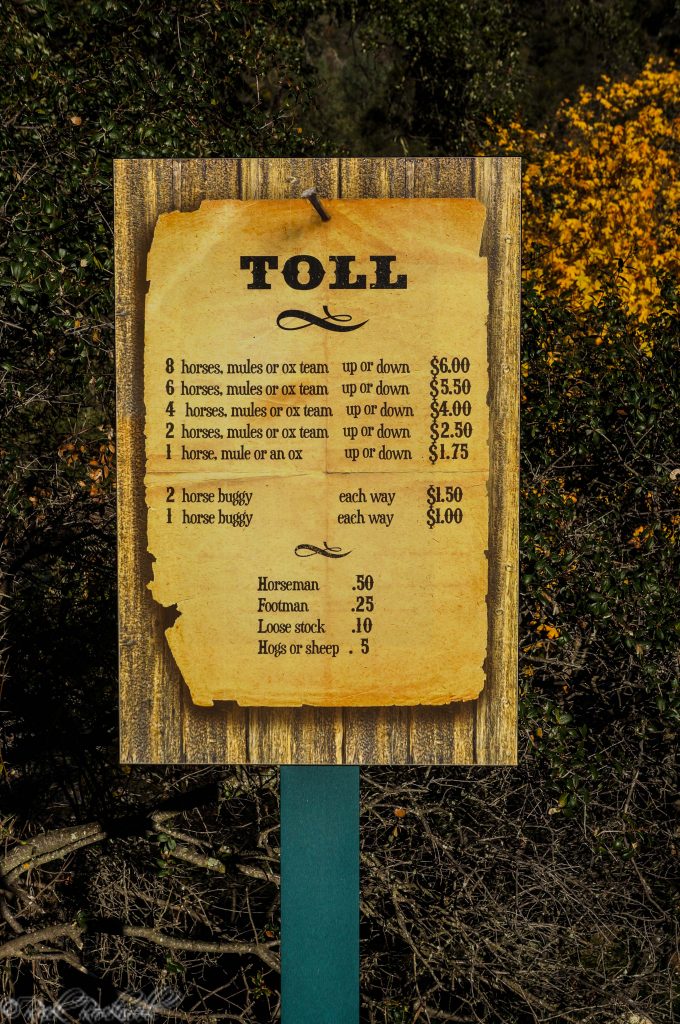 Tolls
According to Southyubariverstatepark.org, the following toll rates were established after the cover bridge was completed in 1862:
8 horses, mules or ox team (up or down) – $6.00
6 horses, mules or ox team (up or down) – $5.50
4 horses, mules or ox team (up or down) – $4.00
2 horses, mules or ox team (up or down) – $2.50
1 horse, mule or an ox (up or down) – $1.75
2-horse buggy, each way – $1.50
1-horse buggy, each way – $1.00
Horseman – $.50
Footman – $.25
Loose stock – $.10
Hog or sheep – $.05
Thompson & West's "History of Nevada County" had these rates for one of Sparks' Bridges a decade prior:
Wagon loaded – $3.00
Wagon empty – $2.00
Horse or mule with rider or pack – $.50
Cattle per head – $.25
Footman – $.20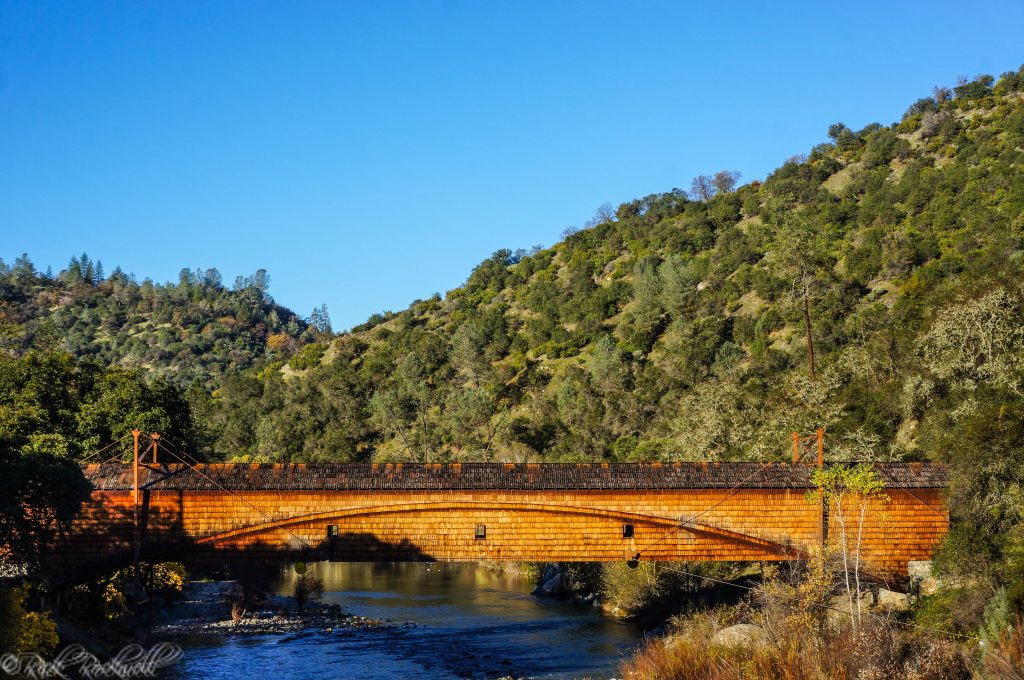 Repairs and Upgrades
In 1901, Nevada County eliminated the tolls for the road and bridge. From that point on, it was free to travel across. Unfortunately, the next few decades weren't kind to the bridge and it began to slowly fall into disrepair.  Spearheaded by the Nevada County Historical Society in 1969, a resolution was drafted calling for public assistance to save the bridge. In 1971, the bridge was considered unsafe and just about all hope was lost at saving this beautiful landmark.
Fortunately, enough funds were raised and the restoration was underway. The bridge was made safe again for foot traffic and the weather wings were removed. Over a century after the bridge was first built, it was once again a beacon of beauty and Gold Rush history.
In 1986, the bridge became the centerpiece of the South Yuba River State Park.
In 1997, the bridge underwent another largescale restoration. Damage caused by a flood once again put this bridge in jeopardy. This round of work saw large panels removed, half of the sugar pine shakes replaced, repairs to the cross supports under the bridge and repairs to the arch.
Historic Landmark
In the 1940's, David Wood's granddaughter made it her personal mission to gain landmark status for this bridge. So, in 1947-1948, the bridge became a California Historical Landmark. In 1970, the bridge earned the status as a National Historic Civil Engineering Landmark. And finally, the bridge scored the historical hat trick by gaining national protection after being places on the National Register of Historic Places in 1971.
Current State of the Bridge
Currently, the Bridgeport Covered Bridge is once again closed to foot traffic. Another largescale renovation project is underway to restore and safeguard this historic landmark. A massive campaign titled "Save Our Bridge" is underway to raise funds for the renovation costs.
You can help out by donating to this worthwhile cause. Just click on the image below:

Final Words
The Bridgeport Covered Bridge is a magnificent structure that not only spans the South Yuba River, but also spans California's history. It's a rare bridge for this part of the country and it's become an iconic structure within this state.
I was surprised at the many historical inaccuracies surrounding this beautiful bridge. This article is an attempt to help alleviate some of the confusion and play a small part in reintroducing this history to others.
The South Yuba River Park Association and the Park's official website do an incredible job with preserving and presenting the history of the bridge and Bridgeport. It's a credit to their hard work and foresight to keep this bridge around for future generations.
Location
17660 Pleasant Valley Rd, Penn Valley, CA 95946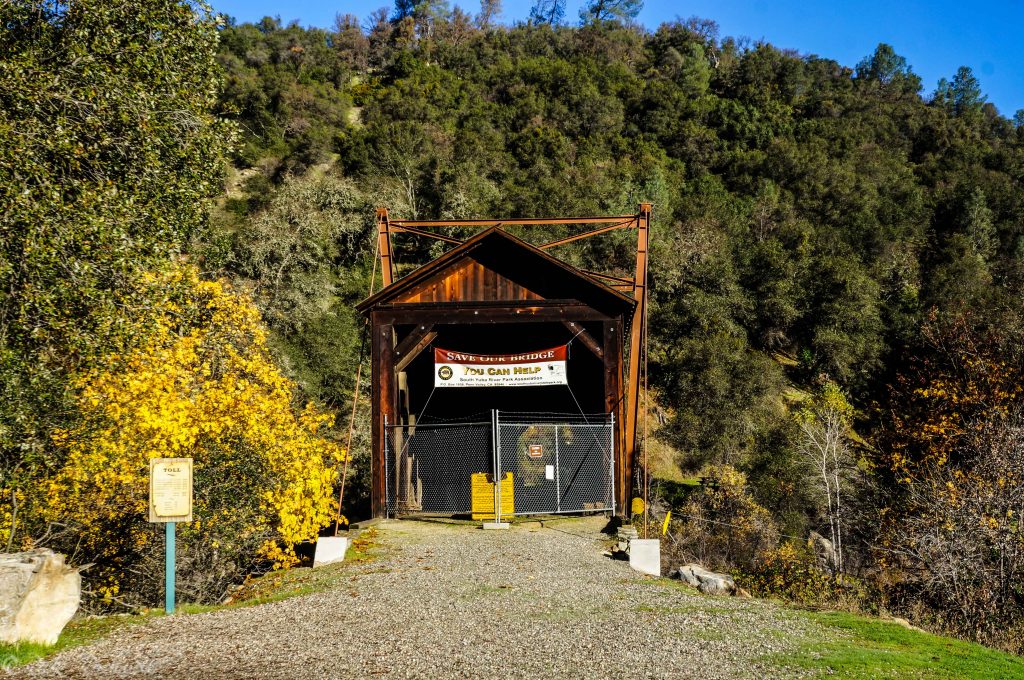 Additional Sources:
"Reports of Cases Determined in the Supreme Court of the State of California, Volume 15," Bancroft-Whitney Company, 1906
"History of Yuba County, California, with illustrations descriptive of its scenery, residences, public buildings, fine blocks and manufactories," Chamberlain and Wells, 1879
"History of Nevada County, California; with illustrations descriptive of its scenery, residences, public buildings, fine blocks, and manufactories," Thompson and West, 1880
"The History of the Gold Discoveries in the Northern Mine's [sic] of California's Mother Lode Gold Belt: As Told by the Newspapers and Miners, 1848-1875," Lewis Swindle, 2000
"History of Placer and Nevada Counties California," Lardner and Brock, 1924
Nevada County Historical Society Bulletin, January 1996