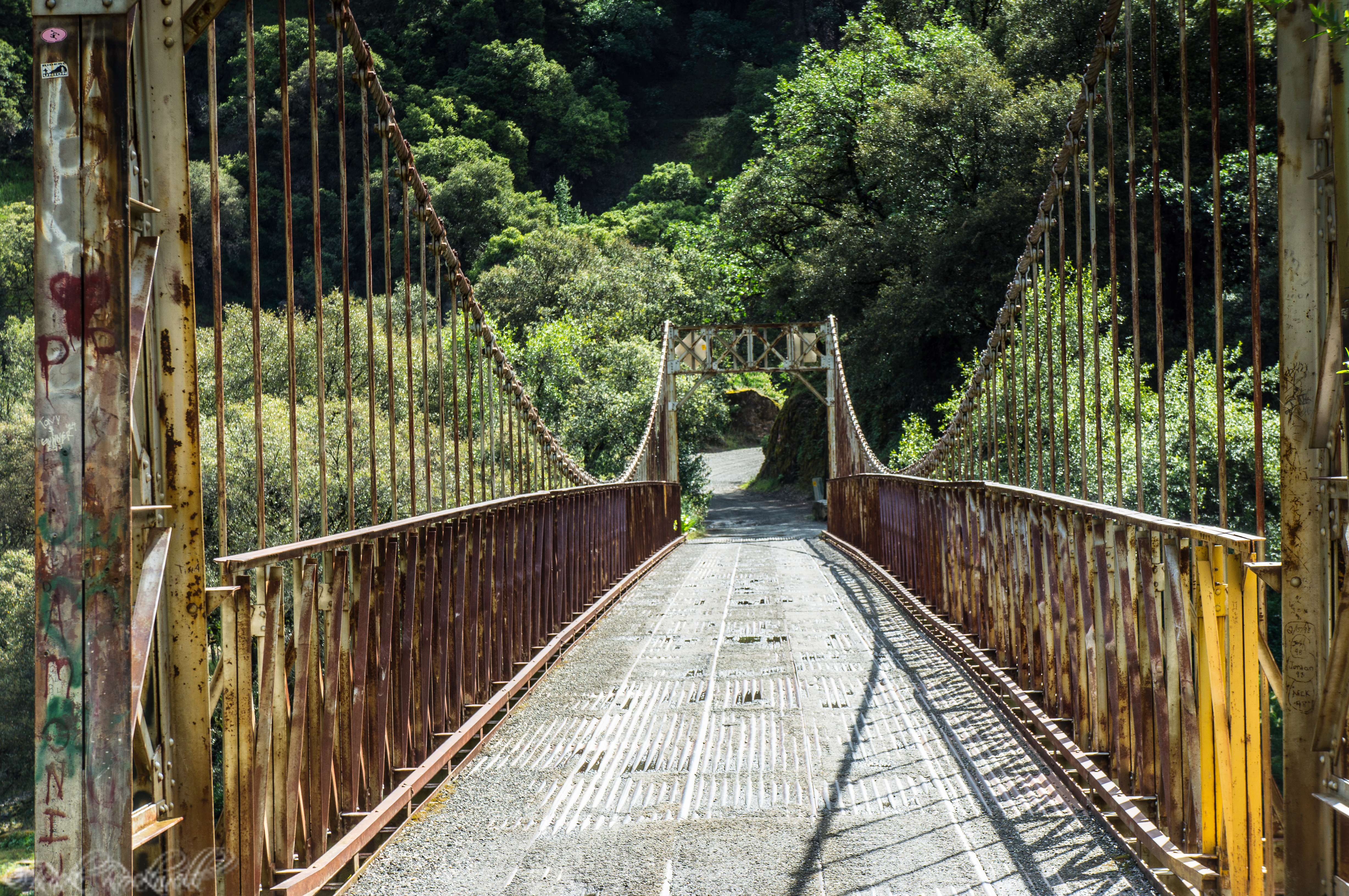 (Last Updated On: May 24, 2015)
The bridge was built in 1930 and is a few hundred feet above the river. The deck with is a little more than 11 feet and the longest span of length is 210 feet. The vertical clearance above the deck is just above 13 1/2 feet.
The bridge has a 3 ton limit and is wide enough to allow for one car to pass over at a time. When a vehicle does pass over, the bridge begins to sway and make some very concerning sounds.
The bridge's assessment grades are "fair" at best, and they don't encourage confidence when crossing the bridge. In fact, when you first enter the bridge, doubts quickly set in.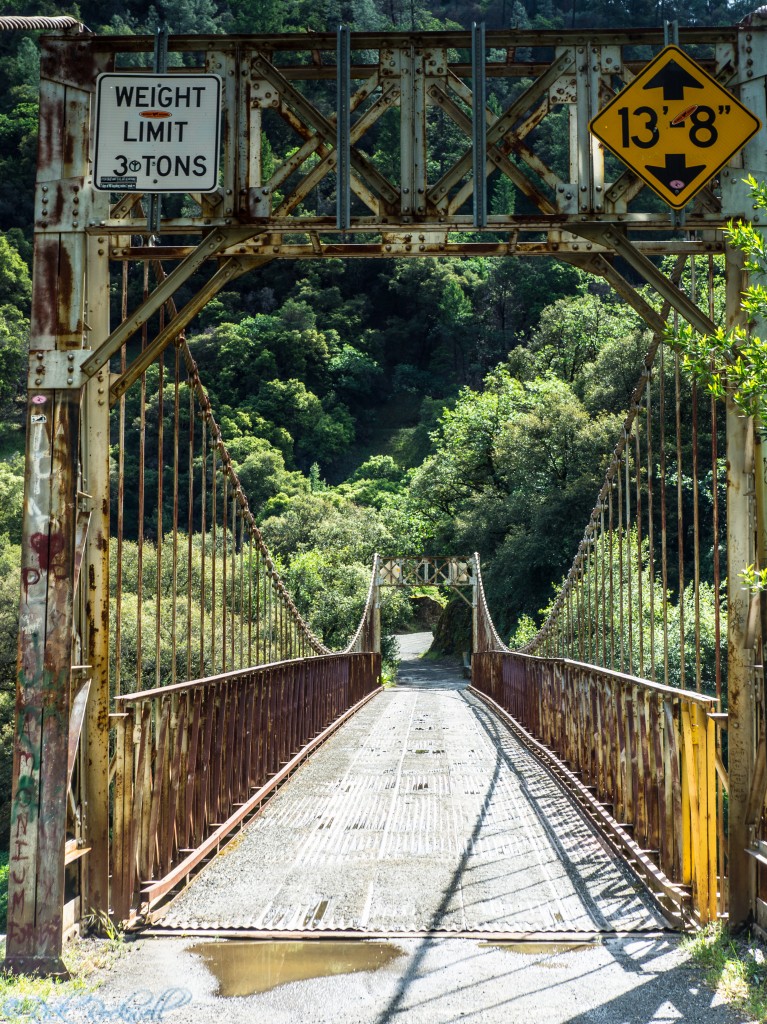 The Bridge's Name
The bridge carries the name of Yankee Jims because that's the road that travels over the bridge. Both the bridge and the road are named after a pioneer of the region named Yankee Jim Robinson. He reportedly found gold about 5 miles south of the bridge. Eventually news of his discovery spread, and miners came from all over to dig for gold. A town quickly grew and it was named after him. Yankee Jim really was a bandit on the run and specialized in stealing horses. By 1852, the miners ran him out of town where he eventually headed to southern California, was caught for stealing horses and hanged.
Read more about Yankee Jim and the town named after him.
Directions
From Sacramento:
I-80 toward Colfax
Exit on Canyon Way (Colfax/Grass Valley)
Turn right onto Canyon Way
Drive 2.2 miles and turn left onto Yankee Jim Road
Drive about 5 miles on YJR
Amenities
Yankee Jims Bridge has a port-a-potty and a small parking area that can fit about 3 to 4 cars. There is a $10 fee to park there.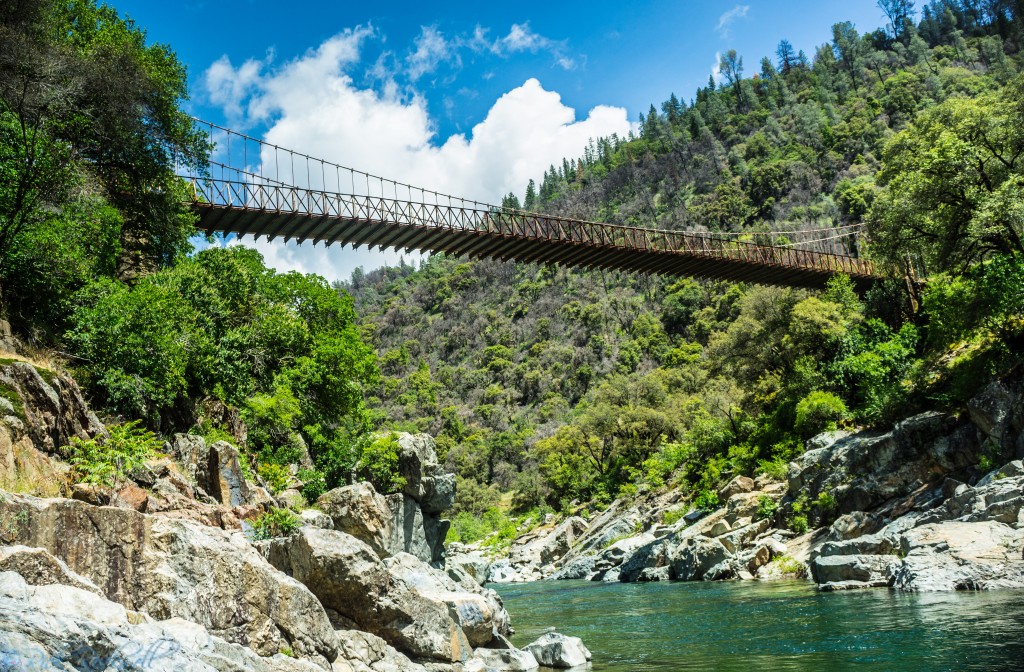 Swimming Hole
Just below the bridge there is a nice swimming hole with large rocks to sunbathe on and a few sandy beaches to enjoy. There's a trail to the right of the bridge that takes you down to the large rocks and beach. The water is clear, flowing smoothly and definitely inviting. There's no jumping off the bridge allowed.
Final Thoughts
If you like bridges then this is a cool one to visit. Additionally, the lure of the American River and waterfalls both before and after the bridge make this a great destination.
Check out more of my Auburn State Recreation Area adventures.