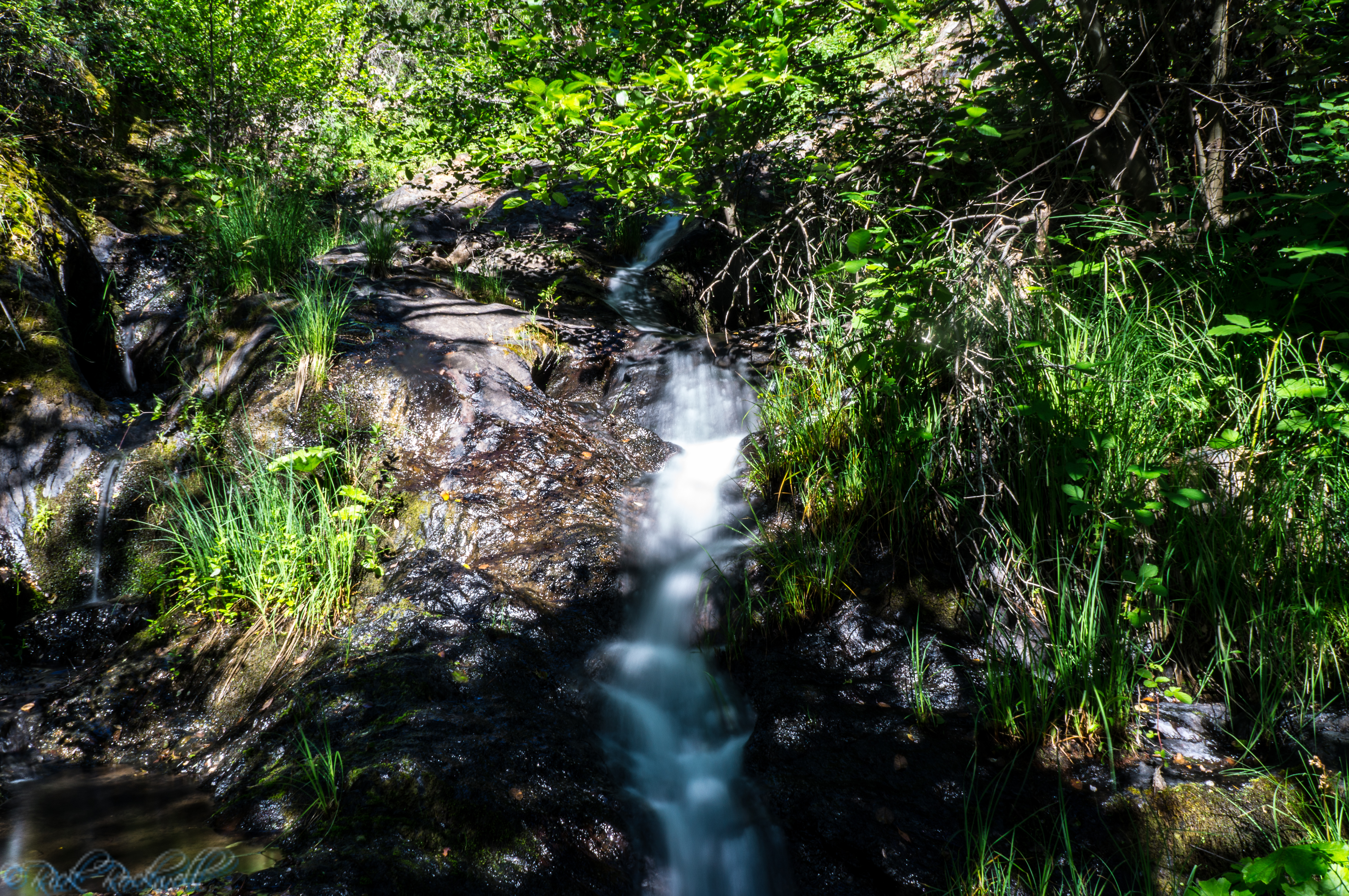 (Last Updated On: March 6, 2015)
Directions
Take I-80 east from Sacramento to Colfax
Take exit 133 off I-80 (Canyon Way) and head 1.1 miles
Turn right onto Iowa Hill Road
Drive for 2.7 miles to the sharp right turn in road before crossing American River
Trailhead is just north of the river bridge on east side of street
Park on east side (right side) of Iowa Hill Road, facing the direction you just came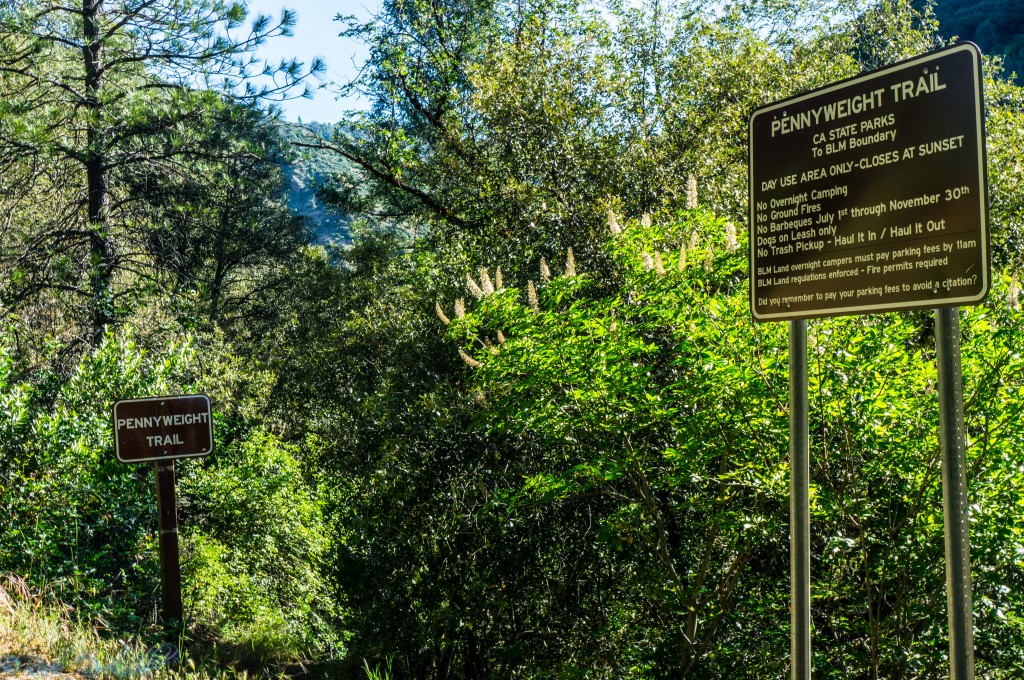 Trailhead
The trailhead consists of two signs and the entrance to the Pennyweight Trail. The larger of the two signs lists various regulations like no overnight camping, no ground fires, etc.
Parking for the trail requires you to park on the east side (right side) of the road, facing the direction you just came. There is very limited parking available. 3 tenths of a mile down is a short-term parking area with a bathroom. If you cross the Iowa Hill Bridge, there's a parking lot for day usage of the river and the Mineral Bar campground. However, this costs $10.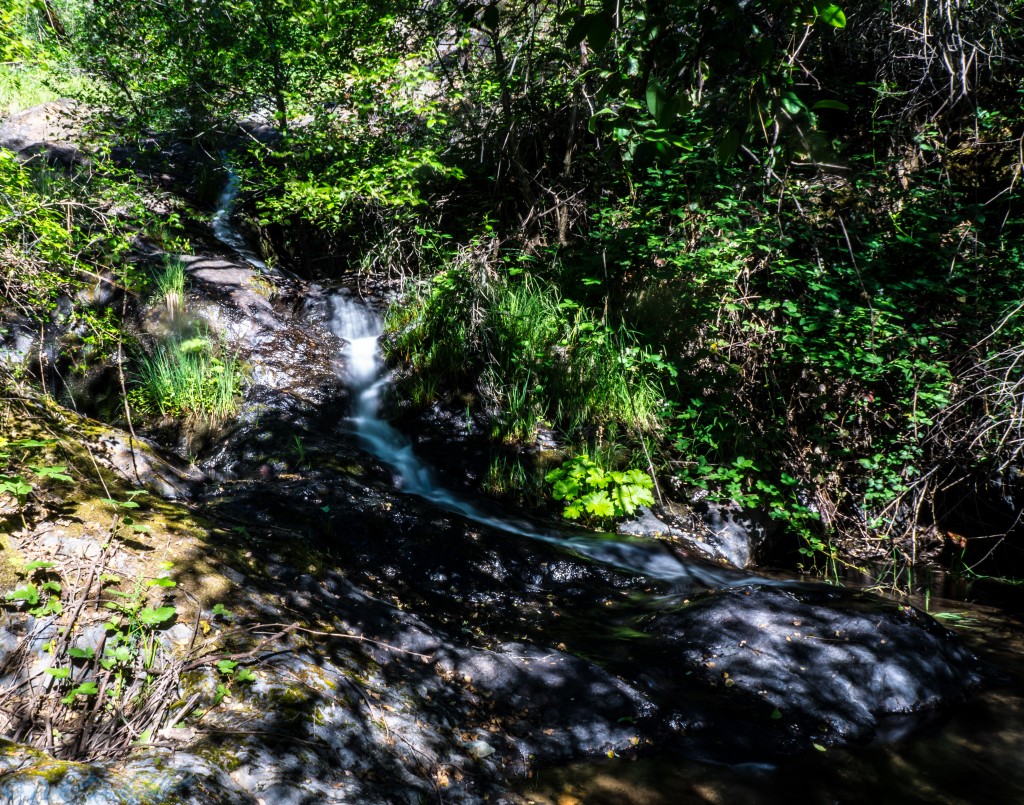 The Trail
The trail takes you from Iowa Hill Road roughly a 1/2 mile (at the most) along the North Fork of the American River. The trail splits and you can head on the upper path that will take you to the upper portion of Pennyweight Falls or you can take the lower path which takes you near the river and to the lower portion of the falls.  Each path is roughly the same distance to the falls. Neither are really difficult. You will go down roughly 100 feet in elevation to the riverside.
Both the upper and lower portions are surrounded by bushes and there were many water bugs all around. Unfortunately, I went when the water flow was lower and it definitely prevented me from getting better photos.
Tips
Check out this waterfall in the spring when it's at full flow
Bring bug spray because there are some bugs depending on the season
Final Thoughts
This isn't a waterfall that you would exclusively drive out to see. However, if you make this waterfall a part of a multi-stop trip, then it's definitely worth it. I suggest adding the Iowa Hill Bridge, Mineral Bar and heading up to Iowa Hill to an adventure that includes Pennyweight Falls.
Check out more of my Auburn State Recreation Area adventures.