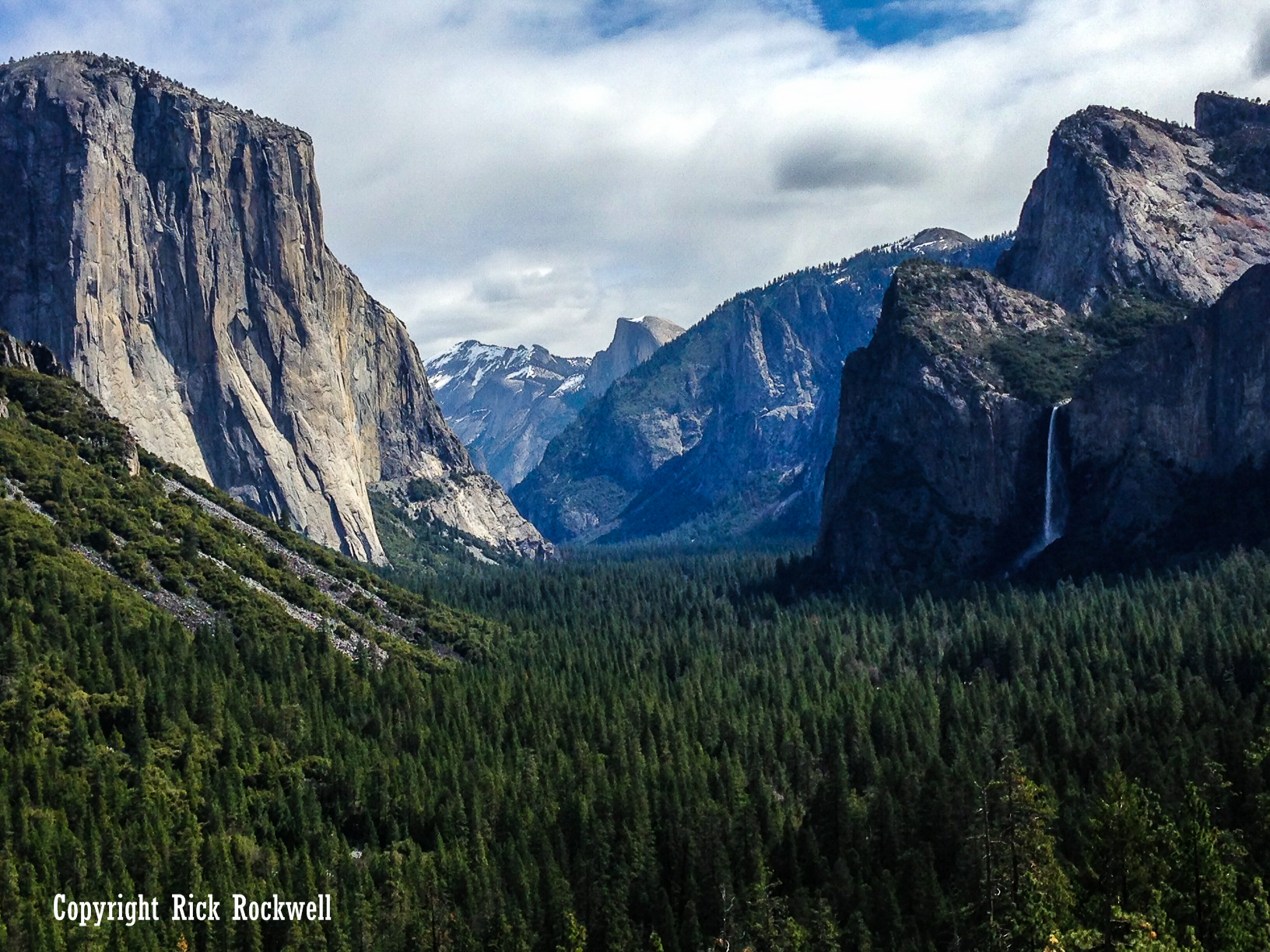 (Last Updated On: March 6, 2015)
Lake Tahoe has been a love of mine since I was a kid. I've been there nearly 100 times. Even after all of these trips to Tahoe, I still truly enjoy hiking and visiting the lake every year. It's been a dream of mine to move to Lake Tahoe. However, in one glance at Yosemite Valley from Tunnel View, I fell in love with this park. In fact, I would say that I love it as much as Tahoe and I've only been there one time.
Yosemite is a magical place with majestic views of lakes, waterfalls, valleys and more.  You can't comprehend the magnitude of this place until you actually visit it.
Oakhurst
My trip to Yosemite was a weekend getaway in early April. I drove from Sacramento down to Oakhurst on a Friday morning. It took a little more than 3 1/2 hours to get there. I wasn't sure what to expect with the town of Oakhurst. I assumed it was going to be a small place outside of Yosemite that had a few good deals on hotels. Yet, when I arrived in Oakhurst, I was pleasantly surprised.
The town is located in the foothills of the Sierra Nevada mountain range in Madera County. It's also the last town at the southern end of the historic Highway 49. Oakhurst conveniently sits at a junction of Highways 49 and 41. It's roughly 15 miles from the south gate of Yosemite and offers all the necessities of a town like: restaurants, supermarkets, a theater and a bowling alley.
The difference in lodging prices from Oakhurst to staying inside of Yosemite is significant. I paid roughly $170 to stay Friday night and Saturday night at the Days Inn. Comparable lodging inside Yosemite was nearly double. Unfortunately, I probably would have been better off staying inside of Yosemite National Park because the Days Inn really wasn't a pleasant experience. There were ants everywhere, could smell smoke from other visitors and the walls were very thin. I wouldn't recommend staying there.
Since I'm not a big camper, I prefer to find comfortable lodging that has wi-fi so I can do some work, sleep on a bed, edit pictures, have a working bathroom and not worry about big creepy spiders crawling on me at night. Yes, I'm afraid of big spiders, clowns and sharks. But, I digress.
I spent Friday evening in Oakhurst, eating and talking to some of the locals about what places I should checkout inside of Yosemite. I also had a few suggestions from friends who have been there before but I had limited time to see all of the places. The common theme among all of the suggestions was Yosemite Valley and places like Half Dome or The Mist Trail.
The downfall of staying outside of Yosemite is that you have less time in the park. I thought it would be a quick drive up Highway 41 from Oakhurst to Yosemite. Unfortunately, it took about 30 minutes due to the winding roads and slower speed limits.
Yosemite's South Entrance
Once at the south gate of Yosemite National Park, you can head east toward Mariposa Grove or Northwest around the western region of the park until you hit Yosemite Valley. So, I took Wawona Road (which is highway 41 outside of the park) northwest and was off to see the valley. I had no idea how massive this park was. Driving on Wawona Road was a great indication of just how big Yosemite is.
It took about 45 minutes to get from the south gate to Tunnel View which is the location of Wawona Tunnel. This tunnel is the doorway to the breathtaking beauty of Yosemite Valley. It was here at Tunnel View that I fell in love with Yosemite.
Check out my article on Wawona Tunnel for more details.
Tunnel View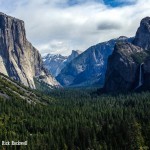 Tunnel View gives you your first glimpse into the valley. It's as if you are looking at a whole new world. If my trip was only to Tunnel View, I would have still loved it. This view is eastward into Yosemite Valley and it allows you to see such landmarks as: the southwest face of El Capitan, Clouds Rest, Half Dome and Sentinel Rock in the middle, Sentinel Dome, Cathedral Rocks and Bridalveil Fall to the right.
Check out my article on Tunnel View for more pictures and details
It really was hard for me to leave Tunnel View. I could have stared at this scene all day. But, I dragged my butt back to the car and started heading east on Wawona Road. I stopped on the side of the road (with many other visitors) to soak up the valley and take some photos of Bridalveil Fall from a distance. I fully plan on hiking this waterfall on my return trip.
Eventually, Wawona Road turns into Southside Drive and I took this road all the way up to Curry Village where I parked and walked to Happy Isles and found the trailhead for the prestigious Mist Trail. This trail switchbacks its way up to Vernal Fall and then Nevada Fall before you eventually connect with another trail and work your way up to the renowned Half Dome.
The Mist Trail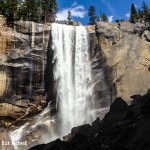 The Mist Trail can be challenging at various points. However, it is one of the most beautiful hikes I have ever been on and the views of Vernal Fall alone are worth it.
Check out my article on The Mist Trail, Vernal Fall and Nevada Fall more photos and details
I spent most of my time at Yosemite hiking up The Mist Trail and taking hundreds of pictures. I even sunbathed up by Emerald Pool. I didn't make it all the way to Nevada Fall because I was enamored with the views from Vernal Fall. I definitely plan on completing this trail on my return trip. For more pictures of Vernal Fall, click here.
Departure
As I made the long hike back to my car, I just couldn't get enough of this place.  In this small fraction of Yosemite that I experienced, I was awestruck with the park's majestic landscape and beautiful scenery. It truly is a paradise. I can't say enough good things about this place.
After spending all day in Yosemite Valley, I was ready to get back to Oakhurst and eat. They had a great pizza place in town and I was ready to eat a whole large pepperoni pizza by myself. I had to cut my trip short and left early Sunday morning. I wasn't able to return to Yosemite and hike another area. Since then, I have planned at least two weeks worth of places to see, photograph and hike in this amazing national park.