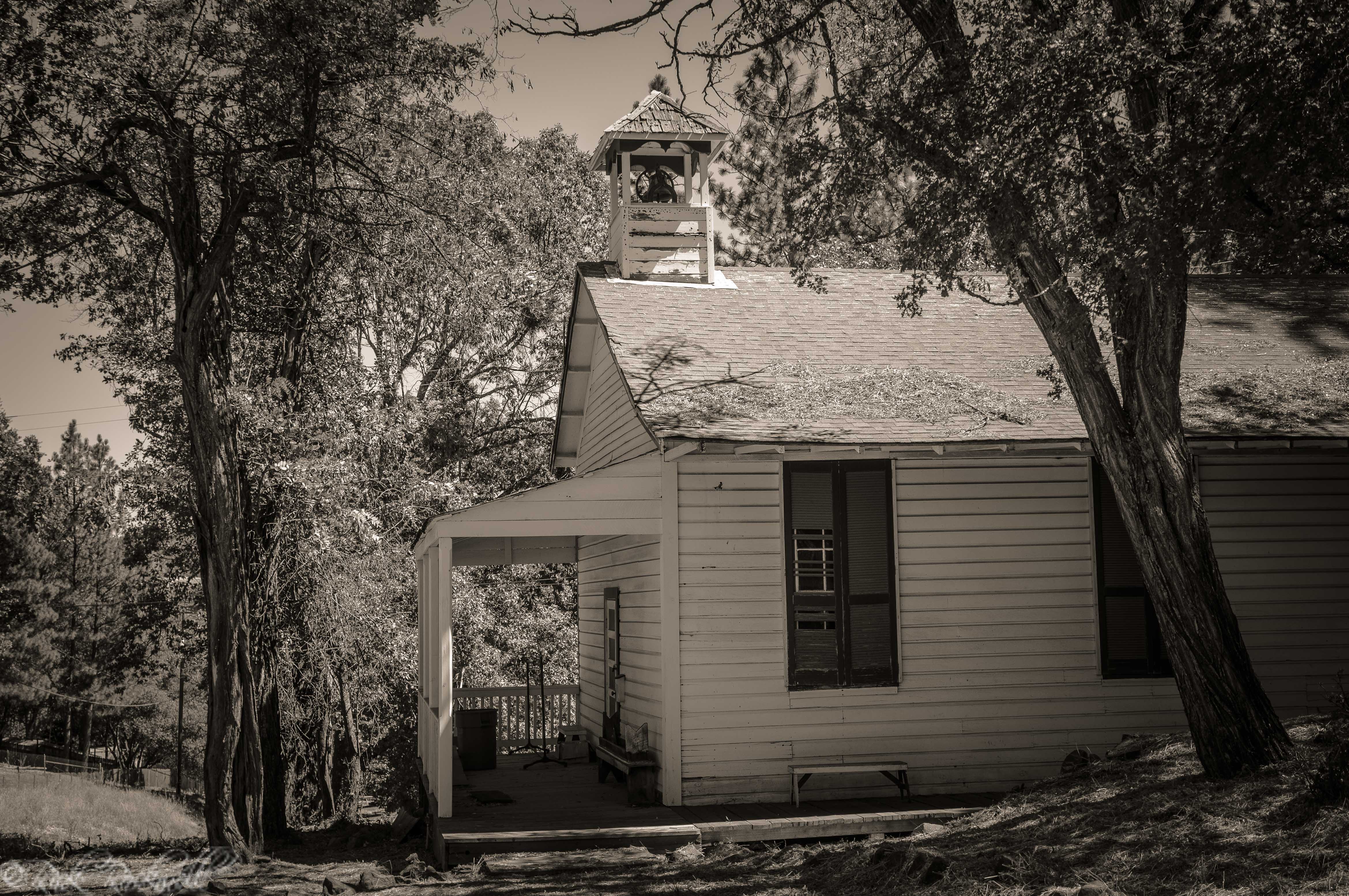 (Last Updated On: January 1, 2020)
In 1849, a group of men from Missouri established the uniquely named Fiddletown as they prospected for gold in Amador County. Within a few years, the town grew from a few tents and wagons to over 100 homes and businesses. It was also around this time that the first schoolhouse was constructed on a southern hill overlooking town.
The First Fiddletown School
The first schoolhouse was built in the 1850's directly across from the town's cemetery. They both were located on a hill just a short distance south of Main Street. Cemeteries were typically built on elevated grounds to avoid flooding. One can assume that the school was built on this hill for the same reason. Elaine Zorbas, author and noted historian of all things Fiddletown, proposed another possibility for the school's location as she shared with me the following:
"there once was a church next to the "burial ground" to the north as shown in the 1871 townsite map which also shows the school where it is now. The street was then known as "Church Street." It could have been thought that for the moral education of the community, church and school should be close together."
Unfortunately, catastrophe struck the school when a fire destroyed the schoolhouse in the early 1860's.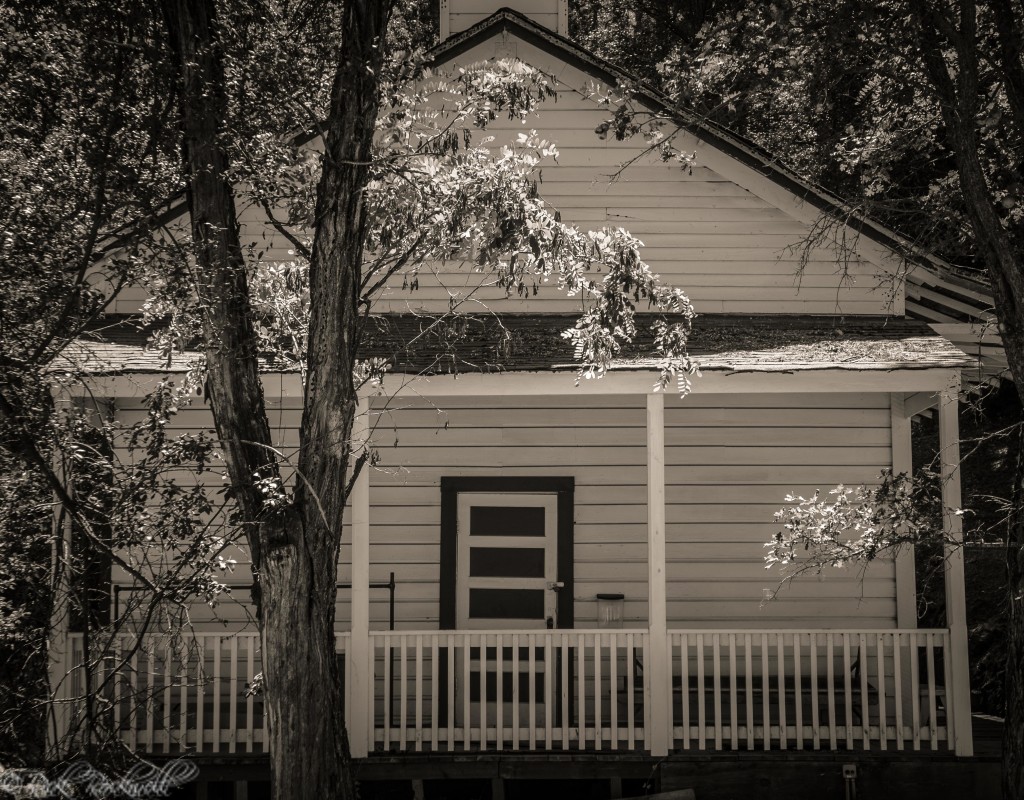 The First School Teacher
Legend has it that the first school teacher was a man by the name of Dennis Townsend, who by all accounts was a fascinating man with a passion for teaching. However, according to Elaine Zorbas, additional research has introduced the possibility of another teacher prior to Townsend. For now, we will continue looking at this intriguing, historical figure.
Dennis was born on May 8, 1817, to Susannah and William Townsend of Reading, Vermont. He was one of 18 children to William who remarried after Susannah passed away in 1820. She gave birth to Dennis and 9 of his siblings.
After leaving Dartmouth in 1840, due to financial reasons, Dennis ended up working for his successful brother Elmer in Boston. However, this was just a pit stop before he set out to journey across America.
In 1842, Dennis and his brother William were running a school in Burlington, Iowa. Unfortunately, the school closed down and both brothers ended up heading to Louisiana where they carried on in their teaching careers.
On May 3, 1849, Dennis married Lizzie Ray and was living in Illinois, presumably teaching. They had their first child Juliet Ann on October 29, 1850. Sadly she passed away a few months later.
In 1853, Dennis and his wife made their way to California after a 168 day long journey. Eventually, he settled in Fiddletown and became a man of many roles.
Initially, Dennis ran a store – some accounts say he had a hotel. Mr. Townsend would also become the town's first postmaster, which opened on December 13, 1853. Additionally, Dennis was a noted violinist, according to the 1905 book "Francis Torrey Townsend and genealogy of the Townsends."
But, it's clear that Townsend's passion was in teaching as he became the town's first school teacher. In fact, it should be pointed out that Mr. Townsend dedicated himself to teaching and schools instead of chasing gold and fortunes that so many were doing at that time and place. His heart longed to educate children, especially the ones he saw in Fiddletown that were growing up uneducated.
Dennis would also go on to invent and seek to patent his folding world globe that brought him moderate success. According to Amadorgold.net, a journal entry from a young lady during 1855-1862 spoke about Dennis and his invention:
"Dennis Townsend, a teacher from Fiddletown, has invented a folding world globe, so ingenious it has its own stand, and all fold flat to be carried a student's geography book."
Eventually, Dennis would move to the nearby town of Volcano and become the Amador County Superintendent of Schools. His siblings would help sell the folding world globe back east, which led Dennis back to Vermont and an honorary A.M from the University of Vermont in 1869 according to Vermonthistory.org.
The story of Dennis' life would soon take a sad turn. Apparently during the final months of his life, Dennis was declared insane and sent to the Stockton Asylum on December, 7, 1873. He would pass away on February 21, 1874.
Dennis is buried in the Fiddletown cemetery across the street from the schoolhouse that he taught at. A fitting place of rest for a man dedicated to teaching and helping children.
Perhaps, no greater tribute could be given than what was written about Dennis in the book "History of Amador County, California":
"Coming to California when gold-hunting was the sole object with most men, his educational feelings were aroused to action by the sight of children growing up untaught. Leaving the making of a fortune out of the question, he adopt the profession of a teacher, at a time that it meant inevitable poverty and sacrifice, which profession he followed during his life….
If we measure men's wealth by the accumulation of gold, he died poor; if by the love of thousands of human beings, who have modeled their lives after his instruction, and hold his memory in veneration, he died one of the wealthiest men in the country."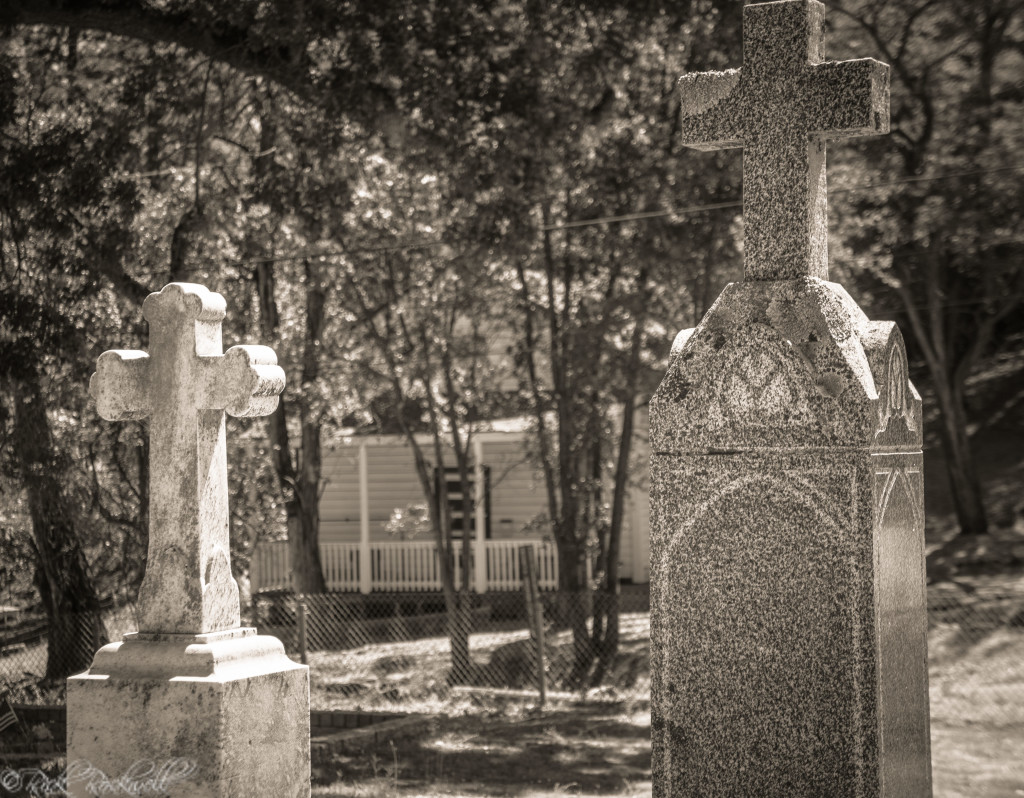 The Second Schoolhouse
In 1862, the second schoolhouse was built on the same spot as the first one. Within a year, the schoolhouse had 124 students. This was the third largest school in all of Amador County behind Jackson and Sutter Creek. It was a one room schoolhouse that taught 1st through 8th grade.
According to one historical account, the old school district was without an official date of inception. However, it had an "excellent school-house, well furnished, with some apparatus, and is in a very flourishing condition, under the guidance of an efficient teacher."
Around this period, Townsend would move to Volcano to teach and soon become the Superintendent of Schools throughout all of Amador County.
From Fiddletown to Oleta
In 1878, the town changed its name from Fiddletown to Oleta apparently due to the embarrassment that the name caused one political official. It was at this time that the schoolhouse would become the Oleta Schoolhouse, which it still unofficially carries to this very day.  I will cover this name change more in my articles on Fiddletown. For now, we will continue to focus on this historic schoolhouse.
Early 1900's
As Fiddletown, still named Oleta at this time, entered the 20th century, the schoolhouse remained without any running water. Kids would have to go down to Main Street, fetch water from wells and bring the water back up to the school in 5-gallon milk containers provided by the local dairy. Additionally, a wood stove was still used to heat up the one room classroom.
For more details on the Fiddletown/Oleta Schoolhouse during this era, check out the colorful booklet titled Fiddletown Schoolhouse Memories available for purchase at the official site of the The Fiddletown Preservation Society (FPS). It's based on interviews of former students from the 1930's until the school's final days in 1955.
When the school closed in 1955, after a century of guiding and instructing young children of this region, students were transported 6 ½ miles west to a newer school in Plymouth, CA.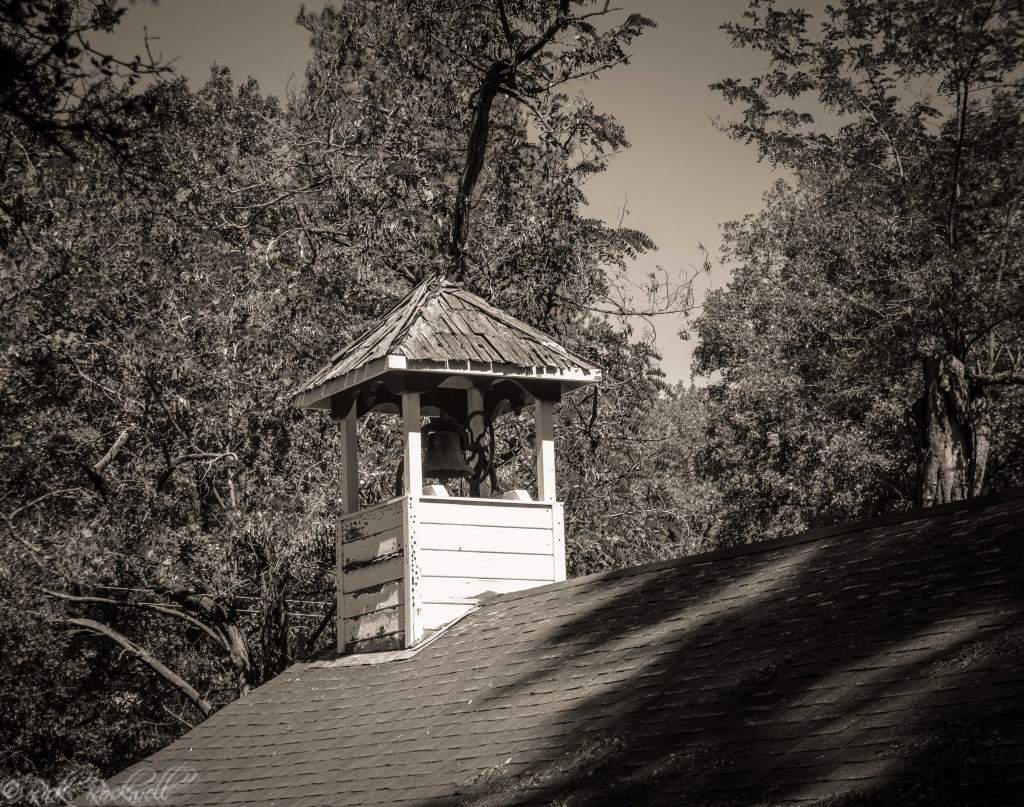 Today
The FPS is currently working on restoring the original 1862 schoolhouse and making it once again the centerpiece of culture and education for Fiddletown. In 2010, the front porch was rebuilt, a septic system was installed soon after and the foundation has been repaired. The schoolhouse is open for public usage.
My Experience
On a peaceful summer morning I set out to explore Amador County. My adventure brought me to Plymouth and then Fiddletown. I love historic buildings and the rich history of Amador County. Fiddletown has several historic buildings still standing and the entire town is a registered historic landmark.
If you blink, you will pass right through town. Keep your eyes open so you can make the right turn onto American Flat Rd. Head south a few blocks and you will come upon the old schoolhouse on the left side of the road. Directly across the street is the Fiddletown historic cemetery. Which at first, I found to be rather strange. I wondered why a school would be so close to a cemetery and how many former students were now buried there.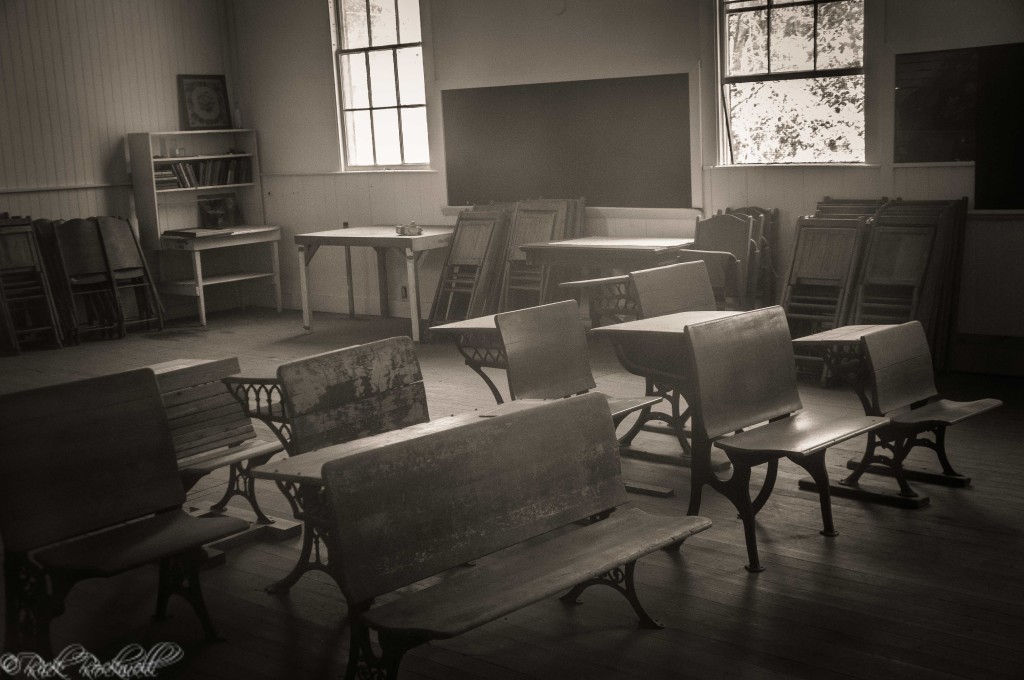 The schoolhouse was locked when I visited. However, there's still plenty to see in terms of the exterior and looking through the windows. Upon first impression, the schoolhouse looked to be in remarkable shape considering its age and the work that has been done to restore it. I find it exciting when historic buildings are restored and the history preserved.
There's a charm to this old schoolhouse and its setting. Seasonal changes can provide for a more appealing surrounding. The green and white color scheme is simple, yet perfect for its purpose.
The rebuilt porch adds to the overall old time feel of the school. Additionally, the belfry makes me wonder what it sounded like when the school bell rang 150 years ago.
I found it comical that there are still outhouses in the back of the school. In a weird way, it adds to the overall experience. Looking through the windows, I could see the one room that once taught kids from 1st through 8th. I can't imagine how challenging that had to be for the teachers. I'm hoping one day to get inside and tour this room.
Final Words
For historians and enthusiasts of this era, the Oleta schoolhouse is a great place to check out.  It's a wonderful opportunity to see what the education system looked like in the late 19th and early 20th century. Additionally, it's a peaceful experience that prompts one's imagination – harking back to a simpler time.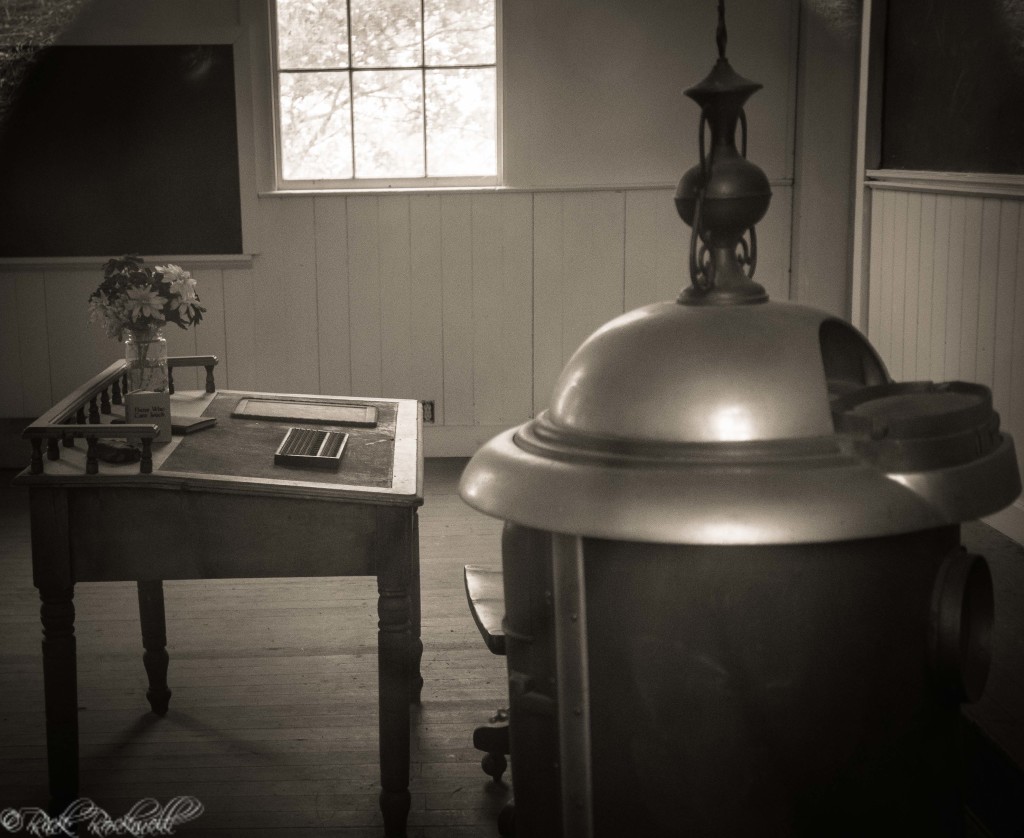 Directions to the Oleta Schoolhouse
American Flat Road, Fiddletown, CA
From Highway 49, head east on Fiddletown Rd. for 6 ½ miles until you enter Fiddletown. At the eastern end of town, you will make a right onto American Flat Road and head down a few blocks. The school will be on your left and the cemetery will be on your right.