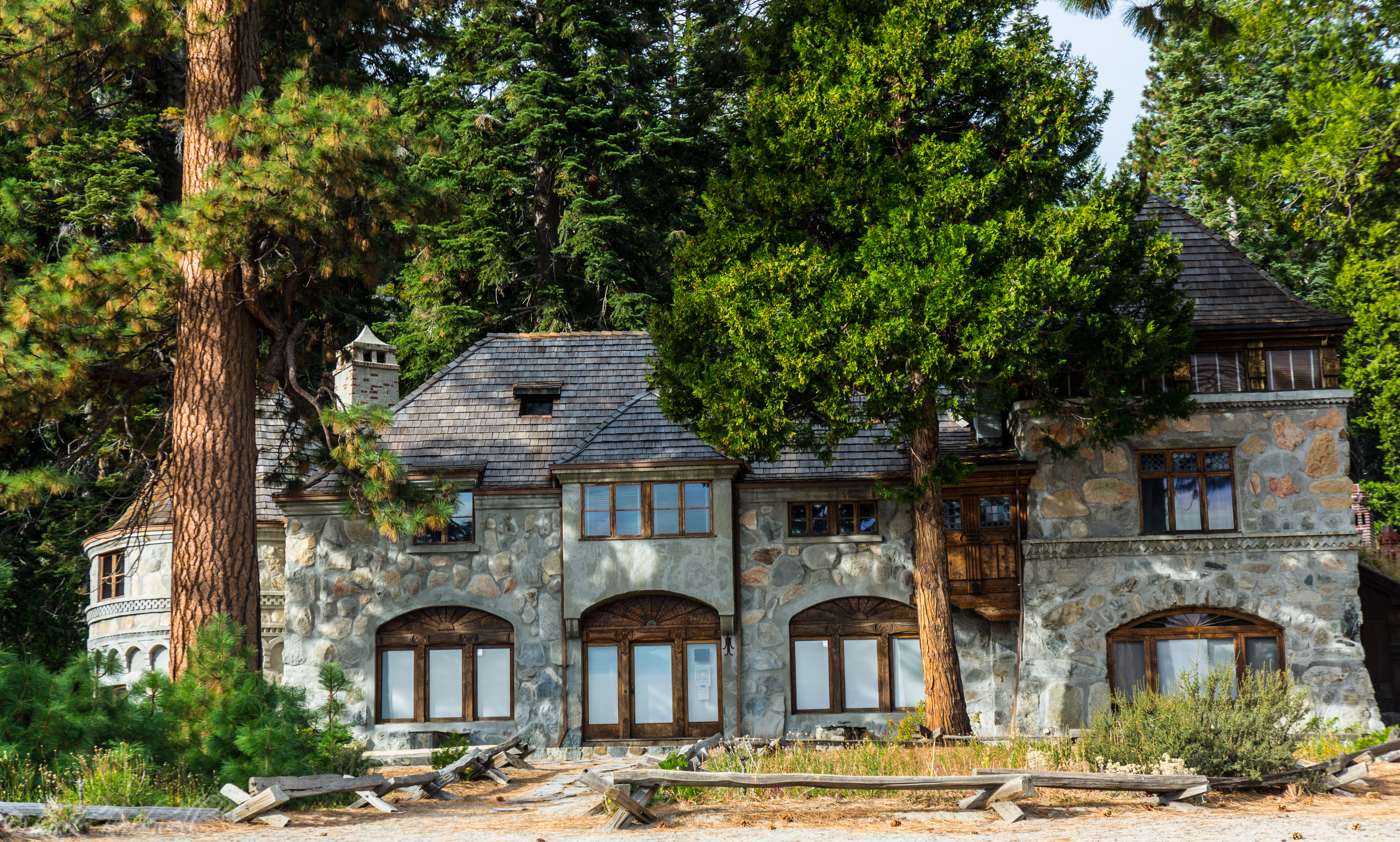 (Last Updated On: March 7, 2015)
Vikingsholm Hiking Trail packs so much history, culture and magnificent natural beauty into one hike that it has become Tahoe's most popular trail. In less than an hour, visitors can experience an unforgettable hike.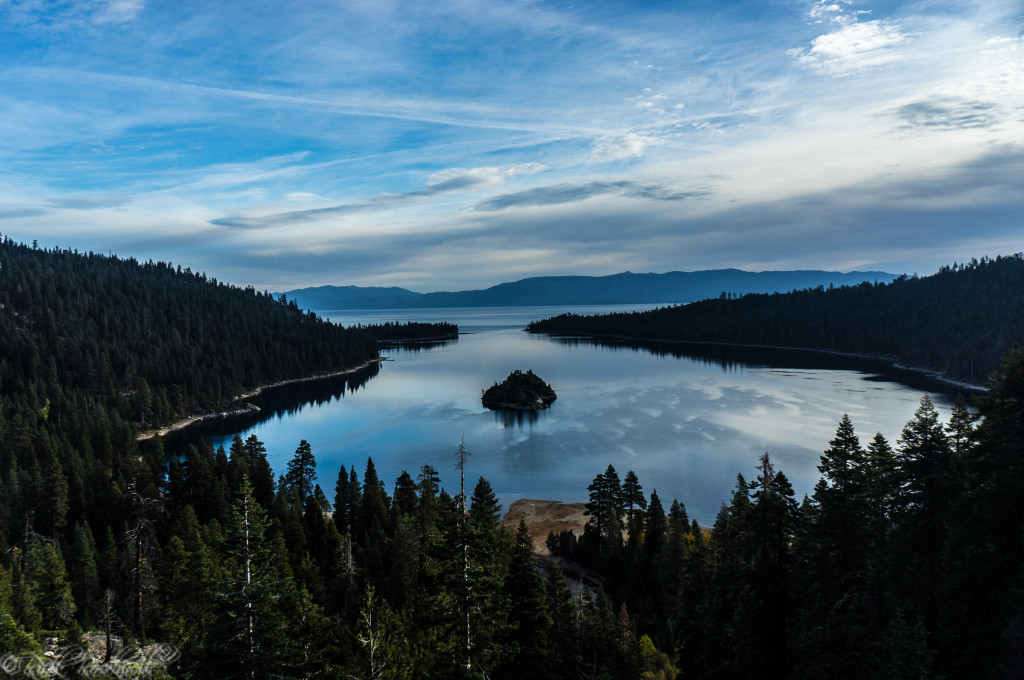 Directions
Take Highway 89 north approximately 9 miles from the split (the "Y") of 89 and Highway 50. Go pass Inspiration Point, Bayview Trailhead and Eagle Falls Trailhead before seeing a sign on your right side to Emerald Bay State Park – Vikingsholm.
Trailhead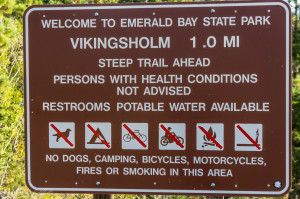 There is a $10 fee for parking. Bathrooms are located at the bottom of the trail and are open year round.
If you choose to take the tour of Vikingsholm (which is only available from Memorial Day to late September) then there's an additional fee. However, during the tour season, transportation can be available for visitors with disabilities from the parking lot down to the mansion.
Tips
The trail is open year round
The mansion is open for tours from Memorial Day until late September
Bring extra layers of clothing during non summer months
Trail is steep and can be slippery during inclement weather
Bring food and water
Bring sunscreen during summer
Very crowded during summer months
Vikingsholm Mansion
In 1928, Lora Knight purchased hundreds of acres of premium Emerald Bay land for $250,000. This property included Fanette Island and Lower Eagle Falls. She envisioned a summer home there that would rival the architecture found in Scandinavia. So, Mrs. Knight commissioned her nephew to design the mansion. They traveled to Scandinavia for ideas from architecture to furniture and cultural design. She even had professionals replicate stunning pieces found in museums in Sweden and Norway.
The 38 room mansion was completed in the fall of 1929. Mrs. Knight used the home for 15 summers before passing away in 1945. The mansion would see several owners before being sold by Harvey West to the State of California in 1953. It has remained owned and operated by the state ever since then.
My Experience
Before heading down the trail, I suggest going over to the trailhead lookout and enjoy some of the spectacular views of Emerald Bay. This bay was recognized as a National Natural Landmark in 1969 and became the first Underwater State Park in 1994 due to all the ships that lay at the bottom of the bay.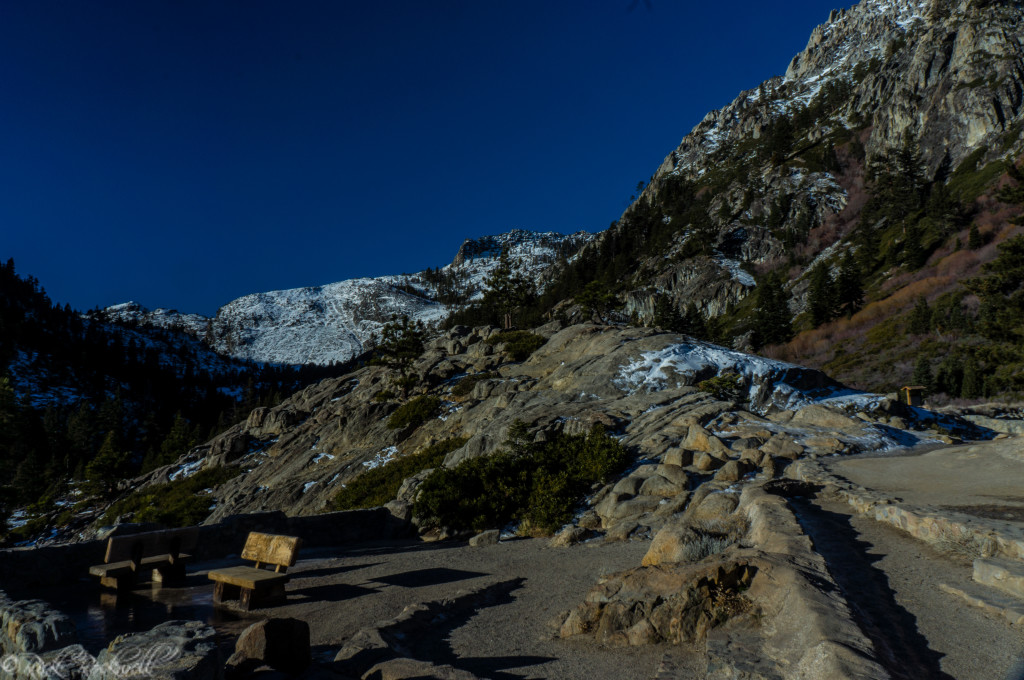 The Vikingsholm trail itself is well maintained. It's a direct path down to the mansion and is roughly 1 mile in distance. However, there is a change in elevation of roughly 500 feet. The hike down is easy, but the hike back up is strenuous as it's all uphill.
All the way down the trail, you will catch glimpses of Lake Tahoe and Emerald Bay. The granite walls and seasonal colors of the trees are like a corridor of nature's beauty. These views, the fresh air and the natural surroundings create a serene experience.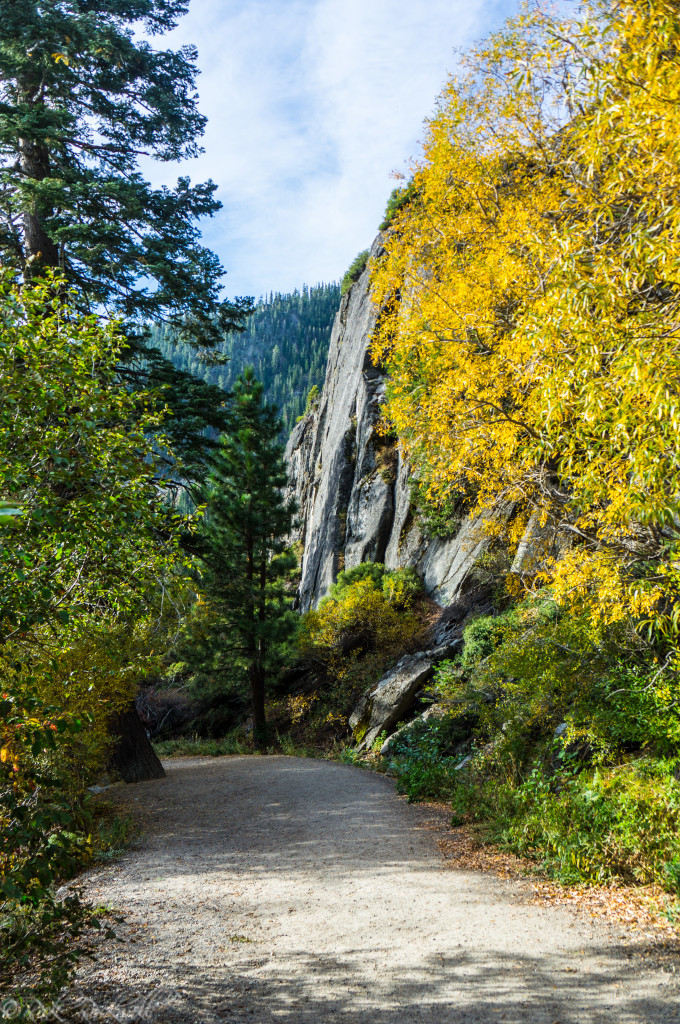 Along the way, there are a few sporadic benches for people to rest. I suggest using these benches on the way back up.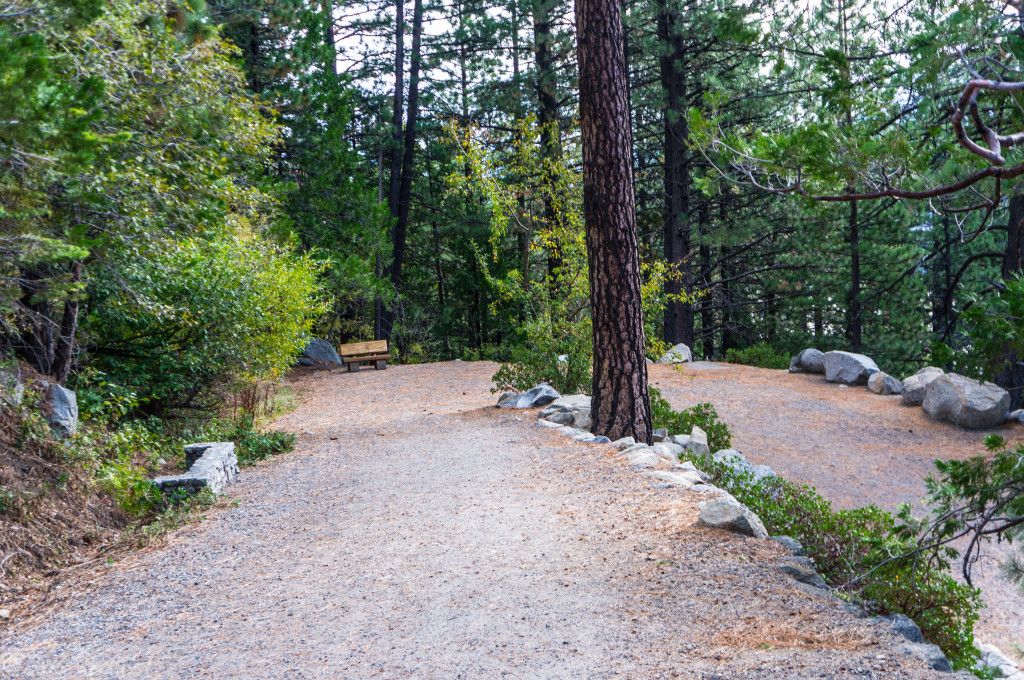 It only takes about 15 to 20 minutes to walk down the trail. However, there is a split at the bottom of the trail that allows you to head straight to the mansion or over to Emerald Bay. I chose the path to Emerald Bay and it brought me out near the pier.
If you are hiking this trail to go on a tour of the mansion, then I suggest heading to the mansion first. Tours are daily but only during the hours of 10am to 4pm.
If you are hiking this trail during the non-tour season, like I did, then heading to the water first is the best choice. I did this hike in late October on a Friday morning. When I got down to the water, there was nobody else there. I had the entire Emerald Bay to myself and it was easily one of my most favorite hiking moments ever.
If you have been on this hike before, or have visited Emerald Bay, then you can imagine the amazing feeling of having the entire place to yourself. There's so much peace and beauty that it's hard to comprehend it all. It's like your senses are overwhelmed and you need an hour just to take it all in.
For nearly two hours, I was the only person there. So, I walked along the bay and took pictures of my favorite location in Lake Tahoe. There are a few picnic tables spread throughout the area and I chose to sit at one near the head of the bay. I enjoyed a late breakfast and read for a little while in what can only be described as once in a lifetime moment of outdoor bliss.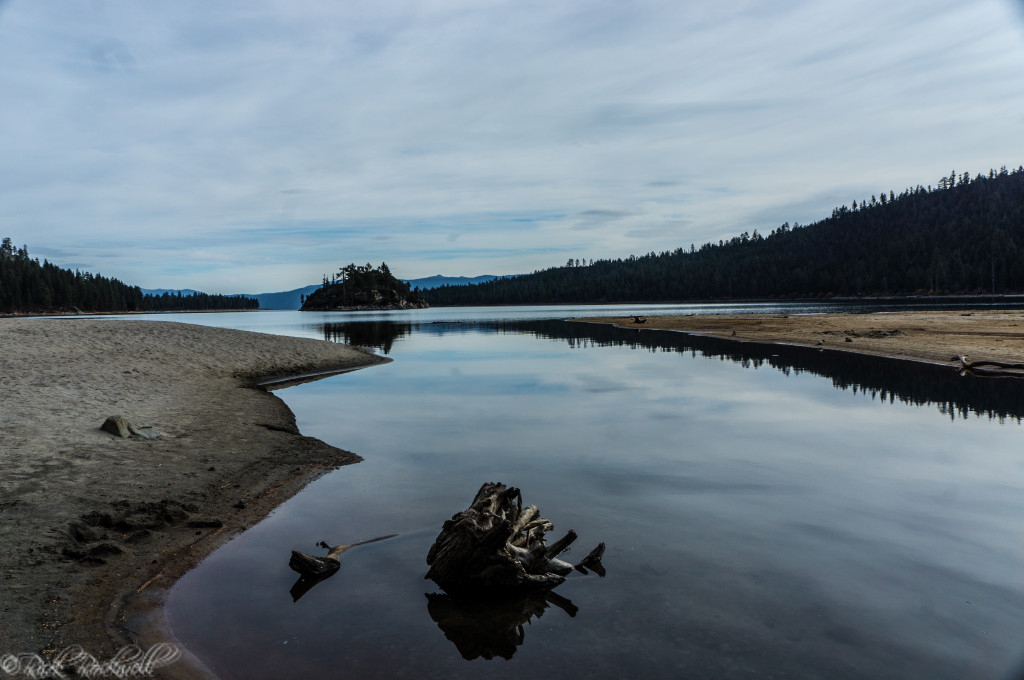 Finally, a couple walked by on their way to Lower Eagle Falls. We laughed at how it seemed almost criminal to have all of this beauty to ourselves.
This must have been what Lora Knight felt on a daily basis after she bought the land in 1928 and built Vikingsholm in 1929.
After spending a few hours at the water, I decided to explore the mansion. The place was closed due to it being out of season, but, it still is a terrific location to walk around and into the courtyard. The architecture is stunning and it's easy to see how it took over 200 professional to construct this mansion.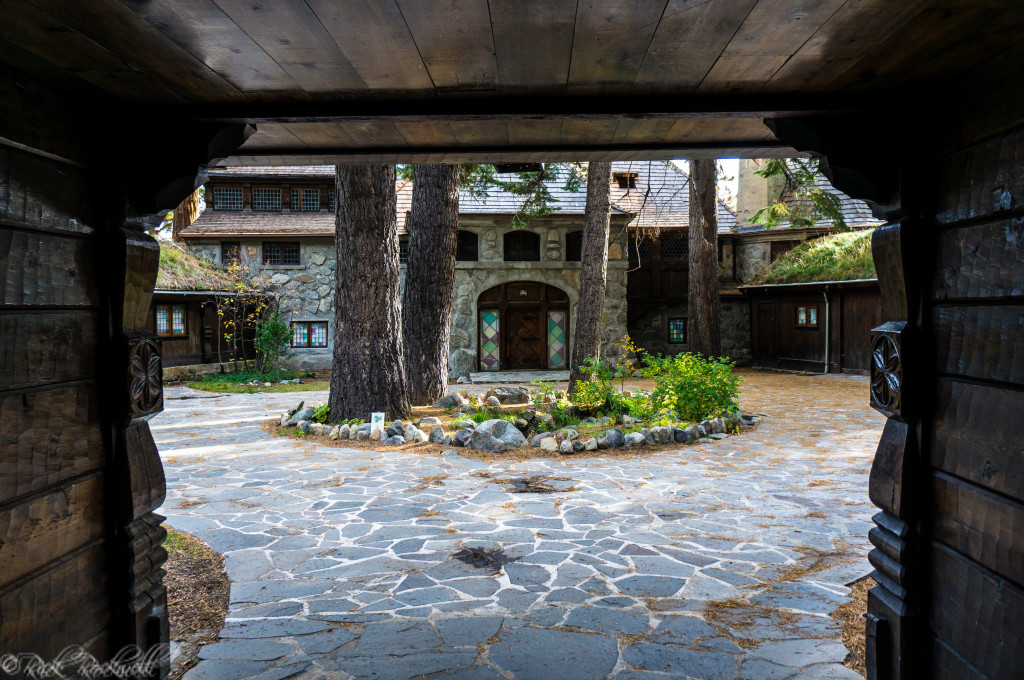 Some people like to call this mansion Vikingsholm Castle and I agree. It really is Tahoe's castle. I highly recommend a tour of this place as I plan on doing so this summer. I look forward to seeing the interior design and all of the wonderful antiques.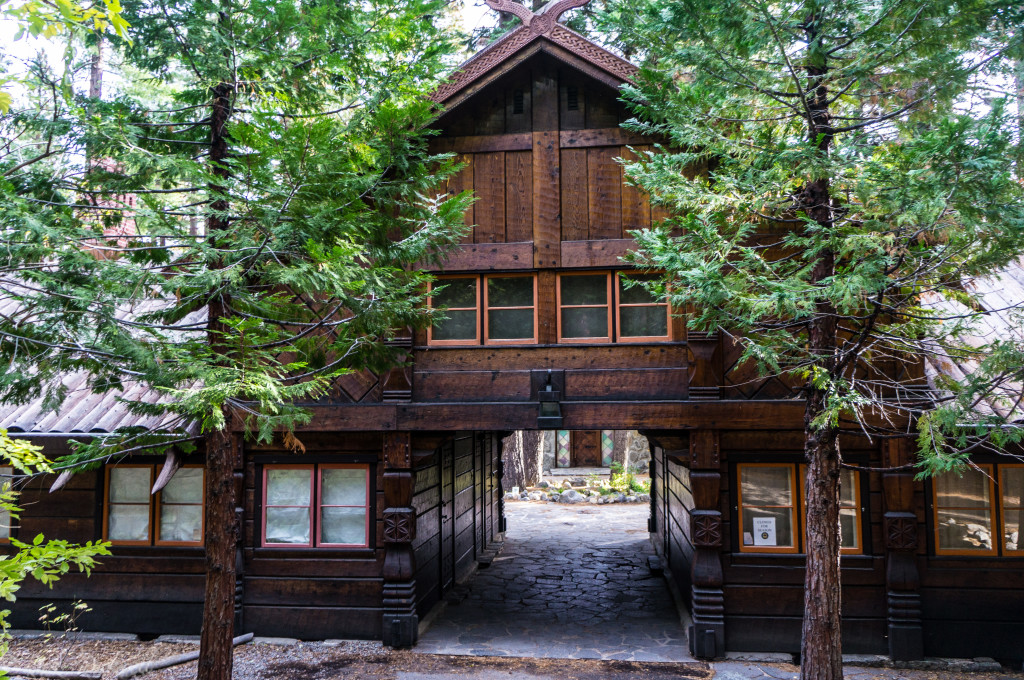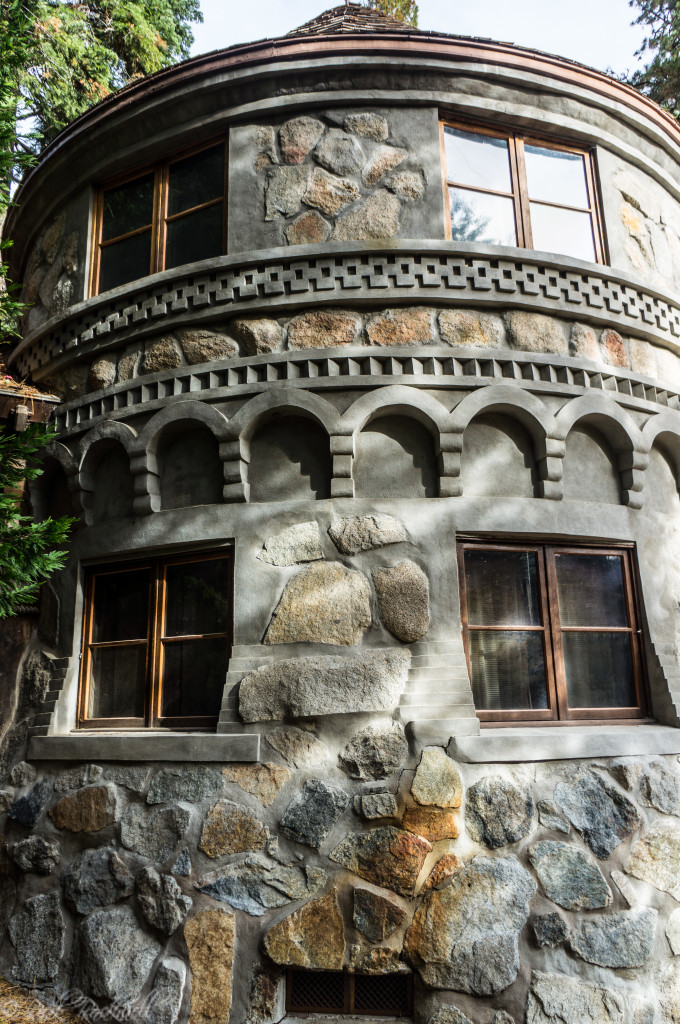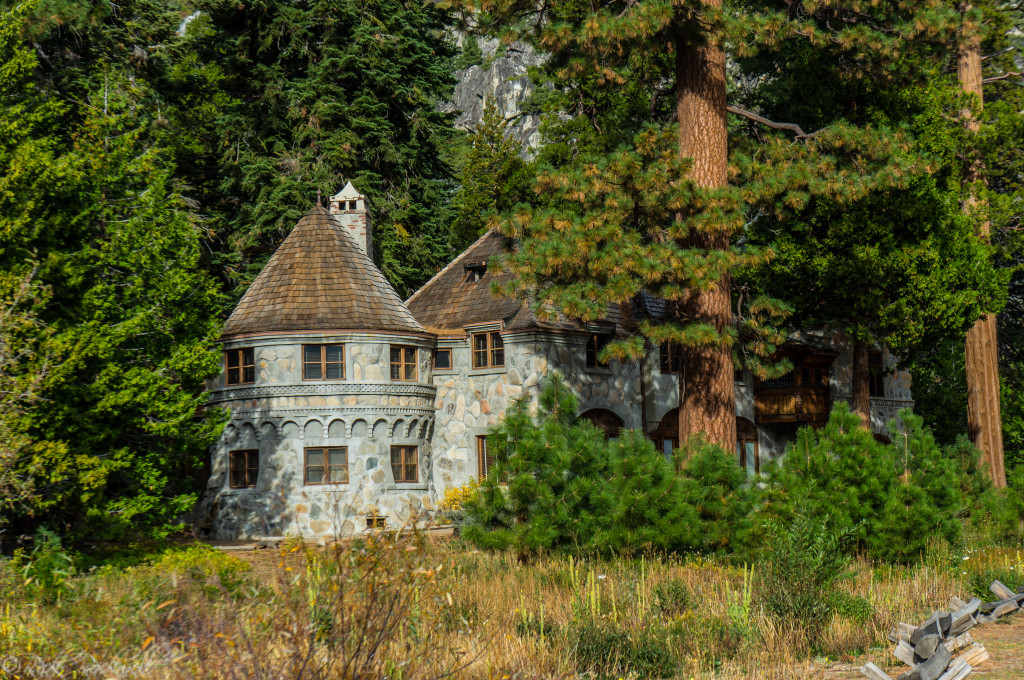 After about a half hour exploring the exterior of the mansion, I decided to head back up the trail. Thankfully I was still feeling the euphoria of Emerald Bay because the hike back up is strenuous. As I mentioned earlier, take advantage of the few benches along the way. There's no other relief until you reach the top. The hike back up is comparable to the steepness of Bayview Trail across Highway 89 from Emerald Bay.
If you aren't fit enough to handle a mile uphill with a gain of 500 feet in elevation, especially when already starting at about 6200 feet in elevation, then just pace yourself as you make the one mile strenuous trek.
Final Words
Vikingsholm Hiking Trail is a trail that I guarantee you will hike more than once if you return to Lake Tahoe. The mansion is worth the hike and the fees. But, Emerald Bay is the star of this hike. For me, if Emerald Bay is involved, then count me in.
Check out more of my Lake Tahoe adventures.