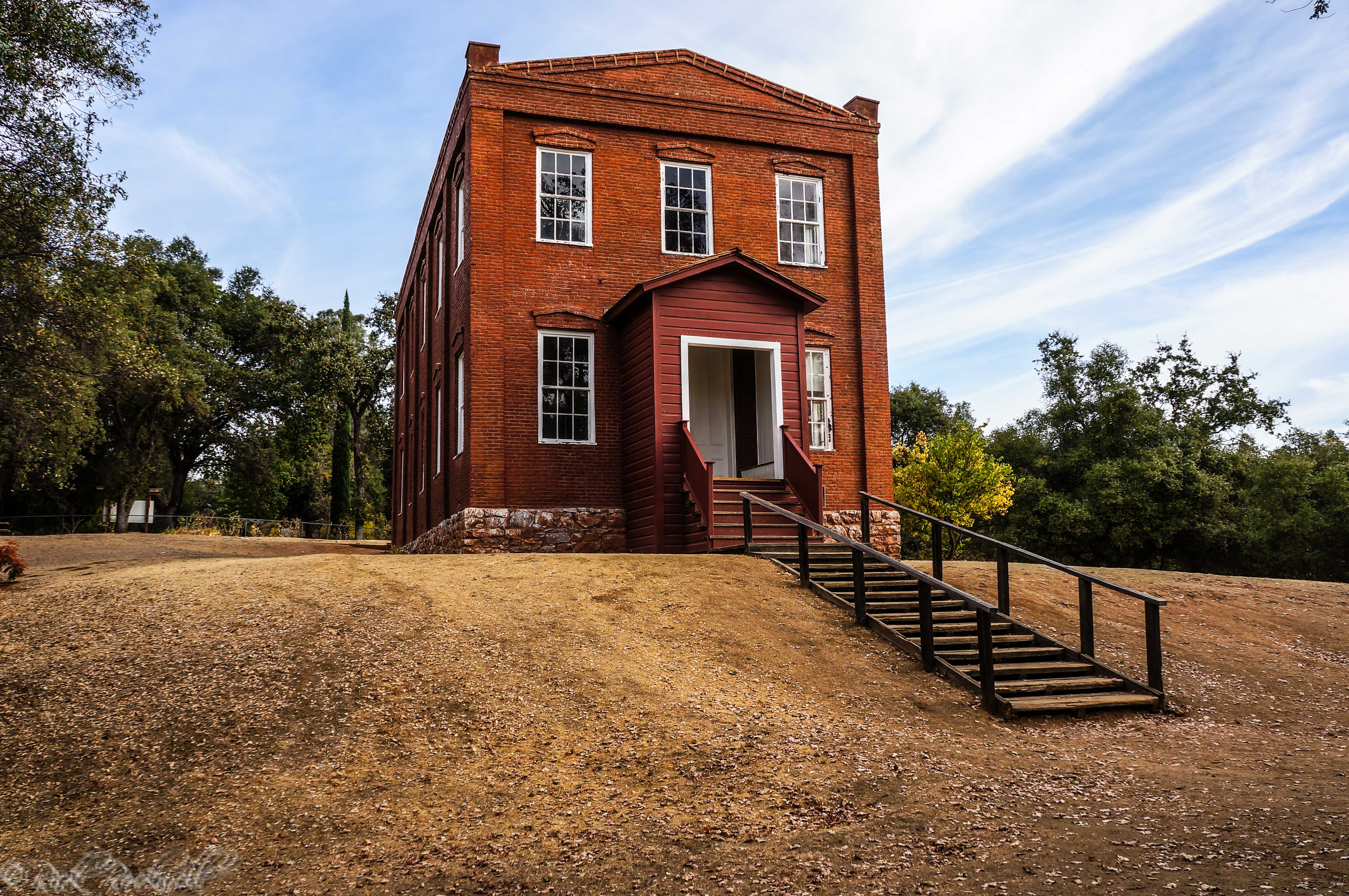 (Last Updated On: October 21, 2016)
The Columbia School House is believed to be the oldest surviving two-story brick schoolhouse in California. Built in 1860, this historic school sits on a picturesque hill overlooking town. Gently restored and preserved, this school is in spectacular shape and provides visitors with a wonderful opportunity to step back in time and experience what school was like over 150 years ago.
The First Schools in Columbia
In March 1850, gold was found in present day Columbia. Initially called Hildredth's Diggins (after one of the first miners to discover gold) the camp wasn't formally called Columbia until April 29th. The first schools in Columbia were private schools and typically taught out of private residences or other available spaces. Some schools were even taught out of churches.
Historical accounts point to Mrs. Haley opening the first school in the summer of 1852. Her school lasted for several months. G.M. Landers reportedly opened another private school after Mrs. Haley.
Mrs. Susan G. Chamberlain is credited for being a talented lady who was a positive influence on the youth of Columbia as she ran a school until 1855. One source states Mrs. Chamberlain, the wife of Charles H. Chamberlain, taught at the Methodist Church South school. Charles was a prominent figure in Tuolumne County and held roles as justice of the peace and judge. He eventually went on to hold a prominent position at the US Land Office in San Francisco.
Several more teachers popped up over the next few years in Columbia. Most of them were private school teachers and Sunday school teachers.
By the late 1850's, the need for a public school for all kids was apparent. Initially, there was a proposal to build a school out of marble since it was readily available and wouldn't cost anything other than hauling it out of the mines. Ultimately, the philosophy and success of building structures out of brick won out in the end. Plans for a red brick schoolhouse was approved.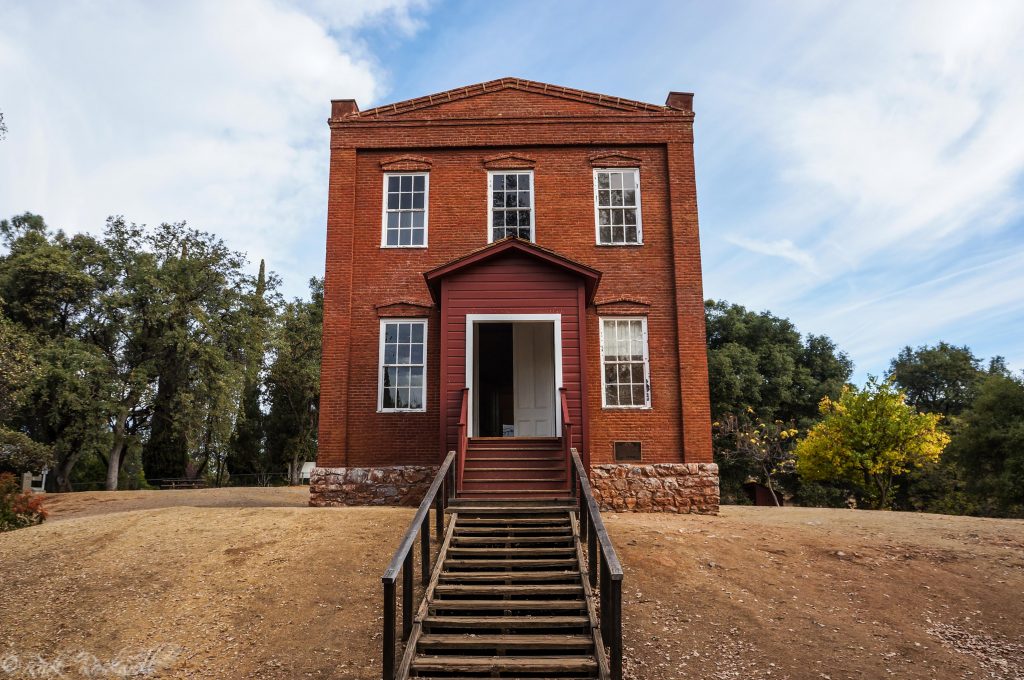 The Red Brick School
In February 1860, the school lot was purchased on a hill near the town's main cemetery. This was a smart location as it was far enough away from a town fire, which Columbia had suffered massive ones in 1854 and 1857.
Mr. Donegan was tasked with building the school. The bricks were from local sources, which aided in keeping the costs of construction down to an acceptable total of $4,800.
According to ColumbiaGazette.com, the 3400 square foot school building was completed on October 8, 1860, and a ceremony was held in November. Some historical sources state that the school was opened in November with over 300 students, two teachers and 1 principal.
One source states that in March 8, 1861, students were attending school but didn't have desks. Miss McDonald is believed to be one of the first teachers of this school. The inaugural school term lasted until July.
When reopened on September 9, 1861, the school was furnished with desks and proper equipment. Classrooms were kept warm by two wood burning stoves.
During the late 1850's and early 1860's, non-white kids were unable to attend public schools. It wasn't until 1864 that this changed. In September of that year, The Tuolumne Courier listed that there were 916 students on school registers with 142 of them being "non-white."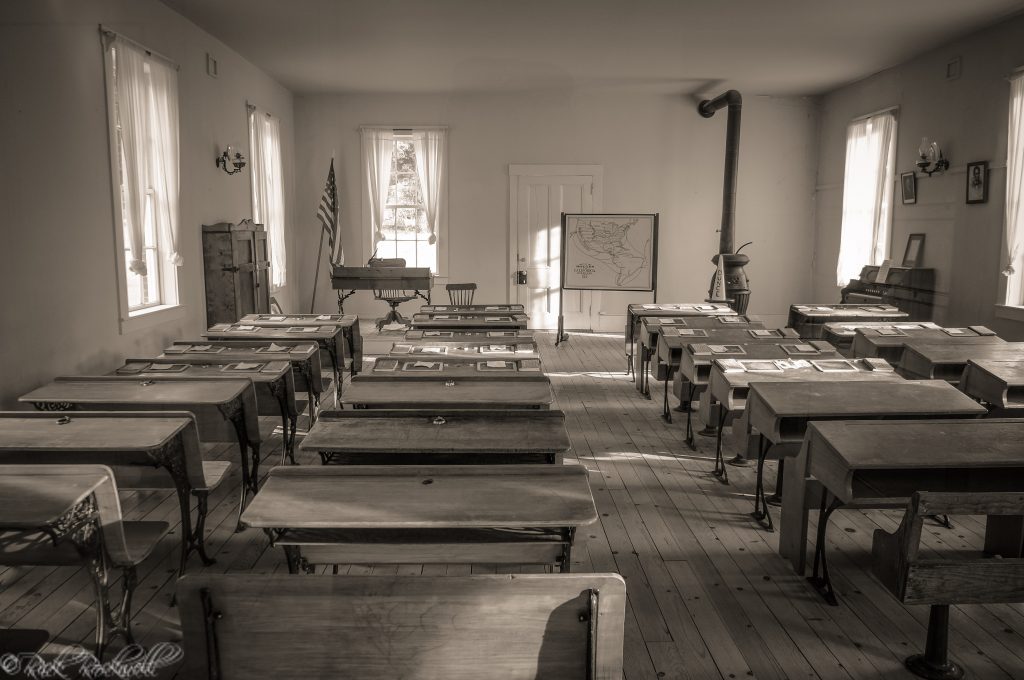 Renovations
From 1860 to 1937, there were a few significant renovations to the school. In 1872, a partition was built on the first floor to divide the room in two. Less than a decade later, in 1881, a fire escape on the north side of the building was rebuilt.
Closed
In 1937, after 6 decades of housing the town's students, the red brick school was closed. The structure was deemed unsafe according to earthquake standards of the time. Plans for new school buildings were hastily created as students were forced to attend school in tents after the red brick schoolhouse was closed.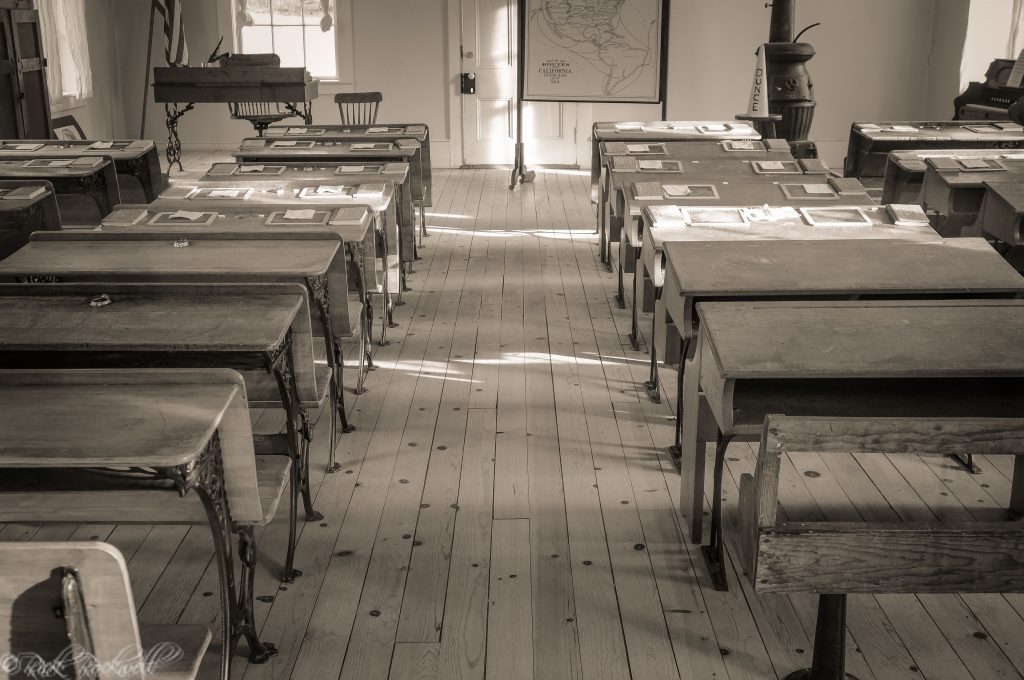 Save the Columbia School
In 1945, The State Legislature established the historic town of Columbia as a State Park in effort to preserve and restore its rich and colorful history. 10 years later, the California Teachers Association began a statewide campaign to raise funds for the restoration of the Columbia School House and to include it as part of the Columbia State Park.
Teachers and students from around the state raised roughly $52,000 of the $60,000 dollars that it cost to restore the school. The efforts to save this school was a success and a grand ceremony was held on November 5, 1960, to rededicate the school roughly 100 years after it first opened. Old timers, former pupils and historians were all consulted during the restoration phase to make sure it was as accurate as possible.
Current Status
Currently, visitors can walk into the schoolhouse as if it were a museum. Visitors can see both the upstairs and main level floors. The State Park often holds special programs at the historic school especially when kids are visiting on field trips.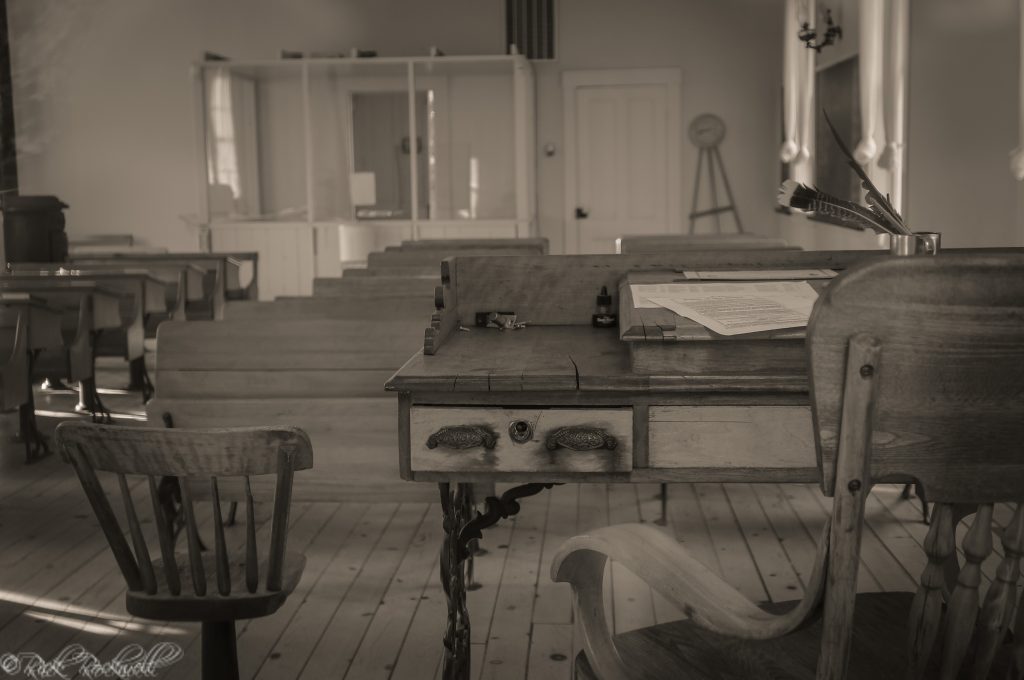 Final Words
The Columbia School House is quite possibly the most impressive historic schoolhouse in all of California. As someone who enjoys visiting historic schools, this one stands out from the rest. Its brick exterior, two stories, and immaculate interior rooms just left me in awe when visiting. Additionally, the peaceful location of the school house offers charming views of the historic town. I highly recommend visiting this school house when in or near Columbia State Park.
Location
Columbia Schoolhouse
School House Street
Columbia, CA 95310 United States
Sources:
A history of Tuolumne County, California: compiled from the most authentic records, by Lang, Herbert O, 1882
Miners & business men's directory. For the year commencing January 1st, 1856, embracing a general directory of the citizens of Tuolumne, and portions of Calaveras, Stanislaus and San Joaquin counties., by Wilson and Heckendorn, 1856
Sausalito News, Number 38, 17 September 1960