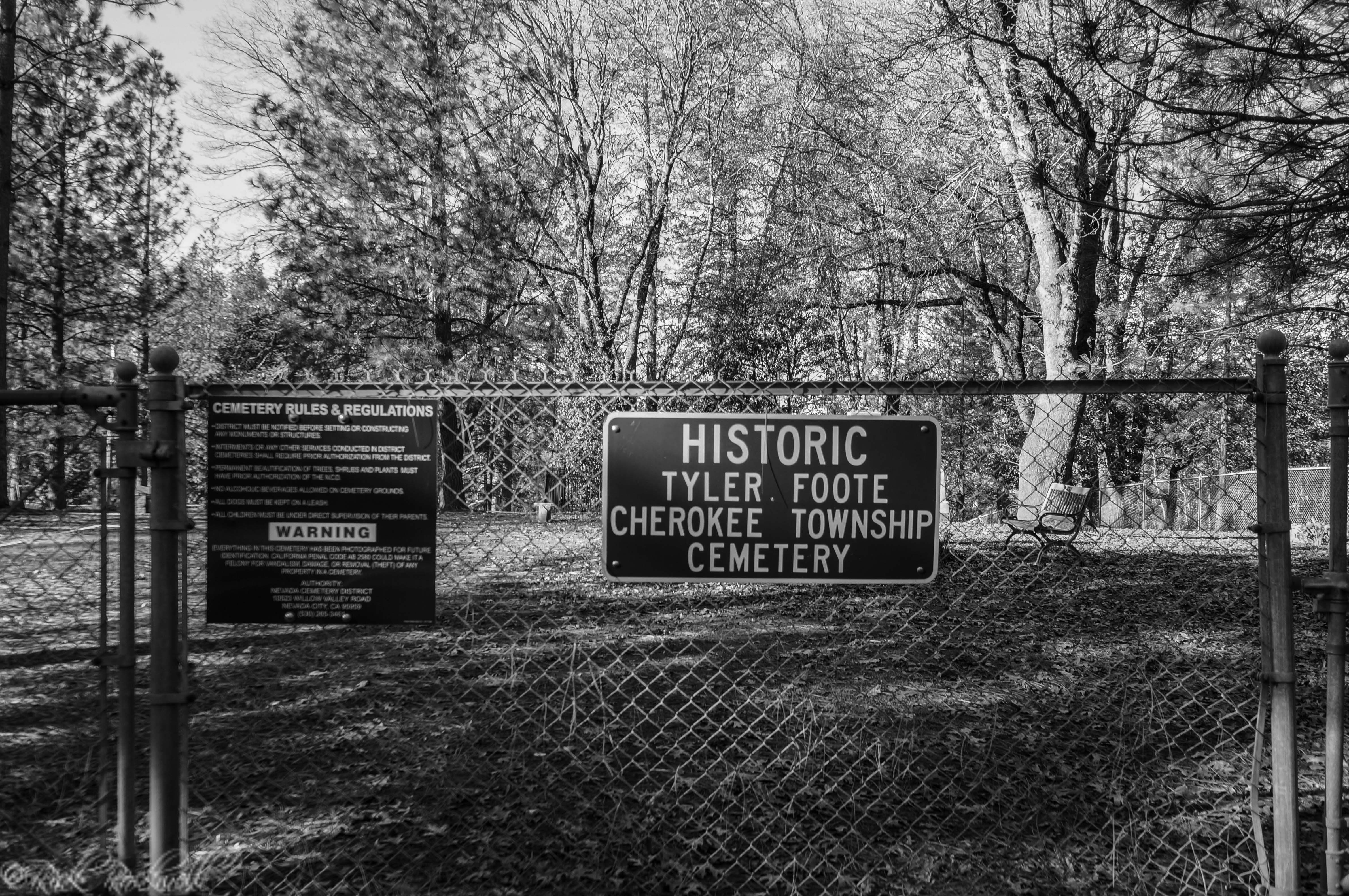 (Last Updated On: October 17, 2020)
One of the many Gold Rush towns to have graced and disappeared from Nevada County was the once prosperous town of Cherokee. At its peak (1856-1865), Cherokee was a bustling town with many amenities and some of the richest diggings on the San Juan Ridge.
Sadly, all that remains of this Gold Rush town is a cemetery and a converted schoolhouse. Please keep in mind, the town's remains are private property.
The Early Days of Cherokee
In 1850, a group of Cherokee men had come to this region of the San Juan Ridge to mine for gold. Soon after, an influx of miners arrived and the region took on the name of Cherokee. In 1851, the first house was built by Crego and Utter.  It wasn't long before miners realized that this portion of the ridge was profitable and a town sprung to life.
In June of 1852, the Grizzly Ditch was brought to town and it ran the length of roughly 14 miles. It commenced on Bloody Run Creek and emptied into Shady Creek. It was the principal ditch for supplying water to Cherokee.
Also in 1852, the population swelled up to 400. That same year, one of the town's landmarks was built by Eugene Turney – The Grizzly Hotel. It also housed a store. The Nevada Journal had this to say about the hotel on 11, Aug, 1854:
"one of the pleasantest homes for miners or travellers in the country. Mr. Welch, the present proprietor, is just one of the most accommodating landlords to be scared up, besides having fitted up his house in a style of superiority not often to be met with so far up in the mountains."
In 1854, the vote of this precinct was 310. Also around this time, the townspeople built a schoolhouse by subscription with the first teacher being J.B. Johnson. The number of students would reach 83 in 1858 and probably its peak of 107 in 1861.
From Cherokee to Patterson
In 1855, the citizens of Cherokee voted to change the name of the town to Patterson after an esteemed local resident named Dr. James Patterson. He was one of the first miners in this region and would also go on to hold the position of county clerk. The reason for the name change was because another town named Cherokee, in Butte County, already had a post office established with that name. The US Postal Department would not allow two post offices with the same name.

Cherokee's Heyday
Cherokee's heyday was a ten year period from 1856 to 1865. During this time, the mines were some of the richest in the region and the town had the following: two hotels, post office, public hall, butcher shop, general store, blacksmith shop, a public school, one shoemaker, two saloons and a sawmill with the capacity of 10,000 feet of lumber per day.
The following description of Cherokee was from The Nevada Journal dated August 24, 1860:
"A few new buildings have made their entrance into town since our last visit, and a slight variation in favor of white lead and linseed oil is discernable [sic]. Gardens and orchards have sprung up as if by magic in the outskirts. The diggings still ply to some extent, though Cherokee is not a town of as much promise as regards mineral resources as formerly. Our old friends, Dr. Wyatt, Frank Wilder, Martin Frankenheimer and Turney, still remain the landmarks of the place. The Dr. runs a nice drug store and practices his profession as of yore. Turney keeps a hotel, Martin and Frankenheimer feed the hungry and clothe the naked, and Frank Wilder is sending acres of mud down Shady Creek, covering up ranches, destroying the navigation of the Sacramento, but putting pounds of filthy lucre in his pocket."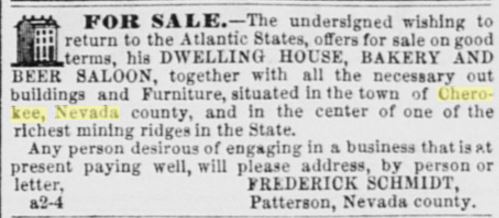 Tough Living in Cherokee
Despite the growth and success of Cherokee, there were still some tragic accidents and crimes that impacted this town.
In May of 1856, a man named Emery was working on the construction of a flume when he fell 68 feet to his death. He died instantly after striking the rocks and timber below. (Sacramento Daily Union, 21 May 1856) 16 years later, a second death from falling off a flume claimed the life of John Meyer. (Sacramento Daily Union, 19 January 1872)
In May of 1857, a miner named Morgan suffered a nasty mining accident where his leg was badly crushed and had to be amputate. (Sacramento Daily Union, 14 May 1857)
In February of 1862, a group of four men had a quarrel with a Chilean named Juan Revaras who was roughed up during this encounter. The next day he was found dead and the four men were arrested. (Marysville Daily Appeal, 25 February 1862)
In early 1863, Henry Morgan's store had been the target of burglars who were unsuccessful. (Sacramento Daily Union, Volume 24, 23 February 1863)
In September of 1867, John Watson died after being crushed by a log at the town's sawmill. (Sacramento Daily Union, 26 September 1867)
Cherokee in the 1860s
By 1860, after years of hard luck, George Dornin partnered with a man named Conger and started a small express company that had two stage lines: from North San Juan to North Bloomfield and from North San Juan to French Corral. The stage line from North San Juan to North Bloomfield had Cherokee as one of its stops.
According to the 1866 historical source "State, Territorial and Ocean Guide Book of the Pacific," this stage would leave North San Juan at 8.am. and make stops at the following locations before arriving in North Bloomfield by 11 a.m.:
Cherokee – a distance of 4 miles and a fare of $0.50
Columbia Hill – a distance of 6 miles and a fare of $1
Lake City – a distance of 10 miles and a fare of $1.50
North Bloomfield – a distance of 12 miles and a fare of $2
In 1861, Grizzly Hotel founder Eugene Turney built a public hall that became the town's hub for dances and local gatherings.
In 1862, J. W. Sultzer was commissioned as the Postmaster. (Sacramento Daily Union, 20 November 1862)
In 1864, the residents voted for McClellan over Abraham Lincoln.
In 1867, Mrs. Turney became the Grizzly Hotel proprietor and changed its name to The Cherokee Hotel.
Cherokee in the 1870's
In 1871, a fire destroyed the town's landmark Cherokee Hotel.
The town of Cherokee built a new schoolhouse in 1872. It was a large frame building with a small library attached to it.
Also in 1872, a fire took out the store owned by Thomas Nankervis.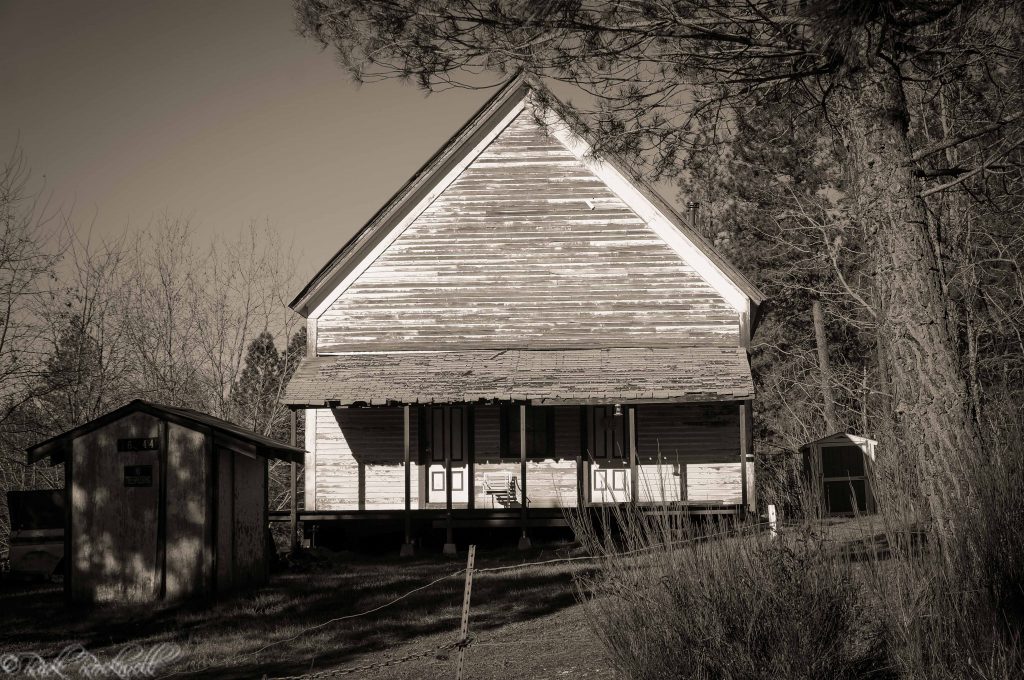 The Cherokee Tragedy of 1874
On Christmas Eve of 1874, the town held a beautiful Christmas ball. All of the townspeople were dressed in their finest attire, ready to celebrate the holiday with a Thursday night dance. One particular lady was so stunning, that she caught the eye of many men. However, two men in particular seemed to feel that her appearance was the lifelong opportunity that they had been waiting for. The two men were the town's blacksmith and a gentleman simply known as Wall.
Tensions quickly rose between these two men and a heated exchange occurred. In their fit of hot temperedness, they decided on settling their dispute with a shootout the next morning. So, as the sun rose on Christmas morning, the two men met on Badger Hill with their pistols drawn, ready to duel for the right of the 'lady of the ball'.
A voice rang out and the duel had commenced. The blacksmith fired his gun and missed Wall. But, instead of firing back at the blacksmith, Wall shot off into the sky. He had decided that his participation in the duel already proved that he was 'man enough' and didn't feel the need to take one's life. After this, both men embraced each other, shook hands and swore an "eternal friendship." (History of Nevada County by Thompson and West)
More notable events of the 1870's
In 1875, James Morgan started a local newspaper called The Cherokee National, according to TheUnion.com.
By 1879, the number of voters fell to a mere 50 votes. And, around this time, the town was connected along the world's first long distance telephone line from French Corral to Bowman Lake.
Cherokee in the late 19th Century
By the early 1880's, hydraulic mining was banned due to the devastating impact it had on the environment. Unfortunately, it also had a devastating impact on the town of Cherokee. Residents began to leave for flourishing nearby towns like North Bloomfield and businesses dried up. There was an estimated population of 200 people in 1880.
In 1884, Cherokee held a dubious distinction that oddly made the newspaper: "The town of Cherokee, Nevada County, is the only place on the Pacific Coast in which there is not a Chinaman." (The Fresno Republican, 31 May 1884)
In 1895, the post office was discontinued.
Cherokee in the early 20th Century
In 1905, the Post Office was opened again. Unfortunately, it would only last until 1909.
Also in 1905, John Curnow, owner of Curnow's Hotel, applied for a liquor license. Curnow's petition, along with three dozen others, was published in local papers to give protestors ample opportunity to oppose these petitions. (Feather River Bulletin, 18 Dec 1905)
The post office would open and close a few more times over the next handful of years. In 1910, the post office was named Melrose after the postmaster's former hometown in Massachusetts. In 1911, it was named Tyler, which that name can still be seen on the main road and the cemetery.
In 1917, Curnow's Hotel houses all of the workers who were there to open a new dredging field. (Sacramento Union, 5 February 1917)
In 1924, all that was left of the town was a store. The post office was discontinued for good and the handful of residents remaining were now farmers as the mining was virtually non-existent.
Cherokee Today
Today, all that's left of Cherokee is the historic cemetery, the old schoolhouse, the scarred lands from hydraulic mining and the fading memories of this town. The school was converted into a home and is private property, making it illegal to explore further.
According to Findagrave.com, the cemetery has at least 47 internments. Unfortunately, I didn't see that many when visiting.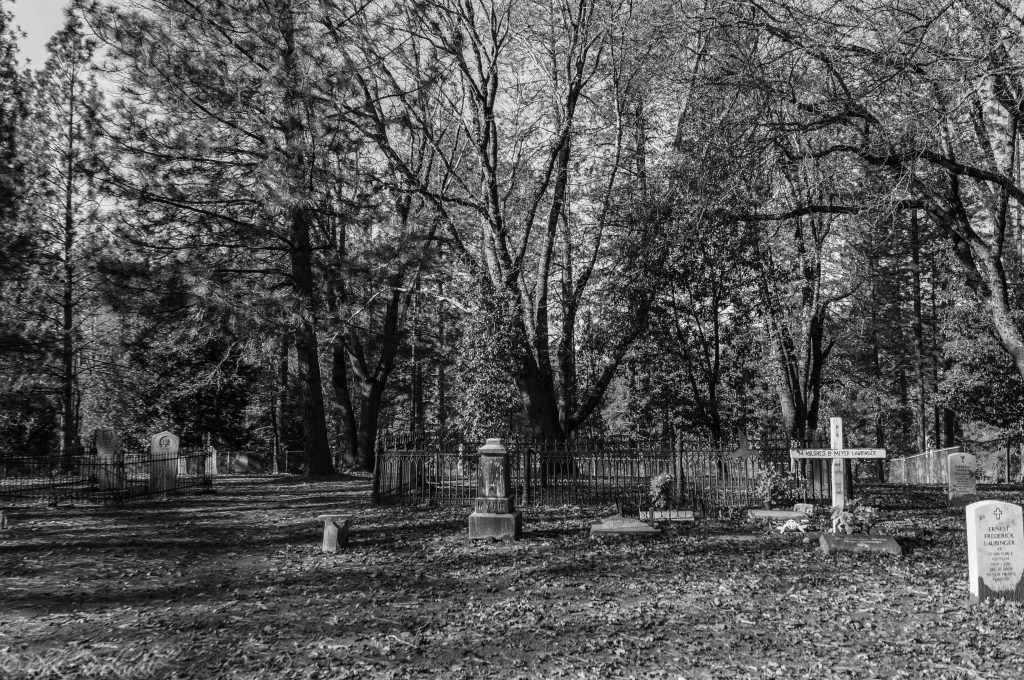 Final Words
Cherokee has been a point of interest of mine ever since I first visited North Bloomfield. In addition to the origin of the town's name catching my attention, trying to find the historic cemetery was a challenge and one that I wasn't going to lose.
The cemetery is located on a hill that is accessed by a steep, unpaved gravel/dirt road. There's no sign for this dirt/gravel road or the cemetery off of the main road (Tyler Foote Rd). The cemetery itself looked in sad shape. Many headstones were broken or faded, some grave markers looked to be gone, and the location of the cemetery had a very lonely vibe to it.
The schoolhouse would be interesting to explore on the inside, but gaining access would be difficult since it's a private residence.
On the surface, Cherokee is just one of many Gold Rush towns to fade away with time. But, like many other towns found on this site, there's still a great story worth sharing and preserving.
Location
Take Highway 49 through Nevada City and toward North San Juan. Make a right on Tyler Foot Crossing and head down until:
The schoolhouse is on Sages Rd. just north (make a left on Sages Rd.) of Tyler Foote Crossing
The cemetery is located just past Ananda Village on a small unmarked road
Additional Sources:
"Bean's history and directory of Nevada County, California," by Ewin F. Bean, 1867
"State, Territorial and Ocean Guide Book of the Pacific, containing the time and distance tables … of all steamship … railway, stage, and express lines on, or connecting with the Pacific Coast and the Interior, etc," published by Sterling M. Holdredge, 1866
"Pioneer Photographers of the Far West: A Biographical Dictionary, 1840-1865," by Peter E. Palmquist, Thomas R. Kailbourn, 2000
"History of Placer and Nevada Counties California," by Lardner, W.B. and Brock, M.J., 1924
"History of Nevada County, CA," by Thompson & West, 1880
https://en.wikipedia.org/wiki/Cherokee,_Nevada_County,_California (provided quotes from Nevada Journal)