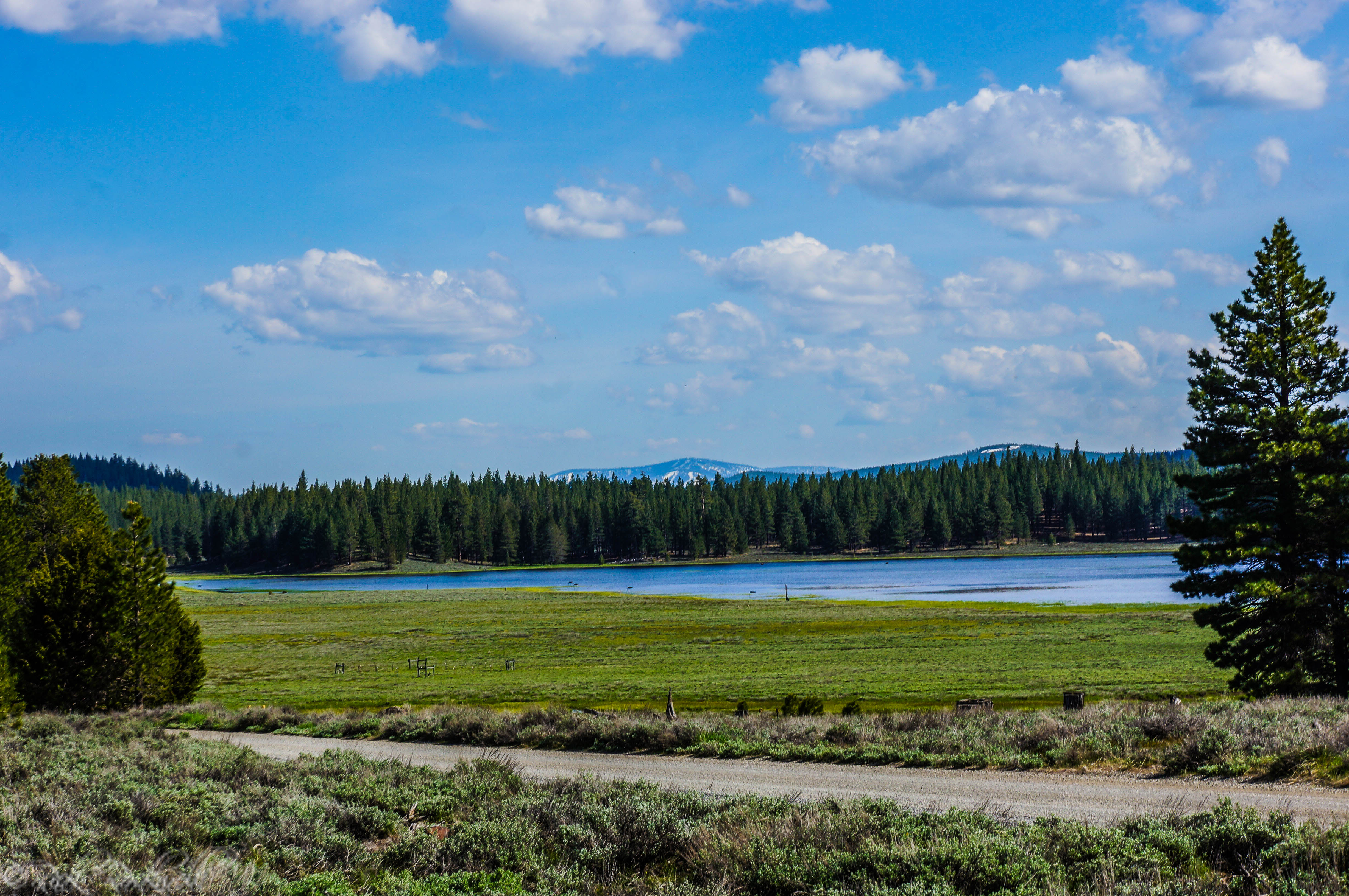 (Last Updated On: January 1, 2020)
The Kyburz Flat Interpretive Area is Sierra County's little known historic site that's actually listed on the National Register of Historic Places for its blend of three different historic eras into one scenic location.
Under the supervision of the Sierraville Ranger District, the Kyburz Flat Interpretive Area is nestled within the Tahoe National Forest, which also provides wonderful landscapes like the Kyburz marsh. This area is great for birdwatchers, photographers and wildlife enthusiasts of all ages.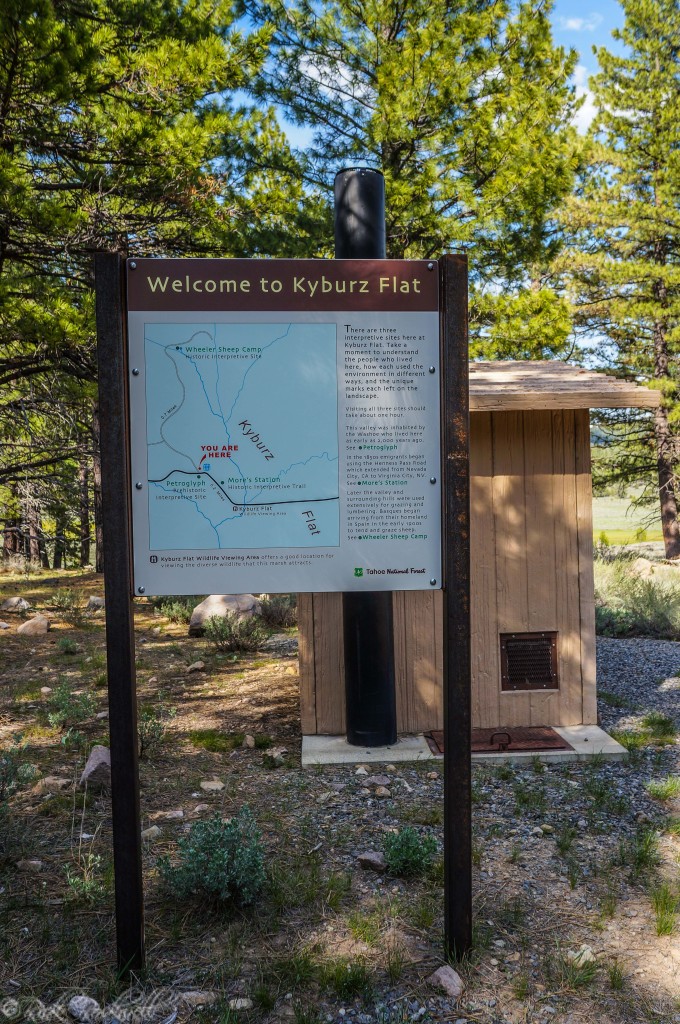 Kyburz Petroglyph
The oldest historic era of Kyburz Flat, and the first stop on the trail, is the Kyburz Petroglyph. This giant rock, which is now cracked into three large pieces, is believed to hold cupule petroglyphs that are over 2,000 years old. Cupules have been linked to ceremonies like fertility rituals, but it's unclear as to the purpose of these Kyburz petroglyphs.
The Washoe tribe holds this site and other nearby sites as sacred ancestral locations. However, it's still up for debate whether or not the tribe that made these petroglyphs were actually ancestors of the Washoe.
The age of these petroglyphs, and the location of them, lead some scholars to believe that the Martis people/tribe are responsible for creating them. In my article Donner Pass Petroglyphs: remnants of the mysterious Martis people, I discuss the theories on who the Martis' ancestors were and additional fascinating details about this "mysterious" tribe.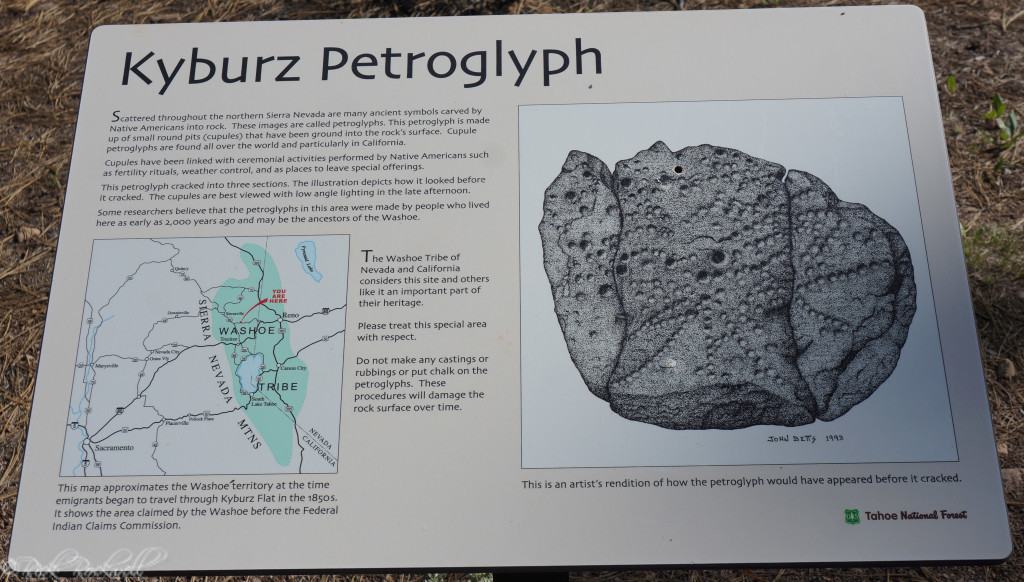 Rock Art Style
The Northern Sierra Nevada is home to many spectacular ancient rock art sites. Within these sites, are a wide range of rock art styles. According to Payen (1966), there are two major groupings of rock art styles in this region: Pit Groove and Abstract-Representational, with each group divided into several specific styles. The Kyburz Petroglyph is classified as a Style 2, Pit Groove rock art.
Style 2 is defined as follows:
These sites are characterized by the nearly exclusive use of pits and grooves. The pits and grooves are found in clusters, in random patterns, and linear arrangements such as rose of dots or grooves in series, or pit and groove combinations. Pit and groove art panels are found on boulders in open areas, or occasionally, on boulders inside caves, usually associated with large village sites and always near bedrock mortars. With one exception, Style 2 sites like in the lower Sierra foothills north of the Consumes River.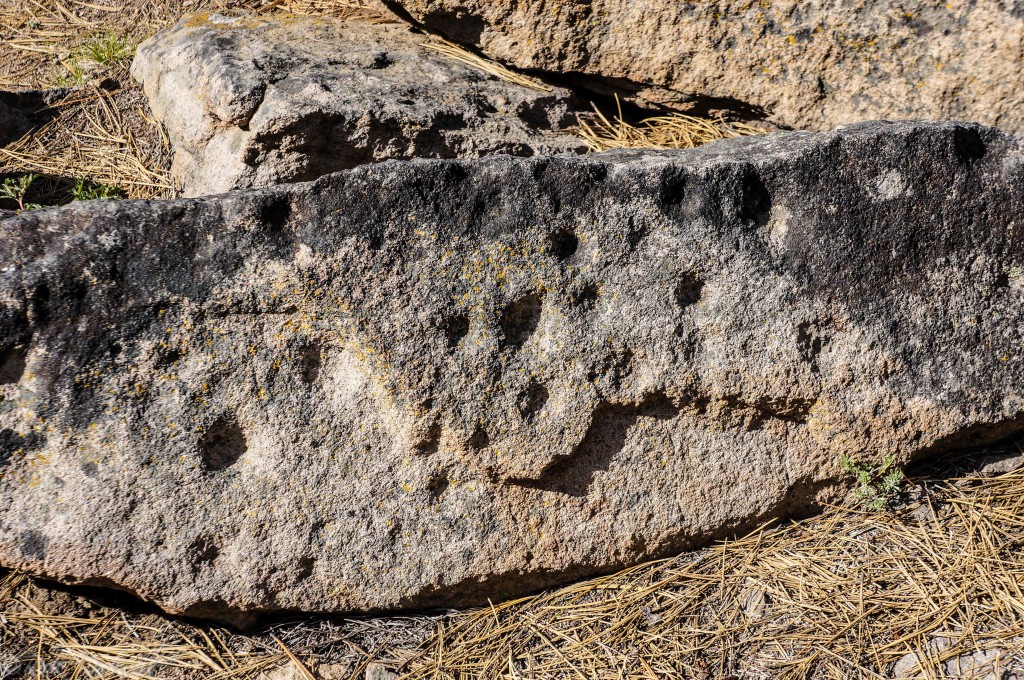 More's Station
Henness Pass Road is an old toll road built right after the beginning of the Gold Rush in 1849. This road originally connected camps in Nevada and Sierra counties all the way to the border of Nevada. A few years later, when the Comstock hit in Nevada, miners quickly rushed over to take part in the silver boom and Henness Pass Road was eventually expanded to Virginia City, NV.
Due to the popularity of this route, and the fact that it was already a well-established route through many gold rush towns, transportation companies sought out establishments and ranches to become stage stops to service travelers and freight traffic. Eventually, many stage stops/way stations were established on this route including places like More's Station and the Webber Hotel, which is located on Webber Lake and near Webber Falls.
Additionally, local newspapers would run ads for some of these establishments. The following clipping is an example of an advertisement in the Marysville Daily Appeal dated May 24, 1864, that targeted travelers along the Henness Pass Road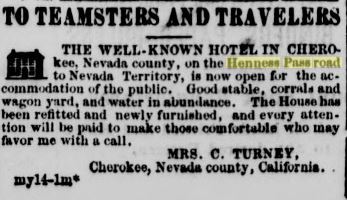 The next clipping is of another stage stop that was for sale along Henness Pass Road. This ad was posted in the Sacramento Daily Union on April 22, 1864.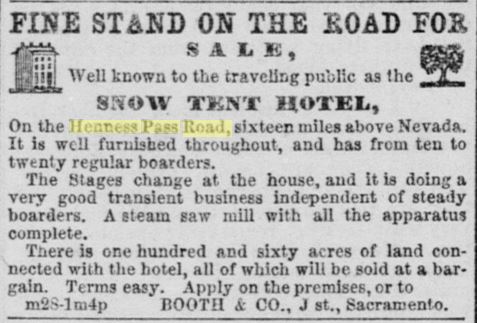 More's Station, which was operated by Lysander More and his family, became a welcomed reprieve during the heyday of traveling along the Henness Pass Road. More's Station was a 320 acre ranch that included a hotel, well, barn, corral, root cellar and other amenities of its day.
Today, visitors can check out the interpretive trail that passes through many remnants of More's Station. Each marking has a sign explaining its significance. However, this trail will require a little bit of imagination and a fondness for history.
The following remnants have signs marking their former existence:
The original path for Henness Pass Road
A root cellar used to store items in a cool setting
The spot where a 100 foot by 50 foot hotel use to stand
A 40 foot well for drinking water
A stable or barn
Where the corrals once were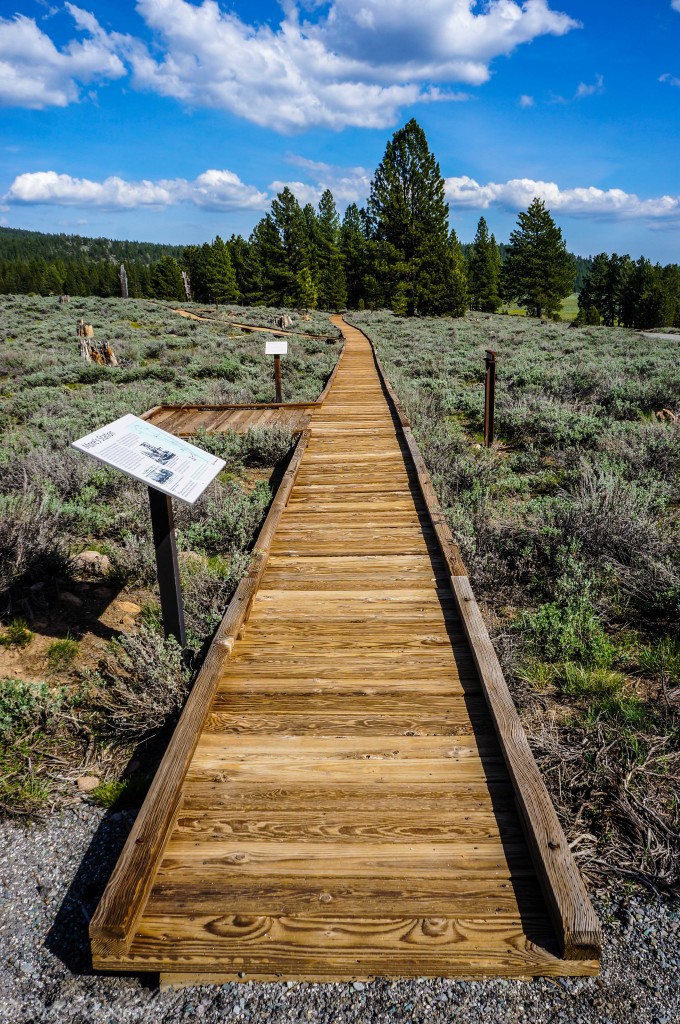 Wheeler Sheep Camp
Wheeler Sheep Camp, a main sheep camp for Wheeler Sheep Company, was a summer base of operations for sheep to graze in the meadows of the high Sierras. John Martin Gallues, a Basque immigrant from Spain, built the camp around 1913 and also constructed several structures including a brick oven that has become the only surviving feature of this camp. However, this oven had to be reconstructed in the early 90's due to damage caused by exposure to the elements.
In its day, the camp also included a three room cabin, barns and corrals, outdoor wood stove, tent platforms, chutes and scales for livestock, a chicken coop and a bath house.
The Wheeler Sheep Camp is located a few minutes north of More's Station and the Kyburz Petroglyph.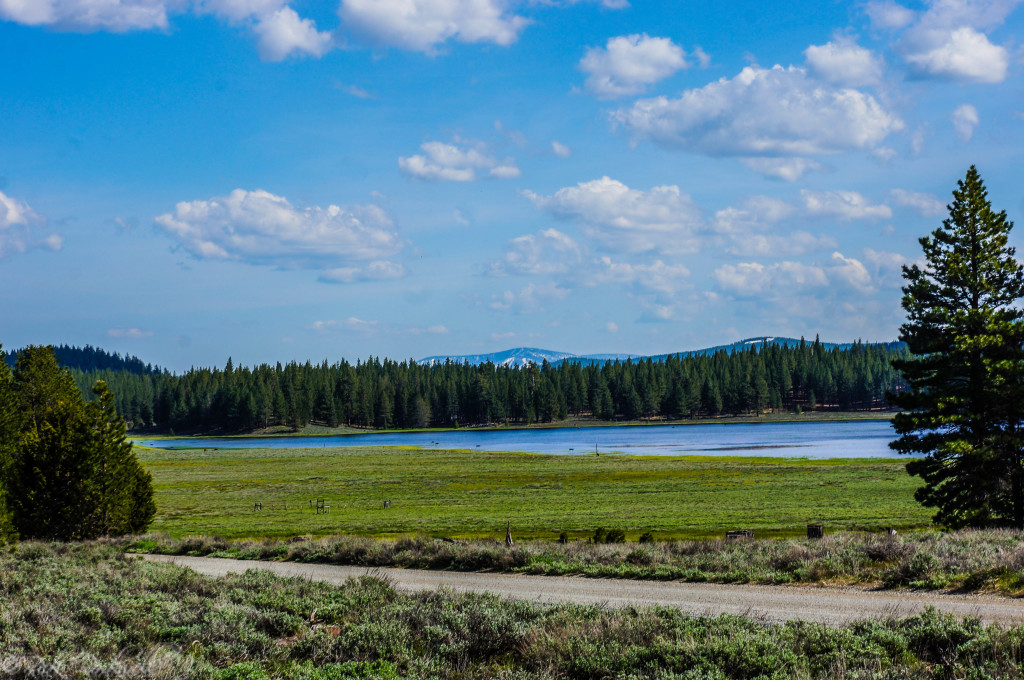 Scenic Landscapes
A few hundred yards east of More's Station are spectacular views of scenic landscapes with the Sierras as the backdrop. On the north side, there's a large meadow and pond. On the south side is Kyburz marsh. I suggest getting out of the car and taking in the serene views, bust out your camera for some pictures and keep an eye out for various wildlife. The fresh air and overall peacefulness made this location a pleasant surprise.
Henness Pass Road will continue east toward some old forest roads and lookouts. This road can also lead to some mountain biking opportunities.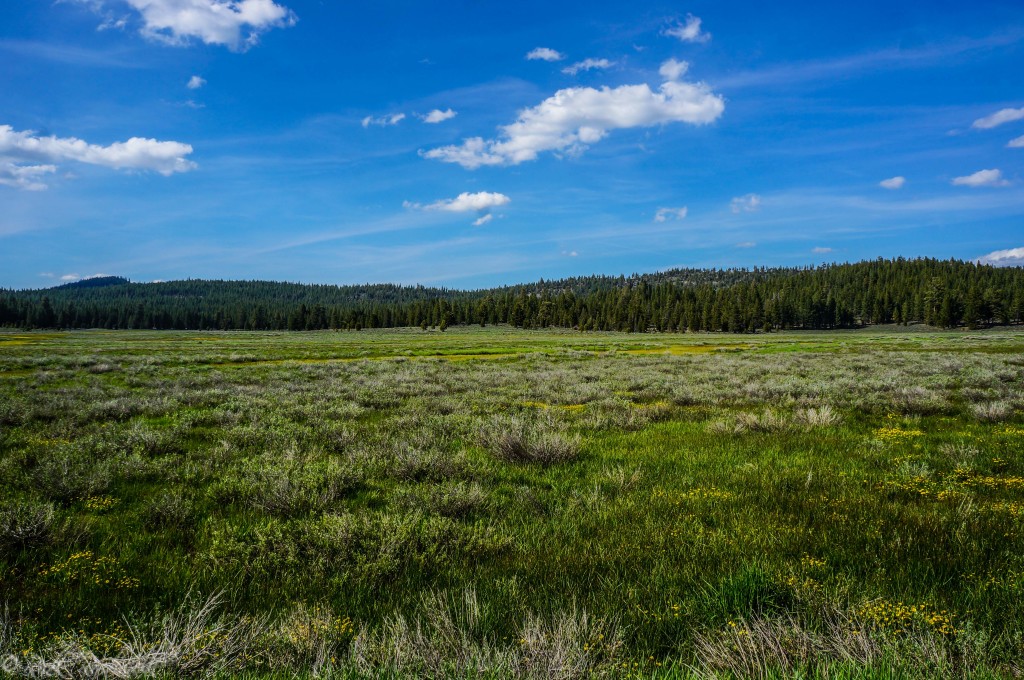 Final Thoughts on the Kyburz Flat
Interpretive

Area

Kyburz Flat Interpretive Area was a welcoming surprise. I happened to pass it on my way to Webber Falls from hiking the abandoned train tunnels at Donner Summit. After visiting the falls, I decided to check out Kyburz Flat on my way back to Truckee. If you are in the area, I suggest making a visit to this historic site. For being on the National Register of Historic Places, I'm really surprised at how relatively unknown this place is. With the beautiful landscapes, and easy to access historical markers, the Kyburz Flat Interpretive Area is a nice place to spend a Saturday or Sunday morning/afternoon.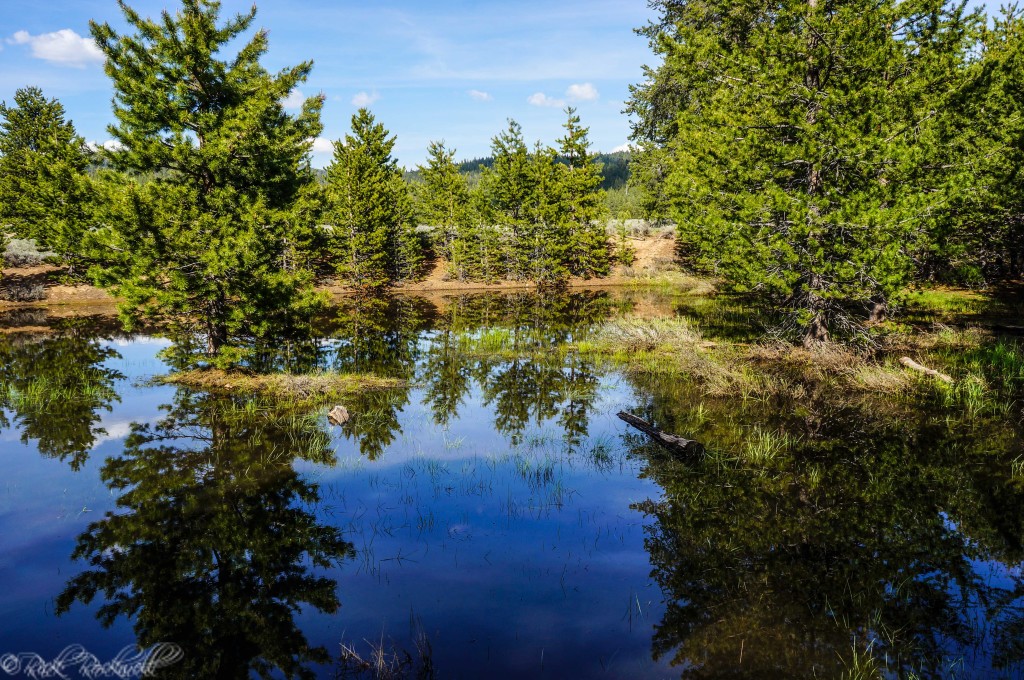 Directions to Kyburz Preserve
From Truckee, take Highway 89 north about 15 miles. There will be a large sign on the right side (east) of the road that says Kyburz Preserve and the Interpretive Area. If you reach the turnoff for Little Truckee Summit, then you have gone too far. Turn around and head back about 1-2 miles and keep an eye out for the sign and turnoff.