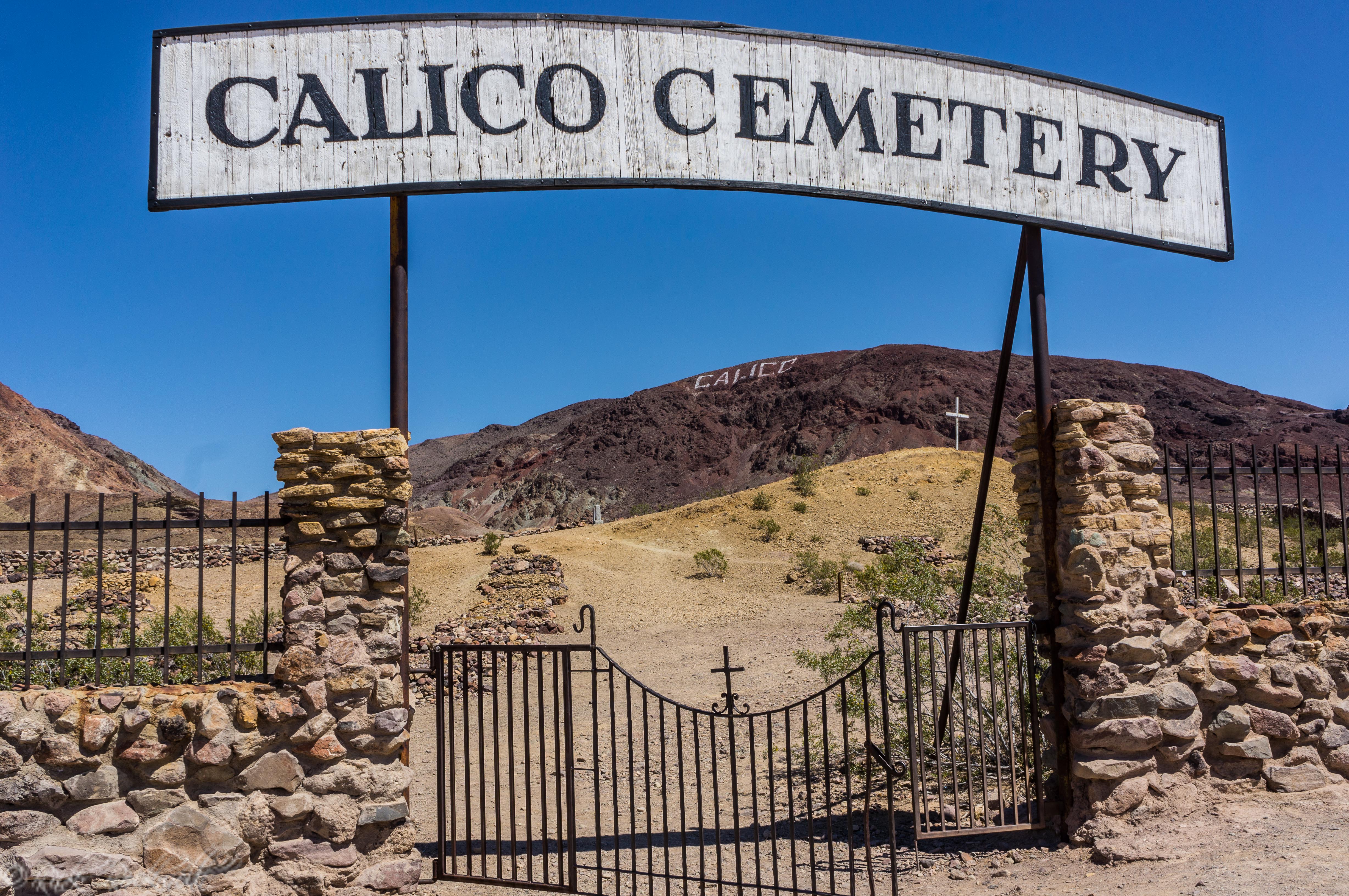 (Last Updated On: January 1, 2020)
Calico, California's official State Silver Rush Ghost Town, is a popular tourist attraction located in the Calico Mountains of Southern California's Mojave Desert. This once prominent silver mining town, became a metaphoric graveyard by the early 20th century as it was fading into the history books before Walter Knott (owner of Knott's Berry Farm) bought the town's remnants in the early 1950's.
Knott, who spent time as a child in the old town, successfully restored the few structures that survived the harsh Mojave Desert climate and built nearly two dozen replicas of original buildings from old photographs. In 1966, the Knott family donated the resurrected town of Calico to San Bernardino County and it became a County Regional Park.
Despite the successful resurrection of this town, and its status as a historic landmark, there still remained one major problem – the original cemetery.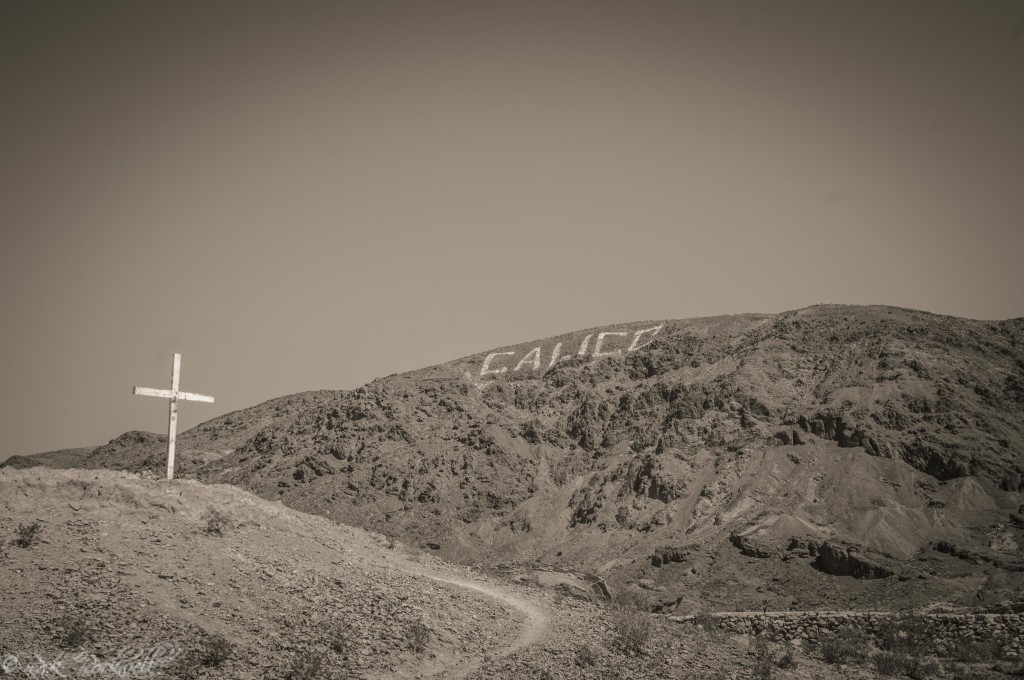 The Calico Cemetery
Less than a ¼ mile from the heart of the Calico Ghost Town sits the historic Calico Cemetery positioned on a small hill overlooking town. Some resources refer to the cemetery as Boot Hill (or boothill); which was a common name given to graveyards of the Old West.
Today, a fence encompasses the cemetery with stones covering or surrounding individual graves. However, that wasn't always the case. During the decades that the town was left for dead, wooden fences and markers were taken by vandals, headstones were removed and some graves were dug up. The sanctity of this graveyard was violated.
Sadly, this caused the cemetery to become a great source of mystery, controversy and historical debate as you will see in this article.
How many burials are there in Calico's Cemetery?
Due to the damages that the cemetery suffered, officials are uncertain as to how many bodies are actually buried there. Various resources place the number between 117 and 130. Another source claims that it could be up near 160. With grave markers either missing or badly deteriorated, it's hard to determine who is buried where.
In the 1960's, rangers were tasked with finding out who was buried in the cemetery and where the graves are actually located. It was at this point when the magnitude of the cemetery's disarray was fully realized. Not only did the cemetery need repairs and protection, but the rangers discovered that there were actually grave markers of people who never even came to Calico like Wyatt Earp and other Old West celebrities. Apparently, during the 1950's, various markers of western celebrities were added to enhance the overall appeal and experience of tourists. Unfortunately, it only added to the overall difficulty of restoring the historic cemetery.
The 1970's saw an increased effort from researchers to determine who was actually buried in the cemetery. They scoured through old records that included coroner's reports, death certificates, affidavits and burial permits. Additional resources like photographs and genealogical data were also used. Unfortunately, this only resulted in an estimated 117 people buried in the cemetery with about 20% of the graves being properly identified.
By the early 1980's, infrared aerial photographs had to be taken to get a better idea of how many bodies are actually buried there. This reportedly turned up 160 bodies. From these aerial photos, additional historic photos and testimonies from old timers, a map was drawn up to roughly estimate where the graves are located. Unfortunately, this only led officials to identifying 49 of the apparent 160 bodies buried in Calico's cemetery. (The Telegraph – Feb 10, 1981)
As of now, I am uncertain as to the extent of research done in the 90's and 2000's on identifying the burials.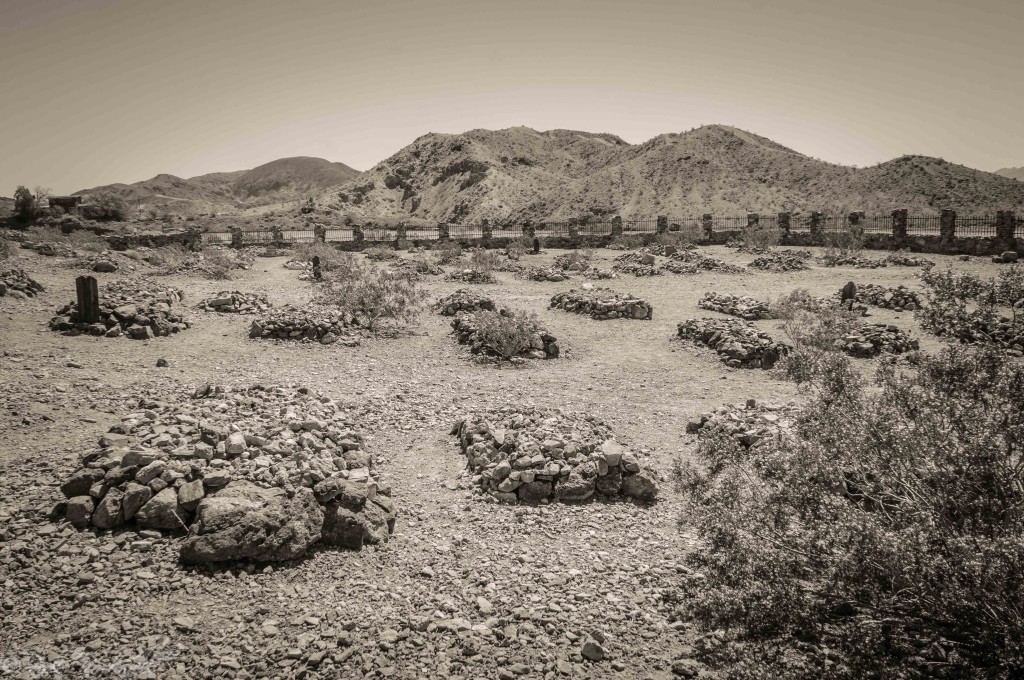 Who's buried in Calico?
Numerous sources state that the first burial in this cemetery was a 13-year old boy named Bobby Stephens. However, he was buried in 1869 before Calico was born and before silver was even discovered. Apparently, he was heading West on one of the immigrant trails that ran along the Mojave River. His burial could be the reason that the Calico Cemetery was established at this exact location.
Sources like Findagrave.com and USCemeteryproj.com both list around 30 names buried in the cemetery. I can only guess as to why there are so few names listed on these sites. Perhaps, they are the ones that have been confirmed through research and family history.
The following is a list of some of Calico's prominent figures over the years that are found on these websites:
Tumbleweed Harris (1906-1979) was the "town marshal" for seven years.
Samuel Lyons King (1826-1882) was one of the prospectors who helped found the Silver King mine; which resulted in the birth of Calico.
Margaret Kincaid Olivier (1849-1933) was the school teacher in Calico during 1898 and 1899.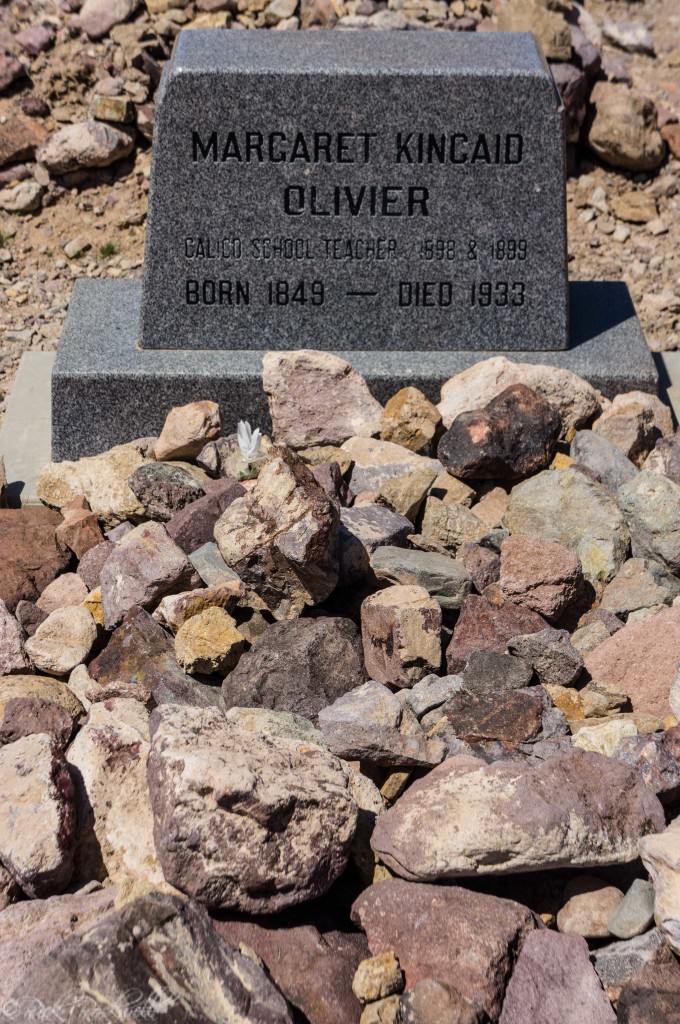 However, there are many burials not listed on these sites that have also been confirmed through research. The following is a list of examples:
Drank to Death
John Dent (1893) died from alcoholism. Apparently he wanted to die drunk and accomplished his goal after 100 drinks.
A gun fight between a Posse and a Robber
Harry Dodson (1889) was an unemployed former millman for the Runover Company. On September 10, Dodson rented a horse with the excuse that he was going out to look at a mine. Unfortunately, Dodson's motives weren't that sincere. A broke young man gave in to the desperation and robbed the Runover Mine's superintendent James Patterson at gun point. Dodson made off with the payroll which was estimated at $4,395. (Treasure from the Painted Hills – 1999)
Additionally, Dodson took Patterson's horse and made his way towards Hawley's Old Station. From there, it seemed Harry got lost and was practically doing circles in the desert.
The next day, a posse of Patterson, saloon owner John Ackerman and an Indian Tracker Tecopa John set out after Dodson. It didn't take long to catch up with Harry since he was now on foot due to the horse going lame.
The posse caught up with Dodson, and at the time of their arrival, Harry was just exiting from a muddy watering hole. Once he saw the posse, Dodson began shooting. After the gun fire had stopped, Dodson was dead apparently from gunshots behind his left ear and near his heart on the left side of his chest. Ackerman, Patterson and the tracker were unharmed. His body was brought back to Calico and buried in the cemetery. (The Daily Courier – Sep 22, 1889)
Murder over a Card Game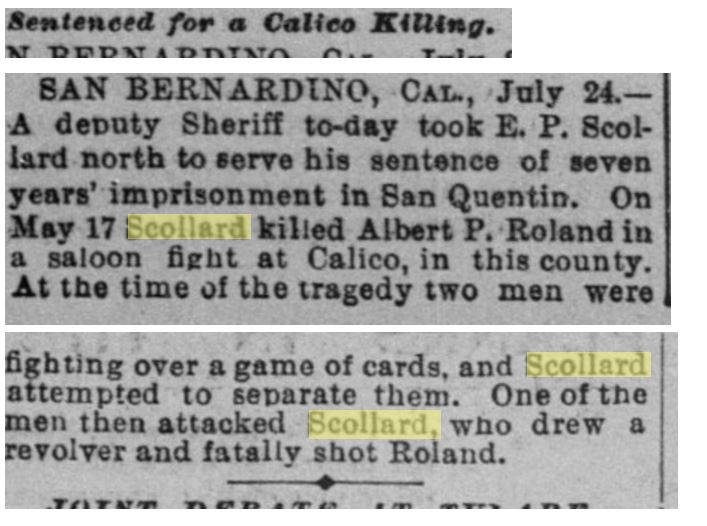 Albert P. Roland (May 17, 1896) was a 25 year old unemployed mining broker from Los Angeles. He tried to restore order at Dickerson and Mosely's Saloon after an argument broke out over an all-night card game. A gambler by the name of Edward P. Scollard got into a heated exchange with Roland that led to Scollard pulling out a pistol and shooting Roland in the chest. Scollard was found guilty for manslaughter and sent to San Quentin. (Treasure from the Painted Hills – 1999)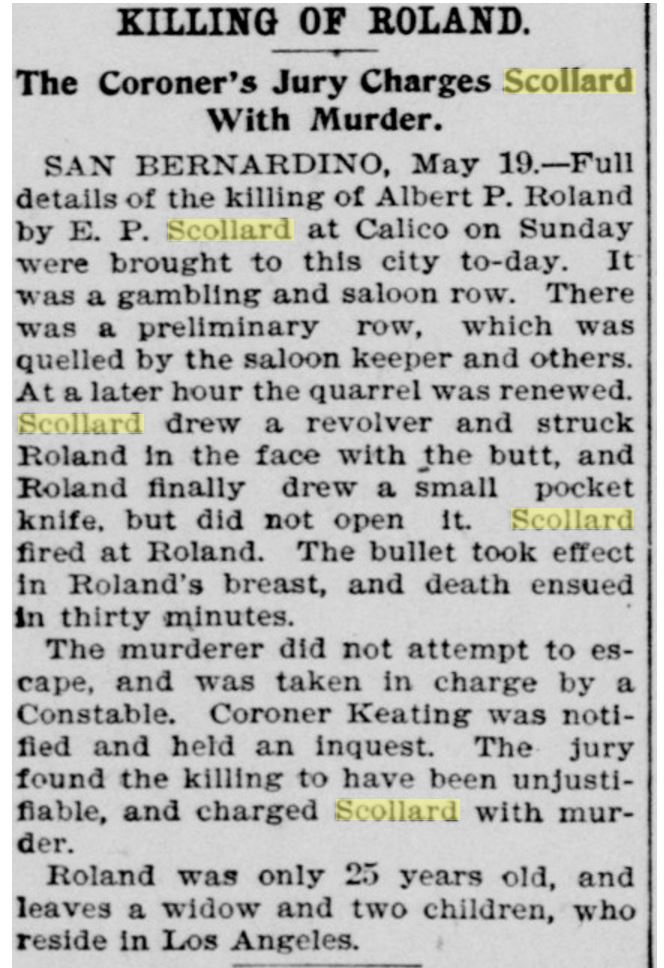 The Unsolved Murder of Anastacio Rubio

Calico also had its share of unsolved murders. Perhaps, none more disturbing than the murder of Anastacio Rubio. In May of 1883, Anastacio returned to town excited over his latest haul. He had six dollars in silver and eighty dollars in gold and decided to share the excitement with his friends by treating them to drinks at a local saloon. Sadly, this drew the attention of an unknown criminal. After Rubio left the saloon, this unknown assailant followed, shot and robbed him. Anastacio died instantly from the gunshots to his right temple and to his heart. Sadly, nobody saw this murder. All of the people in the saloon were enjoying the atmosphere and had their backs turned to the heinous crime. Rubio's murder remains unsolved.
Fake or Mistaken Burials
As mentioned earlier, there were numerous fake grave markers that were quickly dispelled. However, it took a few decades before researchers could dispel some of the more endearing grave markers that had captured the romance and lore of the Old West.
Daisy Dooley never existed and was fabricated probably in the 1950's with other markers of people like Wyatt Earp. Her epitaph read: "Daisy Dooley 1887. Came to town one day and wasn't long before she was led astray. She's in a better place today we pray."
A popular marker for Blackie Scroggins was dated 1882 and stated "claim jumpers take note." Apparently, Scroggins was hung for claim jumping. Unfortunately, there's no evidence that a Blackie Scroggins ever existed in Calico. Although there is a body buried beneath this marker, officials are uncertain as to who it actually belongs to.
Wes Wescott (1871-1889) is another marker that is most likely a fabricated tale. His epitaph said: "Hung in his youth, T'was a sad mistake when we found the truth."  Unfortunately, there are no historical records of any hangings in Calico or anyone by the name of Wes Wescott to live or come through Calico.
In addition to dispelling grave markers, researchers were able to uncover some mistaken identities:
A marker for Bruce Wallin said that he died at the age of 8 and it was believed that the cause of death was from diphtheria. However, it was discovered that Bruce was actually the Wallin family dog that died in 1944. The dog's remains had been moved from a burial near Yermo to the Calico cemetery sometime during the late 40's to early 50's.
Tom Kate and Tom Kate Jr. were believed to be a father and son that possibly died in a mining accident. However, it was discovered that this grave belonged to a pair of tom cats and not any humans.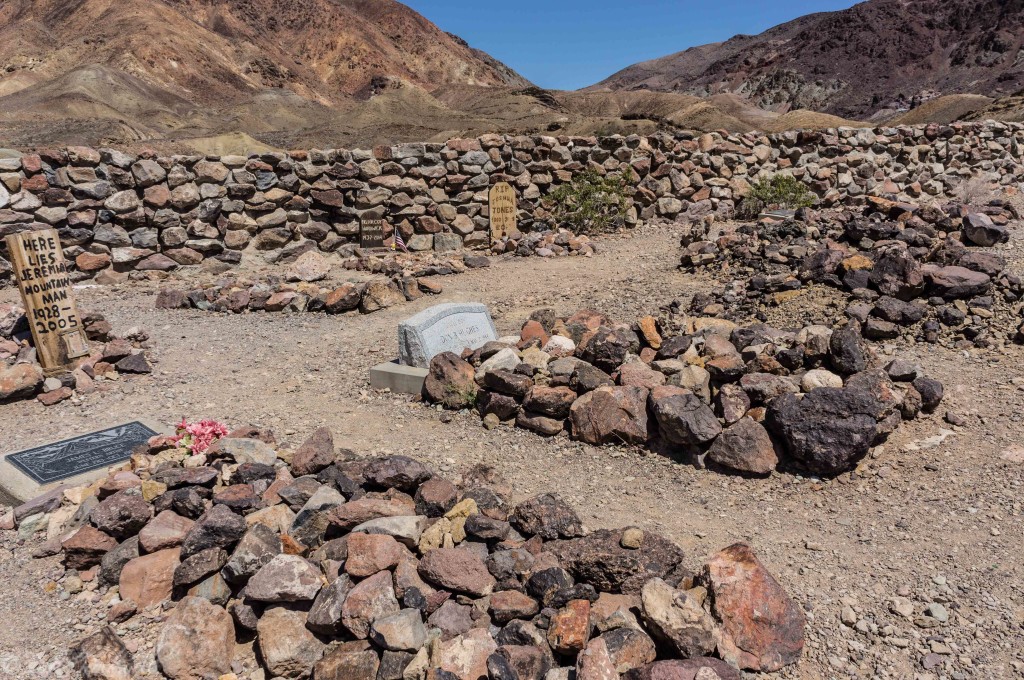 Is the Calico Cemetery Haunted?
When I visited the town and the cemetery, I did not experience any ghost related or unexplained encounters. However there are some resources that discuss the ghost encounters and paranormal activity within Calico like the book  "Bill Cook's Ghostly Guide to Calico Ghost Town."
Additionally, Hank's Hotel seems to be a reported hot spot for paranormal activity.  Calico does offer official ghost tours through town and Maggie's Mine.
In my opinion, if ever there was a cemetery that could be haunted then it would be Calico's. The amount of damage, vandalism, and disruption to the deceased is enough to disturb any resting soul.
Final Words
I don't know of any other historic cemetery that has as much controversy and mystery as the Calico Cemetery. For those who enjoy research and solving mysteries, this cemetery is a perfect opportunity to put that enjoyment to the test.
To some, Calico is just a tourist attraction or an "Old West playground." Although there's a large element of tourism here, there's still a foundation of history and authenticity which can be found in this cemetery. Efforts have been made to try and figure out who's buried in the graveyard and where. Unfortunately, there's still a lot of work left to be done.
For me, Calico's Cemetery provided the most authentic "Old West" experience in this once prosperous mining town. The setting, the landscape, the controversy and the tales of its residents make this cemetery one-of-a-kind.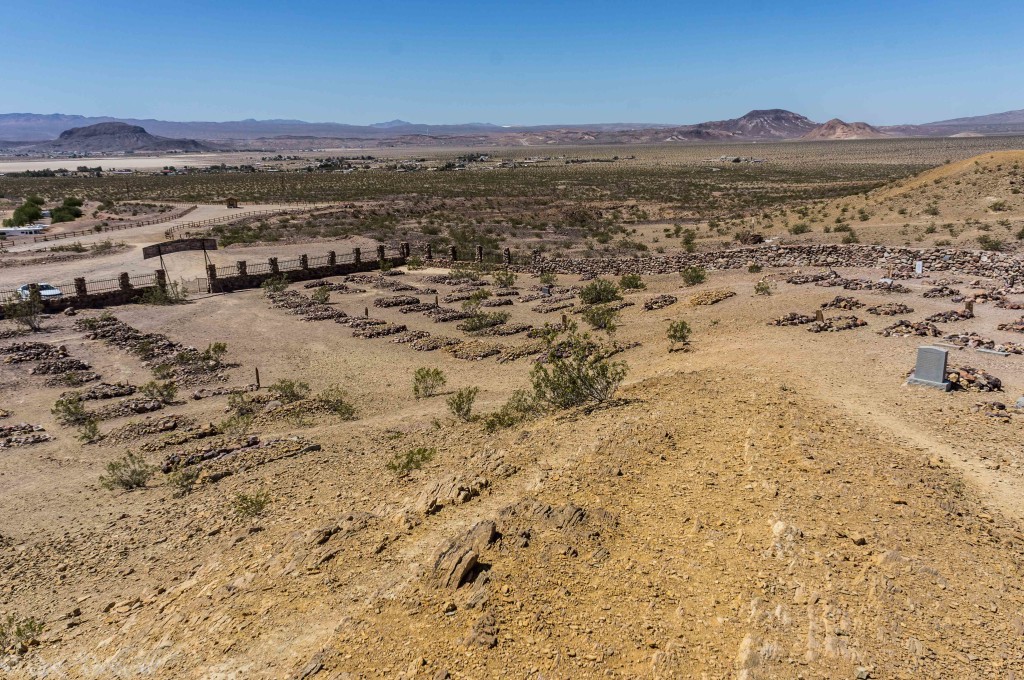 Location
36600 Ghost Town Road, Yermo, CA  92398
Phone:  800-TO-CALICO
Fax:  (760) 254-2047
email:  calicotown@parks.sbcounty.gov
Sources:
Treasure from the Painted Hills: A History of Calico, California, 1882-1907 by Douglas W. Steeples, 1999
The San Bernardino County Sun – Nov 17, 1978
The San Bernardino County Sun – Jan 5, 1979
The Telegraph – Feb 10, 1981
Calico by Paige M. Peyton, 2012