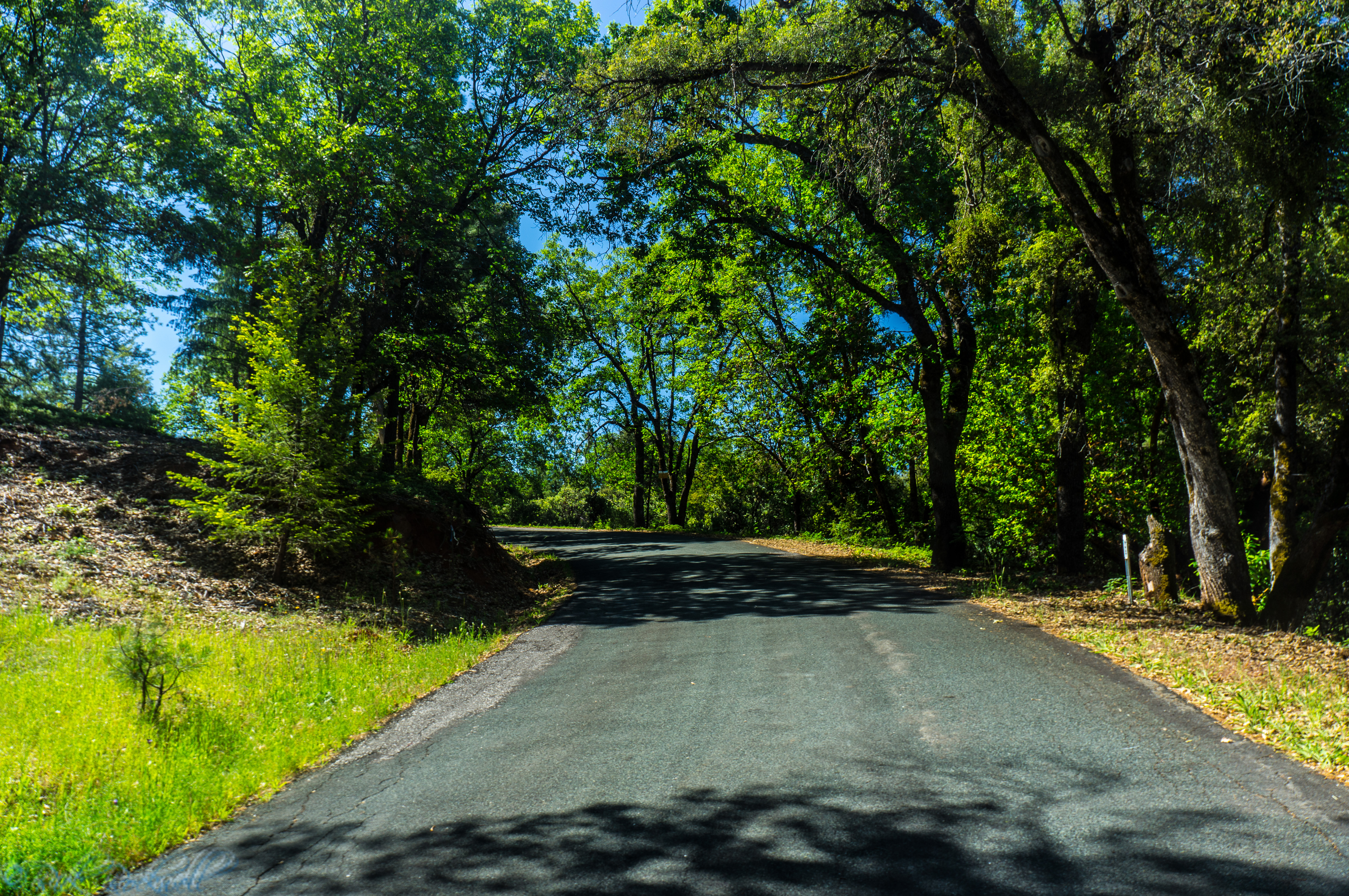 (Last Updated On: March 6, 2015)
Gold Country is well known for its historic gold mining towns, legendary tales of the Gold Rush and the meager beginnings of some of California's most prominent figures. But, one thing that's unknown to most people is the adventure that's experienced when actually driving on the winding roads that twist, turn and switchback through the foothills just to get to these historical towns. A great example of this is Iowa Hill Road.
Beginning in Colfax, Iowa Hill Rd. takes you on a thrilling drive over the river and through the foothills. From waterfalls and Mineral Bar to narrow roads with a steep drop and a historic mining town, Iowa Hill Rd. is a risky, tricky drive that requires caution as you enjoy the wonderful journey back in time.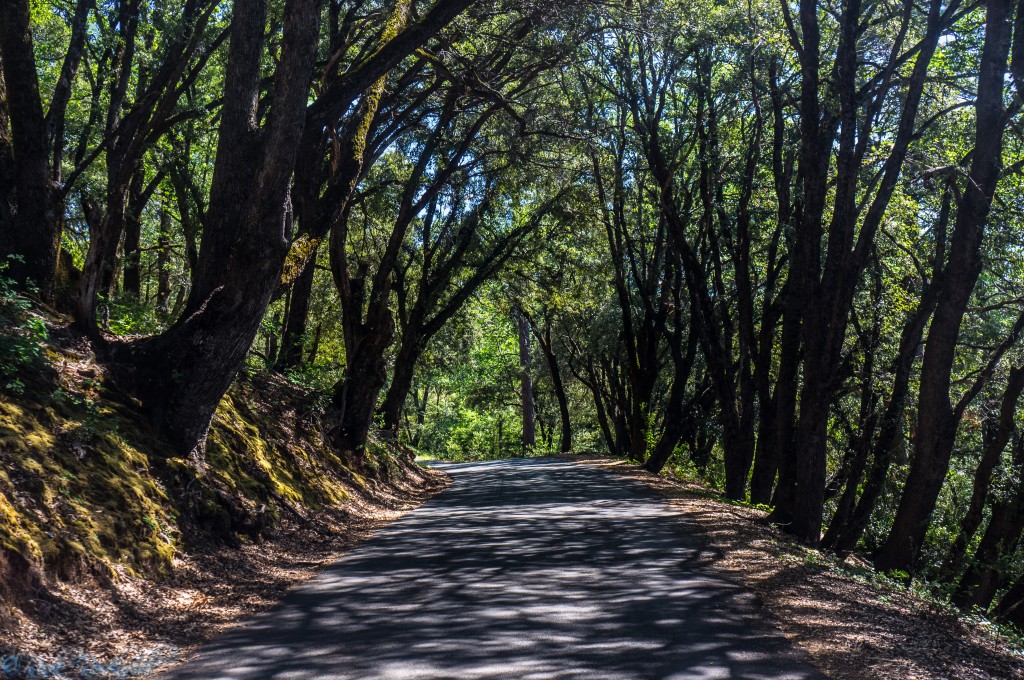 Directions
From Sacramento, take I-80 east to Colfax and exit on Canyon Way (exit 133). As you get off the freeway, you will come to a stop sign and need to make a left onto Canyon Way. At the 1.1 mile mark, turn right onto Iowa Hill Rd. and get ready for the adventure.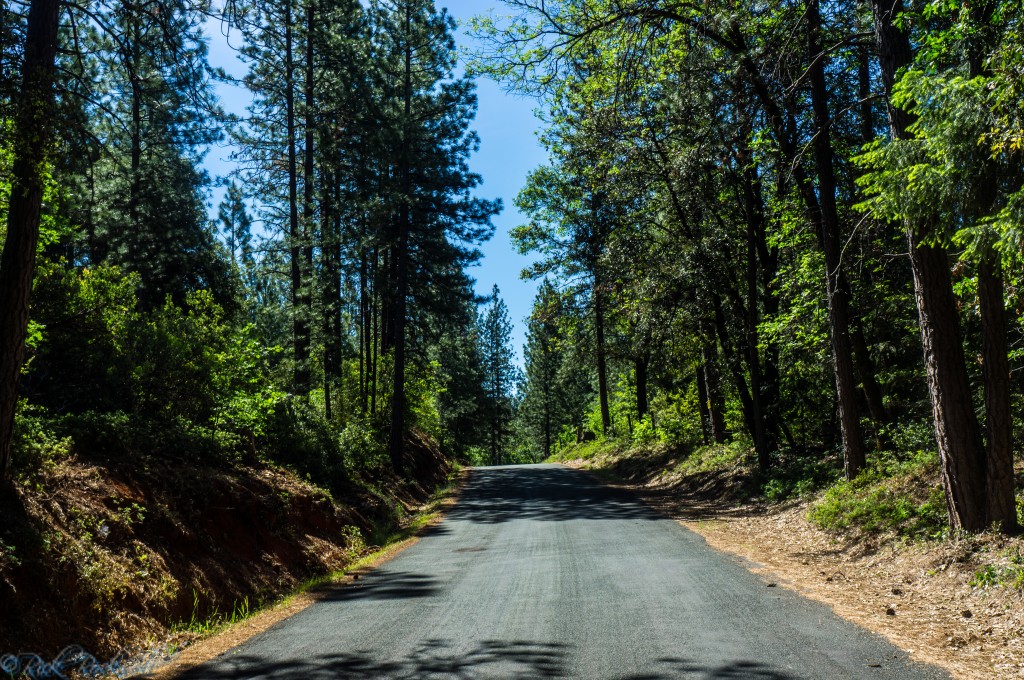 Auburn State Recreation Area
Within the first mile, Iowa Hill Rd. passes by some homes before entering into Auburn State Recreation Area. The road is paved the entire way but requires you to drive at slower speeds due to the sharp turns. Quickly, you will begin to weave through the hills as you get closer to the North Fork of the American River.
Check out more of my Auburn State Recreation Area adventures.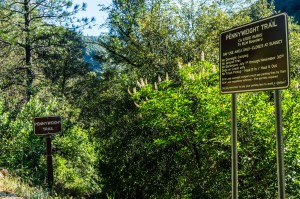 Pennyweight Falls
The first recommended stop along Iowa Hill Rd. is Pennyweight Falls which is located roughly 2.7 miles down Iowa Hill Rd. It's a few tenths of a mile up from the new and old Iowa Hill bridges. There's a sign that marks the trailhead access and you must park on the right side of the road facing the direction you just came. The hike is rather short and takes you alongside the North Fork of the American River. Within 20-30 minutes at a comfortable pace, you reach the lower portion of the waterfall. There's also an upper portion which can be accessed from the same trail.
Check out my article on Pennyweight Falls for more details and great photos
Slaughter Ravine Falls
The next recommended stop along Iowa Hill Rd. is Slaughter Ravine Falls. This waterfall is located at roughly the 2.9 mile mark right before crossing over the newer Iowa Hill bridge. There is temporary parking at this spot and a bathroom. It only takes 5 minutes to walk over to Slaughter Ravine Falls through the trees and bushes on the right side of the parking area.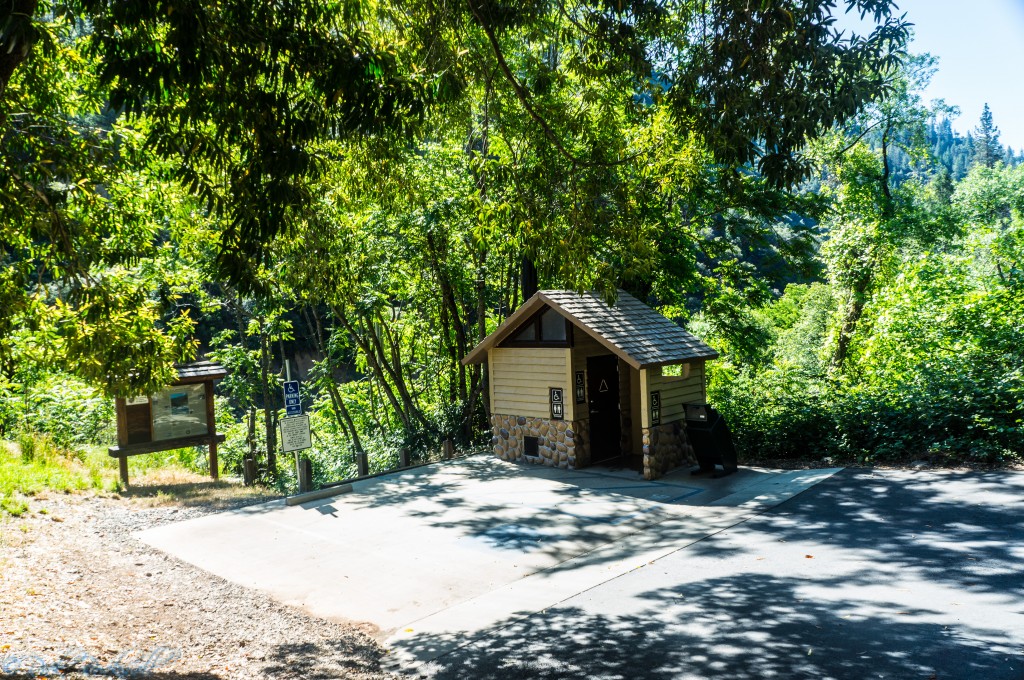 Iowa Hill Bridge
Prior to crossing the bridge, there is a trail that leads from the temporary parking area down to the river. However, there are two large parking areas across the bridge that provide day parking and access to the river as well. Both the new and old Iowa Hill Bridges can be crossed. The older bridge is accessible by walking, where the new bridge can be driven over or walked across.
Check out my article on the Old and New Iowa Hill Bridge for more details and great photos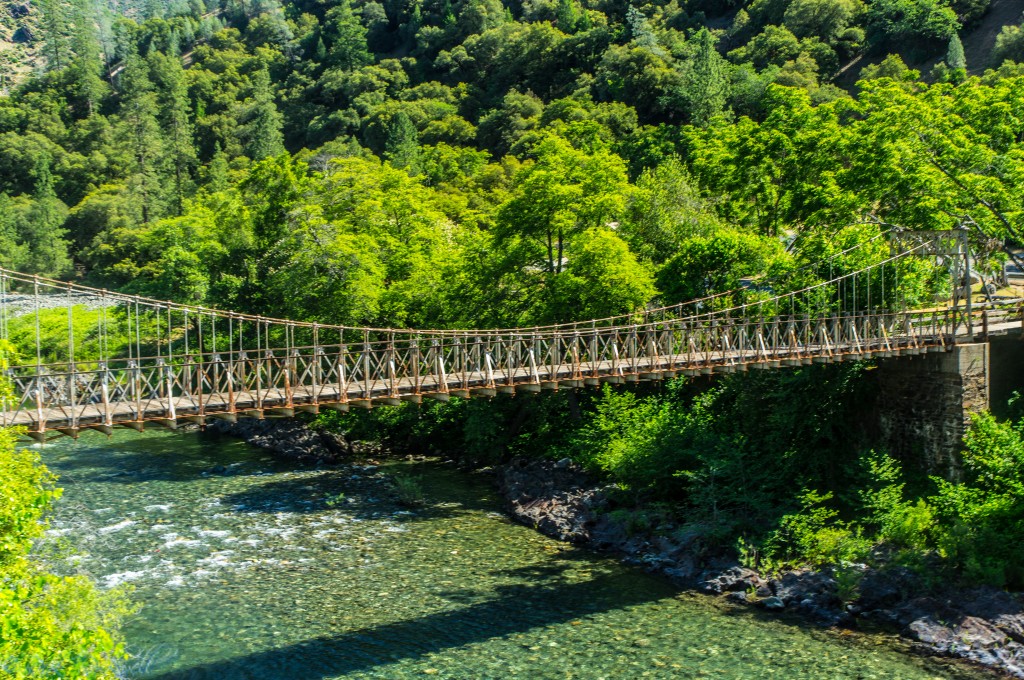 Mineral Bar
At the 3 mile mark on Iowa Hill Rd., and right after you cross the bridge, on the left side is Mineral Bar. This campground has great access to the American River and also allows day usage for a $10 fee. The water is so clear and green, they probably should rename the campground to something with the word "emerald" in it. Mineral Bar has a 14 day camping limit with 18 designated camp sites. It's a great spot for hiking along the river and/or gold panning
5 Miles of Caution
After passing Mineral Bar, Iowa Hill Rd. really gets risky. This is the 5 mile stretch of road that drivers must exercise extreme caution and patience. The road begins its ascension up the foothills and has several hairpin turns. There's no guard rail to guide or prevent drivers from plummeting over the ledge and down thousands of feet.
This stretch of road is also very narrow. In some sections, two cars can't even pass by each other. This road is not safe to travel during inclement weather. Don't even attempt it in the winter unless you have a 4wd vehicle.
These 5 miles really take you into the heart of Gold Country. As I drove through this section, I could imagine the Gold Rush era by looking out into the vast foothills and canyons. This region still brings excitement and adventure to those looking for gold. History buffs can practically travel back in time especially as they enter into the town of Iowa Hill.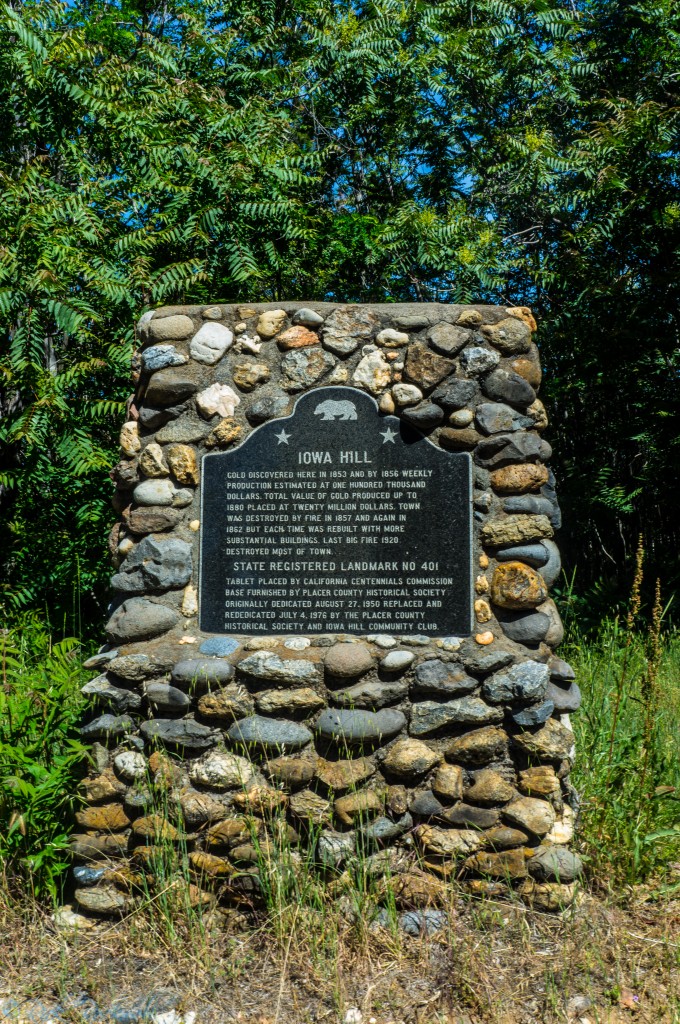 Iowa Hill
The historic town of Iowa Hill is roughly 9 miles down Iowa Hill Rd. The last mile, leading into town, is tame compared to the "5 miles of Caution" stretch. The town is isolated from civilization as it sits right on the ridge between the North Fork of the American River and Indian Canyon at an elevation of nearly 3000 feet. There's an estimated 100-150 residents in this community. Additionally, to give you an idea of their remoteness, the town uses generators for power and received landline telephone service in 2010.
There are some famous Placer County mines nearby, an old Wells Fargo bank vault, historical markers, an old cemetery, a few old homes, a charming little store and plenty of history in this small town.
Check out my section on Iowa Hill: the town, road and bridges for more details and great photos
Sugar Pine Reservoir
It's roughly 6 miles from Iowa Hill to Sugar Pine Reservoir. Continue heading east down Iowa Hill Rd. until you reach Sugar Pine Road. Turn right on Sugar Pine Rd. and head toward the reservoir. There are plenty of signs with mileage to the different places. Head to the campgrounds and day use parking area to hike along the trail that travels around the reservoir. Or head to the dam and eventually on to Foresthill.
This reservoir really is a "gem." It's a beautiful, tranquil location at a little less than 4,000 feet in elevation. The trail allows hikers to soak in the serene environment. Heading over to the dam also allows for parking and views of the reservoir. Even if you go to the day use area first, you will still have to pass by the dam to head to the town of Foresthill.
Check out my article on Sugar Pine Reservoir for more details and great photos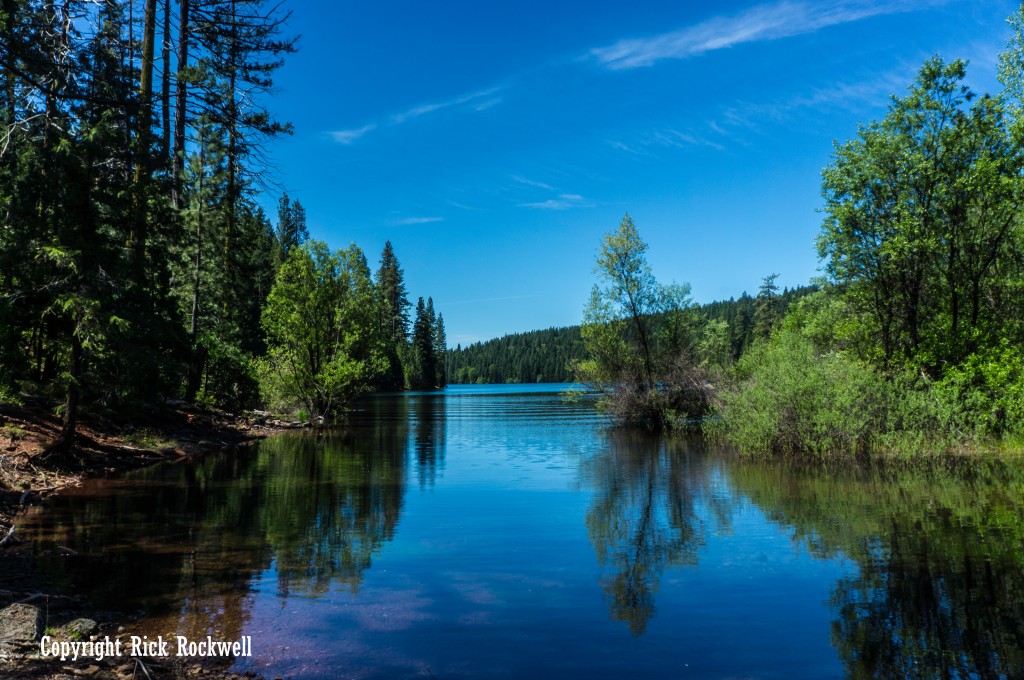 Foresthill
Continue on Sugar Pine Rd. another 9 miles until you reach Foresthill Rd. From here it will take approximately another 15 to 20 minutes before reaching Foresthill. However, it really is a peaceful drive with beautiful tree covered landscapes that escort you the whole way.
Foresthill is another old gold mining town that is quite possibly the only one to really survive and thrive on the Foresthill Divide. It has all the amenities you would need for a trip or an overnight stay. It's also packed with plenty of history.
Check out my article on Foresthill for more details and great photos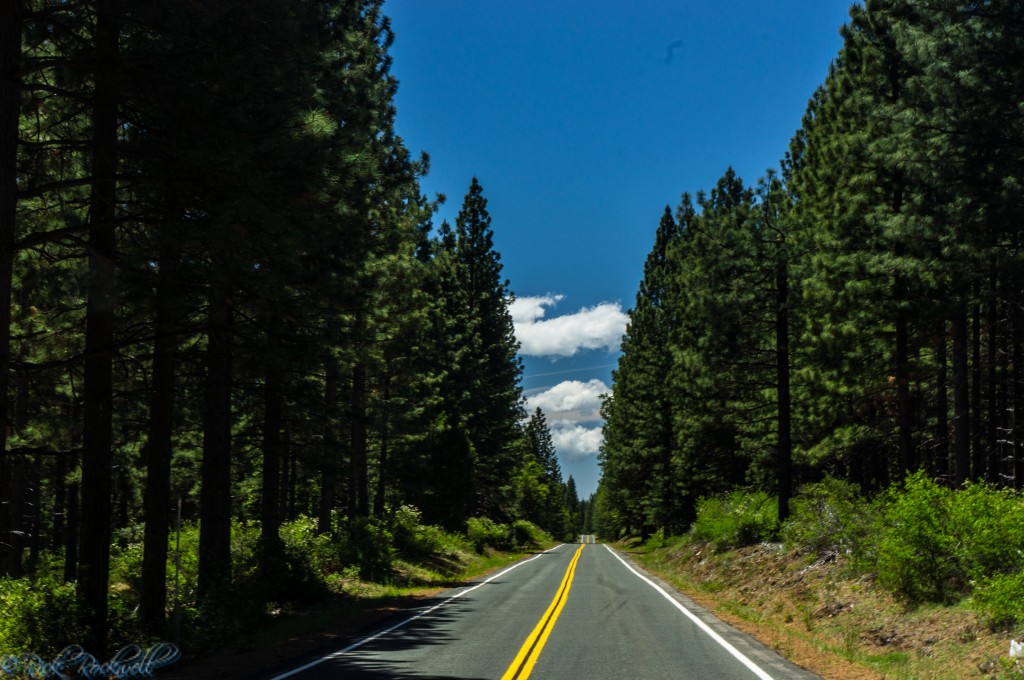 Final Thoughts
When I first set out to embark on this journey, I didn't really know what to expect. There's not much information on the town of Iowa Hill and even less about the road itself. My adventure really felt like an exploration as if I was discovering new land and points of interest. Additionally, I didn't initially plan to head to Sugar Pine Reservoir either. But, I'm thrilled that I did. Sugar Pine Reservoir really is a "gem" and a must see place for those who appreciate the lake and camping environment.
I have traveled a lot over these last few years, exploring this beautiful state. And, I have never been on a road like Iowa Hill Rd. This truly is a unique experience, filled with plenty of excitement, thrill, risk and beauty. This isn't your typical Sunday drive; this is a "Sunday Adventure."
Check out more of my Foresthill Divide adventures.