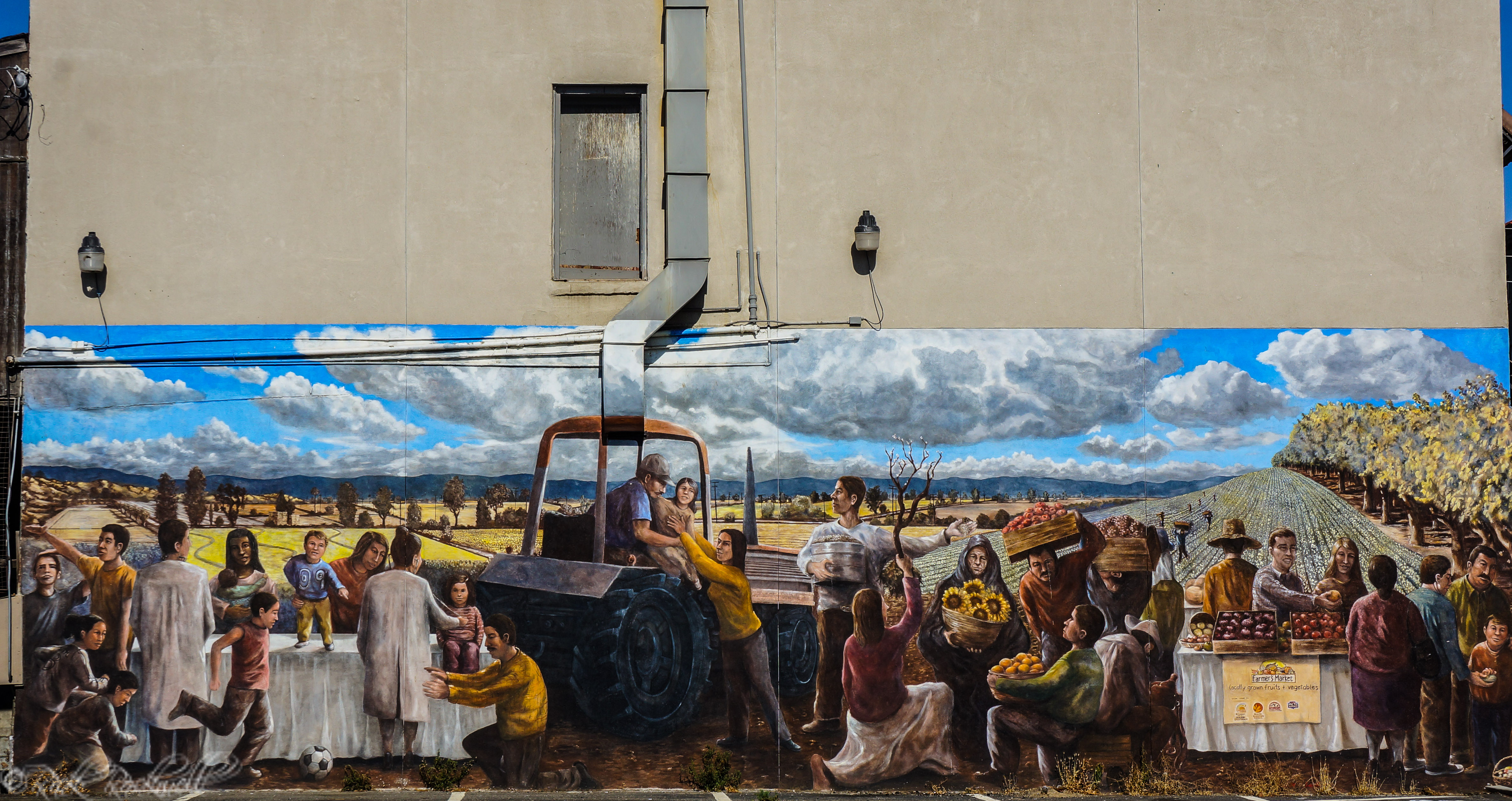 (Last Updated On: June 20, 2016)
Public murals are often subject to polarizing opinions. One side may find them to be artistic and beneficial to a town or community, while the other side might believe that these murals detract and destroy. The public debate was very intense over the following mural that was placed on the side wall of Silvina's Basket on Main Street in the heart of Woodland.
Background
In May of 2009, the Health Education Council's Network for a Healthy California submitted a request to the Community Development Department's Planning Division for a mural to be placed on the east wall of Silvina's Basket Restaurant. The mural was to emphasize important factors in life such as physical activity and good nutrition. Additionally, it was to promote some of the wonderful cultures and communities within Woodland.
Silvina Salcedo owned the building and was a big proponent for this mural. She spoke at the public hearing in favor of it. Joaquin Romero, owner of the adjacent lot, was also in favor of the mural.
The Artist
Maceo Montoya was selected to complete this mural due to his experience as an artist and his publicly commissioned work already painted in other Northern California towns.  Maceo, from the small town of Elmira, comes from a family of creative souls. His father was a renowned artist and his brother was a renowned poet. Montoya also had extensive schooling in art from Yale and Columbia University.
Maceo's initial description of the mural was that of an overall scene depicting families, farmers, and agricultural workers all under a bright spring sky. Additionally, the imagery would focus on the importance of physical activity, consuming local crops, community markets and gardens.
From Left to Right
The following scenes are found within the mural:
The front left depicts a brother and sister racing. Behind them is an older brother measuring his younger brother. To the right of them is an outdoor clinic and in front of the clinic is a father playing soccer with his son. In the background is a ball field that eventually turns into other fields throughout the mural.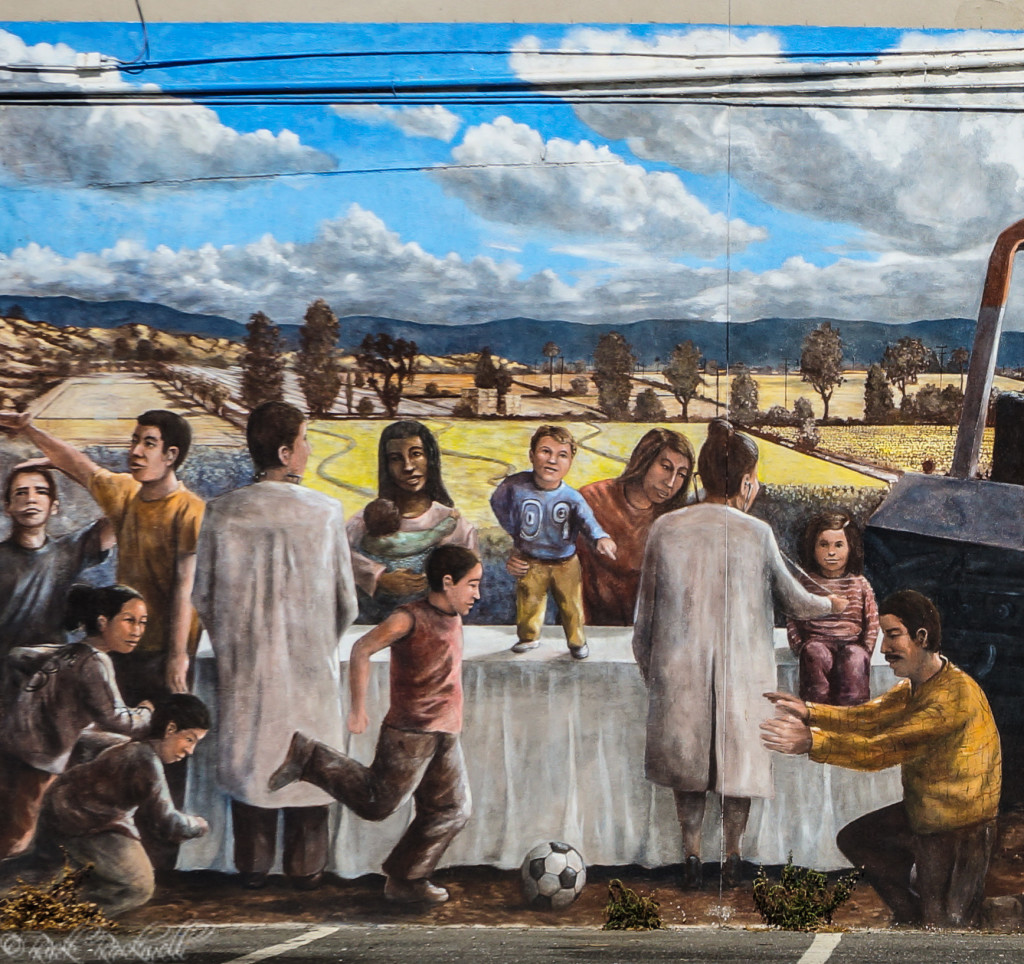 In the center of the mural, a father sits in his tractor while the mother hands him her daughter.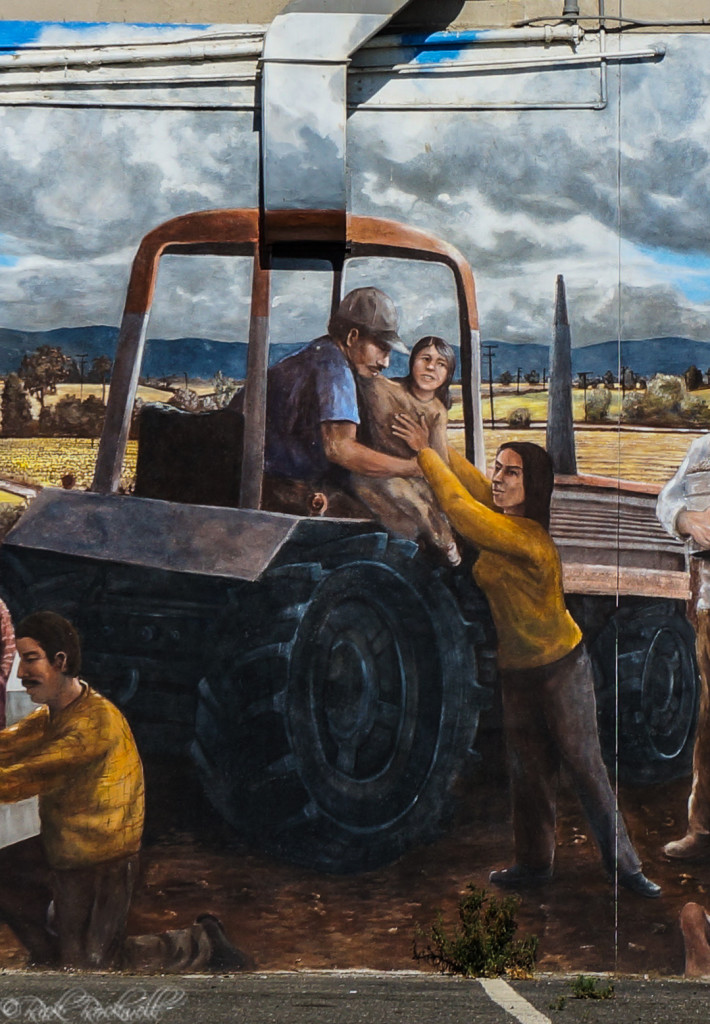 To the right of the tractor is a community garden where the central figure represents Mother Nature with a lady holding a young tree, a man holding rice granules and another man offering a bowl of fruit. This scene is a symbolic offering to Mother Nature.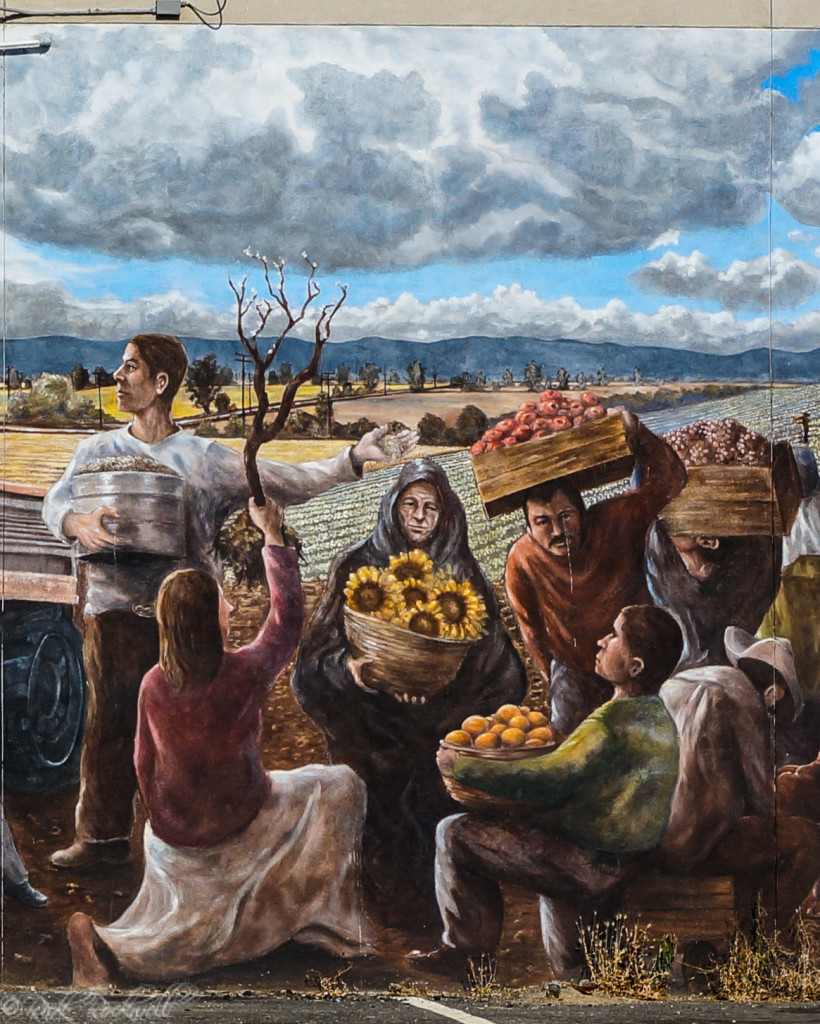 The far right of the picture represents a Farmer's Market that has a sign on the table saying "Locally grown fruits and vegetables." Beneath that writing are logos of various sponsors. To the right of the table is a family with one sibling handing the other some fruit. Behind this scene are fields and orchards.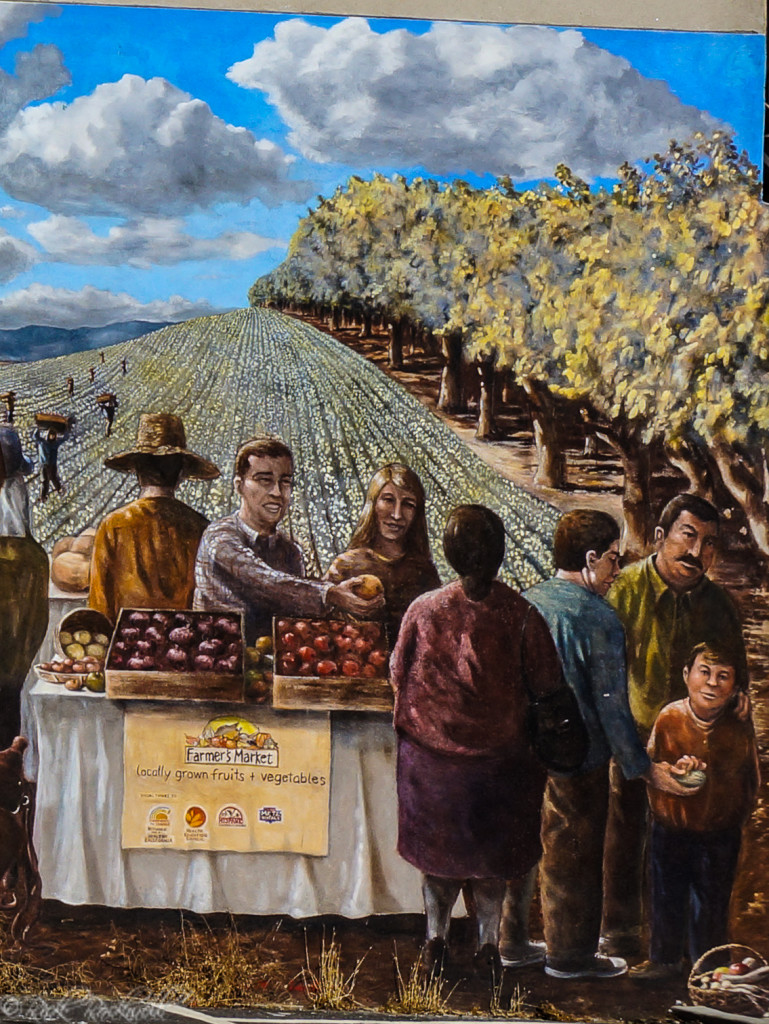 Initial Response
The idea of a public mural at this location sparked a heated debate within residents of Woodland. Several articles and sites from the summer of 2009 had numerous comments from people who were against the mural. As far as I can tell, there wasn't any significant opposition present at the hearing. In fact, most of the major players in this process were in favor of a mural.
Final Words
Silvina Salcedo, owner of the building where the mural is located, made the following comments about this mural, according to the Daily Democrat:
"As soon as you come down Main Street, you see something to tell you what Woodland is all about."
Prior to researching the mural, as I was driving through Woodland's historic district, I saw this mural and thought it was very fitting for this town. I felt like it captured a lot of qualities and communities within the Woodland area. Additionally, it's vibrant and full of life. I think it's a wonderful mural and fits nicely within the historic Main Street area. Personally, I enjoy murals and I always keep an eye out for any when visiting other towns. The next time you are in Woodland, stop by and check out this wonderful artwork.
How do you feel about public murals?
If you are a Woodland resident, what do you think of this mural?
Location
816 Main St, Woodland, CA 95695