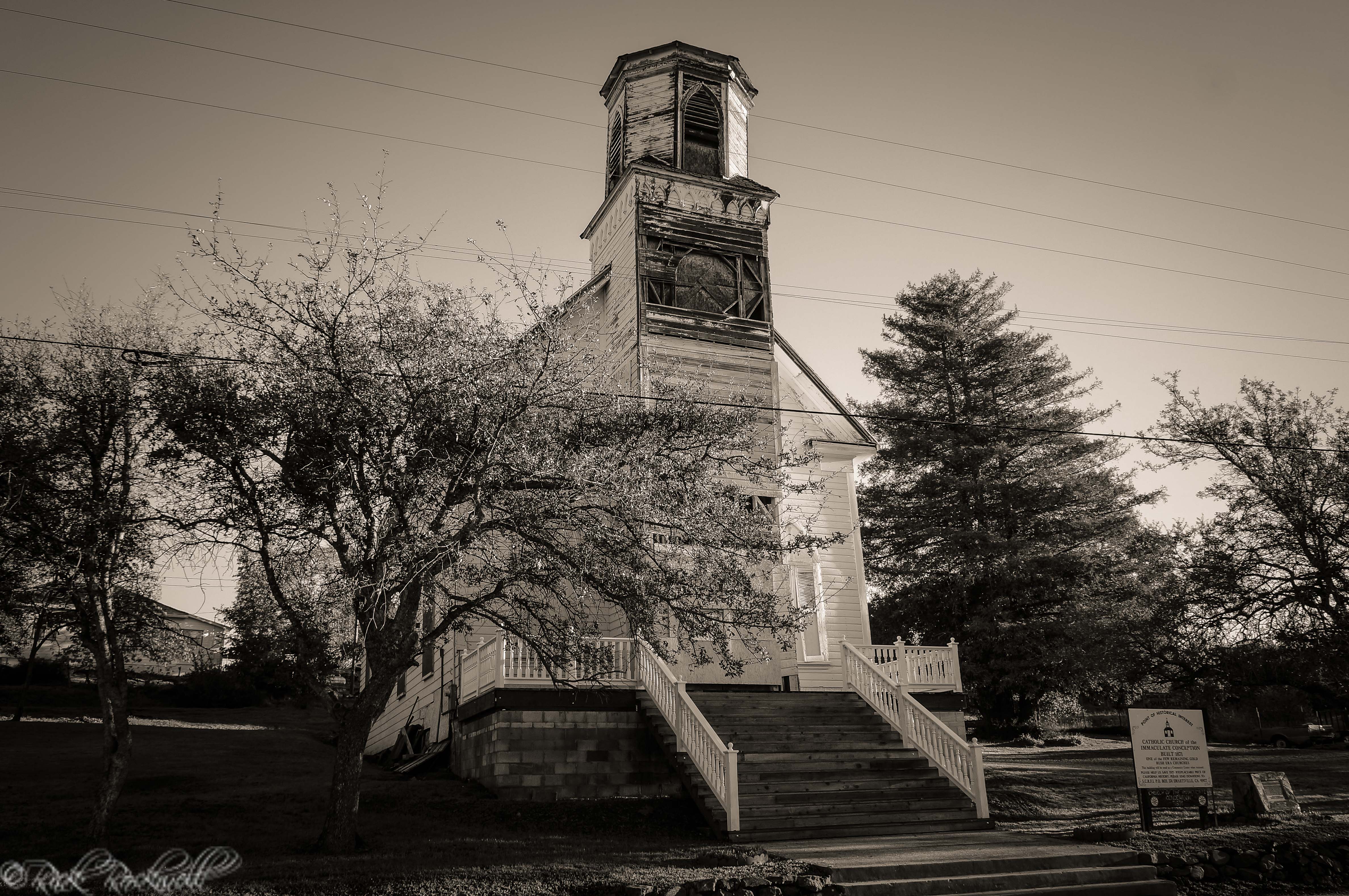 (Last Updated On: January 4, 2020)
As the years pass by, churches from the Gold Rush era are becoming harder to find. Many of the Gold Rush towns have faded into history with very few remnants, if any, to show of their existence. Yuba County's Smartsville was one of the lucky towns to have survived Gold Country's disappearing act. And, in their survival, a historic church has become the symbol of this town's perseverance and strength.
Smartsville
In 1856, James Smart constructed the first building at this place and soon, a town was born. At first, Smartsville was in the shadows of established communities like Timbuctoo and Sucker Flat. Rose Bar was also a revered community that had a significant impact on Smartsville especially in regards to churches. But, as those neighboring towns declined and faded away due to the end of hydraulic mining, Smarstville was able to hang on and avoid the historical disappearing act.
St. Rose's Church
St. Rose's Church was the first church in the nearby region to hold services for the Catholic denomination. This church was located in Rose Bar (Rose's Bar) and was led by Father Peter Magagnotto. The church was built in 1852 and services started soon thereafter.
Father Peter Magagnotto
In 1852, Father Magagnotto, the first Passionist to come to the United States, arrived in Marysville and was appointed to establish a church in town. Prior to coming to America, Fr Magagnotto was serving in Sydney, Australia.
The first church was a single story, wooden structure and served the community for two years. In 1855, Fr Magagnotto succeeded in building Marysville's historic St. Joseph Church and would also spearhead the efforts to start the Notre Dame School in 1856, according to the St. Joseph Church's official website.
In addition to establishing Marysville's catholic church and school, Fr Maganotto was tasked with leading the Catholic communities in nearby mining towns and camps like Rose Bar.
First Church in Smartsville
By the late 1850's Rose's Bar (Rose Bar) was dramatically declining as Smartsville was greatly increasing in size and population. A need for a church in town became evident. The first church in Smartsville was built in 1861. It's believed that this church was also called St. Rose's Church and served the Catholic parishioners faithfully for nearly a decade before being burned down in the Smartsville fire of 1870.
The Union Church
St. Rose's Church wasn't the only church in town. In 1863, $1,500 was raised by the townspeople to build a Union Church. Episcopalians, Methodists and Presbyterians all held services at this church. None of these denominations had a regular pastor there for any lengthy amount of time. The Union Church also had a Sunday school and a library.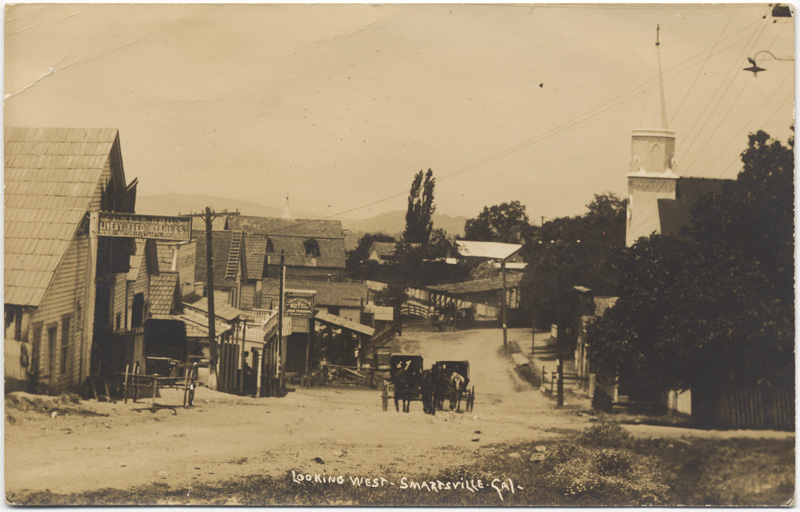 The Church of Immaculate Conception
After the first Catholic Church burned down, the townspeople decided quickly to build a new catholic church on the old church's foundation. $6000 was raised to build this new church and it was completed in 1871. This new church was named the Church of Immaculate Conception.
At first, the church had no bell tower. It wasn't until 1878 that a bell was made and housed atop a wooden tower behind the church. It's believed that a bell tower and steeple were added to the church in 1895. Unfortunately, a storm in 1938 caused damage to the steeple and this bell had to be removed.
The church was led by the following (in successive order): Fr Maurice Hickey, Fr Daniel O'Sullivan, Fr Matthew Coleman, Father Twomey, Father J. J. Hines (Hynes), Father Dermody, and Father Enright.
Tragic Death of Father Twomey
In March of 1902, Father Twomey suffered a tragic death as he tried to "ford a swollen stream" in Brown's Valley. He was apparently on his way to hold a service and tried to cross this stream in his buggy. The article of his death stated that Fr Twomey "was loved by all the residents of the foothills irrespective of creed." (Woodland Daily Democrat, 10 Mar 1902)
Fr Twomey was replaced by Fr Hines who was an associate pastor at the St Joseph Church in Marysville.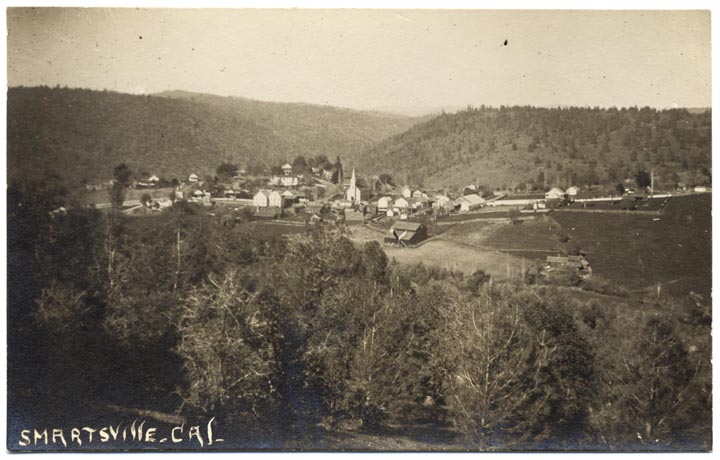 Other Notable Church Attributes
One of the interesting features of this church was how the pews had names of parishioners on them. Typically, this was in the form of a financial transaction to the church and often used as a memorial to loved ones. One such example was a memorial pew (pew #5) in the names of William Cramsie and John Havey, according to the book "First to Fall: The William E. Cramsie Story," by Wayne G. Sayles.
Another aspect that made this church so invaluable and vital, was that when former residents of Smartsville died, their funeral services were held at this church. They were brought back home and the loved ones could gather in the heart of town to say their goodbyes. One of many examples, was the death of Mary "Aunt Mary" McQuaid. She was born in Smartsville in the mid-1860's and was a teacher in many of the nearby schoolhouses before ending up in San Francisco for over 25 years. She came back to Smartsville prior to her death and was able to pass away peacefully in the home she was born in. Her funeral service was held at the church. (Oakland Tribune, 19 May 1925)
Decline and Dilapidation
At its peak, the church had an estimated 800 parishioners. As the mining stopped, the town and the number of parishioners drastically declined. Sadly, this led to the closing of the church by the Sacramento Diocese in 1960. For nearly 40 years, the church was abandoned. The once proud beacon of Smartsville was now nothing more than a sad reminder of how things used to be.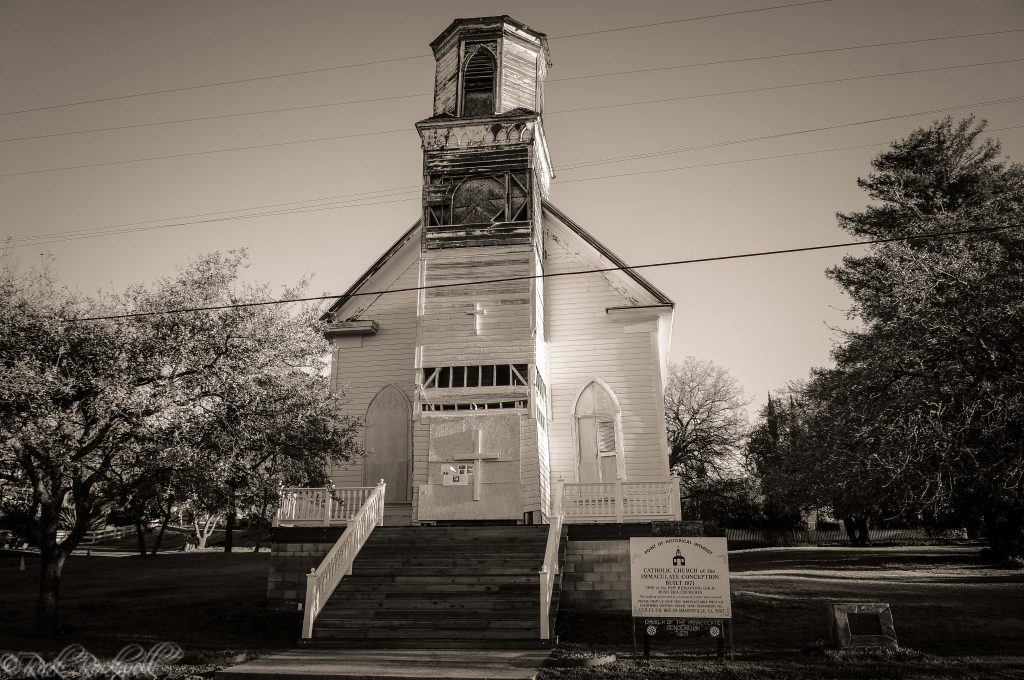 Restoration Efforts
In what can only be deemed a miracle of sorts, the townspeople came together in the late 1990's to save this historic church. A non-profit group called the Smartsville Church Restoration Fund, affectionately called "SCRUFFY" for short, has spent close to 20 years rallying the town to restore this beloved structure.
The Sacramento Diocese donated the church and land to the non-profit group, but with the condition that it would not be used as a church again. So, the townspeople are dedicated to seeing this church shine brightly and establish it as a community center, hub for Smartsville.
To see more about these efforts, and/or donate to this historic restoration, check out SCRUFFY's official website.
Final Words
The Church of Immaculate Conception is the heart and soul of this town. It stands right in the middle of "downtown" on the "main street" and can be seen from any distant view or panoramic shot of town. It's a remarkable structure that was nearly lost to the harsh elements and time.
When viewing the Church of Immaculate Conception in person, you can feel the pulse of this town emanating from it. It's become a rallying cry for those residents who keep this Gold Rush era town from suffering the same fate as its early neighbor Timbuctoo. I've read/heard stories that the church is haunted. But, I didn't experience anything when visiting and I find it hard to believe that these stories have any merit.
I can't wait for the day that this church has been completely restored and I can step foot into this "immaculate" structure. Until then, prayers, donations and hard work are still needed.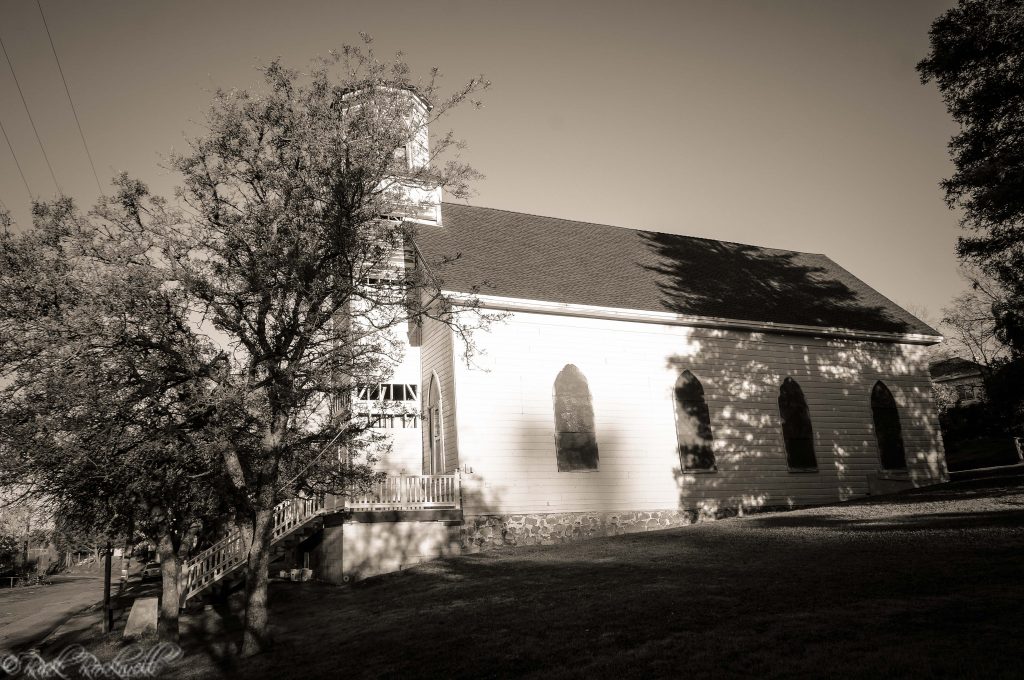 Location
8444 Smartville Road, Smartsville, CA
Additional Sources
"History of Yuba and Sutter Counties, California : with biographical sketches of the leading men and women of the counties who have been identified with their growth and development from the early days to the present," by Peter Delay, published in 1924
"History of Yuba County California," by Thompson & West, 1879