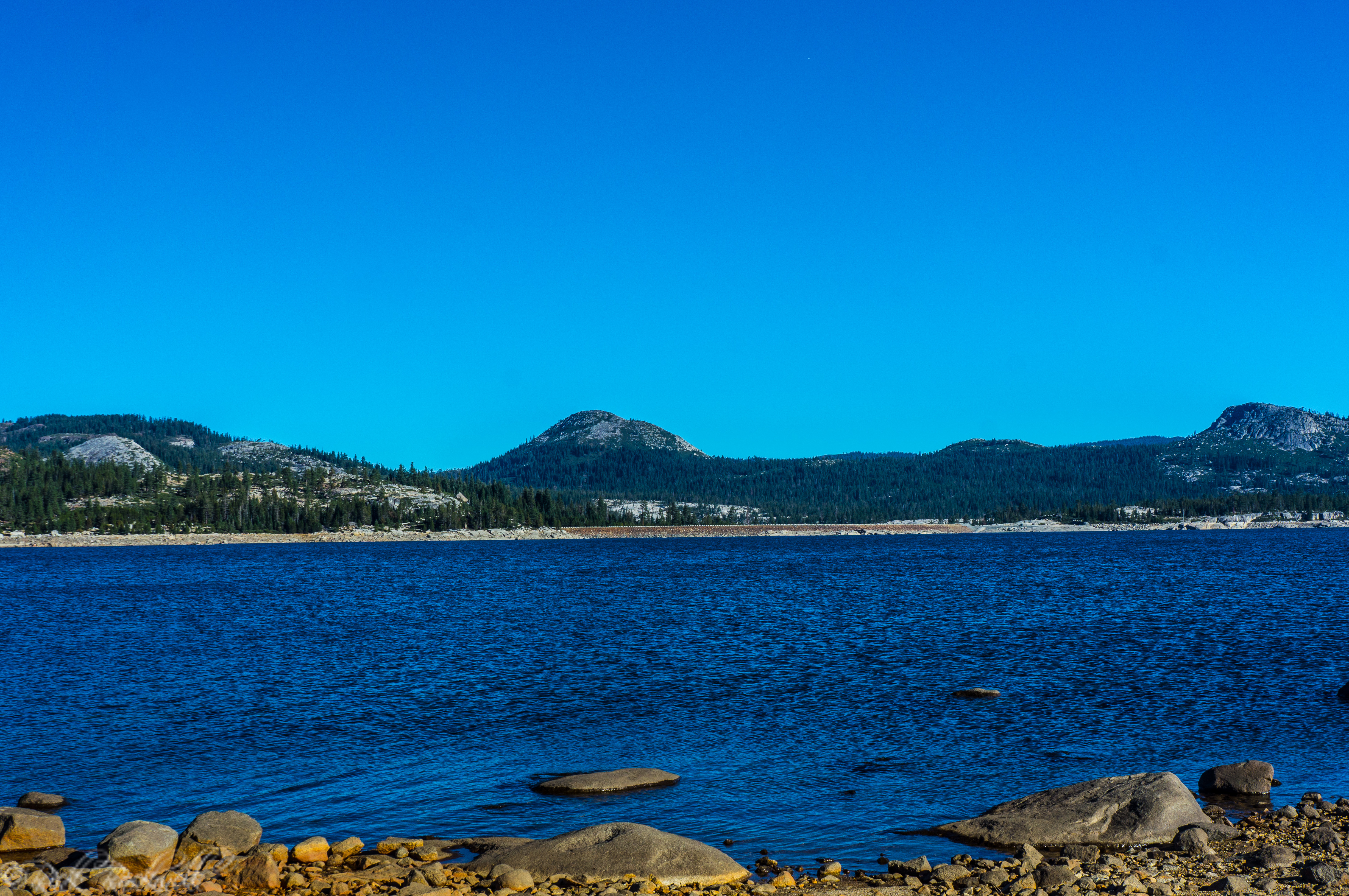 (Last Updated On: March 7, 2015)
Loon Lake can be accessed year round, although various portions of the area are seasonal. This lake truly is a gateway to many opportunities of exploration and adventure within the Crystal Basin and Desolation Wilderness.
Directions
Loon Lake is located a few miles east of Ice House Road, in the northern portion of the Crystal Basin. From Sacramento, head east on Highway 50 roughly 22 miles past Placerville. Make a left on Ice House Road and go roughly 25 miles north. You will pass Ice House Reservoir, Union Valley Reservoir and the turnoff for Bassi Falls.
Continue up Ice House Road past Wentworth Springs Rd. which will take you to Georgetown (30 miles west). Keep a look out for signs to Loon Lake and make a right at a fork in the road which is about 1-2 miles past Wentworth Springs Rd. This is Forest Road 3 and it takes you about 5 to 6 miles to reach Loon Lake.
Camping
Loon Lake has 53 units for both tent and RV. There are vault toilets, a dump station, piped water, picnic tables, fire rings and grills. The campground is seasonal and typically opened between Memorial Day and mid-October. You must make reservations for campgrounds.
Hiking
Loon Lake has two hiking trails:
Loon Lake Trail – this trail heads south 7 miles toward Van Vleck Bunkhouse.
Rubicon Hiking Trail – this trail heads east around the lake roughly 4 miles toward Hidden Lake, Spider Lake, and into Desolation Wilderness where you can access Buck Island Reservoir, Rockbound Lake and Rubicon Reservoir.
Loon Lake Chalet
The three story Chalet is open year round and is probably best used during the winter time. The views of the lake and the Sierras are fantastic and it's a great way to enjoy the Loon Lake region. During the winter time you can use this place to go cross country skiing or snowshoeing.
Reservations must be made at least 3 days in advance and up to 6 months in advance. Fees are $100 per night. Click here to make reservations or call 530-644-2349.
Parking
The main parking lot is a great place to begin your journey. It's where the boat ramp is located and the beginning of Loon Lake's hiking trails. Additionally, the campgrounds are nearby and day use is allowed in season. There are also bathrooms, but they might be locked depending on the season.
My Experience
On a Friday morning in late October, I set out on a journey along Ice House Road through the beautiful Crystal Basin. My first stop along the way was at Ice House Reservoir. After a good hour exploring this smaller reservoir, I wanted to check out Union Valley Reservoir next. Unfortunately, there weren't any open parking areas. So, I decided to head over to Loon Lake for the first time.
The drive was peaceful as I only saw a handful of cars the entire day. However, there are some tight twists and turns that force you to slow down. Loon Lake was about 25 miles north of Ice House Reservoir and it took about 45 minutes to get there.
Make sure you pay attention to the signs. It's easy to shoot right by Forest Road 3 to Loon Lake. Upon arrival, I parked in the main parking area near the boat ramp. There was nobody else around. I had the entire Loon Lake Reservoir to myself.
The temperature was only in the low 50's and there was a breeze which made it quite chilly along the lake. I decided to walk along the shoreline and not take any trails since I wasn't going to explore any of the other lakes on this trip.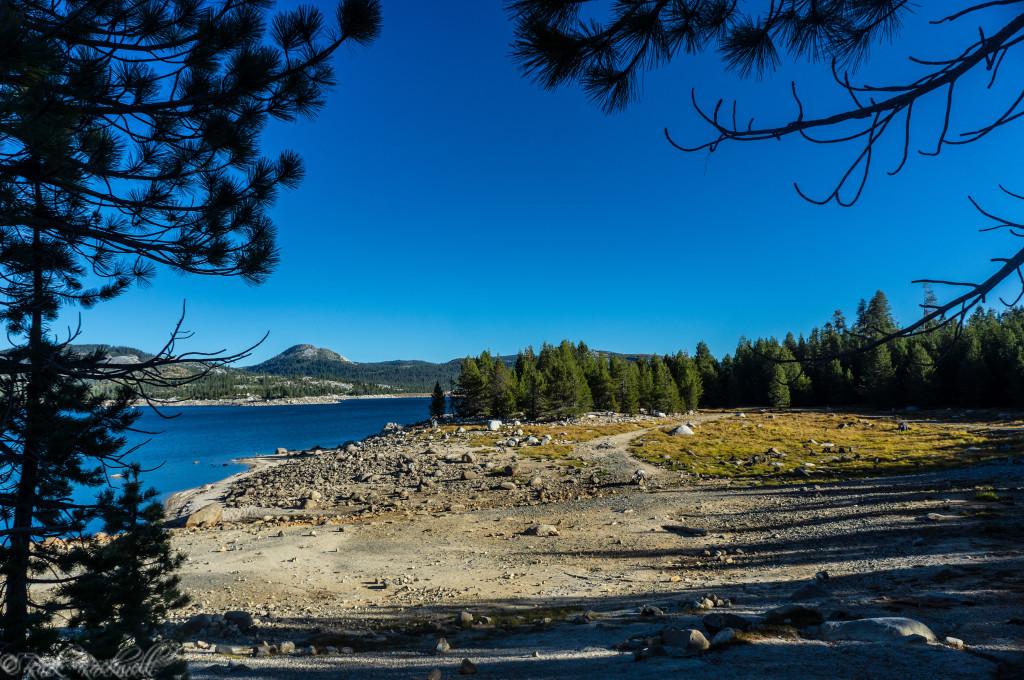 As I proceeded along the eastern portion of the lake, you can really get a feel for how big Loon Lake is. It would definitely make for a fun day of water activities like swimming, boating and fishing. Additionally, it could save you a lot of time and at least three miles by boating from the launch dock to the southeast portion of the lake; where you can continue further to some smaller reservoirs and lakes nearby.
One particular portion of the lake really stood out to me – giant boulders. This one boulder in particular was huge and it definitely struck a chord with my inner child cause all I could think of was figuring out a way to get on top of the boulder. I was unsuccessful in my attempts. But there will be a next time.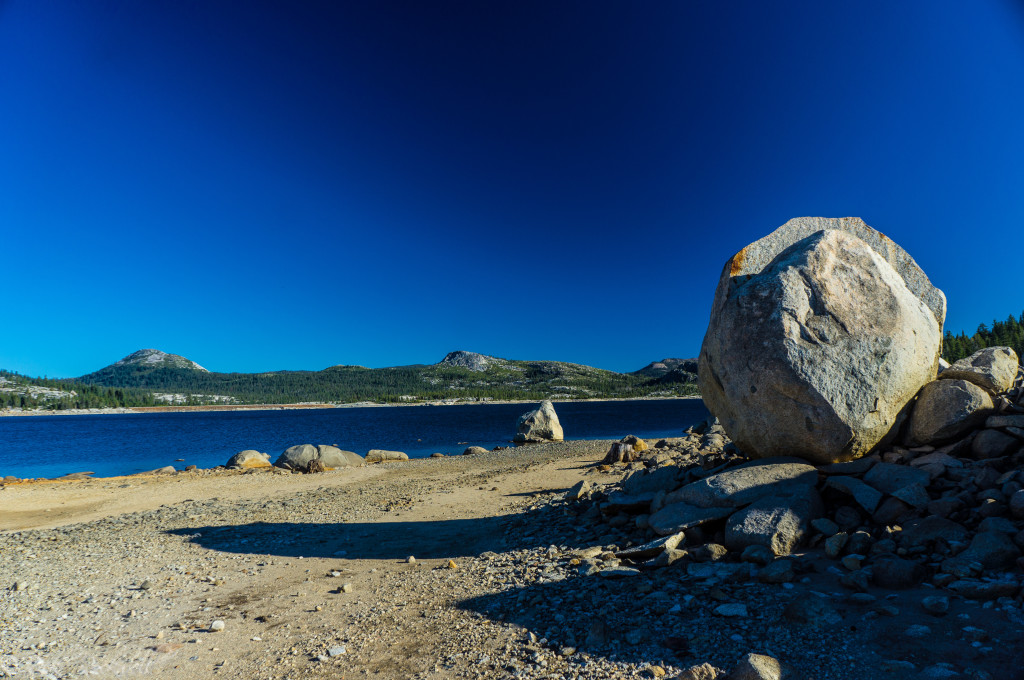 I think Loon Lake would look prettier in the winter time with snow all around it. Even in October, the granite walls made the lake appear similar to the rest of the Crystal Basin lakes not named Wrights Lake.
I spent a good hour strolling around Loon Lake and decided that was enough for the day. I plan on heading back out here in the summer time so that I can explore the other nearby lakes.
Final Words
Loon Lake is a versatile reservoir that not only offers fun in the summer time, but also the winter time. It's also a great starting point for further adventures.
Check out more of my Crystal Basin adventures.