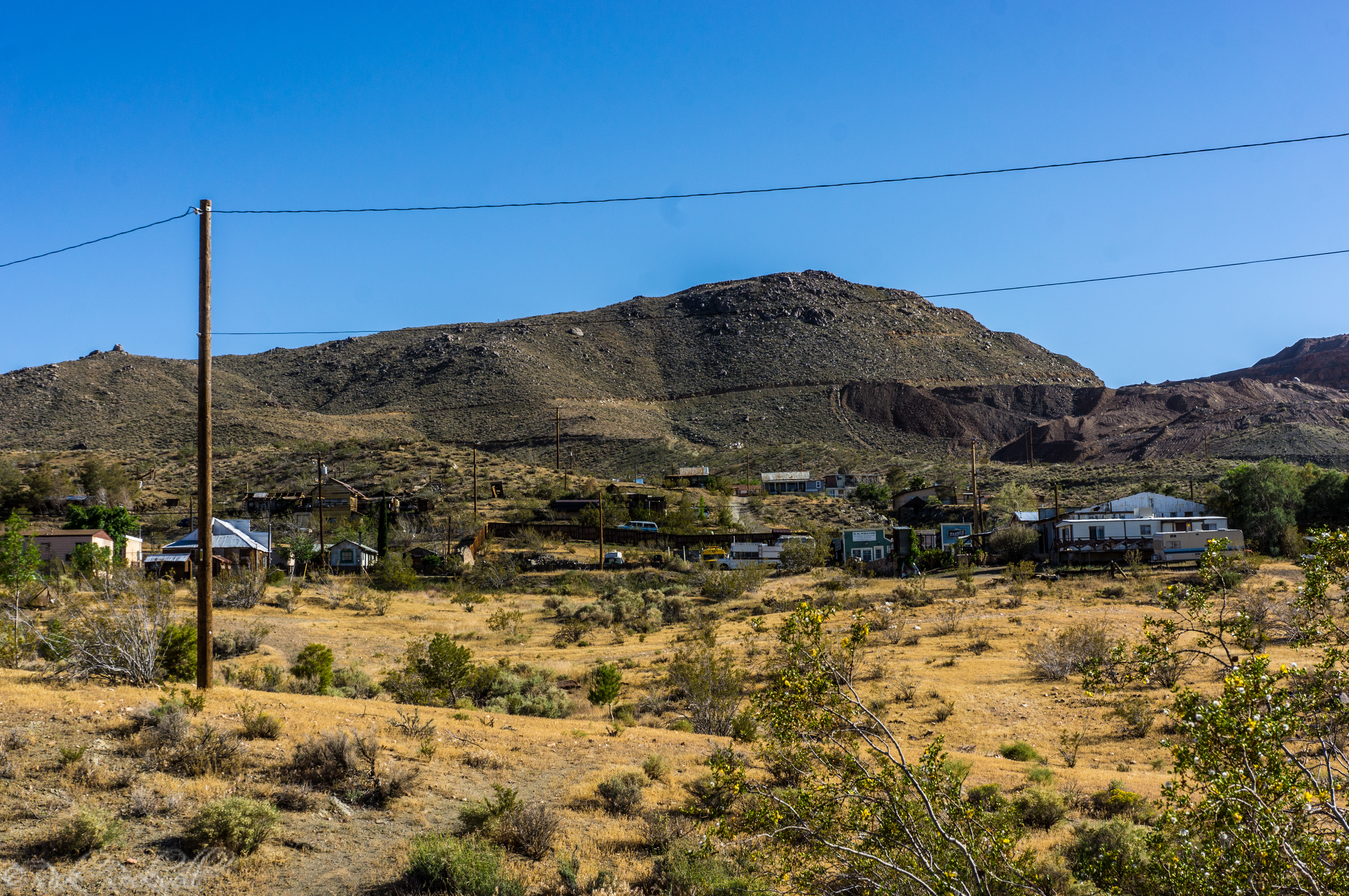 (Last Updated On: September 14, 2016)
California is littered with old mining towns barely hanging on to their existence, dangerously flirting with ghost town status. One location that comes to mind is Iowa Hill. This Placer County gold rush town is sadly fading away into the history books. But, unlike Iowa Hill and other towns on life support, Kern County's Randsburg has fully embraced the label of a ghost town. In fact they even boast of being the "Living Ghost Town".
Never before have I seen a community cherish this label like Randsburg does. Technically speaking, with roughly 70 fulltime residents, there's still a faint pulse in Randsburg that dispels any label of being an official ghost town. But, don't tell that to any of the residents as this has become their identity and main tourist attraction.
Randsburg is also the friendliest mining town I've ever visited. The residents do a great job at maintaining the overall historical ambience of a late 19th century – early 20th century mining town. And, there's no finer example of this than at the Randsburg General Store.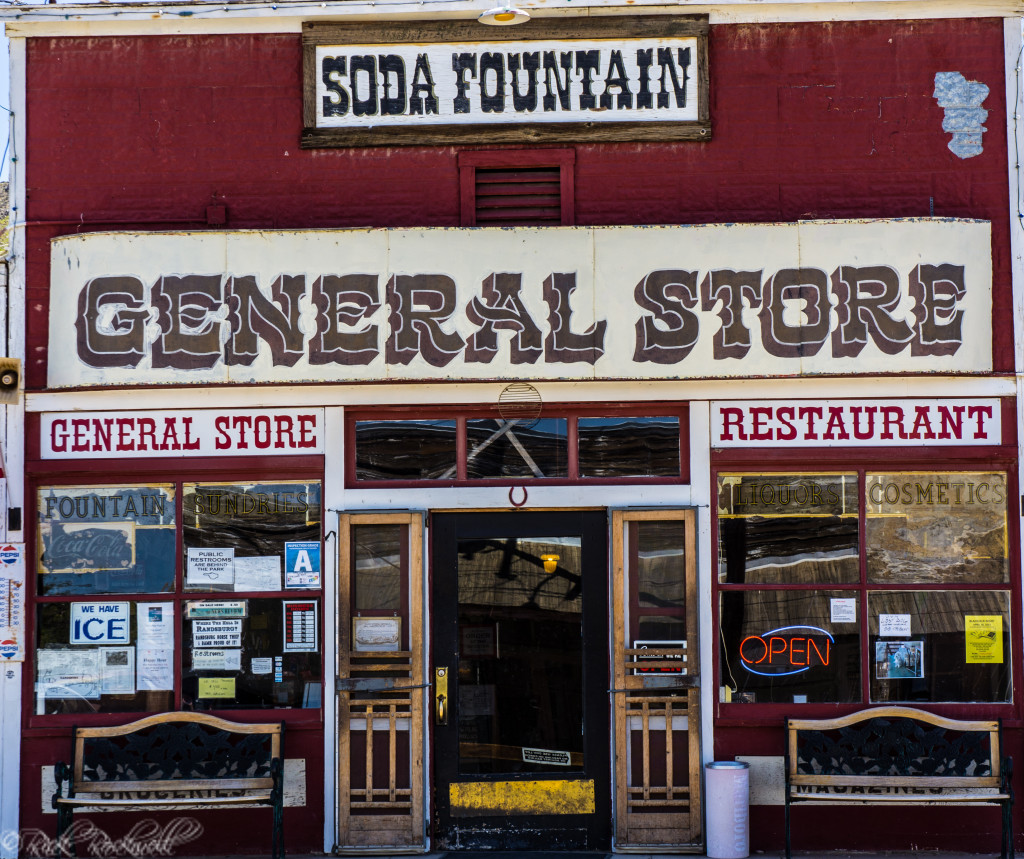 Randsburg General Store
In late 1896, as the camp was expanding into a mining town, the Randsburg Drug Store was built by Nicholas Miller. Unfortunately, over the next few years, the store burned down several times due to large fires that swept through the town. In 1904, after another post-fire reconstruction, the famed Soda Fountain arrived from Boston.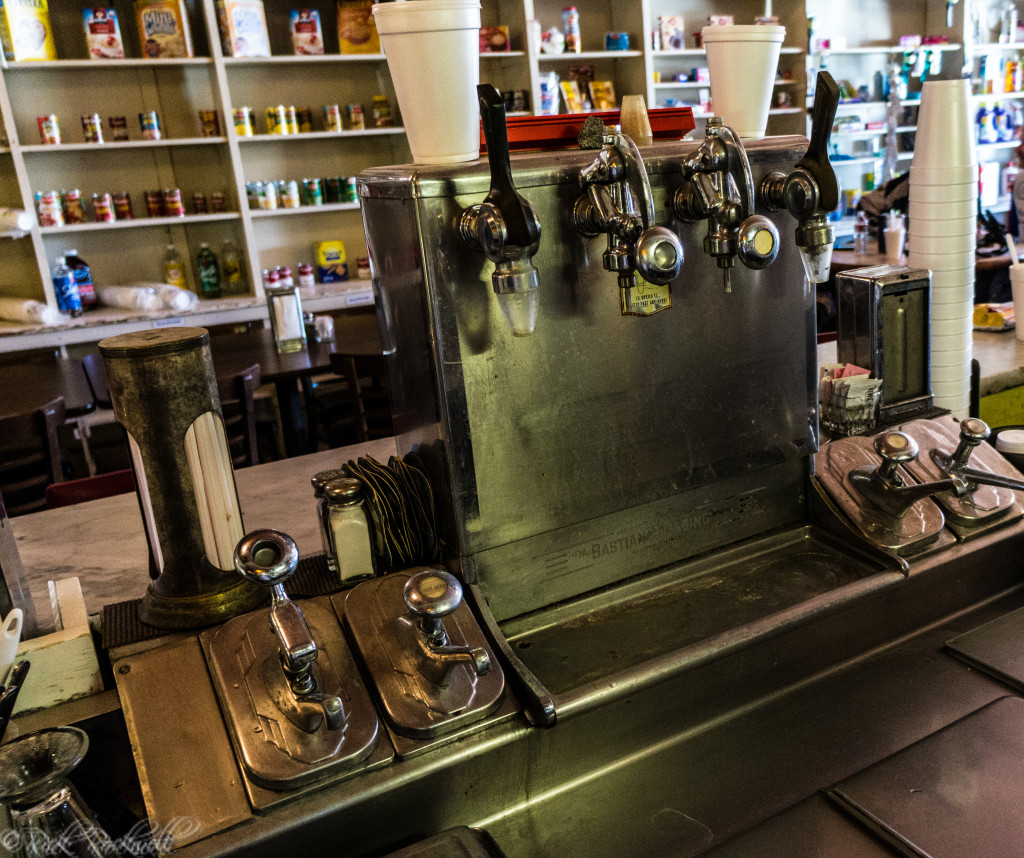 Through the next several decades, the store changed its name as it passed through the hands of various owners. In 1949, it was renamed the Randsburg General Store.
The one thing that remained a constant through all of the ownership changes, renaming and reconstructions, was the service that this store provided to the townspeople and those passing through.
Today, the Randsburg General Store (RGS) is more than just a local store and diner, it's the heart and soul of Randsburg. My visit to the RGS lasted a few hours as I had a chance to mingle with the staff and other visitors stopping in to check out the magic of Randsburg. The RGS has a "home" feel to it with a side of "welcoming". The inside is filled with antiques and shelves of dry goods on sale for the locals. But, the main attraction is the 50's diner style counter and the Soda Fountain.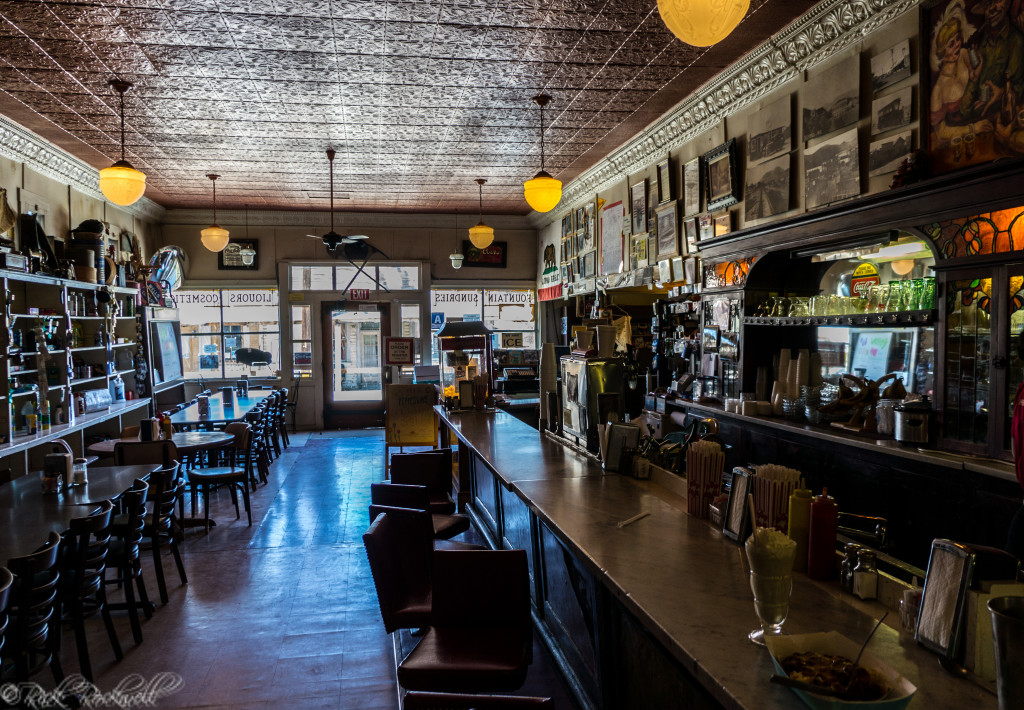 I was urged to try my very first sarsaparilla by the staff. So, I closed my eyes, and took a small, baby sip of the drink. I was expecting a sour taste and was definitely surprised when it tasted even better than root beer. Once my system registered how great the drink was, I chugged it.
I then chased down my hamburger with a chocolate milk shake. Both the shake and the sarsaparilla were memorable ventures.  I highly recommend you try at least one of them when visiting the RGS.
After closing down the local joint, and chatting with the staff, I went on to further explore the town. But, I must admit, leaving the RGS was kind of a sad. The warmth and friendliness of this place made me not want to leave. I walked into the place a stranger, I walked out of the place a friend.
For more information on the Randsburg General Store, check out their official website.
Strolling Down Butte Ave
Butte Ave is the main street through town. When you first enter Randsburg, you pass by the old jail and swing left into the historic downtown district, which consists of about a dozen old buildings. This is where the Randsburg General Store is located along with several other well known establishments like the White House Saloon. Additionally, there's the barber shop, the old post office and a few other stores dressed up in early 20th century exterior decor. If I had hair, I would have definitely stopped in the barber shop for a trim.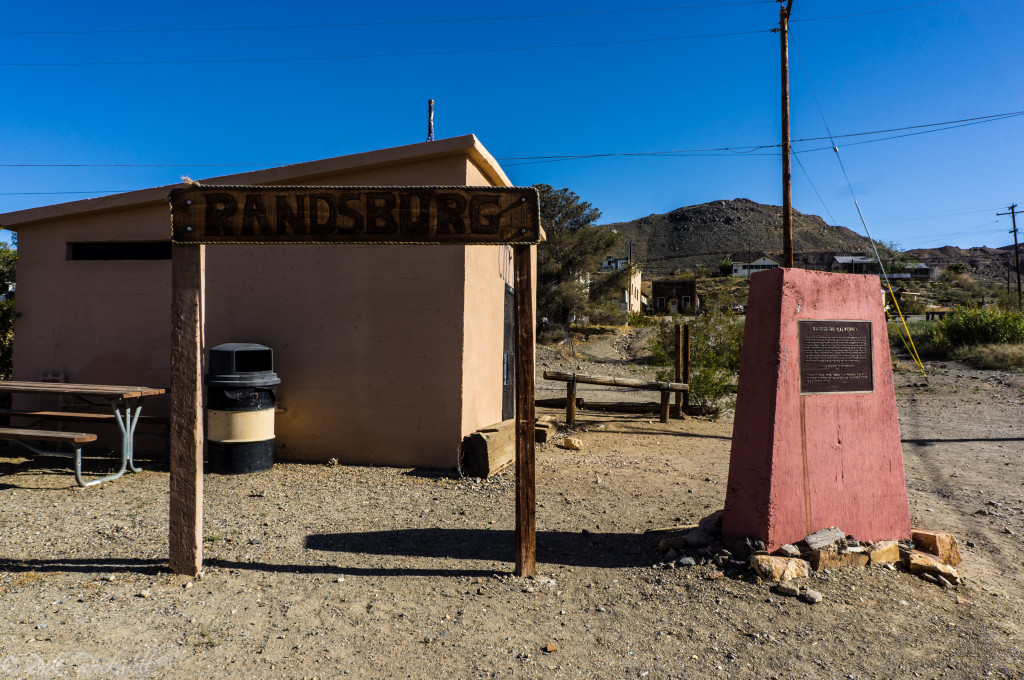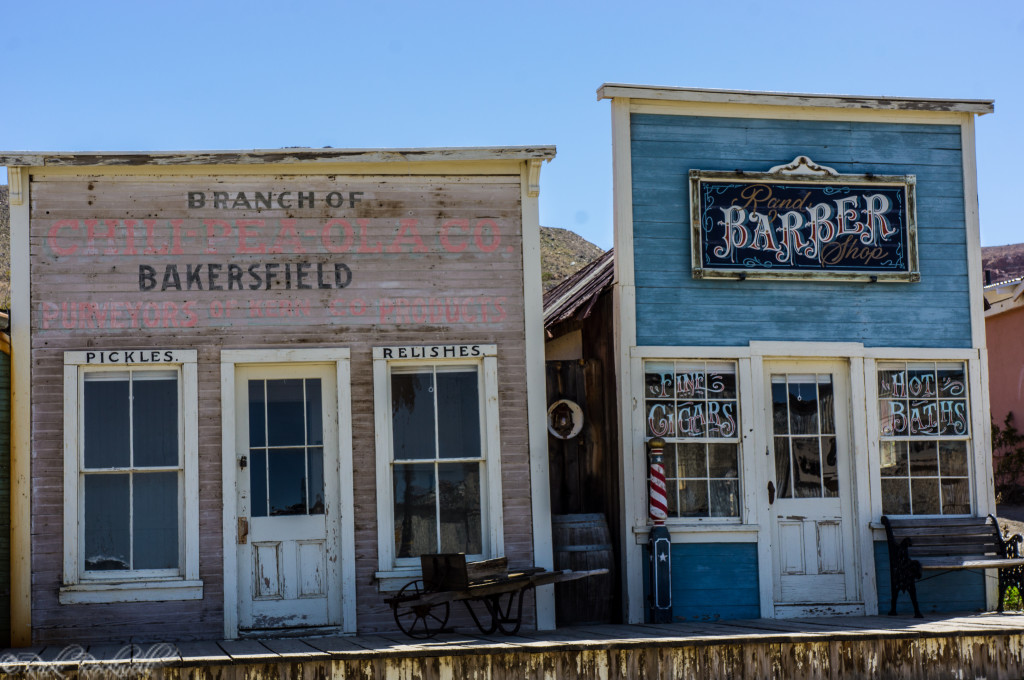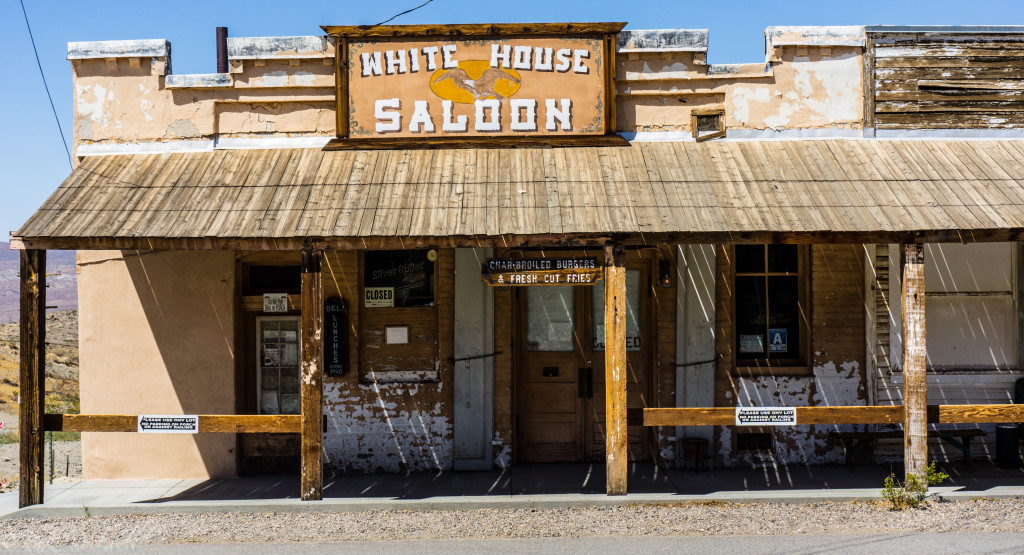 Heading east down Butte Ave, through town, takes you into the residential area. Some of the homes have survived for nearly a century. Mixed in between the residential area and the historic district is the Rand Desert Museum. Unfortunately, this place was closed when I strolled through town. The historical landmark is also at this location.
If you really want to learn more about Randsburg and the nearby towns, then check out the museum's official website. It has a wealth of information and is a tremendous resource of historical accounts.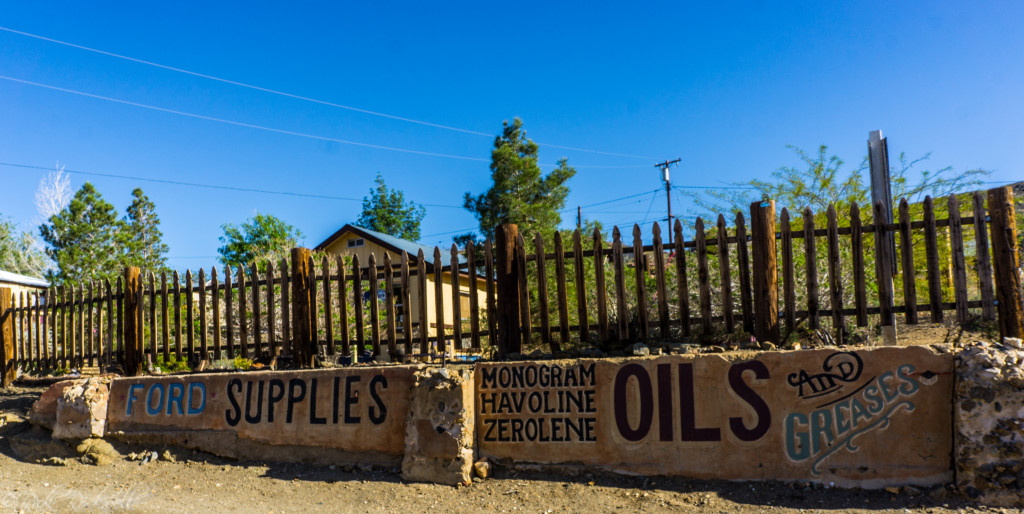 Another block down and you will come upon the oldest church in town – the Santa Barbara Catholic church. This church was originally founded in 1897 but burned down the next year. It was rebuilt in 1904 by Father Matthew Ternes of St. Malachy. The original bell is still present, but one side of the church is being propped up, which leaves me concerned about the long term health of this old church. It was closed when I was there, so I was unable to tour the inside.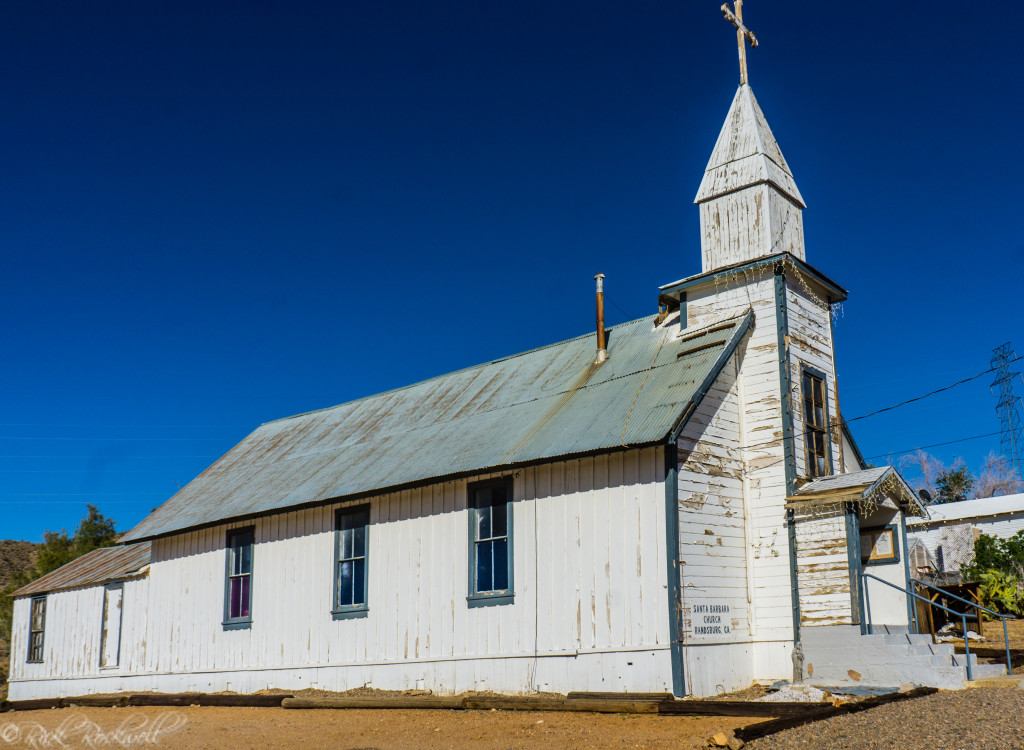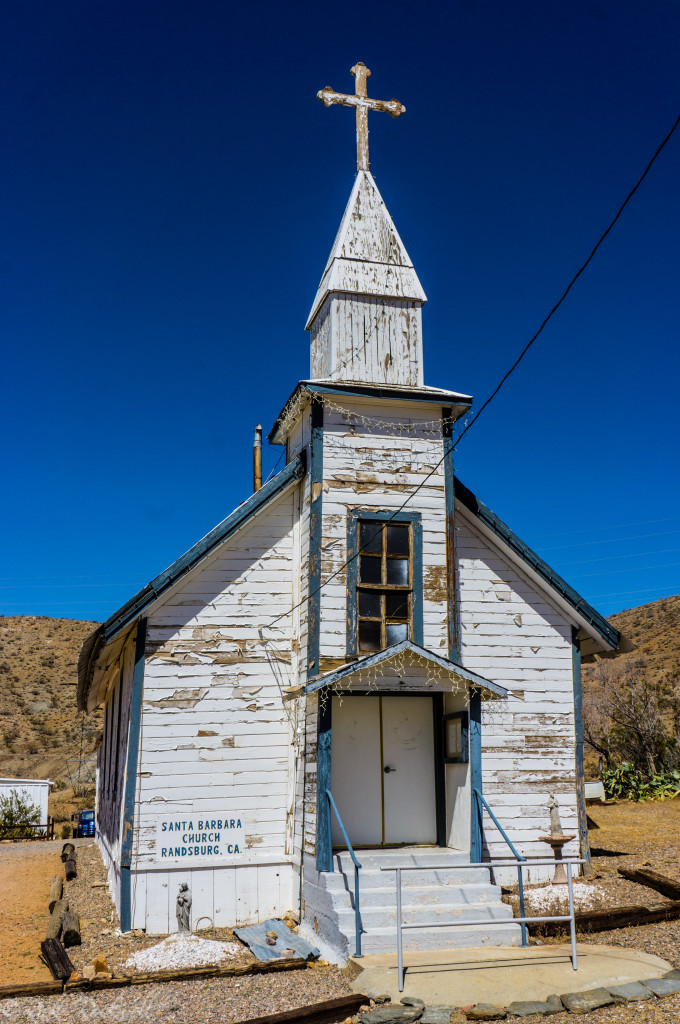 One street north of the Santa Barbara church, is the Randsburg Methodist Church. This structure was built in 1934. However, the Methodists were holding services in town beginning in 1898. Apparently, the Methodist Church doesn't hold services anymore.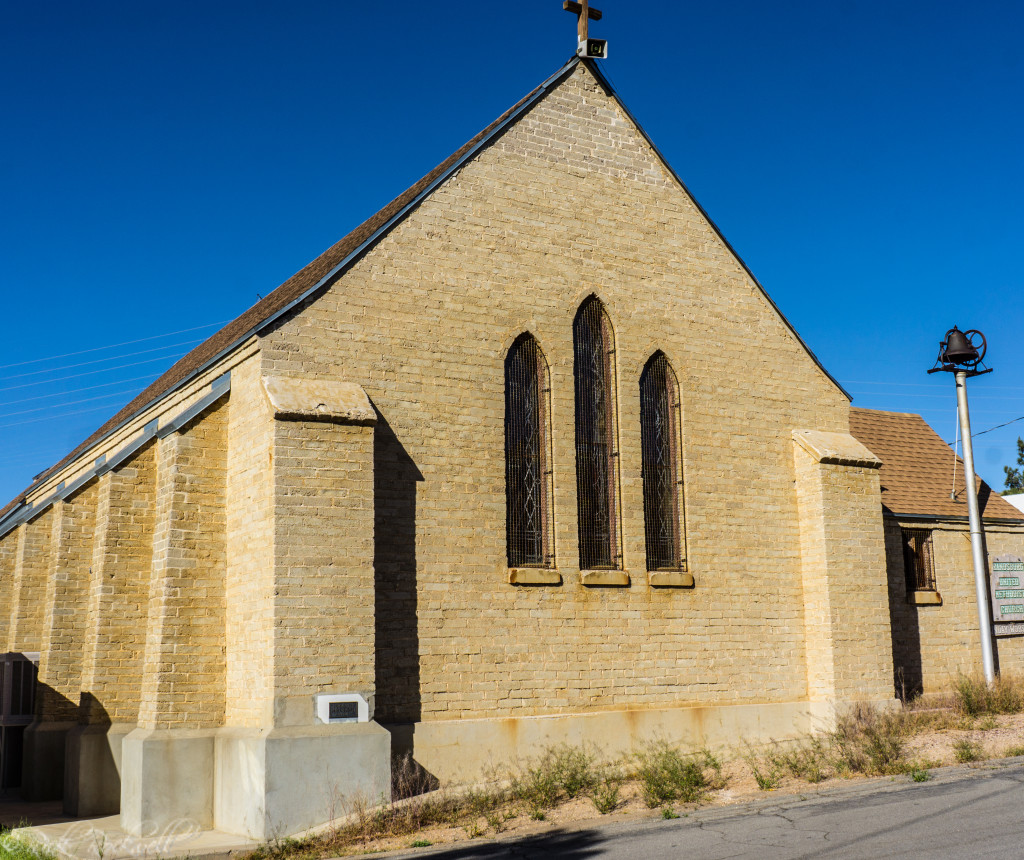 I didn't see any other churches in town. But, Randsburg has had a long history of denominations out to save the souls of the miners, the outlaws and the common folk since its birth.
At the outskirts of the eastern side of town, is where many of the old mining equipment and structures are located. It's like a living shrine to the mining era which at one point propelled this town to over 3,500 residents and hundreds of structures. It reshaped the Mojave desert and helped to create numerous little mining camps and towns nearby like Johannesburg, Red Mountain, Garlock and Atolia.
The Randsburg Post Office
Typically, most mining camps aren't officially considered a town until they have a post office. Randsburg's Post Office was first established in 1896 with the inaugural post master being F.M. Mooers. It was originally located in D.C. Kuffel's store. Unfortunately, two major fires forced the town to move the post office in 1898 to a new adobe building which was later known as Rinaldi Market.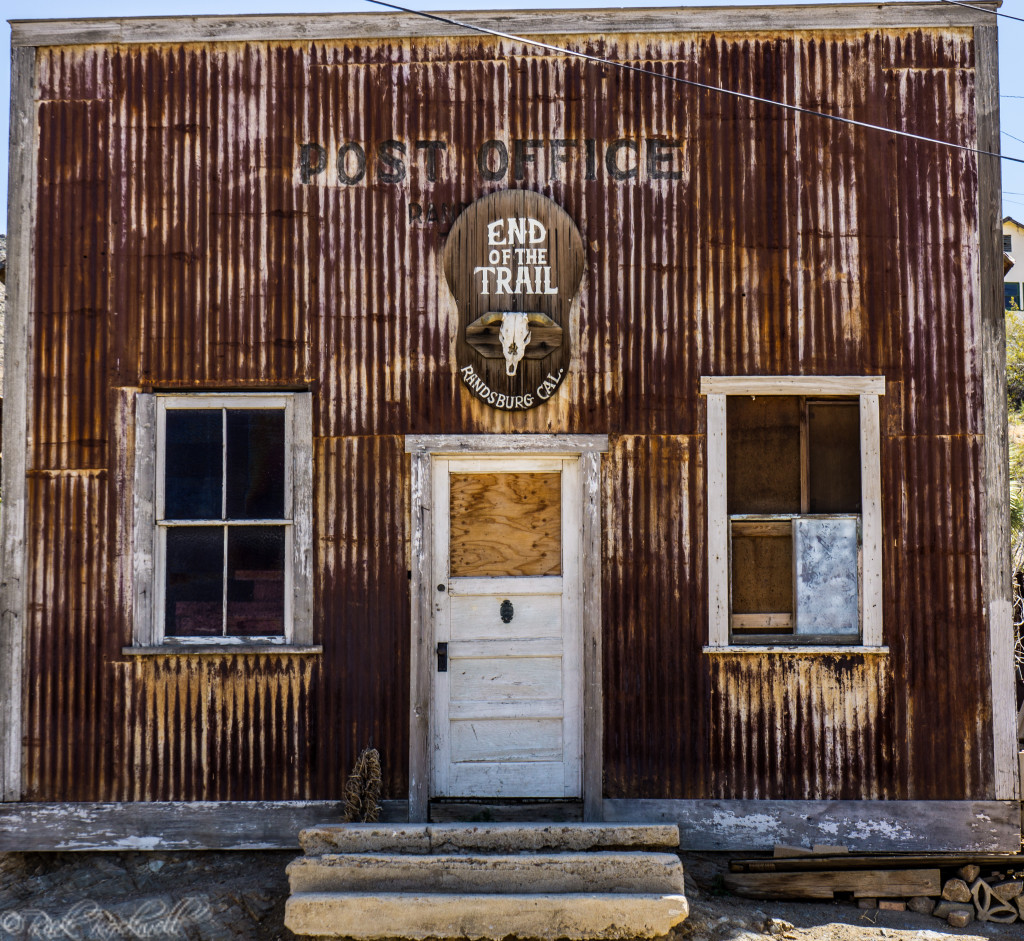 In 1910, the post office would move again, this time to the location in the picture above. It would remain there until 1940, before moving into another adobe building located next door to the Randsburg General Store.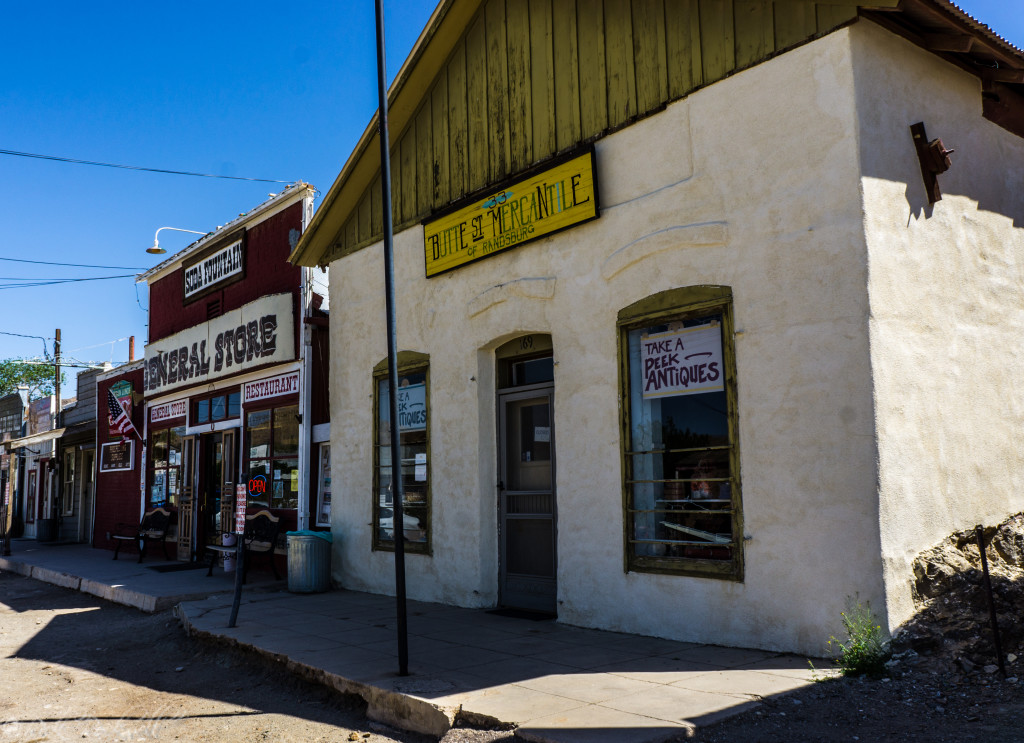 The post office would move for the final time in the early 80's to its present day location near the Opera House.
I've never seen a town's post office move so many times. It was like a game of musical chairs. I have to thank Bart Parker of The Rand Desert Museum for helping me figure out all of the locations.
The Magic of Randsburg
The town has been used in videos, photo shoots and a few movie scenes. None more famous than the 2011 film Cowboys & Aliens starring Daniel Craig and Harrison Ford.
I believe that there's a certain magic when visiting Randsburg. It's this magic that keeps the town alive and attracts thousands of visitors each year.
First, I attribute some of the magic to its location. It's off Highway 395 out in the Rand Mountains. When you first turn off 395, you can't see anything but desert. It takes about a mile before you start seeing some signs of civilization and then as you start swinging south, the town pops up out of the mountains. This feeling of isolation adds to the overall ambience.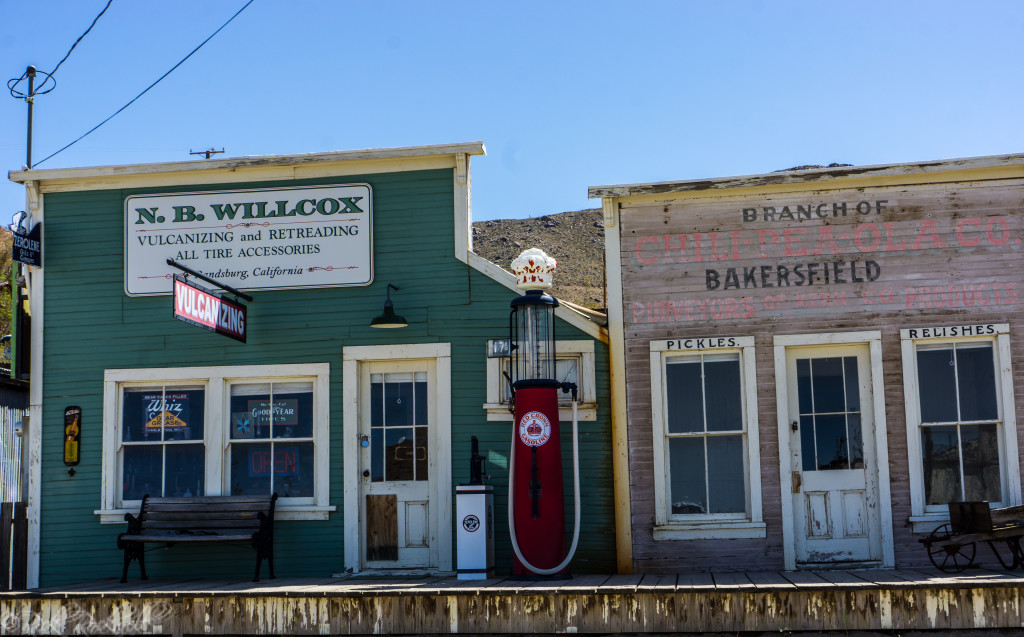 Once in town, Randsburg is sparse enough to remain small, old enough to pack plenty of history, and friendly enough to flow with charm. It's a place where preconceived notions go to die. After you interact with the locals and the town itself, you leave with a memorable experience in tow. In fact, the experience makes some of us long to go back.
Randsburg is also a popular destination for off road vehicle enthusiasts. I for one, see no joy in riding through the Mojave Desert. But, the town has benefited from this tourist boom.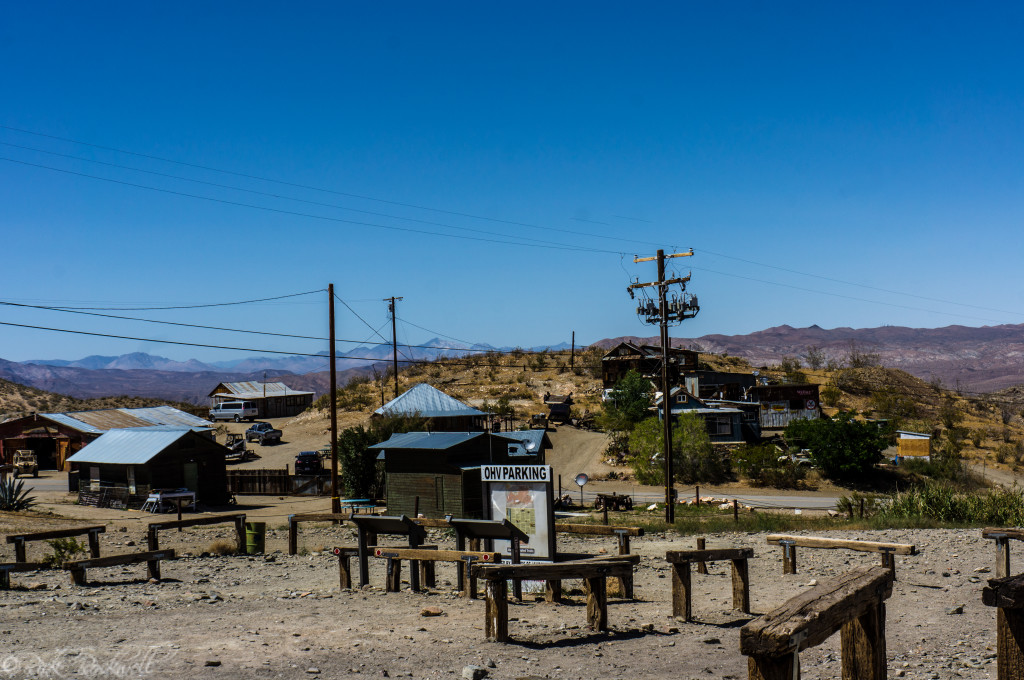 Final Words
Anytime you can explore an authentic mining town, I suggest you do it. This part of California is fading into history. Towns like Randsburg are becoming more rare. Visiting places like this will also help to support its livelihood. There's a magic and a charm to Randsburg and I recommend taking a drive out there in the non-Summer months.
Directions
From Ridgecrest – take Highway 395 South for about 15 miles. Make a right onto Redrock Randsburg Rd. and travel for 1mile until reaching town.
From Bakersfield – Take Highway 58 west for 55 miles. Take Highway 14 toward Bishop/Mojave for a 1/2 mile and then turn left on CA-14 N/Midland Trail for 17.5 miles. Make a right onto Redrock Randsburg Rd. and travel about 20 miles until town.