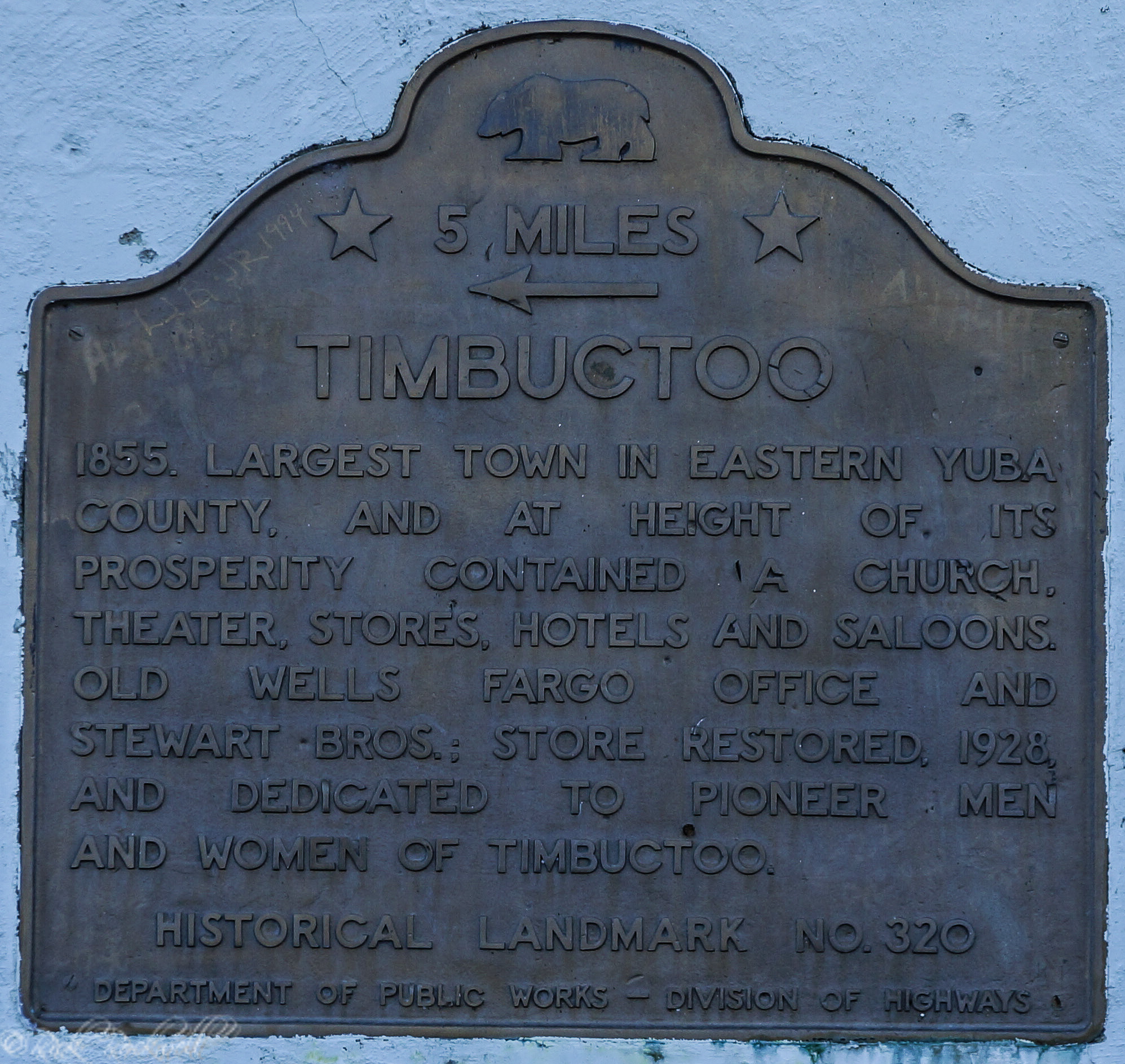 (Last Updated On: January 4, 2020)
Californian's don't have to journey to Africa or trek off to a remote location in the middle of nowhere to discover Timbuctoo. Just a 30 minute drive down Highway 20 from either Marysville or Grass Valley will lead visitors to the location of a town that once rivaled its African counterpart in tales of fame and fortune.
The Discovery of Timbuctoo
In June of 1848, Jonas Spect discovered gold at what was soon to be named Rose's Bar (Rose Bar) along the Yuba River. Unfortunately, it wasn't as large enough of a finding that Spect was hoping for. So, he decided to move along the river to see if he could discover "paying quantities" of gold. Shortly after Spect moved up the river, John Rose and his men arrived near where Spect first found gold. They established some diggins and soon built a store nearby. Eventually, their location along the Yuba River was dubbed Rose's Bar (Rose Bar) after John Rose. Spect would also open a store at Rose Bar, but not before finding more gold just above Timbuctoo Ravine. His location bore the name Spect's Camp and it's what ultimately drew the attention of waves of miners due to the amount of gold Spect found.
Just up the river, a group of men from Rose Bar decided to dam the river and mine in the riverbed. They found a great deal of gold, which made many of them rich. Unfortunately, the rains came and wiped out the dam and the diggings. One of these men was William H. Parks who eventually sold his claims and built a store, bakery and boarding house at this location. The camp would soon be called Park's Bar (Parks Bar) and it was arguably the most populous place in this region prior to Timbuctoo.
To the Ravines
Due to seasonal rainfalls, the Yuba River would rise and wipe out the miners' efforts to find gold in and along the river. This forced the miners to move inward to the ravines to search for riches. Within a short time, small mining camps grew along these ravines. One of the first camps was called Gatesville after a miner named Gates. Eventually, it would grow into a town and be renamed to Sucker Flat, which still exists today. Within a few years, Sucker Flat overtook Rose Bar as arguably one of the most prominent towns of the area and many businesses would move from the bar to Sucker Flat.
All around Timbuctoo Ravine, and along the Yuba river, camps continued to pop up as miners flooded this region. Cordua Bar, Cape Horn, Saw-Mill Bar, Landers Bar and Kennebeg Bar were some of these camps that would be "worked out" before they ever really grew into prominent towns. Across the Timbuctoo Ravine was a camp called Sand Hill. It eventually became a thriving town where miners, their families and businesses were entrenched. Unfortunately, it was soon realized that this town was sitting on top of more gold and it was eventually wiped off the map with hydraulic mining. The Sand Hill townspeople would move across the ravine to Timbuctoo and help solidify this place as the main town on the eastern portion of Yuba County.
Origin of the town's name of Timbuctoo
It appears that the ravine first bore the name of Timbuctoo, which eventually led to the town taking the same name. However, there's some historical debate as to how the town and the ravine first got the name of Timbuctoo.
The most historically accepted origin of the name Timbuctoo comes from a story that when the miners moved from the river inward to the ravine, a "negro" was already there actively working the area for gold. Apparently, a Rose Bar citizen and store owner William Monigan along with L.B. Clark are "credited" with calling the ravine and the town Timbuctoo after meeting this "negro" miner.
Another theory as to how the town bore the name of Timbuctoo was from a popular song of that era that had the following lyrics: "He was a miner from Timbuctoo."
Some journalists from that era believed that the town got the name of Timbuctoo because it felt like it was in the middle of nowhere. A second belief was that the name was derived from the tales of large findings of gold like the African city of Timbuktu (Timbuctoo). A third belief was that the town received the name due to how hot it got during the latter summer months. In fact, some described it as hot as the Sahara.
One more historical attempt at detailing the origin of the town's name can be found in a January, 1873, edition of the Marysville Daily Appeal. A correspondence to the paper stated that a resident of Rose Bar named Captain Mace would frequently disappear from town to mine near where Timbuctoo was established. Eventually, more miners would head out this way to look for gold. In 1850, supposedly one miner within a company of men had a book called "Travels in Africa." This miner would dub one of his peers as the "Emperor of Timbuctoo" due to his peer often spending a great deal of time mining alone in the area. Supposedly, this is how the town and the ravine got their names.
And lastly, a more colorful tale of a minister who preached against gambling ended up one day immersing himself in a game of Faro. "Bucking the tiger" was a common term for people gambling with Faro as it often referred to the early card backs that had a tiger on them. This reputed minister was apparently named Tim and after he was found gambling, miners would joke and say "Tim bucked too."
Timbuctoo is Booming
Miners' cabins were built in the area soon after gold was discovered nearby. The first home to be built in town was credited to William Gregory in early 1855. Soon after, Jacob Dufford built the first hotel and another businessman named Stewart built a store. Within a few short years, by 1859, the town had the following: two hotels, six boarding houses, a bank, a drug store, two general stores, a blacksmith shop, three shoe shops, three clothing and dry goods stores, two carpenter shops, a barber shop, a lumber yard, a livery stable, three bakeries, two cigar and tobacco stores, one theater and one church.
The union church was built in 1859 by subscriptions from the citizens. In 1856, the first school was housed in a local building and kept by Mr. Potter. It wasn't until 1862 that the first public school was built.
The Timbuctoo Theater was completed by May of 1859 and seated between 400-800 people. It was a wooden theater with a brick basement and was frequently used by traveling theater companies. Additionally, the theater also held many political debates, doubled up as a skating rink and was also a place of worship after the town church was removed in 1878.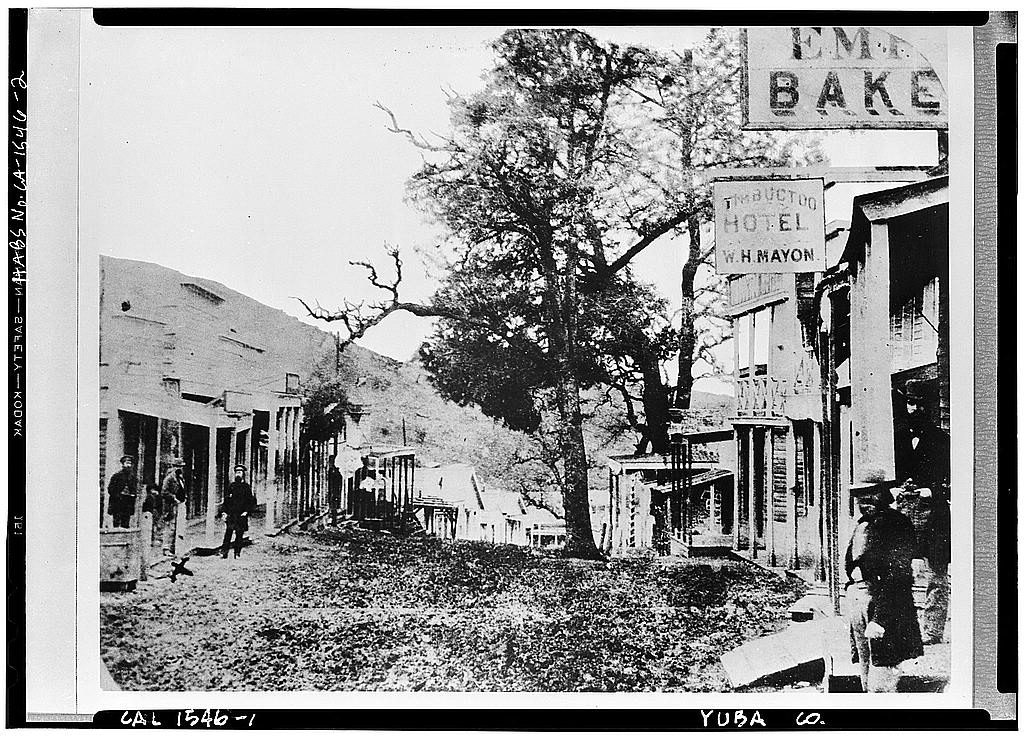 The Timbuctoo Cemetery
The Timbuctoo cemetery was founded in 1855 after three men were shot and killed by Jim "the terror of Timbuctoo" Webster. Some of the early miners of this region were buried there as were some of the town's Chinese population. This cemetery still exists today and there are over 80 interments, according to Findagrave.com.
There's evidence that Timbuctoo's cemetery wasn't the first cemetery situated in/near town. According to an article from the Oakland Tribune in August of 1912, an "ancient cemetery" was located near Timbuctoo on a winding bank of the Yuba River. This cemetery was the final resting place for many young men who died from cholera in 1849. They contracted this fatal ailment during the travels to California. At the time of the article, the cemetery was deserted and only one headstone still existed as a reminder of these graves and the lives of these men who came during the Gold Rush.
Law and Order in Timbuctoo
For the most part, Timbuctoo was generally considered a peaceful place with distinguished, hardworking and well-mannered residents. But, no town is perfect and there were numerous criminal and tragic occurrences that took place during the town's rise and fall. Additionally, there were many "rough elements" that passed through town or nearby Timbuctoo, but none more notorious to this town than the murdering highwayman known as Jim Webster.
Jim "the Terror of Timbuctoo" Webster
Webster is credited as the founder of Timbuctoo's cemetery due to murdering three members of his gang. He shot each man with his revolver and left them dead in a ravine near town. From 1855 to 1857, perhaps no other criminal in the region was more feared and loathed than Webster. He terrorized the area, robbed travelers and murdered those who got in his way. Webster was a wanted man in both Yuba and Nevada Counties for his long list of reported crimes. Legend has it that he was eventually killed by a member of his own gang. But, not before Webster continued his criminal ways, had shootouts with lawmen, escaped jail at least once and established himself as one of the most notorious criminals of this era.
Other notable events
Mining disputes were common in Gold Country, and Timbuctoo was no different. In 1855, a dispute led to three men being murdered by members of Parks Bar (Sacramento Daily Union, 16 February 1855).
In 1856, there was a publicly disputed event that took placed dubbed the "French Whipping affair" where a French man in Timbuctoo was publicly whipped for an alleged act.
In 1857, a respected citizen of Marysville George Misner committed suicide by slitting his throat with a razor.
In 1859, a shooting took place in the town's saloon when two gamblers got into a dispute over a hand of Faro. They asked a man named Jones to basically resolve the dispute. When he gave his "verdict," one of the angry card players named "Red" Dobbins disagreed with Jones' opinion and shot him. (Sacramento Daily Union, 2 March 1859)
Around July 4th of 1860, two townsmen had a disagreement and decided to solve it by shooting at each other. Nobody was hurt in this encounter.
Timbuctoo in the 1860's
In April of 1860, the Marysville Daily Appeal reports that William Landrigan opened his hotel and had a huge ball for everyone to attend. Landrigan would go on to be credited as the owner of the Timbuctoo Hotel. It's unclear as to when he took over this hotel from W.H. Mayon who can be seen as the owner in the 1859 picture found earlier in the article.
Another noteworthy attribute of Timbuctoo was that this town became well-known for its dances/balls. It seemed that almost every year, the town had some large ball and people from neighboring towns would come to enjoy the night in Timbuctoo.
When the Civil War broke out on the East coast of America, the town of Timbuctoo openly supported the Union. In May of 1861, many of the townsmen took to the streets to cheer and shoot off guns for the Union. They also took a large American flag to proudly display their support. (Daily Alta California, 27 May 1861)
In December of 1861, floods from the Yuba River took out the bridge near Timbuctoo and Parks Bar. (Daily Alta California, 11 December 1861)
By the summer of 1862, the Timbuctoo Fire Department was officially organized after legislation had passed. (Marysville Daily Appeal, 10 July 1862)
In 1864, the Pacific Coast Business Directory lists the following businesses in Timbuctoo:
W.C. Churchill was the town physician
George Cougdon was the butcher
Joh Cosgrove owned a general store
John Ditmore owned the theater and saloon
William Landrigan was the proprietor of the Timbuctoo Hotel
McAllis & Gordon owned a general store
A Thorp owned the Union Saloon
S.C. Wessels was the Postmaster, a druggist, bookseller and stationer
In 1866, The Independent Order of Good Templars formed the Dirigo lodge no. 205 in town. (Sacramento Daily Union, 26 February 1866)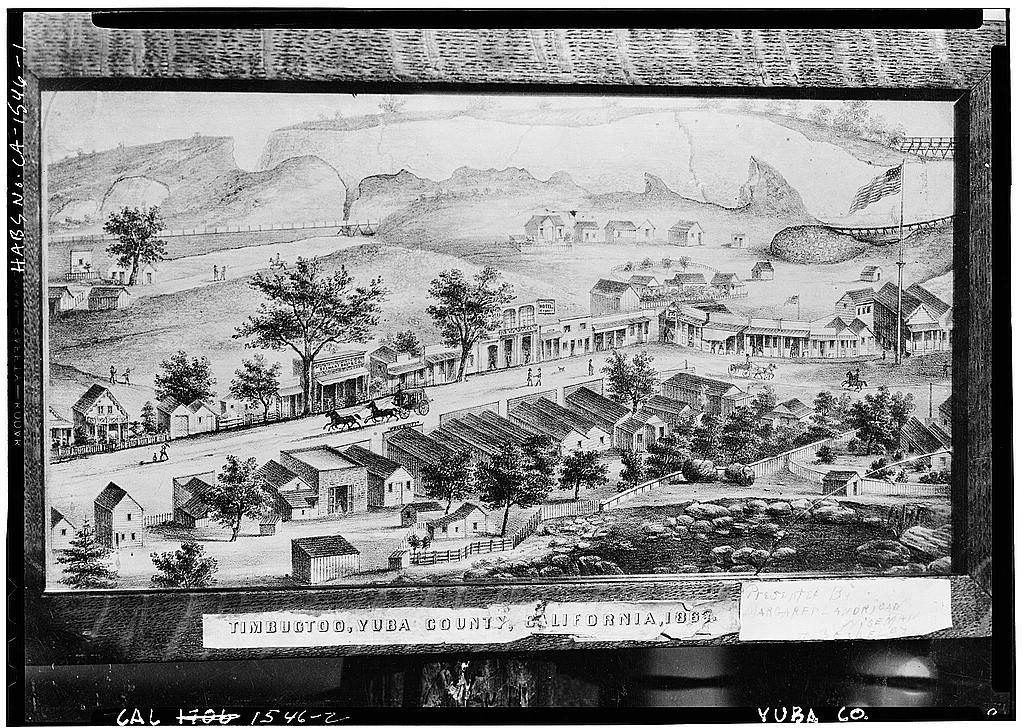 In March of 1867, a massive storm covered the town with hail. (Marysville Daily Appeal, 27 March 1867)
In 1869, William Landrigen was shot when a "negro burglar" named George Washington broke into the rear of his hotel. The burglar escaped the hotel and was eventually shot and killed by a member of the crowd that chased after him. Landrigen was sent to a hospital in Grass Valley to recover. The shot was very close to his femoral artery and almost proved fatal.
Timbuctoo in the 1870's
What may be a sign of post-traumatic stress, Landrigen put the Timbuctoo Hotel up for sale soon after his shooting. In early 1870, the following advertisement was in the Marysville Daily Appeal:
However, it appears that Landrigen wasn't successful or changed his mind with selling the hotel. In the 1876 Pacific Coast Directory, Landrigen was still listed as the hotel owner.
Also in 1870, a man named Michael Dumphrey was murdered. The trial didn't take place until September of 1873. (Marysville Daily Appeal, 26 September 1873)
In April 1871, a skating rink was built in the Timbuctoo Theater Hall. This rink was 68×36 feet and was a huge hit with the residents. (Marysville Daily Appeal, 1 April 1871)
1872 was a memorable year for Timbuctoo. Sadly, it was memorable for the wrong reasons. The public school was moved from Timbuctoo to the neighboring town of Smartsville. Notable businessman John Cosgrove had his store robbed for the second time within a year. It was eventually traced back to two Chinese men as the robbers. By the end of 1872, S.C. Wessels died due to illness and left the town in mourning. A.W. Thorp was named the postmaster and the post office was located in his saloon.
By 1874, the Chinese reportedly had almost all of the mining claims in the area, according to the Los Angeles Herald.
Massive storms in early 1875 saw the Yuba River rise higher than ever before in this region. It eventually carried away the Timbuctoo Bridge. (Daily Alta California, 20 January 1875)
In 1878, the town church was sold and torn down. The materials were used to build a barn. Most of the townspeople were now heading to Smartsville to attend church.
The Fire of 1878
On June 22, 1878, a fire broke out at Archie Thorp's saloon. It would quickly devour the saloon and post office before spreading to nearby buildings. This catastrophic fire also consumed a meat market, the first hotel and numerous dwellings. The town never truly recovered from this fire.

A few years later, in 1883, the post office was officially discontinued in Timbuctoo and moved to Smartsville.
End of the 19th Century
By 1890, the town was basically in ruins and the majority of people were gone. The Wells Fargo building was still standing, but just about everything else was abandoned or in ruins. The town was basically a few families and a small Chinese population. It's believed that many of the residents left town after the hydraulic mining had been shut down and the mines dried up.
A Nov 2, 1890 article in the San Francisco Chronicle had this to say about Timbuctoo: "There are a few places in the mountains which show such a complete decadence as Timbuctoo, and it is with a feeling of relief that it is left behind."
The Early 1900's
A May 24, 1909 article in the Feather River Bulletin had this to say about Timbuctoo: "It has now fallen into decay and there is hardly a vestige left to indicate that a popular town ever had been there. "
Also in 1909, the county recognized that the Timbuctoo Bridge was unsafe and needed to be repaired. In 1915, plans were drawn up to add a 24 foot extension to the Timbuctoo Bridge.
In 1919, the Guggenheims came to the region to do some gold dredging near Parks Bar. Many believed that both Timbuctoo and Smartsville could see a revival. Unfortunately, that never happened.
More notable events of the mid-1900's
In 1924, the Native Sons and Native Daughters' lodges in Marysville set out to restore the last remaining landmark of Timbuctoo – the old Wells Fargo/Stewart Store building. By 1930, the building was restored to its authentic exterior appearance and even housed a museum of the town's history. One notable item in the museum was a treasure box that was allegedly stolen by the infamous Black Bart from a stage that traveled between Rough and Ready and Grass Valley. Also in 1930, a historical marker was placed at Timbuctoo. Ruins of the old theater could still be seen at this time right next door. Apparently, Chinese people were living in the ruins.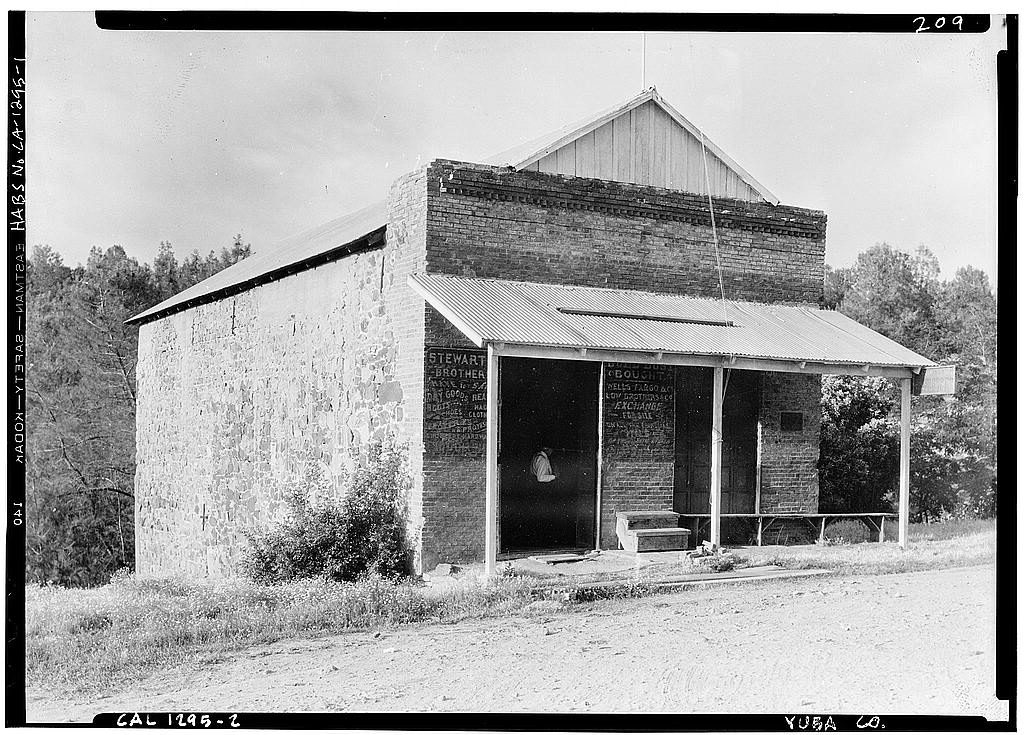 In 1929, an internationally known engineer named John O. Farish, who died in San Francsico, requested that he be buried at the Timbuctoo cemetery. He also requested that his parents, wife and daughter also be moved to the cemetery. The papers at the time picked up on this story. Apparently, John's father Adam T. Ferish was a pioneer of this town. (The Petaluma Argus-Courier, 06 Dec 1929)
In 1933, a sibling murder caught the region's attention when one brother killed another brother in Timbuctoo. This murder was highly covered in the newspapers of that era.
In 1959, the last pioneer resident of the town died. James Mortimer Hapgood was 87 years old when he died.
In 1970, an article in the Los Angeles Times talks about how only 3 people live in Timbuctoo and they didn't even socialize with each other.
In 1982, a husband and wife bought the town-site with the hopes of rebuilding it and adding replica structures. Sadly, that never happened. (Santa Cruz Sentinel, 18 Jul 1982)
Timbuctoo Today
A few homes, chickens and a few cows are all that's left of the once prominent town. From roughly 2,000 to 4,000 people in its heyday to maybe a handful today, it's quite remarkable how a town of this prominence just vanished from existence.
The rubble of the old Wells Fargo building is guarded by a gate. The cemetery still exists, but isn't easily accessible for visitors. The historic marker has been moved 5 miles away and placed along the side of Highway 20. Apparently, the marker had to be moved due to vandals knocking it over when it was located at Timbuctoo and also destroying the old Wells Fargo building.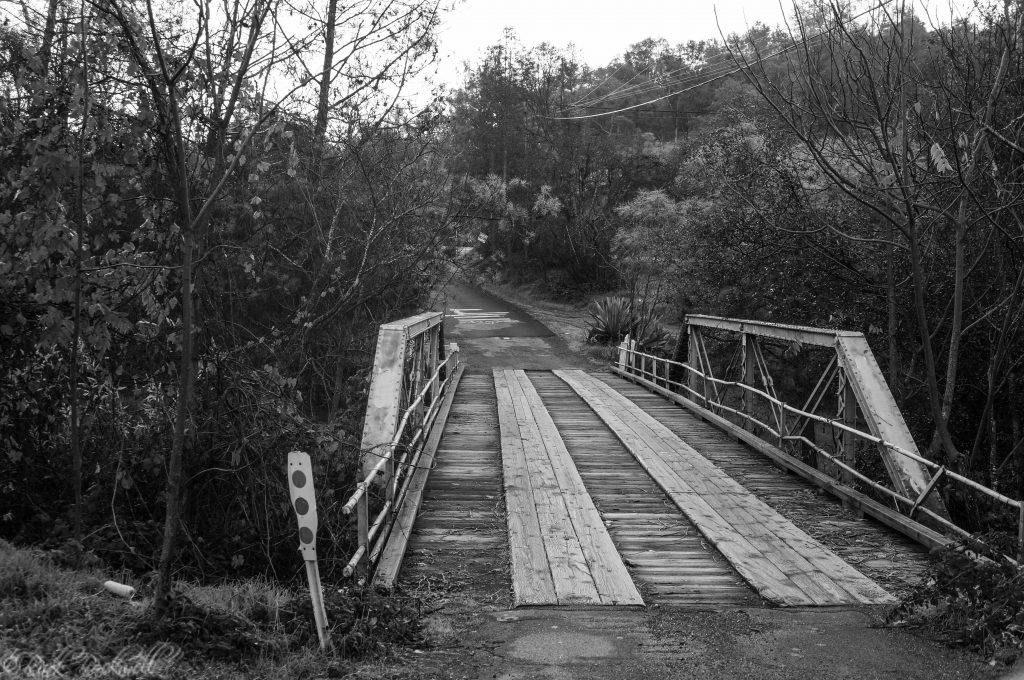 Final Words
Timbuctoo's rise and fall almost seems like a myth or a fairytale. Driving to the location, of where the town once existed, requires crossing over a one-lane bridge that doesn't inspire confidence. The unmaintained road through Timbuctoo still has a steep decline just like it did in the historic 1859 picture found earlier in this article.
As a kid, I often heard the term "Timbuctoo," but I never knew that the word actually represented a real city. It wasn't until high school that I learned it was a city in Africa. But, the word "Timbuctoo" seemed to be universally accepted as term to describe a place that was in the middle of nowhere and/or some far away location. After visiting California's Timbuctoo, I am now able to cross this experience off my bucket list and proudly tell my mom that I finally found Timbuctoo!
This article would not be possible without the following incredible sources in addition to the newspapers already mentioned:
"History of Yuba and Sutter Counties, California : with biographical sketches of the leading men and women of the counties who have been identified with their growth and development from the early days to the present," by Peter Delay, published in 1924
"History of Yuba County California," by Thompson & West, 1879

Location
Take Highway 20 to Smartsville and exit on Timbuctoo Road, a half mile beyond Smartsville. Slowly travel on the road and cross over the one lane bridge. You will eventually see the ruins of the Wells Fargo building fenced in on the right side of the road.
The historical marker is located 5 miles away, along Highway 20 at these coordinates: N 39° 13.760 W 121° 22.970