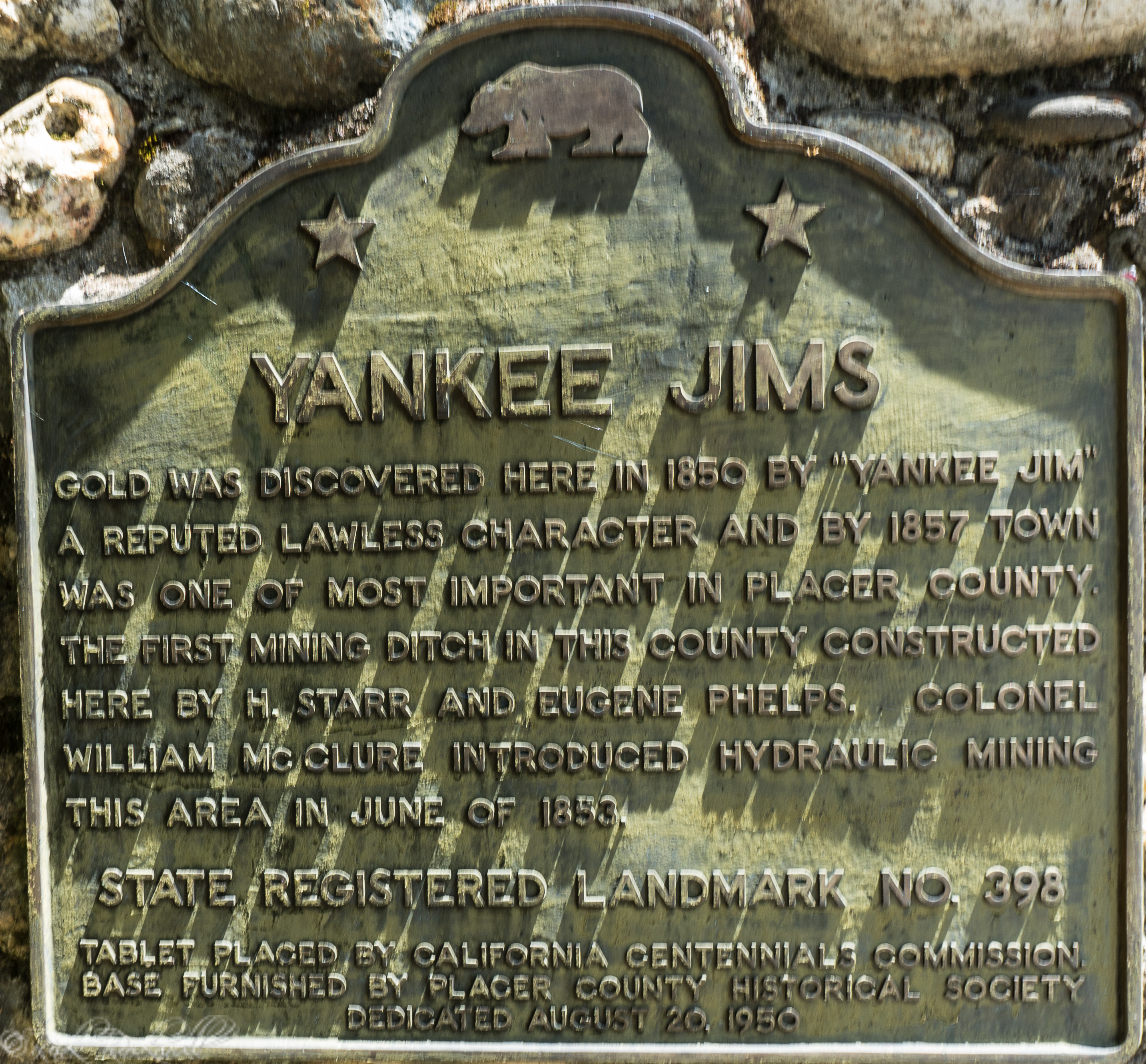 (Last Updated On: January 1, 2020)
Located roughly 3 miles west-northwest of Foresthill, in Placer County, Yankee Jims is a registered state historical landmark with an infamous past. The town was named after Yankee Jim; a notorious character who found gold while on the run.
Who was Yankee Jim?
The tale of Yankee Jim has taken on many forms over the last century. However, the most widely accepted historical account of Jim is that he was a bandit who specialized in stealing horses. Originally from Sydney, Australia, Jim Robinson discovered gold in 1849 just a few miles west to northwest of Foresthill.
Many historians believe that Yankee Jim was hiding out in this area when he stumbled upon the discovery of gold. Regardless of how he found it, Jim did his best to hide this discovery from nearby miners and camps. He came up with the idea of building a corral for the stolen horses on or nearby the location of where he found the gold in hopes to conceal his findings.
Jim apparently lived a few miles away from the corral, in a log cabin that is about a half mile east of modern day Foresthill. Unfortunately for Jim, news about the discovery of gold spread quickly and the region was infested with gold hungry miners.
Check out my article "The search for Yankee Jim and his gold" for another account of who Yankee Jim might have been
A Town is Born
Jim had no idea that hundreds, and eventually thousands, of miners would swarm into this region. Almost overnight, this little gold camp boomed into a flourishing town. Historical records show that the Gilbert brothers and a man named Thomas Farthing were early settlers of Yankee Jims as they arrived in 1850 after driving an ox team filled with supplies from Missouri.
Between late 1850 and early 1851, the first store was opened up in Yankee Jims by a group of men named Thomas Adams, James Cartwright and Ben Thomas who came from Illinoistown; an upstart mining camp that was about 10 miles west of Yankee Jims. These men had a large amount of mining supplies.
After the store was established, miners began to build cabins to withstand the harsh winters. By late 1851 and into early 1852, the town was thriving and gold mining was booming all around the region. A hotel, a few more stores and a post office were all established by 1852. The post office operated until 1940.
However, in June 1852, a massive fire almost completely destroyed the town. Newspaper accounts of that time, reported that fire broke out in three different places simultaneously. Eventually the three flames would connect and a huge fire would leave half the town "in ashes." The residents expected that the fire was due to arson.
Also in 1852, Yankee Jim was forced to leave the town after miners discovered Jim's horse stealing ways and wanted to hang him. Jim escaped the mob but left his fortune behind. To this very day, there are treasure hunters still searching for Yankee Jim's gold.
The Death of Yankee Jim
By late 1852, Jim had ended up in San Diego where he was caught stealing. Jim was convicted of attempted grand larceny and sentenced to be hanged at the gallows. However, Jim's hanging wasn't a typical one. According to the official site for The Whaley House Museum, a local newspaper wrote the following account of Jim's hanging: "He kept his feet in the wagon as long as possible, but was finally pulled off. He swung back and forth like a pendulum until he strangled to death."
In attendance at Jim's hanging was Thomas Whaley. A few years later, Whaley would buy the property where Jim was hung at and build a house there for his family. Shortly after the family moved into their new home, they began to hear footsteps moving about the house. According to a report in the San Diego Union, Whaley came to the following conclusion:
"Whaley described them as sounding as though they were made by the boots of a large man. Finally he came to the conclusion that these unexplained footfalls were made by Yankee Jim Robinson."
Whaley, his family and even visitors over 100 years later, were convinced that Yankee Jim has been haunting the place.
Nowadays, The Whaley House is considered to be one of the most haunted places in America. In addition to the ghost of Yankee Jim, ghosts of Thomas Whaley and his family are also reportedly haunting the place.
 The Town Keeps its Name and Perseveres
Despite running Yankee Jim out of town, the residents decided to keep the name and eventually would modify it from Yankee Jim's to Yankee Jims; which it remains to this day. After the fire, the residents worked hard to rebuild the ravaged town. Their hard work paid off as Yankee Jims soon rivaled any other town in the region.
In 1853, Col. William McClure introduced hydraulic mining to the region and blasted his way through the hills in search of gold. Yankee Jims became one of the most prosperous gold mining towns in all of California.
In 1856, the first newspaper titled the Mountain Courier was published by Messrs. It would end up going out of business after just three months. In 1857, E.B. Boust created the Placer Courier.  Also in 1857, the Democratic county convention was held in Yankee Jims. This was a true sign to the importance of the town. The Placer Courier would eventually change owners and moved in 1859 from Yankee Jims to Forest Hill. This was a foreshadowing of things to come.
By 1859, Yankee Jims had earned the reputation for having the region's top orchards. During that year, some of the fruit was proudly exhibited during the California Horticultural Society's Fair in San Francisco according to a 2012 issue of the Placer County Historical Society's newsletter. The late 1850's also saw a boom in children enrolled into school in Yankee Jims.
1860 brought more excitement as the telegraph made its way to town. By now, Yankee Jims had already solidified itself as the main supply center for many mining camps and towns nearby. Unfortunately, the town would suffer another fire in 1862 and it would wipe out most of Main Street.
Yankee Jims Road
In 1869, the Central Pacific Railroad was completed. A new railroad town named Colfax sprung up about 13 miles north of Yankee Jims and it absorbed the mining town known as Illinoistown. The elite residents of Yankee Jims saw this as an opportunity to create a road stretching from town to Colfax. In the late 1870s, work finally began on the construction of this road between towns. A seven mile stretch of road to the North Fork from Colfax was completed and an old wooden bridge was built to go across the American River. Unfortunately, the workers from the south (Yankee Jims) were unable to get past Shirttail Canyon due to its hard rock walls. Eventually, all of the men from Yankee Jims abandoned the project and the half constructed road became a black mark on the town.
A few years later, a miner named Chinese Tom and some 200 Chinamen that he employed decided to pick up where the townsmen left off. They blasted their way through the hard rock of Shirttail Canyon that had defeated the men before and finished the road in 1884.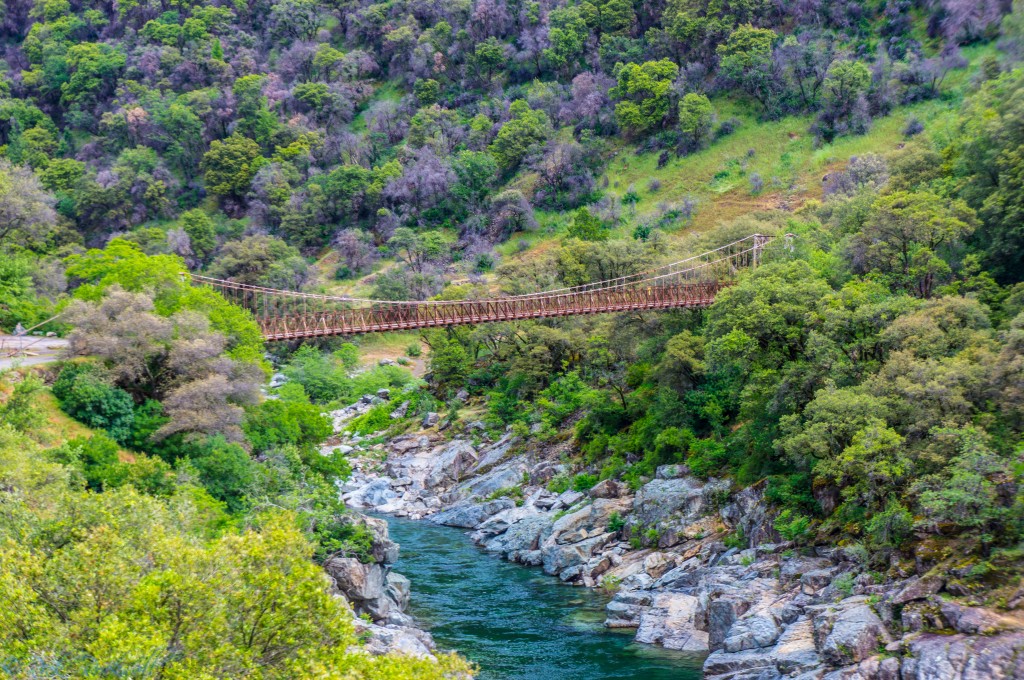 Folgers In Your Cup
In the fall of 1849, James A. Folger and his two brothers left for San Francisco. They would arrive by 1850 and soon began their endeavors. James was skilled at carpentry and was eventually hired by William H. Bovee to build a mill in San Francisco. It was called The Pioneer Steam Coffee and Spice Mills.
James worked there for a year and saved up enough money before heading out to the mines in search of gold. His brothers had already left while James was still working for Bovee. Folger ended up in Yankee Jims by 1851 as the town was just starting to grow. Folger's arrival at this time also means that he would have definitely come across the infamous Yankee Jim.
Over the years, James made enough money mining for gold and returned to San Francisco to become a full partner with Bovee in 1865. Within a few years, he bought out all of the partners and would rename the company to J.A. Folgers & Co. Over the next few decades, this regional coffee mill would become the American powerhouse known as Folgers.
The Decline of the Town
By the late 19th century, Yankee Jims was a shell of its former self. Many miners and families had moved to nearby towns like Colfax and Forest Hill due to their flourishing economy. In the early 20th century, most residents had left Yankee Jims and many of the structures no longer existed.
Modern Day Yankee Jims
Nowadays, there's not much left of the once infamous town. Just a few homes and historical markers are all that remain of this once mighty epicenter of Placer County. But the legends and lore of this town, its horse stealing founding father and the men who came seeking fortunes, still capture the imagination of all those who hear the name Yankee Jim.
Check out all of my Yankee Jim adventures.