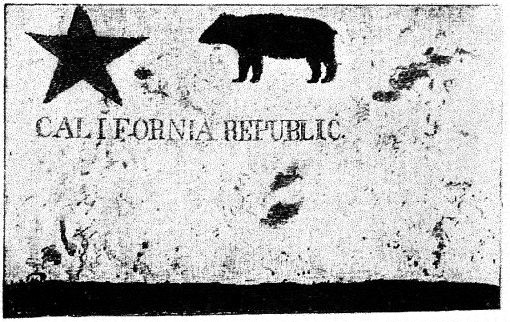 (Last Updated On: November 25, 2019)
Thanksgiving is a national holiday celebrated on the fourth Thursday of November where observers typically gather together for fabulous food, to visit with loved ones, possibly serve the homeless, and watch some football. It's often viewed as a joyous feast punctuated by food comas in front of the television.
This day of feasting and giving thanks is steeply rooted in tradition, but has seen its share of ups and downs since the first recognized thanksgiving event took place with the Pilgrims in 1621. Over the next two centuries, the Thanksgiving celebration seemed to ebb and flow on a National level, but it almost always remained a steadfast tradition with "New Englanders."
When California became a state, it entered the Union during a period of time where Thanksgiving had regressed as a unified day of celebration. Yet, through the ownership of two countries, a massive influx of fortune seekers during the Gold Rush, and becoming a melting pot for dozens of different cultures, California found a way to be thankful and to adopt this "east coast," "Yankee" tradition.
When did California first officially celebrate Thanksgiving?
To properly answer this question, we must first address the word "official." There are a few ways to look at this:
The first record of a "Thanksgiving Day" celebration.
The first official proclamation for a Thanksgiving Day.
The first official Thanksgiving Day proclamation as a state.
An 1846 Thanksgiving Day Reprieve During Mexican-American War
In 1846, California was still a province under the control of Mexico, but teetering on the brink of implosion. Six pueblos were considered hubs for this territory including Los Angeles, Monterey, San Diego, San Jose, Santa Barbara and Yerba Bueno. At the time, the majority of non-Native American inhabitants were of Spanish decent.
A year prior, Texas finally joined the United States after nine years as its own territory following their revolution from Mexico. It wasn't long after Texas became a state that the U.S. wanted to expand their borders further, but Mexico's boundaries were in the way. By May 13, 1846, after a few skirmishes with Mexican forces, the United States declared war on Mexico.
Eventually, U.S. soldiers made their way west to California where they were determined to claim the land for the United States under the umbrella philosophy of "Manifest Destiny." By land, and by sea, American forces took control of major pueblos and eventually claimed the territory for the United States.
Historical reports claim that American soldiers stationed in Monterey and Yerba Buena (San Francisco) celebrated Thanksgiving Day in 1846. However, there's conflicting accounts as to when this celebration occurred. One account claims November 18th and another claims that December 6th was the day that the soldiers gave thanks.
December 6th, 1846, also holds another significant moment in California history as it marks the date of one the state's bloodiest wars – the Battle of San Pasqual between General Stephen W. Kearny's Army of the West and Californios under Andres Pico. However, that's a story for another day.
In 1847, New Englanders Celebrated Thanksgiving in San Francisco
In a letter sent to the Sacramento Daily Union, published on December 22nd, 1868, an unnamed correspondent from New York affectionately described what he remembered as the first Thanksgiving in San Francisco during 1847.
Or, as the writer calls it, "the first gathering of New Englanders in California to celebrate the Puritan Christmas."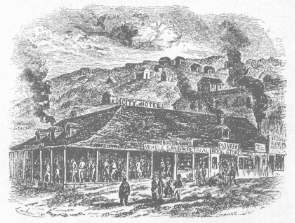 The celebration took place during the last week of November at the "old City Hotel" of San Francisco. 10 months before this Thanksgiving celebration, the town's name of Yerba Buena was officially changed to San Francisco on January 30th, 1847.
A few months prior to the town's name change, The City Hotel was erected in 1846 on the corner of Kearny and Clay Streets. It was the town's first public hotel and owned by William Alexander Leidesdorff, one of San Francisco's early citizens of prominence.
A biracial black man born in the Virgin Islands, Leidesdorff was truly a remarkable pioneer in California's early days. His hotel became a welcome reprieve for miners, sailors, the military, residents and anyone else passing through San Francisco. It's easy to see why the New Englanders chose this place for a Thanksgiving feast.
Although we're not sure who wrote this communication to the Sacramento Daily Union, the author of this Thanksgiving letter did provide us with a few names in attendance at the celebration: Howard, Parker, Gordon and Admiral Wooster. A quick research into these names turned up the following information:
Robert Gordon – the editor and brief publisher of The Californian, which was California's first newspaper. The writer described him as "clever." He was named editor just a few months prior to the Thanksgiving celebration.


Admiral Charles William Whiting Wooster – Born in Connecticut, Wooster joined the Military and fought against the Brits. He was also one of the founders of the Chilean Navy and rose up the ranks to become an Admiral. In 1847, Wooster set up a home in California as he began placer mining along the Yuba River.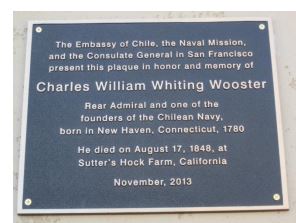 The author of the letter stated that "the brave old Admiral Wooster" presided over the Thanksgiving festivities. Another patron of the feast toasted Wooster and called him "the John Paul Jones of the Chilean Navy."
Wooster was 67 years old at the time of this Thanksgiving celebration. He died nine months later at Hock Farm. At the time of his passing, The Californian made the following comments about Wooster: "Admiral Wooster was well known as a brave and fearless seaman and a kind friend."
Along with the men mentioned above, the letter's author also stated that there were plenty of other individuals participating in the festivities including non-New Englanders:
Boston merchants
Boston skippers
Hide droghing agents and skippers
"Masters of Yankee coasters"
Army soldiers from Stevenson's Regiment
Navy members
A few lawyers
What did they eat at the first San Francisco Thanksgiving Day celebration?
To the surprise of the author, and probably many of the attendees, there was a Thanksgiving turkey. Along with the "conventional turkey," they also had cranberry sauce made from berries brought down from Oregon, canned lobsters and a wealth of fruit.
The dishes were credited to the "ship's cooks and stewards." Additionally, there was port wine, sherry, champagne, and "Don Luis" wine from Los Angeles. The adult beverages "flowed very freely."
A festive atmosphere inside the City Hotel, but a somber goodbye.
The evening's atmosphere was described as something "seldom witnessed in those early days." The author also describes the dinner as "convivial rejoicing" and said that the stories reminiscing about "Yankee Thanksgivings" really brought everyone together.
Despite the dismal rain outside, the patrons of this Thanksgiving celebration felt unified and grateful for such a joyful evening. Many of the attendees promised to "renew the associations and repeat the observance of the day." Unfortunately, that didn't happen.
The next year, Wooster died and so did the owner of the hotel. In fact, the City Hotel ended up falling into despair after Leidesdorff's death and eventually was destroyed in the fire of 1851.
 The author would close out his letter on a somber note pointing out how the times scattered friends and the pioneers of that era, who attended the dinner, will be forgotten "leaving scarce a record or trace behind."
General Bennett Riley Makes a Thanksgiving Day Proclamation in 1849
In 1924, the well-respected journalist W.W. Ferrier wrote a compelling article about what he believes is "California's First Thanksgiving Day," for the Berkeley Daily Gazette On November 26th, 1924. Ferrier's piece is a wonderful account of the early records of California's first Thanksgiving celebrations based on his own research at the time.
In addition to his recounting of the 1847 celebration detailed above, Ferrier shares how it was through his painstaking research that a copy of General Riley's Thanksgiving Proclamation of 1849 was uncovered.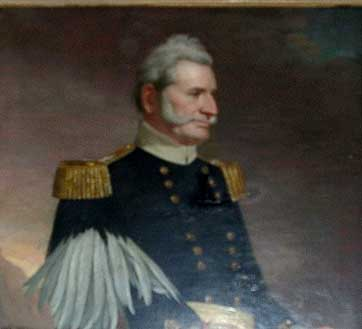 At the time of this proclamation, California had yet to be admitted into the Union. However, it was a territory on the verge of creating and establishing its own government at the behest of General Bennett C. Riley.
Until the new government was set up, Riley would remain the "Governor of California." History shows us that General Riley was the 7th and final military Governor of California as he would eventually hand over all civil authority to the first elected Governor by the end of 1849.
While still fulfilling his role as Governor, General Riley made the following Thanksgiving Proclamation on October 24th, 1849, from Monterey and it was delivered in both Spanish and English:
"In conformity with the custom of the states and territories, and in order that the people of California may make a general and public acknowledgment of their gratitude to the Supreme Ruler of the Universe for his kind and fostering care during the past year, and for the boundless blessings which we now enjoy it is recommended that Thursday the 29 day of November next be set apart and kept as a day of thanksgiving and prayer."
In addition to General Riley's signature on the proclamation, Captain H.W. Halleck signed it as well. Halleck was considered the "Secretary of State" at the time and is thought to have greatly influenced Riley to make this proclamation.


The Catholic Church and Missions embrace this Proclamation
After the proclamation was released, Captain Halleck sent it directly to the Very Rev. Administrator of the Diocese of California Fr. J. M. de J. Gonzalez who was in Santa Barbara at the time. According to The Missions and Missionaries of California, Vol. 4, by Catholic Priest Zephyrin Engelhardt (1915), Gonzalez fully embraced this proclamation and immediately sent out a letter to all of the Catholic priests under his charge.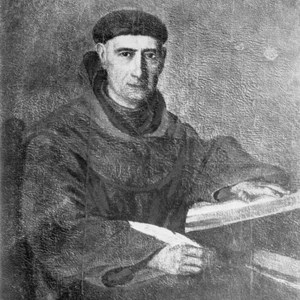 Although Father Jose Maria de Jesus Gonzalez Rubio feared that his letter wouldn't reach all of the priests in time, he still gave the following instructions on November 9th, 1849:
"In virtue of this, and inasmuch as it is very appropriate that we Catholics should carefully endeavor to cooperate in the execution of such pious designs of the Government, I direct Your Reverences, on Sunday the 25th of the present month, the fervent sermon, to instruct your parishioners concerning the holy object and the purpose of this general solemnity, and to excited their piety in order that on the following Thursday, the 29th of this month, they may assist in church at holy Mass, the Te Deum, and the public prayers which will be offered up with all the solemnity possible.
I understand that this so rational and pious a custom is to continue in subsequent years. God keep you many years."
Father Gonzales Rubio was a Franciscan missionary who arrived in California in 1833. He faithfully served until his death in 1875. There are many written accounts of his service in the early years of California's transitioning from a Mexican owned territory to statehood.
The inclusion of Catholic churches and/or Missions into this holiday was a significant moment as Thanksgiving was often considered a Protestant holiday of Puritan origin.
Firsthand account of Thanksgiving in Monterey and the first Thanksgiving Sermon
Although Ferrier didn't have access to the history of the early Catholic Church in California like Roman Catholic priest and clerical historian of the Franciscan Order Zephyrin Engelhardt did, he was still able to uncover a few significant resources that detailed this first Thanksgiving day.
One source that Ferrier discovered was a journal kept by Reverend Samuel H. Willey who was in Monterey at the time of General Riley's proclamation.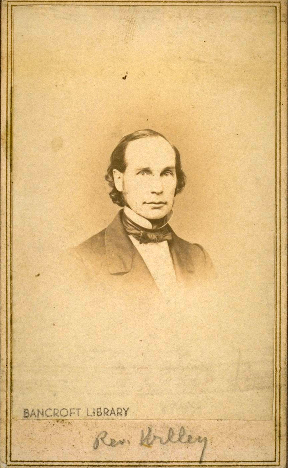 Willey was ordained as a Presbyterian minister in 1848 after studying at the Union Theological Seminary in New York. Shortly after, he was sent as a missionary to Monterey and set off for California via the Panama route.
Willey was a remarkable figure in the early days of California's statehood. He would go on to champion many causes like building libraries and schools. One of his most prestigious contributions to California was playing a part in the founding of the University of California at Berkeley.
As for the "first Thanksgiving Day," Willey made the following entry in his journal:
"A clear, bright, beautiful day. But only a beginning to Thanksgiving Day keeping in Monterey, where so small a proportion of the inhabitants care for any Protestant observance."
Willey would further discuss how the traditional Thanksgiving preparations were made in his home. Sadly, he also mentioned how Captain Halleck's brother Jabez Halleck had died and the announcement of his death was made at the closing of the Thanksgiving church service which began at 11 AM. Jabez was a notable figure filling many different roles including harbor-master for the port of Monterey.
In 1920, W.W. Ferrier received a copy of Willey's sermon via his daughter. At the time of his article, Ferrier believed that this was the only documented sermon for California's first Thanksgiving Day. He appropriately turned it over to Cal Berkeley.
Fortunately, Ferrier quoted a large portion of Willey's sermon in his article. The following are a few excerpts of Willey's message:
"Today California keeps her first Thanksgiving! In accordance with the recommendation of her honored executive, her citizens meet in observing this occasion of gratitude to God, which is hallowed by the memories of many generations…"
"And so we begin to keep Thanksgiving in California – a state though not a year old, yet adopting the customs of states a century old – a state whose present progress seems little short of miraculous, a state whose history is an example of good order, whose citizens abide by the law though it is not of their own making, and honor their executive none the less because not of their own choosing."
An 1849 account of Thanksgiving in San Francisco
Reverend Albert Williams was a Presbyterian pastor in Clifton, New Jersey, before being sent as a missionary to California. Like Willey, and so many others, Williams traveled to California via the Panama route. He arrived in early 1849 and established the First Presbyterian Church in San Francisco.
Williams authored a book detailing his time in California including witnessing many of the significant historical moments during the early years of San Francisco. In his book, Pioneer Pastorate and Times (1879), Williams fondly recalls the Thanksgiving Day of 1849.
Reverend Williams stated that there was a Thanksgiving service at his church, which was held in a tent, beginning at 11 A.M. There was a good turnout as Williams preached on Acts 28:10, summarizing the text of his sermon as "He thanked God, and took courage."
Williams shared a few details about the intimate dinner he had with friends around the "hospitable board" of Mr. C. V. Gillespie. The evening was enjoyed by all in attendance including one guest who made the following comments:
"About this time, our friends at home are gathered together at their thanksgiving dinner, and, their thoughts turned toward us here, they are saying, 'Poor fellows in California! They have nothing to eat or drink.'"
Elected Governor Peter H. Burnett Declares Thanksgiving for Nov. 30, 1850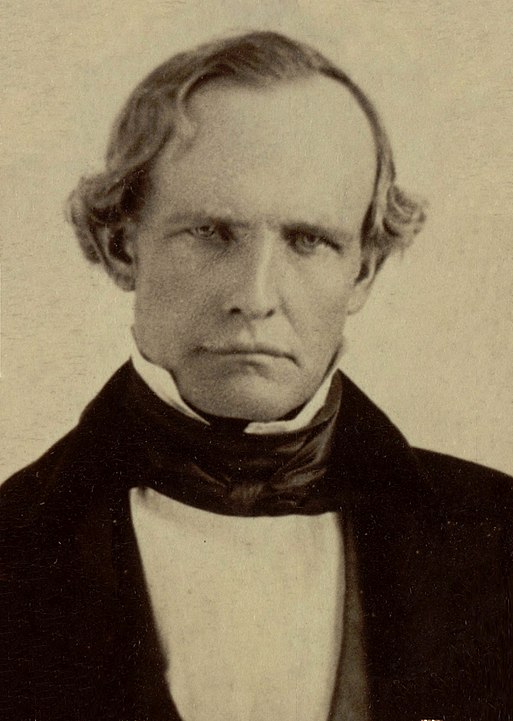 On November 30th, 1850, California celebrated its first Thanksgiving Day after becoming a state on September 9th, 1850. However, this day of giving thanks wasn't without controversy.
Peter H. Burnett was elected as California's first Governor before the territory became a state. Unfortunately, it wasn't a great choice as Burnett's political agendas were often met with resistance from State Legislature and publicly criticized. He was out of office in less than 13 months.
Students of history look back on Burnett and debate how a man with extreme racist views could be elected as the first Governor. One could assume his political experience in Oregon's State Legislature and as a federally appointed Judge in both Oregon and California made him appealing to voters because he easily won the election over other candidates including John Sutter.
Without diving deeper into Burnett's controversial political career and disheartening racial views, his decision to make Thanksgiving a holiday at the end of November 1850, is what this article will continue to focus on moving forward.
According to the San Francisco Call, November 22nd, 1896, Governor Burnett proclaimed that the state will observe Thanksgiving as an official holiday on November 30th, 1850. This date fell on a Saturday, which didn't follow the tradition of Thanksgiving being held on Thursdays. It was a questionable decision that drew criticism from local papers and Burnett's constituents.
Nevertheless, businesses were ordered to close as the Governor invited everyone in Sacramento to join them for a Thanksgiving celebration. The Sons of New England, a passionate group of men from New England, organized the festivities.
Thanksgiving dinner at the Columbia Hotel
Sacramento's Columbia Hotel was selected as the venue for this "most elaborate affair." The hotel featured a large dining room that was decorated with bunting, flags and shields. The hall's decorations were described as "the most elaborate that had ever been attempted in the State."
The Thanksgiving menu featured 40 different dishes and eight kinds of wine. They had just about every food item that an attendee could desire.
R. M. Berry was the president of the festive evening while Reverend Mr. Benton gave the blessing. J.W. Cartwright filled the role of toast master. The entire celebration lasted until midnight.
In the San Francisco Call's recount of this Thanksgiving celebration, the author of this 1896 article titled "The First Thanksgiving Day Celebration in California," questioned if there was anyone alive who attended the dinner. At the time of publication, there weren't any thorough records of the event.
We do know that Governor Burnett died in May 1895, more than a year prior to this article. We also know that the Columbia Hotel wasn't around in 1896 either.
Thanks to the assistance of William Burg, who sits on the Board of Directors for Preservation Sacramento, I learned that the Columbia Hotel was located at 21 2nd Street. Advertisements for the hotel can be seen in local newspapers throughout 1851.


Unfortunately, there are no records of the hotel after the "Great Fire of 1852," which destroyed an estimated 85% of Sacramento. Roughly 15 years after this San Francisco Call article, a hotel opened up with the same name, but in a different location and under different ownership.
Thanksgiving celebrations throughout mining camps in 1850
Most of the surviving accounts of Thanksgiving in the mining camps have become Gold Rush folklore. Still, there are some nuggets of truth in these tall tales.
Because Thanksgiving was a predominantly "New England" tradition, many of the miners from other parts of the country didn't even know what it was. Yet, once they found out that Thanksgiving was celebrated through copious amounts of eating and drinking, these non-New Englanders quickly took part in it.
Other "old timers" in 1896 recall that the "Yankees" in the mining camps threw down their mining tools and "had as good a time as the circumstances would permit of."
Unfortunately, that meant that there weren't many turkey dinners. Instead, the prospectors in these camps ate other animals like deer, pork, mutton and even jackrabbit. In fact, jackrabbits were considered "pretty good" meals.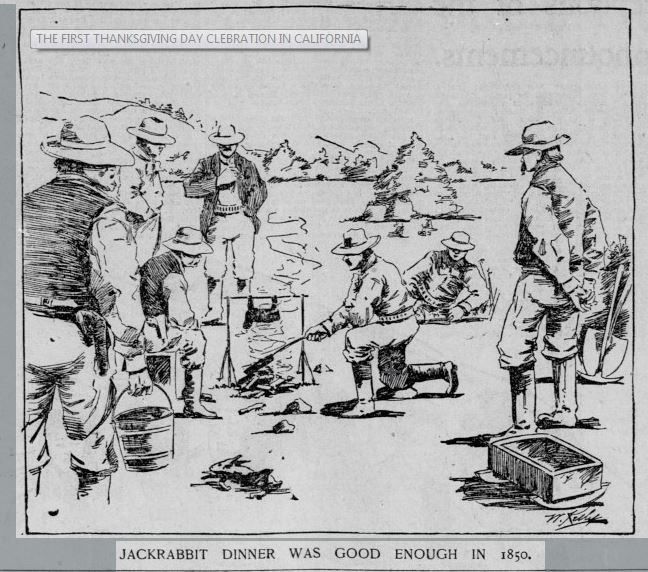 On December 1st, 1850, prospector Alfred T. Jackson, originally of Connecticut, made the following entry into his journal about Thanksgiving:
"Although there was nothing to show it, we observed Thursday as Thanksgiving, as that was the legal day in the States. All we did was to lay off and eat quail stew and dried apple pie. I thought a lot about the old folks and would like to have been home with them, and I guess I will be next year…"
Jackson's journal was originally met with a lot of skepticism upon publication in 1906. However, over the last several decades, historians have come to accept this journal as factual and not fictional. It was edited and published as "The Diary of a Forty-Niner."
Not all mining camps received Governor Burnett's proclamation. One of California's early pioneers George K. Fitch told the San Francisco Call in 1896 that he was in the diggings at the time of the Thanksgiving holiday and nobody in his camp knew about it.
A Holiday to Remind us all to be Thankful
Although the Pilgrims are credited for the first Thanksgiving, it wasn't until 1789 when President George Washington issued his "Thanksgiving Proclamation" that America actually had an official day for giving thanks:
"Now therefore I do recommend and assign Thursday the 26th day of November next to be devoted by the People of these States to the service of that great and glorious Being, who is the beneficent Author of all the good that was, that is, or that will be– That we may then all unite in rendering unto him our sincere and humble thanks."
Unfortunately, the next 75 years saw the tradition of Thanksgiving sporadically celebrated as a whole. After many years of passionate urging by writer and editor Sarah Josepha Hale, President Abraham Lincoln once again made this a day of thanksgiving for all the people of the United States when he declared it a National holiday in October 1863:
"I do therefore invite my fellow citizens in every part of the United States, and also those who are at sea and those who are sojourning in foreign lands, to set apart and observe the last Thursday of November next, as a day of Thanksgiving and Praise to our beneficent Father who dwelleth in the Heavens."
Along with Washington's Birthday and Independence Day, Thanksgiving became the only other holiday that the United States celebrated on a National level at that time.
No matter one's religious beliefs or political and historical views, we can always take time to pause, reflect and be thankful for what blessings we have in life. The early Californians recognized the importance of being thankful. And, that's a tradition that today's Californians can certainly keep alive.