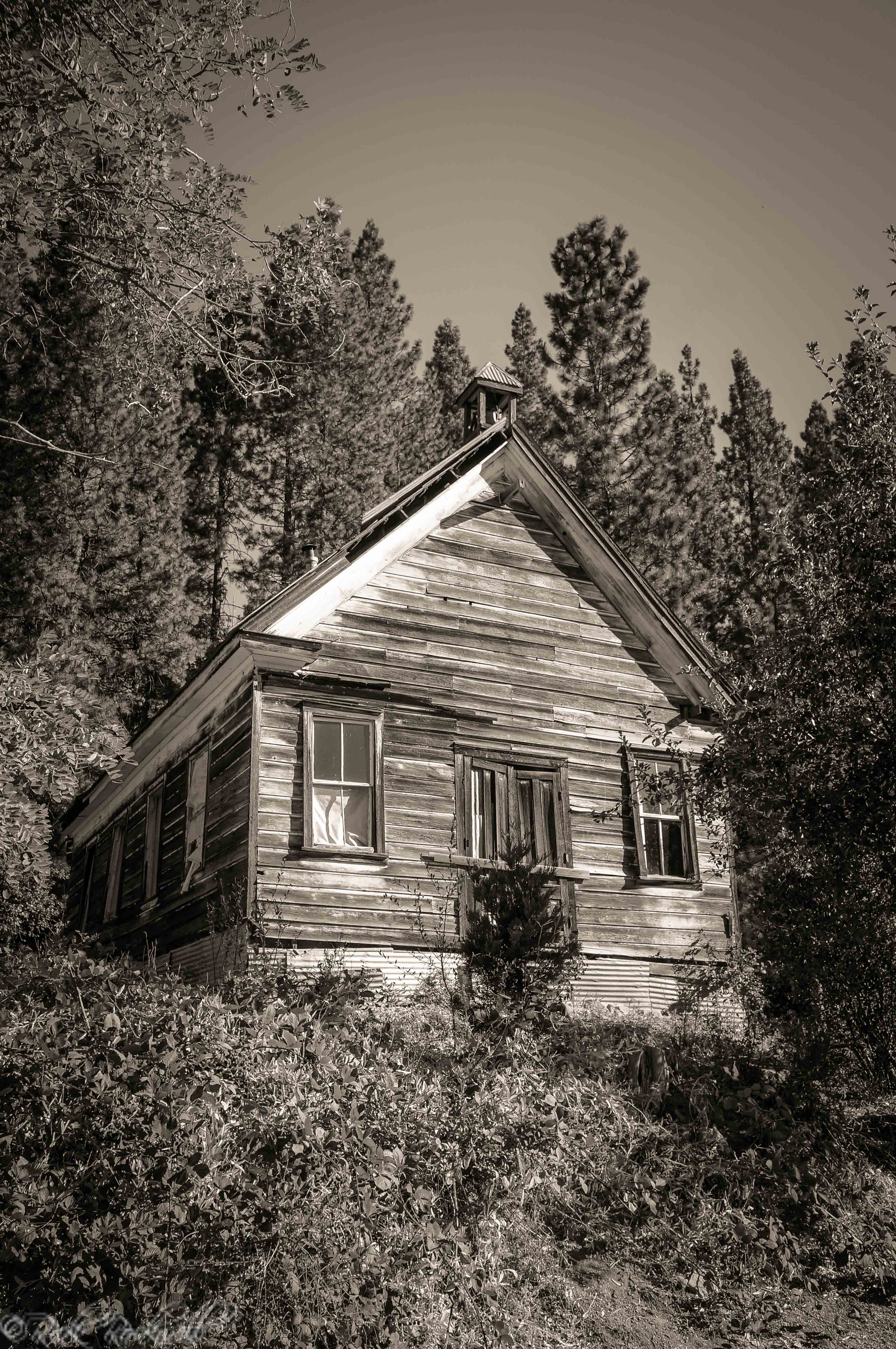 (Last Updated On: January 4, 2020)
Located at an elevation of 4,500 feet, in the foothills of the Tahoe National Forest, Forest City is Sierra County's cherished ghost town. Founded in 1852, when miners discovered gold at Oregon Creek, Forest City seemingly grew overnight. Within two years, the town had over 1,000 residents and dozens of businesses. Unfortunately, as the town thrived when the mining industry was booming, it also declined when the industry dried up. Eventually, the residents left for more prosperous locations and the businesses followed.
Today's Forest City has a population of 40 people, is well preserved and provides visitors with opportunities to explore an authentic gold rush era ghost town. There are over two-dozen historical points of interest to see and visitors can even take a self-guided walking tour to view these. Perhaps, the most significant of them all is the historic Forest City schoolhouse.
First School and Teacher
By 1854, Forest City was a prosperous gold rush town with a large population and nearly 100 buildings. The commercial success was only outdone by the mining success. At this time, there were at least 15 mines in the vicinity and with each mine producing, more people came to town.
Despite a significant portion of the population being miners, there was a respectable amount of families with children. This led to a need for a school.
According to one historical resource (Illustrated History of Plumas, Lassen and Sierra Counties), the first school was taught by Mrs. Taff. Even with buildings seemingly popping up overnight, the townspeople didn't see a need for an actual schoolhouse at this time. So, the first school of Forest City was taught out of a room under the Odd Fellows hall.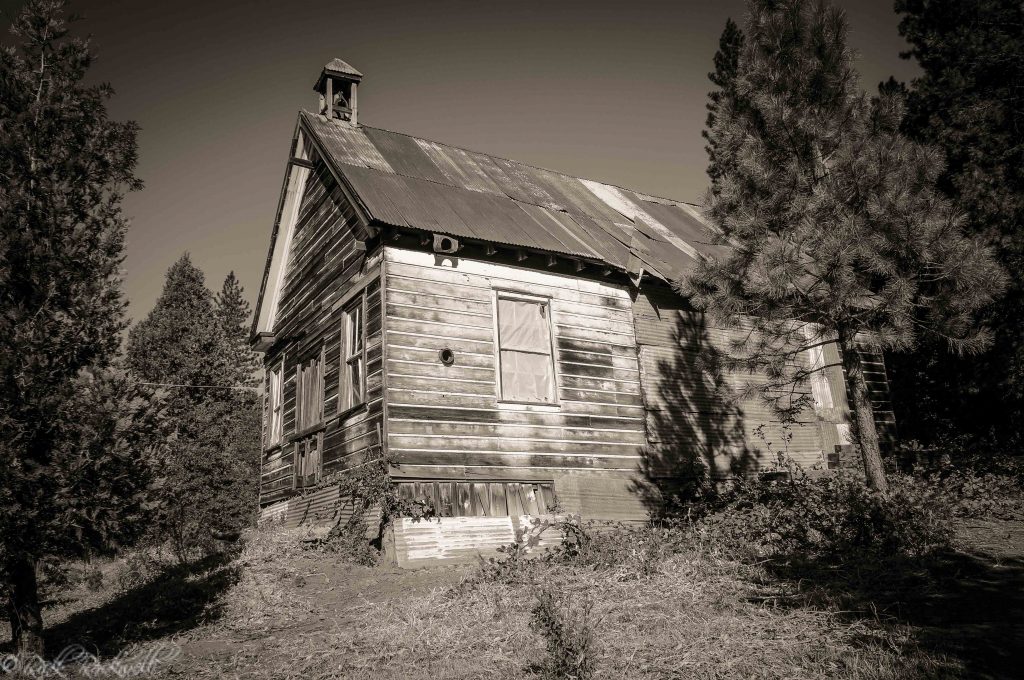 A Need for a Schoolhouse
In 1855, John Gale took over the duties of teacher from Mrs. Taff. He would go on to teach the kids of Forest City well into the 1860's, before moving to Oroville. It was Gale's passion and "vigorous efforts" that led to the town building the first public schoolhouse circa 1860. This structure was 18×24 feet and was erected by funds raised via dances and entertainments put on at the local Fashion hall. As of now, I'm unable to discover why the town built a new schoolhouse a little more than a decade later.
The New Schoolhouse of 1874
In 1874, Forest City built a new public schoolhouse, which cost an estimated $2,000. It was a "very pretty house and conveniently arranged." During this decade, the town was seeing a resurgence in population and commercial success after a decline and exodus in the 1860's.
The new schoolhouse was designed as a front gabled structure with a rectangle floor plan. Sometime after its construction, the schoolhouse had a smaller east wing and a roofed front porch added on. During the 1870's, a bell was purchased and added to the schoolhouse.
The entrance of the school has double doors and is facing in a southern direction toward Main St. below.
The location of the schoolhouse, up the hill from Main St., was a wise choice considering the numerous fires that swept through the main business district and nearby residences.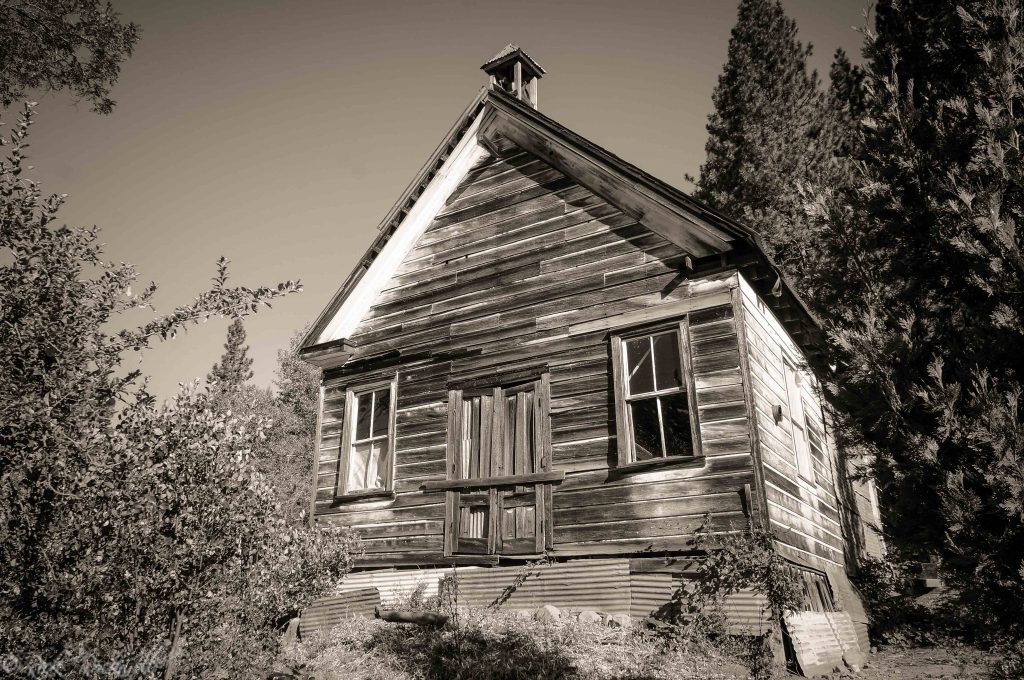 The Teachers
During the 1870's two new teachers were on board – Mr. J. E. Berry and Miss Kate Downey. As of now, information on Mr. Berry has been scarce. However, that's not the case for Miss Downey.
Kate Downey graduated from the State Normal School at San Jose in 1878. She quickly started teaching and remained in that profession until she married a physician named R. D. Spedding on June 18, 1887. In total, Miss Downey-Spedding taught for 9 years and in Nevada, Sierra and Alameda counties.
The teachers taught up to 50 kids of all ages in one large classroom.
In 1911, Miss McDonald of Gibsonville was the new teacher. (Plumas Independent – Sep 6, 1911)
The school would remain in operation until the 1930's. For over 60 years, it was the main source of education for the town's youth.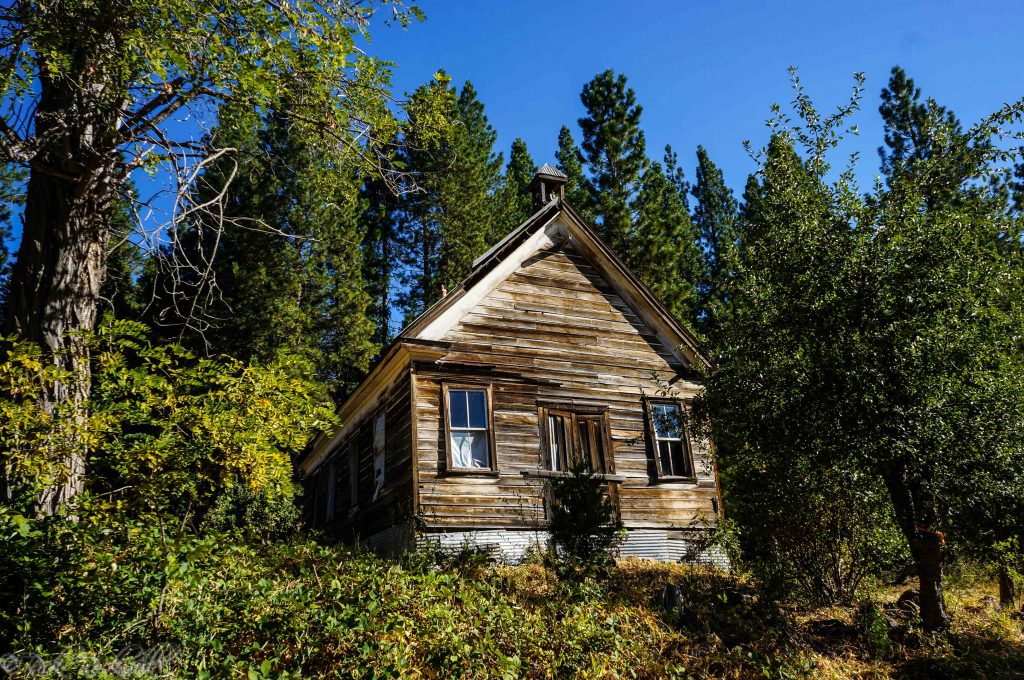 The Schoolhouse Today
Today, the schoolhouse is still in remarkable shape for being over 140 years old. The porch and east wing have long been removed. I would say this building is in a state of arrested decay until funds can be raised to restore it. Currently, it's owned by the Forest City Historical Association.
Final Words
I love the placement of the schoolhouse up the hill from the main part of town. Looking out onto the forest and Sierras from that vantage point had to provide kids with plenty of inspiration and day dreams. I can imagine seeing the landscape change during the different seasons. Upon my visit, I couldn't help but enjoy the views from the schoolhouse.
The structure itself reminds me of buildings you would see at Bodie State Park or Silver City Ghost Town. For 140+ years old, it's a wonderful point of interest for history buffs and those of us who enjoy California's old schoolhouses.
This article is one installment in a series of articles on Forest City.
The historic Forest City schoolhouse in Sierra County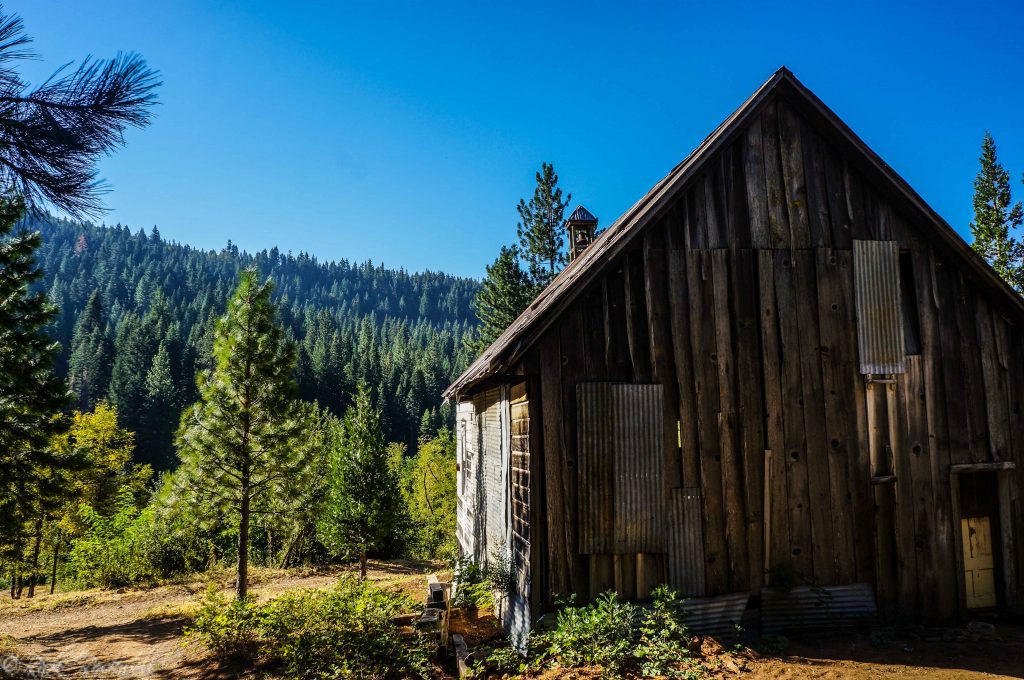 The following sources were used:
Young, J.D., Historical Sketch of the State Normal School at San José, California, 1889
Farris and Smith, Illustrated History of Plumas. Lassen and Sierra Counties with California from 1513 to 1850, Published in 1882
http://focus.nps.gov/pdfhost/docs/NRHP/Text/96000942.pdf
The brochure for the self-guided walking tour – Forest City Historical Association
Directions
From Highway 80 take Highway 49 North to Nevada City. Continue through town and on Highway 49 toward Downieville. Roughly 18 miles north of Nevada City is Ridge Rd. of which you will turn right on. This road takes you to Pike, Forest City and Alleghany. Travel about 13 miles east and pay attention to the mileage signs for these towns. Turn left on Mountain House Rd. and head about two miles until you reach town.