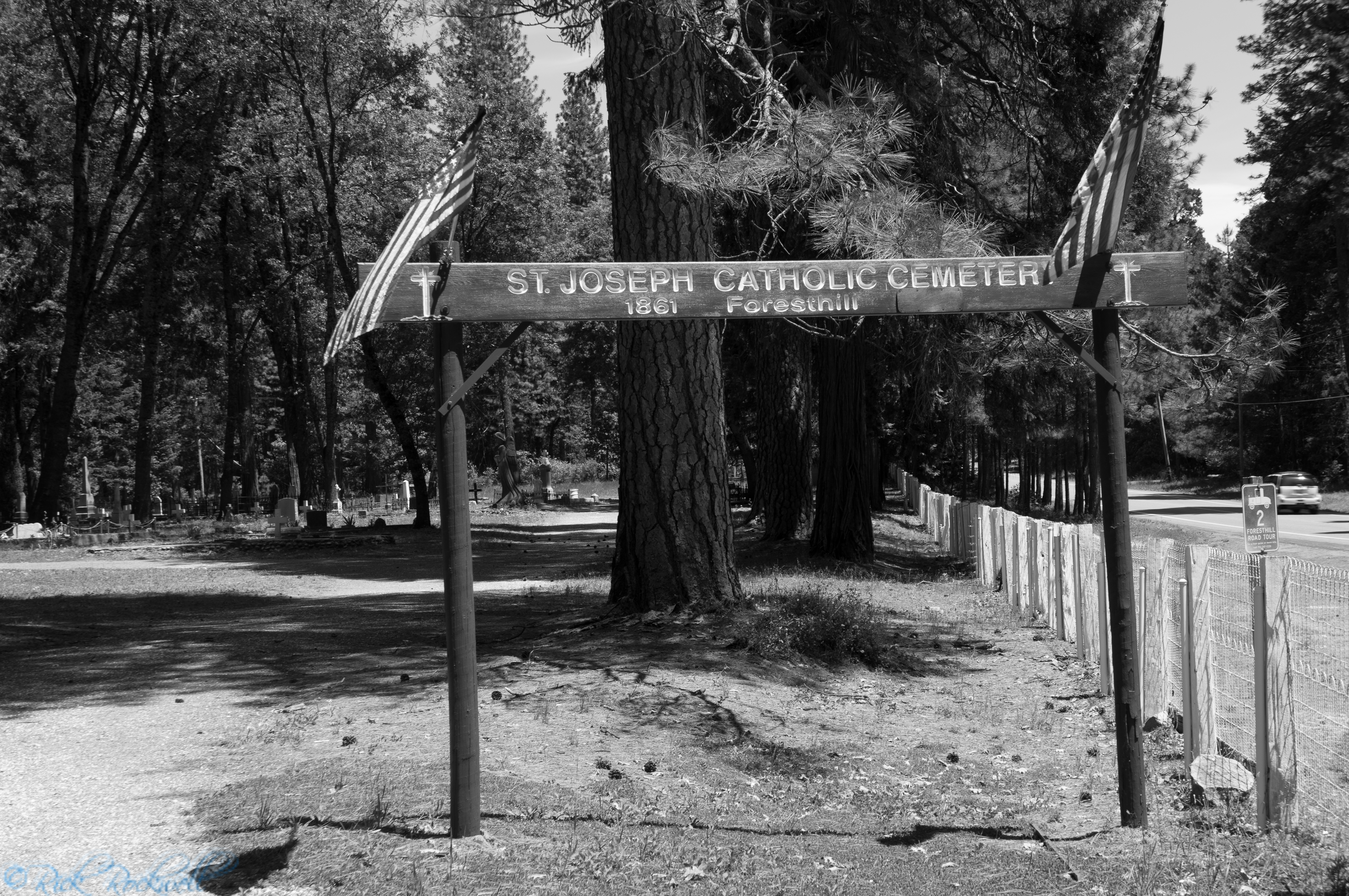 (Last Updated On: May 11, 2015)
If you like taking pictures of old cemeteries then check out the following the next time you visit the Foresthill Divide:
Foresthill Protestant Historic Cemetery – The Foresthill cemetery dates back until at least 1858 which is the oldest monument dated in the cemetery. The cemetery was in response to the hard lives and harsh climates during the gold rush era. There are over 600 interments in this cemetery and it's located at 6173, Church St., Foresthill, CA, 95631.
This cemetery closed to the public in 1996 and visitors aren't allowed to enter.
St. Joseph's Catholic Cemetery – By 1858, a growing catholic population in Foresthill led to the St. Joseph parish being opened. Shortly after, a catholic cemetery was created and placed on the eastern portion of town off of Foresthill Rd.
This is perhaps the most well maintained cemetery in Foresthill. There are many beautiful statues throughout the place and old monuments back to the late 1850's to early 1860's.
Todd's  Valley Cemetery – Not much still remains of Todd's Valley. There are some homes and this cemetery that remind us of the way things were. There are a few graves that date back to the late 1850s when Todd's Valley used to be one of the most populated areas in the Foresthill Divide. There are roughly 237 internments in this cemetery.
The cemetery is tricky to get to. It's located on Jarvis Rd in Todd Valley, CA 95631. However, it's not a paved road and there are many large dips and rocks. Although, I drove it in a car, it's not recommended to take a car on Jarvis Rd.
Yankee Jims Cemetery – This cemetery is on private property. It's not easily accessible and does require permission to visit. Unfortunately, I was unable to get onto the property. The cemetery is located at 3800 Yankee Jims Road, Yankee Jims , CA 95631
Michigan Bluff Cemetery – This cemetery was off of the main road into the remaining community. However, I didn't get a chance to visit this cemetery when exploring Michigan Bluff. It's located on Michigan Bluff Road, Michigan Bluff, CA 95631.
Other Cemeteries – There are a few other cemeteries that I have yet to visit on the Foresthill Divide and they are:
Deadwood Cemetery
Iowa Hill Cemetery
Last Chance Cemetery
St. Dominic's Catholic Cemetery
Check out more of my Foresthill Divide adventures.