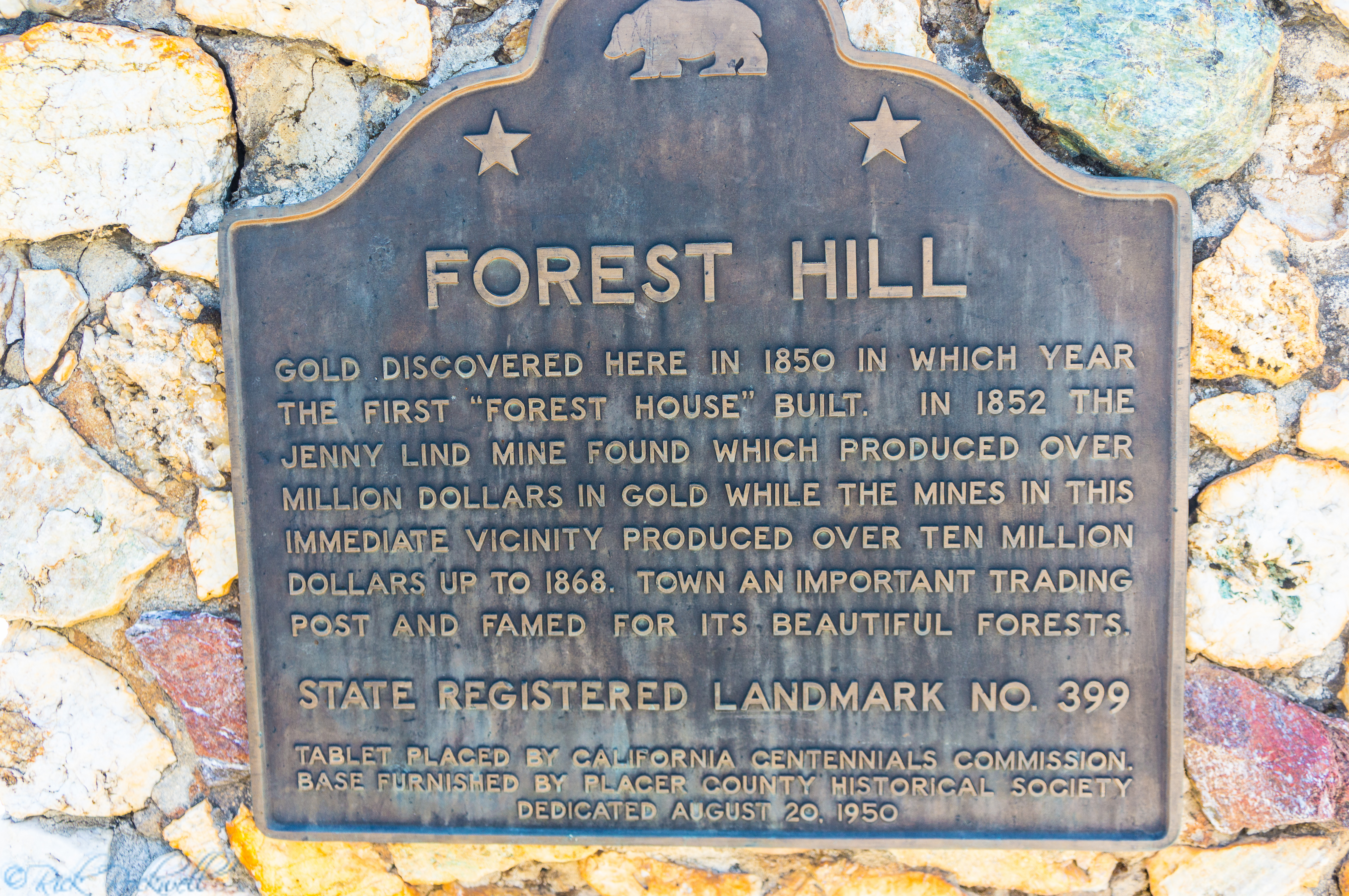 (Last Updated On: June 4, 2015)
Founded
In 1850, three gentlemen by the names of M. Fannan, James Fannan and R. S. Johnson built an establishment named the Forest House. These 3 traders were presumably heading into the region to look for gold as Yankee Jims, which is 3 miles north-northwest of Foresthill, had already discovered gold in 1849.
Later in 1850, gold was discovered in the Forest Hill area and miners quickly swarmed the area in search of fortune. However, Foresthill really didn't grow until the Jenny Lind mine, which was uncovered by a storm, started producing the most gold of any mine in Placer County.  Over the next 15 years, this mine produced over 10 million dollars in gold.
For the first 4 decades, the town went by the name of Forest Hill. It wasn't until April of 1895 that the town changed its name to the one word of Foresthill. When the town began to dry up from gold mining, it shifted to a new way of life in logging.
Points of Interest
Foresthill provides a certain charm and history that you can't find anywhere else. The town is big enough to offer amenities like shopping, lodging and restaurants. It's home to roughly 1,600 residents which is about 25% of the people estimated in the Foresthill Divide.  And yet, the town is still small enough that you can drive right through in about 5 minutes.
Foresthill is the hub of the Foresthill Divide and is a great place to start your journey through the gold rush era of Placer County.
The town offers many wonderful points of interest that are historically significant and culturally enriching. The following is a list of some of the places that I checked out on my trips to Foresthill:
Foresthill Post Office – the post office was established in 1859 after being moved from the nearby mining town of Bath. It has been located in three different places since its inception. Today, it's located in a small plaza that's located on the left side of the highway right as you enter town. There's a plaque out front to commemorate it's historical significance.
The post office is located at: 24035 Racetrack St, Foresthill, CA 95631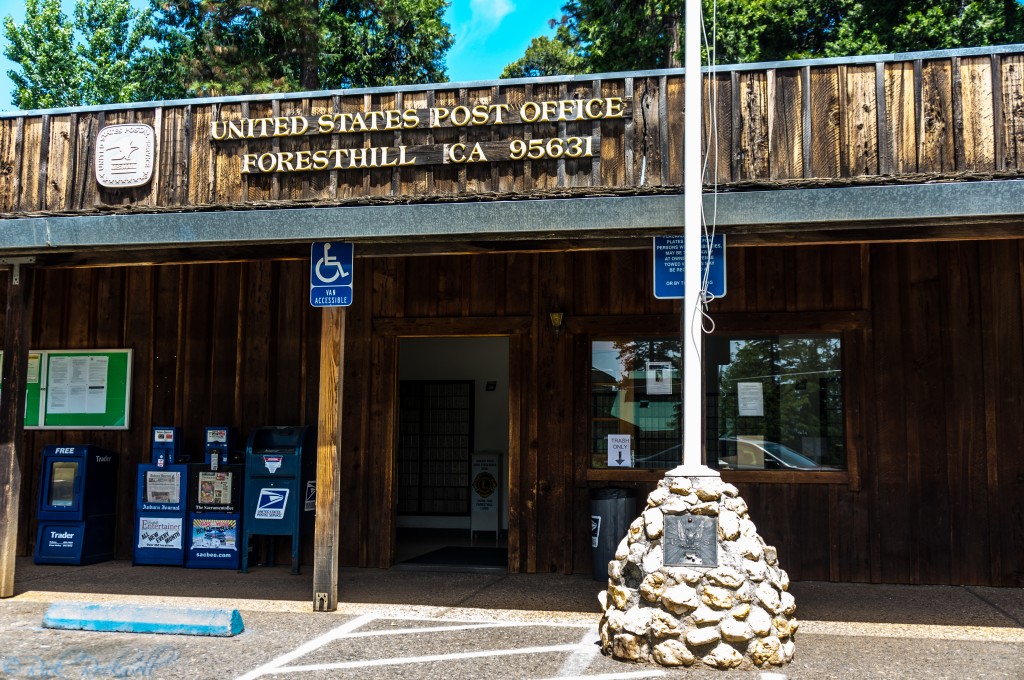 Foresthill Protestant Historic Cemetery – Mining was a tough job and many 49ers lost their lives in the process. The Foresthill Cemetery is one of the oldest in all of the Divide. It was created in the 1850's with the earliest monument dated at 1858. When I visited this place, the gate was locked and closed to visitors.
Location: 6173, Church St., Foresthill, CA, 95631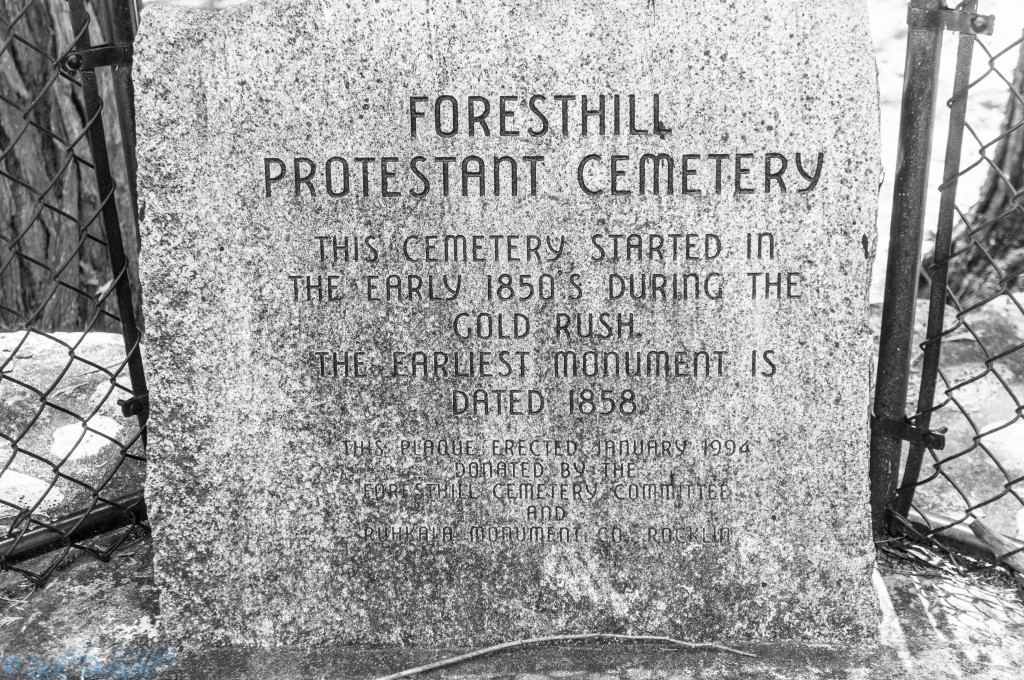 St. Joseph's Catholic Cemetery – In 1858, a church mission was established in Foresthill. Within the next few years, it was elevated to a parish and had a cemetery located on three parcels of land. This cemetery, which had many impressive sculptures throughout, is located on Foresthill Rd. at the eastern border of town.
For more on the Foresthill Protestant and St. Joseph Catholic cemeteries, check out my Cemeteries of the Foresthill Divide article.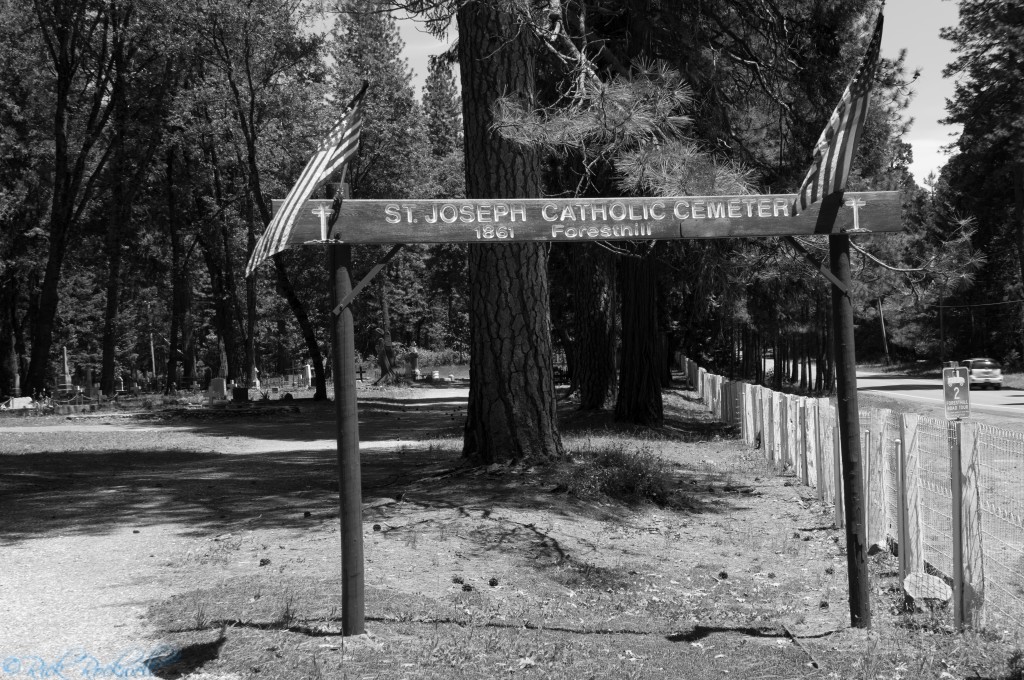 St. Joseph's Historic Church Bell – This bell was cast in Sheffield during 1859. It arrived in Boston in 1862 then shipped around the Horn to San Francisco. Eventually, it was taken by boat to Sacramento where a team of six horses took it to Foresthill. The miners had raised $3500 for this bell. Sadly, a fire in 1952 burned the church to the ground. All that remained was the bell. A monument, which you can see today, was erected in 1958.
This historical bell is located near the address of 24800 Foresthill Road, Foresthill CA 95631.
Check out my article on the St. Joseph's Bell for more details and pictures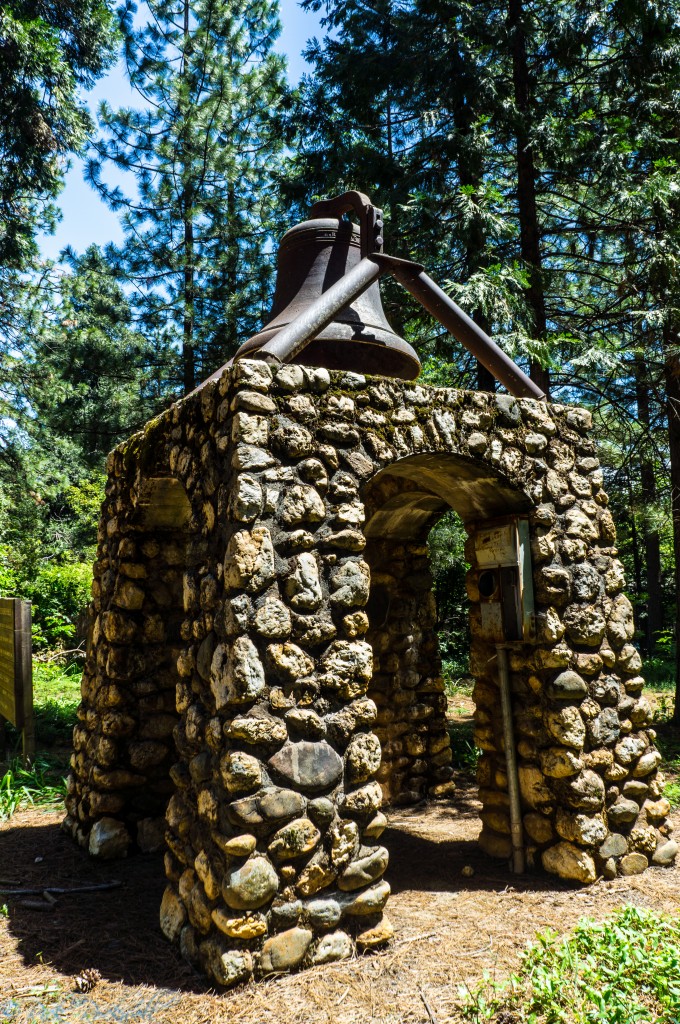 Foresthill Main Street – In the heart of Foresthill is the town's Main Street. This is where most of the stores, lodging and restaurants are found. Additionally, there's the library, a bar or two, the vet and more. Perhaps, my favorite place located on Main Street is Sugar Pine Pizza. Every time I visit Foresthill, I always stop by here. In fact, even if I'm passing through on my way back home from a nearby trip, I drive through Foresthill just to get a pizza from this great place.
Foresthill Historical Landmark – The town of Foresthill is a registered historical landmark for the state of California. And if you visit this charming little town, you can see why it's historically cherished. The historic landmark is located at 24540 Main Street in Forest Hill.
Leroy Botts Memorial Park – This park was named after Leroy E. Botts who died on April 8, 1945 while fighting for his country during World War 2. The park has all the amenities that both kids and parents could want. There are basketball courts, tennis courts, a playground, baseball fields, BBQ areas and a sweet looking Gazebo right in the middle of the park.
I enjoyed my visit to this park. It was very peaceful and very well maintained. There was no trash around, the grass was green, birds were chirping and it seemed like a breeze picked up at just the right time to make this visit a memorable one.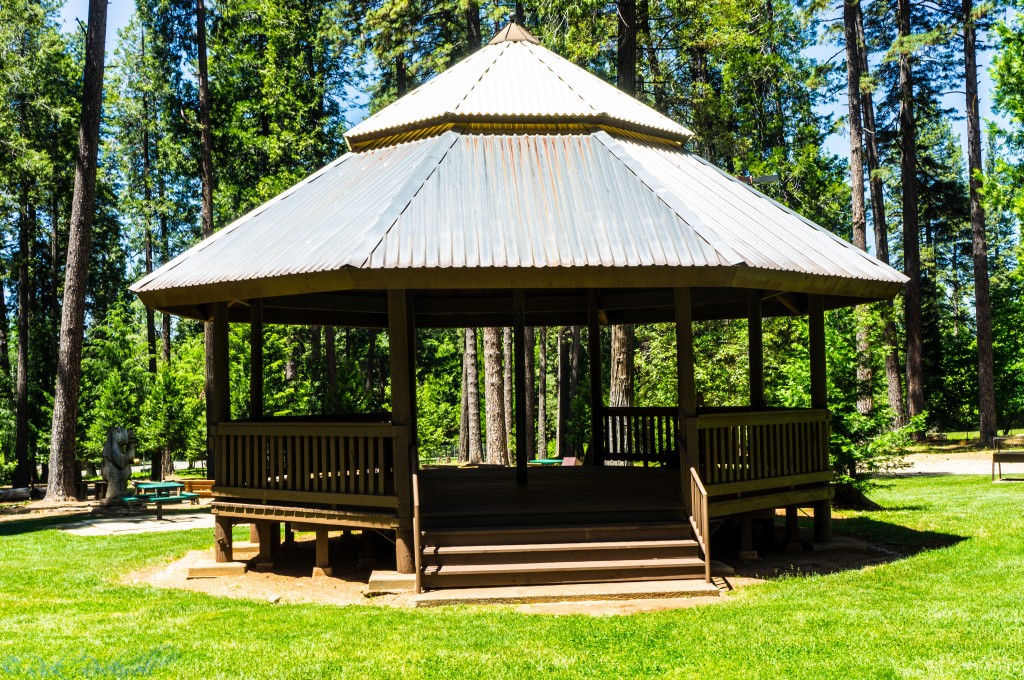 Also located in the park is the Foresthill Divide Historical Museum. This museum is opened from May to October . On Saturdays and Sundays it's only open from 12-4pm. It's free admission and definitely worth the trip.  Unfortunately, the museum was closed when I visited the park. But, I definitely plan  on visiting it upon my next visit to Foresthill.
In addition to the museum, there's the Foresthill Veterans Memorial Hall and a historical compressed air engine that was used to remove gold from the mines during the late 19th century.
Both the museum and the park are located at – 24601 Harrison Street, Foresthill CA 95631.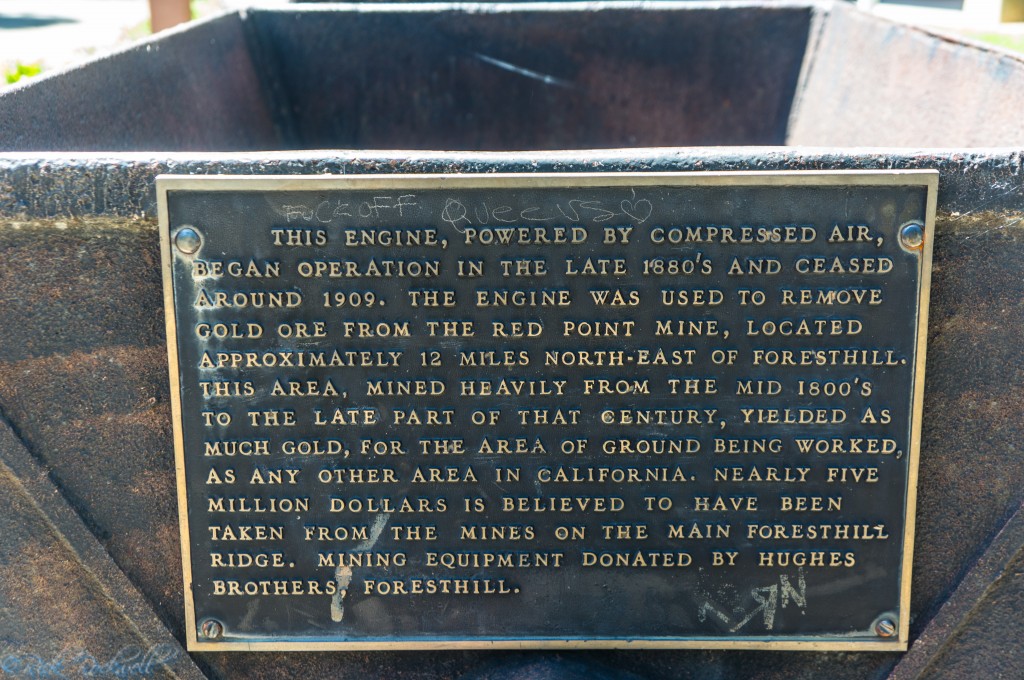 Final Thoughts
Of course, these are just suggestions of places for you to visit while touring the town of Foresthill. There are many other unique activities and locations within the town that would definitely make for an entertaining and educational visit. I will continue to add to this list as I make a few more trips to Foresthill on upcoming adventures.
Check out more of my Foresthill Divide adventures.
Directions
Traveling to Foresthill has become easier over the years with the building of the New Foresthill Bridge. The easiest way to get to Foresthill is to take I-80 east from Sacramento to Auburn and exit on Foresthill Rd. At about 3-4 miles east of Auburn, is the New Foresthill Bridge which spans over the North Fork of the American River and is roughly 730 feet in elevation. For the next 16 to 17 miles, you will enjoy a smooth and quick drive through the hills.