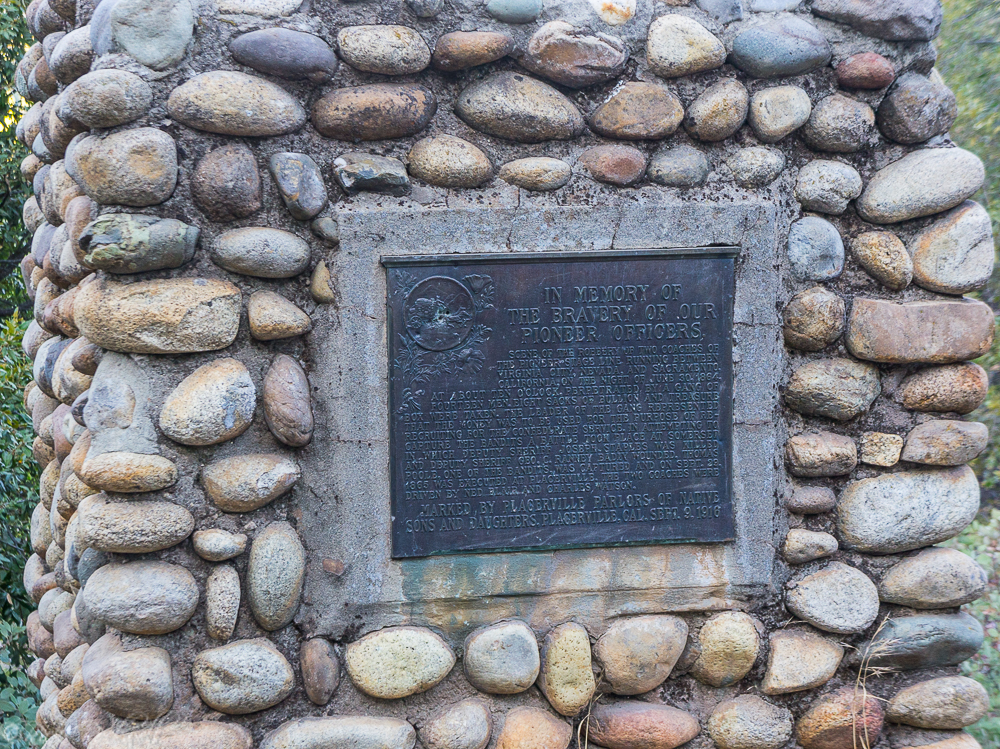 (Last Updated On: October 24, 2020)
From 1856 to 1913, there were roughly 460 reported stage coach robberies in California. Perhaps, none more memorable or significant than The Bullion Bend Robbery.
This legendary crime was the result of the Civil War spilling over into California which led to a shootout, the killing of a sheriff, a statewide manhunt and one of Hangtown's most notable executions.
In 1864, during the height of the Civil War, California was filled with its share of Southern sympathizers and secessionists. Both public figures and secret groups of men were looking to divide the state, raise funds for The Confederacy and find more abled body men for the War.
One such covert group took matters into their own hands and committed a crime that lives on in infamy – The Bullion Bend Robbery.
Where is Bullion Bend?
To get an idea of where Bullion Bend is located, and how it served as an opportune location for the robbers, one should have an introduction to the main routes and roads that came through El Dorado County at the time.
John Calhoun Johnson, the first trans-Sierran mail carrier, almost prophetically identified the need for a shorter route from Hangtown (Placerville) to the Carson Valley and the Carson Emigrant Trail.
For a man who was blazing trails through the Sierras by the early 1850's, he was more than capable of finding a route that could meet the demands of incoming pioneers and outgoing traffic.
When visualizing Johnson's route, one doesn't have to look further than modern day Highway 50 which closely followed a majority of Johnson's original trail. His path became known as Johnson's Cutoff due to how much time and distance it cut off from the established Carson Emigrant Trail.
In addition to being shorter and taking less time, Johnson's Cutoff crossed over mountain passes that were roughly 2,000 feet lower in elevation than the passes that the Carson Trail crossed over. This made it easier for freight traffic to travel from El Dorado County back to Nevada.
Within a few years, shrewd businessmen began building toll roads along the Johnson Cutoff to improve the road's conditions and capitalize on the massive amount of traffic.
In 1857, J.B. Crandall, founder of the Pioneer Stage Line, made his first pass from Sacramento and Placerville to the Carson Valley in a little more than a day. He declared that the Johnson Cutoff was a huge success and promptly opened daily stages from Hangtown to the Carson Valley.
Eventually, Johnson's Cutoff was dotted with stage stops, horse stables and hotels throughout El Dorado County. In the early 1860's, the Comstock Lode blew open the doors in Nevada and just as much traffic that was coming into California was heading out to places like Virginia City, Nevada.
This made the Johnson Cutoff, which was eventually dubbed the Placerville-Carson Valley Road or Placerville Rd., the most heavily traveled route in the state.
On a side note, this road would go on to become the State's first Highway 1 before that title was transferred over to the coast. It was also a portion of the famed Lincoln Highway.
Focusing on the region near Hangtown, about every mile east of town (along the Placerville-Carson Valley Rd) was a hotel or stage stop like the Sportsman's Hall. A few of these stops played an integral part in the Bullion Bend robbery.
Roughly 14 miles east of Hangtown is a sharp bend in the road that forces wagons and stages to slow down almost to a stop. It was at this bend that the Confederate Highwaymen laid in wait for the two Pioneer Line Stage coaches.
The bend was memorialized with a historic marker and dubbed "the bullion bend." It's located along Pony Express Trail in modern day Pollock Pines.
As we dig deeper into this stagecoach robbery, we must remember that there are several historic variations of what happened during the robbery and the days to follow.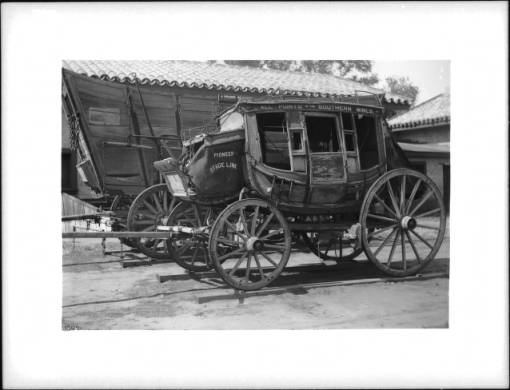 The Bullion Bend Stagecoach Robbery
On Thursday, June 30th, 1864, between 9pm and 10pm, two Pioneer Stage line coaches coming from Virginia City, Nevada, were stopped by six armed men at a bend roughly 2.5 miles from Sportsman's Hall and roughly one mile east of the Thirteen-Mile House.
These coaches were carrying nearly two dozen total passengers and roughly eight bags of bullion from Nevada and heading to San Francisco, but with a planned stop in Placerville.
Ned Blair was driving the first coach while Charles "Charlie" Watson, a proprietor of Strawberry Valley house, was driving the second.
Blair was ordered to stop first as the bandits wanted his treasure box. However, Blair's coach wasn't carrying one. So, the robbers forcefully took the bullion instead.
Ned Blair pleaded with the robbers not to steal from the passengers. They replied that their intention wasn't to rob the passengers, unless they wanted to make donations to their Confederate efforts, but to take the treasure box from Wells Fargo.
Now, Charlie Watson saw that Blair's coach had stopped. He thought that there must have been an accident, so he got out and ran up to see if he could help out. Watson was greeted with two shotguns and men ordering him back to his stagecoach.
They forced Watson to hand over the bullion and a treasure box from Genoa, Nevada. The robbers left alone the passengers in Watson's coach as well.
One historical source states that a female passenger engaged with the robbers for quite some time in order to hear their voices just in case they were able to identify them at a later date.
Once the band of robbers collected all of the bullion, the leader of this armed outfit left Watson with a receipt that said:
"This is to certify that I have received from Wells, Fargo & Co. the sum of $____ cash, for the purpose of outfitting recruits enlisted in California for the Confederate States army."
The receipt was signed: "R. Henry Ingrim, Captain Com'g Co. C.S.A. June, 1864."
At the time, it was estimated that these robbers stole over $40,000 dollars in bullion.
Who Were These Confederate Highwaymen?
The ring leader of this band of robbers was Rufus Henry Ingram, who was a former soldier under command of William C. Quantrill during the very early portions of the Civil War. Some historical accounts referred to him by his nickname of "Ralph."
Around 1862-63, Ingram headed west to find more men and money for the Confederate Army. He linked up with a George Baker who originally told him about the growing support for the Confederacy in California.
Ingram and Baker ended up in Santa Clary County where they joined a secret society known as the Knights of the Golden Circle. This group's mission was to unite all of the slave states and to keep the hopes of the Confederacy alive.
Through the society, Ingram ended up recruiting men to help carry out his vision. Along with Baker, some of these recruits included John Bouldware (Bulwer), John Clendenning, Alan Glasby, Jim Grant and Thomas B. Poole.
Prior to the heist at Bullion Bend, Ingram and his band failed at another robbery in Santa Clara. This botched attempt made them even more motivated to succeed in their plans outside of Placerville.
Also during this time, Grant was kicked out of the group. On at least one occasion, Grant ran his mouth about their plans while being drunk. He would end up heading south and organized another Southern sympathizing group.
Together, Ingram, Baker, Clendenning, Bouldware, Glasby and Poole would go on to commit the Bullion Bend robbery and the heinous acts to follow.
….
The number of men under Ingram's command grew larger with each historical account following the robbery. Eventually, Wallace Clendenin, George Cross, Jos. Gambill, H. Gately, Preston Hodges, Henry Jarboe, and J.A. Robertson were all linked to Ingram's group.
At the time, the Sacramento Union referred to these men as "Captain Ingram's Partisan Rangers."
Although history seems to have muddied the waters as to how many members were part of Ingram's band, one thing is for certain, Captain Ingram was very successful in his attempts to recruit men to carry out his dastardly plans in the name of the Confederacy.
The Manhunt Begins
After the second stagecoach left, the robbers reportedly took off towards Somerset House. The coaches drove straight to Placerville where they alerted Sheriff William Rogers of the robbery. Between 1am and 2am, Rogers rounded up a posse to track down these robbers.
In addition to Rogers, members of the posse included Sheriff Joseph Staples, Constable George Ranney, Constable John Van Eaton, James Bailey and George Williamson who were both policemen.
It's believed that stagecoach driver, and Strawberry Valley House proprietor, Charles "Charlie" Watson was also a member of the posse.
Sheriff Rogers took a dozen men with him along the Placerville Road as they went towards the scene of the crime and the nearby lodgings.
He sent Sheriff Staples, Constables Van Eaton and Ranney towards Grizzly Flat and eventually on to the Somerset House, which was a popular stop a few miles outside of Placerville.
Sheriff Rogers and his posse tracked down two men at the Thirteen Mile House and arrested them in the early morning while they were still asleep. Charlie Watson identified one of them as a robber.
Unfortunately, it would turn out later that these two men were innocent and mistaken as being part of the crime.
The trio of Staples, Ranney and Van Eaton weren't as fortunate as Rogers' posse. Soon after arriving at the Somerset House, a fatal shootout began.
The Shootout at Somerset House  
As Staples, Ranney and Van Eaton picked up the trail of the robbers, they reached a fork in the road where they eventually sent Van Eaton off in another direction.
Ranney testified in the trial of Preston Hodges that they sent Van Eaton off toward the Junction House. Additional historic accounts say that Staples sent Van Eaton off to get reinforcements.
One thing is for certain, Van Eaton was not at the Somerset House when the shootout occurred despite what other reports may say.
A reason for Van Eaton being sent away from Somerset could be due to the fact that he was still recovering from a gunshot wound suffered a few weeks prior.
In May 1864, Van Eaton along with Staples and Undersheriff James Hume tracked down the Ike McCollum gang and engaged in a shootout where Van Eaton was wounded.
….
Arriving at the Somerset House, Staples spoke with a lady who worked there (Mrs. Reynolds) and asked her if any men were staying there. She confirmed that six men were there.
Some historical accounts claim there were only four men inside. However, in the trial of Preston Hodges, multiple individuals testified that all six of the Bullion Bend robbers were inside the Somerset House.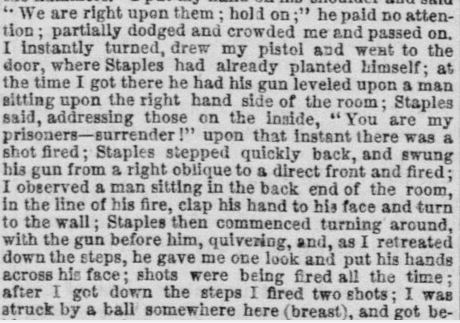 According to Ranney's testimony, in a summary provided by the Sacramento Daily Union (September 9th, 1864), Ranney stated that he was first to enter the Somerset House and saw the men in the room. He shared a brief conversation with the men and promptly left.
As he was exiting the Somerset House, Staples was charging in with his gun cocked after looking over the perimeter. Ranney said: "We are right upon them; hold on." But, Staples didn't listen. He was on a mission to get the upper hand on these robbers.
Staples barreled into the doorway where the men were with his gun drawn. Seeing Staples bold act, Ranney drew his gun and quickly followed. He heard Staples tell the men "You are my prisoners – surrender!"
Immediately following Staples' proclamation, a "fusillade of bullets" filled the house.
Thomas Poole was shot by Staples. In a return fire, the sheriff was "shot down like a dog," according to an article in the Sacramento Daily Union (July 29th, 1864).
Ranney was also badly wounded after exchanging fire with the bandits. Ranney fled the house and tried to find cover. Outnumbered five to one, the bandits spread out and continued firing at Ranney. Wherever he tried to hide, the robbers would find him with the intent on killing Ranney.
Mrs. Maria Reynolds testified at the trial of Preston Hodges that Captain Ingram, Poole, and Glasby had all stayed at her place a few days prior to the robbery. She also stated in court that these same men returned on July 1st.
Mrs. Reynolds saw these men run out of the house and chase after Ranney. She also saw that Sheriff Staples was dead on the floor due to the returned gunfire from the men in the room.
Ranney was captured outside and brought back to the house where they intended on killing him. George Baker was identified as the bandit who wanted to shoot Ranney in the head for "killing" Poole.
Alan Glasby would say in his testimony that he tried to tell Baker that the man on the floor was the one who shot Poole.
At this time, Mrs. Reynolds intervened and stated "Don't shoot him, he is dying." Another historical account says that she berated George Baker, calling him a coward for trying to kill a dying man.
Both Ranney and Reynolds testified to hearing the men proclaim "We are Missouri bushwhackers."
The robbers took the pistols and money belonging to the officers. They also grabbed their horses and hurried off towards Mt. Aukum.
Glasby testified that Ingram took staple's gun and that Bulwer took Ranney's pistol. Prior to leaving, it was also unveiled in court that these reprehensible men kicked Staples' lifeless body and spewed insults at him.
Sheriff Joseph M. Staples
During the shootout, Staples suffered two gunshot wounds. One bullet went through under his right arm and out the left side of his chest. The second bullet went through his lower abdomen and out his back near the spine. This was believed to be the fatal shot.
His funeral was held on July 2nd, at the Neptune Engine Company No. 2 firehouse where he was a volunteer fireman. Reverend Pierce officiated over the funeral.
Staples was buried in the Placerville Union Cemetery (Sec 17 Lot 59 Gr E). His plot was originally purchased by Undersheriff James Hume for himself.
Staples was nearly 38 years old when he died. It's believed that Joseph was born in Ireland around 1826. His headstone reads:
"Joseph M. Staples, Deputy Sheriff of El Dorado County; killed in attempting to arrest the Placerville Stage Robbers, July 1, 1864; aged 38 years."
Deputy Staples was the first El Dorado County peace officer to lose his life in the line of duty. His bravery has been honored to this very day with a historic marker located on Main Street in Placerville.
Thomas Poole Was Left Behind
Poole was left behind as the other robbers thought his wounds were fatal. Mrs. Reynolds testified that he had been shot in the face. Poole was begging for the men to take him with them, but they told him to go hide in the bushes. They also said that they would send a buggy for him.
During the trial of Preston Hodges, Poole stated that if he wasn't shot first then there wouldn't have been any trouble. Poole also states that it was Baker who said they were Confederate officers.
He would further testify that Baker and Alan Glasby kicked Staples' dead body. Mrs. Reynolds confirmed that the men took his belongings.
Eventually, Poole was taken into custody.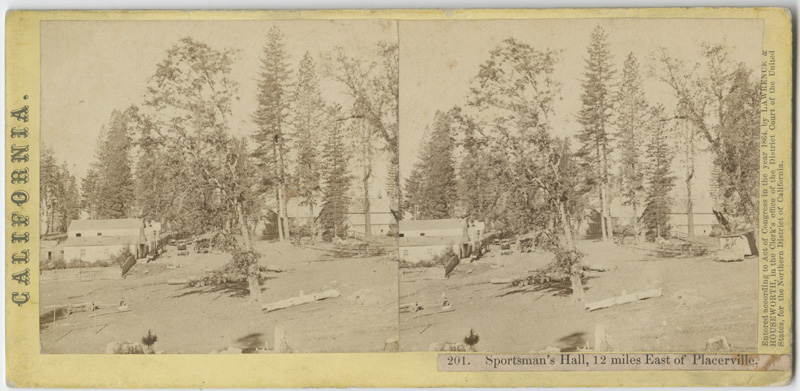 Sheriff Rogers and the Posse Head to Somerset House
Later in the morning of July 1st, Van Eaton made his way to Sportsman's Hall where Rogers was. He told the Sheriff that they picked up the trail of the robbers and urged Rogers and the posse to ride out. After some hesitation, they eventually took off.
About the same time, news made it back to Undersheriff James Hume in Placerville. He had just returned to town after being out of the county on official business.
Hume took Dr. H.W.A Worthen with him and arrived at the Somerset House shortly after Rogers and his posse. Dr. Worthen immediately tended to Constable Ranney's wounds and saved his life.
Hume, who was a close friend of Staples, saw that his friend and fellow officer was dead on the porch. He intensely vowed that he would do whatever it took to capture these fugitives.
Sheriff Rogers arrested Tom Poole and had him taken to jail in Placerville where he healed from his wounds.
A few days later, Poole would make a full confession to Van Eaton. He also informed them that the bandits would return to San Jose. Upon hearing this information, Hume and Van Eaton would set out for San Jose.
Who was James B. Hume?
James Hume was a highly accomplished law enforcement officer with a reputation for relentlessly pursuing criminals and capturing them.
Born in New York, Hume made his way to California in 1850. He spent the first handful of years trying his luck as a miner and grew with the mining camps. In 1860, he became the Deputy Tax Collector El Dorado County.
In 1862, Hume moved on to become Deputy Marshal and eventually the Chief of Police for Placerville. Two years later, he would take the position of Undersheriff for El Dorado County.
Hume not only aided in the capture of the Bullion Bend robbers, but he also participated in resolving numerous high profile crimes throughout the county over the next handful of years. Hume's reputation grew and his successful exploits led to a two year run as the Sheriff.
From there, Hume would become deputy warden of Nevada State Prison. By 1873, he would take employment with Wells, Fargo & Co. as the Chief Special Officer. By time he was done, Hume became one of the most famous Wells Fargo detectives of all-time.
During his time with Wells Fargo, Hume would bring the infamous Black Bart to justice. He pursued Black Bart for many years before finally capturing him in 1883-84. Once again, Hume proved that he always gets his man. History looks back on this being Hume's greatest accomplishment in law enforcement.
In May, 1904, Hume passed away at his residence in Berkeley, California. At the time of his death, Hume was survived by his wife and son Samuel James Hume. If that name sounds familiar, it's because Samuel would go on to build the Hume Castle in Berkeley, California, in 1927. This mansion still stands today and is listed as a historic landmark.
The Capture and Arrests
The five remaining bandits led Rogers and the posse throughout Gold Country until the Sheriff lost their trail in Calaveras County. Eventually, Ingram and his men would make their way back to San Jose, just as Tom Poole had stated.
Once in San Jose, Ingram's band didn't stay out of trouble. Apparently, some of the men had planned to rob the New Almaden Quicksilver Mine, but their efforts were thwarted.
Some reports claim that a man name Hill turned the fugitives in. Another report claims that the law caught their trail after a botched attempt to rob the mine. And still, a third report says that the law officers eventually tracked them down due to their own investigation.
Regardless of how they got there, eventually numerous officers surrounded the place where these fugitives were hiding out.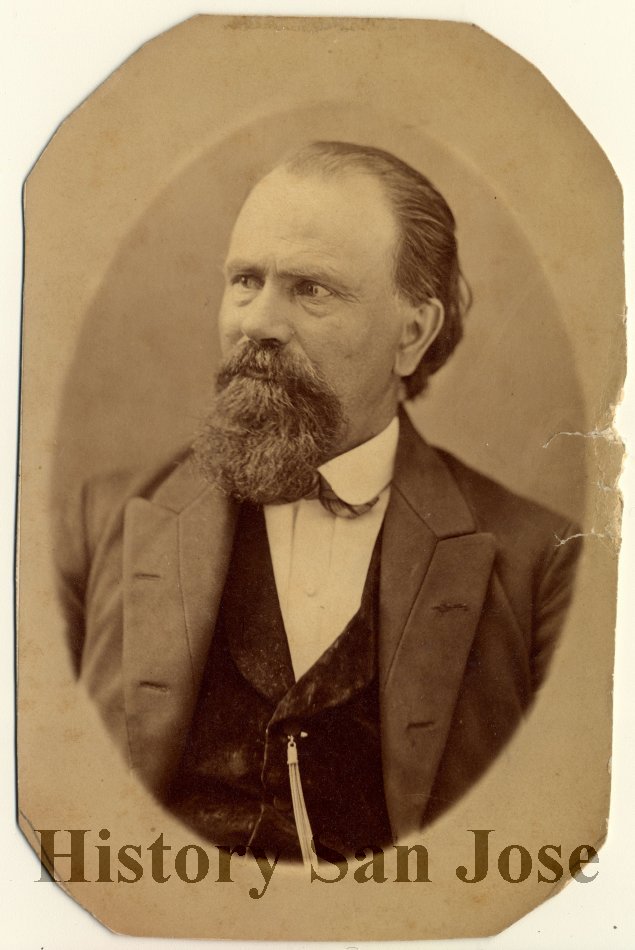 The Shootout at Hill Ranch
According to Stagecoach Robberies in California: A Complete Record, 1856-1913 by R. Michael Wilson, Adams and his posse surrounded the house, which was located roughly 1.5 miles from town along Almaden Road.
John Boessenecker states in his book Badge and Buckshot: Lawlessness in Old California, that the fugitives were indeed staying at a house on the ranch owned by Edward Hill.
Apparently, after growing suspicious of the men, Hill eventually got word to Sheriff Adams. The posse arrived at the house on July 15th, 1864.
This account of Ingram's band staying at Hill's ranch was also confirmed by Alan Glasby in an article that appeared in the Sacramento Daily Union dated July 29th, 1864.
A Hailstorm of Bullets
The fugitives noticed that they had been discovered and burst out of the house in a daring attempt to escape. A hailstorm of bullets rained down on both the fugitives and the officers.
Sheriff Adams was struck in the chest, but only sustained a flesh wound. Deputy Brownlee also suffered two bullets to the leg.
Of the fugitives, John Clendenning was shot and later died of his wounds after a very brief escape. John "Creel" Bouldware was shot and killed during the shootout. His body along with Alan Glasby, who surrendered after being fired upon, were brought back to town.
Three of the five Bullion Bend robbers who escaped the Somerset House had now been killed or arrested. Captain Ingram and George Baker escaped. It's believed that Ingram returned to Missouri. As for Baker's whereabouts, it remains unknown.
Hume and Van Eaton Arrive
Nearly two weeks after the shootout at Hill Ranch, Undersheriff James Hume and Deputy John Van Eaton arrived in San Jose with arrest warrants.
Their investigation prompted Sheriff Adams and fellow officers to head out and arrest Preston Hodges, John Ingram, Wallace Clendenning, George Cross, Henry Jarboe, Joseph Gamle, John Gately, John Robinson and the Frear brothers for being coconspirators in Ingram's criminal activities.
The prisoners were all taken back to Sacramento via riverboat and then up to Placerville where Glasby and Poole were already being held.
The Hearing and Indictments
With Poole's confession already taken well before the Hill Ranch shootout, Hume and Van Eaton already had a strong understanding of Ingram's band as pertaining to its mission and the members.
Because the Bullion Bend robbery and the murder of Sheriff Staples took place in El Dorado County, all of the prisoners were brought back to Placerville to be arraigned and stand trial.

Glasby Turns State's Evidence
Following his brush with death at Hill Ranch, the 19 year old Alan Glasby turned state's evidence and gave up everyone involved. He confessed to the Bullion Bend robbery, the shootout at Somerset House, and named everyone who supported or participated in the criminal activities and plans.
Glasby came to California in November 1862 at roughly 17 years old. Around the time of being recruited into Ingram's band, Glasby was working at John Robinson's store. Robinson was another defendant on trial.
The majority of Glasby's sworn statement aligned with what Poole had said in his confession.
Ultimately, Glasby's testimony proved helpful to the state, but very detrimental to both Hodges and Poole. Glasby received freedom for his cooperation.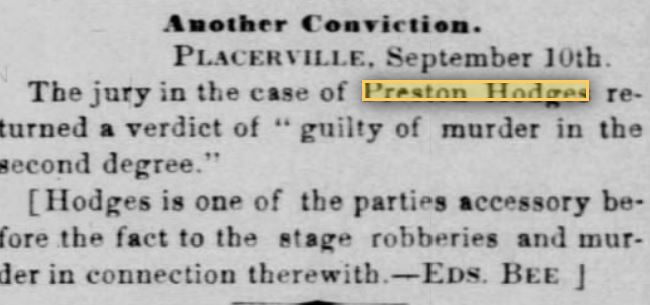 The Trial of Preston Hodges
As referenced a few times above, Glasby, Ranney, and Mrs. Reynolds all testified at the trial of Preston Hodges. Thomas Poole had already been convicted of murdering Sheriff Staples a few days prior to the beginning of Hodges' trial, but also called to testify against Preston.
Although Hodges never participated in a robbery or any other physical crime that we're aware of, he was found guilty for aiding the robbers before and after the murder of Staples.
In fact, Hodges' home appeared to be a central hub for Ingram's band as they made their plans to raise funds and soldiers for the Confederate Army.
Hodges would end up being convicted of second degree murder and sentenced to 20 years in San Quentin prison. According to the San Jose weekly Mercury (September 15th, 1864), Judge Brockway made the following comments upon sentencing:
"It but remains now for me to pass upon you the judgment of the law, which is; that you, Preston Hodges, be taken to the State's Prison of the State of California, and be there confined to hard labor the for term of twenty years, to date from this day."
He arrived at the prison on September 13th, 1864, just a few days after his trial. Hodges was registered as prisoner #2820 at San Quentin.
Appeals on behalf of Hodges were taken all the way to the State Supreme Court. Eventually in 1865, Hodges was released from San Quentin and the charges of second degree murder and treason were dropped. One historical source says that Hodges received a pardon from Governor Frederick Low.
In addition to Hodges, all of the other men received a charge of treason as well. However, they were able to get a change of venue and were eventually acquitted of this charge. In the end, only Thomas Poole paid the ultimate price for the Bullion Bend robbery.
The Hanging of Thomas Poole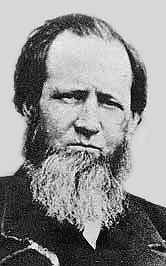 Thomas Bell Poole was born in 1820 in Franklin County, Kentucky. He came to California during the Gold Rush and eventually settled in Monterey County.
In 1858, Poole took the position of Undersheriff in Monterey. That very year, he gained notoriety for ignoring Governor John B. Weller's orders and hanging Jose Anastasio in February 1858.
In 1860, his term as Undersheriff wasn't renewed. Furthermore, his wife Mary Davis also died that year. This led to Poole moving the rest of his family to San Francisco. It was here where he joined the Knights of the Golden Circle.
In 1863, he was part of a plot to purchase a 90 ton schooner for the purpose of carrying out attacks on behalf of the Confederate Army.
Poole was arrested and sent to Alcatraz, but ended up being released after President Lincoln's amnesty in December of 1863. Shortly after his release, Poole met and joined up with Captain Ingram's band.
After being arrested for the robbery and shootout at the Somerset House, Poole was found guilty of murder on August 27th, 1864. The jury only took 15 minutes to deliberate.
Poole was sentenced to be hanged. Despite numerous appeals on behalf of Poole, including letters from reputable men, the California Supreme Court upheld this sentence and on September 29th, 1865, Poole was hanged.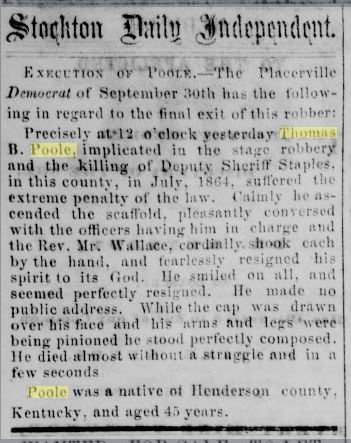 In the September 30th, 1865, edition of Placerville's Mountain Democrat, Poole's execution was described as follows:
"Precisely at 12 o'clock yesterday Thomas B. Poole, implicated in the stage robbery and the killing- of Deputy Sheriff Staples, in this county, in July, 1864, suffered the extreme penalty of the law.
Calmly he ascended the scaffold, pleasantly conversed with the officers having him in charge and the Rev. Mr. Wallace, cordially shook each by the hand, and fearlessly resigned his spirit to its God.
He smiled on all, and seemed perfectly resigned. He made no public address. While the cap was drawn over his face and his arms and legs were being pinioned he stood perfectly composed. He died almost without a struggle and in a few seconds."
With Ingram and Baker in the wind, Clendenning and Boulware dead, and Glasby turning state's witness, Poole was the only man left to answer for the murder of Sheriff Staples.
What Happened to the Loot?
The last twist and turn of this stagecoach robbery involves the loot that the robbers stole. Charlie Watson testified that the robbers stole $20,000 in bullion and $26,000 dollars in coin and gold dust from the treasure box.
However, according to various historical accounts, Ingram's band didn't take all of the loot with them.
One account states that they only took a few hundred dollars and one bar of silver bullion with them. The rest was supposedly buried near a spring at Bullion Bend. The bar they took with them was stashed under the barn at the Somerset House.
Glasby's account of their brazen escape following the Somerset shootout stated that they took one bar of bullion with them to Somerset and another bar with them to Mokelumne Hill.
The bar at Moke Hill was left behind when Ingram's band was startled by a group of men in the middle of the night where they were camped out.
Glasby would go on to testify that the plan was for Bulwer to go back to the Somerset House in a month to find the buried silver bar. Bulwer described in detail where he hid it and Hodges was tasked with getting the silver bar if he couldn't.
In time, all of the loot was recovered by law officers. Yet, that didn't stop a local lore from saying otherwise.

In the late 1800s and early 1900s, a local legend took on a life of its own by claiming that some of the stolen loot was never found. In 1913, The San Francisco Call mentioned that some of the "booty" was supposedly still buried in the hills.
Treasure seekers spanning a few generations would retrace the path that these robbers took from Bullion Bend to Moke Hill.
Ultimately, this legend died out by the mid-1900s as not one soul could ever find any hidden loot from the robbery.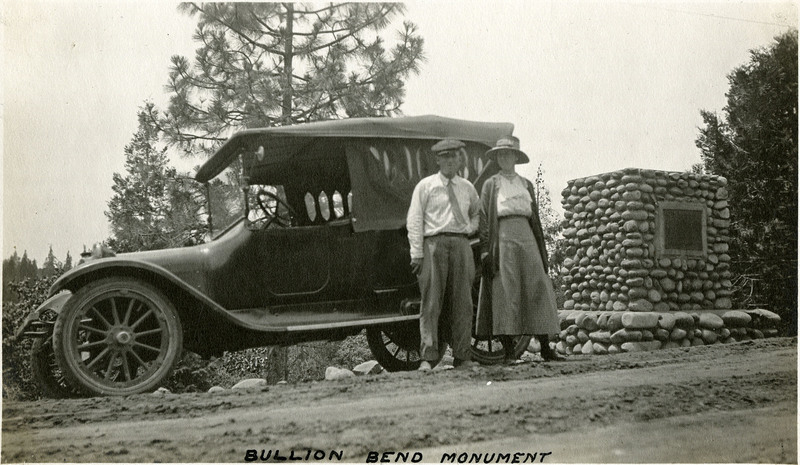 Bullion Bend Historic Markers
Today, the site of the robbery is located where the Pony Express Trail road comes to a dead end. The marker is titled Pioneer Officers.
At the corner of Pony Express and Sly Park Rd. is a Safeway shopping center. There's a Bullion Bend display at the northwest corner of the parking lot.
The plaque for Deputy Staples is located on Main Street in Placerville, a few hundred feet west of the Courthouse. It's right in front of the free parking lot.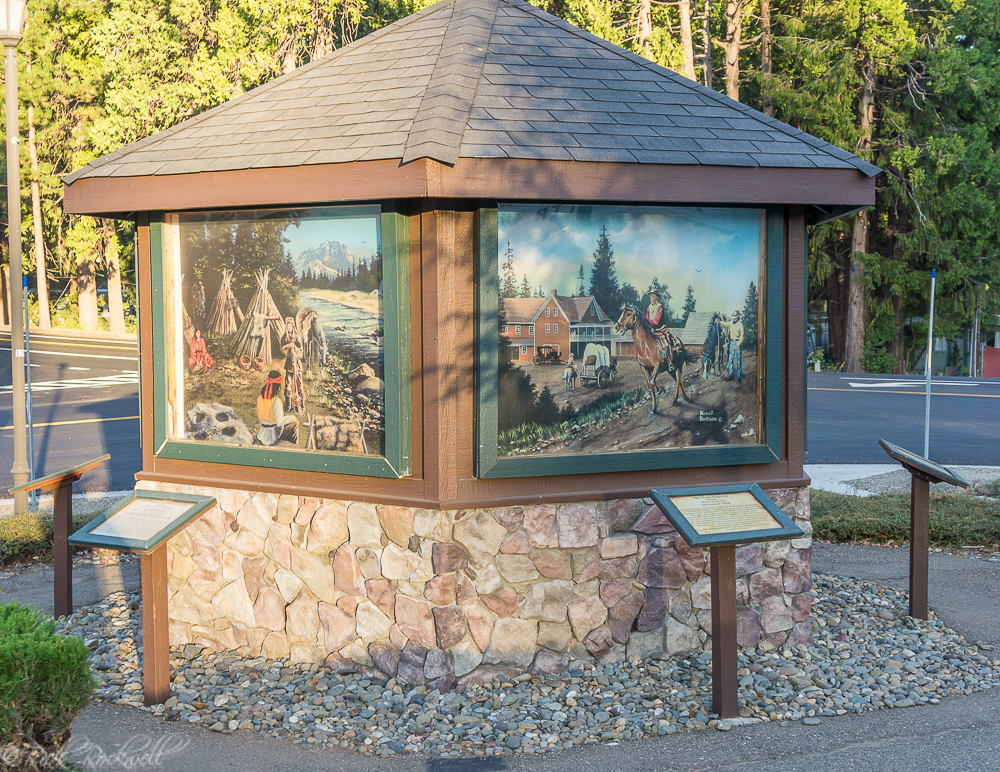 Sources
Wilson, R. Michael, (2014) Stagecoach Robberies in California: A Complete Record, 1856-1913
Hughey, Richard., "Johnson's Cutoff led to first link in state highway system," The Mountain Democrat 29 April, 1999
Boessenecker John, (1993) "Badge and Buckshot: Lawlessness in Old California"
Kearney, J.G., (2016) "Not of the Ruling Power: Captain Ingrams Partisan Rangers in California"
Upton, Charles Elmer, (1906) Pioneers of El Dorado County
Sacramento Daily Union: July 29th, 1864, September 9th 1864
Stockton Independent: October 3rd, 1865
The San Francisco Call: August 17th, 1913
The Pollock Pines Epic – Early Routes and Roads