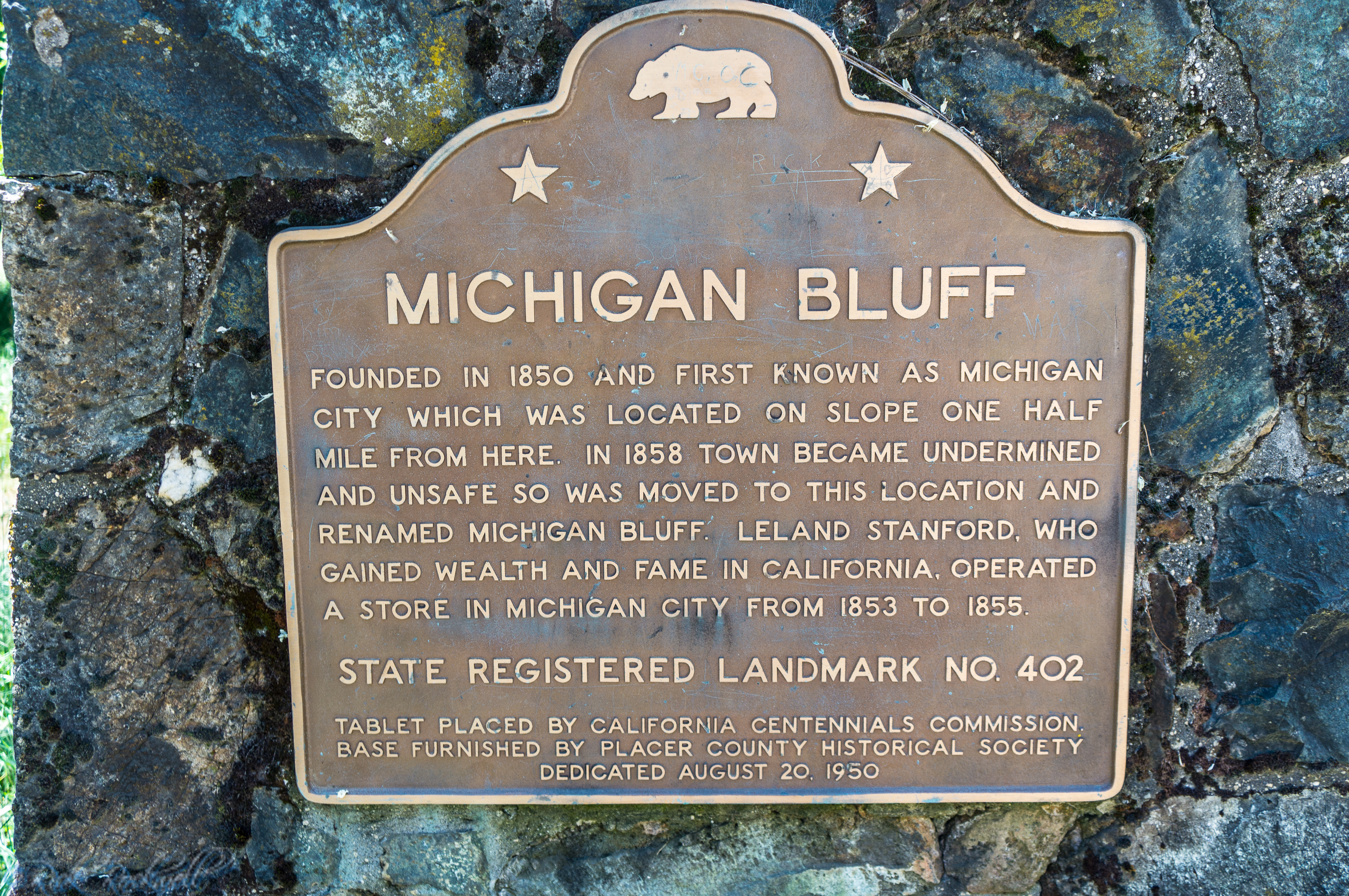 (Last Updated On: September 14, 2016)
This town used to be a booming place that rivaled any other town in Placer County during the gold rush era. In fact, one could make an argument for this town being the best of them all.
A few homes, a cemetery, a small store and several historical markers are all that remains of this once prominent town. And yet, when visiting, you can't help but feel the history that still resides in this small community.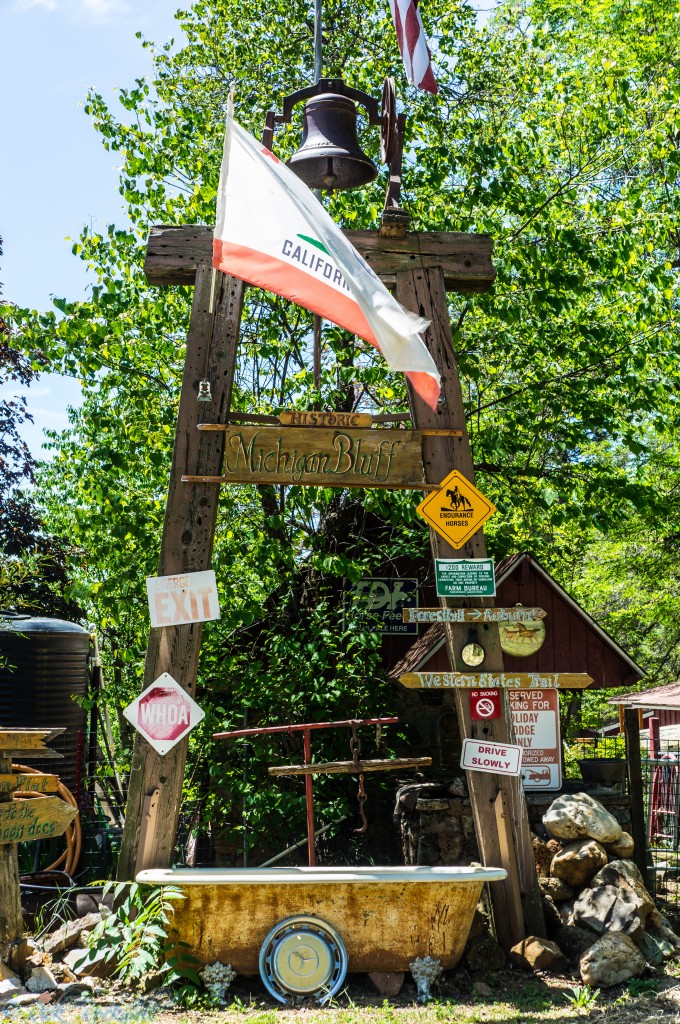 Michigan City
In 1849, gold had been discovered nearby, inspiring dozens of miners to explore more of the Foresthill Divide. By 1850, thousands of miners were digging on the Divide due to the gold seemingly flowing like water. It was at this point that the town was settled and named Michigan City.
At first, the town was located below the ridge closer to the American River. It was considered more of a day camp for miners. However, as more miners came, the camp expanded into a town.
From there, the town grew into a sociable place with many fine establishments. From saloons and shops to restaurants and hotels, Michigan City was a town with a nightlife. Michigan City also was a temporary home to one of the most famous and influential men in the history of California.
Leland Stanford
One of the early residents of Michigan City was Leland Stanford. After moving from New York to California in 1852, Leland eventually ended up in Michigan City.  Stanford was a respected business man who ran a general store for miners and the growing population of town residents from 1853 to 1855. Leland also became a member of the Michigan City Lodge No. 47.
After a few years in this gold rush town, Stanford decided to move back to New York. However, that was a short stay as his heart desired California. Leland returned to the golden state and settled down in Sacramento during the year 1856. He would become one of the four primary investors in the Central Pacific Railroad in 1861 and also end up becoming president of the railroad company. Leland had a strong acumen for business, which instilled confidence in others. With his success, and growing influence, Stanford was elected governor in 1861 for a two year term.
Eventually, Stanford and his family would move to San Francisco by the late 1870's. Here, he continued developing new ventures and taking on more prestigious roles. From 1885-1893, Stanford held a position in the U.S. Senate. Yet, his influence on this state and country didn't end there. He and his wife founded Stanford University in 1885; which was originally named Leland Stanford Junior University after their son who died in 1884 from typhoid fever.
Leland Stanford died in 1893 from heart failure at his home in Palo Alto. At the time of his death, Stanford was estimated to be worth $50 million which is over $1.3 billion dollars today.
From Michigan City to Michigan Bluff
In 1857, the town of Michigan City was almost completely destroyed by a fire. Despite this tragedy, the town rallied and rebuilt most of the establishments. Unfortunately, the residents soon realized that the mining tunnels caused an unstable foundation underneath the town. This was largely due to the hydraulic mining which was brought to the region in 1853.
So, in 1858, the residents decided to move and rebuild the town up onto the ridge at an elevation of 4000 feet. Unfortunately, not everyone agreed with this as many residents remained in the original founding location. Throughout this year, tensions grew between the upper and lower townspeople and a civil war nearly broke out. Eventually, cooler heads would prevail and in 1859, everyone moved to the top of the ridge and renamed the town to Michigan Bluff.
During the 1860's and 1870's Michigan Bluff was one of the most prosperous towns in all of Placer County. In its heyday, according to a great book The History of Placer and Nevada Counties, Michigan Bluff had: 14 saloons, 5 provision stores, 4 barbershops, 3 hotels, 2 clothing stores, 2 restaurants, 2 bakeries, and 2 livery stables. Additionally, the town had: 6 blacksmiths, 5 shoemakers, 3 doctors, two lawyers, 2 tinsmiths, and 2 tailors.
There was one sheriff and two constables to make sure this booming town had some law and order.
The Town's Decline
In 1883, the Anti-Debris Act made hydraulic mining illegal in California. This had a dramatic impact on Michigan Bluff and other mining towns that relied on this particular form of mining for gold. Eventually, miners and residents began to slowly leave the town and move on to other prosperous locations. By 1922, there were only 32 registered voters in town.
Modern Day Michigan Bluff
The roads to Michigan Bluff are slightly challenging and one must exercise caution especially during inclement weather. From Foresthill, the roads wind up the ridge and barely fit two cars side-by-side in several places. When entering into town, it's like driving into a rural, mountain neighborhood. You are greeted by a welcome sign that words can't describe (which is the first picture of this article)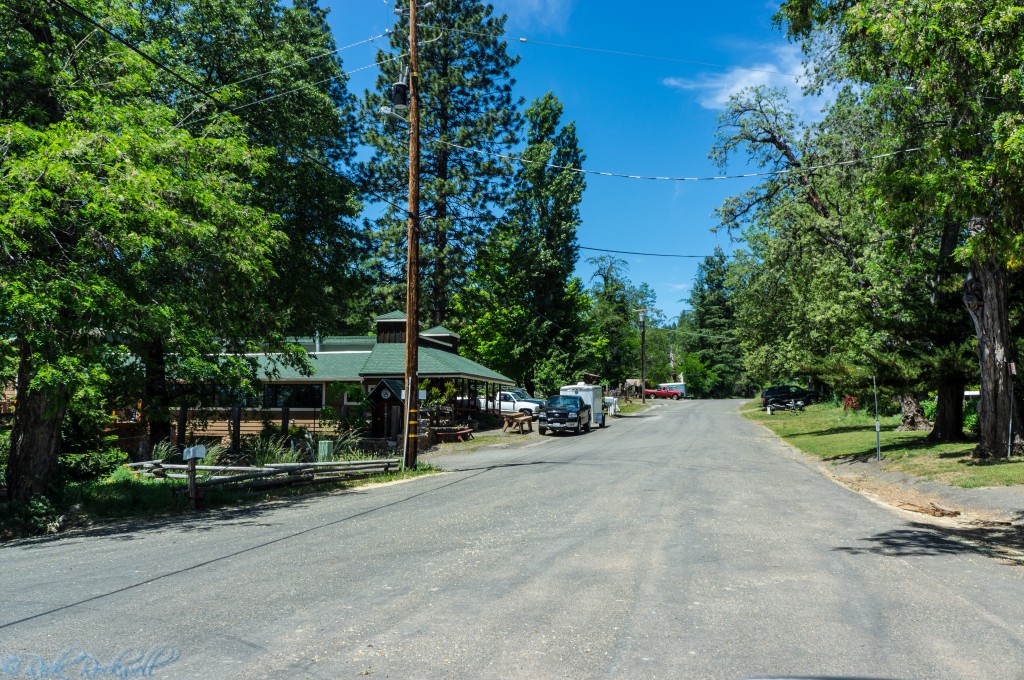 Michigan Bluff consists of a few historical markers located on the main road. The first one is the state historical landmark and next to it is a bulletin board of historical Michigan Bluff. Further down the road is another marker for the portion of the famous Western States Trail that goes through town and heads toward an old mining camp called Last Chance. In addition to these historical markers, the old Michigan Bluff Cemetery is still in existence.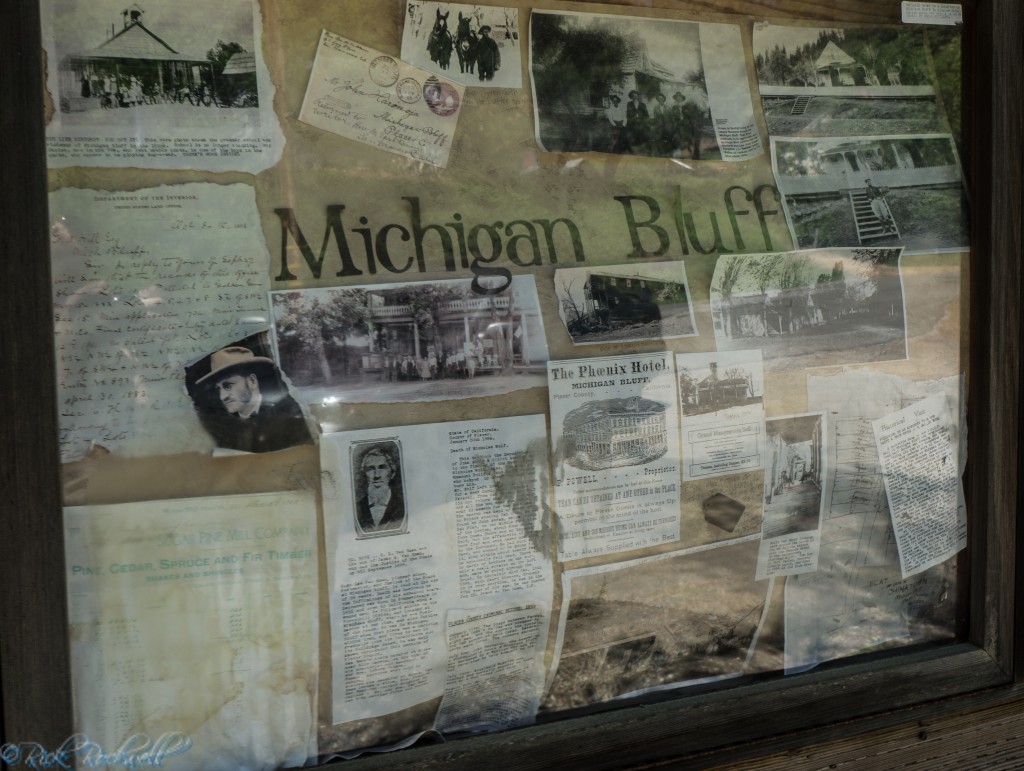 Michigan Bluff to Last Chance
At the end of town, there's a trailhead and a National historic landmark for the 13 mile portion of the Western States Trail that runs from Michigan Bluff to Last Chance.
The Western States Trail is a famous trail that extends from Sacramento, CA to Salt Lake City, Utah. It was originally a trail used by Native Americans. In the mid-19th century, the trail became a path for the 49ers who were flooding the Sierras and the Foothills in search of gold. Nowadays, it's home to the Tevis Cup which is a one day 100 mile horse riding event, the Western States Ultra which is a one day 100 mile running event, and a popular day hike from Michigan Bluff to Deadwood, which is roughly 6 miles in distance.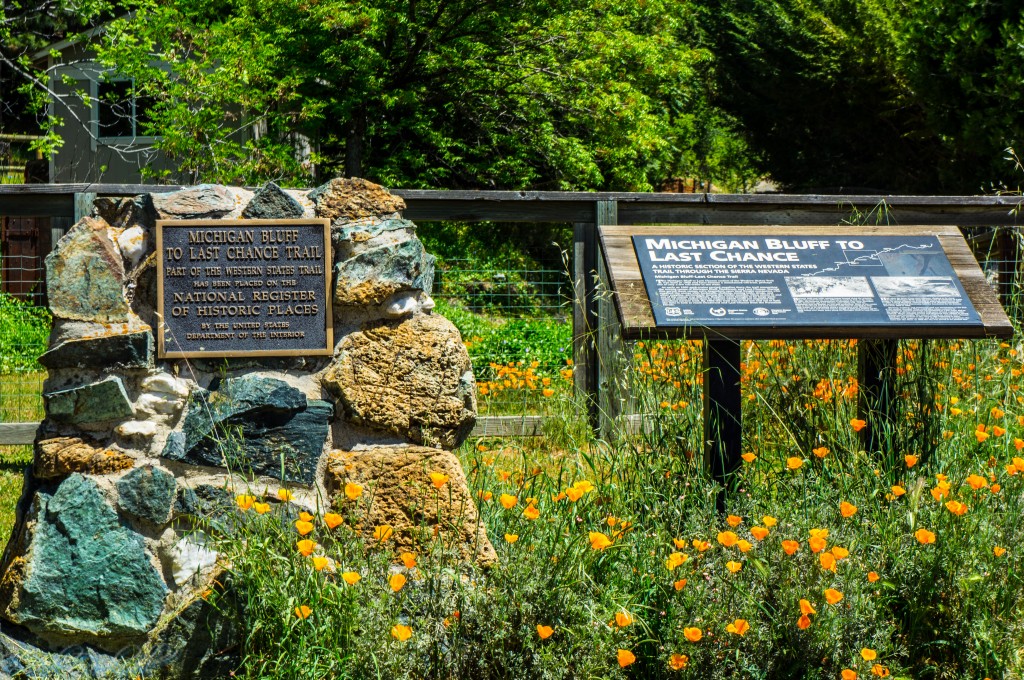 In the 1850's, the only way to reach the mining camps of Last Chance and Deadwood was via this trail which ended up becoming a toll trail. Food and supplies were taken by mules up this trail so that the other mining towns could survive. Gold was brought back down this trail and dispersed accordingly.
Both Last Chance and Deadwood have faded into obscurity. They are basically ghost towns with cemeteries and a few remnants of the past. But, they will make great explorations for history buffs, hikers and gold panning enthusiasts.
Final Thoughts
Michigan Bluff is a small community that's packed with a tremendous amount of history. From the gold rush and mining to Leland Stanford and the trail to Last Chance, this historical town is definitely a must see place on the Foresthill Divide.
Check out more of my Foresthill Divide adventures.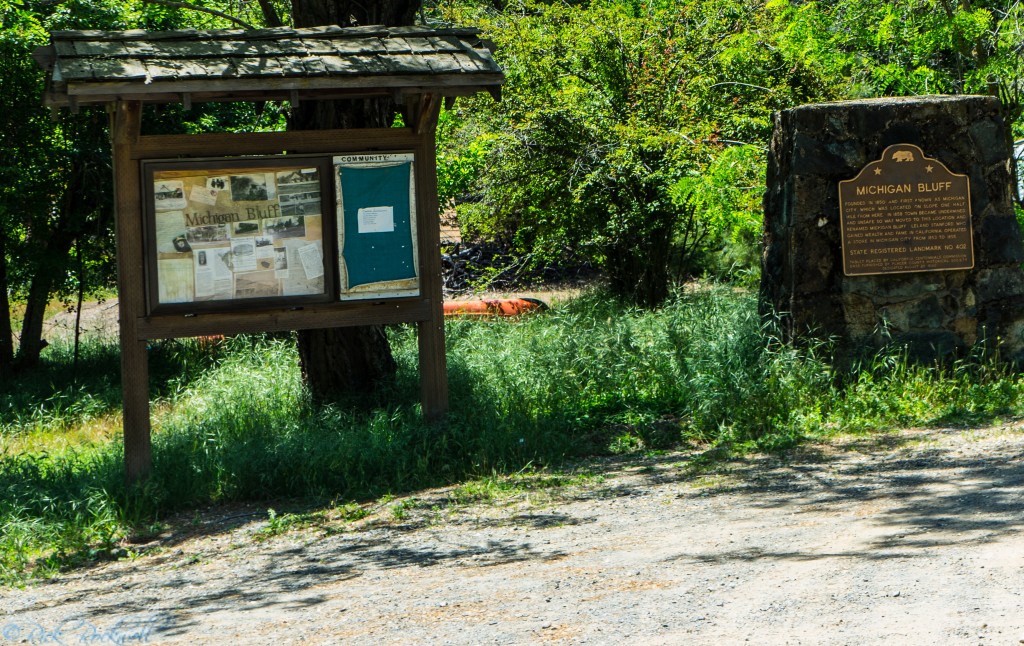 Sources
https://archive.org/stream/historyofplacern00lard/historyofplacern00lard_djvu.txt
http://www.sierranevadageotourism.org/content/town-of-michigan-bluff-no-402-california-historical-landmark/sieBFBA21887BD84555D
http://en.wikipedia.org/wiki/Leland_Stanford