(Last Updated On: January 4, 2020)
Along Highway 49 in Amador County, stands a historic structure too proud to fade into the past like the town it was once a part of. The Butte Store, which was constructed in the 1850's, is nothing more than four walls seemingly out of place with today's landscape. But, if you look close enough, this Historical Landmark is a portal to the once prosperous gold mining town of Butte City.
The Establishment of Butte City
The word "butte" was a common French term for mound, which was also given to the Marysville Buttes that are now known as the Sutter Buttes. The prominent "mound" of Amador County was called Butte Mountain, which is now known as Jackson Butte. This mountain inspired the names of Butte Basin and the nearby Butte City.
After gold was discovered in El Dorado County in 1848, miners quickly spread throughout nearby regions. Some sources believe that Big Bar, along the Mokelumne River, was where gold was first discovered in Amador County. Other sources believe that Drytown was the site of first discovery. Despite the conflicting beliefs, by 1849, this region was flooded with miners.
The Amador region was also a melting pot for many nationalities in addition to Americans like Chileans, Mexicans and Native Americans. This melting pot would explode on several occasions due to greed, selfishness and ethnic tensions.
Amador County wasn't officially formed until 1854 and it was named after a pioneering rancher and miner named Jose Maria Amador. The word "Amador" means "one who loves" in Spanish.
However, prior to the formal conception of Amador County, there were numerous towns and camps already flourishing like Jackson, Moke Hill, Sutter Creek, Big Bar and Butte City.
At the time of the county's formal conception, Jackson and Moke Hill were arguably the two most prominent camps that seemingly grew in relevance and significance overnight. But, at one point, Butte City reportedly rivaled that of Jackson before its downfall and subsequent disappearing act into the history books.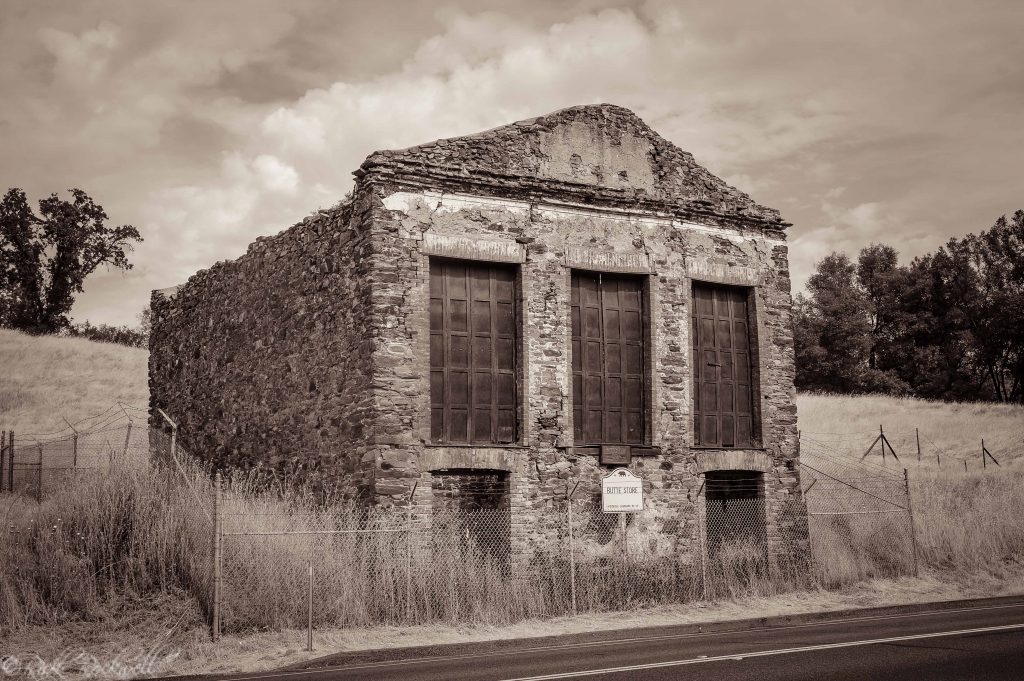 Butte City in the 1850's
The town of Butte City was established at the base of Butte Mountain roughly 2 miles and 250 rods from Jackson and about 1 mile and 134 rods from Bar Bridge (Jackson Sentinel, via Sacramento Daily Union, April, 1854). For those wondering, a rod equals about 16 ½ feet.
During the 1850's, some of Butte City's pioneering and prominent families arrived mostly due to their aspirations of finding gold. Some of these families included (but not limited to): the Murphy's, Long's, McCarthy's, Hagerman's, Mello's and Stewart's. Eventually other prominent families like the Ferrari's came.
Canals and Ditches
One of the most well chronicled aspects of the early years was the construction of ditches for mining and irrigation purposes. In the fall of 1851, a ditch roughly 3 ½ miles from Jackson was constructed for the "conveyance of water" to a few nearby placer mines and Butte City. This ditch was surveyed and constructed by the Watkins brothers, who would eventually sell their rights to a group of men led by Horace Kilham. However, it wasn't until the beginning of 1853 that the ditch was fully completed.
The Kilham Ditch, as it was informally dubbed, wasn't enough to meet the needs of the area so a second ditch from Jackson Creek was constructed. Some of Kilham's partners, Cunningham and Munson, resided in Butte City until the Spring of 1857 when they left for mining opportunities in Placer County.
Eventually, Kilham sold all his rights to the Butte Ditch Company who eventually sold the ditches to Amador Canal Company by February 1870.  From this point on, there were numerous attempts to create new ditches and canals, reuse old or outdated ones, and the creation of more companies.
Over the years, Butte City was described as a "paradise" for ranchers due to the fertile lands. These ranches featured all sorts of orchards, berries and gardens.
Prosperous Times
By the spring of 1853, good wages could be obtained at Butte City and as soon as a house had been erected, someone moved in. The Sacramento Daily Union described it as a "building mania" going on in Butte City. (Sacramento Daily Union, 26 April 1853)
The mines were also very prosperous. In 1857, it's said that the diggings paid as well as any in the county and that miners have never been more prosperous up to that point. (Sacramento Daily Union, 4 May 1857)
The year 1857 also saw a post office established in December with John Lebarr as the postmaster (Sacramento Daily Union, 2 December 1857). In fact, some resources state that the post office was briefly held in today's historical landmark – The Butte Store.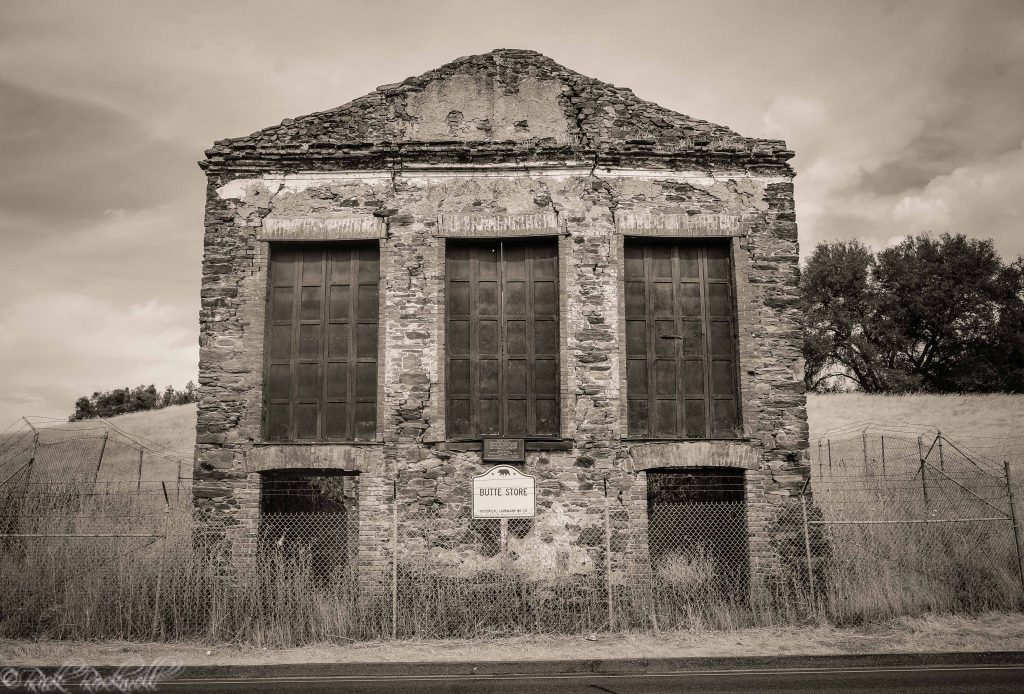 The Butte Store
There is some confusion as to when the historical landmark was first constructed. Some resources state that this store was built in 1854 and was used by Xavier Benoist as a general store and bakery. On a side note, Xavier Benoist apparently had a son named Ed who was a very popular fiddler and in high demand through the rest of the 19th century.
Other sources state that the Butte Store was built in 1857. There's a possibility that both could be correct. It's entirely possible that a first store was there and suffered destruction prior to this second store. We won't be 100% sure until further research clears up this matter.
It's also unclear as to when the building was purchased by Enrico Ginnochio and transformed into his longstanding storefront. Ginnochio did come to Amador County by 1860 and began working with his uncle Enrico Bruno in Jackson. Bruno was partnered with Mr. Curotto who Ginnochio would end up buying out. Additionally, Bruno had a store in Butte City around 1857.  (More on Ginnochio later in the article.)
Crime and Conflict
As with any town that sprung up during the Gold Rush era, there were numerous tales of crime, gunfights and conflicts. Amador County was ripe with tales of Indian Wars, alleged escapades of the notorious bandit Juaquin Murietta, stealing of mining claims and much more. Nearby Moke Hill was arguably the most "violent" town in the region. Its early days of violence can be summed up with 17 straight days of someone being shot and killed.
Butte City may or may not have been as rowdy as its neighbors. History seems to have "misplaced" some of these details. In late 1852, the robbery of Mr. Corral made the papers. He was robbed of $2,000, which is a lot of money for that time.
Through the early 1850's, the region had barred most non-American citizens from mining rights. Additionally, most non-American or non-Anglo Saxon individuals were forcibly stripped from their mining rights, claims and banned from the region. No incident was more notable than the Chili Gulch War, which took place a few miles from Butte City.
In 1855, a committee met in Butte City over the public outrage at the treatment of Mexicans and Chileans in the region by a traveling group of "vigilantes."
Those Mexicans and Chileans who stayed after the initial backlash of 1849 through the early 1850's, became residents and hard workers within the county. The committee ultimately sided with the Chileans and Mexicans by declaring that this traveling group of vigilantes "fully deserve the censure of the citizens of the community." (Daily Alta California, 31 August 1855)
Another reported example of ethnic conflict took place in May of 1858 when a "serious affray" took place between two Native Americans, a Chilean and an American. The Chilean was mortally wounded over bad whiskey and a "digger squaw." The American and two Native Americans were arrested. (Sacramento Daily Union, 17 May 1858)
Roads and Transportation
As the mining camps popped up and grew into towns, traveling between these locations became a high priority.  Unfortunately, the Mokelumne River was a natural barrier dividing the region and hindering transportation of goods and passengers between the mining towns that were growing. Specifically, the river stalled the growth, exchange of goods, and traveling between towns like Jackson and Moke Hill.
Crossing the Mokelumne River
Around 1849, a small ferry boat was used by travelers to cross over the Mokelumne River. This boat was operated by a "Scotchman" and he charged $1 per passage. After the Scotchman, this ferry boat service was passed around until finally ending up in John Hosley's hands. He was a pioneer of the region and resided in Moke Hill where he saw the birth of the town. As the need for traveling across the Moke River grew, Hosley would enlarge his ferry to a plank boat that could transport up to 4 passengers at a time. Horses were made to swim alongside the boat.
Hosley felt that he had made enough money and decided to sell his boating service to Pope and Burns for an estimated $50 sometime in 1850. Eventually, Dr. Soher, along with a few other gentlemen, would end up purchasing the service for $12,000.
This ferry service was a vital contribution to the initial growth of the area. But, it was the foresight of Dr. Soher's group that really opened up Amador County for easier traveling and transportation of goods and supplies.
The Inaugural Big Bar Bridge
In 1853, Dr. Soher and his partners would construct the first bridge and roads on both sides of the Moke River for an estimated cost of $27,000-$30,000. The location of this bridge was at Big Bar.
Also in the region, rugged and dangerous roads were being carved out to aid in the traveling between towns. Eventually, this made it possible to travel by coach. By late 1854, a daily coach was established from Jackson to Aqueduct City with Butte City as one of its stops along the way. (Sacramento Daily Union, 5 December 1854)
A New Road from Butte City to Big Bar Bridge
In January of 1856, a petition was sent to the State Legislature to grant Dr. L. Soher the license to build a new road from Butte City to Big Bar Bridge. The need for a new road was evident to those traveling between the towns. The old road was very difficult to haul goods. The stage owners had to use six horses per coach and then request passengers to get out and walk up the hill. Additionally, this old road was longer in distance and more perilous. (Sacramento Daily Union, 2 September 1856)
The petition was passed and, by the end of the summer, Dr. Soher completed the new road. Soher's road cut down roughly three miles between Jackson and Moke Hill, was considerably safer and hailed as a "great accommodation to the public." Stage owners only had to use 4 horses now and didn't need to have passengers walk up the hill. It cost less than the projected $10,000 to construct this road and was described as "an easy grade, well built, and on the Jackson side the most expensive for the distance of any we have ever seen in California."
This road became a vital link between Sacramento and Moke Hill as it allowed goods to be transported at all times. Additionally, and not to be overlooked, this new road could direct the emigrants coming down from Carson Valley toward Sacramento instead of the accustomed route along the river down to Stockton.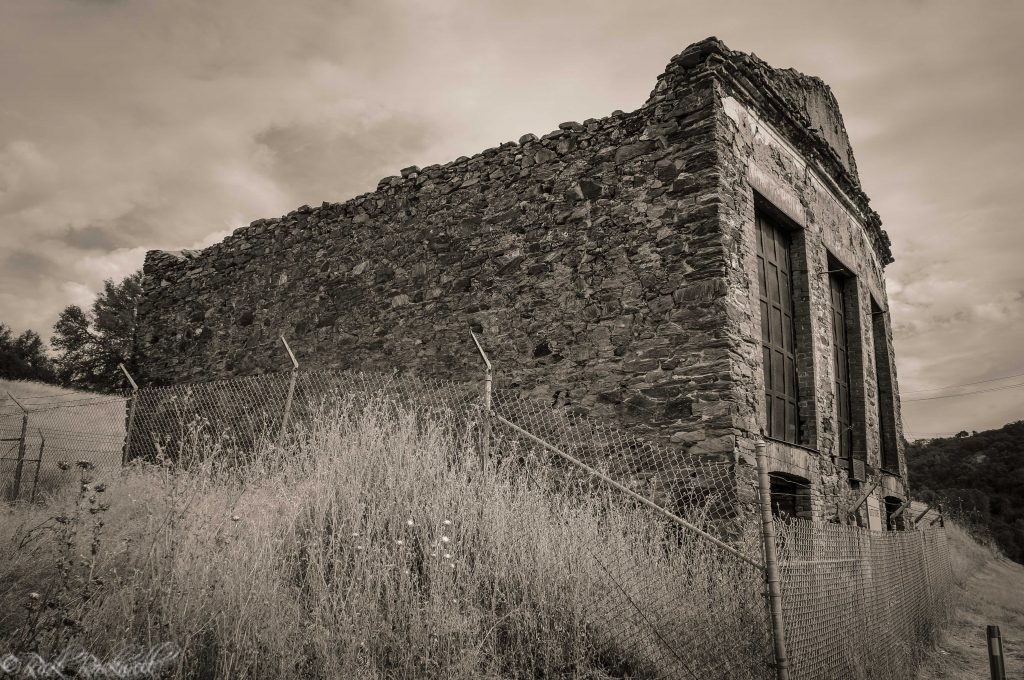 Butte City in the 1860's
Heading into the 1860's, Butte City was still booming. The mines were producing and the town was thriving. At the time, many residents were traveling to Sutter Creek to attend church. It wasn't until 1860 that a "neat church" was built. The pastor from Sutter Creek would come once a month to visit.
Happy times in Butte City were soon threatened by a devastating flood that still ranks as one of the state's worst natural disasters.
The Great Flood of 1862
This flood was a massive disaster throughout Sacramento, Amador, San Juaquin, Calaveras and other nearby counties. It wiped out towns, annihilated farmlands, buildings and nearly destroyed the advancement of this California region. A book can be written about this flood and the devastation it caused. For this article, we will focus on the impact it had in Amador County and Calaveras County.
The great flood of 1862 technically began in late-1861 as it was the accumulation of several storms, heavy rainfalls and inadequate levee systems. One source reports that Sonora had nearly 100 inches of rain over this near-3 month ordeal. You can imagine how this rainfall would impact any county. It's stated that the Moke River rose at least 15 feet higher than "ever known "and flooded the county -wiping out both the Big Bar and Middle Bar bridges. In fact, not one bridge was left standing in Amador or Calaveras Counties due to this massive flood.
Dr. Soher's road from Butte City to Big Bar was completely destroyed. Entire homes were swept away as were quartz mills, businesses and hotels within Amador County. The streets of Jackson were blocked with destroyed homes and only one hotel was left standing. Sutter Creek also saw entire homes and businesses swept away.
The aftermath of this flood left people stranded and a widespread famine broke out. Prices of commodities like flour and potatoes skyrocketed. Some sources say that flour went for over $20/barrel and that potatoes wen for 10 cents per pound. Sacramento was also facing severe damage and was unable to send any relief or goods to Amador County for quite some time. (Daily Alta California, 16 January 1862)
Eventually, the towns that survived were able to rebuild. Butte City was able to rebound and both Dr. Soher's road and a new Big Bar Bridge were rebuilt by late 1862.
Other Notable Events in the 1860s
Not even a year after the massive flood, Amador County was rocked with two separate fires that destroyed important towns and hindered growth and trade. The first fire wiped out Jackson in August of 1863 and the second fire destroyed much of Volcano. The persistence and resolve of these early settlers would greatly aid in the rebuilding of both towns. It also led to Butte City becoming more prevalent in the county.
Wine became a highly sought after commodity in Amador County. In the summer of 1867, Butte City's Isaac Tripp was creating a solid reputation for his superior wine (Daily Alta California, 10 August 1867). His wine was a part of the reported 200,000 gallons of wine made in the county by December. Sadly, Isaac Tripp would die three years later in a cave-in at his claim in Butte City.
In late 1867, another storm led to the near destruction of the Big Bar Bridge as the Moke River rose to high levels.
Declining
 in the 1870's 
Sometime during the 1870's, most of the mines dried up and Butte City began to decline. It's unclear as to the rate of the decline other than some sources state that as fast as the mines were producing in the 1850's and 1860's, is as fast as they declined.
Although a great deal of details for this decade are unattainable, there is one particular story that symbolizes the struggles, perseverance and challenges that residents of this era faced – the story of "Old Miguel."
Old Miguel
In late February of 1878, a beloved Butte City resident named Miguel Vara (sp) was found dead in his cabin. Sometimes referred to as "Old Miguel," this early settler was well-known to all. After his death, Miguel was to be buried in the town's small hilltop cemetery. On the day of his burial, Miguel was being carried to his open grave when the skies unleashed a massive storm. Just as they lowered his coffin into the ground, the storm viciously struck Amador County. All those in attendance at the cemetery ran to seek shelter at the church. But, the storm violently ripped the roof off of the church. This caused everyone to run in a panic to their homes.
The next day, residents went out to the cemetery to finish the burial process. When they got there, they discovered Miguel's body floating at the top of the grave. A handful of men led by esteemed resident George Murphy emptied the water out of the grave and were able to finally bury "Old Miguel" in peace.
End of the 1800's
As of now, I am unable to find much information on Butte City during the end of the 19th century. However, it's safe to say that the population had dwindled down to a few longtime families. Also, many of the businesses had closed down and moved on.
The early 1900's
By the early 1900's there seemed to be more family ranches than anything else. Butte City was slowly returning to the ground it once grew up from. One notable story to be highly reported was the death of the region's most beloved citizen – a Scotch Collie named Dock.
The Death of "Dock"
Dock was quite possibly the most popular resident of Butte City and the most beloved in all of Amador County. It's said that he was "known the country round as the most intelligent and companionable member of the canine family in these parts." (Amador Ledger, 18 January 1901)
Dock belonged to George Murphy (the same one who helped out with Old Miguel) and was seven years old when he died. He was well known for meeting the Moke Hill stage every day and getting the paper for George. Dock even knew that the stage didn't run on Sundays and paid no attention to any other stages passing by. Dock also was handy around the house as he brought in kindling, herded the stock and other animals around the ranch. He also understood the meaning of numerous words.
Anyone who passed through this region learned or heard about Dock. In fact, he became well-known state-wide. Sadly, Dock met his end when running under the axe of a woodchopper.
Despite the sad ending, Dock's story lives on through this article and other historical resources. It's a testament to just how special Dock really was.
Other notable events of early 1900's
By now, many of the Butte City pioneers were passing away. Some of these pioneers were: Jerry Murphy (1900), Mrs. Isabelle Stewart (1907), Alpheus Yoak who owned Yoak's Saloon among other roles (1909).
In 1916, it's reported that Butte City's school directors purchased a half acre that adjoined the school grounds to provide the kids more area for recreational activities and sports. (Sacramento Union, 23 November 1916)
By the 1930's, virtually all of Butte City was gone. All that was left were some ranches and the Butte Store.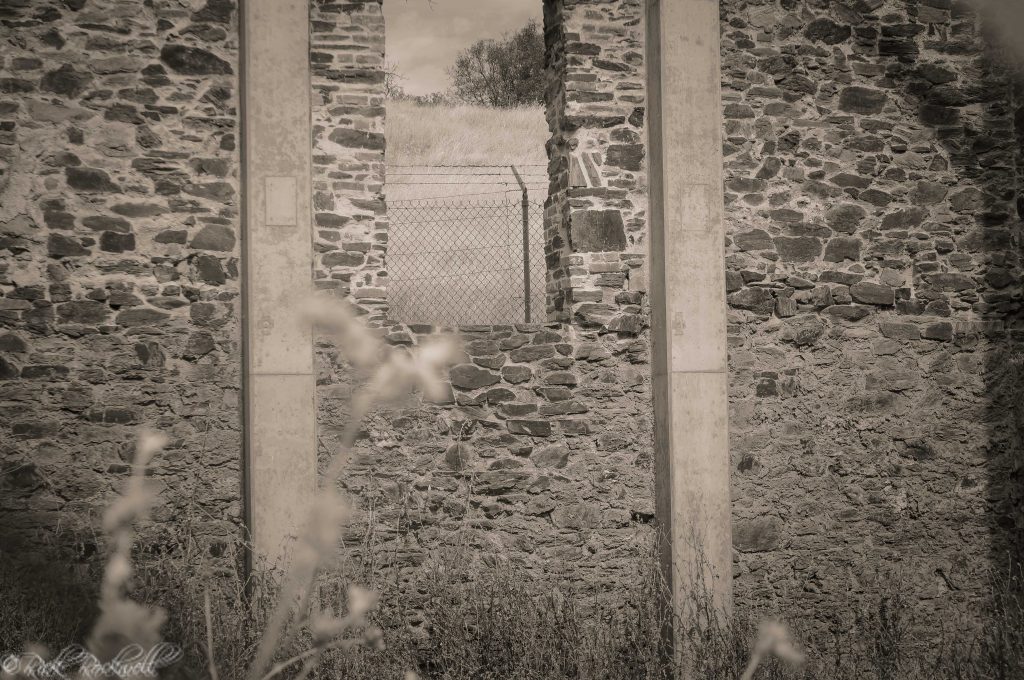 Where did Butte City Go?
It fascinates me how towns can just disappear. They fade away into history and their existence is lost until someone "rediscovers" them. As of now, I'm unable to ascertain when the town took its last breath. My best guess is that it was gone between the 1920's and 1930's. As to how it disappeared – I would venture to guess that eventually the houses, stores and other structures left behind met a few different fates: fire, storms, vandalism or torn down and flattened so that the land can be used for ranches or other purposes. When Butte City was thriving, there were other smaller mining towns/camps like Irish Hill that were basically flattened and turned into farm/ranch lands. So, it's not a far stretch to think this also happened to Butte City after the majority of residents and businesses left.
The Ginocchio Store
The reason that the Butte Store (Ginocchio Store) survived the demise of Butte City is due to the Ginocchio family. Since they owned the building, even after the store closed down, they kept the building up as a monument to their beloved Enrico.
Enrico was born in 1838, and left Italy around the age of 16 to head to California. He arrived in Amador County by 1860 and went into business with his uncle. Eventually, his brother Alphonse came to California and the two formed a very successful business. In 1871 he married Julia Raggio and they had 5 kids.
Enrico was a highly respected and beloved individual. He was a pillar of his community in Jackson and where his other stores were located in Butte City and San Francisco. When he died in late July of 1903, his funeral in Jackson was the largest ever seen. Friends, family and peers came from all over the state to pay their respects. (Amador Ledger, 31 July 1903)
In 1985, the Butte Store (Ginocchio Store) was designated as a State Historical Landmark. It's all that remains of Butte City, which is why it has the name of Butte Store. Constructed out of the region's local stones, this building continues to sit along Highway 49 watching the years and travelers pass by.
Final Words
The Butte Store (Ginocchio Store) is a proud reminder of Amador County's history. It has withstood the death of Butte City and continues to be seen by people passing by every day. It presents us with a chance to look into the past and learn about a town and a way of life from over a century ago. The Butte Store is also an example of how, via research, we all can learn more about California through the historical landmarks that preserve our state's history. This article wouldn't have been possible without the fantastic resources listed below.
Location
The marker is located roughly 1.4 miles past Jackson on Highway 49. It's on the left side of the road if you are heading from Jackson.
Sources:
http://freepages.genealogy.rootsweb.ancestry.com/~npmelton/amgino.htm
"A Volume of Memoirs and Genealogy of Representative Citizens of Northern California", Pages 96-98. Chicago Standard Genealogical Publishing Co. 1901
http://www.rootsweb.ancestry.com/~cagha/biographies/g/ginocchio-enrico.txt
"History of the Sacramento Valley, California", by Mj. Jesse Walton Wooldridge, Page 49-50. The Pioneer Historical Publishing Co., 1931
"History of Amador County, California, with illustrations and biographical sketches of its prominent men and pioneers", by Mason, Jesse D; Thompson & West, 1881
"Amador County History", by Amador County Federation of Women's Club, 1927