(Last Updated On: June 2, 2015)
Towns were built overnight after the discovery of gold between 1849 and 1851. This precious commodity, which turned America upside down,  was flowing from the mines like the American River through the nearby hills and canyons.
The early days of this region birthed many places, events and legends. Although most of the original mining camps and towns no longer exist, the towns that still do exist, have become registered historical landmarks for the state of California.
Despite these hills being almost completely barren of gold, there is still a great deal of history, scenery and beauty that can be explored and enjoyed by all. And if that wasn't enough to get one's traveling bags packed, Foresthill Divide is littered with ghost towns, legendary tales of bandits and even a lost gold mine or two.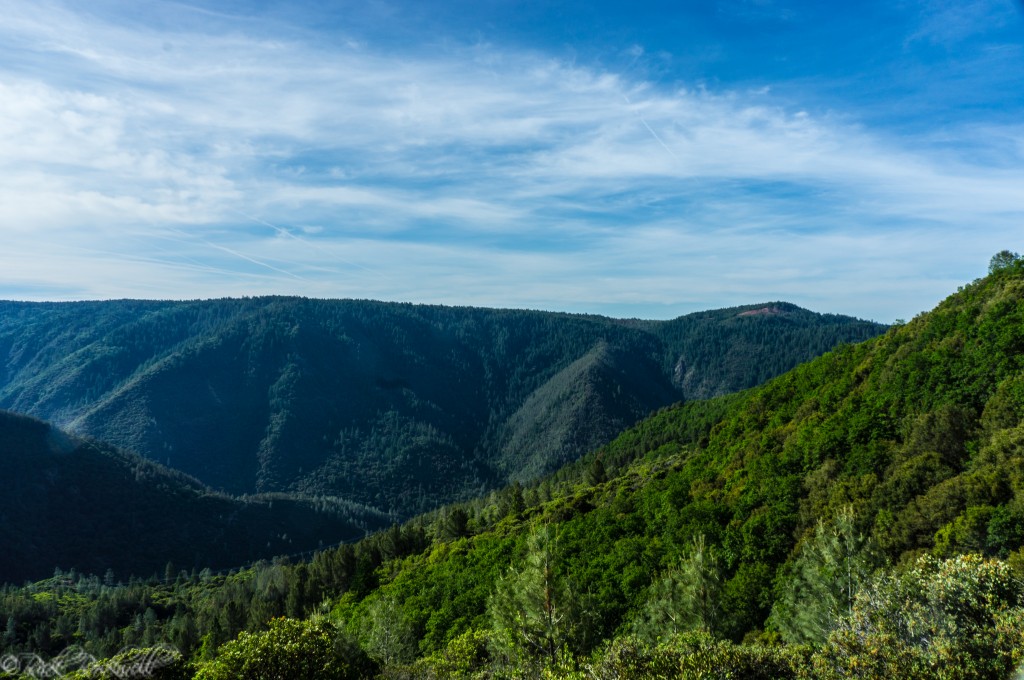 Where is the Foresthill Divide?
The term "divide" can be defined as a high ridge of land between two river basins. The Foresthill Divide meets the criteria of this definition as it's a broad ridge of land between the North Fork and the Middle Fork of the American River. Typically, the town of Foresthill is considered the center of this region.
To get to the Foresthill Divide, take I-80 east from Sacramento toward Auburn. Exit on Foresthill Rd. and take this highway 17 miles to the town of Foresthill.
Places to Visit
There are many places to explore in this region. From history to recreational adventures, the Foresthill Divide has something to offer for everyone. The following is a list of suggested places to check out when exploring the Divide: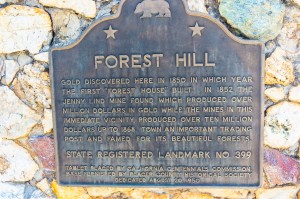 Foresthill – When planning a trip to this region, the town of Foresthill is the starting point. Founded in 1850, this quaint historical town is still thriving today and offers the basic amenities one would need like: food, gas and lodging. Within the town, there are many cool historical places and landmarks to visit before even venturing out to the more obscure locations. Some of these points of interest are:
Check out my article on the town of Foresthill for more pictures and details
Todd's Valley – In 1849, Dr. F. Walton Todd opened a store in this region mainly targeting miners and travelers. Additionally, Dr. Todd also built a hotel, house and a corral. In 1852, gold was found nearby and this little slice of the region grew up overnight. Although, there's not much left of this historical town, the old cemetery is still a place of interest to visit.
Yankee Jims – This little mining town arguably has the most infamous and colorful beginning. Named after a horse thief, Yankee Jims was once one of the largest mining areas in all of northern California. Today, there's a few landmarks to visit. However, the real adventure is in traveling along Yankee Jims Rd. from Foresthill to Colfax. This 13 mile stretch is filled with danger, waterfalls, scenic views, a bridge that lacks confidence and tales of its founder.
Check out my section on Yankee Jims: the legend, the town, bridge, road and more
Michigan Bluff – Founded in 1850, this little town is survived by the few dozen people that still live there. Located roughly 7 miles east-southeast of Foresthill, Michigan Bluff sits about 4,000 feet in elevation and has beautiful scenic views. The historical landmarks tell a tale of a town that once thrived and produced a respectable amount of gold.
Check out my article on Michigan Bluff for more details and photos
Iowa Hill – Gold was discovered in Iowa Hill in 1853. Soon after, the town quickly grew and at one point even rivaled Yankee Jims and Foresthill. It's located roughly 6.5 miles north-northwest of Foresthill and lies at an elevation of roughly 2900 feet. It's on a high ridge of land between North Fork of the American River and Indian Canyon. A small community of people still live there. The drive up Iowa Hill Rd. from Colfax makes for an exciting and scenic adventure.
Check out my section on Iowa Hill: the town, bridges and more
Sugar Pine Reservoir – Located roughly 20 to 30 minutes from Foresthill, Sugar Pine Reservoir is a beautiful man made lake with an incredible amount of serenity and tranquility. It offers camping, fishing, kayaking and a wonderful trail that goes around most of the reservoir.
Check out my article on the Sugar Pine Reservoir for more details and photos.
Big Trees Grove – Located 25 miles south of Foresthill, this northern most grove of Sequoias is an anomaly that has stumped experts for decades. There's a picnic area with amenities including parking and bathrooms. Additionally, the 1/2 mile nature trail takes you around and through the grove.
Check out my article on Big Trees Grove for more details and Photos
French Meadow Reservoir – Located 36 miles south of Foresthill, and 11 miles past Big Trees Grove, French Meadow Reservoir is a great location for camping, fishing, boating and hiking. After driving on a narrow and winding road for an hour , the reservoir is a welcoming site like an oasis in the hills.
In Search of History and Legends
Places like: Bath, Deadwood, Damascus and Last Chance used to be prosperous, bustling towns in the Foresthill Divide. Unfortunately, as the gold dried up, so did these towns. Now they're remembered with plaques and tales of gold, adventure and demise. Searching for remnants of these towns and tales has become a fun way to spend a weekend.
In addition to those towns, legends of a lost gold mine, a mysterious town that only allowed criminals and rebel rousers as inhabitants, and haunted places are perfect adventures for thrill seekers.
Final Thoughts
The Foresthill Divide is a tremendous chance to take a step back in time. Exploring the divide is highly recommended as it provides opportunities for historians, recreational enthusiasts and adventurists to enjoy the beautiful landscapes and the rich history of this region.
Check out more of my Foresthill Divide adventures.