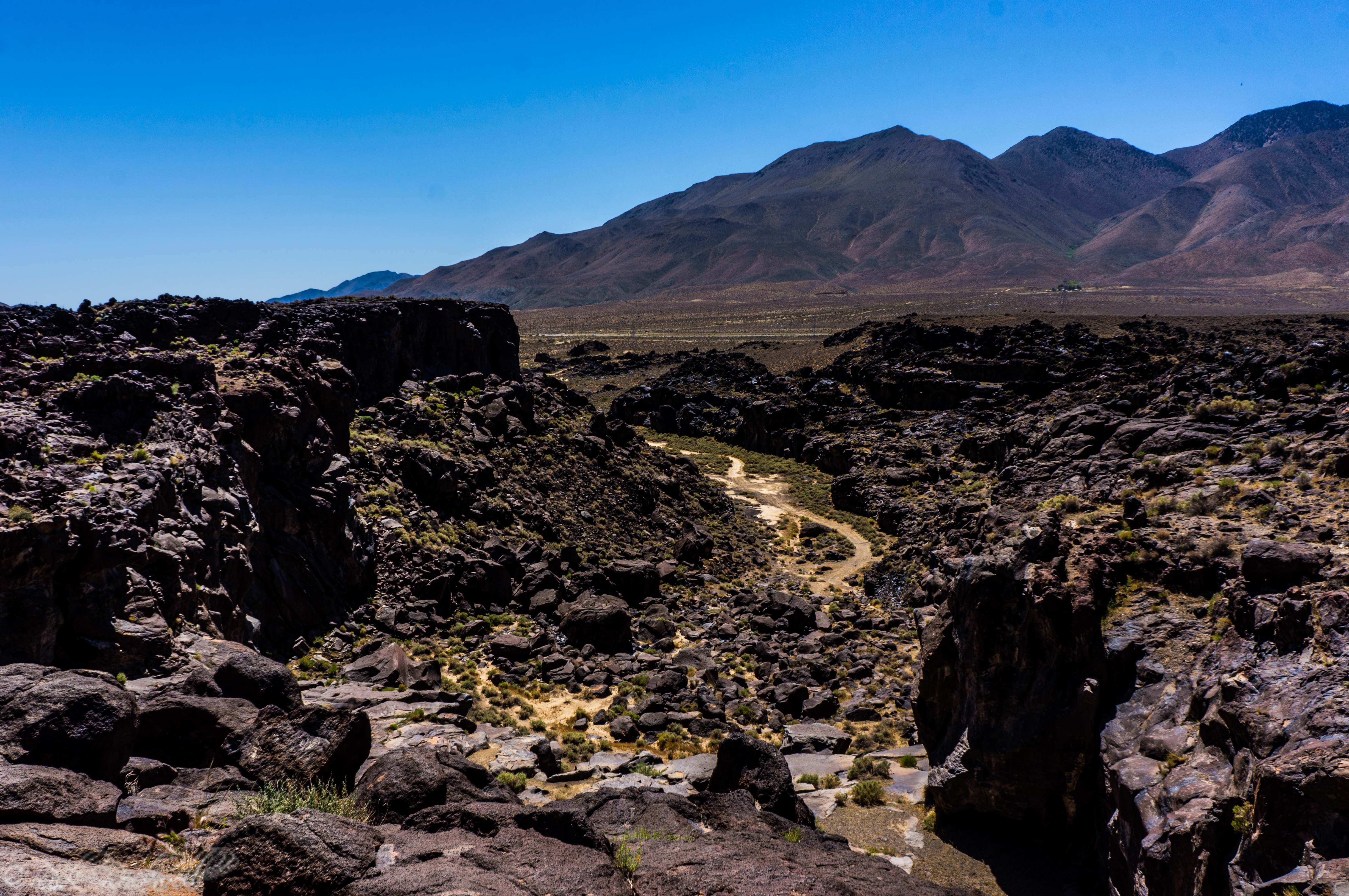 (Last Updated On: April 22, 2015)
The name may be misleading, but this spectacular location is not. Although there's no waterfall or fossils to be found at Fossil Falls, there's plenty of adventure and awe when exploring this natural wonder.
Fossil Falls is a large formation of lava rocks created by the merging of lava and the Owens River some 20,000 years ago. The polished black rocks form a small canyon with cliffs roughly 80 to 100 feet high. Fossil Falls is not only great for exploring, but it's also a geological treasure, great for rock climbing and a wonderful camping option for the desert night skies.
Fossil Falls is a protected land due to its archaeological, cultural and geological significance.
In the Desert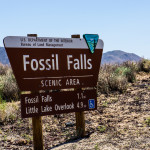 Fossil Falls is located off Highway 395 about halfway between the towns of Ridgecrest and Lone Pine. It's on the east side of 395 near Red Hill. To the west of Fossil Falls is the Sierra Nevadas and to the east is the Coso Range. Because Fossil Falls is located in the desert, the best time to visit is during the spring or fall seasons. Summer time can be dangerous due to the high temperatures. Be cautious during the winter or after any rain because the roads will be difficult to travel and the rocks will be very slippery.
Navigating the Unpaved Roads
Within a few tenths of a mile from the exit off 395, Cinder Road becomes unpaved and gravel like. However, the closer you get to Fossil Falls, the more challenging the roads become. There are dips, larger rocks and very few signs to direct you. It's easy to get turned around when driving out here. Ideally, these roads are best for vehicles with a high clearance. I drove these dirt, gravel roads in a rental car and I had to drive rather slowly.
The Trailhead
The trailhead is about 1 mile from Highway 395. Roughly, a half mile down Cinder Road is a sign that directs you to turn right for Fossil Falls or to turn left to Little Lake. Make a right and follow this rocky road about another half mile to another split in the road. To the left is the campgrounds, picnic tables, water pump and a bathroom. To the right is the parking lot and trailhead. At the trailhead is a bathroom and signs explaining the geological features.
The campground has a $6 fee per night with a 14 day limit. The trailhead is free to park at. Make sure to fill out the paperwork at the trailhead. It asks for your name, number of hikers and duration.
Be Careful You Don't Fall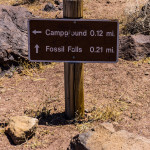 Fossil Falls is about two tenths of a mile from the parking area. At first, the trail is easy to follow. But, it does fade as you get closer to Fossil Falls. Do your best to head in a Southeast direction if you end up off trail. Remember, it's only about 15 minutes to Fossil Falls from the parking area. If you have ever seen lava rocks before, then you will notice how the landscape goes from a desert area to lava rocks that stretch as far as you can see.
Once you arrive at Fossil Falls, you immediately gravitate toward the small canyon of lava rocks that form cliffs of 80 to 100 feet. These rocks can by very slippery. I suggest keeping all kids away from the edges. Also, if the rocks are moist, stay away from the edges.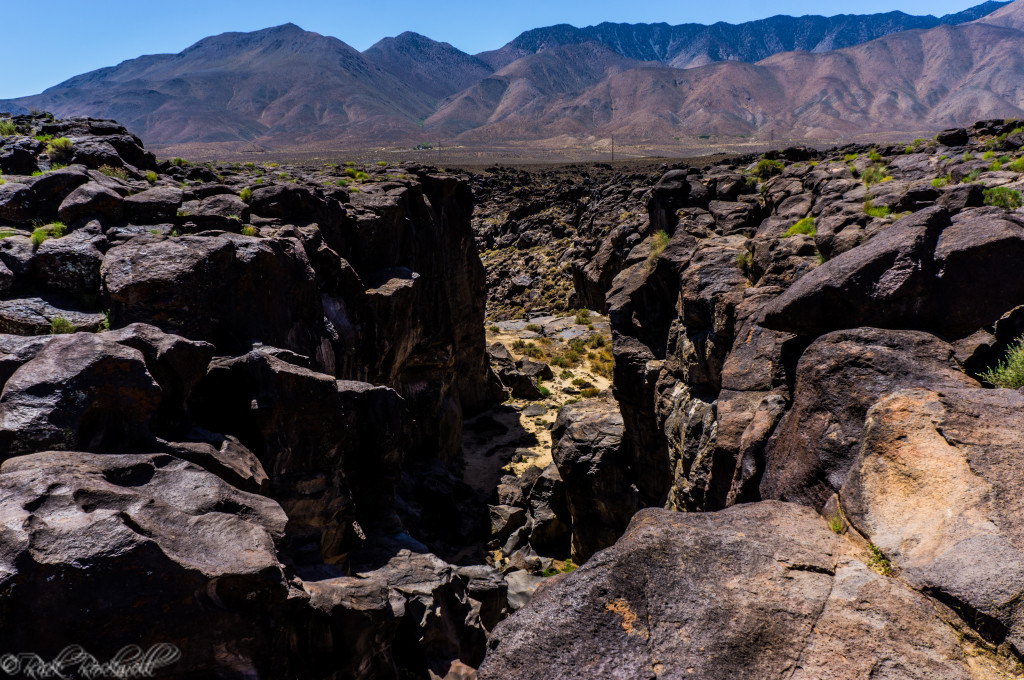 There's no shade out here, so you are in the wide open desert with the sun blazing down on you. Make sure you wear sun screen, a hat and bring plenty of water.
This location is difficult to photograph due to the glare and the sun beating down on you. Early morning or in the evening would be more ideal for photographs.
From what I hear, and from what I have seen, Fossil Falls is a fun place for rock climbing. It's challenging, yet, doable for most levels of rock climbers.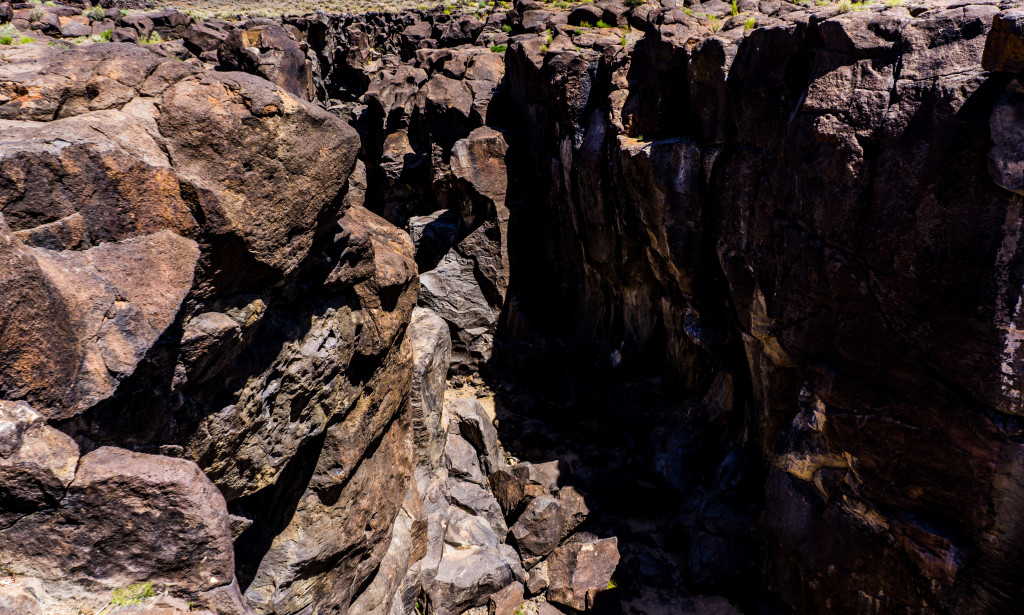 Final Words
Personally, I don't see the appeal of camping out here. But, I do see the appeal in visiting this place. There aren't many wide open lava rock formations that visitors can explore for free. It reminded me of Lava Beds National Monument located in northern California. It's like your exploring a different planet.
If you are traveling anywhere within an hour or two of Fossil Falls, then I highly recommend stopping by. It's one of those natural wonders that should be visited by all outdoor enthusiasts, adventurists and photographers.
If you are fortunate enough to find any Native American artifacts, you are not allowed to take them. Report the finding to the Bureau of Land Management office in Ridgecrest.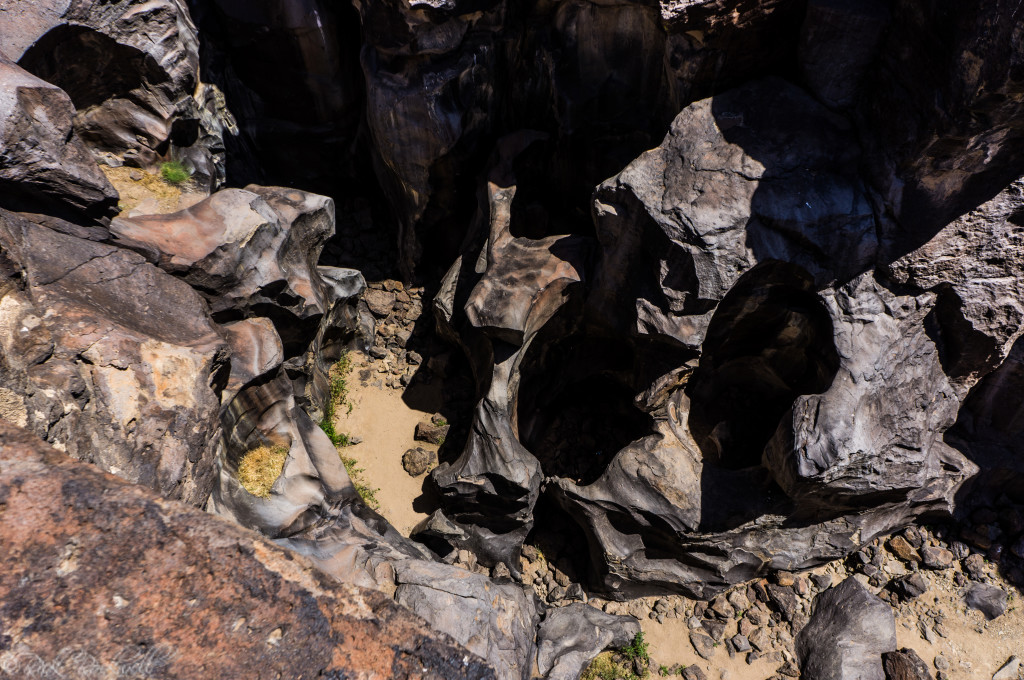 Directions
From Ridgecrest head North on 395 roughly 40 minutes. Keep an eye out for a big, red mound that's better known as Red Hill. Prior to that, there will be a small sign for Fossil Falls on the right side of the highway. Make the immediate right following this sign onto Cinder Road. If you pass the Red Hill, then you have gone too far. Head down the unpaved Cinder Road for about 1/2 mile before making a right at the sign. This is Fossil Falls access road and will take you directly to the Fossil Falls parking area and trailhead, located another 1/2 mile down.