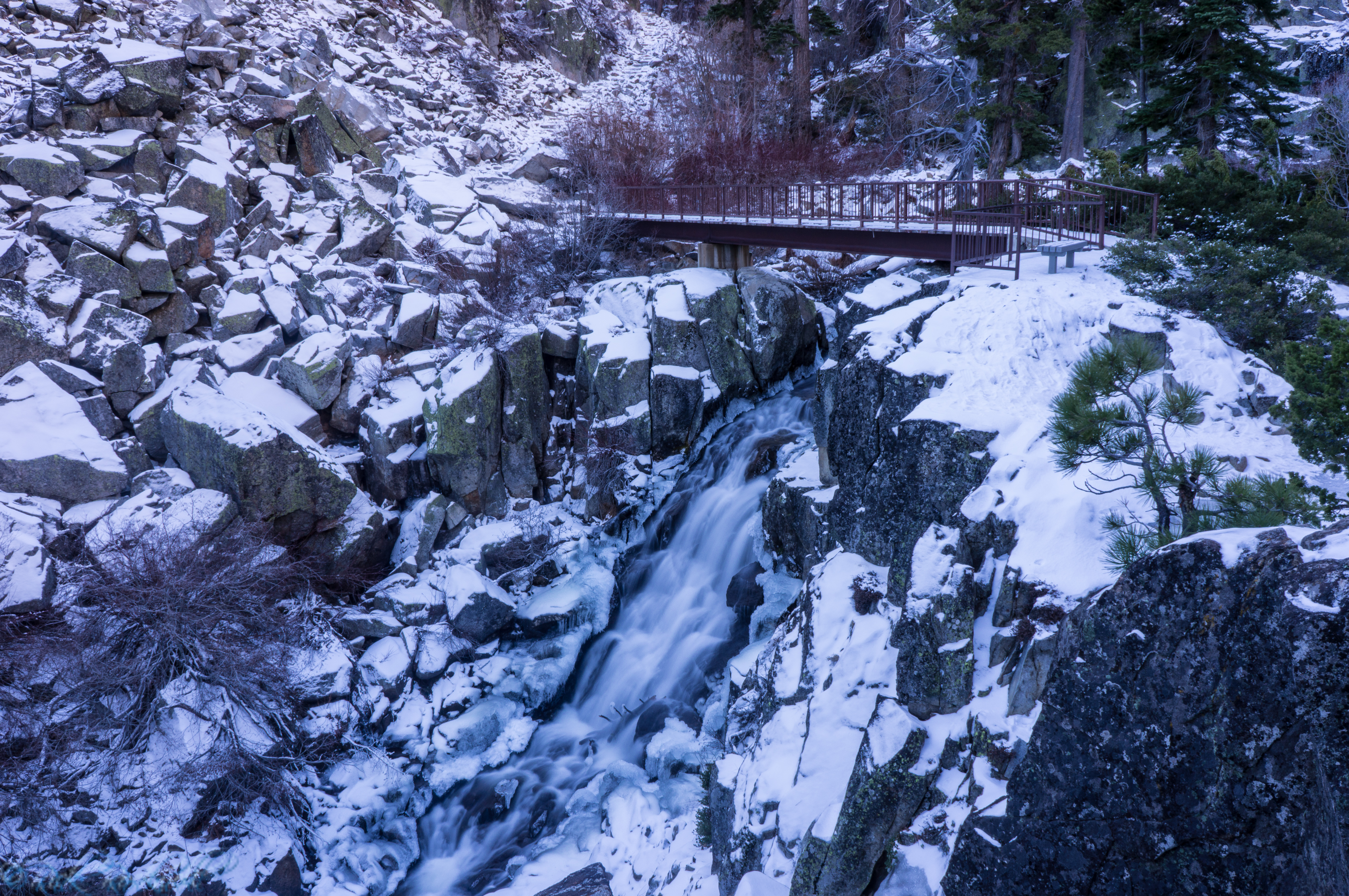 (Last Updated On: March 7, 2015)
The waterfall is named for the creek and lake of which it flows from. Eagle Creek and Eagle Lake, used to be an area inhabited by bald eagles and golden eagles.
An interesting side note, Emerald Bay used to be called Eagle Bay and Eagle Falls used to be called Emerald Bay Falls.
Upper Eagle Falls
Upper Eagle Falls is roughly 50 feet high. It's located about 1/4 mile from Eagle Falls Trailhead off Highway 89. It's an easy stroll to get there. Additionally, there's a bridge that crosses over the Upper Falls which provides up close views of Eagle Creek. In the spring time, the waterfall has a nice, full flow to it. In the summer and fall, the water is much more of a trickle. Don't overlook the chance of visiting it in the winter time, because it has a picturesque winter setting.
Lower Eagle Falls
Eagle creek flows from the Upper Falls down underneath Highway 89 and off the cliffs into Emerald Bay State Park. The waterfall cascades down roughly 150 feet. The best time to visit Lower Eagle Falls is in the spring when the waterfall is near peak flow.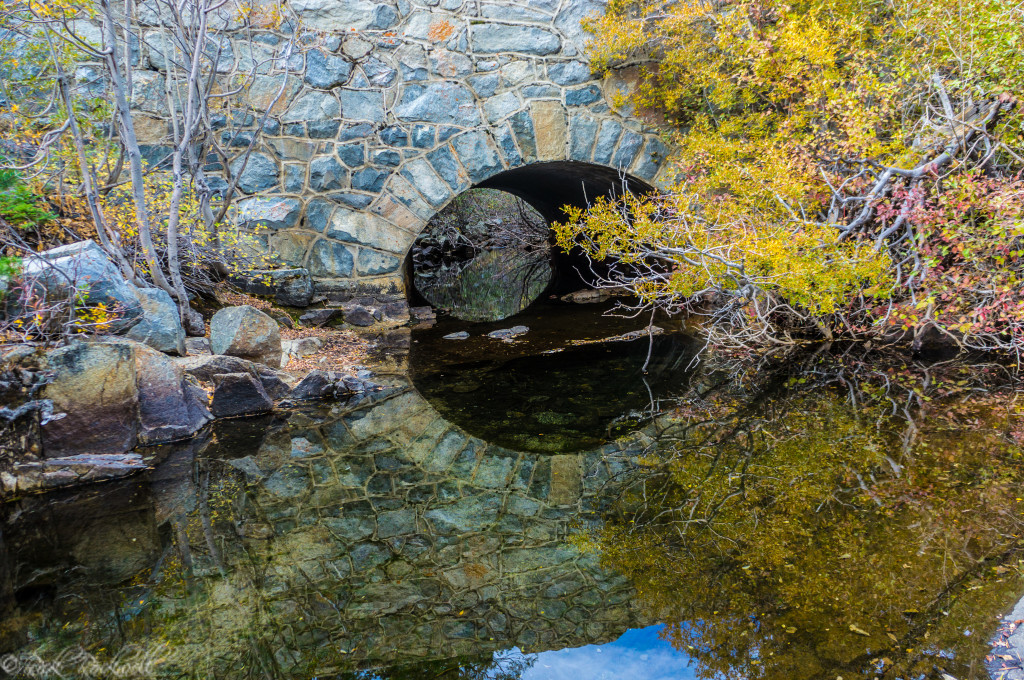 It's a bit more challenging getting to the Lower Falls. Although it's right off Highway 89, there's no parking near it. You have to either park at Inspiration Point and walk along the highway, or park at Eagle Falls trailhead which charges a fee. On a rare occasion you can park in the free spots outside of Eagle Falls trailhead but they are usually full.
If you walk over to the top portion of Lower Eagle Falls, you have to climb on some large rocks to find a flat opening to take pictures. I do not recommend this because people have fallen and died from walking out along the rocks.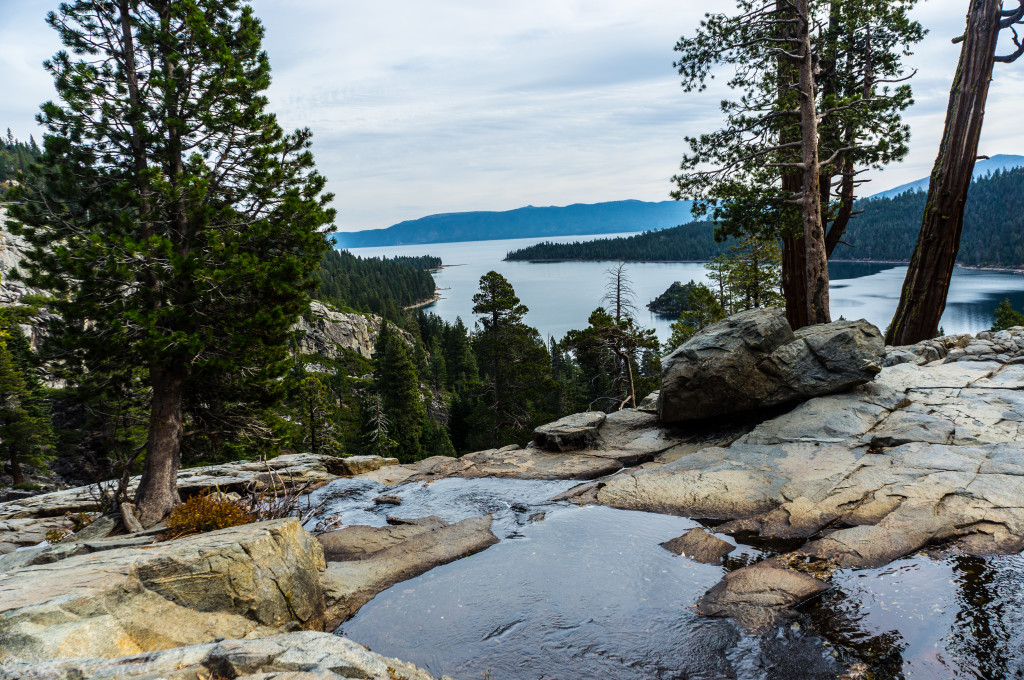 The other option is to hike down to Emerald Bay and walk over to the waterfall.  The Vikingsholm Trail is a popular trail that takes you down through Emerald Bay State Park, right past the Vinkingsholm mansion and over to the base of Lower Eagle Falls.
Captain Dick Barter – The Hermit of Emerald Bay
Captain Dick Barter is one of the most colorful figures of Tahoe's history. There are placards at Inspiration Point that share some of the crazy tales about Barter. Known as "The Hermit of Emerald Bay", Richard "Them's My Toes" Barter, and Captain Dick, Richard Barter's ghost still haunts Emerald Bay. When alive, he used to go out and spend long hours talking to Eagle Falls.
Check out my article on Captain Dick and how he haunts Fannette Island
Eagle Falls Trail
Eagle Falls trail begins at Eagle Falls trailhead and is a one mile hike up to Eagle Lake. You will have to fill out a permit because you do enter into Desolation Wilderness. This trail will take you to Eagle Lake and deep into Desolation Wilderness. It's a popular trail due to its distance and wonderful scenery.
Check out my article on Eagle Falls Trail for more pictures and details
Directions
If coming from Sacramento, take Highway 89 approximately 8.5 miles north of the split (split between 89 and 50). If coming from Tahoe City, take 89 south roughly 22 miles.
Check out more of my Lake Tahoe adventures.