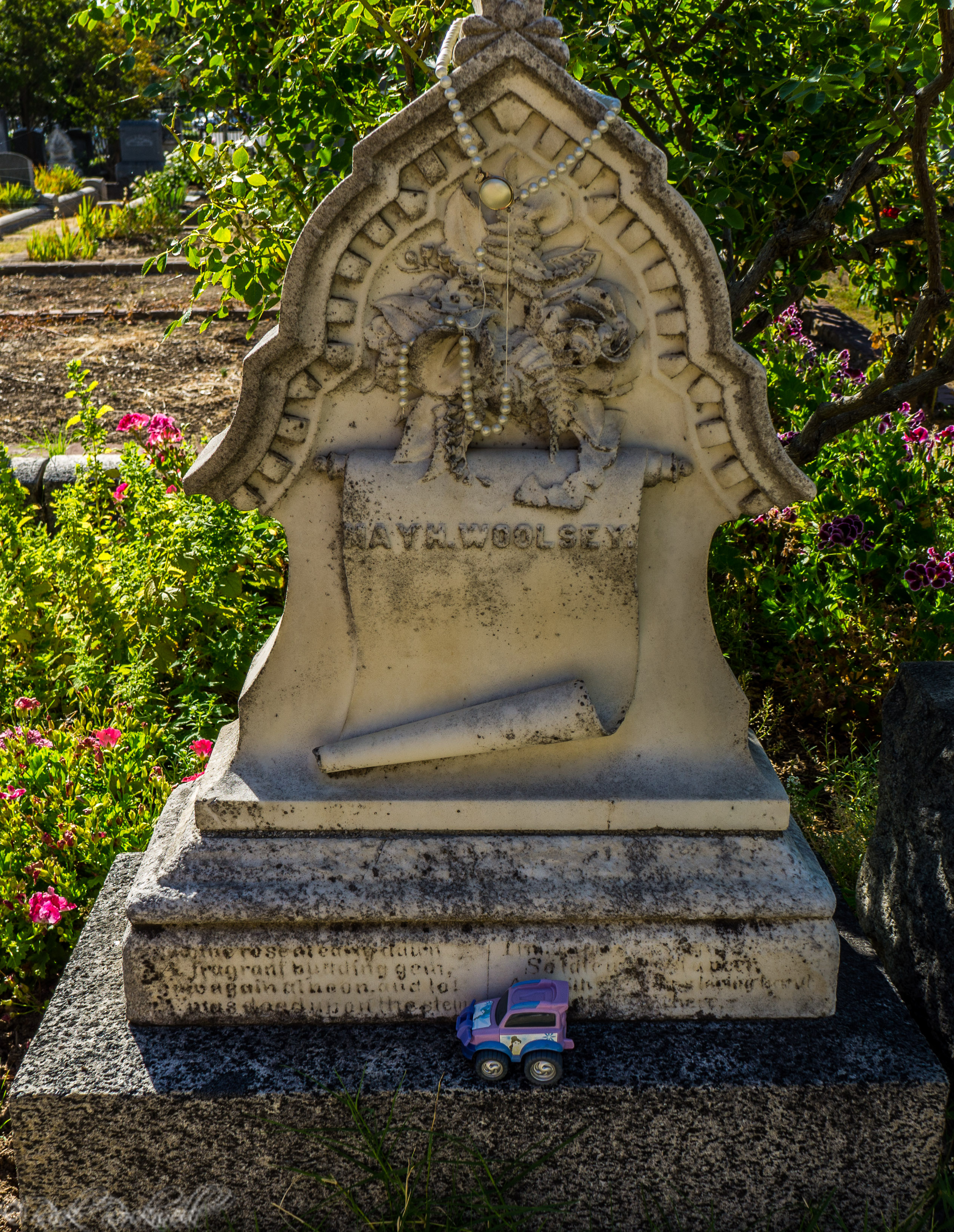 (Last Updated On: July 5, 2015)
When searching for haunted places in Sacramento, one name constantly pops up in the results – May Woolsey. Her story is a sad, yet, endearing one. In fact, she's become somewhat of an urban legend in Sacramento. From those claiming to see her ghost in the cemetery, to her haunting the family house and writing a letter from the other side, the story of 12 year old May Woolsey has captivated many since her passing in 1879.
The Woolsey Family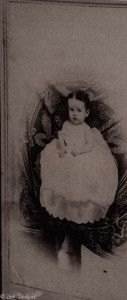 May was born on November 12, 1866 in Sacramento, California, to Luther S. Woolsey and Mary Esther Cogswell-Woolsey. Luther, born in Onondaga County, New York, was a pattern maker for much of his professional life. He married Mary Esther Cogswell on September 8, 1852 and they had their first child William Jerome on November 11, 1853.
The journey of Luther and his family, before the birth of May, is a slightly confusing one. It appears that they were in four different states throughout the 1850's and 1860's.
The Family Business
In 1855, the Pierce, Woolsey and Co. opened in Sandusky, Ohio, specializing in carriage and wagon wheels. Luther decided to leave New York and join two of his brothers in Sandusky to help make the Woolsey name a prominent one.
However, Luther's time in Sandusky only lasted a few years as he decided to head west. The first record of Luther in California was in 1859 as an employee for the Pacific Foundry in San Francisco. From 1860 to 1863, Luther would go on to work for the Miners Foundry as a pattern maker. Eventually, Luther ended up in Sacramento before May's birth in 1866. Also, prior to May's birth, Luther had purchased the family home on E. Street.
Luther made at least one trip back east between 1863-1866 most likely to Fort Wayne, Indiana, where his mother apparently lived with another one of Luther's siblings. In total, Luther was one of 14 kids.
Back to Sandusky
When May was just a few years old, Luther and her brother William were back in Sandusky working at the family business in the early 1870's. By this time, the name had changed to Hubbards and Woolsey.
It's unclear if May and mother Mary were with Luther or if they remained at the family home in Sacramento. It's also possible that Mary took May back with her to her hometown in New York.
Through the hard work of Luther and his brothers, The Woolsey Wheel Company would go on to become a prominent symbol of the Sandusky working class until it burned down in 1905.
Home Sweet Home
By the mid-1870's, Luther and family were back in Sacramento. The patron of the family would finally settle into a career as a machinist with Sacramento Iron Works before finishing up his career with the Railroad Shops in Sacramento. Also around this time, May's brother William, who was married, brought his wife and daughter to Sacramento for the remainder of the decade.
The Woolseys became well known within Sacramento and even were acquaintances with elite families like the Crockers. By all accounts, May was a bright girl with a very promising future ahead of her.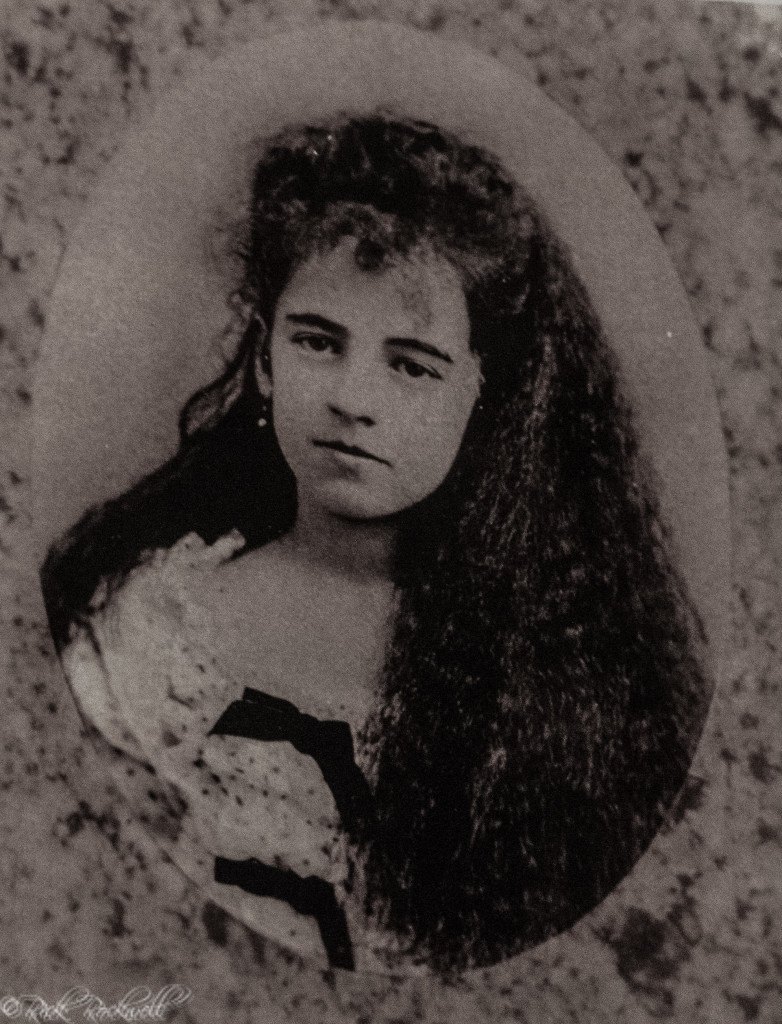 The Death of May
In September of 1879, May became very ill and spent many days in bed. Some sources believe she became sick from a mosquito bite, while others claim it was the measles. Eventually, her illness led to encephalitis and she died on September 21, 1879, just a few months shy of her 13th birthday.
According to an announcement in the Sacramento Daily Union, Volume 8, Number 167, 22 September 1879, Luther and Mary invited friends and family over to their home at 916 E. Street for the funeral. May was then buried at the historic Sacramento City Cemetery located at the corner of Broadway and Riverside.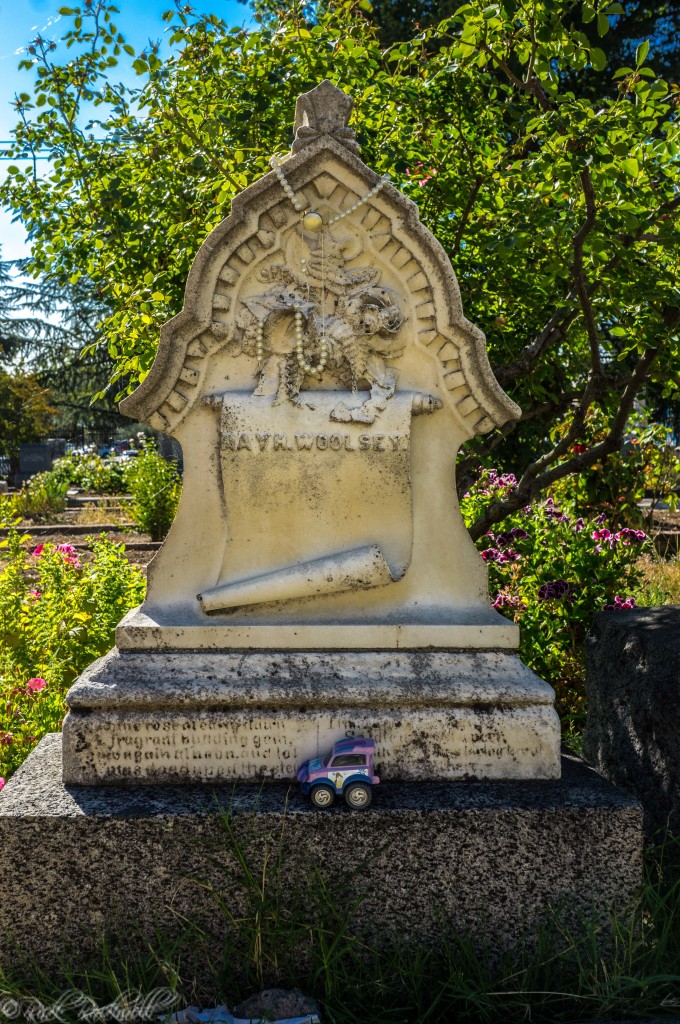 May's Grave
Over the last century, visitor's to May's grave have reported peaceful and friendly encounters with May's spirit. They say that if you place one hand on May's grave, you will feel her presence. May's grave has also become one of the most popular burials in the historic cemetery as hundreds of visitors stop by each year.
In fact, over the years, Sac City Cemetery made a little brochure of popular burials and they included May's grave right along with major historical figures of California's past like: John Sutter Jr., Newton Booth, the Crocker Family and numerous military heroes.
When visiting her grave, I put my hand on it and waited for a while. But, I did not feel her presence or see any spirits. I did feel a sense of peace when I was there. As if I was hanging out with a friend and not sitting in a cemetery. There were a few trinkets left on her grave. It was also nice to see that both Luther and Mary are buried right next to May.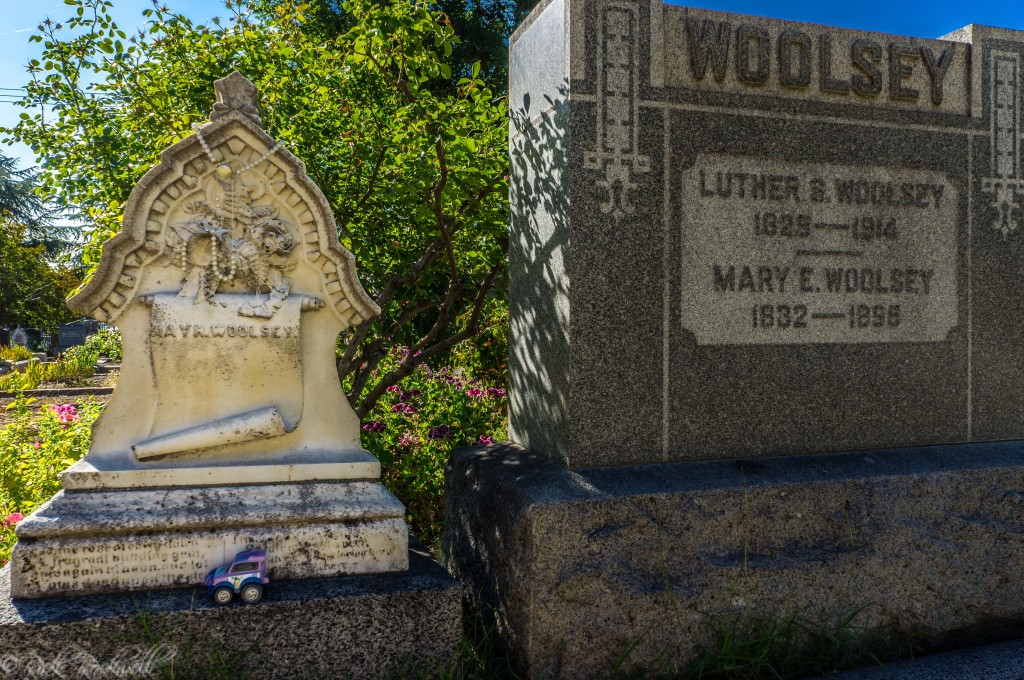 The Family Home
In 1866, Luther bought the family home at 916 E. Street located in the historic Alkali Flat neighborhood. The house was actually built by one of Luther's acquaintances Gordon Backus, who apparently constructed it and sold it to another individual. Luther would end up buying the home from this unidentified owner.
The Woolsey family home still stands in the same location of its original construction. However, it has undergone some renovations and modifications since then.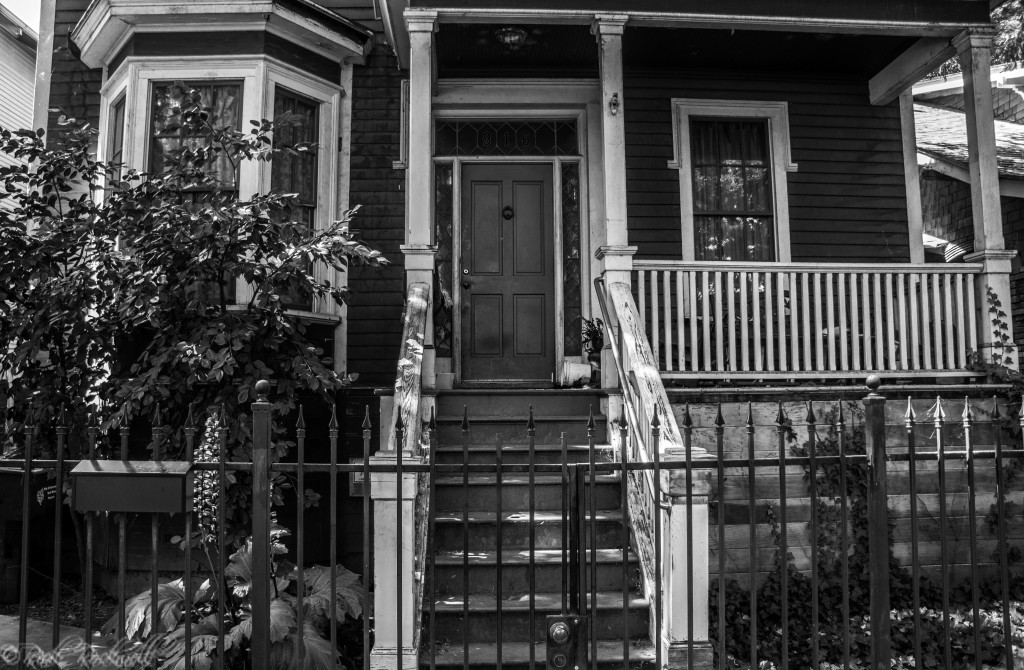 In 1979, Ed Duffy bought the home and began renovating the place. During one project, he discovered an old trunk in a false wall near the staircase. This trunk belonged to the Woolsey family and it included numerous items of May's.
Now, before we discuss the trunk any further, we must discuss the alleged haunting of the home. In an article by the Sacramento Bee, published on October, 20, 1994, the finding of the trunk apparently woke May's restless spirit and she started haunting the home. Household items began to disappear or fly across the room. Noises could be heard throughout the home and her ghost could be felt when she's around.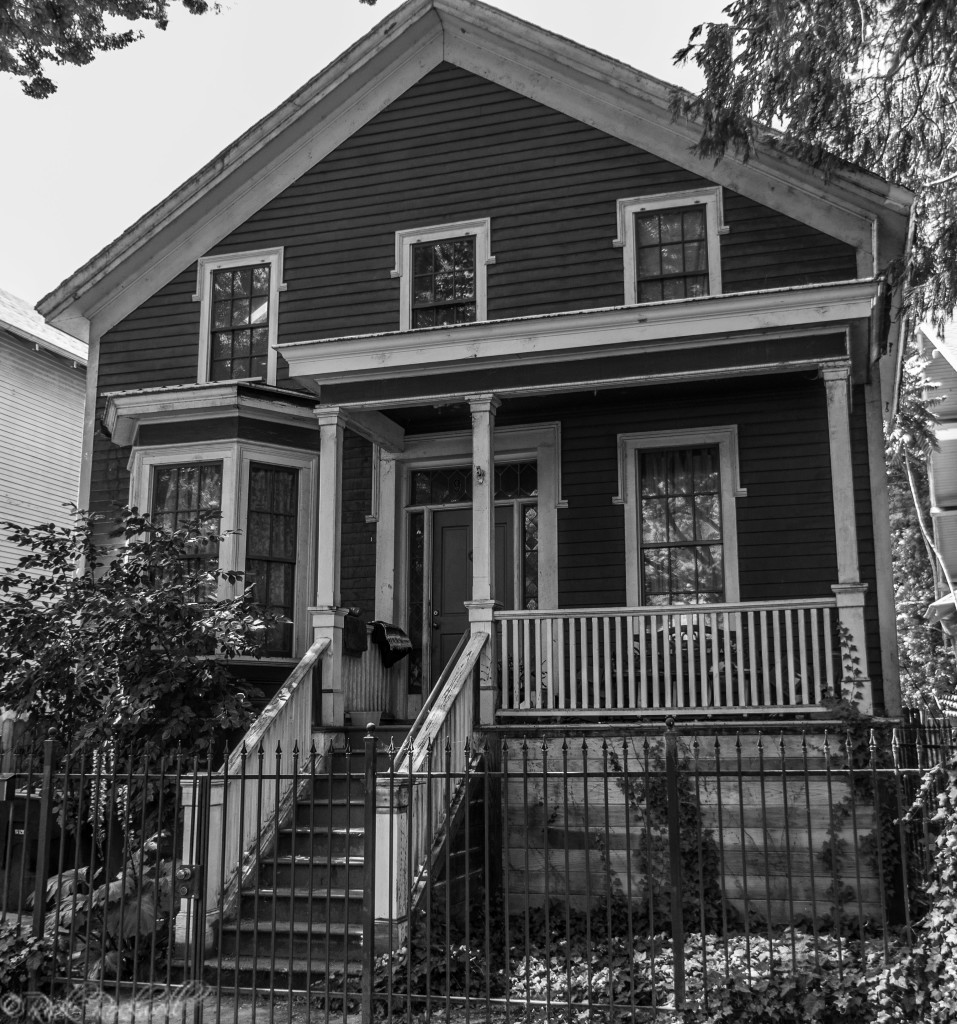 Other than this newspaper article, there are no other credible sources reporting that the house is haunted. In fact, most sites still claim that her spirit is at the cemetery and never mention her spirit being at the home.
If I had to guess as to what spirit may be haunting the home, which I don't believe there is any haunting the place, I would guess that it's May's mother Mary who was grief-stricken after the death of May. Mary even contacted mediums to communicate with May from the other side. Mary reportedly died in the family home on February, 19, 1895 and is buried right next to May in the Sac City Cemetery.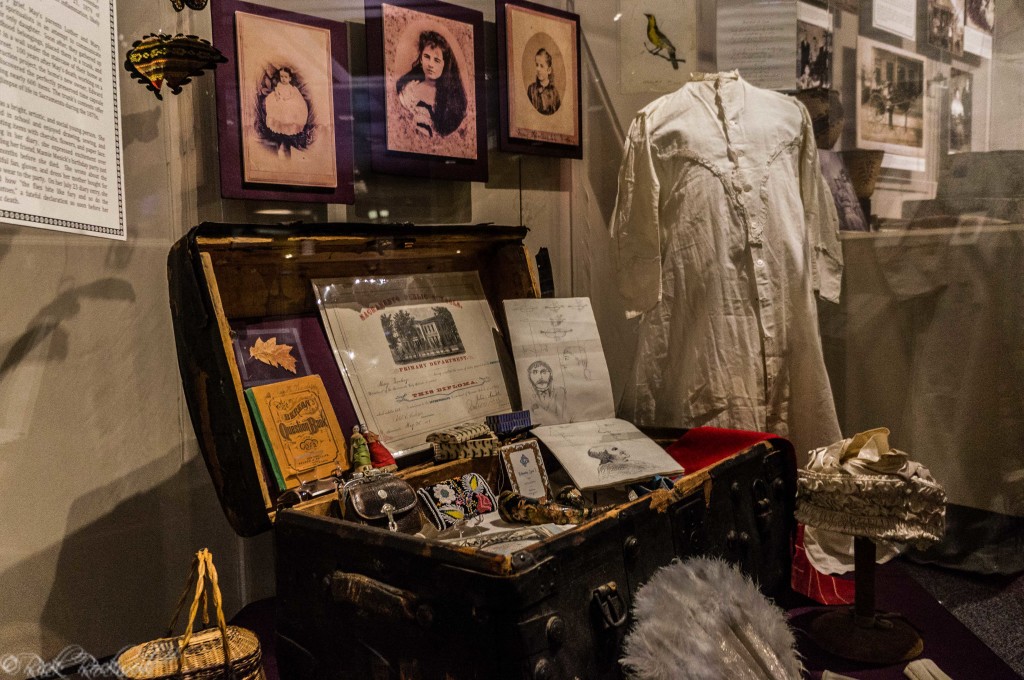 The Woolsey Trunk
In what many believe to be an act of grief, Mary Woolsey gathered up all of May's belongings, and some family items, and put them in a trunk. She then hid the trunk out of sight. It's unknown as to whether Luther knew about the trunk or not. Some believe that Mary kept this from Luther, while others believe that Luther helped fill the trunk with items.
There are conflicting reports in regards to all of the items found in the trunk. For curious individuals like myself, you can go to the Sacramento History Museum down on Front Street and look at the trunk and many of the items on display. However, the display has only a fraction of the items discovered. According to the museum, there were nearly 600 items found in the trunk including May's diary.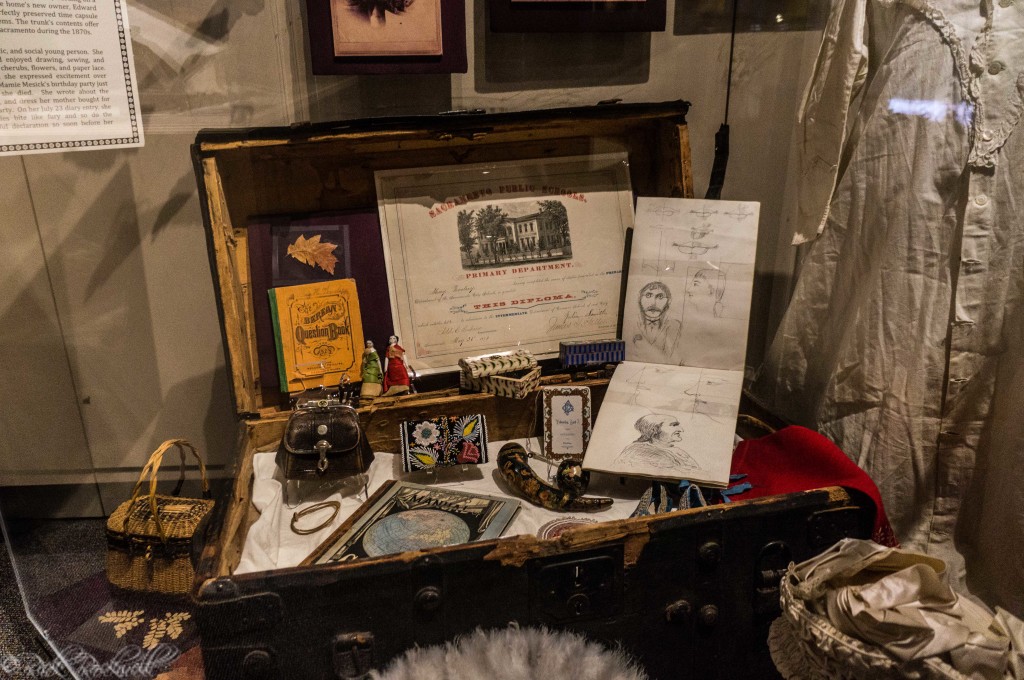 Another item of contention is an alleged letter that was supposedly written by May and found in the trunk. According to OldCityCemetery.com, the letter said the following:
Dear Momma,
I am so happy as I did write to you and say I was happy.  Now Momma dear, do not weep for me.  I am not dead, no, only gone before to wait your coming when you will be out of all sorrow and care and will be happy with me.  Oh, what pleasure there is in the spirit life no one can tell.  Only think of everlasting life and pleasure where we know no sorrow; all is sunshine, there is no cloud to darken our path as on earth; we have our choice of mission……………
When I viewed the trunk display, I did not see this letter. I asked a museum employee about this letter and she denied its existence. Additionally, I can't find any other credible source that mentions this letter being discovered within the trunk.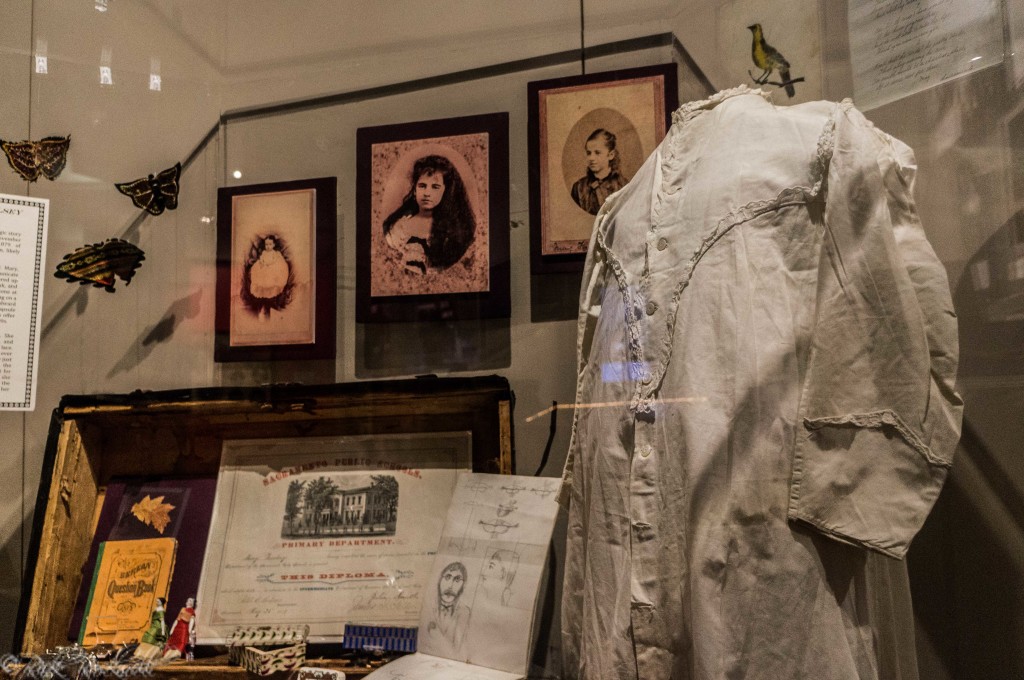 Final Words
The story of May Woolsey begins with her sad departure and quickly turns into an urban legend that has spanned over 135 years. It's an endearing tale that exaggerates some truths. What's really intriguing about this story is the finding of May's trunk roughly 100 years later. It's as if her story was meant to live on for future generations.
The museum display is located on the second floor and they even have a children's program that investigates a replica trunk with similar items inside. It truly is a time capsule of that era including what life was like for a child in the 1870's.
May's life may have been short, but her existence has spanned longer than her parents could have ever imagined. Not only is she a popular figure at the museum and the Sac City Cemetery, she's a popular figure among urban lore.
Unfortunately, I haven't found any credible evidence to support the urban legend or the many stories associated with May.