(Last Updated On: October 19, 2016)
Located in the heart of the Tahoe National Forest is the Grouse Ridge non-motorized area, which is filled with wonderful hikes through various elevations of the Sierras. One of the more popular trails for hikers and campers in this region is the Round Lake Trail due to its access points, scenic alpine lakes, and because it's family friendly.
Trailhead
The Round Lake Trail can be accessed via a few different trails and two main trailheads: the Carr Lake Trailhead and the Grouse Ridge Trailhead. Of the two, the Carr Lake trailhead is much closer and easier for accessing the Round Lake Trail.
After parking at the trailhead, it's about a 5-10 minute walk up an old dirt road before crossing a small stream and reaching the western portion of the Round Lake trail.
The trail itself is roughly 2 ¼ miles long and gains about 500 feet in elevation from the western point (Carr Lake) to the eastern point (Grouse Ridge Trail).
Carr Lake
Located at an elevation of just under 6,700 feet, Carr Lake is the first lake hikers will see on this trail. In fact, the Round Lake trail begins right between Carr Lake and Feeley Lake near the dam. There are bathrooms at the edge of Carr Lake just prior to heading around the shore of Feeley Lake.
Carr Lake has a limited number of campgrounds available at a rate of $15 per night. The lake itself is supposed to be stocked with hatchery trout. Visitors can also swim in the lake if desired.
No piped water
Must boil water from lake
Vault toilet
Picnic tables
Fire rings and grills
Hand launched boats allowed at a max of 10 MPH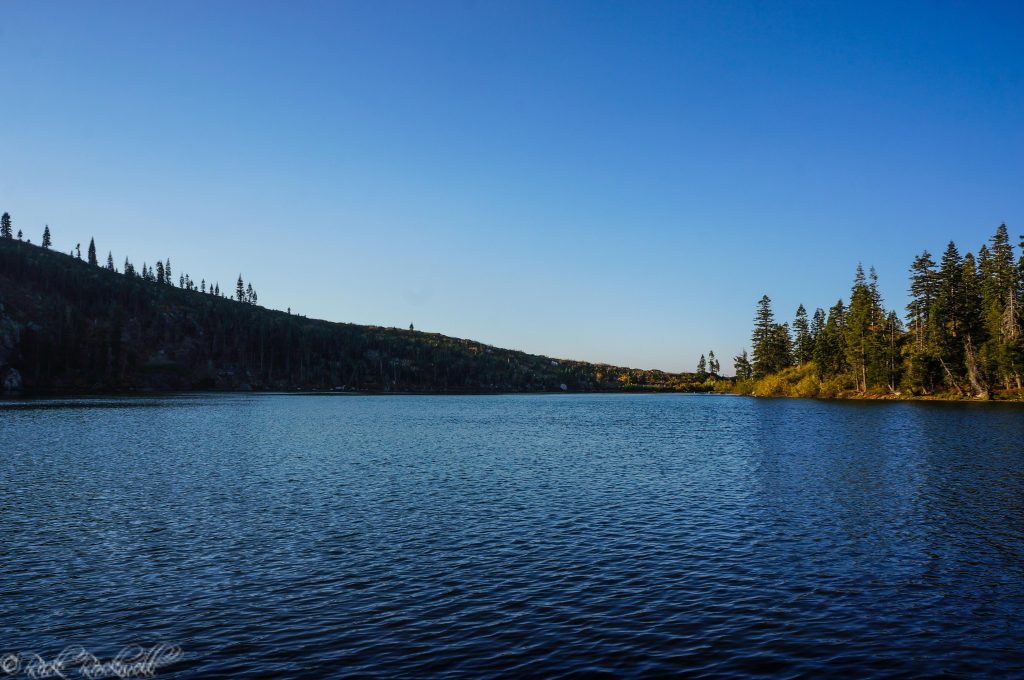 Feeley Lake and Fall Creek Mountain
Right next to Carr Lake is the larger Feeley Lake. This lake is just over 6,700 feet in elevation and is more picturesque than Carr Lake. On the North side of the lake is Fall Creek Mountain which provides a wonderful backdrop for photographers.
Fall Creek Mountain has an elevation of 7,490 feet and is roughly an 800 foot climb from the Carr Lake trailhead. According to SummitPost.org, this mountain is considered a class 2 climb from the east or west ridges. The south face, which is viewed when at Feeley Lake, can also be ascended.
The Round Lake Trail begins right at the Feeley Lake dam. Hikers will walk along almost the entire length of the lake. There's a gradual ascent during this portion of the trail. Hikers will see roughly two more watering holes: Delaney Lake (which looks more like a pond) and an unnamed lake at roughly 1 mile down the trail.
At about the 1.2 mile mark, is the even more impressive Island Lake. At this point, hikers can continue on Round Lake Trail (northeast) or head northwest onto the Crooked Lakes Trail which will eventually lead hikers around the Crooked Lakes and up to the popular Penner Lake located roughly 2 miles from this point.
Feeley Lake is popular for fishing and swimming.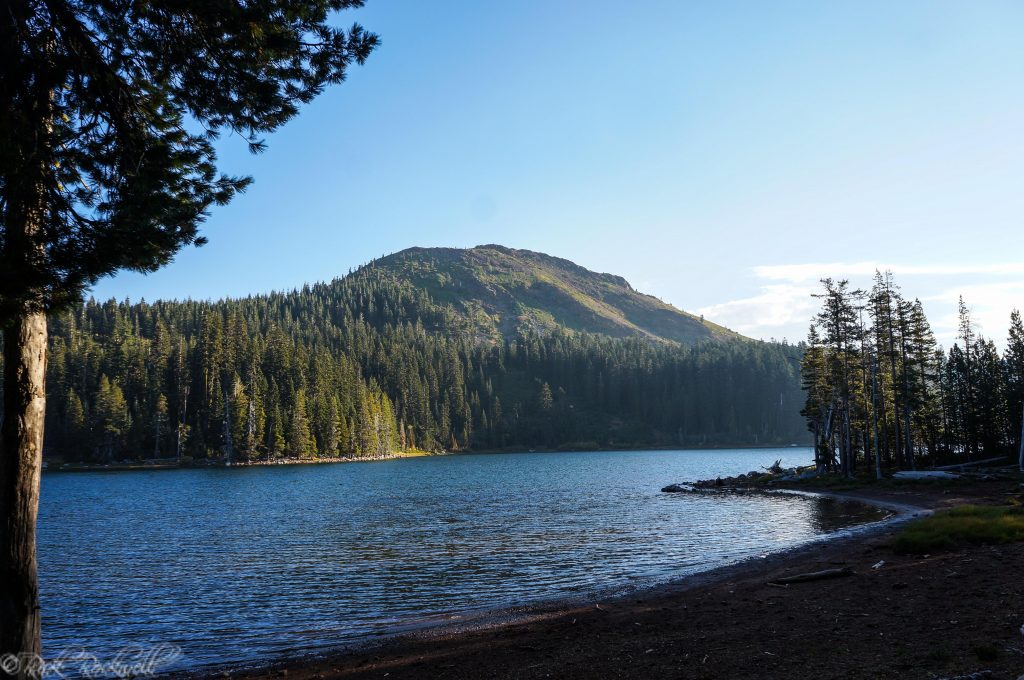 Island Lake
Island Lake is quite possibly the most visually appealing lake in this region. Located at roughly 6,875 feet in elevation, this lake provides many wonderful spots for camping, swimming and jumping off of rocks. Additionally, you can view the Grouse Ridge Lookout off in a distance from Island Lake.
The lake got its name from the handful of little islands that dot the body of water. These islands make great destinations for swimming.
Island Lake is a popular camping area since it's a great starting point for more trails and nearby lakes. Fire permits may be required.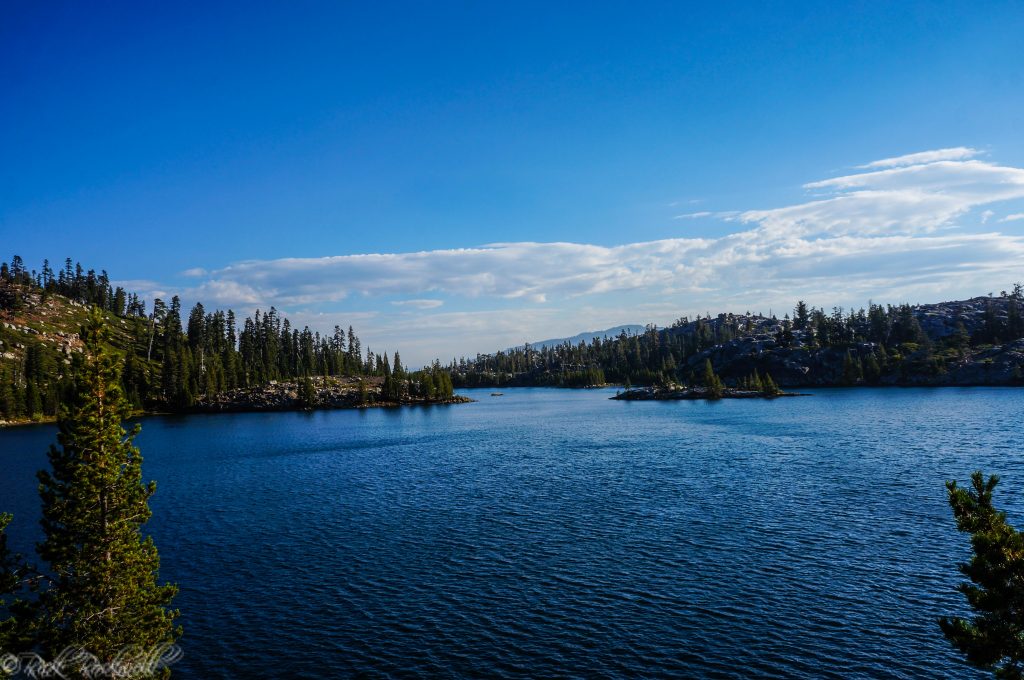 Crooked Lakes Trail
Crooked Lakes Trail is another popular trail in this area. It begins between Island Lake and the unnamed lake. This trail is a little more than 2 miles long and will take you all the way to Penner Lake, which some people believe that the beauty of Penner Lake rivals that of Island Lake.
The trail goes around the western portion of Island Lake, then leaves the lake at about 0.3 – 0.4 miles and takes you north through a red fir forest. Eventually the trail weaves around the Crooked Lakes and brings hikers to the final destination of Penner Lake at roughly 2 ¼ miles away
Round Lake and Long Lake
For this article, we will continue on the Round Lake Trail and not split off onto the Crooked Lakes Trail. The Round Lake Trail will continue northeast around Island Lake.
Round Lake is roughly a ½ mile from Island Lake. The trail continues to gradually ascend as you continue along the trail.  Round Lake is roughly 6,900 feet in elevation. The trail takes you between Round and Long Lakes. There are little spur trails/paths that take you down to each lake.
Camping is very limited at both lakes, but there seems to be less people here which provides a more isolated and secluded atmosphere. Both lakes are worth a stop, pictures and relaxation.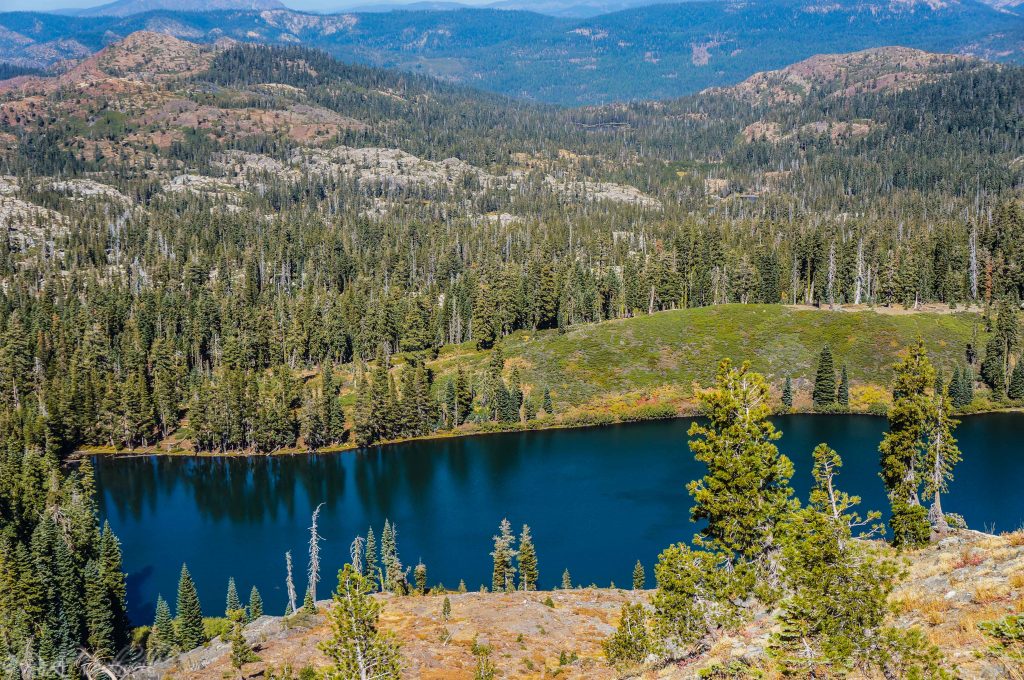 Milk Lake
The Round Lake Trail will continue from Round Lake around Milk Lake before ending at a junction with Grouse Ridge Trail. Milk Lake is roughly 7,000 feet in elevation and is about 1 mile away from the Grouse Ridge Campground and trailhead. There's also a 500 foot change in elevation from Milk Lake to the Grouse Ridge Trailhead. Hikers will need to look for a spur trail down to Milk Lake which is a few hundred yards prior to the junction of Round Lake and Grouse Ridge Trails.
Grouse Ridge Trailhead
The Grouse Ridge Trailhead is a challenge to get to by vehicle. However, once you get there, it provides incredible views, a great hiking trail, a nice campground and the historic lookout. The trailhead is almost in the middle of the Grouse Ridge Trail which is roughly 8 ½ miles in length. The trail begins at Eagle Lakes and ends at Sawmill Lake.
For more on the Trailhead and the Lookout, check out my article: The Grouse Ridge Lookout: one of California's oldest lookouts with amazing views
Tips
Make sure to check that the trails and roads are open
Bring plenty of fluids
Bring a change of clothes to go swimming
Great lakes for fishing
A wonderful day hike that's easy for families
Wear sturdy shoes
Bring bug spray
Wear a hat and/or sunblock
Go during the Summer time to enjoy the cool lakes
Popular hiking spots during weekends and the summer
Final Words
The Grouse Ridge non-motorized area is an awesome place to hike, camp, fish and explore. It's similar to Desolation Wilderness in that it has numerous lakes, peaks, and trails. Additionally, both regions are outdoor playgrounds with stunning views and plenty of history.
The Round Lake Trail is the ideal trail to start off with in this region due to its gradual ascension, clear paths, beautiful scenery and being easy for families to enjoy. There are roughly 8 lakes to visit just off this trail. Additionally, the Round Lake Trail leads to two other popular trails (Crooked Lakes and Grouse Ridge) where hikers can see more lakes and embark on more adventures.
The most challenging part of this hike is the drive on Forest Rd. 17 to the Carr Lake Trailhead. This road is unmaintained and unpaved. Rocks, dirt and plenty of bumps will escort you the entire 3 miles until reaching the trailhead. Slow speeds and a high clearance vehicle are definitely recommended.
I absolutely plan on returning to this region for years to come. It truly is a wonderful outdoor area and one that you should visit whenever you get the chance.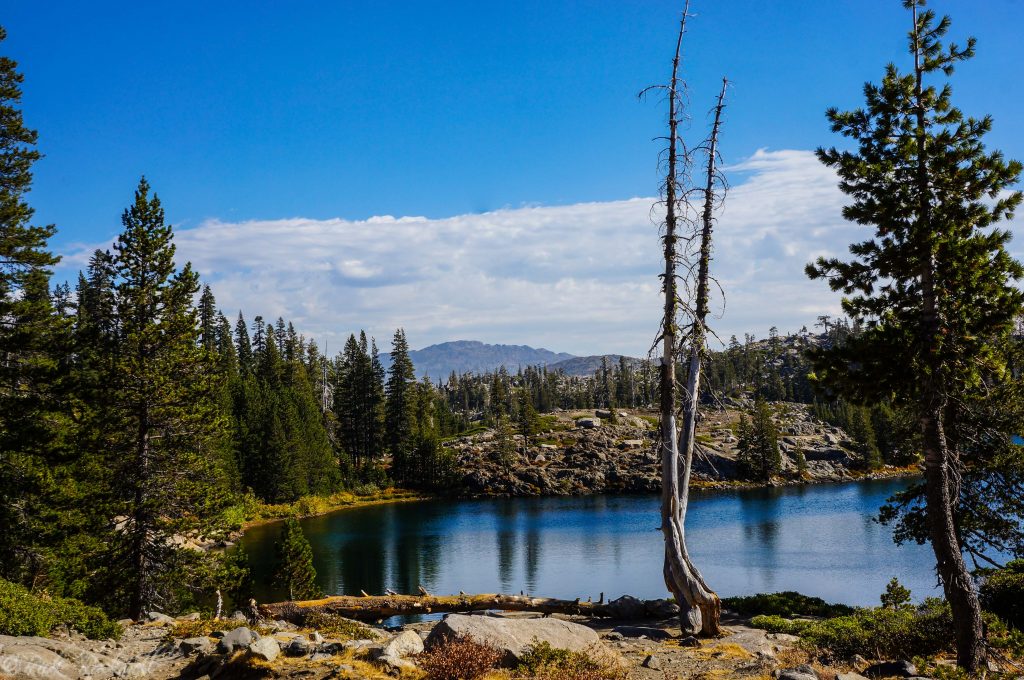 Directions
From Sacramento, take I-80 east to exit #161 – Hwy 20. Head west on Highway 20 for roughly 5 miles before turning right onto Bowman Lake Road (Forest Rd 18). This road will wind around for about 6 miles before making a right onto Forest Rd. 17. This is a dirt road that's unmaintained and rough on vehicles at times. Remain on this road for 3 miles before reaching the Carr Lake trailhead.