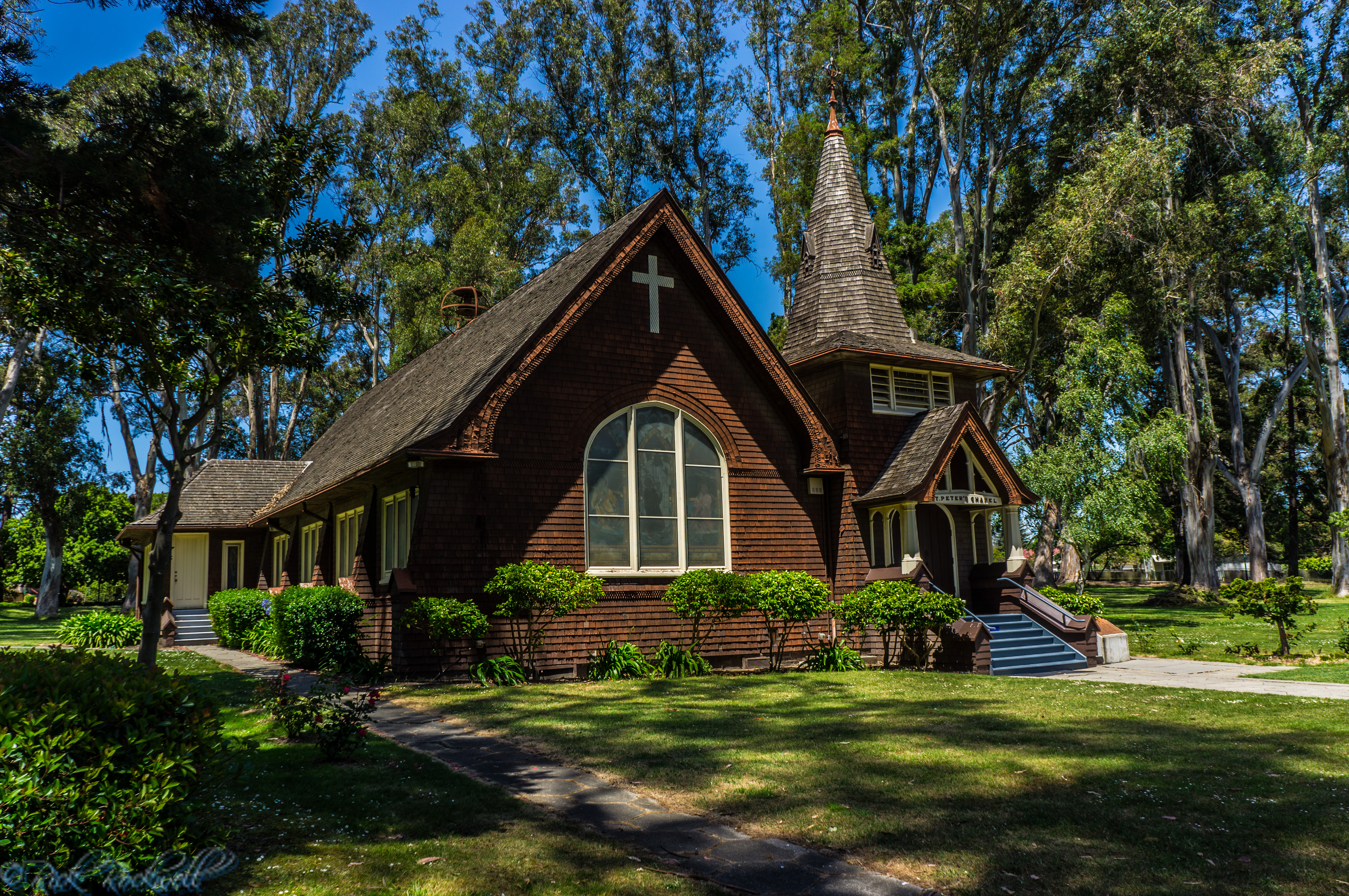 (Last Updated On: May 23, 2015)
St. Peter's Chapel, located on Mare Island, is an exquisite little chapel built in 1901. It's Victorian Gothic design hides the chapel's true beauty, which is on the inside. In the mid-to-late 20th century, it was discovered that this chapel was the oldest original Naval chapel in the United States. Today, it's a cherished historical landmark with a priceless collection of memories and stained-glass windows.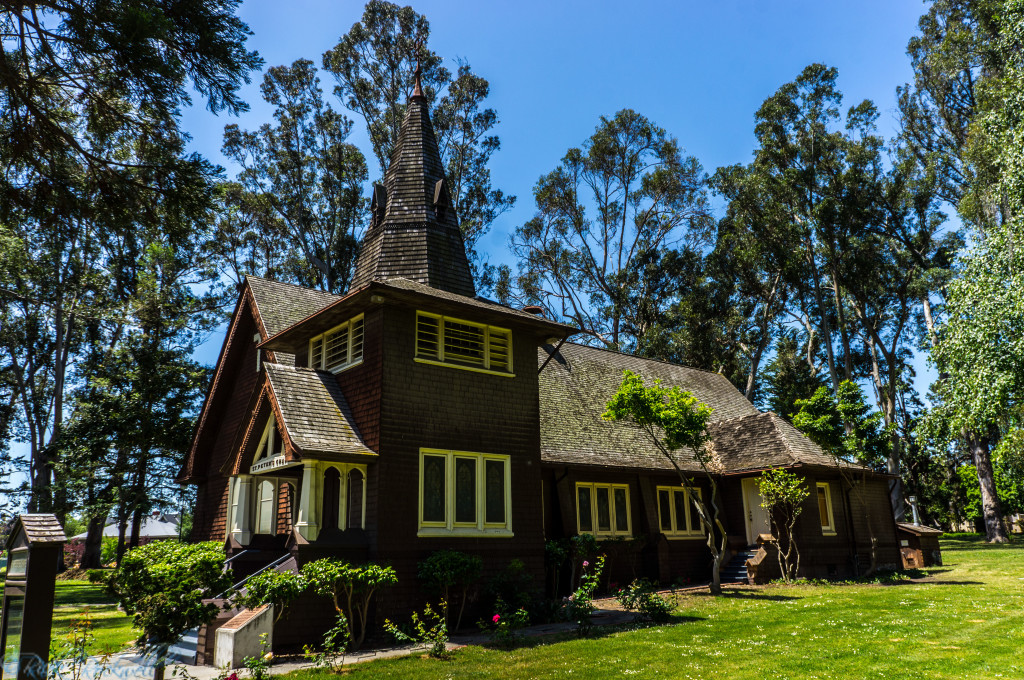 McAlister's Chapel
Adam Armstrong McAlister was born on March 2, 1841, in New York. He rose to the rank of deacon through the Episcopal Church in 1862 and became a priest in 1863. From 1863 through 1865, he served in Sacramento. During that time, he was assigned to St. John's Church in Marysville, CA, where he remained for six years and even married his wife Susan Williams.
On November 10, 1873, he was appointed chaplain in the US Navy and assigned duty at the Mare Island Naval Shipyard. For the next few years, he spent time on the U.S.S. Pensacola and toured the Pacific Coast throughout the western hemisphere. Eventually, he ended up at the Naval Academy in Annapolis. Here, he discovered the beauty and serenity of the old chapel, which burned down around the turn of the century.
M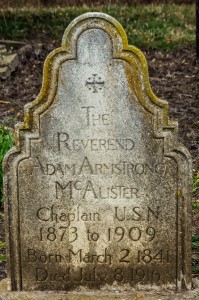 cAlister would spend most of the 1880's at the United Naval Academy and aboard ships. When on leave, he would head back to his home in California. From 1892 until 1901, McAlister worked hard to get a chapel built at Mare Island. But, his efforts were constantly interrupted by leaves as he was sent aboard the Brooklyn and the U.S.S. Philadelphia. McAlister also saw firsthand the Spanish-American war.
With his proud service record, honorable reputation, and the assistance of California's U.S. Senator George C. Perkins, McAlister's near-decade long battle to get a chapel erected had come to fruition. The St. Peter's Chapel was erected in 1901.
Two years later, McAlister would retire from the Navy but remained a constant presence on Mare Island and within St. Peter's Chapel. He was a beloved figure of the community, and the Navy, until his death on July 8,1916. McAlister is buried in the historic Mare Island Naval Cemetery.
Tiffany Glass
During his efforts to erect the chapel, and throughout his remaining years, McAlister successfully pleaded to get Louis Comfort Tiffany stained-glass windows placed within the chapel. From 1905-1930, twenty-five of the twenty-nine stained glass windows installed were authentic Tiffany masterpieces.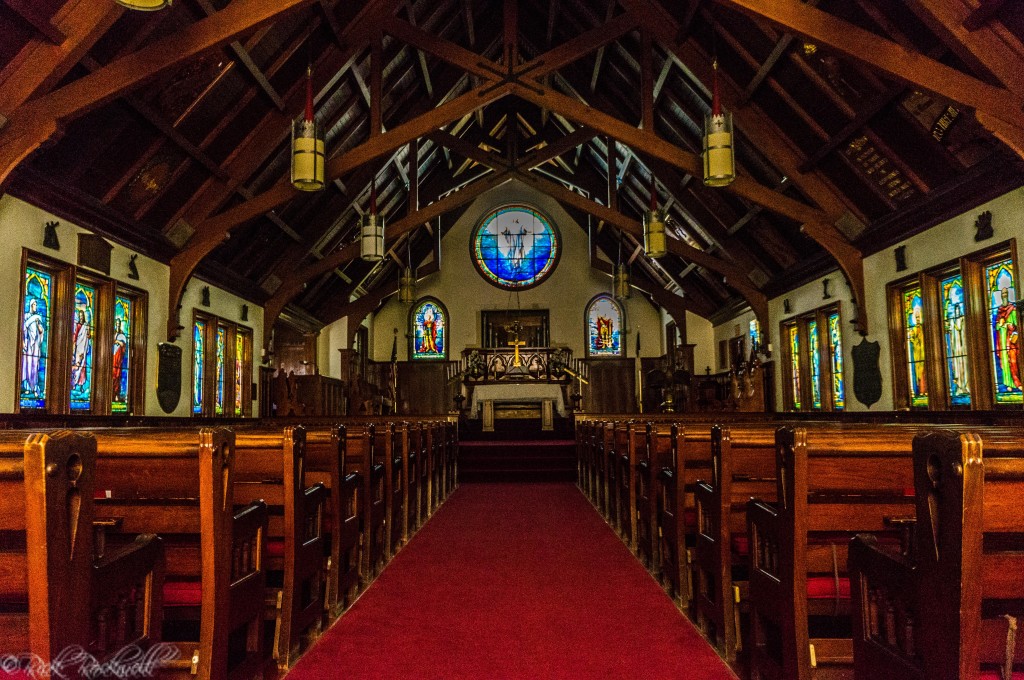 These Tiffany windows represent the largest collection west of the Mississippi. In fact, other than a museum on the east coast, St. Peter's chapel has the largest authentic Tiffany glass collection in the country. This is a large reason why many people visit the chapel.
The other four stained-windows are from San Francisco: one of the side windows from Cummings Studios and the large three-paned window from Ingerson and Glaser.
These Tiffany panels depict Christian figures like: Jesus Christ, Peter and Paul. You can't see them from the outside. Additionally, they are all protected with a military grade exterior surface and a security alarm system.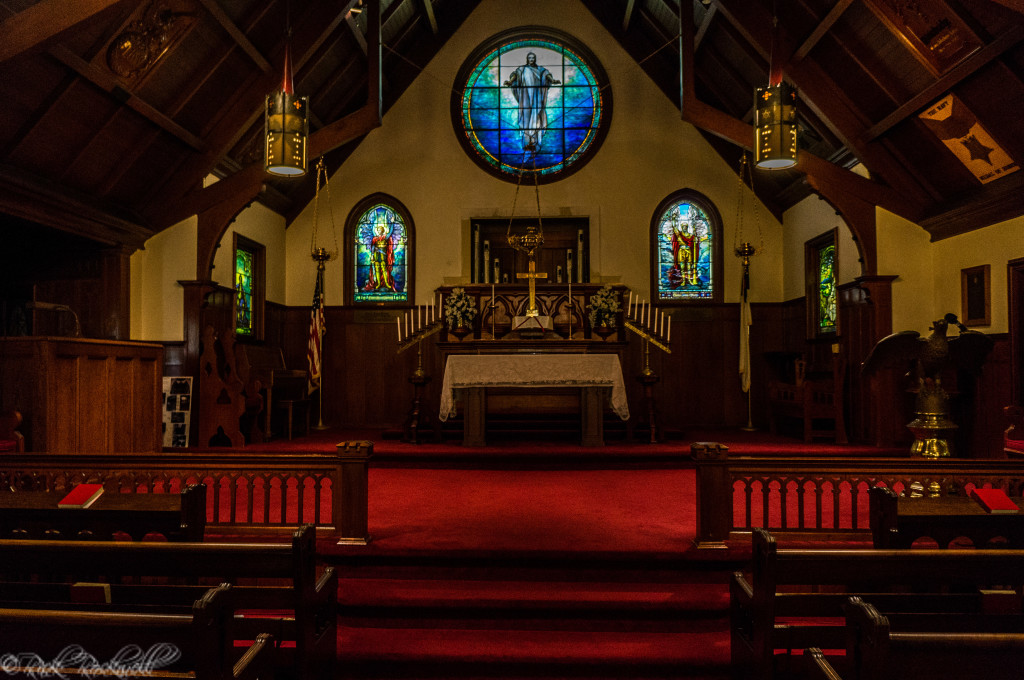 A Tiffany Epiphany 
Upon first sight, I thought the chapel had a modest appearance. It certainly doesn't compare with some of the big cathedrals in California, but, it did sit on a quaint 3-acre park and had an overall photographic charm. The magic, or the beauty, of this church is on the inside.
The only way to get access inside the church is by going on a tour. Despite being inside with a group of people, you still get to fully embrace the holy ambience. Visitors are allowed to walk around, check out all of the memorial plaques, sit in the pews and get an up close look at the Tiffany glass windows.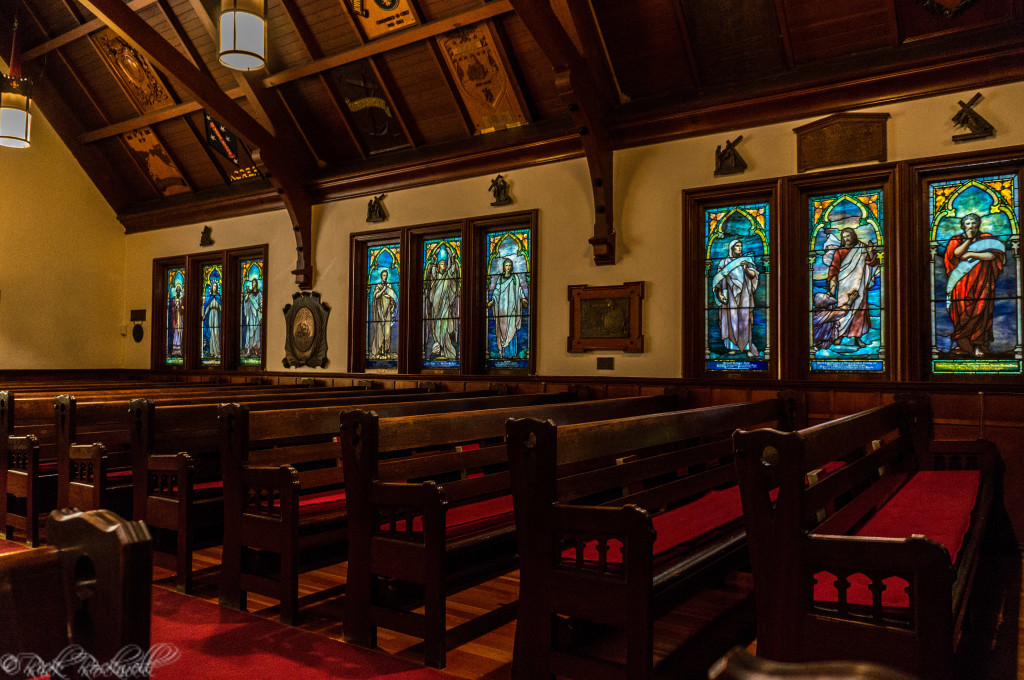 For me, I've always been fond of older churches. It's something my mother taught me when I was a kid. No matter where I travel, I always keep an eye out for old churches and make it a point to visit them. In all of my travels, I have never experienced the ambience that the Tiffany glass windows create.
I have never seen Tiffany stained-glass windows before. In fact, I didn't even know what all of the hoopla was about. But, just one minute of standing in the presence of 25 Tiffany windows, and it all seemed to make sense. It was like I had a Tiffany epiphany. The craftsmanship, the artistry and the science that went into creating these windows is nothing short of spectacular.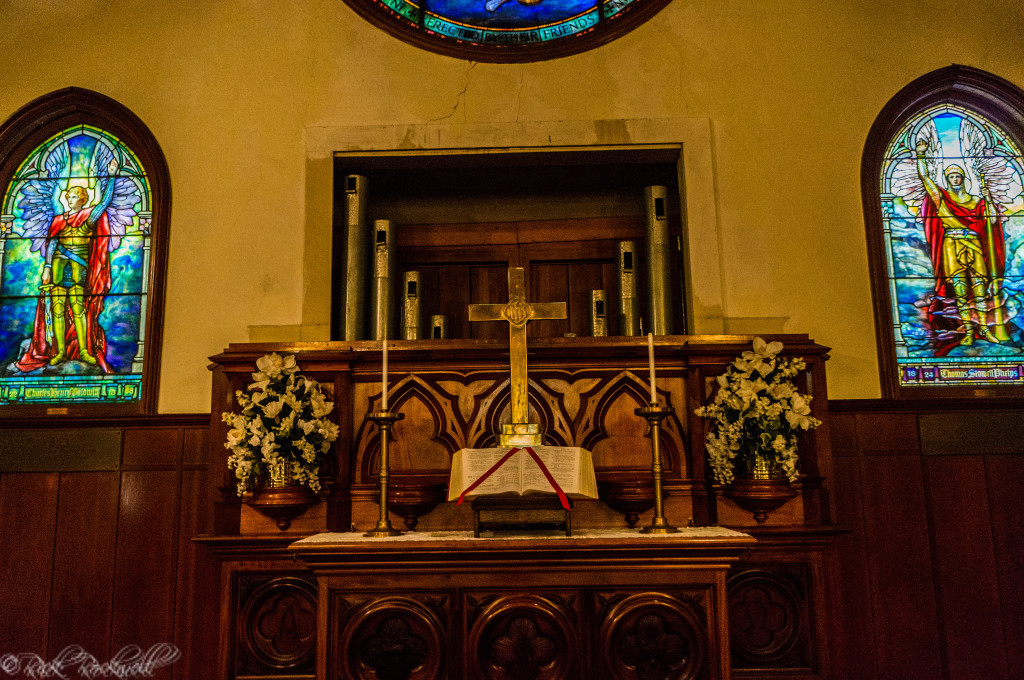 Rays of beautiful, vibrant colors almost become three dimensional when the sun shines through the Tiffany windows. The rich wood pews and open beams make the vault ceiling even more impressive. A 1929 organ catches your eye as it centers the front of the room. Each key interior component fits together to provide an aura of tranquility.
No matter what emotions you bring with you inside St. Peter's Chapel, you leave it feeling peaceful and joyful.
Final Words
St. Peter's Chapel served as a beacon of hope during two World Wars, it brought comfort to those who lost loved ones, it brought peace to a Naval Base, it was a place of happiness for weddings and baptisms, it brought joy during the Holidays, and it continues to serve as a proud historical landmark for Mare Island and the United States Navy.
Check out my other Mare Island explorations.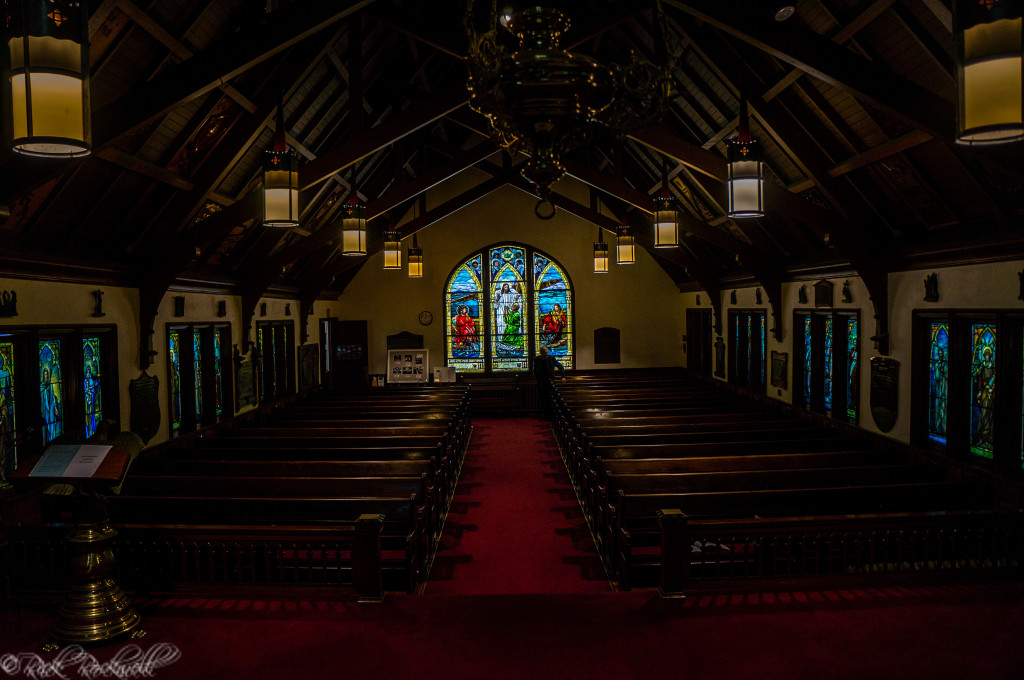 Tours
Weekdays from 10am to 2pm
1st and 3rd weekends of the month from 10am to 4pm
Tours cost $5 per person and are led by a docent of the Mare Island Museum
The chapel is also available for weddings, memorials, funerals and baptisms. The chapel seats 174. For more information on reservations click here.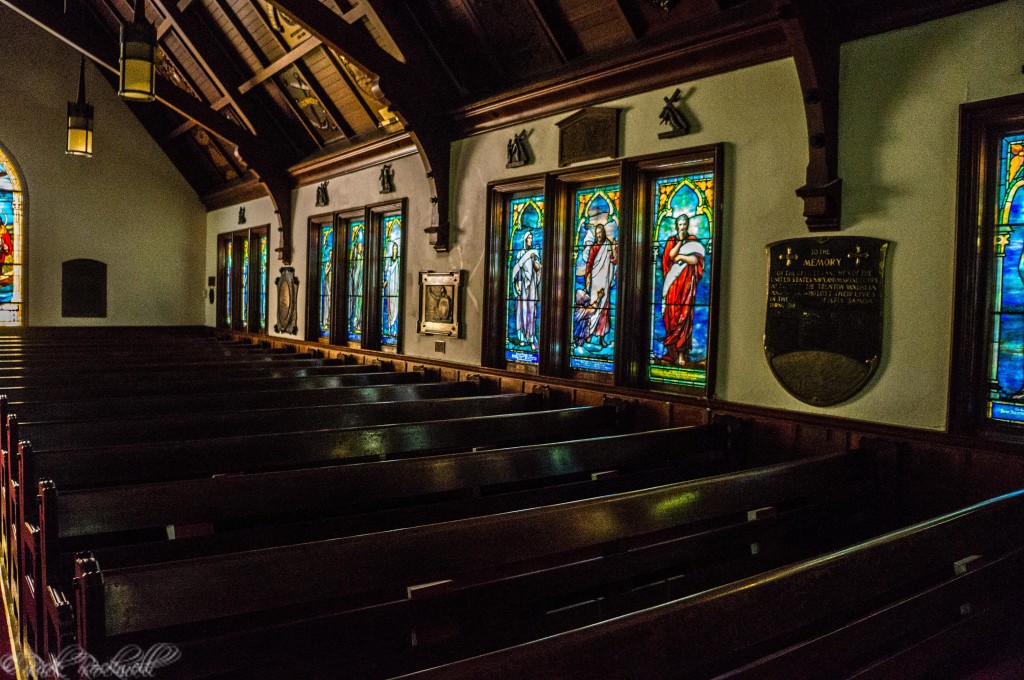 Directions
From I-80 in Vallejo – Take the Tennessee St. exit  and head west for two miles. This merges into the Mare Island Causeway and takes you across the Napa River. Go through the blinking red light which is Railroad Ave. You are now on G street. Take this down another block and make a left onto Walnut Ave. Head down about 2 to 3 miles and you will see on your left – Chapel Park with St. Peter's Chapel.
11181 Walnut Ave., Vallejo, CA.