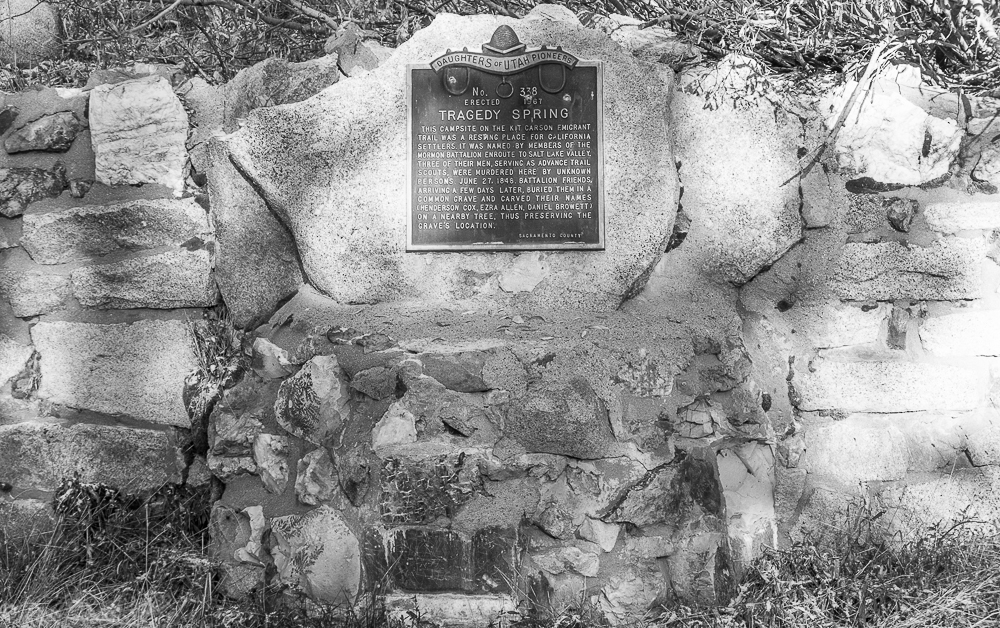 (Last Updated On: November 14, 2020)
In the spring of 1848, the decision to return home to Salt Lake Valley was made and roughly four dozen veterans of the Mormon Battalion informed their employer John Sutter that they would be leaving.
After spending nearly a year in the employment of Sutter at his fort and at his sawmill in Coloma, where gold was first "discovered," these Mormon soldiers were called back to their homelands in Utah by Brigham Young.
Little did anyone know at the time, but this group was not only forging a path through the uncharted lands of California, they were also forging a path into the annals of history.
In addition to creating a new wagon road through the Sierras, which would become one of the most traveled routes into California during the Gold Rush era, this group of Mormons also experienced a tragic encounter along the way, which has been etched in time as Tragedy Spring.
The Plan to Head Home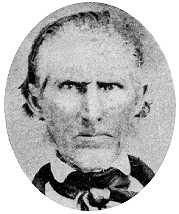 History refers to this group of 44 men and one lady as the Jonathan H. Holmes and Samuel Thompson Company. They were all Mormon and set to leave everything behind in Northern California to head back to their families and church in Salt Lake Valley.
Initially, the plan was to cross the Sierras at the Truckee River (modern day Donner Pass) as this was the established route of the time.
Robert Pixton, Daniel Browett, Ezra Allen, Henderson Cox, James Calvin Sly, Israel Evans and a few other brothers rode up to Truckee in May 1848 to gauge the current landscape. Unfortunately, they were met with disappointment as they found that this path would not be passable due to the massive amount of snow.
With Truckee no longer being a possible route out of California, the Mormon brethren decided to gather supplies, money and other essential items to carve out a new wagon road through the Sierras past Dry Diggins (modern day Placerville).
At this point, they've become accustomed to being pioneers, forging new paths and marching through unknown lands.
With members of the party working at Sutter's Fort and at Sutter's sawmill in Coloma, which were roughly 40 miles apart, the decision was made to find a gathering place to assemble the wagon train in order to head home.
On June 17th, 1848, Henry Bigler and two others set out to find the ideal gathering spot and settled on a "pleasant" little valley in the foothills that they ended up naming Pleasant Valley, which still bares that name to this very day.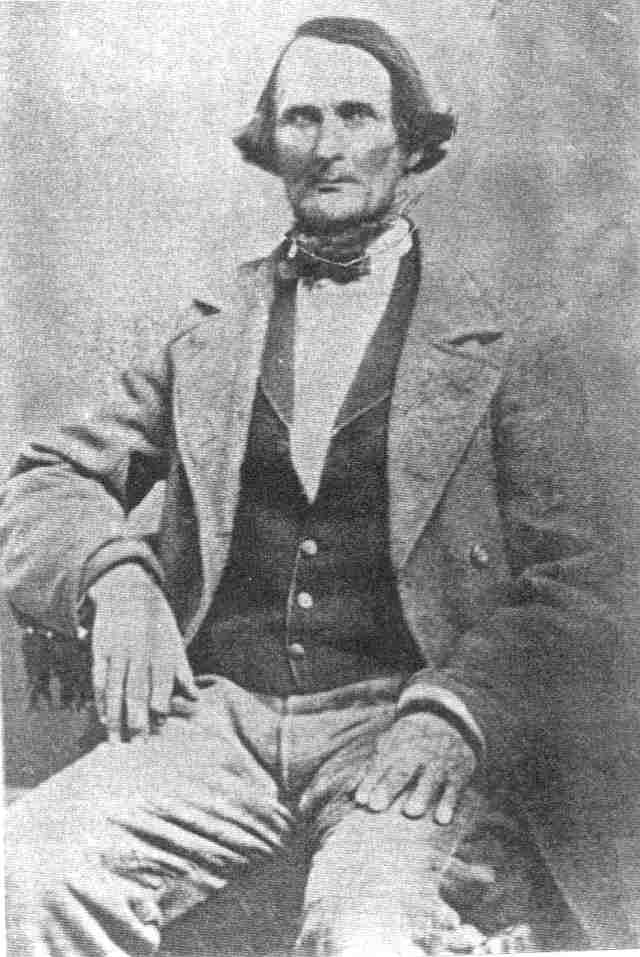 Gathering at Pleasant Valley
With members of the party slowly arriving, the excitement of heading home was setting in. Many of these former soldiers haven't seen their families in two years.
However, these men knew that this was going to be an arduous journey filled with mighty challenges along the way.
A few days after the initial gathering, around June 22nd, Daniel Browett, who was elected Captain of the company, set out with Ezra Allen and Henderson Cox to scout possible routes for the party.
By July 1st, the wagon train that consisted of four dozen trailblazers, 17 wagons, 150 cattle, 150 horses and mules decided they couldn't wait any longer for the three men to return. The Holmes and Thompson Company set out for Salt Lake by July 2nd, 1848.
The following is a list of the 44 men and 1 woman who were a part of this company, according to the official website of the Latter Day Saints:
Wesley Adair
Ezra Hela Allen
James Riley Allred
Philo Marshall Behunin
Henry William Bigler
Daniel Browett
James Stephens Brown
Richard Bush
Melissa Coray
William Coray
Henderson Cox
John Cox
Daniel Quimby Dennett
Joseph Dobson
James Douglas
John Eagar
Elijah Elmer
Israel Evans
Ephraim Green
Francis Asbury Hammond
Meltiar Hatch
Orin Hatch
Jonathan Harriman Holmes
William Holt
William James Johnston
Zadoc Knapp Judd
George Kelly
Jesse Bigler Martin
Miles Miller
David Moss
William Smith Muir
George Pickup
Robert Pixton
Addison Pratt
Samuel Hollister Rogers
James Calvin Sly
Azariah Smith
Alexander Stephens
William Strong
Samuel Thompson
Jacob Mica Truman
Thomas Weir
John Stout White
Ira Jones Willes
William Sidney Smith Wiles
Oliver Gaultry Workman
It should also be noted that some of these men were there the day James Marshall first "discovered" gold. For if it weren't recorded in their journals, we wouldn't know the exact day that Gold was found considering Marshall could not remember the exact day.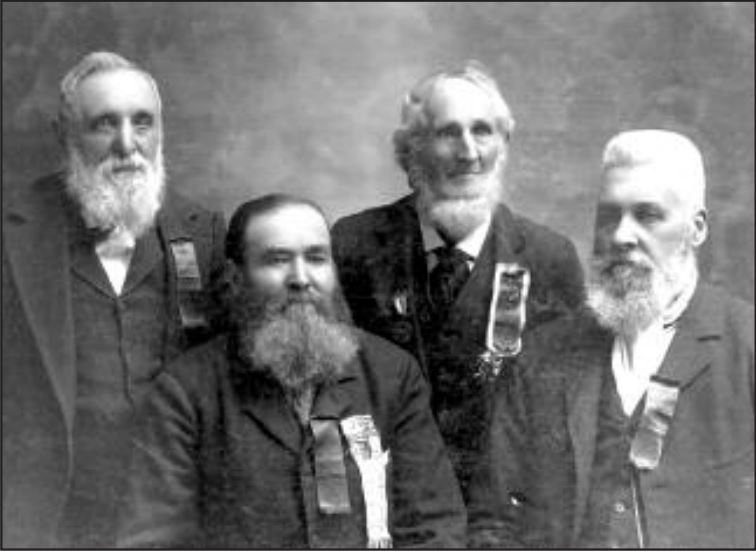 Browett, Allen and Henderson Set Out to Scout a Path
Under the pen name Henele Pikale, Henry W. Bigler wrote a twenty part series titled "Recollections of the Past" for the Juvenile Instructor in 1886 and stated the following about the departure of Browett, Allen and Henderson:
"Brothers Browett, Allen and Cox, being desirous to push forward, said that they would leave camp and go ahead with pack mules and explore and hunt out a route over the mountains while the company was gathering, and return and meet the camp. They were advised not to go, owing to the wild tribes in the mountains, but they thought there was no danger and so left camp."
All three men were soldiers of the Mormon Battalion and were called to duty during the War against Mexico. These were accomplished, brave and capable men that boldly volunteered to go ahead of the wagon train to scout possible routes.
Captain Daniel Browett
Daniel Browett enlisted in the Mormon Battalion on July 16th, 1846, along with his good friends John Cox, Levi Roberts, Robert Harris, Richard Slater and Robert Pixton. The men were put into Company E where Browett was commissioned as a Sergeant.
Once their one year of duty was up, the men were set to head back home. Under the leadership of Levi Hancock, Browett and 200 additional Mormon soldiers were on their way back to Utah when they met up with Captain Brown.
Under the directions of Brigham Young, a large number of these soldiers were to return to California and seek employment in order to help out with the greater good of the people back in Utah.
Browett and his friends, except for Harris, returned to California and eventually found work with John Sutter. He ended up becoming a carpenter and laborer on the grist mill.
In March 1848, Browett's reputation and integrity had led the other men to make him the spokesperson for the Mormons working for Sutter. Daniel would be the one to negotiate the pay and discuss other issues with Sutter himself. He also handled the final pay and partings with Sutter on behalf of the workers.
It was documented by many of the Mormon soldiers that were still in California working that Browett also collected gold flakes from them in order to purchase two cannons from Sutter to bring back with them to Salt Lake.
With his time as a Sergeant, a skilled carpenter, and appointed leader of the Mormon laborers under the employment of Sutter, it's no surprise that Daniel Browett was elected as the Captain of the company and as the lead scout.
Browett was skilled, experienced, intelligent, reliable and trustworthy. He was viewed by many as a friend and a father figure.
Private Henderson Cox
Cox was born on November 6th, 1829, in Warren County, Indiana, to Jehu Cox Sr. and Sarah Riddle Pyle. He was one of 16 children and just 16 years old when the U.S. Army visited the Latter-Day Saints in the summer of 1846.
Inspired by Brigham Young's call for 500 Mormon volunteers, Cox enlisted and marched out with the Mormon Battalion on July 16th, 1846.
Cox was a private in Company A under Captain James Allen and Captain Jefferson Hunt. He turned 17 years old while the Battalion was marching through Arizona.
After the Battalion was discharged on July 16th, 1847, Cox made his way north and ended up finding employment with John Sutter. He turned 18 while working for Sutter and gained firsthand experience in the new lands.
Already familiar with Browett from their time in the Army and working at Coloma, Cox volunteered to be a scout with Captain Browett on the journey back home.
Ezra Heela Allen
Born on July 28th, 1814, at Madrid, St. Lawrence County, New York, Ezra Allen was on of 14 children to Samuel Russell Allen and Sarah Jane Powers. Some sources say that there were 17 total kids.
Allen grew up working hard and taking care of his family. At 23 years old, Allen married Sarah Beriah Fiske on December 25th, 1837, in their hometown of Madrid. They would go on to have four children before he enlisted in the U.S. Army as a member of the Mormon Battalion in the summer of 1846.
On July 16th, 1846, Allen, a fifer in Company C, and the rest of the soldiers marched to Fort Leavenworth. From there, the Battalion left for Santa Fe with orders to arrive by October 3rd, 1846.
Like Browett and Cox, Allen also went to northern California for employment with John Sutter. He worked at the mill and collected some gold after it was discovered in January 1848.
Allen rode out with Browett, Pixton and others to Truckee with the goal of finding a passable route, but returned a week later due to the snow.
Like Cox, Allen also volunteered to be a scout with Browett due the familiarity he had with him.
A Growing Concern for the Three Scouts
After the company had left Pleasant Valley, they all eventually arrived at a "nice little valley" that they called Sly's Park by the 5th of July. A few members of the party were said to have arrived by the 10th.
This "little valley," which has also been referred to as a meadow, is now under Lake Jenkinson in the Sly Park Recreation Area.
From the surviving journals of several members of the Company, we can piece together a timeline of what happened next.
A Meeting Is Held as Hope is Waning
On the night of July 4th, as some of the men were celebrating Independence Day by shooting off a cannon, other brothers from the Holmes and Thompson Company held a meeting to discuss what they should do about the three missing men.
According to Henry Bigler, "Fears were entertained that mischief had befallen them."
Bigler also stated that a group of 10 brothers would ride out to "pioneer the way over the Sierra Nevada, and to see if anything could be learned of the whereabouts of the missing men."
The diary of Samuel H. Rogers shared that they "concluded to send some men a head to find out the road over the mountain. also to see what had become of the three men, who started several day's ago."
On the morning of July 5th, the group of 10 men started out to find a safe passage over the Sierras and to look for their missing brothers Browett, Allen and Cox.
Elijah Elmer's journal recorded that these 10 men "took 2 weeks rations with them." He also said that the rest of the company was to remain at "Sly's Park" until the group returned.
According to the biography of Addison Pratt, the company was very concerned about Browett, Cox, and Allen: "There had been much unpleasant feeling express'd by the company about them."
The Group Returns, But No Word from the 3 Brothers
On Thursday, July 13th, the group of 10 men returned late at night and the camp "was immediately called together and a report made."
According to Bigler, this group had found a pass, but it would take a lot of work to carve a path through it. Additionally, "They had learned nothing of the three men, neither trail nor sign of them could be found after passing a certain point."
Addison Pratt recorded that their trail "could be trac'd no more than ten or twelve miles beyond where we were."
This report left the company worried and very anxious. In fact, Elijah Elmer said that "some fear that they are lost and starved to death."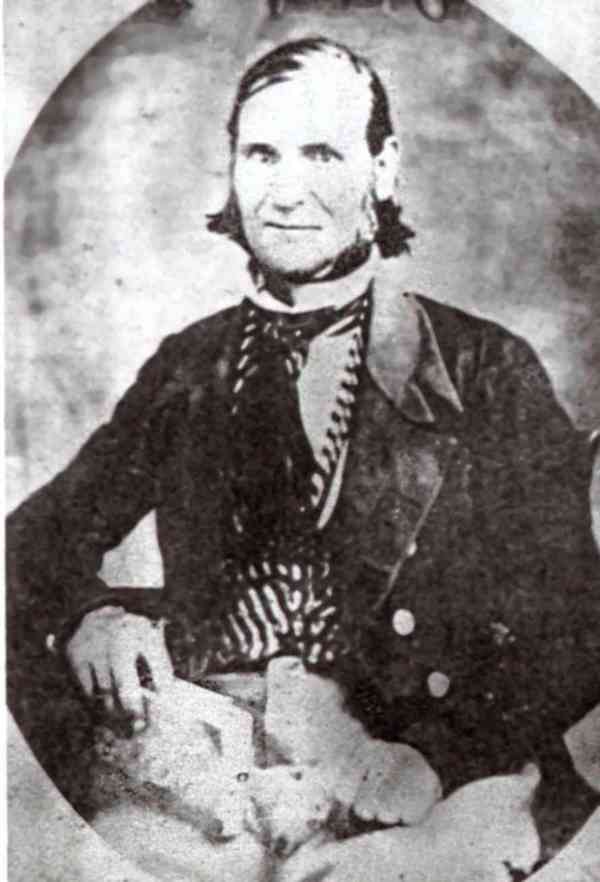 The Company Leaves Sly's Park
Armed with the report from the group of ten, the leaders of the company decided "to send four men ahead on the morrow to cut away the brush and roll rocks out of the way, and the camp was to follow after."
The first group that left on Saturday, July 15th, included Ephraim Green who wrote the following in his journal: "Saturday, 15th started rather late[.] went 10 milds [miles] and campt on the ridge[,] 1 mile from water and a poor part."
Henry Bigler stated that they went eight miles. Jonathan Holmes recorded in his diary that they left Sly's ranch and traveled 10 miles before camping for the night. Samuel Rogers also stated that they went 10 miles on the 15th.
Elijah Elmer and the remaining members of the company left on Sunday, July 16th, "for the top of the mountain." He reports that they traveled nine miles and camped at a spot they called "Camp Creek," which still bares that name today.
Regrouping and Camping at Leek Springs
On Monday, July 17th, most of the company left Camp Creek and traveled 10 miles before stopping by a springs and setting up camp.
According to Addison Pratt they called this place Leek Springs "on account of the great abundance of that kind of vegetable that we found growing there. Here is a beautiful valley with a great abundance of feed for cattle."
Many of the men journaled how this portion of their path was very rocky and filled with "large thickets of brush."
On this day, they ended up losing some of their cattle and horses. With missing livestock and a tough path ahead, the company decided that they would remain at Leek Springs for two days.
On Tuesday, July 18th, some of the men were successful in finding the lost cattle and horses. Other members of the company focused on repairing damaged wagons.
Additionally, a group of five men were sent ahead "to cut out the road" for the rest of the wagon train. Miles Miller, Henry Bigler and Samuel Rogers were three of the five men clearing the path. Both Rogers and Bigler wrote about a grim discovery on their way back to camp after working on the "road."
A Grave is Discovered
As this group of five were returning they found evidence of a camp that they believed was where their missing brothers (Browett, Cox, Allen) camped at. Additionally, they also found a grave nearby.
Henry Bigler wrote the following:
"As we were returning we found where we supposed our three missing men had camped near a spring. Not far away was what we thought to be an Indian grave, as near by was an Indian wickeup. Brother Miller, one of our party, said he was of the belief that our brethren were in it."
Samuel Rogers noted the following in his journal:
"On our returning to camp, we found the place where the three brethering had camped who went first to search out the road, by a spring of water. there was a grave. Some think that it is the grave of the three Brethren."
Instead of examining the grave, the group of five men quickly returned to camp to share their findings.
Following the report, Addison Pratt wrote: "We now began to feel that the many fears that we had entertained about them being murdered by Indians, was to [be] realized."
Pratt also said that the company's next move was "to go to that place & camp, & examine it thoroughly."
That evening, the company organized into four groups of 10. Jonathan Holmes was appointed "president" and was in charge of the company.
Samuel Rogers and Addison Pratt were appointed as his counselors. Samuel Thompson was appointed captain in case there was any fighting with "Indians."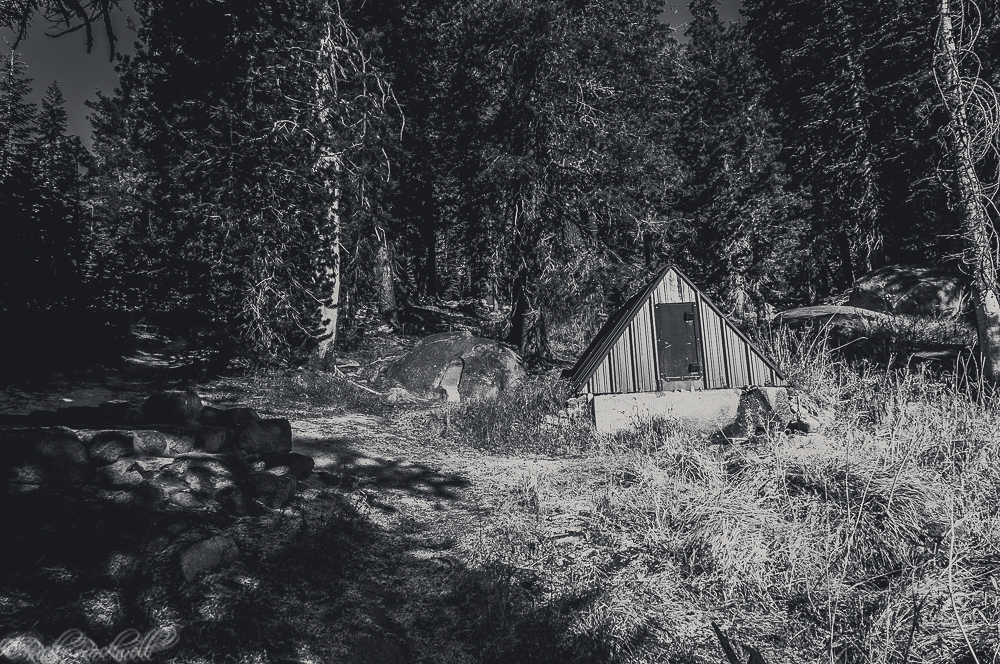 Departing Leek Springs for Tragedy Spring
On Wednesday, July 19th, the company set out for the site of the grave which was roughly five to six miles from Leek Springs. This stretch of the "road' was said to be "the worst road that we have found yet."
After what seemed to be an all-day journey, the company reached the site where the grave was located. The brothers were determined to make a thorough search of the grounds and to open up the grave to see if their missing brethren were in there.
Near the spring that was pouring out of the mountain side, showed marks of a fire and an encampment. This location was described as "a beautiful little spring in the midst of a heavy growth of fine timber."
The men found a number of Indian arrows all around this area. Some of these arrows were broken and bloody. There were also rocks with blood and hair on them. It quickly became clear to the men that something bad happened here.
Francis Asbury Hammond wrote "signs of a fearful struggle were apparent where the brethren fought for their lives."
Digging Up The Grave at Tragedy Spring
The time had come where the men finally dug into the grave to see if their brothers were buried there. Within moments, "we found to our regret and deep sorrow of heart, the Bodies of the Three Brethren who went in search of the road Daniel Browatt, Henderson Cocks and Ezra H. Allen."
Addison Pratt would go on to say that all three bodies were "divested of every article of clothing and bearing marks of horrid violence."
James S. Brown wrote in his autobiography upon seeing the bodies of his brethren that "our feelings cannot be described through the medium of the pen."
Browett, Allen and Cox were naked, mutilated, and badly decomposed. Browett sustained what was believed to be an axe or hatchet wound that split his lower jaw in two and shot through his eye.
Allen had a withe around his neck, which supported the theory that he was dragged back to the grave. Apparently, Allen's pouch filled with gold was found some distance from the grave with blood on it. The men surmised that Ezra was making a run for it, but sustained a fatal blow to the back of the head.
The men also believed that their three brothers must have been taken by surprise while they were sleeping especially since the murderers didn't see the pouch filled with an estimated $120 dollars of gold in it. The rest of their clothes, weapons, supplies and animals were all taken.
Jonathan Holmes stated that they though their brothers were murdered on the night of June 27th. Melissa Coray, the only woman in this company, thought that they were killed with poisoned arrows.
That night, as gloom covered the camp like a fog, the company now realized that they were "in the midst of an enemies country."
Brown wrote: "The night we came to Tragedy Springs was very dark, and our camp being in a dense forest of large trees, the darkness was intensified."
They fired off a cannon at night to scare off any wild animals or potential attacks. Each surviving member of the party felt deep sorrow for the death of their brethren.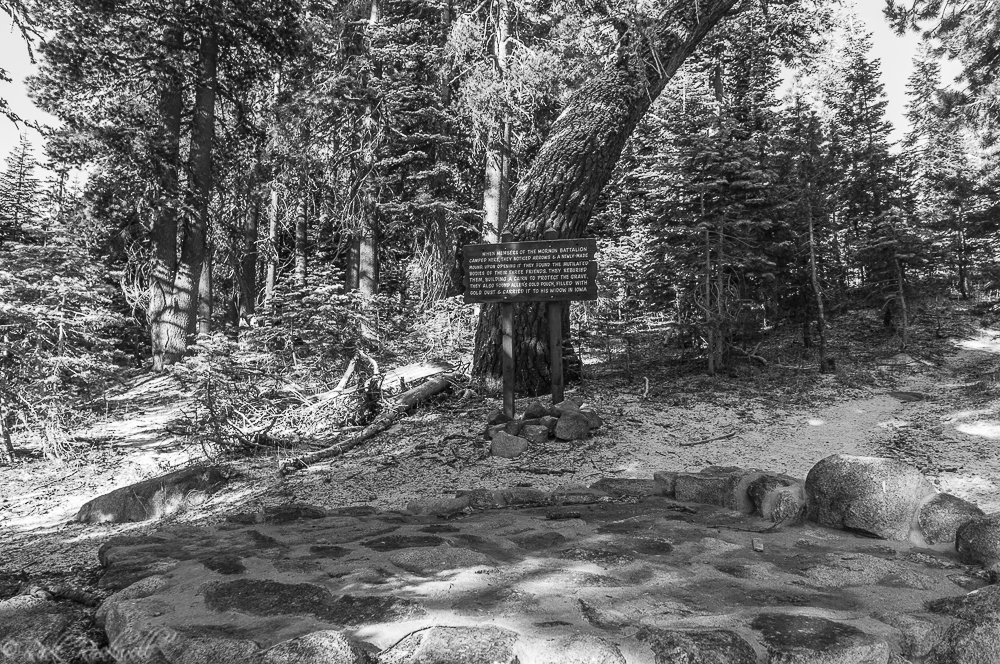 Reburying Their Fallen Brothers
Filled with grief, the men decided to rebuild a proper grave for their fallen brothers. On Thursday, July 20th, the men built a wall about three feet high all around the grave. Bigler said that they also covered the grave with stones to keep animals from disturbing them.
A headstone was raised and the names of Browett, Allen and Cox were etched into a nearby tree with the following inscription:
"To the Memory of Daniel Browett, Ezrah H. Allen, Henderson Cox, Who was supposed to have Been Murdered and Buried by Indians On the Night of the 27th June 1848"
Remembering Their Brothers
Holmes, who replaced Browett as the president of the company made the following comments in his journal:
"It was a solem time when it was as[c]ertained that these men had ben murdered in so shocking a maner[.] it was a time of Solemnety & mo[u]rning to think that the man that was to be our leader to Salt Lake was now lying dead, he was like a farther to us & we mo[u]rn his loss."
Addison Pratt knew Browett from their time working together at Sutter's Fort. He said that Browett was an excellent man and loved by all that knew him.
It's not hard to imagine how John Cox and Robert Pixton mourned the loss of their close friend Daniel Browett. For they were friends prior to enlisting together into the Mormon Battalion and stayed together in the employment of Sutter.
As of this writing, I am not sure if there's a relation between John Cox and Henderson Cox.
On Friday, July 21st, the company continued on their journey and left their buried brothers at a location they had now named Tragedy Spring.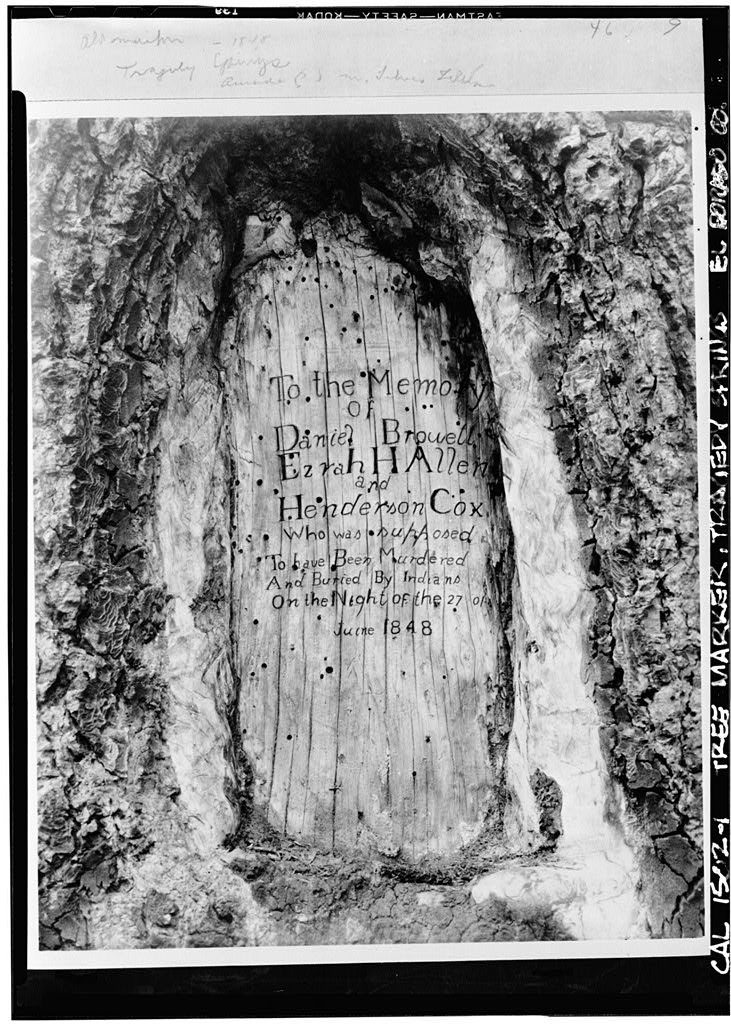 A Letter to John Sutter About the Murders at Tragedy Spring
Before they left, Samuel Rogers wrote a letter to John Sutter "giving an account of the discovery of the bodies of Browett, Allen and Cox, Also how, as we suppose they were murdered."
The letter was buried by a tree near the grave. Rogers also left a note on the tree directing whomever found the note to the buried letter.
I wonder if anyone ever found that letter or if it just deteriorated over time due to the harsh elements.
Brown Company Follows the Trail Six Weeks Later
Six weeks after the Holmes and Thompson Company had departed, the Ebenezer Brown Company left Pleasant Valley on August 10th, 1848.
Brown's company was able to reach the Great Salt Lake Valley in quicker time due to the trailblazing efforts from the Holmes and Thompson Company.
During the second company's journey back to Utah, they stopped at Tragedy Spring on Sunday, August 20th, 1848, and saw the grave of the "three pioneers."
John Borrowman, a member of the Ebenezer Brown Company, made the following comments in his journal:
"we found this evening by our <camp> the graves of our pioneers[.] there was a larg pile of stone neitly built over it and on a tree at the head of the graves the following inscription was neatly cut to the memory of Daniel Bruiet[,] Ezrah Allan and Henderson Cox who was supposed to have been murdered and buried by the Indians on the night of the 27 of June 1848[.] this was done by some of the advance company in honour of three of our brethren who died thus trying to push their way through to the Church."
The Mormon Emigrant Trail
The surviving members of the Holmes and Thompson Company finally reached the Great Salt Lake Valley on September 28th, 1848. A few members didn't make it until two weeks later. No other tragedy had befallen this group other than the murders of Browett, Cox and Allen.
The path that this brave company forged through the foothills and mountains became known as the Mormon Emigrant Trail or the Carson-Mormon Emigrant Trail.
This passageway through the Sierras became the most traveled route into California during the Gold Rush. It's believed that over 50,000 wagons and 200,000 gold seekers used this route from 1849 to 1854. The first two years saw well over 50,000 individuals heading west to find gold.
Today, the Mormon Emigrant Trail Highway runs almost exactly along the same route. However, the highway does have a deviation to the south of Iron Mountain. The group originally traveled north of the mountain.
Returning Allen's Pouch to His Wife
Making it back to Salt Lake wasn't the final mission for this company. Several of the men took it upon themselves to find Ezra Allen's wife Sarah and return his gold filled pouch to her. They were able to track her down in Council Bluffs, Iowa.
Sarah used some of the gold to get supplies so that she and her two surviving children could head west. With the remaining gold, she made a gold ring for herself.
According to family history, the ring was handed down to daughter Cynthia Amorette who married Lewis Ricks. Their daughter Elvira Sarah Ricks Wixom received the ring next. Elvira gave it to her daughter Esther Wixom Tippets who then handed it down to Dorothy Tippets Hunt who had the ring as of 2004.
Ezra's gold pouch was given to his son Alexander Alma Allen. When he died in July 1916, the pouch was given to his oldest grandson Guy Poulsen who was the son of Annie Elizabeth Allen; Alexander's daughter from his second wife.
Following Guy's passing, the pouch was given to his uncle Preston Nibley who was eight years older than him. His mother was Ellen Jane Ricks Nibley who was Alexander's half-sister. After Ezra's widow Sarah remarried Joel Ricks, she had six more children.
Preston handed the pouch down to his son Preston Nibley Jr. who passed away in 2013.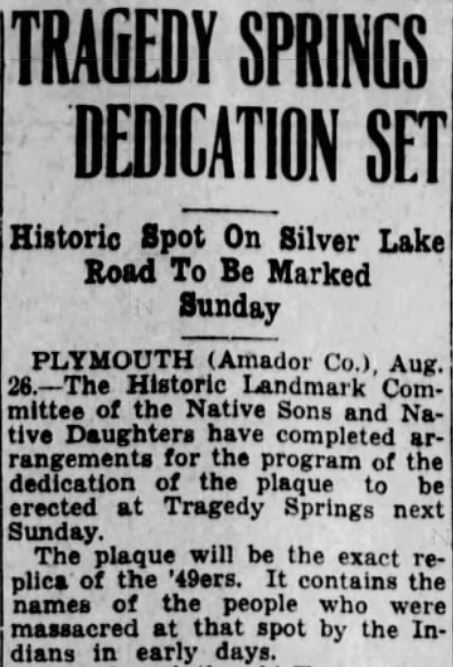 Tragedy Spring Historical Marker and Park
On August 30th, 1931, the Historic Landmark Committee of the Native Sons and Native Daughters dedicated a plaque in memory of Browett, Cox and Allen. A stone fountain was also erected in their memory.
It was also at this time that the engraved portion of the tree with the names of these soldiers was removed and taken to Sutter's Fort. The tree itself had suffered damage and historians of the day wanted to preserve it.
This portion of the tree would eventually end up at Marshall State Park in Coloma by the late 1960's where it's still on display.
On September 2nd, 1967, Tragedy Spring became a park due to the collaboration of El Dorado National Forest and the Daughters of Utah Pioneers of Sacramento County.
A picnic area was created along with markers and plaques to commemorate the lives of Browett, Cox and Allen along with the men and women who blazed the Mormon Emigrant Trail.
Arriving at the Marker
Turn off Highway 88 onto Tragedy Spring Rd. Then go halfway down the road and the marker will be on the North side. You can park in front of the marker. Look for the steps to the left of the marker to walk up the hill.
The first things you will see are the fountain and rock with another plaque. From there, head north towards the little green shelter that protects the spring. You can see this shelter from the fountain.
Once you get close to the green shelter, there will be a large boulder to the left of it with the plaque that's a copy of what was inscribed into the tree. Turn behind you and you will see the stone grave of Daniel Browett, Ezra Allen and Henderson Cox.
Sources:
Henele Pikale (Henry W. Bigler), "Recollections of the Past," Juvenile Instructor, 1 December 1886, 365-66
Addison Pratt autobiography and journals, 1843-1852
Azariah Smith autobiographical sketch, 1903, 6-8.
Elijah Elmer diary in "To the Tops of the California Mountains: The 1848 Carson Pass Diary of Elijah Elmer," edited by Will Bagley, Crossroads Newsletter 4, no. 3 (summer 1993): 5-7.
Ephraim Green journal, 1848 June-September and 1849 December.
F. A. Hammond, "In Early Days. My Introduction to Mormonism," Juvenile Instructor,15 August 1894, 517-518.
Jonathan H. Holmes diary, 1846-1848.
Melissa Burton Coray Kimball in "Utah Woman's 2,000-Mile March Fifty-five Years Ago," Salt Lake Herald, 26 May 1901, 2.
Samuel H. Rogers reminiscences and diary, 1841-1886, Folder contents: (1) Reminiscences and journal, 1841 June-1855 July, 158-66.
Zadoc K. Judd autobiography, 1903-1907, 33-36.
Robert Pixton, Autobiography, circa 1870, 30-31, in Robert Pixton papers, circa 1870.
James S. Brown, 1900, Life of a Pioneer Being the Autobiography of James S. Brown
John Borrowman diaries, 1846-1860