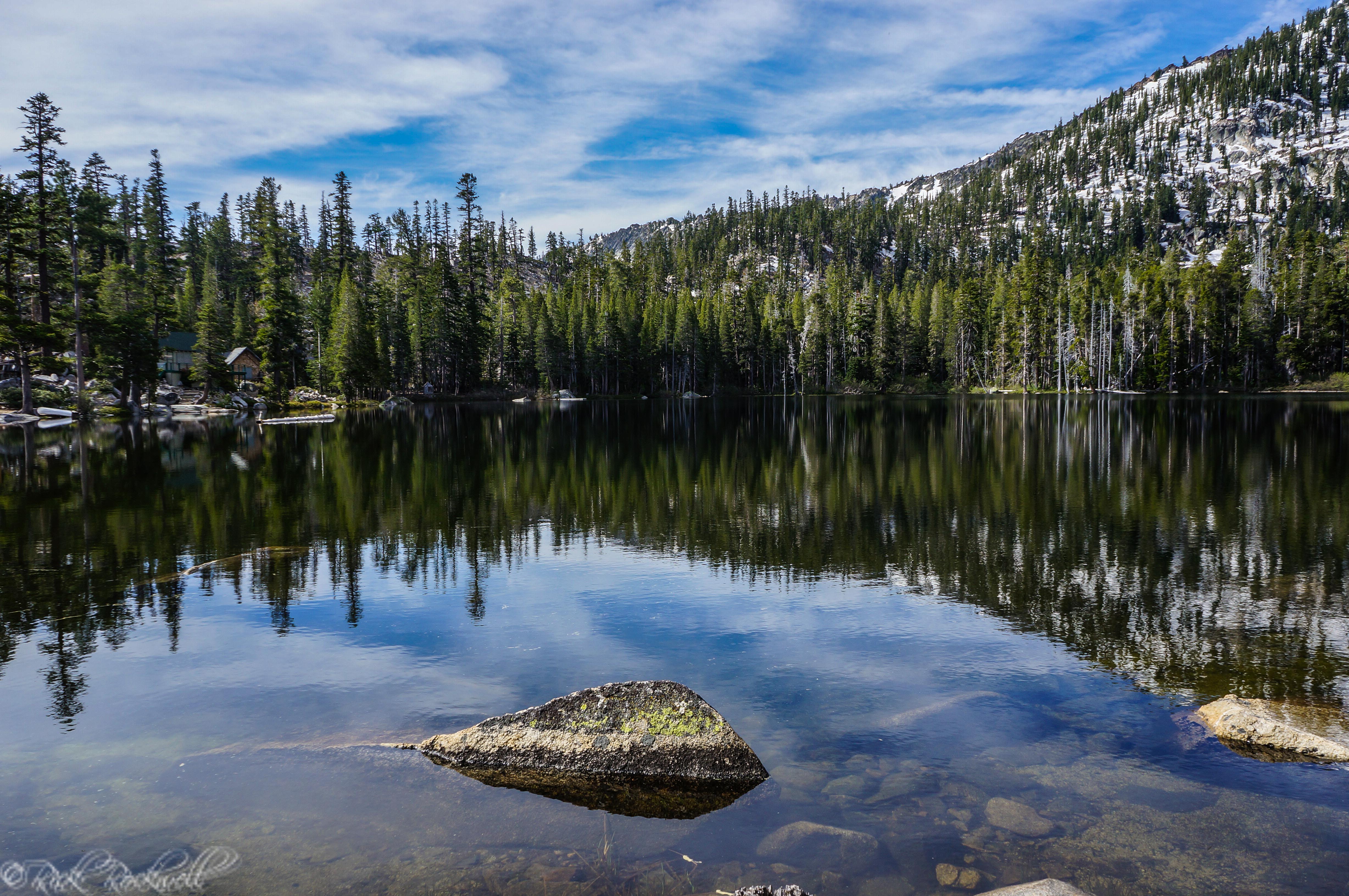 (Last Updated On: January 1, 2020)
The Lake Tahoe Basin is filled with many exciting trails that lead to breathtaking destinations. One such trail that fits this description is the Angora Lakes Trail. What makes this trail even more enjoyable is that it's family friendly and great for all levels of experience. In the end, visitors will be treated to two beautiful, glacially carved bowls known as the Angora Lakes.
Origin of the name Angora
Angora Lakes, ridge, trail and peak are all named after the popular breed of goat called the Angora goat, which was originally from the Angora region of Turkey. According to the 1904 edition of Wool Markets and Sheep – Volumes 14-15, the Angora goat didn't show up in California until 1801 when a man by the name of William M. Landrum brought them over. Landrum had 40 years of experience breeding these goats and successfully introduced them to the state.
Fast forward to the 1870's, and California was becoming a powerhouse in the Angora goat industry. These goats not only helped to maintain meadows with their grazing, but their hair was highly sought after in America and Europe. Angora goat hair (mohair) was fetching $1 a pound during this era and it was used for many things like: plushes in railroad cars and automobiles, furniture, and clothing.
Around the mid 19th century, an association had been set up for Angora goat breeders called the Angora Goat Breeder's Association. California was part of the Pacific Coast chapter and the Secretary of this group was none other than Nathan Gilmore, one of Tahoe's pioneers.
Who was Nathan Gilmore?
By the early 1860's, Gilmore had discovered soda springs in the southern portion of the Tahoe Basin near Mt. Tallac and Fallen Leaf Lake, now known as the Glen Alpine region. As he worked on expanding his soda springs venture, Gilmore often brought his herd of Angora goats up to the Fallen Leaf Lake area for grazing. In the early 1880's, Gilmore firmly established his Glen Alpine Springs Resort and also carved wagon roads for visitors to access Tahoe's first ever mountain resort.
Nathan Gilmore was one of Tahoe's true pioneers, a founding father of this region, and helped usher this beautiful area into the 20th century. In the southern portion of the Tahoe Basin, you will find many peaks and lakes named after Gilmore, his family and his ventures.
For more on Nathan Gilmore, check out my article: Glen Alpine Springs Resort: Tahoe's earliest resort, filled with history and adventure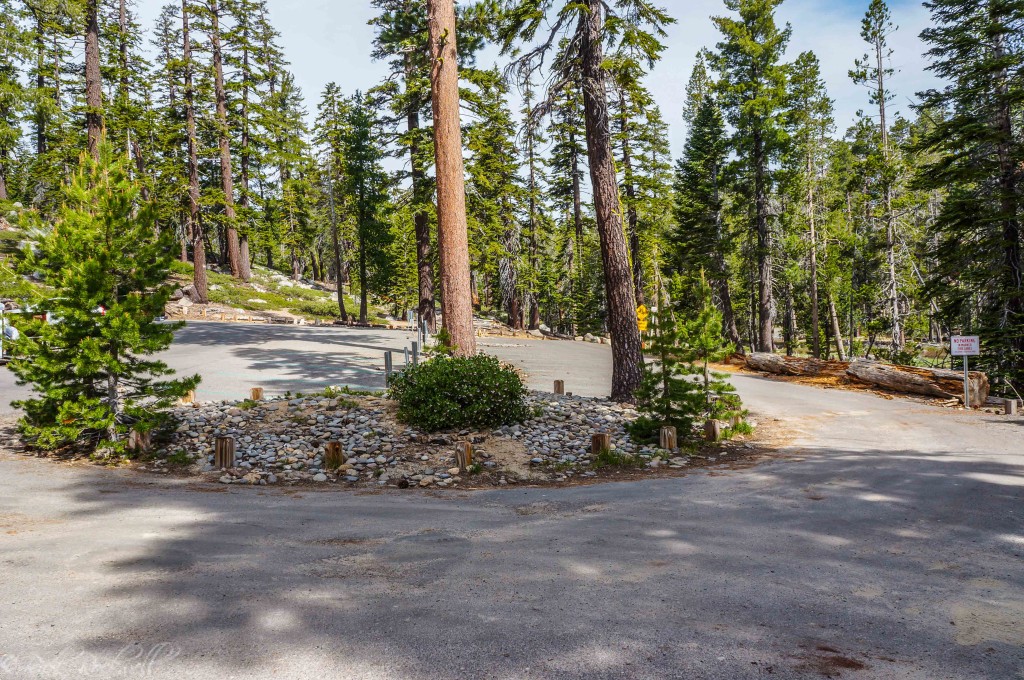 Angora Lake Hike
The trailhead has a large parking area, a smaller overfill lot, and bathrooms. There is a $7 fee to park here. The trail begins at the west end of the large parking lot, directly behind a brown gate. It's an older forest road that takes you all the way to Upper Angora Lake.
Getting to the trailhead is an adventure in itself. The drive along Angora Ridge Rd. is not for the faint of heart. This road is narrow, one lane and goes along a ridge. You must drive slow and use the small turnouts to allow cars to pass by. The following is a view of the historic Angora Fire Lookout, which is about 1 mile before reaching the trailhead. Notice the narrowness of Angora Ridge Rd.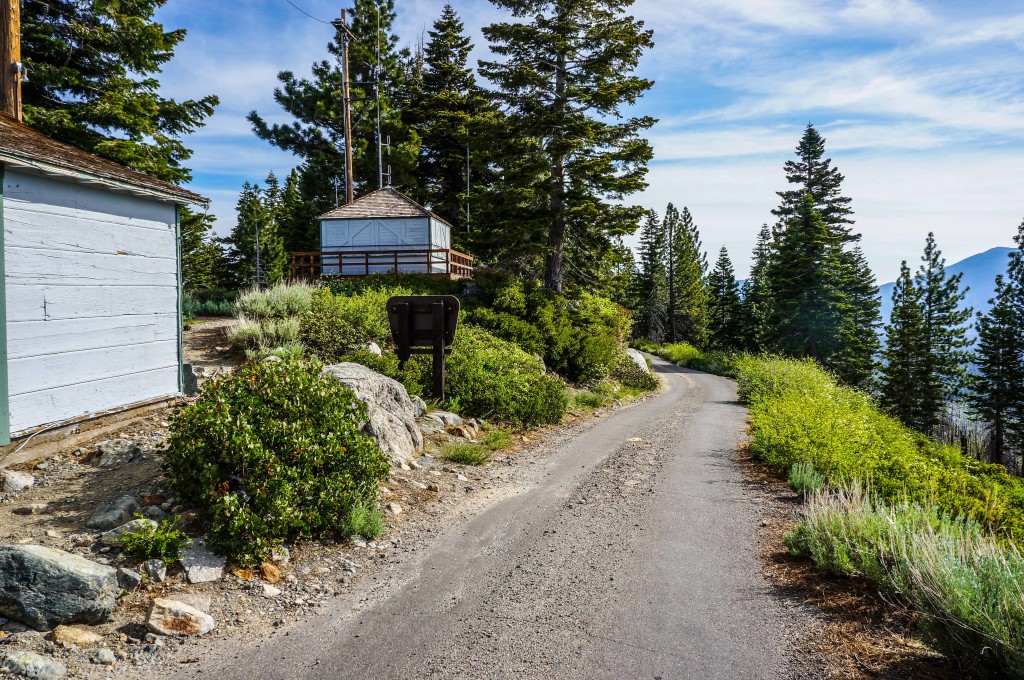 Another thing to monitor, when visiting the lakes, is the forest gate at the beginning of Angora Ridge Rd. It's typically closed October/November through April/May due to the snow. This gate is roughly 2.8 miles from the trailhead (see photo at end of article). So, it will add a considerable distance to your hike if you have to park here and trek up to the lakes. The directions and distances are at the end of the article.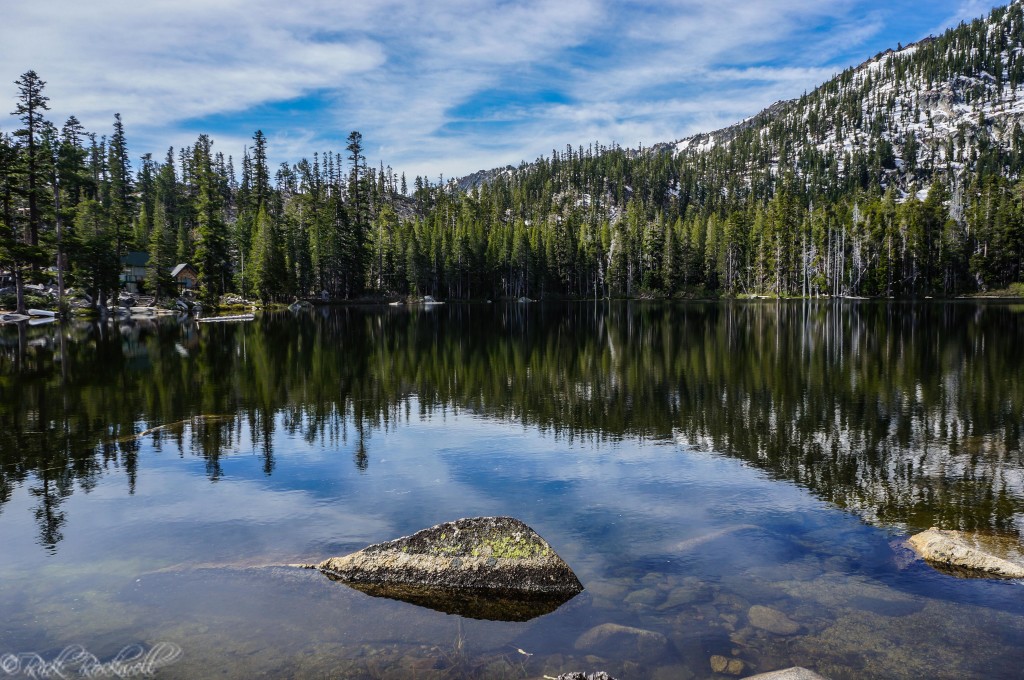 Lower Angora Lake
The Lower Angora Lake is about .3 miles from the trailhead and is easy to see from the trail. In fact, there's no getting lost on this trail as you just follow the old, dirt road until it ends at Upper Angora Lake. The trail is a steady incline all the way up. It will level out once you reach Lower Angora Lake, before a gradual incline to the upper lake.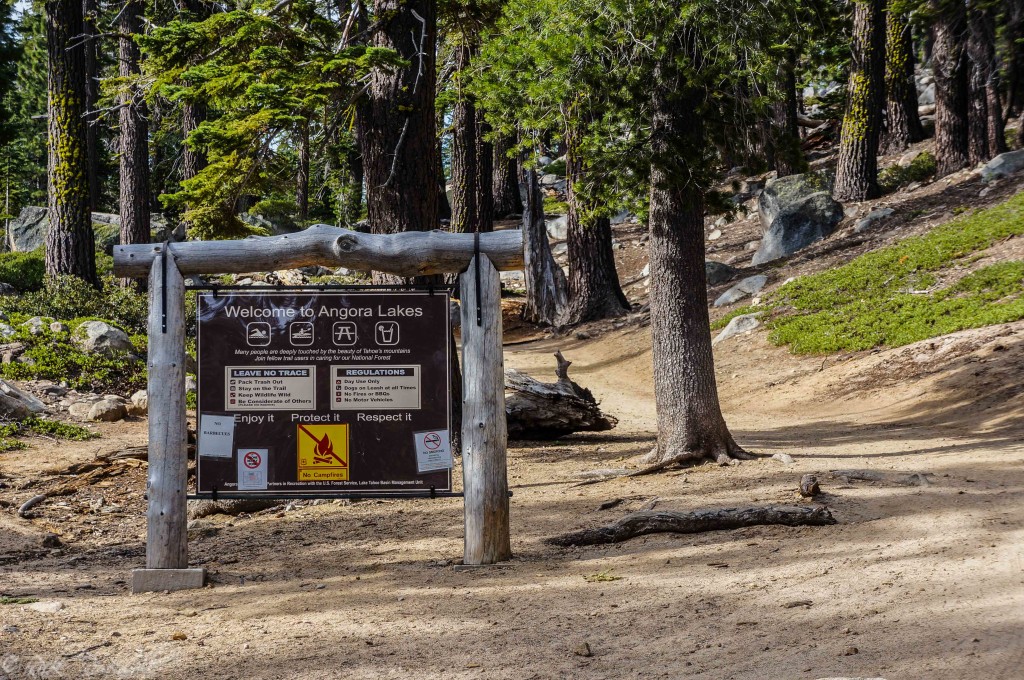 Lower Angora Lake is the larger of the two lakes and even has a smaller section that makes it feel like a third lake. There are several cabins that dot the lower lake, as they add to the overall beauty of this landscape.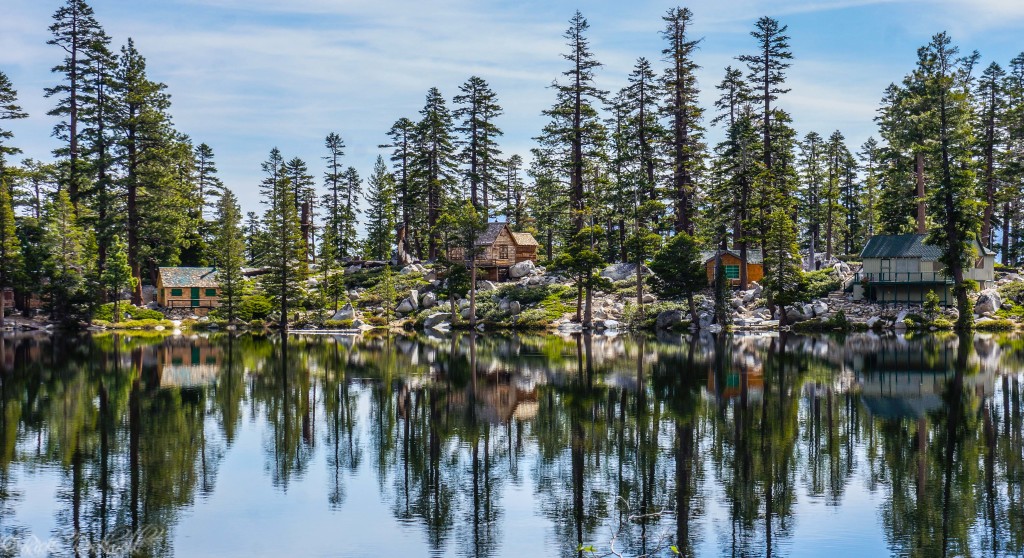 There are opportunities to fish, have a picnic, swim and enjoy a nice summer day at the lake. However, most of the "recreational" activities are typically done at the upper lake. Depending on the season and time of day, make sure to bring bug spray because the mosquitoes can be an annoyance.
Upper Angora Lake
After spending time at the lower lake, just hop back on the trail and head another .2 miles to Upper Angora Lake. As mentioned, this portion of the trail is a steady incline. However, adults and children shouldn't have a problem with the small change in elevation.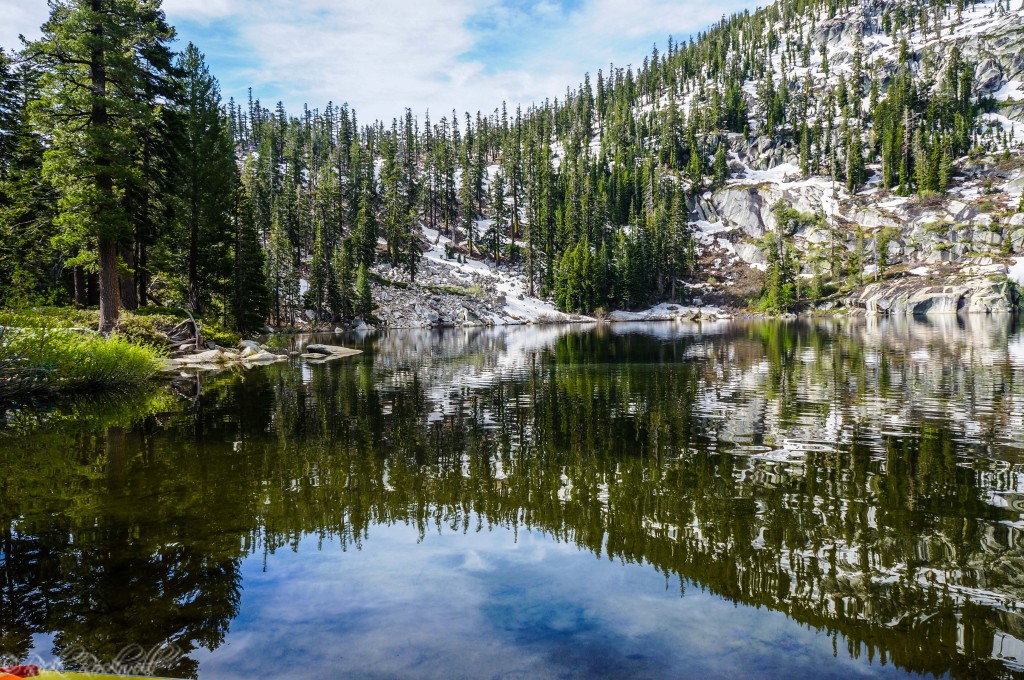 At the upper lake, you will find a public sand area, row boats and kayaks for rent, cliffs to jump off, and the Angora Lakes Resort.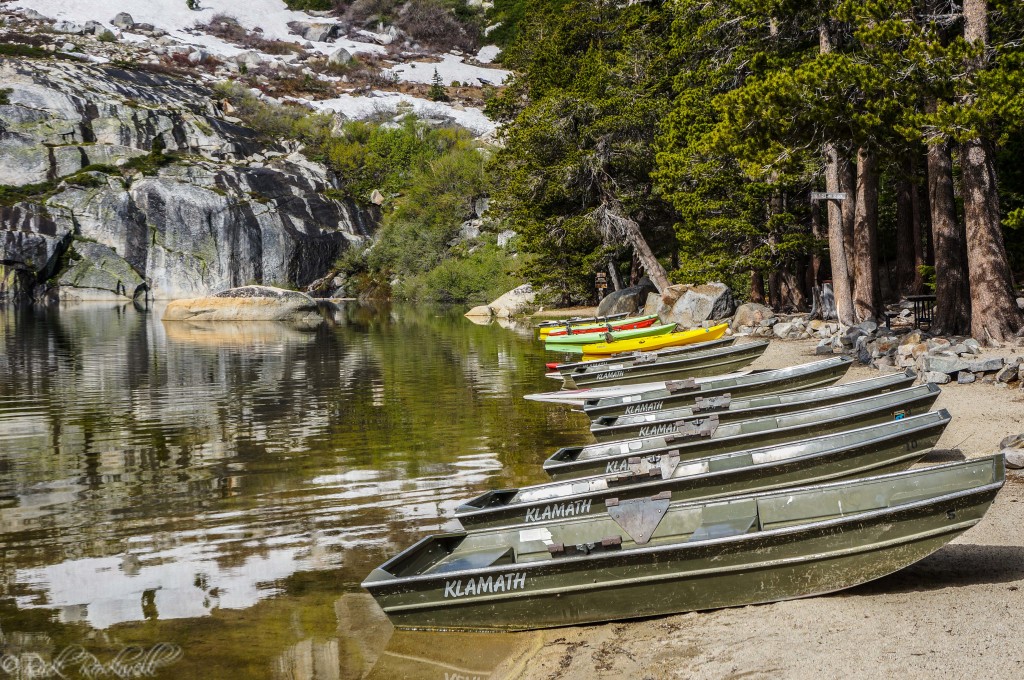 Additionally, during the late-Spring and early-Summer, there are waterfalls running down the mountainside into the lake.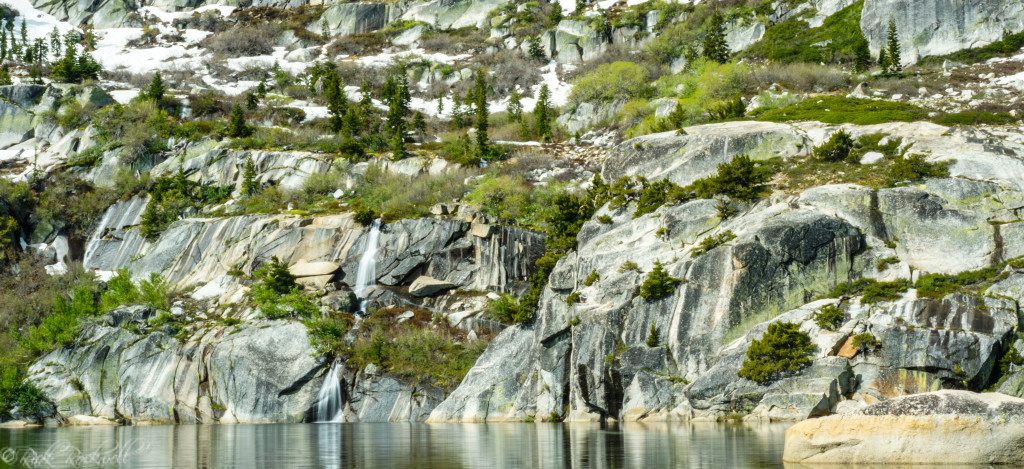 Upper Angora Lake is a popular summer destination for locals. It's best to arrive early if visiting on a summer weekend.
Angora Lakes Resort
The Angora Lakes Resort has been providing services to this area since the 1920's. There are 9 "rustic cabins" available for rent between mid-June to mid-September. Additionally, the resort has a daily snack shop that sells deli sandwiches, treats and their "famous fresh-squeezed" lemonade.
These cabins fill up fast for the summer and often have a long wait list. Renters are allowed to drive up the rugged, dirt road/trail and park at the resort. However, a high clearance vehicle is ideal to travel over the trail's rough terrain.
Angora Lakes Trail Tips
In total, the trail is .5 miles from the trailhead to Upper Angora Lake.
Bring sunscreen
Get there early on the weekends
Bring bug spray
Bring water
Wear a good pair of hiking shoes or sturdy sneakers
Bring a camera
Bring clothes to swim in
Keep an eye out for any vehicles heading to the Resort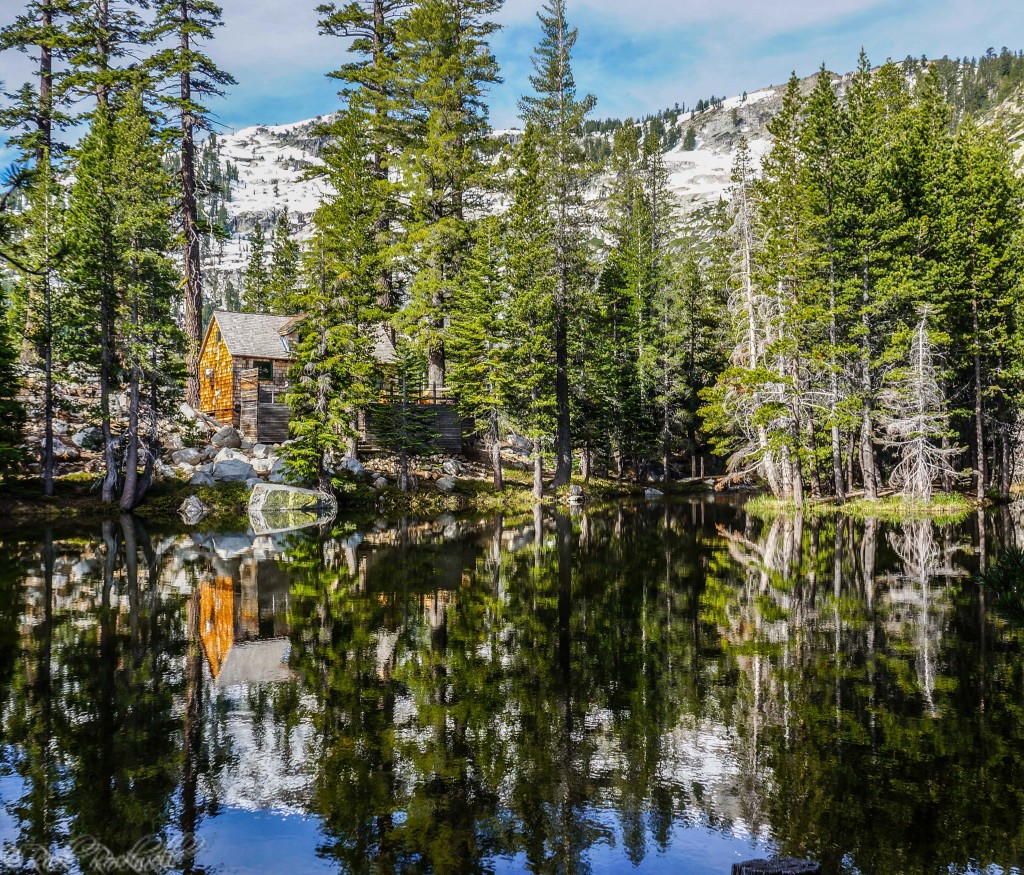 Final Words
The Angora Lakes are a must-see destination in the Tahoe Basin. It has an isolated feel to it despite being close to other popular lakes and hiking trails. Additionally, the trail is easy enough for families and beginning hikers. The two lakes offer plenty of recreational activities for visitors of all ages. It's easy to see why many people view this as one of the Top 10 places to visit in the Tahoe Basin. Definitely add this destination to your Tahoe plans!
Check out my article: Angora Fire Lookout: a historic lookout with epic views
Check out more of my Lake Tahoe adventures.
Angora Lake Tahoe Directions
From the split (highway 89 and 50) head 3 miles on 89 toward Emerald Bay. Just past Camp Richardson, make a left on Fallen Leaf Lake Rd. Drive roughly 2 miles until a fork in the road. Take the left fork, which is Tahoe Mountain Rd. Drive roughly 0.4 miles until Angora Ridge Rd., which is on your right side. Look for the gate at beginning of the Angora Ridge Rd. I didn't see a sign for this road.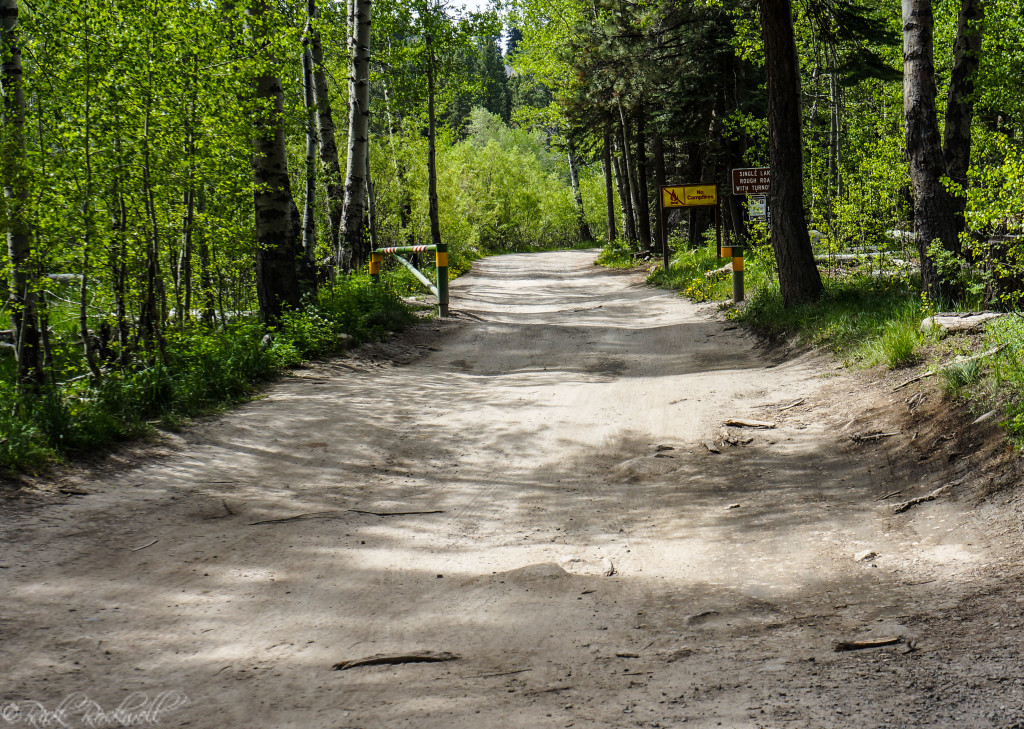 From here, it's 1.85 miles to the fire lookout and another mile to the trailhead. This road is very narrow and requires slow, cautious driving.