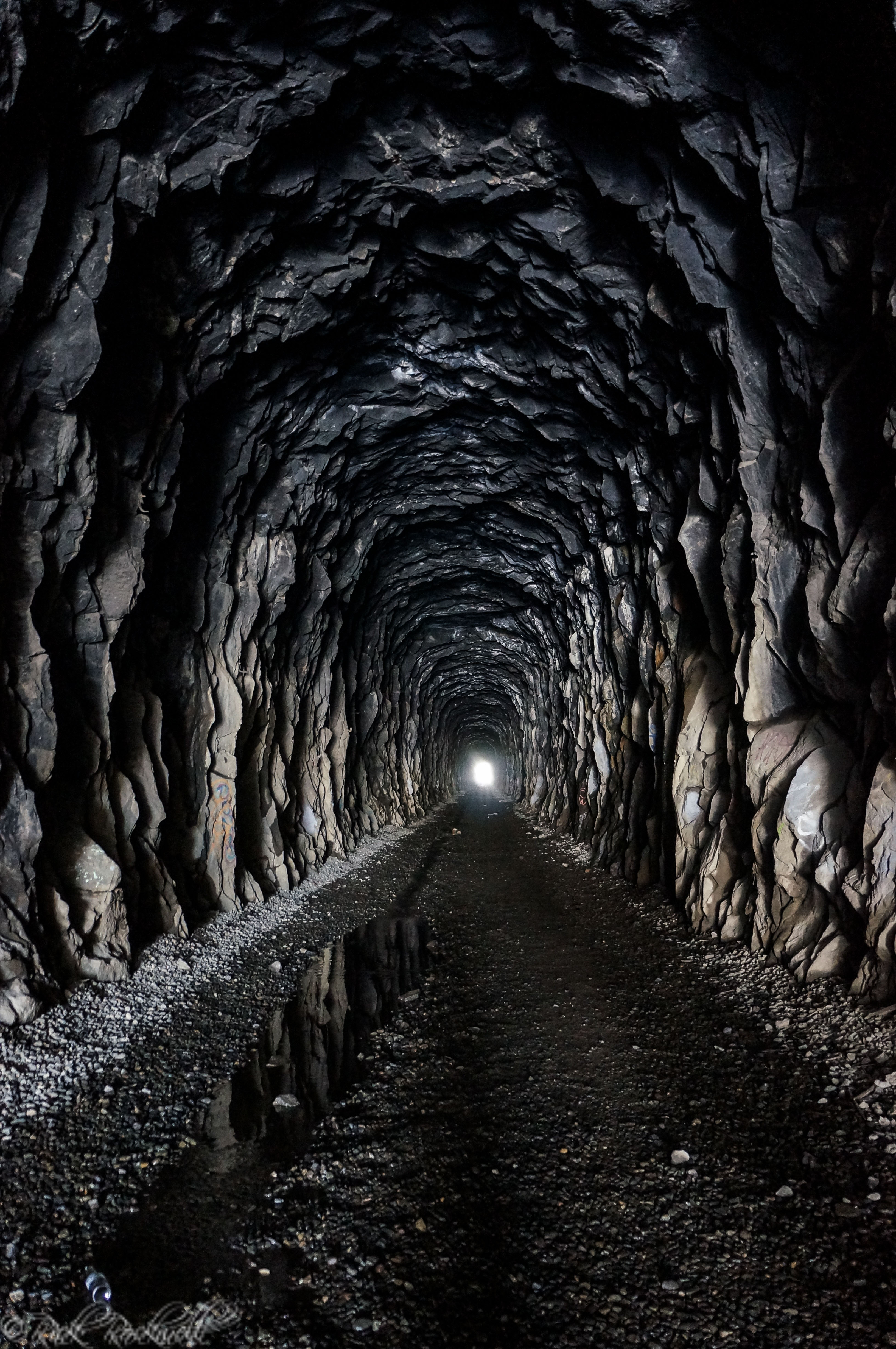 (Last Updated On: January 1, 2020)
Truckee has been fondly referred to as "the most historical square mile in California." And, perhaps, no site represents this historical significance better than Donner Summit, where the abandoned train tunnels are located. In addition to the remarkable tunnels, China Wall and Native American petroglyphs are found in the same vicinity. Furthermore, remnants of Lincoln Highway, views of Donner Lake, the Donner Summit Bridge and the Old Highway 40 all converge into one historically magnificent location.
Donner Summit
Donner Summit holds several historical distinctions as being the pass where the first wagon train traversed into California, the first transcontinental railroad crossed over and the first transcontinental highway went through the Sierras. The pass itself is over 7,000 feet in elevation with spectacular views of the Sierras and Donner Lake. It was named after the Donner party whose perilous trek to California was halted at the pass due to a horrific snowstorm. Their tragic tale of death and survival is forever memorialized in this region.
The summit was also a significant location for Native Americans who left fascinating petroglyphs throughout the area. Some historical sources claim that, through oral traditions and archaeological findings, there's evidence of the Washoe tribe attempting to assist the Donner Part by leaving rabbit meat and wild potatoes near the camp. One attempt at bringing a deer carcass caused the Washoe to be shot at. Another account says that members of the tribe saw the Donner Party eating human remains, which caused them to run off in fear.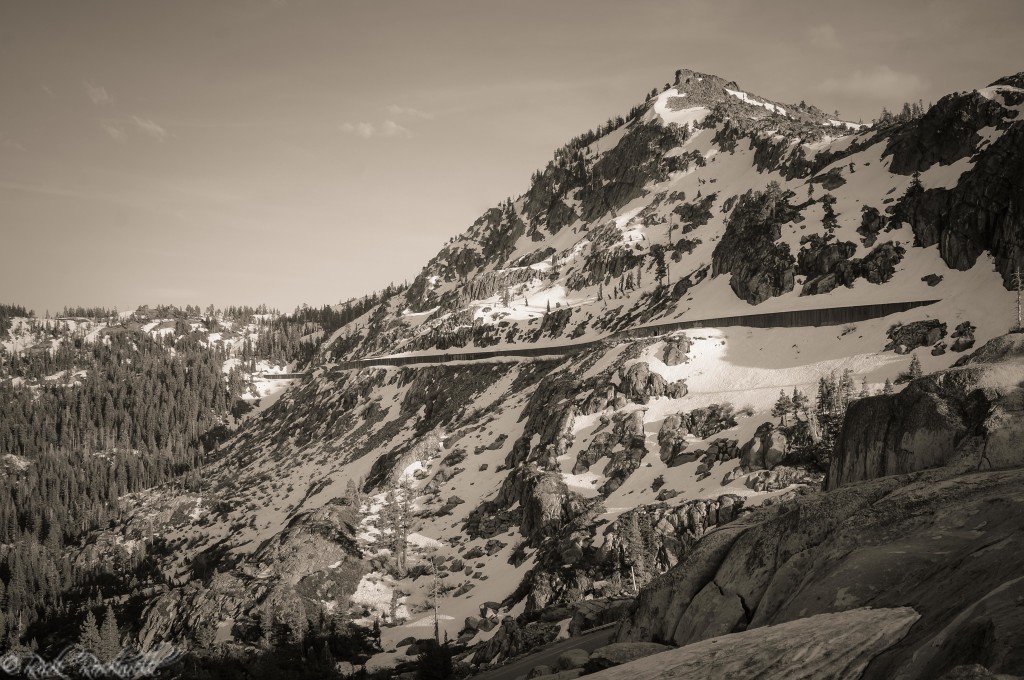 Building a Railroad through Donner Pass
Donner Summit also represents one man's dream to conquer the Sierras by train. For roughly 8 years, Theodore Judah put his heart and soul into finding a path over the Sierras to create the country's first transcontinental railroad. Where many before him had failed or avoided the Sierras at all cost, Judah became obsessed with conquering them and believed his destiny lied in this quest. His contemporaries mocked him and called him "Crazy Judah." His friends and family grew tired of his constant talk about this venture. Despite all the physical and literal granite walls blocking his every step, Judah never gave up.
In mid-1860, a local businessman from Dutch Flat reached out to Judah to tell him about Donner Pass. Once he convinced Judah to explore it, Theodore soon discovered that this would be the ideal crossing for a railroad. Judah could envision it but, he needed the data to prove it. From late 1860 to early 1861, Judah surveyed the pass and compiled overwhelming data to show all of his doubters and naysayers that he had found the crossing point.
Judah began seeking financial backing, created the foundation for a railroad company and successfully lobbied the government into passing the Pacific Railroad act in 1862. Just a few years prior to this, nobody thought crossing the Sierras by train was possible. But, Judah, who was destined to accomplish this, proved the impossible.
Theodore Judah would go on to design the railroad plan, which was to lay tracks from Sacramento, past Dutch Flat, and up over the Donner Pass. He was a visionary, a man ahead of his time. Sadly, he never got to see the completion of the transcontinental railroad because he died from yellow fever about one week after the first rail was laid in Sacramento. Even more tragic, was the fact that Judah contracted yellow fever on a trip back to the east coast, missing the groundbreaking ceremony and the first rail being laid.
Near Donner Pass is Mt. Judah, a mountain peak named after Theodore Judah for his unending quest to conquer the Sierras and his vision that changed America.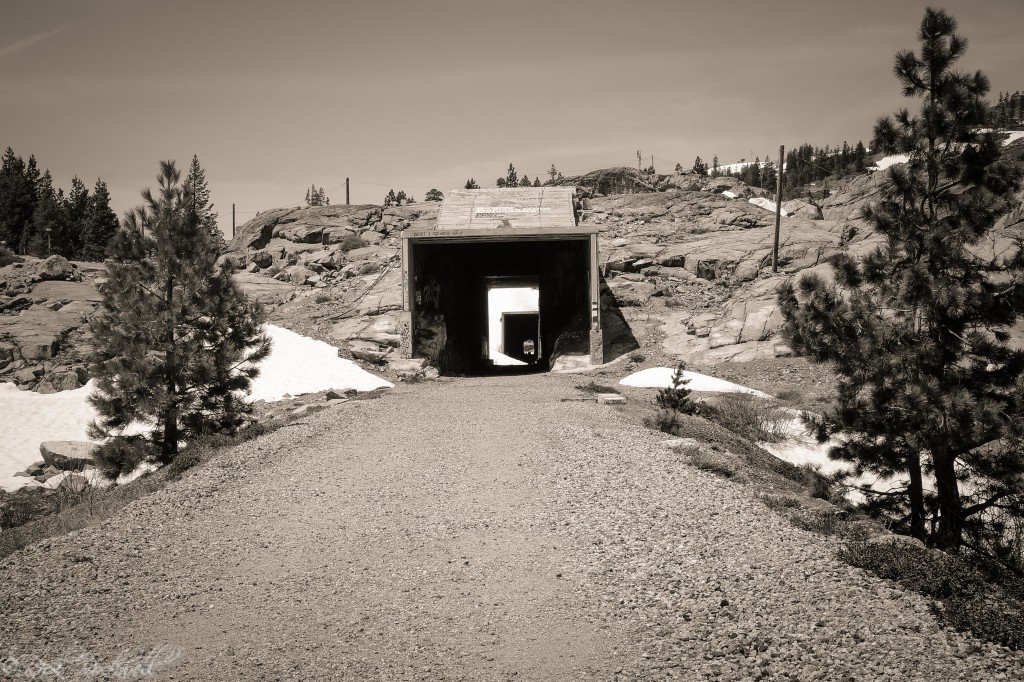 Decommissioning the Railroad
In 1993, the railroad company (Southern Pacific) decommissioned this line (Track #1) after building a new one about 1 mile south of Donner Summit through Mt. Judah. Track #1 faithfully served this region for 125 years after the first train passed through this stretch of tracks on June 18, 1868. However, there seems to be a poetic justice with having the current track run through Mt. Judah as if it was a final tribute to Theodore Judah.
It's believed that the main reason for decommissioning this rail line was due to the high costs of upkeep of the historic Donner Summit tunnel and the snowsheds during the winter months. Shortly after closing this line, Southern Pacific Railroad removed the tracks and other reusable parts.
Within a few years, the tunnels became a growing tourist attraction to locals and outsiders. Noticeable from Donner Pass Road (Old Highway 40), these tunnels provide hikers and visitors with an incredible opportunity to explore a remarkable, historical location.
Exploring the Donner Train Tunnels
The abandoned tunnels at Donner Summit are referred to as Tunnels #6, #7 and #8. It can get a little confusing when looking at the tunnels online and/or viewing them from the China Wall parking area, where I highly recommend beginning your adventure.
The following picture is a Google Earth Map of the Donner Summit area. As you can see, I have marked the parking area and the tunnels. However, I must caution you, this map is looking in a Northern direction. When at the parking area, you will be looking South toward the tunnels, so basically flip the map upside down.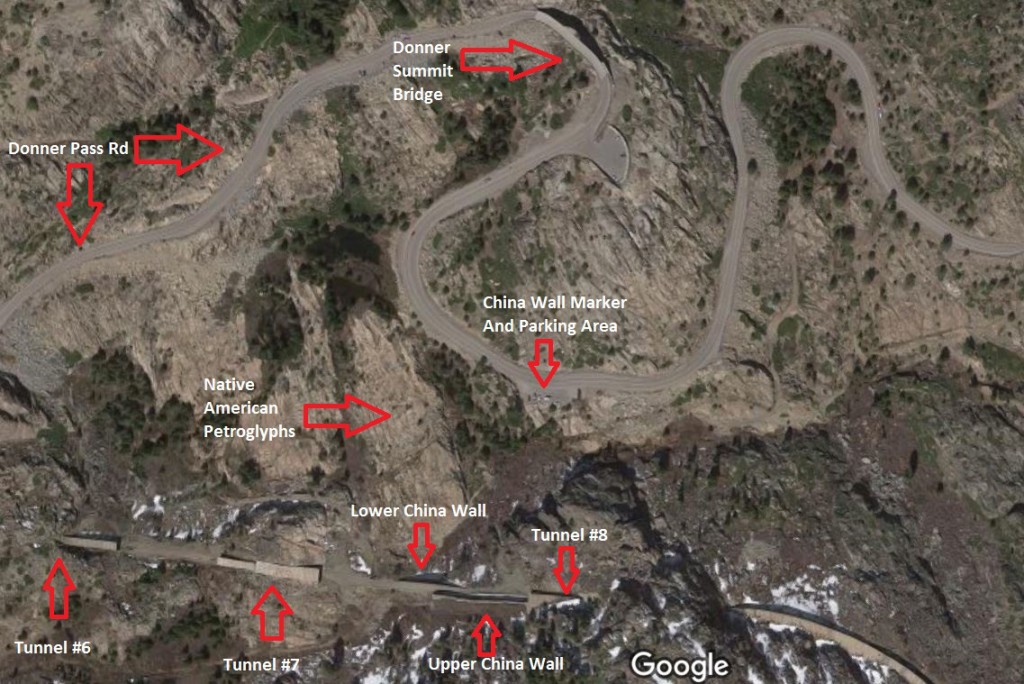 This next image is zoomed in on the tunnels and nearby historic points of interest, and also viewed in a Northern direction.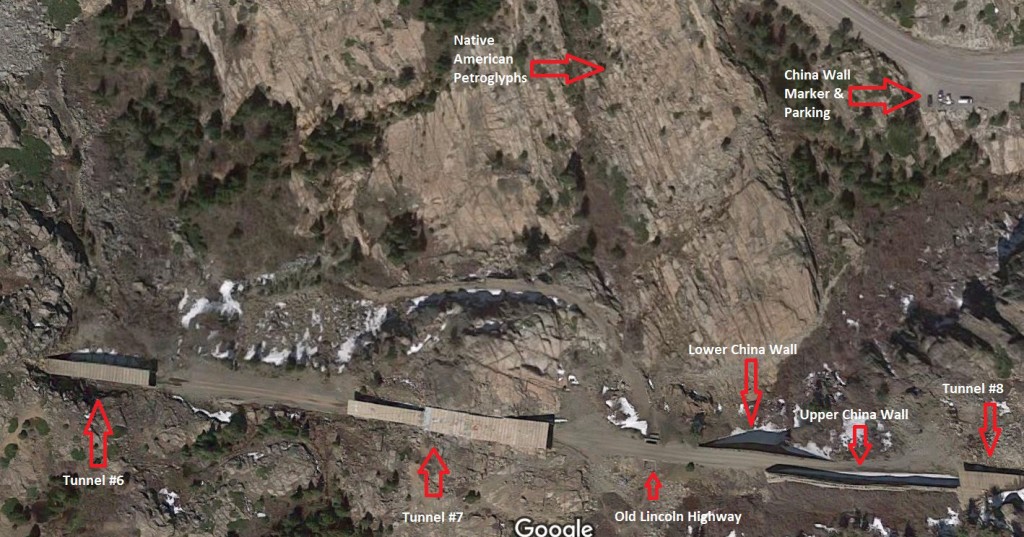 Where to Start on your Donner Pass Summit Tunnel Hike?
As mentioned, I suggest parking at the China Wall Historical Marker parking area. Depending on the season, you'll want to get there early as this little area can fill up fast. From here, you have two options for heading up to the tunnels.
The first option is to head up the mountainside a few hundred yards straight toward lower China Wall. This option is a bit more challenging as it requires crossing a stream, has more of an incline, some loose footing and can be covered with deeper snow depending on the season. For more advanced hikers or physically fit individuals, this would probably be more enjoyable.
The second option is to walk West (right of parking area) on Donner Pass Rd. for a few hundred yards, then head South (left) on a little pathway that takes you to the Native American Petroglyphs. From here, you can continue South up toward the tunnels. The footing is more solid and flat, allowing for an easier trek to the tunnels. This option is recommended for those hikers who may be physically limited and for kids.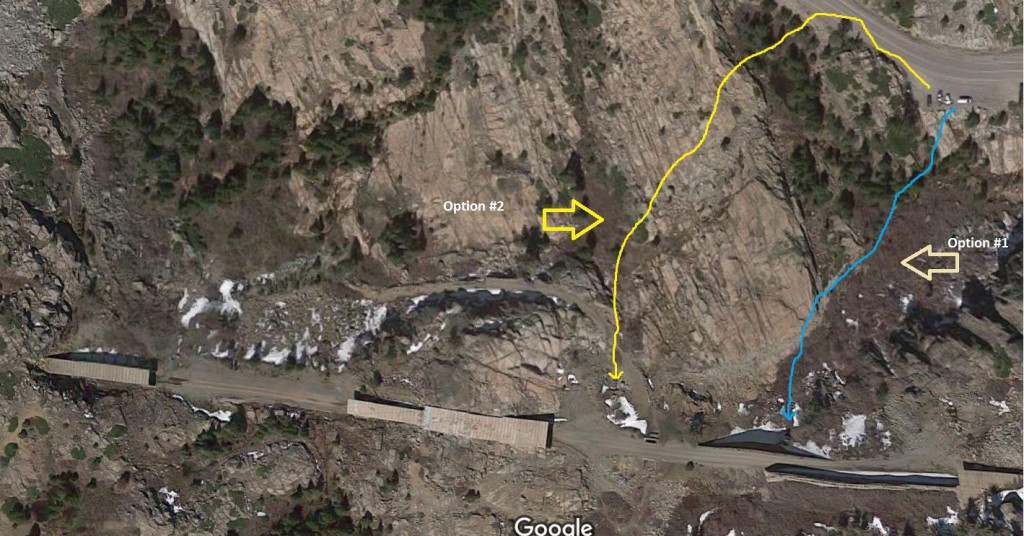 Recommendations for the Donner Summit Tunnel Hike
Whichever option you choose, you are going to end up near Tunnel #7, which is directly in the middle of the three tunnels. So, there will inevitably be some backtracking involved (unless you walk all the way around to the West portal of Tunnel #6, which is a much further hike). Tunnel #7 is the shortest of the three tunnels. I suggest heading through this tunnel toward the east portal of Tunnel #6.
Walk all the way through Tunnel #6 to the West portal and view the nearby area. After a few moments, turn around and go back through Tunnel #6 and head back towards Tunnel #7. Basically, you are making two passes through Tunnel #6, and trust me when I say – it's worth it. You get twice the "creep factor."
After backtracking through Tunnels #6 and #7, head toward China Walls and then Tunnel #8. Along the way, stop at the little overpass (just west of China Walls) and take a look at where the old Lincoln Highway passed under the railroad.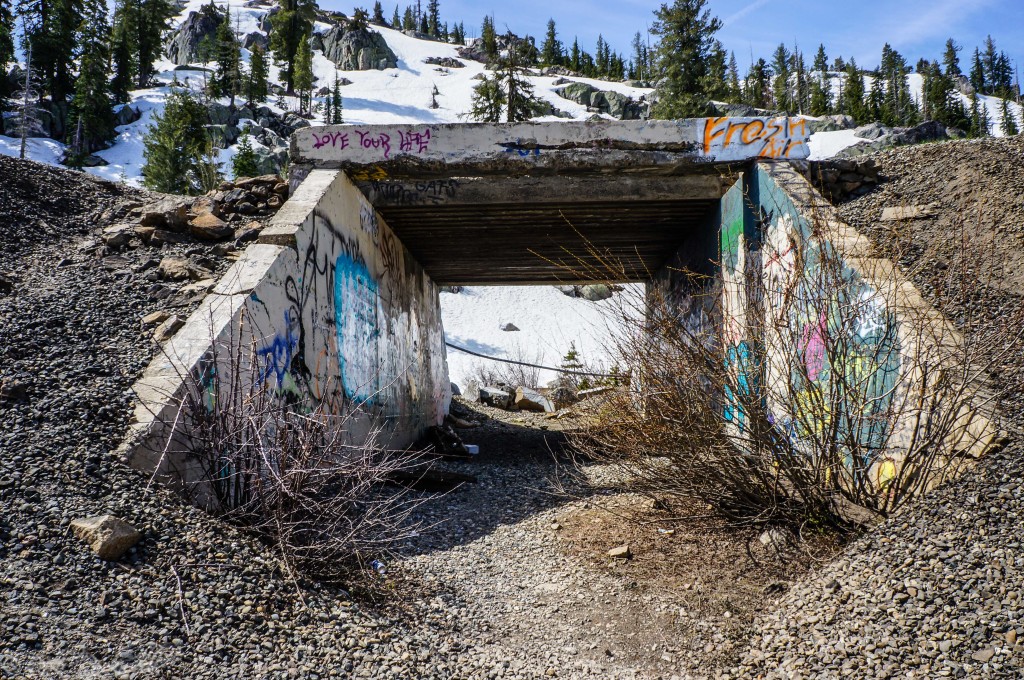 The Historic Tunnel #6
This historic Tunnel #6 (Donner Summit Tunnel) is the main attraction of the three abandoned tunnels at Donner Summit. This tunnel required Chinese laborers to work around the clock for 15 months to complete the digging, boring and excavation by hand. Tunnel #6 is 1,659 feet long, about 19-23 feet high, and roughly 16 feet wide.
It has two entrances: the west portal and the east portal. The old central shaft (in the middle of the tunnel) is inaccessible even from above.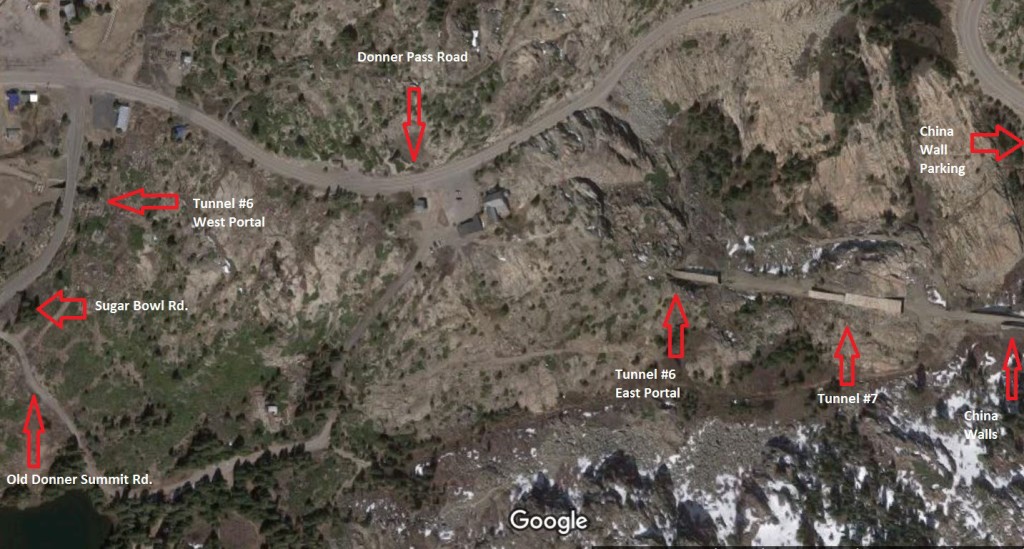 Tunnel #6's east portal is accessed by going through Tunnel #7 across the path of the old tracks. It starts off by walking through the snowshed before entering into the tunnel. The snowshed adds to the overall experience and has some graffiti. It's also kind of a teaser as you enter with excitement and can still see that the actual tunnel is further down.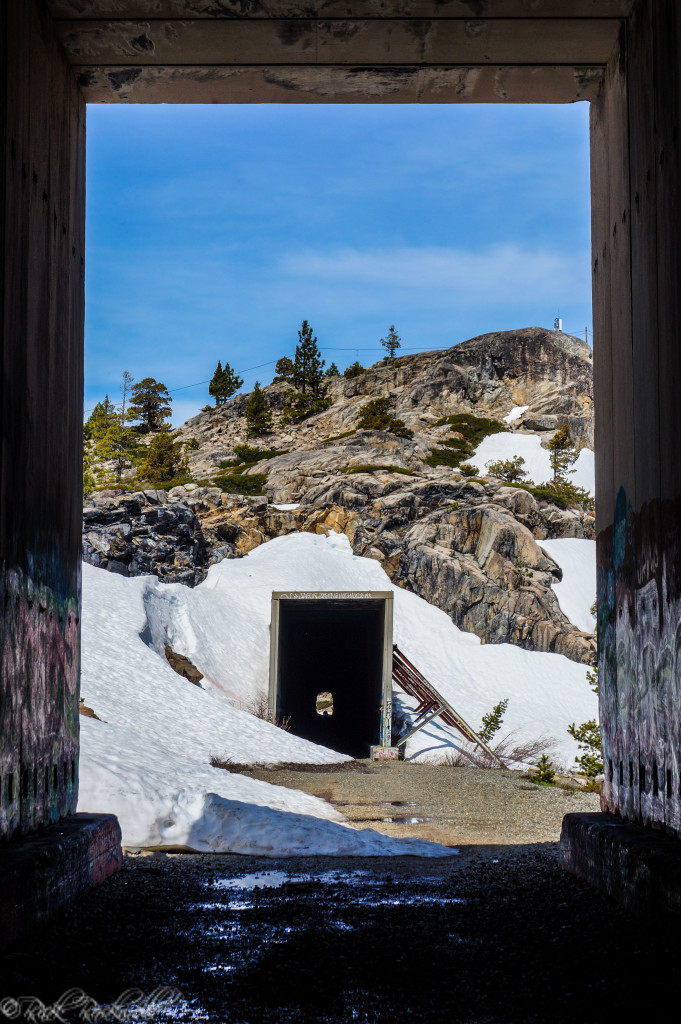 The west portal can be accessed off Old Donner Summit Rd. and has a small overpass with Sugar Bowl Rd. going over it. Additionally, there's a gate that is supposed to block off the entrance most likely from any type of motorized vehicle. Not to mention, a large boulder right at the entrance. I didn't see any nearby parking areas, which means you would have to walk a lot further from the China Wall Parking area or perhaps down further on Donner Summit Rd, or Old Donner Summit Rd.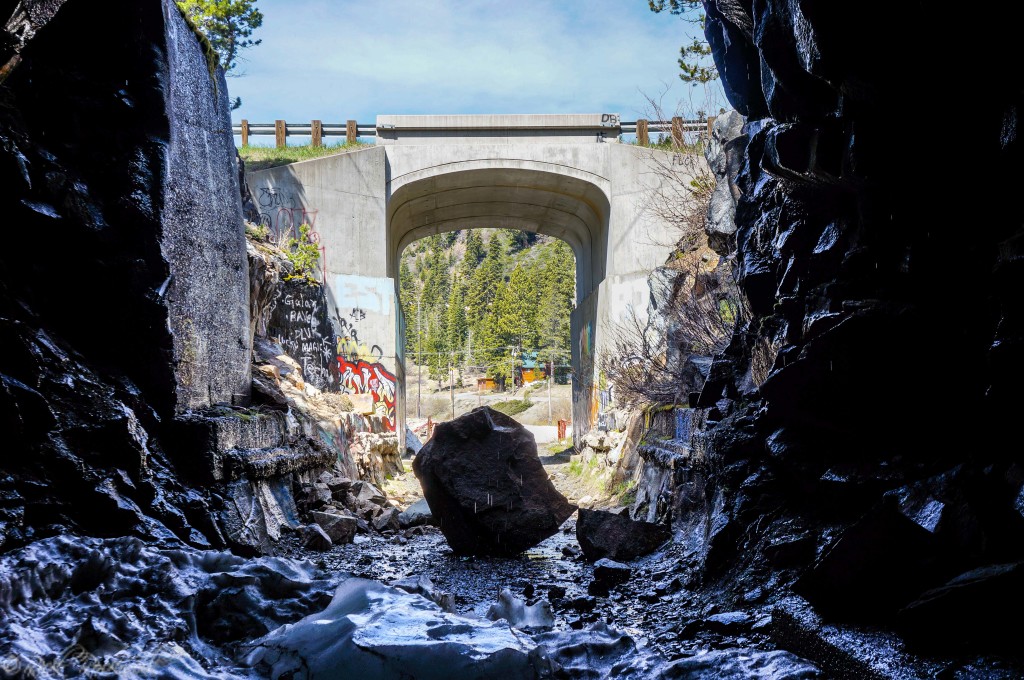 In my opinion, the east portal is the easiest way to get to the tunnel because you are already up on the ridge where the train tracks were and it's easy to just walk along the ridge from one tunnel to the next.
In addition to being the most significant, Tunnel #6 also provides the most "creepy, scary, sense tingling" experience. It gets really dark in this tunnel and the ¼ mile trek seems to take a lot longer as you are walking through it. However, it goes by quicker when heading back through a second time.
During my exploration, there was still a good amount of snow, plenty of water on the ground and water leaking down from the top of the tunnel. A flashlight is highly recommended even during the daytime. Be patient as you trek through here, there are some holes, rocks and loose footing even when the snow has all melted.
Tunnel #7
Tunnel 7 is the shortest of the 3 tunnels. Its right in the middle of the two, located directly to the east (left) of Tunnel #6 and directly west (right) of China Wall. This tunnel is a concrete snowshed that's roughly a few hundred yards long. It's the least exciting of the three but, it does have some really cool graffiti/art. This tunnel is more of a warmup for Tunnel #6 and Tunnel #8. Additionally, it's right near the old Lincoln Highway underpass.
During my exploration, I went through this tunnel first, after marveling at China Wall and soaking in the views of Truckee and Donner Lake. It's an appetizer for what's to come.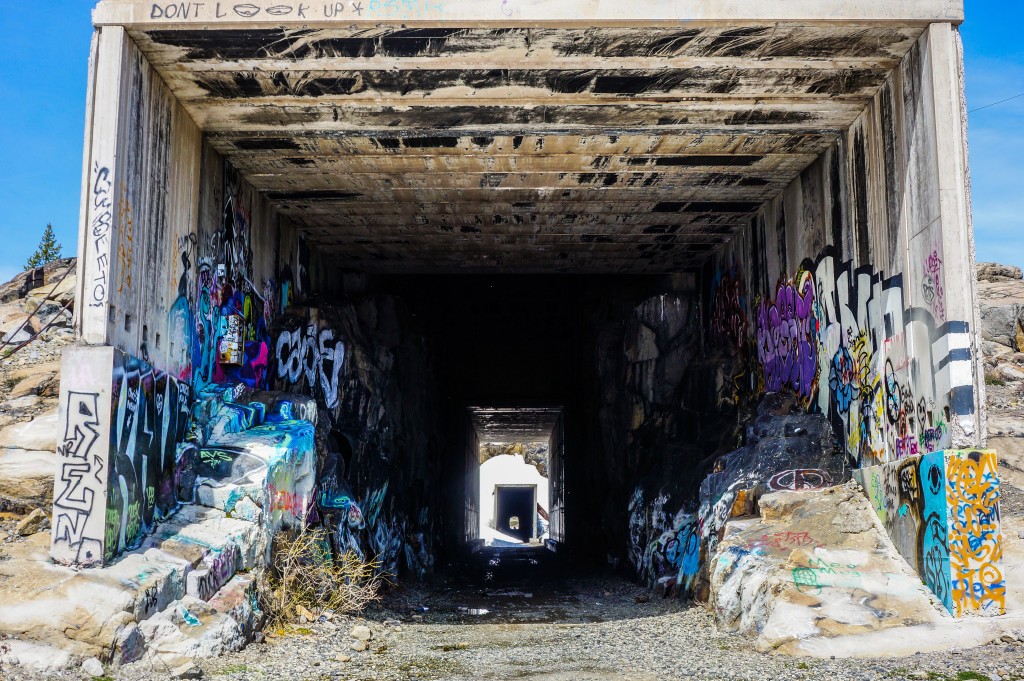 Tunnel #8
Tunnel #8 is the eastern most tunnel of the three. If you are looking up from the China Wall parking area (looking south) then you will see that it's to the left (east) of China Wall. Upper China Wall is fortifying the embankment directly in front of the west portal of Tunnel #8.
One thing that really added to the overall mood of this tunnel was some wind chimes hanging from the top of the entrance. Not more than a hundred feet into the tunnel, a breeze set the chimes off as if it was a warning alarm not to go in.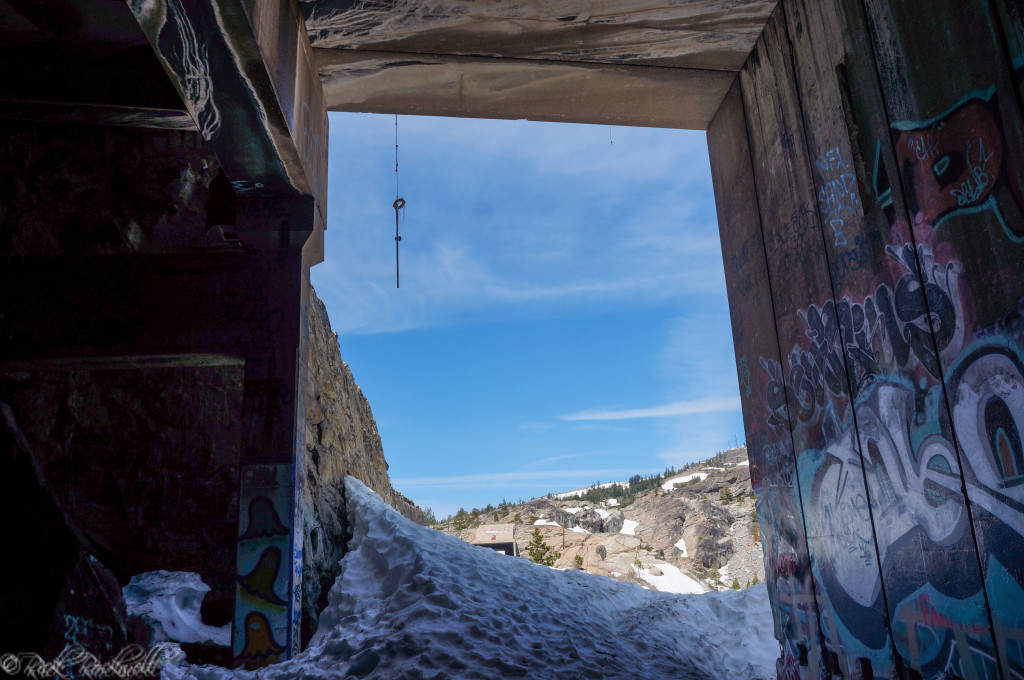 A few hundred feet further, and very loud pounding sounds could be heard coming from the roof and the walls of this tunnel. Now, there was nobody else inside or outside of the tunnels when I was there. This pounding stopped me right in my "tracks" as I imagined ghosts of the railroad workers or White Walkers coming to get me. (Yes, I made a Game of Thrones reference)
As mentioned, this tunnel (which is a long series of snowsheds) goes on for a few miles east along the mountains. Throughout this tunnel are many works of art and some less than exciting graffiti. Some pieces really embody talent, while other pieces are more along the lines of what my 8 year old son would do when bored.
About a ¼ of the way into the tunnel, there are "slits" that allow in sunlight. These slits, and rays of light, add to the overall ambience of the tunnel.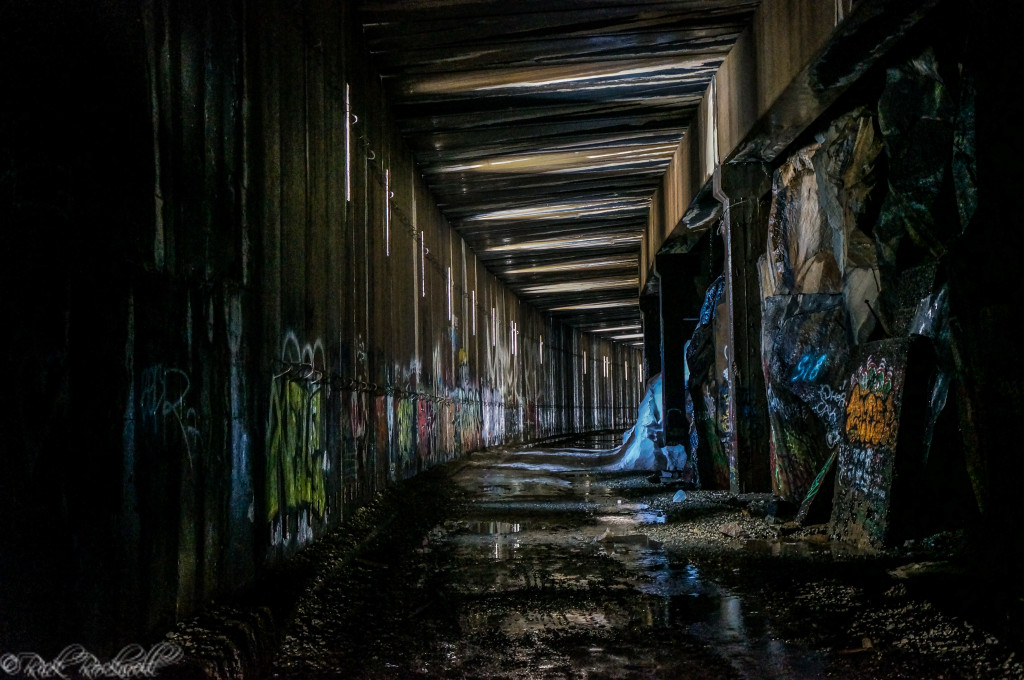 Further down, there was a sheet of ice covering the ground and a large amount of running water. I highly recommend that you bring a good pair of hiking shoes that are either waterproof or a pair that you don't mind getting wet. Additionally, bring a change of socks. Some portions of the tunnel had freezing water up to my ankles.
There are a few large openings in this tunnel on the North side of the walls. It's like someone rolled open a large garage door. During my trip, there was at least 5 feet of snow surrounding the North side of the tunnel. However, there was enough space to stand outside of these large openings and experience some spectacular views of the region.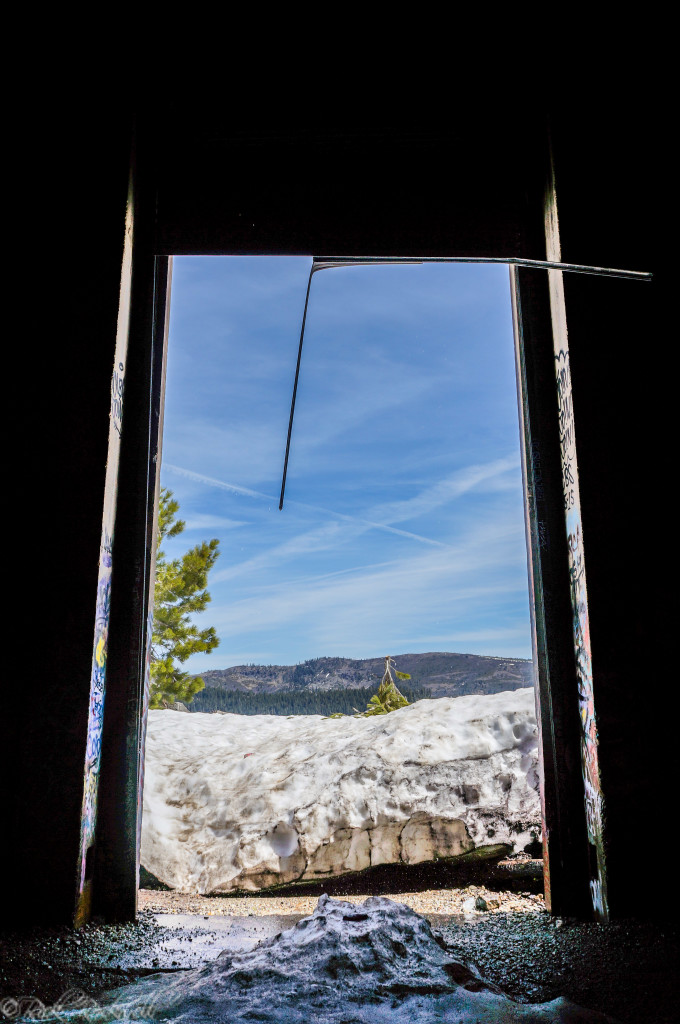 By this point in the tunnel, you will notice that the temperature drops significantly. Some estimate at least a 20 degree difference. It's a good idea to bring a jacket or thicker sweater to stay warm. Perhaps a waterproof jacket since you will experience water leaks in the ceiling.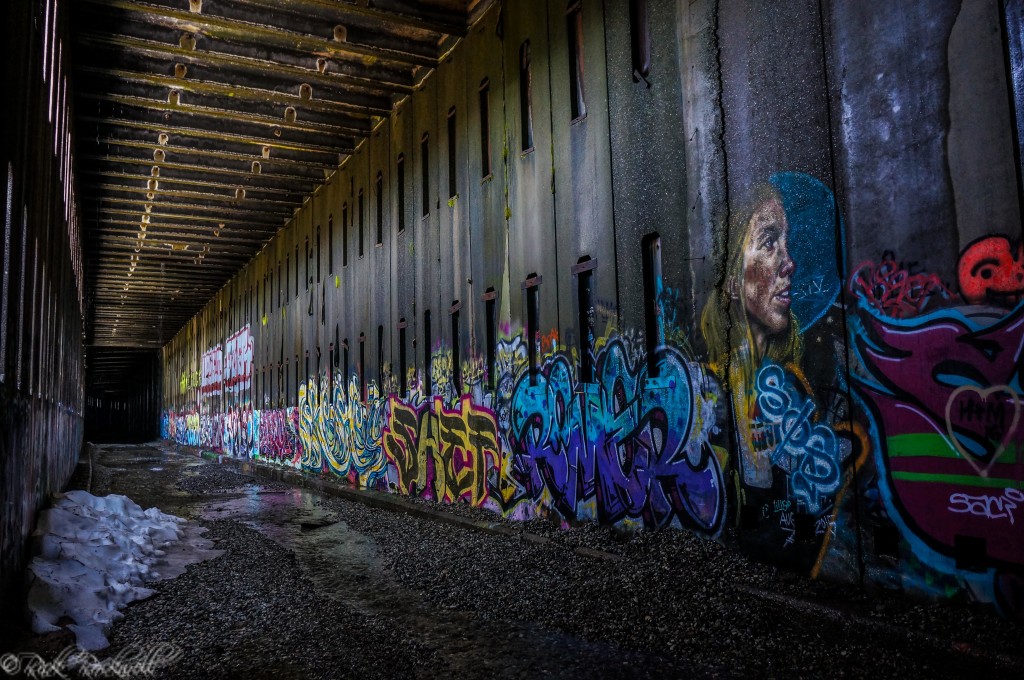 After a good 30 to 45 minutes of walking at a cautious and observant pace, you will reach a giant opening. I'm unsure if this opening meant the end of Tunnel #8 and the beginning of Tunnel #9 or if it was just a large opening and Tunnel #8 continues on. Regardless, this is where I stopped. I estimate it being about 1 mile down from the west portal entrance of Tunnel #8. In this large opening was several feet of snow. It was unclear as to how deep the snow went and if it was safe to enter the next opening.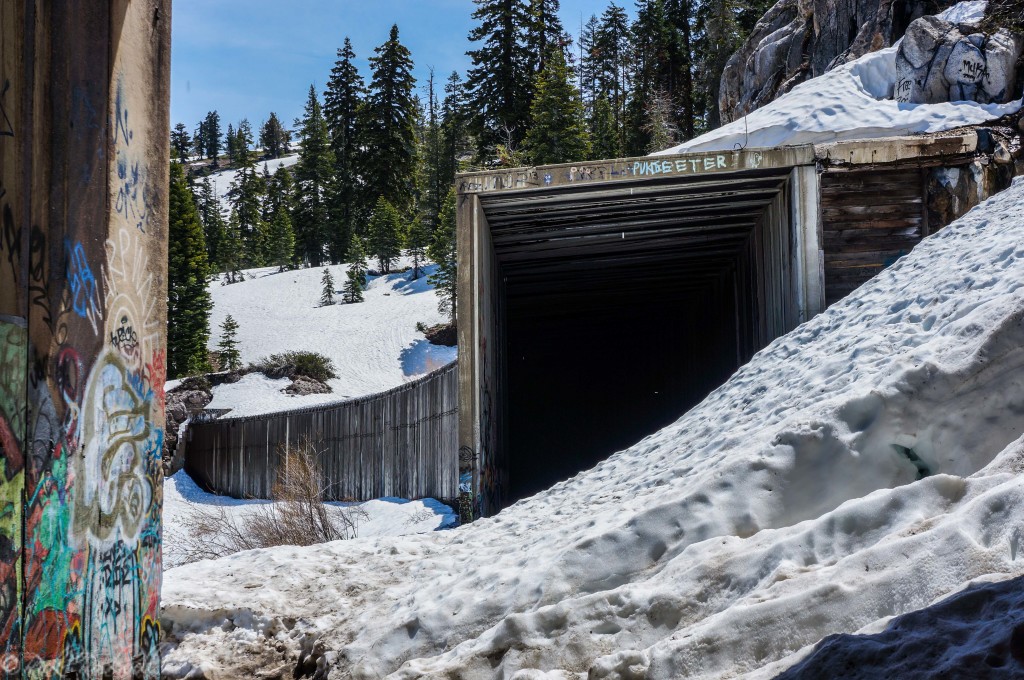 So, I turned around and went back the way I had just ventured. One of the positive things about going back through Tunnel #8 a second time is that you will see some amazing graffiti/urban art.
In my opinion, Tunnel #8 has the best graffiti out of all three tunnels. There are some really talented pieces that spark thoughts and emotions.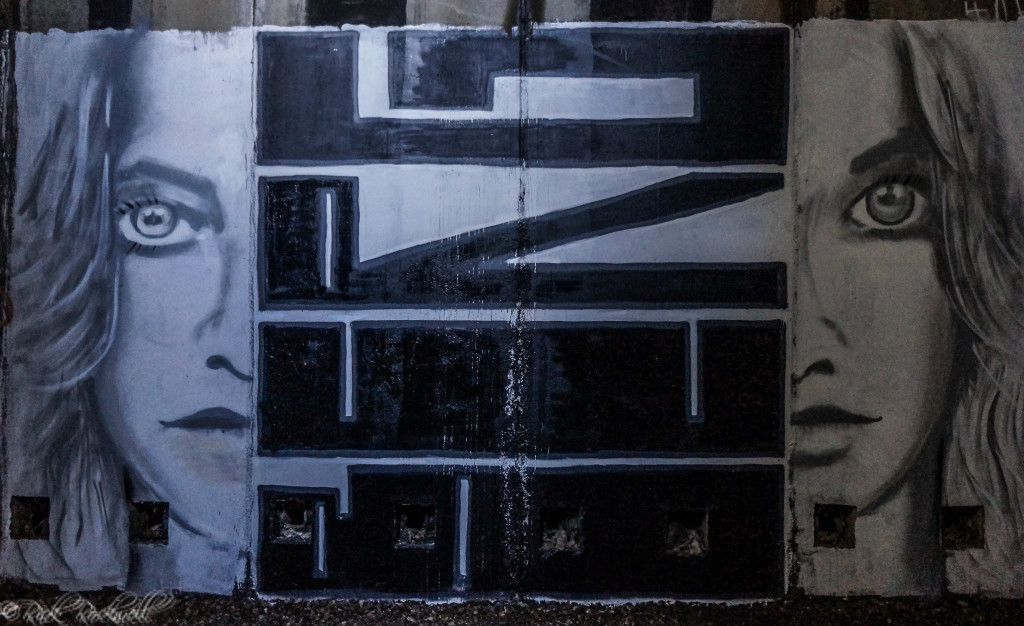 Tunnel Tips: Donner Summit Weather and More
Go after snow has melted (after mid-May)
Park at the China Wall Marker area
Wear a sturdy pair of hiking shoes
Bring a flashlight
Bring a change of socks
Bring sunscreen for the hike up to the tunnels and viewing the petroglyphs
Bring a jacket or sweater for the tunnels
There are no bathrooms around
Final Words
The Donner Summit Abandoned Train Tunnels are definitely worth the trip up to Truckee. These tunnels are packed with history, excitement, adventure and art. I highly recommend this hike as you won't experience this anywhere else in California. Additionally, the views of the Sierras and Donner Lake are beautiful.
This article is one installment in a series of articles detailing the historic points of interest at Donner Summit. The following is a list of articles in my Donner Summit Series:
Directions to Donner Train Tunnels
The abandoned Donner Summit Train Tunnels are located off Donner Pass Road (DPR), also known as Old Highway 40.  There are two points where DPR can be accessed: the first is via I-80 at the Soda Springs exit and the second is off Donner Lake Road by Donner Lake in Truckee. If you head up during the dry, warm months then I suggest getting off at the Soda Springs exit and driving through some of the old, tiny mountain "towns" like Soda Springs, Donner and Norden.
Once you pass through Donner and Norden, you will see the Donner Summit Bridge. A few hundred yards east of the bridge (further down DPR) is a small parking area on your right side. The China Wall historical marker is here and you can clearly see China Wall and the tunnels a few hundred feet above.