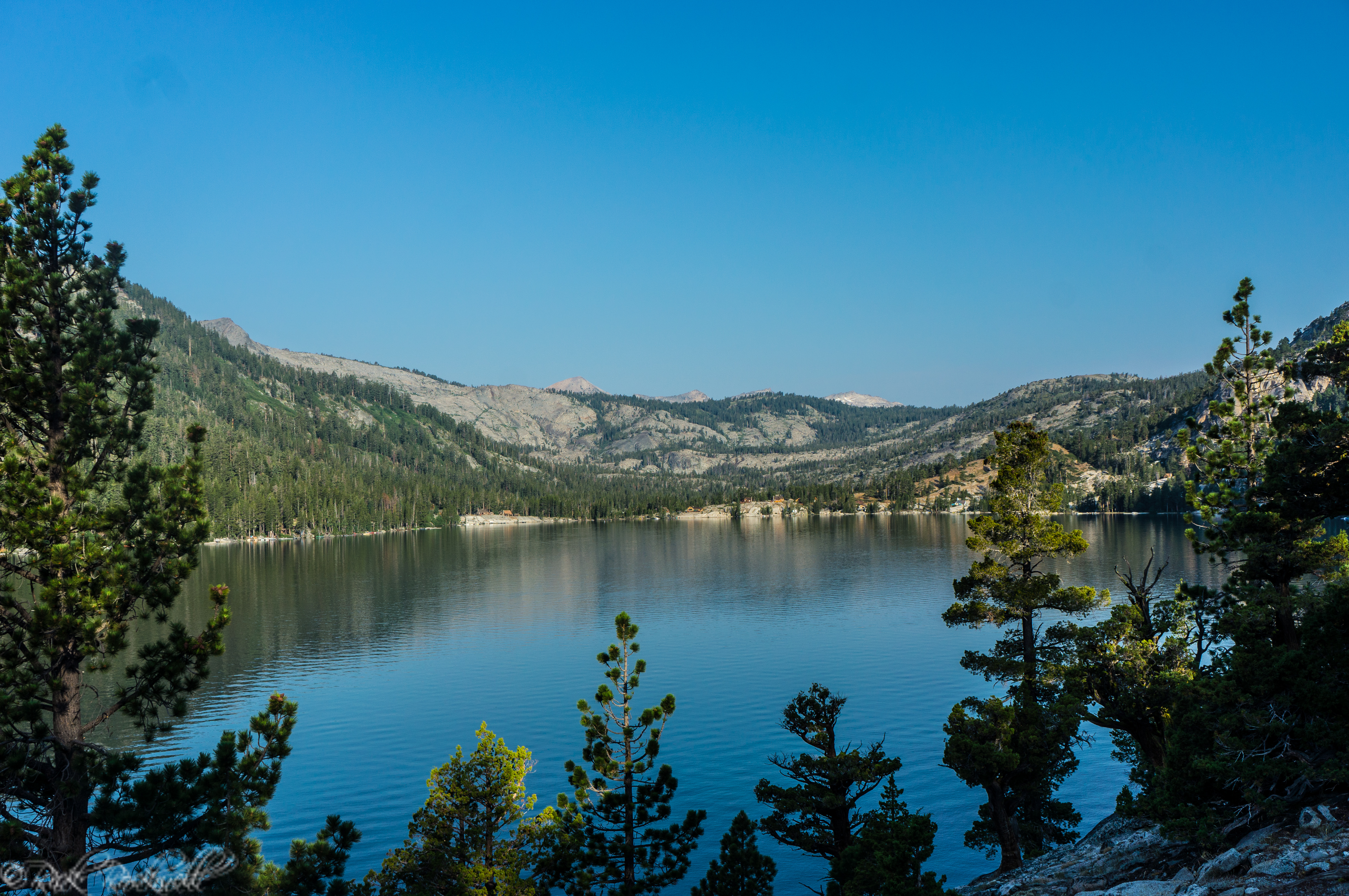 (Last Updated On: March 7, 2015)
Echo Lake, also commonly referred to as Echo Lakes, is typically frozen during the winter due to its elevation of over 7,400 feet. The services located at Echo Lake are seasonal and are open from Memorial Day through Labor Day. These services include the popular Echo Chalet and the boat taxi.
The trail from lower Echo Lake leads past upper Echo Lake and to the doorway of Desolation Wilderness. This trail also provides access to other popular destinations like: Tamarack Lake, Ralston Lake, Lake Aloha and Lake of the Woods.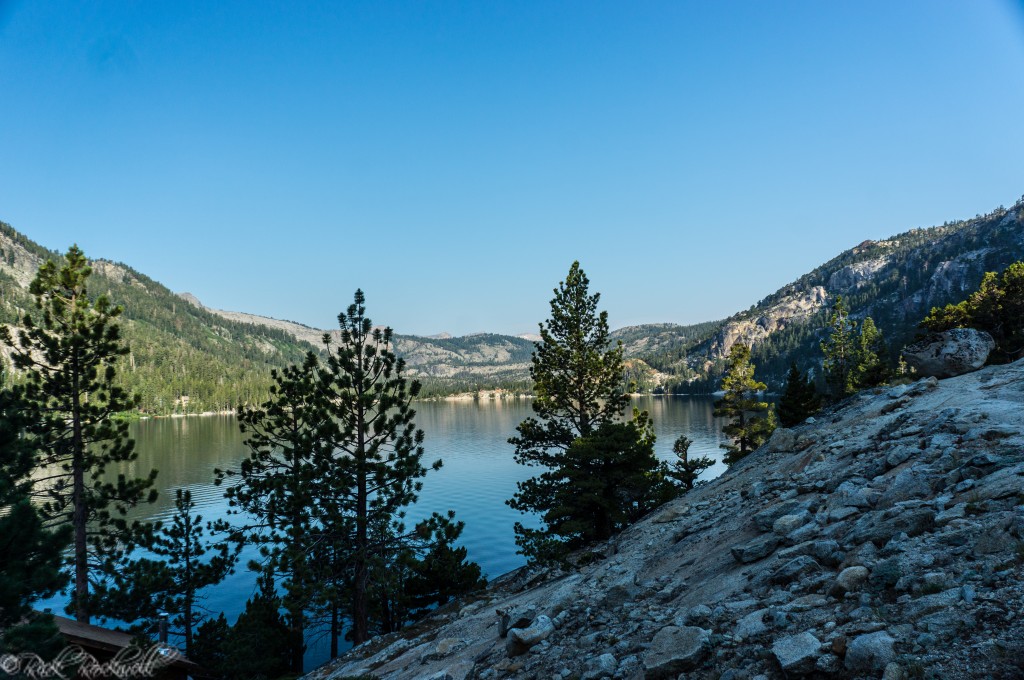 Directions
From Sacramento, take Highway 50 east roughly 49 miles past Placerville and just few miles west of Echo Summit. From Lake Tahoe, you can take Highway 50 west.
Drive 1.8 miles east on Highway 50 past Sierra at Tahoe Ski Resort and look for the brown Berkeley Camp/Echo Lake sign and make a left. Continue down another 1/2 mile and make a left onto Echo Lakes Road which will take you all the way to Echo Lake.
Echo Chalet
Echo Chalet is a seasonal resort opened from Memorial Day through Labor Day. It provides many services and is located at the south end of lower Echo Lake. The main building is a store, deli and soda fountain. It also provides mail services as the Chalet has been a licensed post office since the 1920s.
Located right next to the Chalet are 8 small rental cabins. There is a two night minimum. And, what's perhaps their most popular service, the Chalet provides the boat taxi to take you from the southern end of Echo Lake to the northern end of the lake located 2.5 miles away. This is perfect for individuals looking to cut down on the duration and distance of  their hike.
There is limited parking down by the Chalet. The majority of people have to park in the upper parking lot located about 1/4 mile back up Echo Lakes Road.
Hiking
Hiking is a very popular activity around Echo Lakes even when the Echo Chalet isn't open. The trailhead begins to the right of the boat dock and takes you on the east side of the lakes for 2.5 miles until you pass the northern portion of upper Echo Lake and you begin to climb over 400 feet in elevation. This climb is challenging due to the rocky terrain and little coverage from the sun.
The trail does split at roughly 3 miles and you can head left toward Tamarack Lake or right toward Lake Aloha. Along each path, there are several other lakes to visit. All of them have unique charm, photographic appeal and are definitely worth checking out.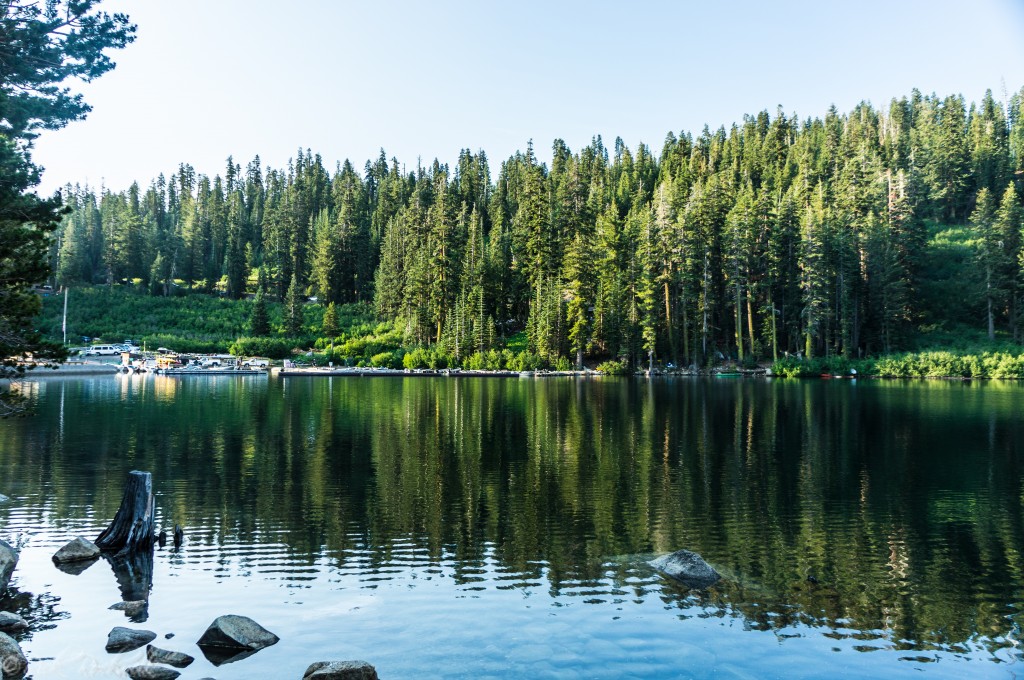 Distances
From the trailhead near Echo Chalet to:
Upper Echo Lake – 2.5 miles
Tamarack Lake – 3.8 miles
Ralston and Cagwin Lakes – 4.2 miles
Lake of the Woods – 5.3 miles
Lake Aloha – 6.1 miles
Hearing an Echo
For the first few weeks in July, my friend KC kept telling me "Rick, you gotta go check out Echo Lakes. It's beautiful up there." But, I kept pushing it off because I was completing other hikes and adventures along Highway 50 first. These other hikes were Horsetail Falls and a few trips around Wrights Lake Recreation Area. However, I put Echo Lakes on my to do list and I was definitely excited to head out there, especially after hearing and reading glowing reviews.
So, on an early Thursday morning in mid-July, I set out to the highly touted Echo Lakes. I arrived at the Echo Chalet parking area by 6:45am. It was a good 75 minute drive from my home near Sacramento. The drive was smooth and there were very few cars on Highway 50 heading up into the mountains.
I've been to Lake Tahoe over 100 times and I am very familiar with the views at Echo Summit. But, I have never made it over to Echo Lakes prior to this trip. So, when I was driving down the last 1/4 mile of Echo Lakes Road to the lower parking area next to Echo Chalet, I caught a beautiful glimpse of Echo Lakes and I was instantly hooked.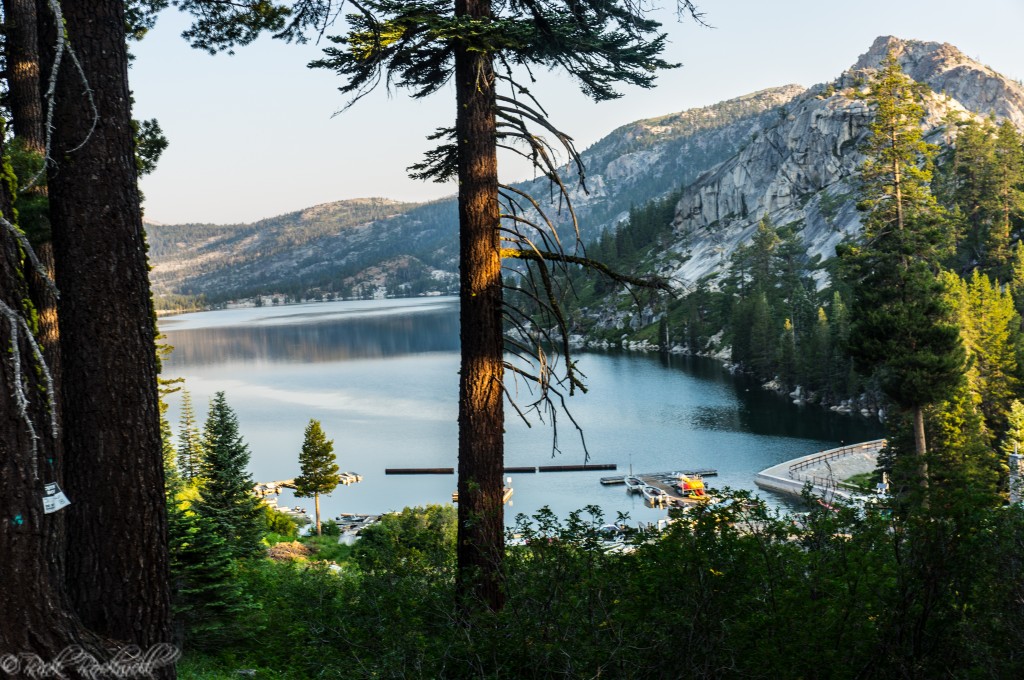 The first glimpse is all you need to realize that you're in a special place. It's like you've discovered a hidden treasure and you just can't wait to find out its value. Well, I'm here to tell you, Echo Lakes is worth your time and multiple trips.
Because I got there early, I was able to get one of the hand full of lower parking spots. I quickly got geared up and I was on the trail by 7am. The trail takes you along the east side of the lakes. You can catch some beautiful views of both the upper and lower Echo Lakes and some really cool looking cabins. In fact, it was on this trail where I decided to do a photo gallery titled Cabin Life because of how lovely these cabins were alongside the lake.
Additionally, the high ridges of granite made me feel like I was in an old Western film where bandits with handkerchiefs around their faces were going to jump out and rob me at gun point.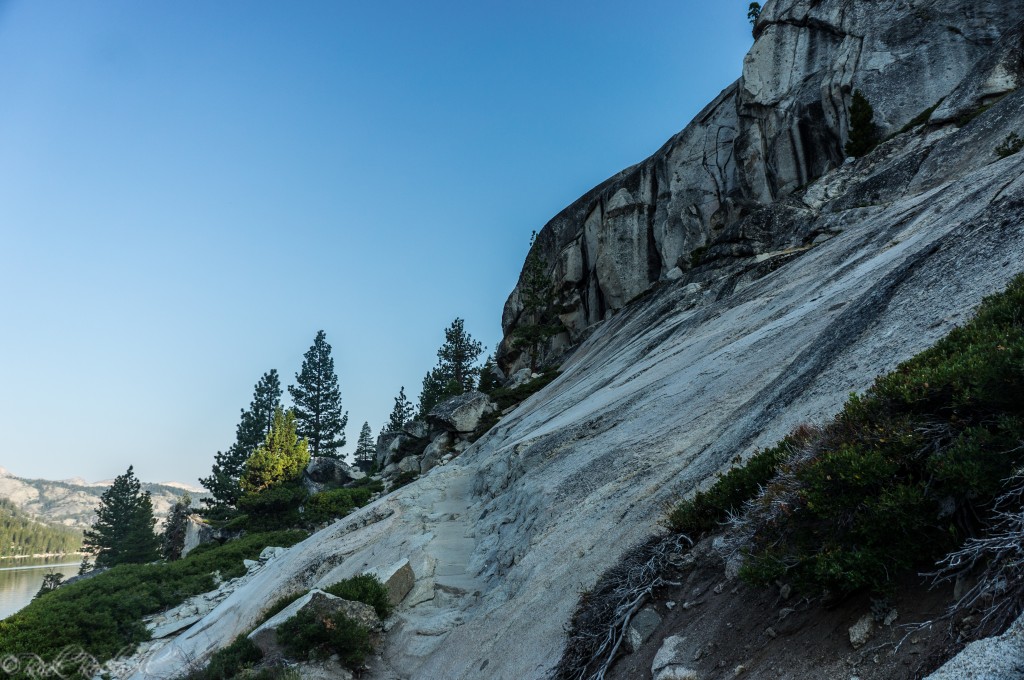 It's roughly 2.5 miles until you pass the northern point of upper Echo Lake. However, it really is a scenic trail and could be even more beautiful in the fall or winter.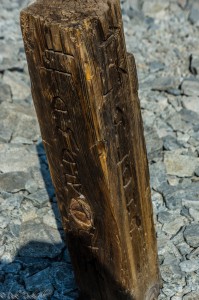 Once away from Echo Lakes and climbing in elevation, you can look back down and enjoy a beautiful view of both lakes. At about the 3 mile mark, the trail splits as mentioned earlier. I took the left trail toward Tamarack Lake. It was about a 1/2 mile to 3/4 of mile from this point to the lake.
Tamarack Lake was also very beautiful with Ralston Peak reflecting off the water. The downside was the amount of mosquitoes. But, that's what bug spray is for. I spent about 20 minutes walking around this lake and enjoying its beauty from all angles.
Check out my article on Tamarack Lake for more photos and details
Then I hiked past Tamarack in a west direction, straight toward Ralston Peak. Just below this peak is Ralston Lake. It's less than a 1/2 mile from Tamarack and it's definitely worth the visit.  Ralston Lake is like a little wading pool for Ralston Peak. It's located directly at the base of Ralston Peak and is absolutely inviting for a swim.
Check out my article on Ralston Lake for more photos and details
Once, I finished walking around Ralston lake, I decided to head back. By this point, I had already put in roughly 4 miles of hiking and I was battling a cold at the time. So, I was fatigued and I didn't really feel like hiking over to Cagwin lake. From Tamarack Lake back to the split, the trail can be easily lost across the rocks. It's hard to rely on the cairns because they can be confusing at times as well.
So, I decided to go off trail and head south directly toward Echo Lakes and completely bypass the trail. This was definitely a much more challenging hike than the trail itself. I went up and down many large rock pilings, ledges, tree stumps, bushes and more. The hike was much further than it seemed when up at a higher viewing point.
After falling a few times, I finally made it to the drop off/pick up point for the boat taxi at upper Echo Lake.  I had enough hiking for the day and I gladly paid the $15 to ride back and shave off an extra 2.5 miles.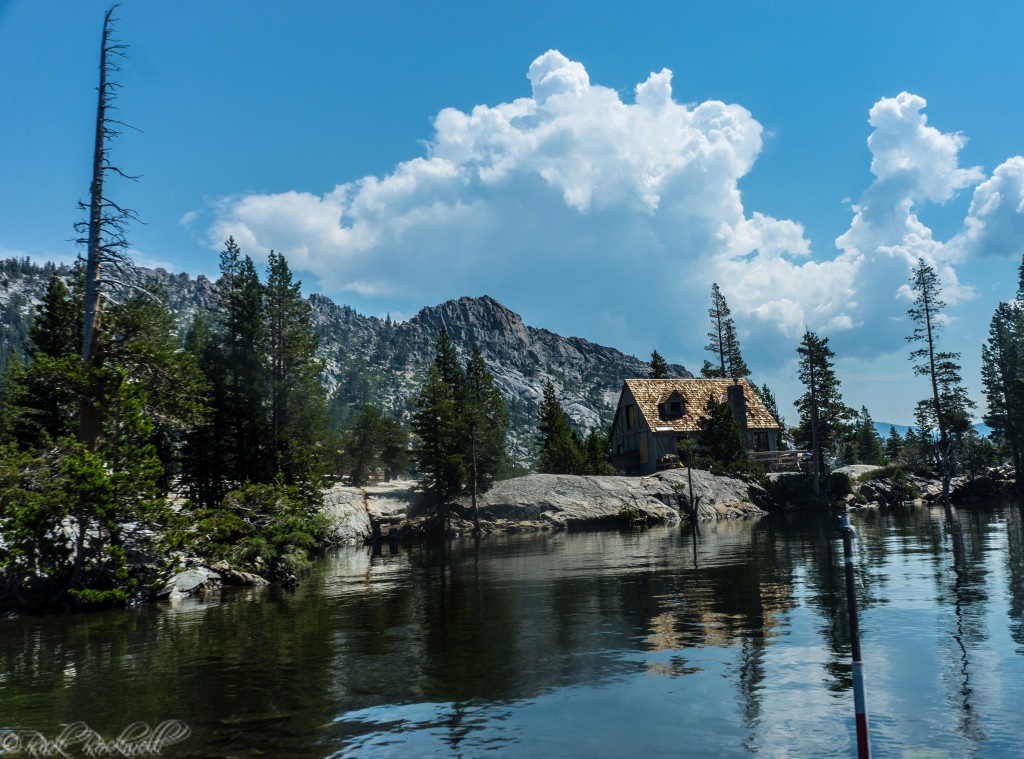 The boat ride back was pleasant. It offered different views than the trail did and it definitely added to the overall experience. I enjoyed the ride and was able to get some nice photos looking out toward the lakeside cabins. Additionally, I got to meet and talk with a few other hikers and the boat taxi driver. We all shared the opinion that this is a beautiful area. The boat ride was only about 15 minutes.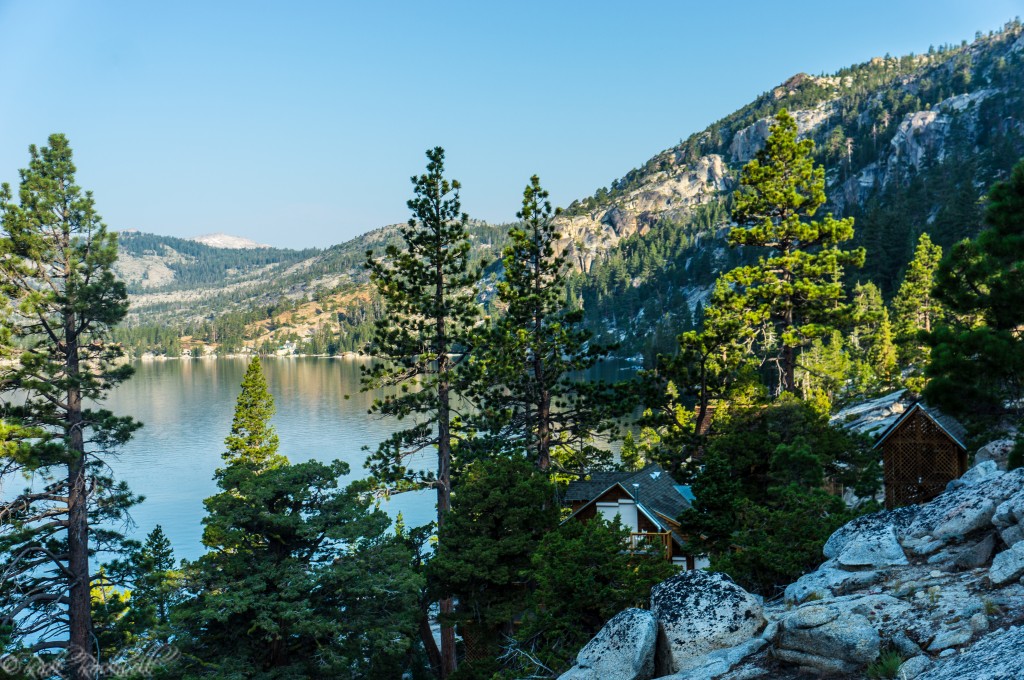 Final Words
Echo Lakes is a place that I plan on visiting many more times. The next trip will be a hike to Lake of the Woods and Lake Aloha. Even if I'm unable to get back out there before Labor Day, when the boat taxi ends, I still plan on visiting Echo Lakes and taking pictures of the seasonal changes.
Echo Lakes is definitely worth the drive and it would be a mistake to dismiss this lake just because Tahoe is close by.
Check out more of my Desolation Wilderness adventures.