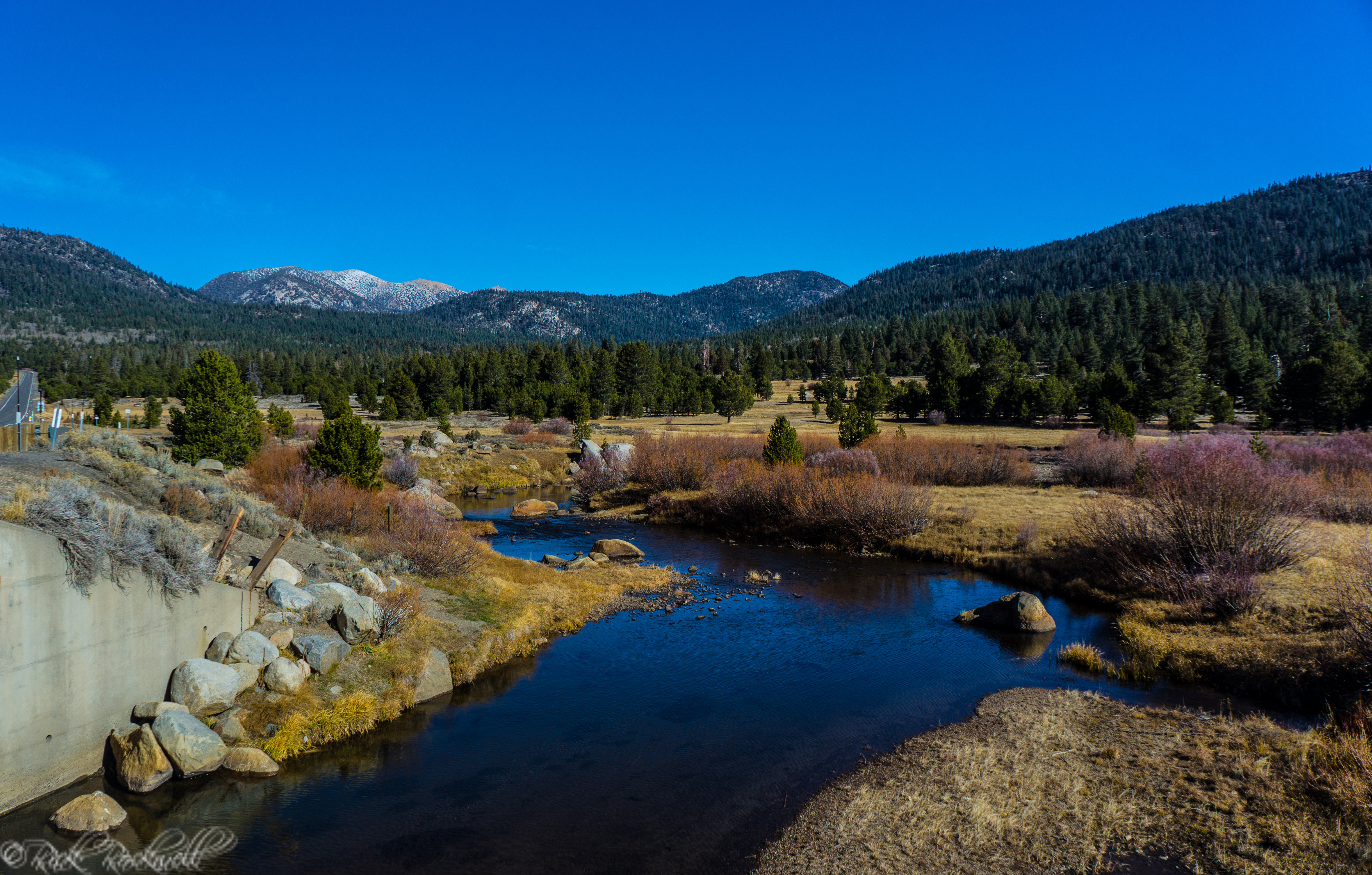 The Sierra Nevada mountain range, also called the Sierra Nevadas, runs roughly 400 miles north-to-south along the eastern border of California. It's home to some of the state's most beautiful locations like: Lake Tahoe, Sequoia and Kings Canyon National Parks, and Yosemite National Park.
Sierra Nevada is Spanish for snowy mountains and if you have ever been in these mountains during winter season, then you know why this name is extremely accurate. The mountains are categorized as being mostly granitic and provide a buffer between California's Central Valley to the west and the Basin and Range Province to the east.
These mountains played a huge role in the Gold Rush era and were a vital component to the Native Americans that lived here long before the Europeans came over. It wasn't until roughly 1777 that the term "sierra nevada" was applied to this mountain range.
Nowadays, most of the Sierra Nevada mountains are owned and protected by the U.S. Government. Additionally, some of California's most cherished natural landmarkscan be found in this region. Check out my content of the places I have visited in this region.
Also, check out at the bottom of the page, some interesting facts about the Sierra Nevada mountain range.
My Explorations:
The Crystal Range is a subrange of the spectacular Sierra Nevada mountains. Located in Desolation Wilderness, west of Lake Tahoe and east of the Crystal Basin, the Crystal Range mountains run roughly 25 miles north-to-south and 62 miles east-to-west. Read More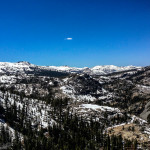 Desolation Wilderness is roughly 64,000 acres of alpine and sub-alpine forest, magnificent granite landscapes and stunning glacially formed lakes. At an estimated 12.5 miles long and 8 miles wide, Desolation Wilderness is positioned west of Lake Tahoe and east of the Crystal Basin. Read More
This heavenly, blue body of water is uniquely positioned on the border of California and Nevada, with two thirds of the lake in California. Read More
Yosemite National Park is truly a majestic region of the High Sierra. The park is nearly 1,200 square miles of breathtaking views, tranquil landscapes, jaw dropping adventure and an incomparable experience to anywhere else on the planet. Read More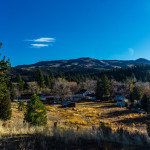 Other Places
More Sierra Nevada Mountain Range info
Peaks

Airola Peak – 9942 ft
Banner Peak – 12947 ft
Basin Mountain – 13181 ft
Bear Creek Spire – 13713 ft
Black Giant – 13330 ft
Black Kaweah – 13675 ft
Breckenridge Mountain – 7548 ft
Bull Run Peak – 9495 ft
Carson Peak – 10909 ft
Castle Rock Spire – 7600 ft
Charlotte Dome – 10700 ft.
Checkered Demon – 13112 ft.
Chinese Peak – 8705 ft
Cirque Peak – 12900 ft
Clouds Rest – 9926 ft
Clyde Minaret – 12281 ft
Clyde Spires – 13267 ft
Donner Peak – 8019 ft
Ebbetts Peak – 9160 ft
Echo Peak – 8895 ft
El Capitan – 7569 ft
Folger Peak – 9680 ft
Garnet Peak – 5900 ft
Half Dome – 8842 ft
Henery Peak – 9334 ft
Hiram Peak – 9795 ft
Keeler Needle – 14260 ft
Laurel Mountain – 11812 ft
Lembert Dome – 9450 ft
Little Baldy – 8044 ft
Lone Pine Peak – 12944 ft
Mammoth Mountain – 11053 ft
Matterhorn Peak – 12264 ft
Middle Palisade – 14040 ft
Milestone Mountain – 13641 ft
Mount Abbot – 13704 ft
Mount Agassiz – 13893 ft
Mount Conness – 12590 ft
Mount Dade – 13600 ft
Mount Dana – 13053 ft
Mount Darwin – 13831 ft
Mount Gilbert – 13103 ft
Mount Guyot – 12300 ft
Mount Haeckel – 13435 ft
Mount Humphreys – 13986 ft
Mount Irvine – 13914 ft
Mount Langley – 14027 ft
Mount Lyell – 13114 ft
Mount Morgan (South) – 13748 ft
Mount Muir – 14012 ft
Mount Ritter – 13143 ft
Mount Rose – 10776 ft
Mount Russell – 14086 ft
Mount Sill – 14153 ft
Mount Tallac – 9735 ft
Mount Thompson – 13494 ft
Mount Tom – 13652 ft
Mount Tyndall – 14018 ft
Mount Whitney – 14494 ft
Mount Williamson – 14370 ft
Mount Winchell – 13775 ft
Mt. Atkinson – 12241 ft
Mt. Brewer – 13570 ft
Mt. Gayley – 13510 ft
Mt. Gibbs – 12773 ft
Norman Clyde Peak – 13920 ft
North Palisade – 14242 ft
North Peak – 12242 ft
Olancha Peak – 12123 ft
Point Powell – 13360 ft
Polemonium Peak – 14200 ft
Pyramid Peak – 9983 ft
Red Lake Peak – 10062 ft
Split Mountain – 14058 ft
Starlight Peak – 14200 ft
Temple Crag – 12999 ft
Tenaya Peak – 10280 ft
Thunderbolt Peak – 14000 ft
Tioga Peak – 11526 ft.
Tryon Peak – 9970 ft
University Peak – 13632 ft
Wheeler Peak – 9115 ft

source: Peakware

Subranges

Carson Range
Cathedral Range
Clark Range
Crystal Range
Great Western Divide
Kaweah Peaks Ridge
Palisades
Ritter Range
Sherwin Range

Counties

Alpine County
Calaveras County
El Dorado County
Fresno County
Inyo County
Kern County
Madera County
Mariposa County
Mono County
Nevada County
Placer County
Tuolumne County

Major Rivers

American River
Cosumnes River
Feather River
Kern River
Kings River
Merced River
Mokelumne River
Sacramento River
San Joaquin River
Stanislaus River
Truckee River
Tuolumne River
Yuba River

National Parks

Devil's Postpile National Monument
Giant Sequoia National Monument
Kings Canyon National Park
Sequoia National Park
Yosemite National Park

State Parks and Rec

Auburn State Recreation Area
Bodie State Historic Park
Burton Creek State Park
Calaveras Big Trees State Park
California State Mining and Mineral Museum Park Property
Columbia State Historic Park
D. L. Bliss State Park
Donner Memorial State Park
Emerald Bay State Park
Empire Mine State Historic Park
Folsom Lake State Recreation Area
Folsom Powerhouse State Historic Park
Grover Hot Springs State Park
Indian Grinding Rock State Historic Park
Kings Beach State Recreation Area
Lake Valley State Recreation Area
Malakoff Diggins State Historic Park
Marshall Gold Discovery State Historic Park
Mono Lake Tufa State Reserve
Prairie City State Vehicular Recreation Area
Railtown 1897 State Historic Park
South Yuba River State Park
Stone Lake Park Property
Sugar Pine Point Light
Tahoe State Recreation Area
Ward Creek Park Property
Washoe Meadows State Park
Wassama Round House State Historic Park

National Forests

Eldorado National Forest
Humboldt-Toiyabe National Forest
Inyo National Forest
Lake Tahoe Basin Management Unit
Plumas National Forest
Sequoia National Forest
Sierra National Forest
Stanislaus National Forest
Tahoe National Forest

Wilderness Areas

Ansel Adams
Bright Star
Bucks Lake
Carson-Iceberg
Chimney Peak
Desolation
Dinkey Lakes
Domeland
Emigrant
Golden Trout
Granite Chief
Hoover
Jennie Lakes
John Muir
Kaiser
Kiavah
Kings Canyon National Park
Mokelumne
Monarch
Owens Peak
Sacatar Trail
Sequoia National Park
South Sierra
Yosemite